Are you eager to kickstart your dropship journey but don't have a pile of cash to invest? Look no further. Starting on how to dropship with no money is not only possible but a realistic pathway to explore. In this guide, we'll walk you through the 8 essential steps and strategies to launch your dropshipping venture without breaking the bank. So, if you're ready to turn your business dreams into reality without a big initial investment, keep reading.
4 requirements to begin dropship with no money
Time Commitment
Success in dropshipping, much like any business, requires dedication and time. According to a study by Oberlo, the typical dropshipper dedicates about 30 hours each week to their business. Furthermore, a survey by Shopify reveals that 44% of dropshippers work full-time on their businesses. Building a prosperous dropshipping business doesn't happen overnight; it necessitates unwavering effort and patience.
Free E-commerce Platforms
Start by harnessing the power of free e-commerce platforms. Platforms like Shopify offer a free plan that enables you to establish your online store and list up to 25 products. While free plans have certain limitations, they provide the essential tools to get you started. Another option is WooCommerce, a well-liked e-commerce platform that offers a free plugin for WordPress.
The new one in the house is TikTok Shop, an emerging player in this arena, which is causing quite a stir in the e-commerce industry. It offers a unique and promising entry point for those looking to kickstart their dropshipping journey with no money to spare. The best part? You can establish your online store and list products without any initial costs, making it especially attractive for beginners aiming to launch their business with minimal startup expenses.
Free Product Sourcing
To populate your online store with products, turn to free product-sourcing websites like AliExpress and DHGate. These platforms connect you with a wide variety of products from various suppliers without the need for upfront investment in inventory.
>>> Learn more: How to find Trending Products on TikTok for sales season 2023
Resourcefulness and Creativity
In the absence of a substantial budget, your resourcefulness and creativity will be your greatest assets. Make use of cost-effective marketing strategies such as social media, paid advertising, and search engine optimization (SEO). According to Oberlo, the top three marketing channels for dropshippers are social media (67%), paid advertising (35%), and SEO (33%). Additionally, consider reaching out to potential affiliate partners or influencers who can help you promote your products in exchange for a commission on sales. Your ability to think innovatively will drive your business forward without a significant financial investment.
How to dropship with no money in 8 Steps
Choose a profitable dropshipping business idea
The first step in learning how to start a dropshipping business involves market research. Just like opening a physical retail store, you need to explore different niches, competitors, and trends. Your niche should be based on its profit potential and your interest.
Here are some actions to help you brainstorm profitable product ideas:
Use Trend Data: Platforms like Shopify curate lists of trending products based on top-selling categories. Focusing on niche and trending products can help you stand out and attract customers.
Niche Products: Niche products often have a passionate customer base, making it easier to target specific audiences. Categories like fitness, fashion, beauty products, electronics, phone accessories, and yoga-related items can be ideal for starting dropshipping with no money.
Utilize Tools: Tools like TikTok Keyword Insight, Google Trends, Keywords Everywhere, and DSers order volume can help you assess product trends, search volume, and potential business success.
Competitor Research: Study competitors' websites, prices, marketing strategies, and more. Keep your findings organized for reference.
Leverage TikTok: TikTok's algorithm ensures your videos reach the right audience, interested in your products, so it can be a powerful tool for marketing and promoting your products. Many dropshippers have successfully utilized TikTok to showcase their products through engaging video content.
Do competitive research
Identify your competitors and understand their business strategies. Limit your research to about 5 key competitors, including prominent players on e-commerce platforms like Walmart, eBay, TikTok Shop, or Amazon.
When selecting competitors to analyze, ensure to delve into the specific platform you intend to launch your business. This research will not only unveil practical insights into your competitors' strategies but also guide your keyword and SEO optimization efforts, positioning your business strategically within the competitive landscape.
Look for top brands and other dropshippers in your niche, paying attention to how they engage with their audience. Learn from their content while adapting to TikTok's unique culture to stand out among the competition.
Choose a reliable dropshipping supplier
Selecting a reliable dropshipping supplier is crucial. Your supplier ensures your business has products to deliver to customers. Here are some easy-to-follow tips for selecting a trustworthy dropshipping supplier, especially if you're starting with no money:
Do Your Research: Read reviews from fellow dropshippers and explore the supplier's website and social media to gauge their reputation.
Seek Free Trials or Low-Cost Plans: Opt for suppliers offering free trials or budget-friendly plans, enabling you to test their service before committing to a paid subscription.
Variety of Products: Choose suppliers with a wide range of products in your chosen niche. This provides you with more product options to offer your customers.
Shipping Times and Costs: Inquire about the supplier's shipping times and costs. It's essential to work with a supplier who can deliver products to your customers quickly and affordably.
Customer Support: Check the supplier's customer support policies. Select a supplier known for providing excellent customer support, which can be a lifeline if you encounter order or product issues.
Build Your E-commerce Store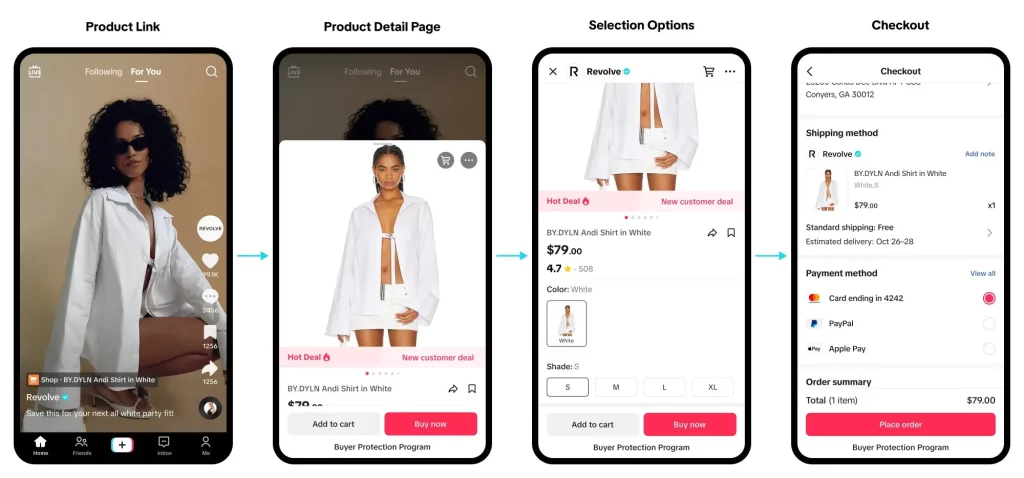 To start a dropshipping business, you'll need an e-commerce platform like TikTok Shop, Shopify, Ali Express,… This platform is your business's digital home, facilitating traffic, product sales, and payment processing. Shopify's user-friendly features and themes make it accessible to non-designers and non-developers.
Our best suggestion? It's TikTok. TikTok is a unique choice. It's not just for fun videos; it's also an emerging e-commerce platform. You can use TikTok to promote and sell your products through engaging video content, and what is important is: IT'S FREE. By crafting engaging content and establishing a strong brand presence on the platform, sellers can effectively reach a substantial audience of young, high-spending customers.
Regardless of your choice, TikTok can still be a powerful marketing channel. You can adjust your content strategy to align with your business structure and connect with potential customers.
>>> Learn more: TikTok Dropshipping 101: Agency's guide for beginners [2023]
Market Your Dropshipping Store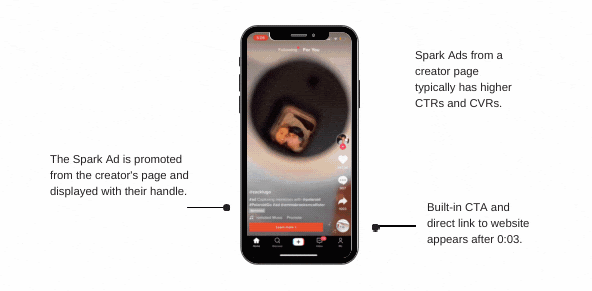 Marketing is essential for your store's success. Leverage various strategies like paid ads, influencer marketing, community engagement, mobile marketing, email marketing, and TikTok marketing. TikTok, a popular short video platform, can be an effective channel for showcasing your products through engaging video content. Here's how:
Run TikTok Ads: Reach a broader audience with TikTok Ads by promoting your products through paid advertising. You can target your ideal customers and track your campaign's performance.
Join TikTok Challenges: Participate in or create viral challenges related to your niche. Engaging in challenges can help you increase brand awareness and connect with potential customers.
Collaborate with TikTok Influencers: Partnering with TikTok influencers or UGC creators is a cost-effective way to reach a larger audience. They can create authentic content featuring your products and share them with their followers.
Educate and Entertain: Create content that doesn't just promote your products but also entertains and educates your audience. Engaging content is more likely to go viral.
Remember to monitor your marketing channels' performance with its key metrics to optimize costs and revenue.
>>> Learn more: TikTok Ads Cost: How Much Should You Budget for Your Campaigns?
Analyze and Improve Your Offering
Monitor your dropshipping business's performance, focus on sales, shopper behavior, and profit margins. Give questions like:
Sales Analysis:
Which channels generate the highest sales for my business?
Where should I invest more in advertising to maximize profits?
What products are my top sellers?
Who are my most valuable customers?
Shopper Behavior Insights:
Are customers making more purchases on desktop or mobile devices?
What's the conversion rate for each type of device?
Profit Margin Evaluation:
Which products and variant SKUs offer the best profit margins?
How are my monthly sales and gross profits trending over time?
One more thing, keep a data-informed approach and measure your store's performance against clear KPIs.
Mega Digital's TikTok Tips to Start Dropship with No Money
Build a Strong Brand
Many dropshipping sellers get their products from AliExpress and sell them on eCommerce platforms like eBay or Amazon. But the challenge is that many others might be selling the same stuff. To stand out, you need to make an effort to be different from your competitors – try to find ideas from TikTok, it's an engaging platform with huge content ideas. Check out these top 11 TikTok video ideas from Mega Digital:
Create simple tutorials
Try the viral content
Lip-sync
Join a TikTok challenge
Speed up your process
Show products in use
Share a life tip
Show behind-the-scenes
Interact with customers
Show how to pack an order
Introduce your best-sellers
>>> Learn more: Unfold the top 11 TikTok Video Ideas to captivate your audience
Develop Customer Relationships
Providing excellent customer service doesn't cost money, just your time. Even if you're not the biggest player in the business, you can compete by offering great customer service. Even if you sell similar items, customers will come back if they feel respected and valued when they shop at your online store.
Dropshippers can use social media platforms like TikTok to engage with audiences through live streaming, commenting, reposting, or giving out mini-games,… This personal touch can help foster strong relationships with your audience and keep them coming back for more.
Implement SEO for your TikTok channel
When people search for something, your channels will show up in search results, so always encourage them to click and explore more. This strategy is known as content marketing through search engine optimization (SEO). Let's make it more clarify:
Bio: Your TikTok bio serves as your channel's introduction. Make it concise and packed with relevant keywords. For example, if your channel is about healthy recipes, your bio could be something like, "Creating delicious and nutritious meals #HealthyEats".
Hashtags: Utilize popular and trending hashtags that relate to your content. If you're a travel blogger, include location-specific tags like #Wanderlust or #Explore[Destination]. For instance, if you're in Paris, you might use #ExploreParis or #TravelFrance.
Name of the Products: If you're showcasing specific products, ensure they are mentioned in your videos. Let's say you're reviewing a smartphone – include the product name in your video description, like "Check out the new iPhone 13 in action!  #TechReview".
Description: Write detailed video descriptions that provide context and include relevant keywords. If you're a pet lover sharing cat care tips, a sample description might be, "Learn how to groom your furry friend and keep them purring with contentment!  #CatCare #PetGrooming".
By implementing these strategies with clear examples, you'll enhance your TikTok channel's search engine optimization and make it easier for users to discover your content
Unlock the Potential of TikTok Holidays
When it comes to starting your dropshipping business with no money, timing can play a crucial role in your success. One of the best periods to kickstart your venture is during the holiday season.
During the holidays, people are in a shopping frenzy, actively seeking gifts and deals. Also, holiday-themed products witnessed a surge in popularity. Be it Christmas, New Year, or Thanksgiving, aligning your product offerings with the season's trends can give your business a significant boost.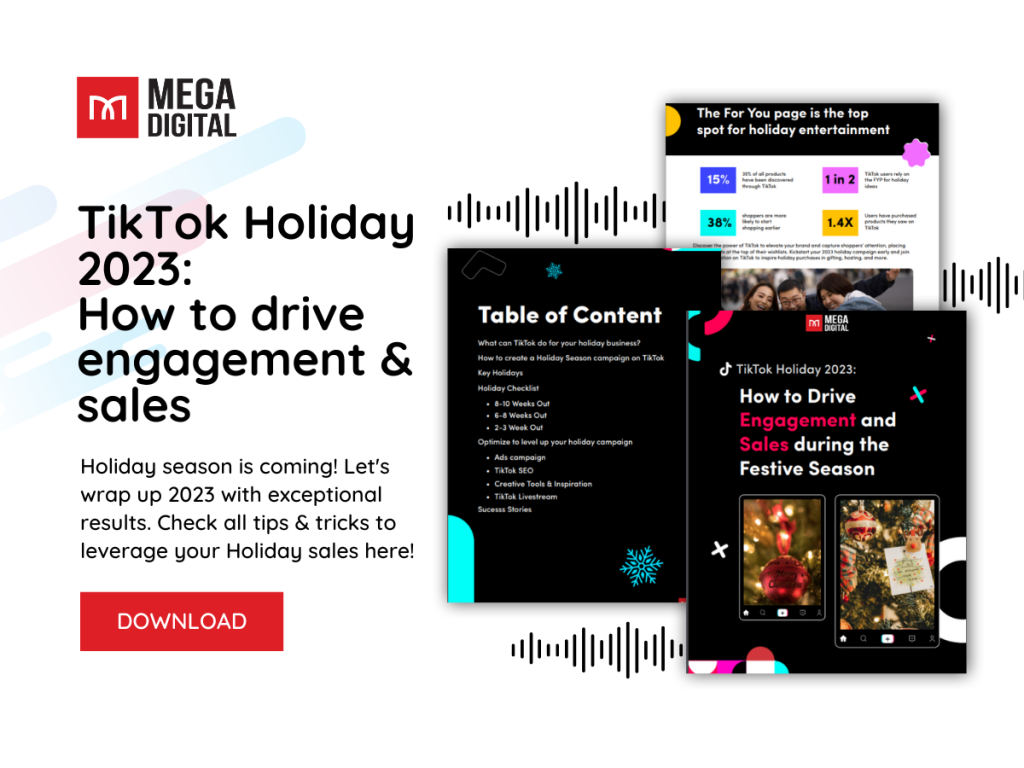 Furthermore, starting your dropshipping business during the holidays gives you an edge over competitors. Major holidays often come with substantial sales events, like Black Friday and Cyber Monday. Participating in these events can lead to a substantial increase in revenue for your business.
Optimizing Your Advertising Campaigns on TikTok
If you're a marketer wanting to make the most of TikTok for your ad campaigns, here's a key tip: Use TikTok Ads with an agency account.
TikTok agency accounts provide extra tools to boost your advertising on TikTok. This account gives you various advantages for advertisers, including global reach, budget flexibility, and expert support. While there are some limitations, the benefits make it a valuable choice for serious advertisers.
In today's competitive digital marketing world, every edge matters. TikTok's vast user base and captivating content make it an exciting platform for advertisers. To help you succeed, we've created the ebook "Maximizing CRV: Strategies to Optimize Your TikTok Ads" which explains how to maximize your TikTok ad. This ebook is packed with tips, strategies, and best practices to fine-tune your ads, increase your return on investment (ROI), and take full advantage of TikTok's ad features. Whether you're a seasoned advertiser or new to TikTok, this ebook is a valuable resource to help you succeed. So, don't wait – download the ebook now and start optimizing your TikTok ads today!
Final word
Now, you know how to dropship with no money. With most free tools and software, it is possible to concentrate on a single niche and invest your time wisely. But, it's important to remember that launching with minimal capital means you'll need to put in extra time and effort to reach your desired results.
Having unraveled the keys to kickstarting a no-money-down dropshipping venture, why not advance to the next level? Dive into our beginner-friendly guide, "Dropship 101: How to Start Dropship for Beginners [2024 Guide]," packed with invaluable insights, tips, and strategies essential for your success in the dynamic world of dropshipping. Seize this opportunity to elevate your entrepreneurial journey!