TikTok continually adds new features to upgrade its platform like TikTok Ads Manager, TikTok For Business, and now TikTok Shop. So, what is TikTok Shop? Let's find out this new feature and how to set up it in this article below!
What is TikTok Shop?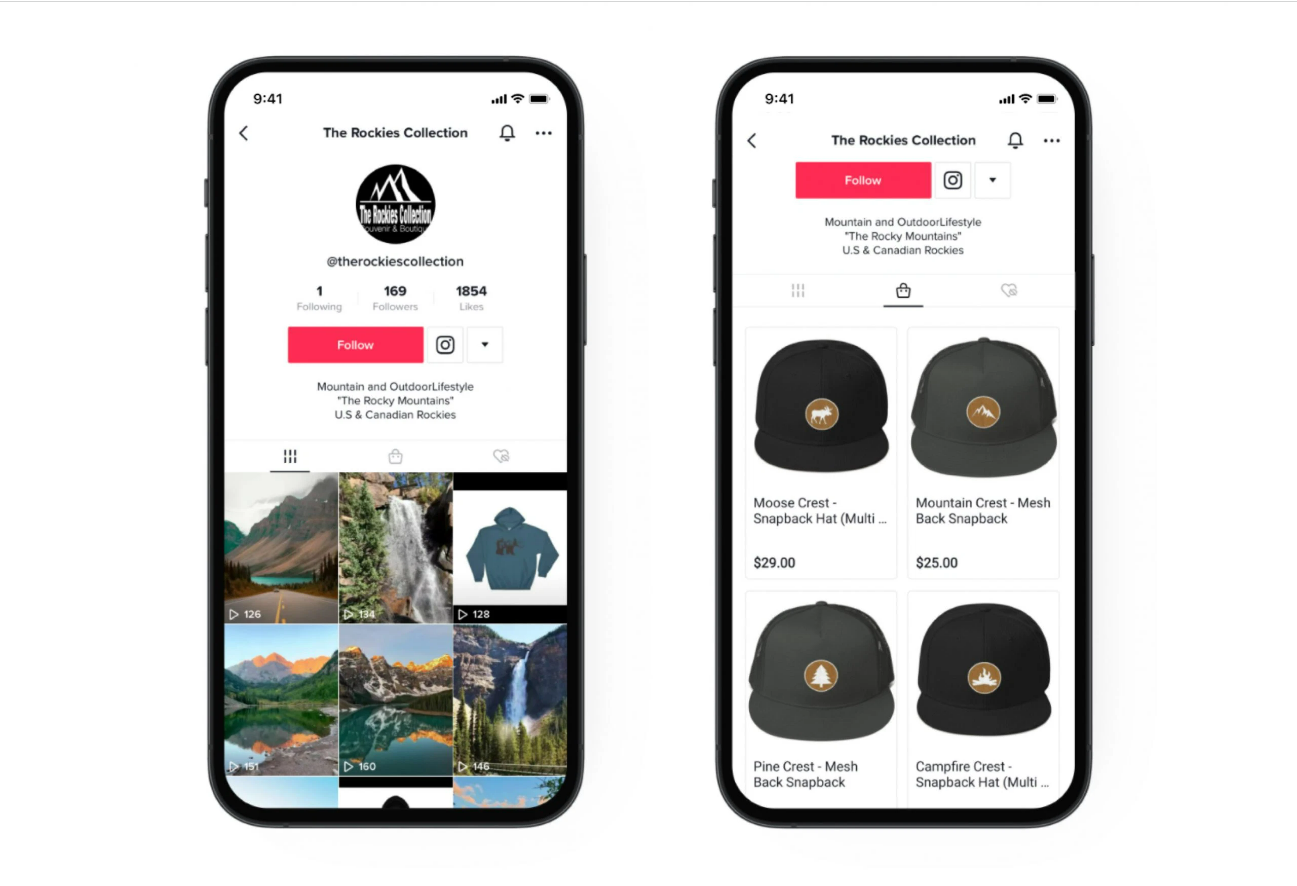 TikTok Shop is a shopping tool that can be accessed directly from the TikTok platform. It enables merchants, brands, and artists to showcase and sell things on TikTok directly. Product sales can be made by sellers and producers via in-feed videos, LIVEs, and the product display page.
TikTok initially tested Shop with select Shopify merchants in the United States and the United Kingdom before expanding to Canada, but it has since been rolled out on a larger scale. Last year, TikTok Shop introduced a live-streaming shopping feature in the United Kingdom and Asia, where the eCommerce live stream is currently popular in China, Thailand, Malaysia, Vietnam, Indonesia, Philippines, and Malaysia.
Many brands use TikTok influencers in their marketing campaigns, sending products to people with a large number of followers and asking them to promote their products. Instead of creating a shopping mall where customers can actively search for products they are in need of and then order, on TikTok the demand for purchases will arise through videos or live streams of Content Creators.
Who can use TikTok Shop?
TikTok announced the program's expansion at the first TikTok World marketing event in September 2021. It is now available in the majority of countries, and it also caters to Shopify retailers.
There are 4 main users:
Sellers
Creators
Partners
Affiliates
Why should you use TikTok Shop?
Wide range of potential customers
TikTok's user base is mainly Gen Z and Gen Y, whose age ranges from 12 to 40 years old. This is the age with great purchasing power and experience in e-commerce activities. Moreover, the number of these users is still growing and expanding in the future.
Unlimited creatively market for users
TikTok's algorithm distributes content to a certain number of users to test interactions and collect information. Then, based on feedback from users, TikTok will expand the scope of content distribution to others if the content meets the required quality.
This is an advantage for new retailers who want to open a TikTok Shop. Merchants just need to focus on creating quality content and bringing benefits to viewers, TikTok will help to distribute to a number of users commensurate with the video quality.
High conversion rates
The strength of TikTok Shop is to develop on the video platform, so the conversion rate will be higher than content forms such as images, text, etc because it brings more emotions to viewers, and easy to create demand for consumers. Therefore, sellers must prepare for an explosion of orders at any time after posting content if your content goes viral.
Shoppertainment Trend
Under the influence of Covid-19, the trend of Shoppertainment has evolved into a new habit. When people engage in leisure activities such as viewing videos, playing games, and so on, related items will appear on their search list and stimulate them to develop needs rather than having a need and then searching for products as in the past.
Less time-consuming
TikTok Shop will save users a significant amount of time and effort. Users can easily click on the link that leads directly to the TikTok Shop's product purchase page because the store link is attached directly to the video.
The most significant distinction from previous versions is that purchasing and payment activities will be fully integrated, eliminating the need for customers to move to another app or platform to complete the process. This also improves the purchasing experience for the customer by lowering wait times and "hangs" while moving between apps.
How to set up TikTok Shop Seller Center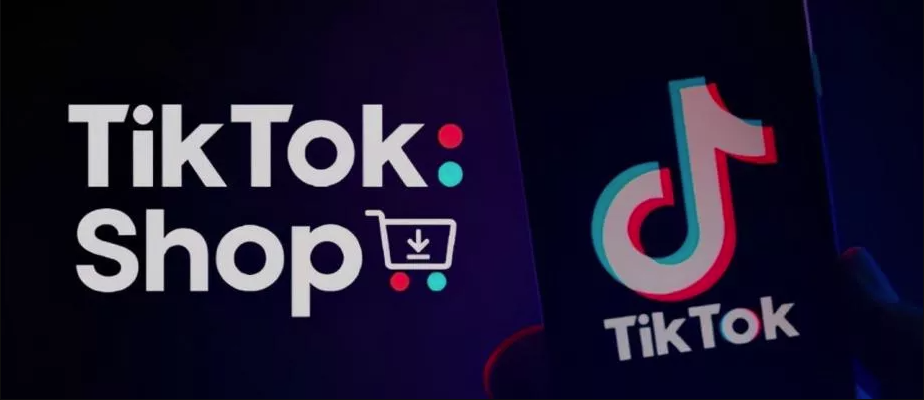 There are 2 ways to start selling on TikTok shop:
Operate as a merchant with your TikTok account
Operate as creators to promote businesses' products
Of course, each way has its pros and cons. You can start as a seller on your own and receive all the profits, but it is gonna be harder and take a lot of your time. If you want to include an affiliate, time-consuming is not the problem. However, you have to share the revenue with the influencers.
In order to set up a TikTok Shop, you need to follow 7 steps below:
Register an account on TikTok Seller Center
Verify your registration through email
Verify your business documents
Update your business information on TikTok Shop
Update seller's information
Start selling your product
Connect with your bank account
Post or promote your TikTok videos
1. Register an account on TikTok Seller Center
You can register as a TikTok account or by filling out an email and phone number
For individual accounts, the number of followers is 10k or more.
For a business account, a business registration license and business tax number are required.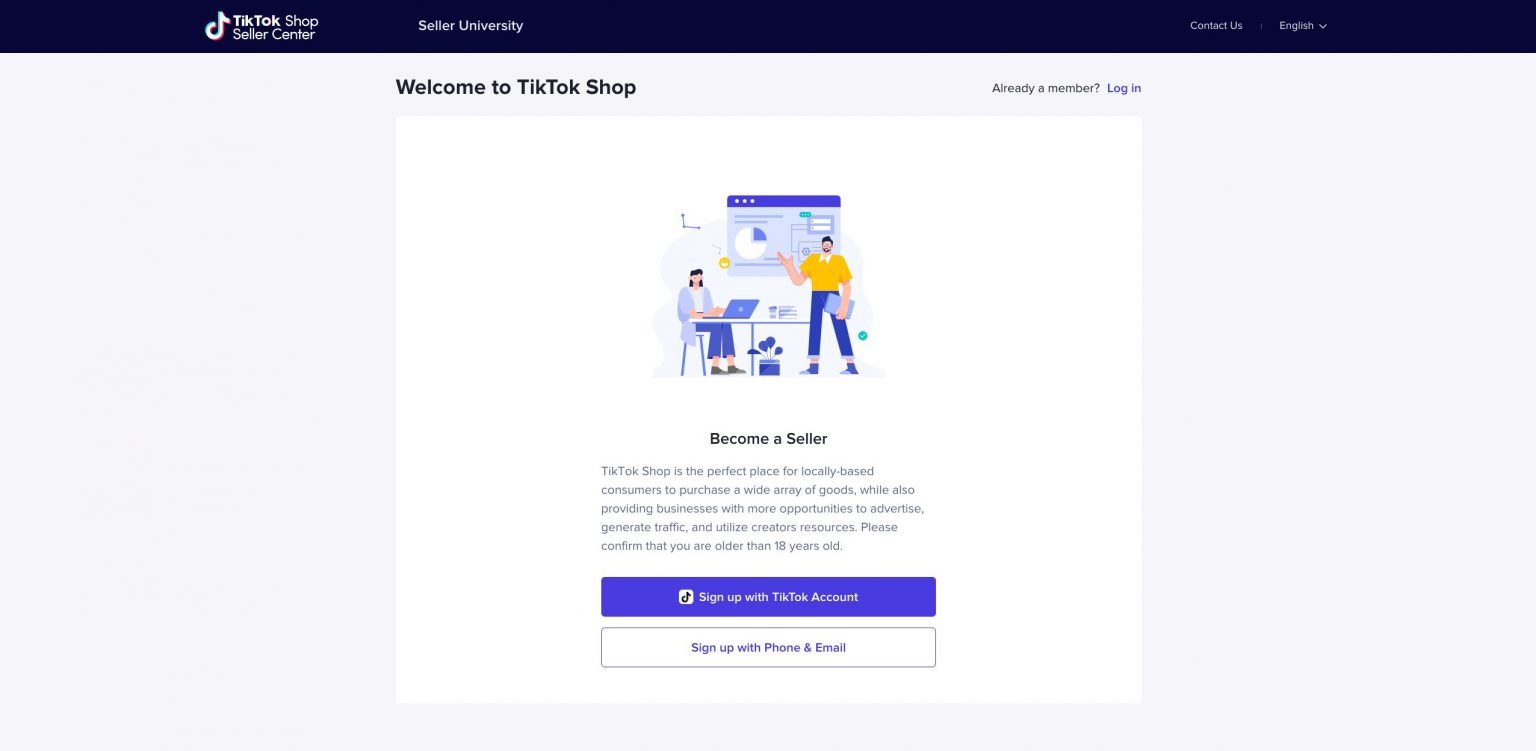 2. Email Confirmation
After registering, the seller will receive a confirmation email from TikTok, then access the link in that email. Next, on the TikTok homepage, select Start selling.
3. Verify Document
Select Verify Document to confirm business information.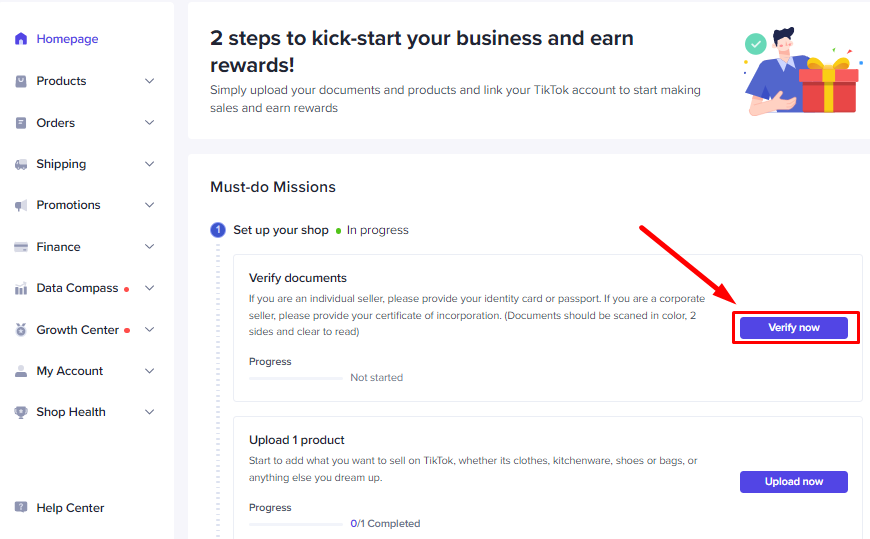 4. Update Business information
Fill out the information about your businesses.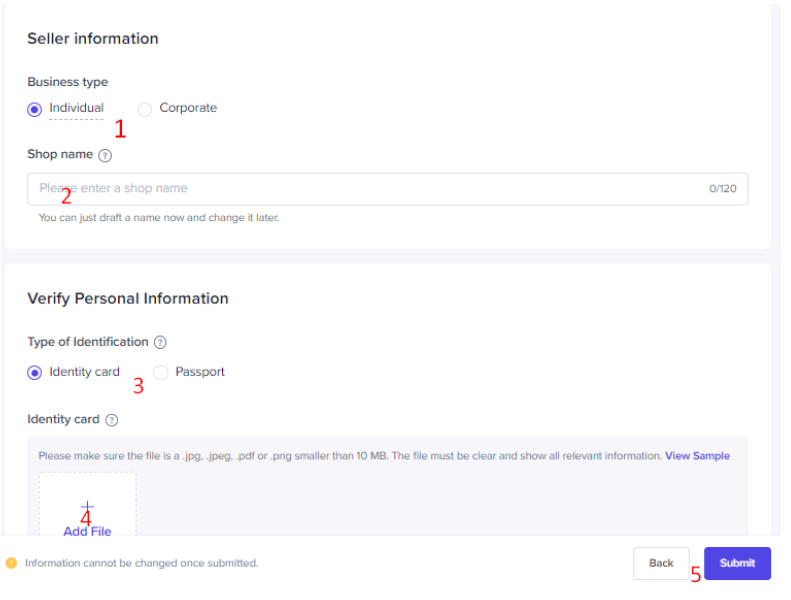 5. Update seller's information
Here, click Upload to set up the shop logo. Other information will be automatically updated by the system after 5 days of reviewing the enterprise's profile.

6. Add product to your TikTok Shop
Click on the Add product to upload all the products on your profile.

7. Link your Bank account
After confirming all the information, link your Bank Account to receive profits from TikTok Shop.
This is your display after registration, you can change and check the details of your products in the management tab on the left. If you have ever operated a business shop on e-commerce platforms, you will surely be no stranger to this display.
TikTok will charge for each successful order:
Vietnam market: 1% fee
South Asia market: 2% fee
US/UK market: 5% fee
8. Create videos and start selling
After you have done all the setup required, all you need to do is start promoting your TikTok video or create a viral video on TikTok. Your audiences will reach your TikTok Shop's profile through this video and buy it if it matches their purpose. Sometimes, they just buy because your advertisement is too compelling.
Note: Remember to add your products to the videos so the audiences can access your TikTok Shop.
How to link TikTok shop to TikTok account?
When including official accounts during the TikTok Shop registration process, they are automatically recognized as the official accounts associated with your store. So if you want to link your TikTok shop to another TikTok account, follow these steps:
Access TikTok Shop: Open the TikTok app on your mobile device and navigate to TikTok Shop.
Profile Settings: Tap on your profile icon located at the bottom right corner to access your profile settings.
Shop Setup: Look for the option related to your shop settings. This might be labeled as "Shop" or "Shop Setup."
Link Account: Within the shop settings, there should be an option to "Link TikTok Account" or something similar. Tap on it.
Confirmation: You might be prompted to confirm your action. Confirm that you want to link your TikTok account to TikTok Shop.
Authorization: You may need to provide authorization for the link. Follow any on-screen instructions to complete this step.
Shop Link Display: Once successfully linked, you should see a display indicating that your TikTok account is now connected to your TikTok Shop.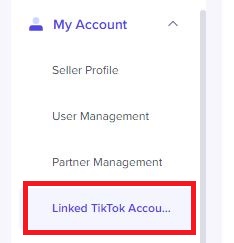 Learn More: TikTok Shop Not Showing: Troubleshooting Tips for its Disappearance
Final Word
TikTok Shop is a relatively new and potential platform for businesses to optimize conversion rates and revenue. We hope this article has helped you know more about what TikTok Shop is and how to set it up correctly. If there is anything that we can support your progress in setting up this new feature, don't hesitate to contact us! As an official partner of TikTok, we can surely solve all your problems related to TikTok.
Read More: The Advantages of Embracing TikTok Ecommerce to your Businesses