Are you looking to elevate your brand's social media presence and engage with a younger audience? Look no further than TikTok. With over 1 billion active users, TikTok has become one of the fastest-growing social media platforms. And with its powerful advertising capabilities, TikTok presents a unique opportunity for brands to connect with their target audience. Whether you're a small business or a large corporation, TikTok ads can help you reach new audiences and grow your brand. So, to all your questions about 'How does TikTok make money?', this is your answer! Let's dive into the world of TikTok Ads!
TikTok Advertising Statistics in 2022
2022 has proven that TikTok Advertising is a logical fit if your targeted consumers are from 18-34, particularly females. Almost half of TikTok users (50.1%) are above 18. Women in that age group account for roughly a quarter of TikTok's advertising viewership (26.6%).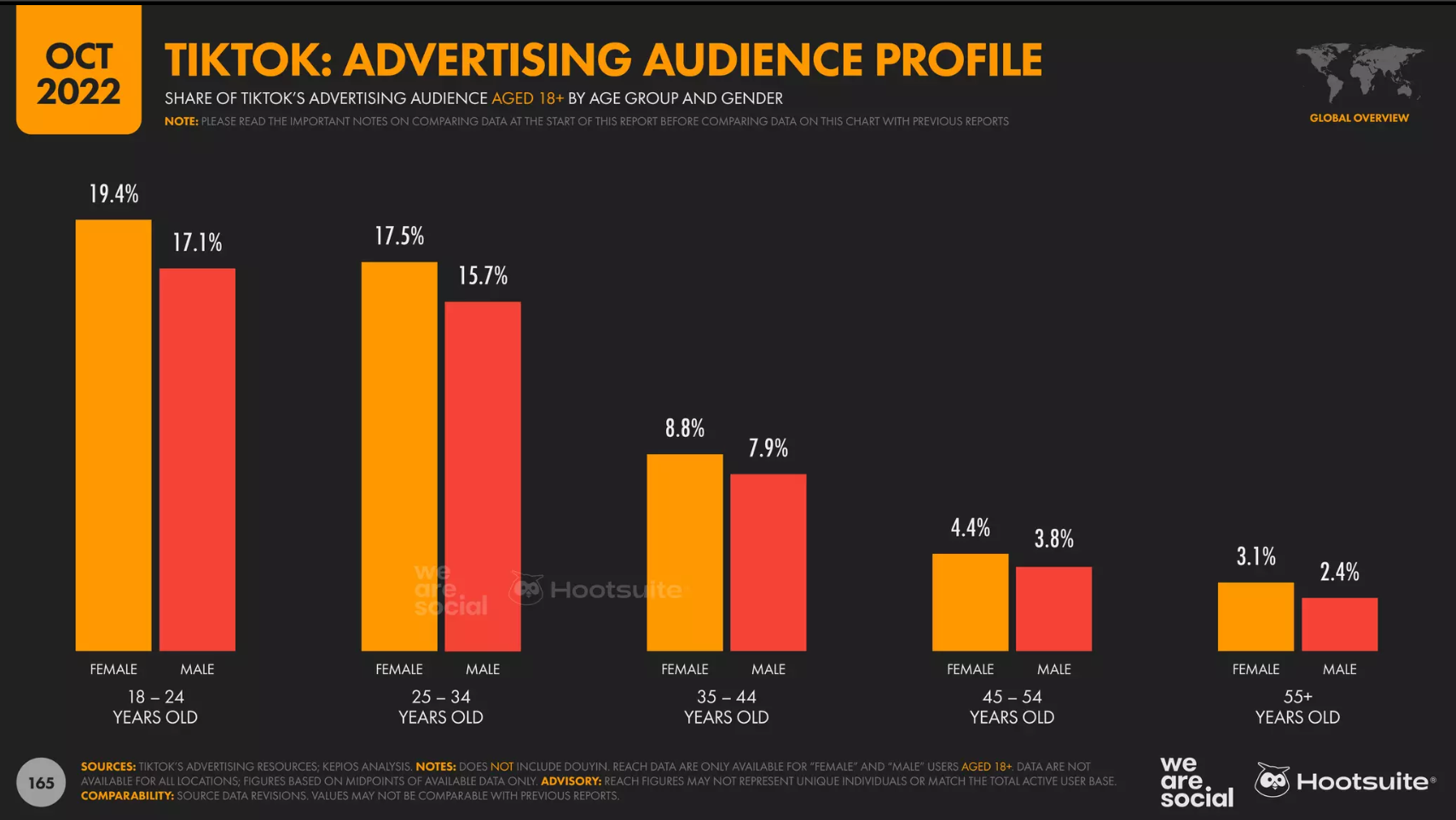 According to Datareportal, TikTok has achieved a massive number of users, particularly in the U.S., with almost 110 million active users above 18. What's more intriguing is the percentage of the adult population that TikTok advertising can reach outside North America, particularly in the Middle East and Asia.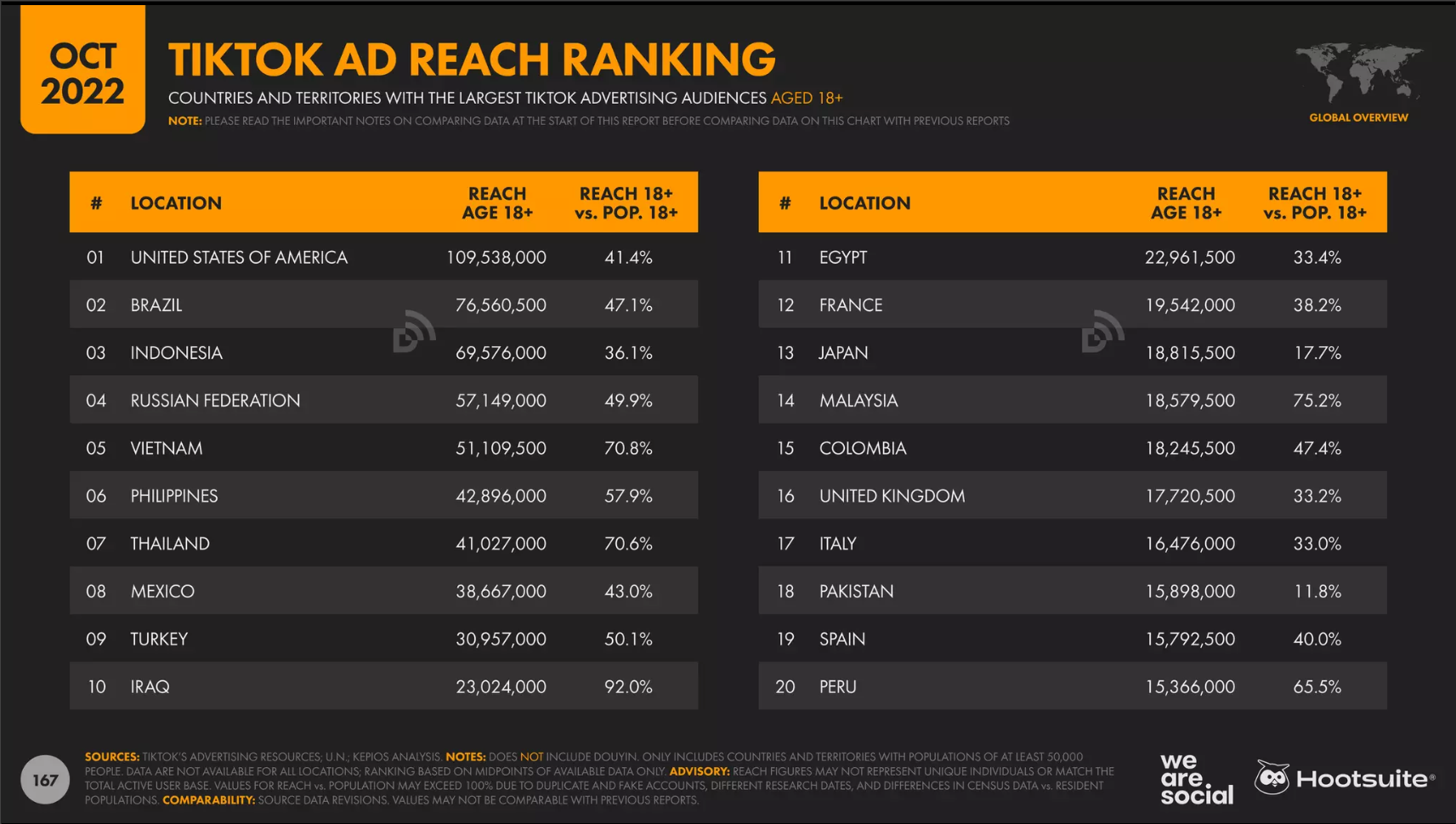 TikTok advertising has a fantastic reach if you sell to an international audience. So, who should spend money on TikTok advertising? It would be a perfect fit if:
The targeted audience is from 18 to 34.
Brands offer consumer products such as cosmetics, jewelry, and clothing,…
Businesses want to cross-sell, up-sell, or increase profit over a short period of time.
Sellers want to increase reach and target potential customers, significantly worldwide audiences.
Read More: How to sell on TikTok for beginners
So, what is TikTok Advertising?
TikTok Ads is a paid TikTok marketing tool that helps brands and sellers reach potential audiences on this platform. Advertisers can manage and set up an advertising campaign on TikTok through TikTok Ads Managers. Besides, the most premium aspect of TikTok ads is that its management tool is powerful and precise when you target based on behaviors or interests.
Despite the diverse types of TikTok Advertising formats, a basic ad account can only access the In-feed ads. To use all TikTok ad types, advertisers must contact TikTok or its partners to book or upgrade the account.
What types of TikTok ads are there?
10 TikTok ad types with different placements, prices, and advertising objectives can be tailored to suit your campaigns. With varying methods of buying, TikTok divides its formats into 3 categories, including how much TikTok ads cost to fit your campaigns.
>>> Read more: 10 TikTok Ad Types you need to know [Update 2023]
As its name suggests, in-feed ads appear right in the middle of the For You feed as users scroll through, allowing a seamless viewing experience. In-feed ads can be up to 60 seconds long, although we suggest keeping it optimally somewhere around 10 – 15 seconds. In-feed ads are unique because they also come with a call-to-action button that can direct users to your profile or a landing page.
Let's check out the 4 most used ads that have shown significant performance!
In-feed Ads
As its name suggests, in-feed ads appear right in the middle of the For You feed as users scroll through, allowing a seamless viewing experience. In-feed ads can be up to 60 seconds long, although we suggest keeping it optimally somewhere around 10 – 15 seconds. In-feed ads are unique because they also come with a call-to-action button that can direct users to your profile or a landing page.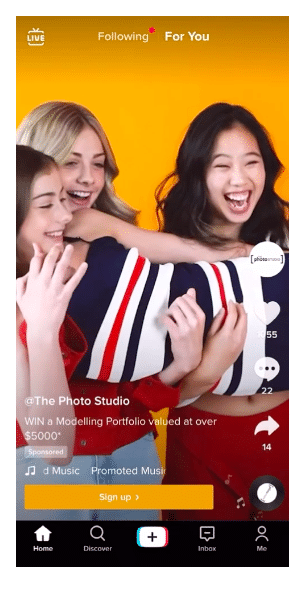 Top View Ads
Top View ads (previously called Brand Takeover) are one of the most premium formats TikTok offers, as it provide the most coverage than any other type of ad. When users open TikTok, they are immediately greeted by a full-sized, featured video from 5 to 60 seconds, instantly attracting their attention. TopView uses TikTok's ad placement to highlight your brand, giving a one-of-a-kind viewing experience with no competing content.
>>> Read more: TikTok TopView Ads: The Best Branding Advertising Solution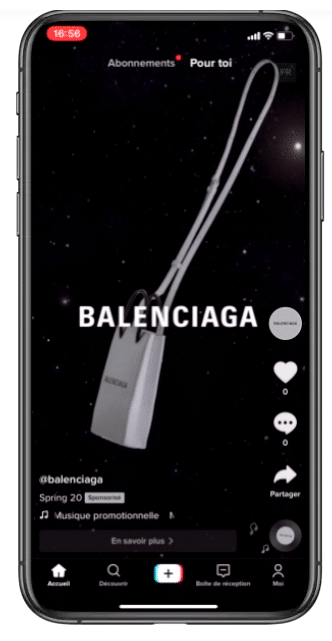 Branded Hashtag Challenges
Since the Internet exploded, user-generated content (UGC) has become an essential part of the online community for brands and consumers. In recent years, businesses have become more invested in UGC to promote their products. In the social media context, hashtags help users find content that is relevant to them.
TikTok's Branded Hashtag Challenge (HTC) allows you to create hashtag campaigns that can turn any users into your brand ambassadors. It is the best way to raise awareness and drive engagement toward your brand.
>>> Read more: What is a Branded Hashtag Challenge? 6 tips to use it effectively
Branded Effects
What makes TikTok such a joyful platform for content creators is ever expansive effects. From typical color grading to interactive minigames and AR filters, the TikTok community is dedicated to creating thousands of new effects daily. With Branded Effects, you can offer users a way to engage with your brand through what they love doing the most: Creating.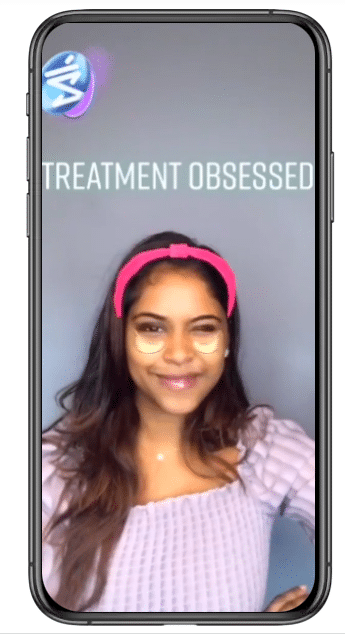 The first thing you want to do is head over to TikTok Ads Manager. If you haven't created an account already, you can sign up for one by following our guide. After you've logged in to your Ads account, you can begin creating your first campaign.
You don't need an Ads Manager account if you merely want to boost current content. You may instead try TikTok Promote. We will discuss more details in the below sections.
Note that TikTok ad formats and specs are among the most essential criteria when running campaigns. It can affect the outcome of ads or even lead to the issues of getting your TikTok ads account suspended or TikTok ads not delivering if the sizes are incorrect.
How to run TikTok Ads?
TikTok Ads is easy; you only have to take 8 basic steps to start advertising on this platform. Let's take a look at how to run TikTok Ads in the section below.
Access TikTok Ads Manager to set up your campaign.
Determine your goal, whether it focuses on conversions, consideration, or awareness.
Set up Campaign name and Budget
Name your TikTok ad group and choose placements
Select whether to turn on Automated Creative Optimization.
Target your viewers.
Schedule and set up a budget for your ad group.
Create a bidding strategy and optimize it.
Finalize your Campaign.
Determine your goal for this TikTok Ads campaign
Once you are inside your TikTok Ads Manager dashboard, select the Campaign to get started. TikTok has 7 advertising goals that are divided into three stages:
#1 Awareness
Reach: Show your ad to as many people as possible (in beta).
#2 Consideration
Traffic: Drive traffic to a specific website.
App Downloads: Encourage people to download your app.
Video views: Increase the number of times a video ad is played (in beta).
Lead Generation: Collect leads using a pre-populated Instant Form.
#3 Conversions
Conversions: Encourage certain behaviors on your site, such as purchasing or subscribing.
Catalog Sales: Dynamic advertisements based on your product catalog (In beta, only individuals with a managed ad account in supported locations can participate).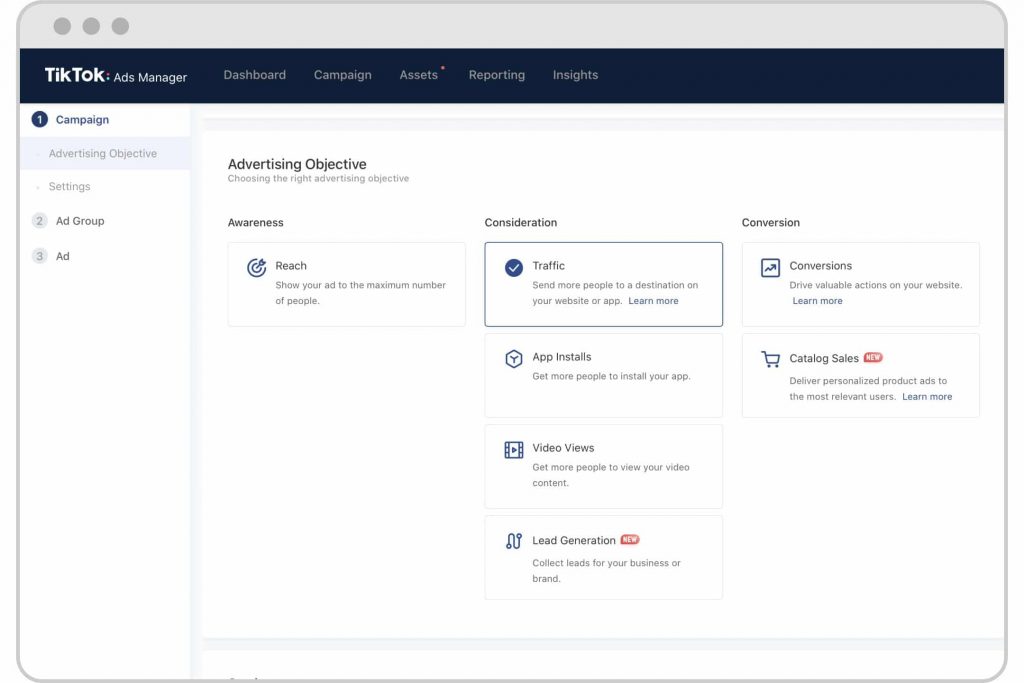 Source: TikTok
Set up Campaign Name and Budget
Give your campaign a name that everyone on your team will remember. It has a maximum length of 512 characters.
You can put No Limit on your campaign budget if you have unlimited funds or wish to establish budget restrictions for individual ad groups rather than the whole campaign. Otherwise, decide whether your campaign will have a daily or lifetime budget (more on that below).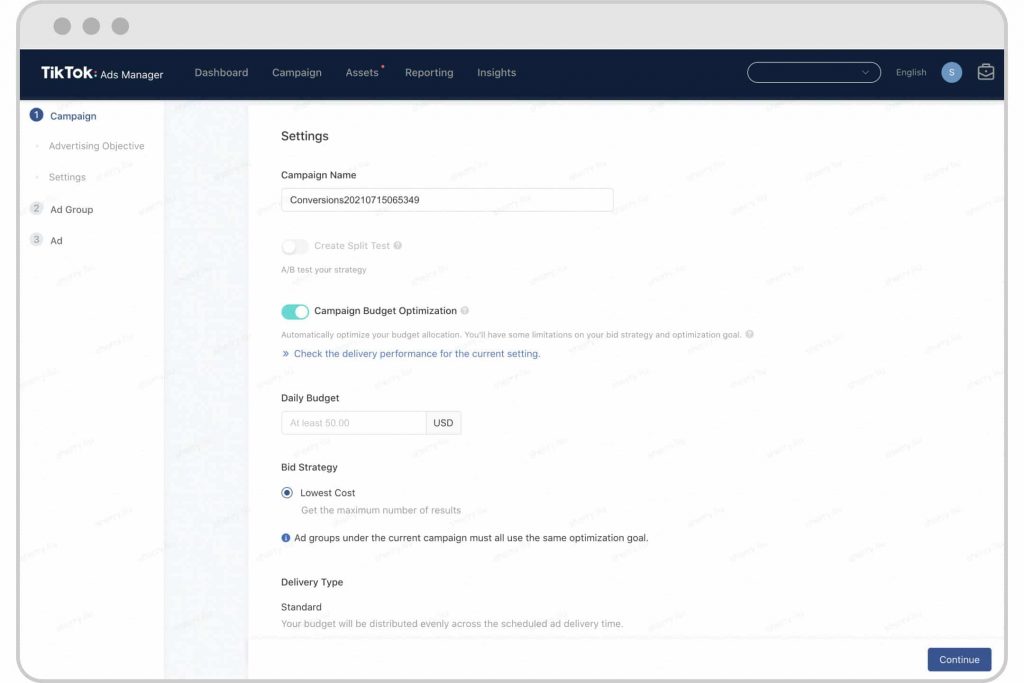 Source: TikTok
The Lowest-cost bidding approach can also be used to optimize campaign budgets for the App Installs and Conversions goals.
TikTok is beta testing a function that provides a proposed price for optimized Cost-per-click targets.
Name your TikTok ad group and choose placements
There are one to 999 ad groups in each campaign. The name of each ad group can be up to 512 characters long.
For each ad group, you may select alternative placements. Some positions are not accessible in all locations:
TikTok Placement: Advertisements in the For You stream.
News Feed App Placement: Ads that show in other TikTok App such as BuzzVideo, TopBuzz, NewsRepublic, and Babe.
Pangle placement: Show to all the TikTok Audiences.
Automatic placement: TikTok may maximize ad distribution automatically.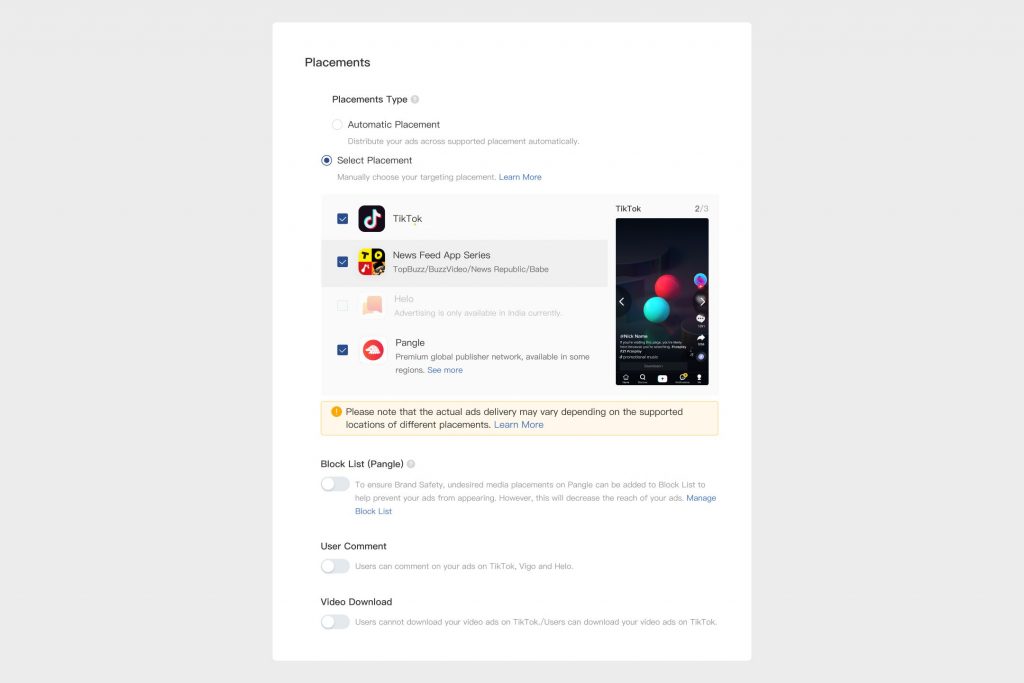 Source: TikTok
Select whether to turn on Automated Creative Optimization
You won't be able to publish your creative until you've finished developing individual adverts. However, for the time being, you can allow TikTok to create combinations of your images, videos, and ad text on its own. Only the best-performing ads will be shown by the ad system.
Note: TikTok advises new marketers to enable this feature.
Target your viewers
TikTok, like other social ads, allows you to tailor your adverts to a specific demographic. You can utilize a lookalike or custom audience, or you can target your advertising using the following criteria:
Age
Gender
Location
Language
Interests
Type of devices (IOS or Android)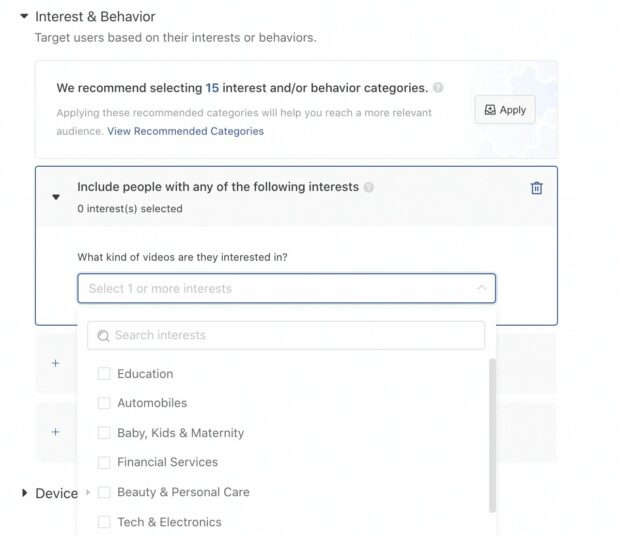 Source: TikTok
Schedule and set up a budget for your ad group
Your overall campaign budget has already been determined. Now is the time to set the ad group's budget and the timetable for when it will run.
Select a daily or lifetime budget for your ad group, then start and stop hours. You may also select to run your ad at specified periods throughout the day using Dayparting (based on your account time zone).
Create a bidding strategy and optimize it
First, decide if you want to optimize for conversions, clicks, or reach. Your campaign objective may determine this aim.
Choose your bidding strategy next.
Bid Cap: Maximum amount paid per click (CPC), per view (CPV), or per 1,000 impressions (CPM).
Cost Cap: An optimized CPM's average cost per result. The price will vary above and below the bid amount, but it will eventually average out at the specified bid.
Lowest Cost: The ad system uses the ad group budget to provide the most significant number of results at the lowest cost per result.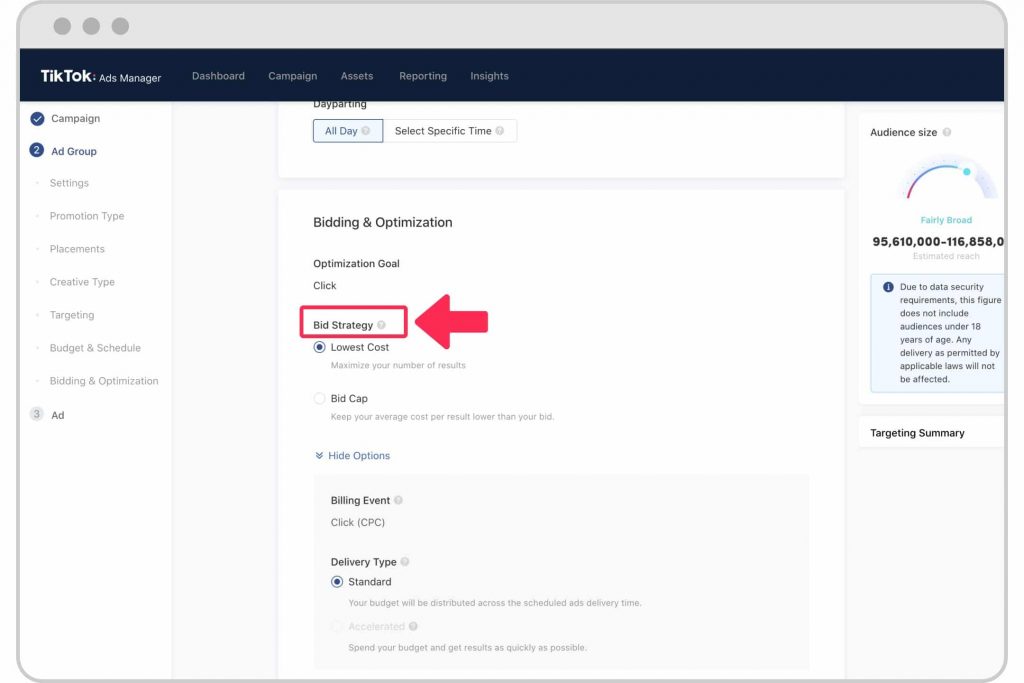 Source: TikTok
Finally, decide if you want Standard or Accelerated delivery. Standard allocates your spending evenly across the campaign's scheduled days, whereas Accelerated delivery spends it as quickly as possible.

Source: TikTok
Finalize your Campaign
Each ad group can include up to 20 advertisements. Each ad name is limited to 512 characters and is only used internally (it does not appear on the ad itself).
To begin, select an ad format: Image, Video, or Spark ad. You can only utilize Video or Spark ads if you stick to TikTok platform (rather than the TikTok family of applications).
Add images or videos, or use Ads Manager's video template or creation tools to make content. According to a TikTok study, utilizing the TikTok video editor can reduce cost per action by up to 46%.
Select from the available thumbnails or add your own. After that, add your text and link. View a preview of your ad on the right side of the page, then add any relevant tracking links (if you have one) and click Submit.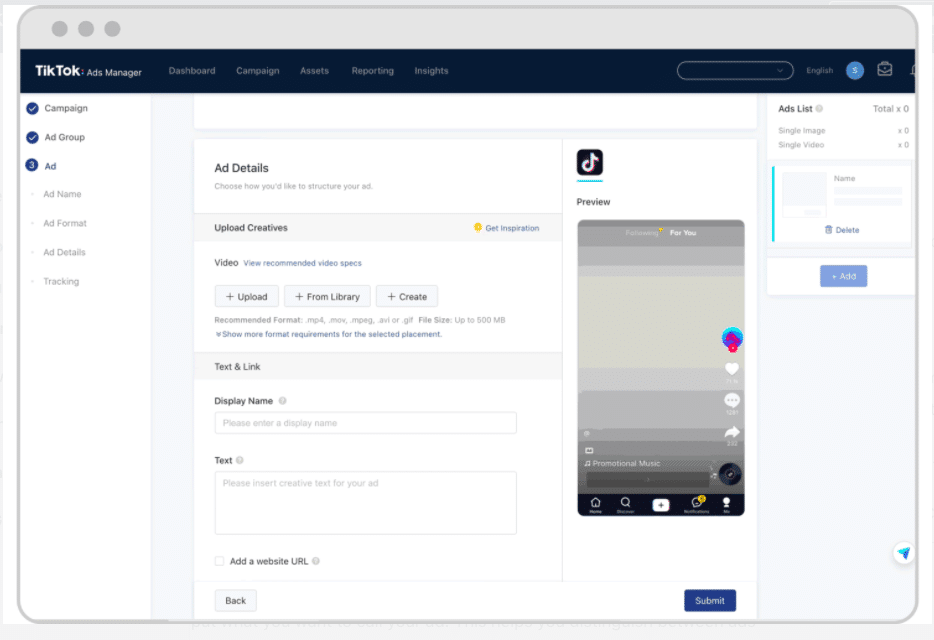 Source: TikTok
Before going live, your ad will go through a review procedure.
To utilize Spark Ads, you must first contact the producers of the material you wish to use and get an access code. You can check the whole Spark Ad instructions from TikTok.
Otherwise, you can check out the TikTok Creator Marketplace if you'd like to collaborate with a TikTok creator on a custom campaign.
Tip: Using TikTok Promote to boost existing content
Anyone above the age of 18 can use TikTok Promote to promote current content. It's TikTok's version of Facebook Boost.
Here's how to make TikTok more popular:
Select the three-line icon for settings on your TikTok profile, then tap Creator tools.
Select Promote.
Tap the video you'd like to promote.
Select your advertising objective: more video views, website traffic, or followers.
Choose your target audience, budget, and length, then tap Next.
Select Start Promotion after entering your payment information.
>>> Read more: How to promote TikTok Videos: Detailed Explanation from A to Z
All about TikTok ads requirements
In this section, we'll concentrate on advertising that appears on TikTok rather than the TikTok news apps.
TikTok video ads requirements
Ratio: 9:16, 1:1, or 16:9 aspect ratio Videos or a vertical 9:16 aspect ratio perform best.
Minimum Resolutions: 540 x 960 pixels or 640 x 640 pixels. The greatest videos are those with a resolution of 720 pixels.
File Formats: mp4,.mov,.mpeg,.3gp, or.avi
Duration: 5-60 seconds in length. For best results, TikTok suggests 21-34 seconds.
Maximum size: 500 MB
Image format: Square picture of less than 50 KB
App or brand name: 2-20 characters or 4-40 characters (app) (brand)
Ad Description: no emojis, 1-100 characters
Spark ads requirements
Aspect ratio: Not Required
Minimum resolution: Not Required
Duration: Not Required
Caption: Free to mention other accounts or add emojis
Must display content and name from the original post.
Note: Character counts are determined using Latin characters. For Asian characters, the character count is usually halved.
>>> Read more: TikTok Ad Formats and Specs: Important Notes for Beginners
How much do TikTok ads cost?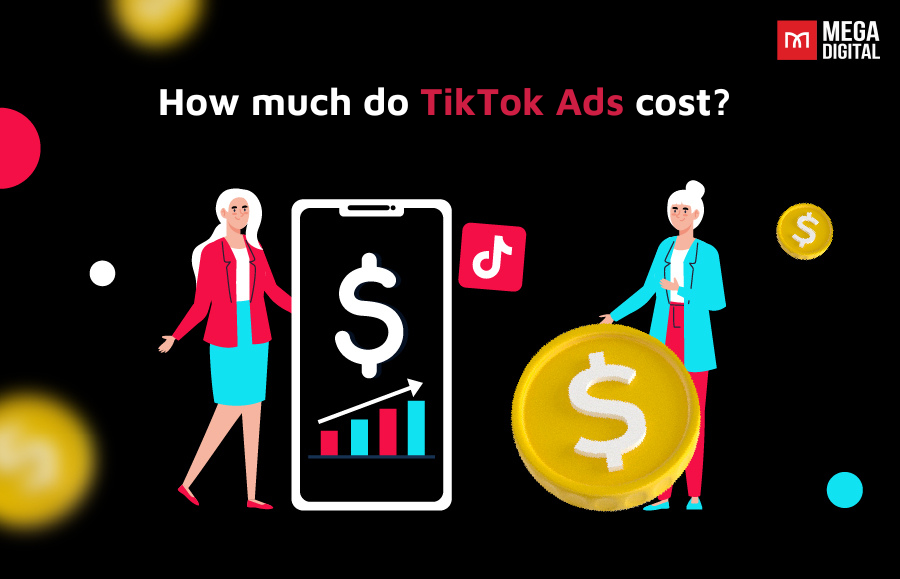 TikTok advertising works on a bidding system. Campaign and ad group expenditures may be managed using daily and lifetime budgets. The minimum budgets for TikTok Ads that you have to pay are:
Campaign
Daily budget is $50
Lifetime budget is $50
Ad group
Daily budget is $20
Lifetime Budget is calculated by multiplying the daily budget by the number of days scheduled.
TikTok is tight-lipped on ad pricing, however, they do share the following advice and insights:
If you're using a Bid Cap or Cost Cap bidding approach (CPA), set your initial campaign level budget to No Limit and the daily ad group budget to at least 20x your goal cost per action.
For App Event Optimization, set an initial budget of at least $100 or 20x your objective (CPA), whichever is larger.
Set a beginning budget of at least $100 or 20x your objective (CPA) for Conversions campaigns using the Lowest Cost bid technique.
>>> Read More: Optimize TikTok Ads with Ad Budget Optimization
TikTok Ads Best Practices 2023
Combine and contrast your unique styles
Switch up your style instead of employing the same or comparable types of creatives. To combat audience fatigue, TikTok recommends refreshing your creative every seven days.
Change it up inside each video as well. TikTok suggests using a B-roll or transition footage to create a variety of situations.
Straight to the point
Although video advertising can last up to 60 seconds, TikTok suggests limiting them between 21 and 34 seconds.
To prevent losing viewers, make the opening 3 to 10 seconds very eye-catching and exciting. Within the first three seconds, the best-performing TikTok advertisements stress the core message or product.
Don't forget to use sound and caption
Audio is included in 93% of top-performing TikTok videos, and 73% of TikTok users stated they would stop and listen to advertising with audio. Fast songs with more than 120 beats per minute have the greatest view-through rate.
However, captions and text are equally vital. Use words to emphasize your call to action in particular. TikTok discovered that text overlays appear in 40% of auction advertisements with the greatest view-through rate.
Stay honest and positive
According to TikTok, videos should be "positive, honest, and motivating." This isn't the place to try out your dark and dismal stuff or to make a hard sell. You also don't want your video to appear overly "manufactured."
To keep your adverts genuinely authentic, try incorporating user-generated material. One in every three of the top auction advertisements, for example, features a person interacting with the audience while looking directly at the camera.
Royal Essence, an Australian company, employed a similar method to get 2.2 million impressions and 50,000 clicks.
Best TikTok Ads Examples
Penningtons: Partner with creators
Penningtons, a Canadian apparel retailer, collaborated with Alicia Mccarvell to develop in-feed video advertising that received 53% more comments, 18% more likes, and 55% more views than the firm's other content.
The secret to success was collaborating with a well-known producer (a.k.a. influencer) who knew how to create genuine TikTok content that promoted the business without being too salesy.
Little Caesars: In-Feed Ads
For their #GoCrazy campaign, Little Caesars employed Spark Ads to amplify content from 13 different producers.
The secret to success was giving the designers unlimited creative control while also learning a few things. They discovered that TikToks with families had the best click-through rates for their campaign.
Wet n Wild: Branded Hashtag Challenge
To promote their new Big Poppa mascara, Wet n Wild launched a branded hashtag challenge. With 1.5 million user videos and 2.6 billion cumulative views, their #BiggerIsBetter challenge was a huge success.
The secret success of Wet N Wild is by combining a branded hashtag challenge with a bespoke sound, creative collaborations, and Top View advertisements. Each component amplified the effects of the others, culminating in tremendous reach.