In the last two years, TikTok Ads has become one of the most powerful tools for brands and businesses to achieve their advertising goals and raise customer awareness. To conclude all the trends of TikTok Ads, Mega Digital have listed some of the best TikTok Ad examples for you to learn from and optimize to meet your advertising needs.
Let's check our list of best TikTok Ads creatives right here in this article!
Best Examples of TikTok Ads
We're gonna give you the top TikTok performing ad examples according to 5 main types of TikTok Ads:
In-feed Ads
Brand Takeover Ads
Top View Ads
Branded Effects
Branded Hashtag Challenges
Best In-feed Ads Examples
Several brands have used In-Feed ads to boost brand recognition and awareness. Here are two best TikTok ad examples that incorporated In-Feed commercials as part of their campaign.
Balmain
Balmain chose to debut its newest designs through a TikTok Live fashion show. To advertise the show, In-feed advertising was used before and during the live stream, as well as throughout the broadcast.
The sponsored in-feed ads drew
Over 22 million views
10 thousand new followers signed up to be notified when the show premiered.
Finally, 240,000 people watched Balmain's unique TikTok Live fashion, which would not have been possible without an excellent In-Feed marketing campaign.
Smyth Jewelers
Smyth Jewelers is a long-time jewelry brand that turned to TikTok to reach new and younger audiences. Although they had grown their organic social media presence to around 19k followers, they wanted to increase visibility for their wedding and engagement rings on TikTok. With this type of content, they executed In-Feed traffic campaigns to reach and drive new viewers to their TikTok profile while spending only $40 per day.
Smyth Jewelers utilized geo-targeting TikTok ad options to reach relevant people in Maryland and DC with this campaign, while also personalizing their video series as much as possible to encourage viewer involvement. Their campaign received:
800,000 views
35 cents per CPM x 2 cents per like
Top Brand Takeover Ad Examples
Many businesses have utilized the Brand Takeover ad type to increase their reach and engagement. Here are some of the best examples of TikTok Brand Takeover Ads:
Mercedes Benz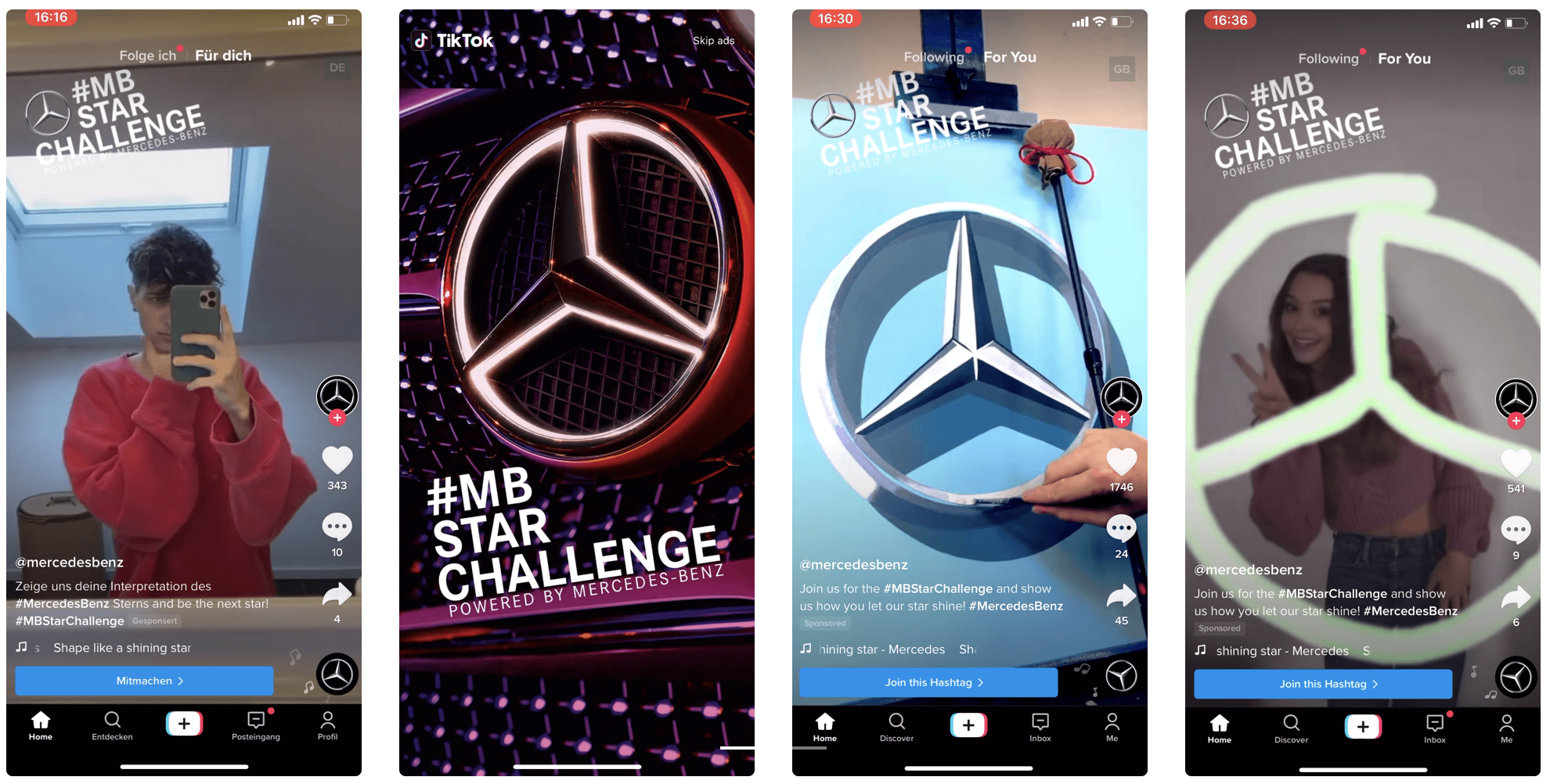 Mercedes-marketing Benz's team understood that to reach Gen Z and Millenials, they had to get them moving with a unique campaign. They launched high-quality Brand Takeover advertisements, as well as In-Feed advertising that utilized user-generated content, to promote their #MBStarChallenge Hashtag Challenge (which had its own branded effect).
The campaign became viral, resulting in:
Over 185,000 videos uploaded by 73,000 people
180 million video views
Their brand takeover CTR was 17.5%. It also did wonders for their reputation. Post-campaign research revealed a 66.3 percent increase in ad memory, an 18.2 percent rise in brand favorability, and 30,000 new followers. Page visits surpassed one million in both the UK and German campaigns.
Guess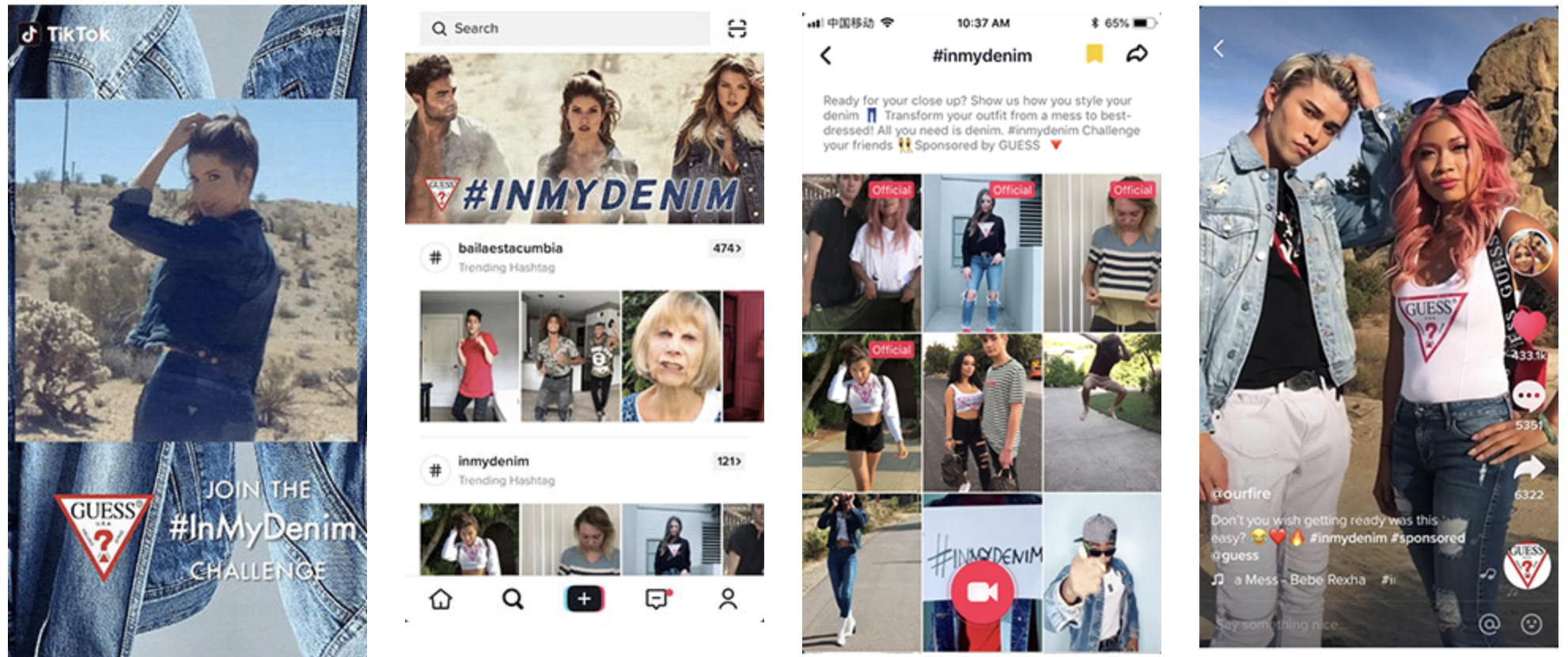 Guess intended to use TikTok to raise awareness during the back-to-school shopping season to promote its Fall Denim Fit range. Using it with Bebe Rexa's "I'm a mess", Guess also released four influencer-performed videos for Brand Takeover Ads to demonstrate their notion and quickly went viral.
TikTok reports that their campaign and Brand Takeovers had 10.5 million views.
Engagement rate of 14.3 percent
An extra 12,000 followers
CTRs of 16.5 percent for their Brand Takeovers
Best performing Top View Ads
Top View Ads are used to increase traffic and brand visibility, especially when it takes up all screen and can last to 60 seconds. TopView ads are best thought of as a slightly delayed Brand Takeover Ad.
V Energy

One of the best examples of TikTok TopView ads was created by energy drink company V Energy as part of a bigger campaign to promote TikTok's first New Year's Eve live event, which incorporated numerous TikTok ad formats.
Creators were challenged to create their own V Energy trick shot, and the resultant influencer material was transformed into a TopView ad that aired throughout January. The show became Australia's second most-watched live broadcast ever resulting in:
5,000 followers in just one day after the TopView commercial went live
Marc Jacobs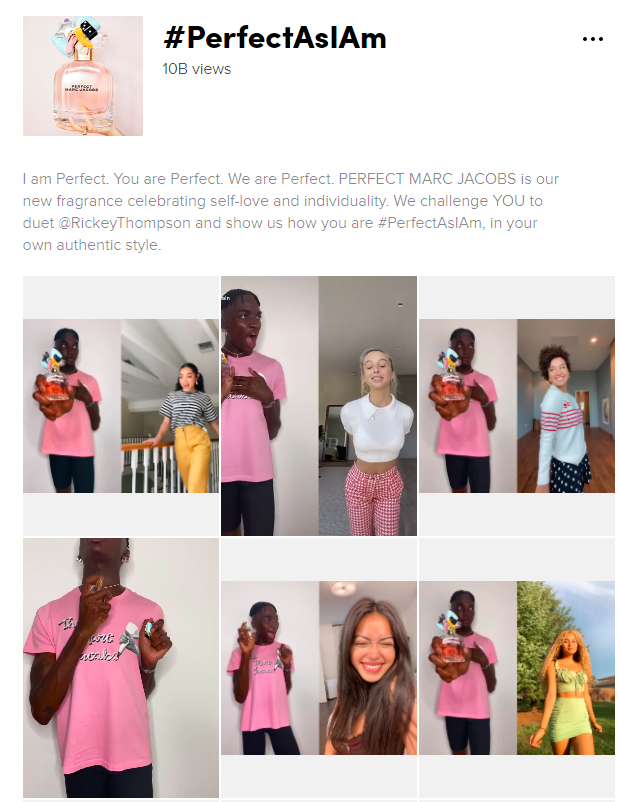 Marc Jacobs used creatives on TopView to promote their branded hashtag challenge #PerfectAsIAm, which increased attention and interaction in the coveted For You feed and increased visits to the official challenge website.
In the first half of 2020, the #PerfectAsIAm Branded Hashtag Challenge outperformed TikTok beauty averages in video views, engagements, and engagement rates. The #PerfectAsIAm challenge resulted in:
10.1 billion video views worldwide as of March 2021
Top performing Branded Hashtag Challenge Examples
Some top TikTok ad examples include Brand Hashtag Challenge as part of their campaign. Branded Hashtag challenges are intended to increase brand exposure and engagement. When a user touches on a hashtag, it redirects them to the brand's landing page and displays additional handpicked films with the same hashtag.
There are packages available for three or six days. According to TikTok, branded hashtag challenges have an average interaction rate of 8.5 percent.
Here are two of the most inventive Hashtag Challenge advertising examples.
American Eagle – #InMyAEJeans
American Eagle is one of the world's largest lifestyle clothing brands. Their #InMyAEJeans campaign for the Back to School Branded Hashtag Challenge is a perfect example of clever TikTok ideas put to use in a dancing ad. Influencer Addison Rae created the challenge, and it quickly took off.
The campaign was a smashing success, owing mostly to the opportunity to appear in a Duet with Addison Rae, with:
Over 432,000 TikTok creators uploaded dance videos
3.7 billion views since its release
FC Barcelona x OPPO – #GoForItChallenge
FC Barcelona, one of the world's largest football clubs, collaborated with OPPO, a Chinese smartphone maker, for their #GoForIt campaign. Using split screens, they published a unique music track and asked users to share key events from the club's history.
The campaign was a huge success, garnering:
676,000 views
Almost 200,000 videos
Over 70,000 individuals contributed
Best examples of Branded Effects Ads
Branded Effects are an excellent approach to engaging audiences by allowing them to produce unique content by using special stickers, filters, or other special effects. Because the more creative the impact, the higher of engagement.
Ristorante Pizza by Dr. Oetker
The Ristorante's ad encouraged consumers to uncover their #PizzaPersonalities by participating in a Hashtag Challenge with Branded Effect. The Branded Effect cycled through several personality types, including "basic but with a twist," "cheesier than dad jokes," and "sassy but classy," before settling on a personality type for the user.
Simultaneously, the Branded Effect served up a similar Ristorante Pizza flavor, encouraging consumers to enjoy the ideal pizza depending on their personality type. The engaging and exciting branded effect encouraged users to co-create and participate with the brand while also assisting in resolving date-night quandaries by providing users with a simple answer for a romantic evening at home. This campaign got excellent outcomes with:
719 videos from 673 using the Branded Effect
1.4 million video views within six days
Oxy Vietnam
Oxy collaborated with Marvel to create an exciting Branded Effect for the HTC. Creators demonstrated their favorite superheroes (Iron Man, Captain America, or The Hulk) with a hand gesture, and then scrub up for their big performance. Moreover, the skincare firm also sought the help of six local celebrities, including Isaac, Viet My, and ST Son Thanh, to kick off the Hashtag Challenge. Over 96,000 TikTok creators posed as their favorite Marvel hero in the full-screen, sound-on experience.
284.4 million video views for branded effect
Reach of 28.2 million
How To Create High Converting TikTok Ad Creatives?
TikTok advertising is nothing like Google Ads or Facebook Ads, even if their ad managers appear to be the same. TikTok has its own set of standards that both advertising and native content must follow to be successful.
Videos from 21 to 32 seconds long do better
Fast-paced music and voiceovers increase conversions.
Remember to put an entertaining caption
Involve users in your creatives
Storytelling is still on top
Combine multiple types of ads in one campaign
Remember that the finest one is the most appropriate one. This ad type's success for your competitors does not guarantee that it will be successful for you. With this in mind, you must identify the objectives of your campaigns before deciding which type of ads to develop.
In-feed Ads and TopView are most suitable for conversion and engagement campaigns in which they create the highest rates through like, comments and shares.
With brand awareness and product introduction purposes, brands usually use Brand Takeover, Branded Hashtag Challenge, or Effects for best results.
Final Word
Overall, creating high-converting ads will need lots of effort and creativity. Besides, we hope this article has helped you design an effective marketing campaign on this platform based on the TikTok ad examples above. However, if you need any consults while you working on your plan, don't hesitate to connect with us. We – Mega Digital, as an official partner of TikTok are here to help. We will give you free advice to make your campaign better than ever.