Once you want to share your ads on TikTok, you have to create an account to log in TikTok Ad Manager. In this article, Mega Digital will provides you a comprehensive instructions, from registration to submit approval. The procedure is not so complicated but please, follow carefully and don't miss any step!
6 steps to create a TikTok ad manager account
Step 1: Register an account
Access TikTok Ad Manager to sign up. There are two options to sign up by email address or phone number. After that, you just need to fill in the verification code to complete the registration.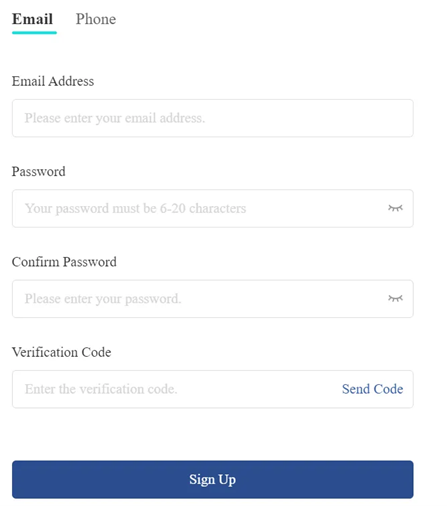 Step 2: Fill in business information
In the next step, you fill in all the information about your business, including:
Country/Region: where you're located
Time zone: Check your right time zone, as you will not be able to change it afterward
Preferred billing currency: choose your preferred currency
Business Name: must be the same as (or substantially connected to) your legal name. If your account's "Business Name" does not match the actual name of your business, you will fail the account evaluation.
Furthermore, suppose you want to access all TikTok For Business features such as the TikTok Creator Marketplace or ad credit programs. In that case, your "Business Name" must match the one on your legal documentation, such as a business license or the IRS SS-4 EIN Assignment Letter.
Check your information again, and click Register.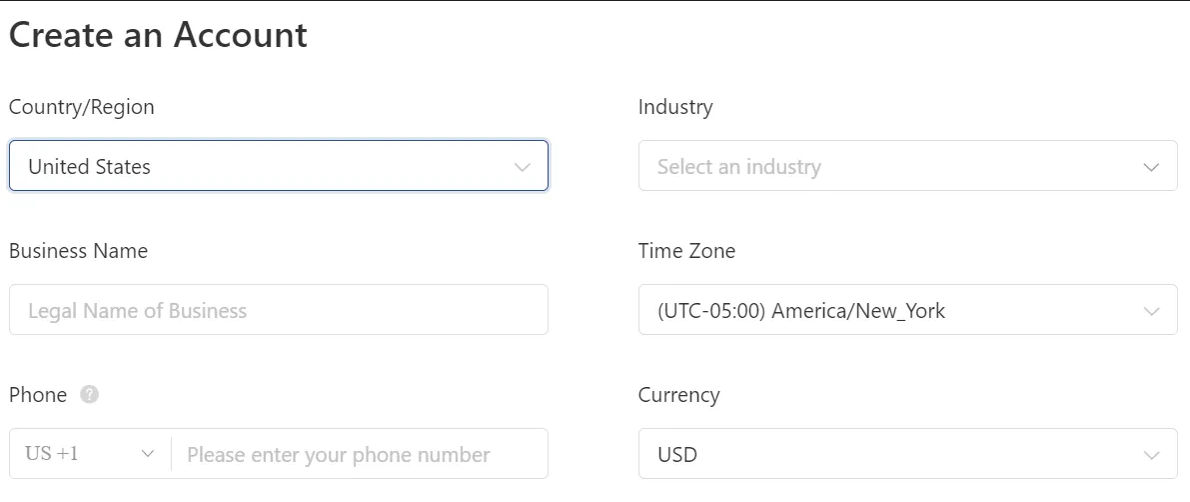 Step 3: Setup your account
After registering, you will see the Dashboard display, then access Account Info under Account Settings.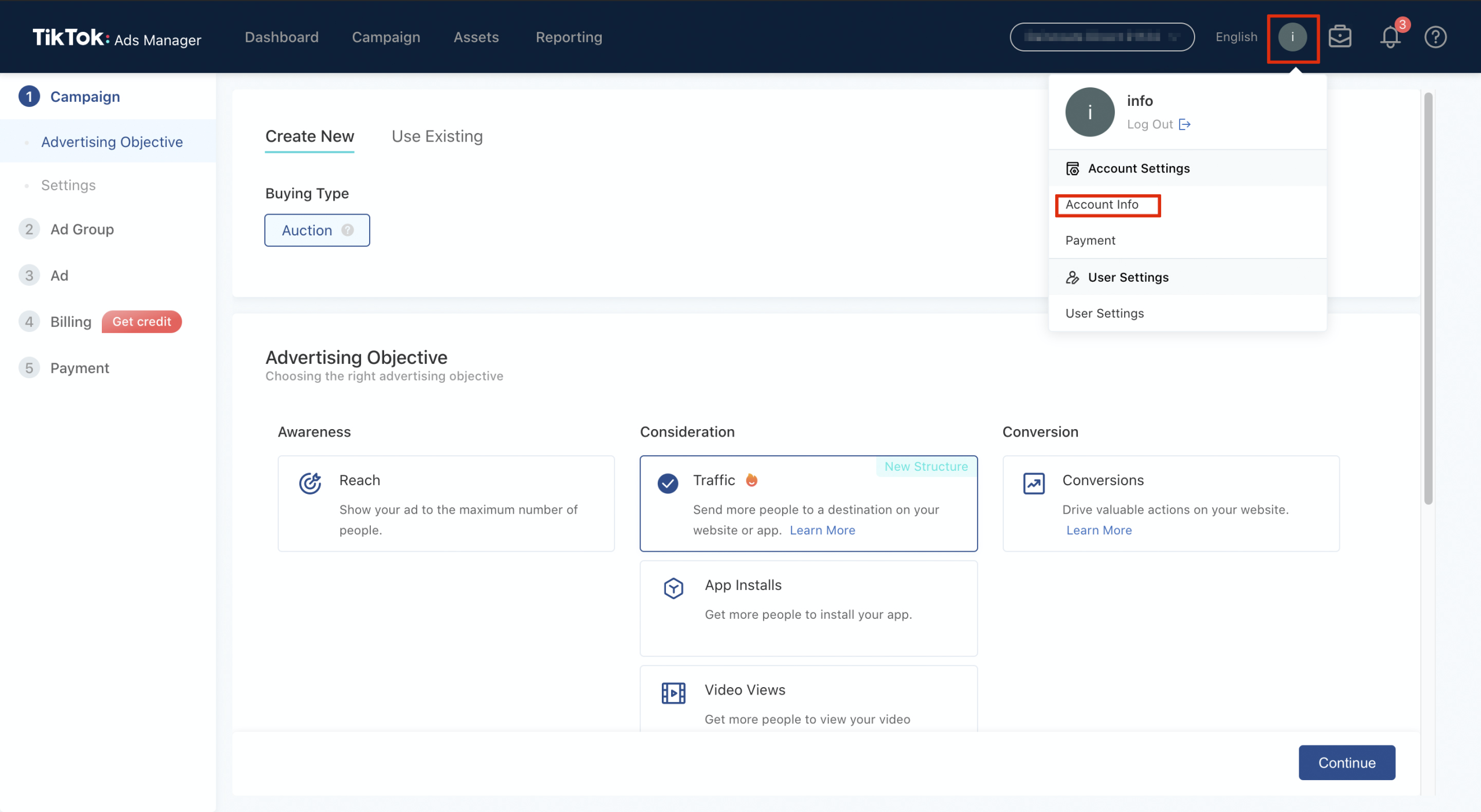 Step 4: Complete detailed business information
You need to fill out all the information on the Business Information display including:
Company website: enter the URL following the format https://www.tiktok.com/.
URLs that do not adhere to this standard will be rejected during the account review.
To pass the account review, your firm website must work properly, provide all required contact information, clearly offer a product or service, and be relevant to the product or service you wish to market.
Industry: select the industry in your product or service will be promoted
You must fill in exactly all this below information with where your business is registered.
Street address
State/Province
Postal code
Business Verification (optional): It will allow you to apply for ad credit programs and use extra TikTok For Business features such as the TikTok Creator Marketplace.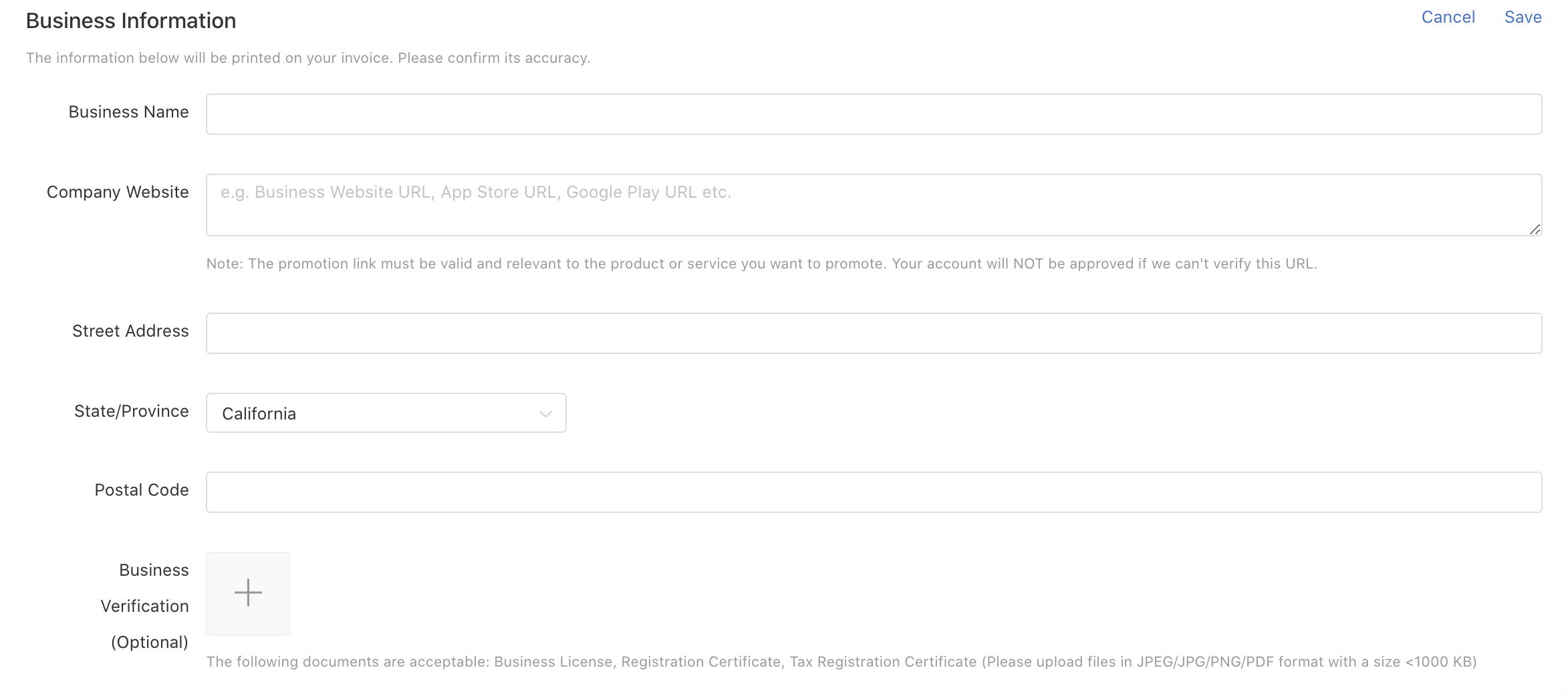 Step 5: Select Payment Method
There are 2 ways for you to pay on TikTok ad Manager including Manual Payment and Automatic Payment. However, Automatic Payment is not available at this time.

Step 6: Submit your approval
At the bottom of the page, click Submit. When you submit your account details, it will be reviewed. TikTok will examine the information you supplied during the account review, which can take up to 24 hours.
What features do you get with TikTok Ad Manager?
TikTok Ad Manager is created mainly to help users of personal account develop and manage TikTok ads. As compare to TikTok Business Center (which is available for business account), TikTok Ad Manager is a bit restricted in features.
However, it still provides access to a worldwide audience across TikTok and our other apps. Moreover, its interface is relatively simple so it just takes beginers only a few minutes to get started and requires no prior knowledge.
Comprehensive account dashboard: Access to a detailed view of all your advertising campaigns, metrics, and budgeting tools on TikTok
Variety of ad formats and tools: Find the best ad format for your business and utilize marketing tools to bring life to your story

Creative Tools make it simple to produce video advertisements. This tool offers a range of video templates and allows you to create videos using your current photographs without having to be a professional editor.
Automated Creative Optimization helps you automate the process of developing, distributing, and optimizing your advertising to make ad management more efficient.
Advanced targeting: Target your audience with detailed information including gender, location, age, interests, and other variables.

For more advanced users who want to take their ads to the next level, use Custom Audiences and Lookalike Audiences to target more people who are similar to your existing consumers.
Transparent data measurement: TikTok Ad Manager measurement allows you to track the performance of your ads by examining detailed data and automating bespoke reports.

TikTok pixel tracks user behavior on your website and evaluates ad performance and marketing results.
Third-party tracking providers assist to track your ad conversions, users' in-app actions, impressions, and click attribution data.
Frequently-asked questions for TikTok Ad Manager
How to connect your TikTok profile to Ad account?

There are 2 ways for you to connect your TikTok profile to Ad account:
– Sign up on TikTok Ad Manager with your TikTok account
– Link multiple of your accounts after creating a new one by simply clicking on the TikTok account on the Access part.



Where do these TikTok ads appear?

TikTok Ads Manager allows you to select from our family of applications to distribute your ads. Placements refer to the specific area and format in which your ad appears. Your advertising may display in four places, depending on TikTok ads placements you select: in-feed, detail page, post-roll, and story. 


How do I set my bidding strategy?

When creating your ad group, you must pick your bid strategy in the Bidding & Optimization module. The bid strategy governs how the system manages your cost per result, spends your cash, and distributes advertisements. If you want to compare the performance of different bidding strategies, use the Split Test function to run an A/B test using Bidding & Optimization as your variable.

Final word
Successfully creating a TikTok Ad Manager account means you have got involved into the TikTok advertisement, a world of borderless creativity and fierce competitiveness as well. To avoid troubles and risks during running ads campaigns such as TikTok ad account suspended, it is highly necessary that you satisfy policies that TikTok issues for advertisment. Let's see what exactly these regulations are!