With the huge number of active users, TikTok ads will make big bucks for businesses. Using appropriate ad formats and optimization is crucial in ensuring that your ad achieves your set goals. Currently, businesses running ads on TikTok can choose between five formats: Brand takeover, in-feed, top-view, branded effects, and hashtag challenges. Let's dig deeper into all these TikTok ad formats and specs to have a better performance on your next TikTok Marketing Strategy.
1. Top-view Ads
TopView is a video-first format that showcases your brand on TikTok's best and most visible placement, capturing user attention with sight, sound, and narrative.
This type of ad appears at the top of For You Page when users first open the app. This ad format allows you to post a video ad for up to 60 seconds, providing an immersive viewing experience with no competing content.

Top-View ads are ideal for raising brand awareness because it has a broader reach with a high number of impressions. The key to Top-View ads is for your brand to create a highly engaging video that will leave a lasting impression on your viewers. In addition, a CTA (call-to-action) can also be included in the ad to get new users.
TikTok ad specs for Topview:
Maximum TikTok video length: 60 seconds
Aspect Ratio of Topview video: 16:9, 9:16 or 1:1
Recommended Resolution: must be ≥960*540px, ≥540*960px or ≥640*640px
File Size: ≤500 MB
File Types: .mov, .mp4, .3gp, .mpeg, or .avi
Bitrate: ≥516 kbps
2. In-feed Ads
TikTok's basic ad type is In-feed advertisements, which allow you to embed your video commercials to auto-play on For You Page. With this type of ad, users can like, comment, share, follow, and shoot videos with the same sound on TikTok. Furthermore, according to Neuro-Insight research, TikTok In-Feed Advertisements accomplish 23% greater detailed memory than TV ads.
In-Feed advertisements also have CTA buttons that may be used to direct visitors to app downloads, an external landing page, or your brand's TikTok account.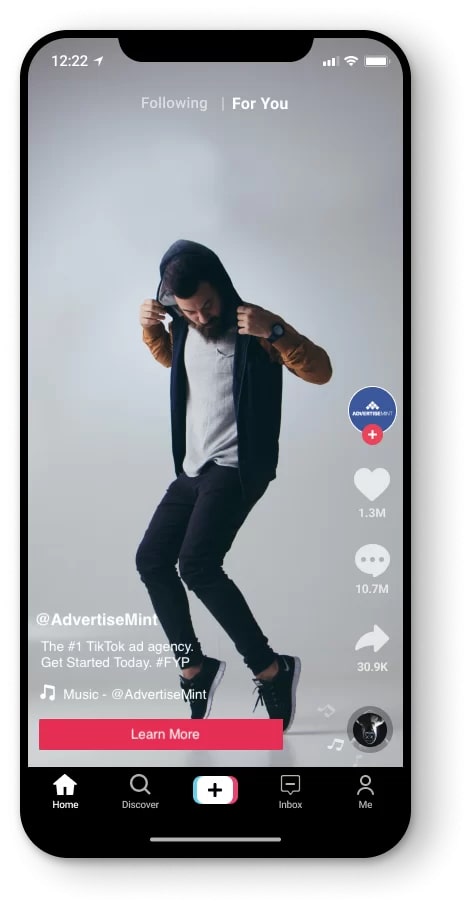 Specs for the ad video:
Video duration: between 5 and 16 seconds (15 seconds long is recommended for optimal viewing).
The recommended TikTok ad dimensions: 16:9, 9:16 or 1:1.
Resolution options: 1280 x 720 px, 720 x 1280 px, and 640 x 640 px.
Type of file supported: .mov, .mp4, .3gp, .mpeg, or .avi files in your ads.
The TikTok ads video size: less than 500 MB.
Specs for the TikTok image ads:
Recommended ratio: 1:1.
Recommend file type: .png, .jpg, or .jpeg.
File size: less than 50 KB.
Specs for brand/app names:
For displaying the brand name on TikTok ads, 2-20 English character length is allowed.
Spaces and punctuation marks are also considered characters.
Emojis should not be included.
The name character restricts varies with language, operating system, and device model.
App names are suggested to have 4-40 English characters.
Specs for ad description:
If longer descriptions are allowed, they can be cut off at the end.
The character limit is 12-100 for ad descriptions in English.
Spaces and punctuation marks are also considered characters.
Emojis, curly brackets, and hash symbols are allowed.
3. Brand Takeover
Brand Takeovers, like Top-View advertising, are full-screen displays, creating a big visual impact that the viewer first sees when they open TikTok, but users are unable to like or comment. You can consider these ads the same as YouTube's non-skippable or bumper advertising.
Brand Takeover advertisements are intended to be brief, sharp, and to the point, consisting of a 3-5 second video or a 3-second picture. This enables businesses to send visitors to both internal and external landing pages. The best practice is to combine this ad format with the other formats to get the broadest and deepest reach.
Maybelline used Brand Takeover to raise brand awareness in Poland.
TikTok advertising specs for Brand Takeover:
TikTok ad length: 3-5 seconds
Aspect ratio: 9:16
File types: .mp4, .mov, .mpeg, .3gp, or .avi
Text description: Not supported for Brand Takeover ad type
Maximum file size: 500 MB
4. Branded hashtag challenge
The Branded Hashtag Challenge is intended to fit TikTok's aesthetic of user-generated content (UGC). This format capitalizes on the user's love of creation to generate brand awareness with user engagement that extends beyond a click.
This format is divided into three locations within the app. The first type of video ad is a conventional video ad that appears in the In-Feed placement and encourages people to join in the challenge. The second method is to use prominent banners on the Discover Page to bring people to the Hashtag Challenge (the third placement). The Hashtag Challenge collects all video entries from across the world into one spot, making it simpler for users to engage with other people and businesses.
For example, hashtags on TikTok open an opportunity for every business to go viral with hashtag challenges like #TikTokMadeMeBuyIt.
5. Branded effect
TikTok ad format for Branded effect
With the production of shareable branded stickers, filters, and effects that viewers can use in their own video, businesses can also embrace their fun side. Branded effects may be used as a single campaign or incorporated into your Branded Hashtag Challenge for a more complete ad experience.
The value of Branded Effects, like Hashtag Challenges, resides in the fact that these formats go beyond merely being an advertisement; your audience becomes engaged and involved, resulting in higher levels of engagement.
The below example demonstrates that KIA Russia intended to use interactive Branded Effects to advertise a new car model in Russia.
TikTok provides marketers with an efficient approach to communicating with their targeted audience. Brands can engage with consumers via different ad formats that speak the TikTok language, seamlessly integrating with native content and providing optimum results.
TikTok advertising specs for Branded effect:

Brand Exposure Limit
Logo: Only includes one logo, and the display area must be within 150x130px.
Product: The display area must be within 150x130px.
Promotion: Includes campaign theme and slogan; the display area must be within 300x130px.
Spokesperson and IP figure: The display area must be within 480x270px.
Branded Effect Name
Effect Name character limit: up to 30 English characters, without emojis, #, and special symbols (18 English characters are recommended to optimize display).
Branded Effect Icon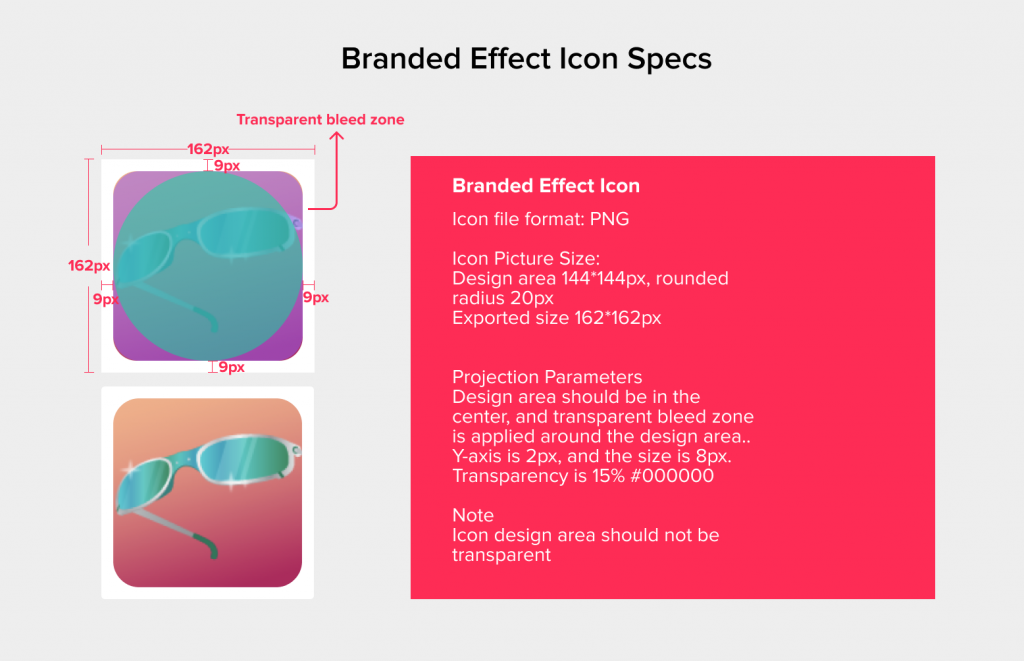 You can use an icon designed by TikTok or provide your own icon.
The image of your icon has to be consistent with your Branded Effect.
The full design canvas: 162x162px is recommended (equal to export size), the icon must have rounded corners and a transparent bleed area.
Safe area: 144x144px, with 20px round-corners
File format: only PNG
File size: < 60KB
Branded Effect Hint Text
You must give the text that demonstrates trigger movements. The Hint Text shows up when people click on the panel's effect and will explain how to use it.
Hint Text character limit: ≤48 English characters without emojis, #, and special symbols (24 English characters are recommended to optimize display)
The text must precisely match the details of the trigger function and cannot be misleading.
Official Music
Cover image: 800×800. The key brand elements should be placed in the center of the circle area (260px diameter).
Image file size: ≤10MB.
Music format: .mp3, .wav.
Track length: 15s.-1min (15s is recommended).
Character limit: ≤60 English characters for the song name and no character limit for the artist's name (≤12 English characters length is recommended for both, without emoji and special symbols).
Have to provide music copyright documentation.
Sign the authorization letter authorizing TikTok to upload the music and allow TikTok users to use this music.
Branded Effect Page
Sponsor Display/Disclaimer: You can select to provide or not to provide your User ID for a sponsored display to set up the Branded effect
Description:

No character limit
Can include emojis
Can't contain &, <, >, "", or URLs.
Landing Page External Link:

Include just one external link.
Can customize the text of the external link: ≤ 30 English characters (without emojis and special symbols).
Can customize the text of the landing page title: ≤ 20 English characters (without support emojis and special symbols)

Official Videos: You are able to select 1 to 6 videos under the Branded Effect page and set them as Official Videos. These are placed at the top of other UGC videos.
Branded Effect Panel (Sponsor mark)
You must provide the text and image as Sponsor Mark in case you are located in US / UK / FR / IT / ES / BE / SA / DE / AE / TR / AU / TW / HK / TH / MY / VN / ID / SG / CA. It will include the text: "Sponsor: XXX;" up to 30 English characters (without emojis and special symbols). For the rest of the countries, Sponsor Mark is optional.
Image specs:

Format: png.
Length: between 40px to 96px
Height (fixed): 40px
Image size: < 200Kb
Final word
TikTok has developed into a great marketing platform for influencers and marketers. If you want users to engage with your channel, it is necessary to optimize your video ads. Mega Digital hopes this article has provided all the information you need to optimize your campaign more effectively.
Besides, you can contact us if you have any issues while setting up your TikTok Ads. With our professional advertisers, we promise we will help and solve all your problems clearly as we can.