With Google Local Services ads, your business gains the top position on Search Engine Results Pages (SERP), featuring the "Google Guaranteed" badge. Don't miss out on the opportunity to attract more local customers with this pay-per-lead model. Read our article to increase your visibility, stand out and attract nearby clients like never before.
Definition of Local Services by Google
Google Local Services ads are paid ads that help local businesses acquire leads through phone calls and message requests. In addition, Google Local ads appear at the very top of Google's search results and exclusively for relevant local businesses.
These ads show company information, including the name, reviews, ratings, city, phone number, and opening hours. Ultimately, Local ads in Google facilitate user decision-making by providing relevant information about local service providers. So businesses can connect with qualified leads, ready to convert into their customers.
Local Services ads vs. PPC
Are you looking for Google Ads services but do not want to bear PPC?
One major benefit of Google Local Services ads is that advertisers pay per lead (PPL) instead of per click. This means they are charged only for valid leads, reducing the risk of paying for invalid clicks. Local services by Google prevent mismatches by connecting the right job to the right advertiser.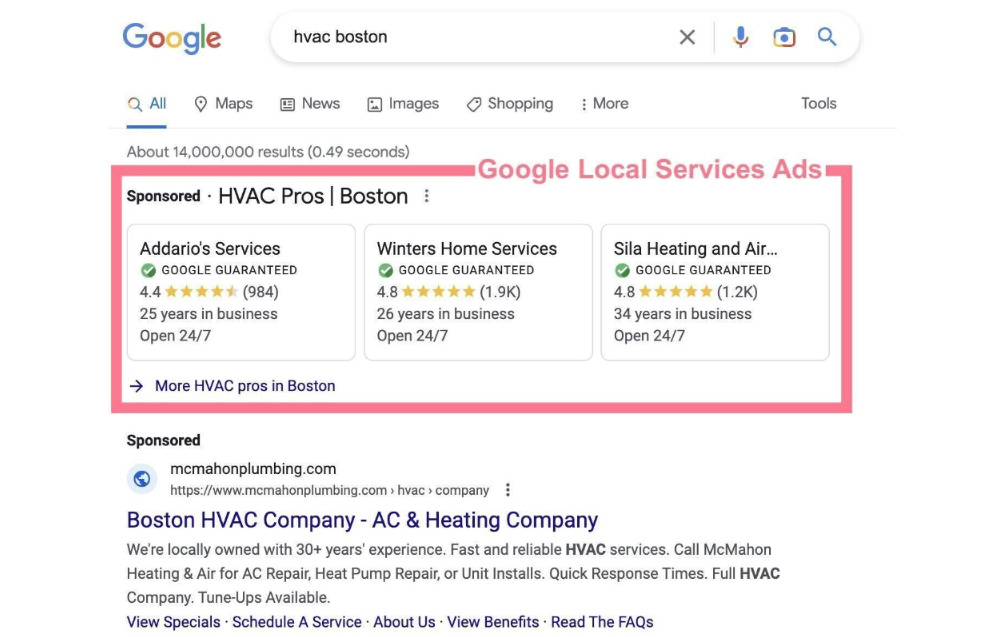 Unlike pay-per-click (PPC) ads, there is no direct keyword bidding for Local Services ads in Google. I.e. you can let Google set your bid or manually set your own maximum bid per lead.
Google Guarantee – gain trust of local customers
Notice the green checkmark alongside the "Google Guarantee" badge?
This allows businesses to benefit from Google's endorsement policy.
The Guarantee badge appears in Local Services ads for home service providers. Only businesses that pass Google's screening process can obtain the badge.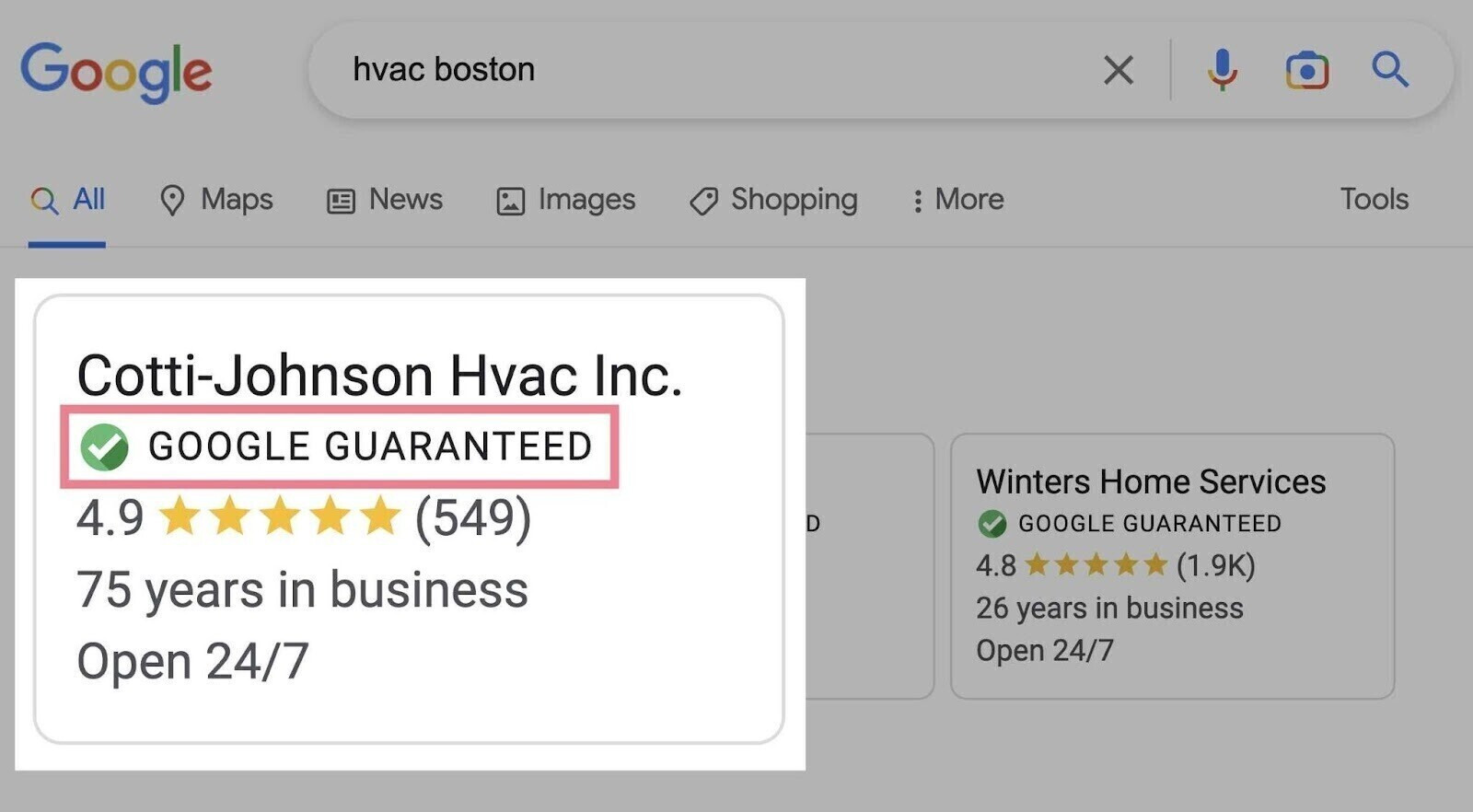 Local Services ads show customers' ratings & reviews to help you earn searchers' trust. In case customers are unsatisfied, Google will provide a lifetime cap for coverage of $2,000. Hence, you can ensure your reviews on the SERP after Google removed Review Extensions on Search ads. Here are some Local Services ads examples.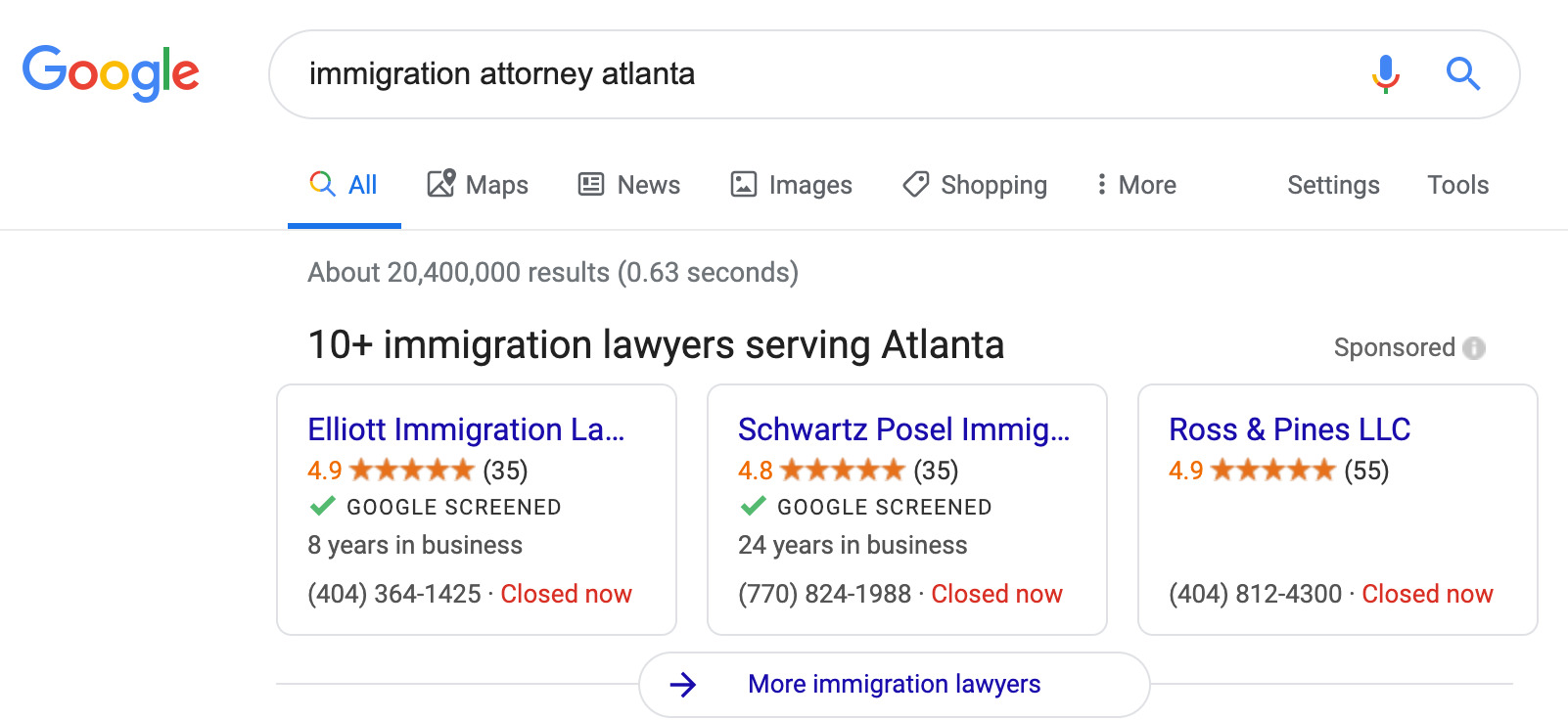 Google Screened
The Google Screened badge helps professional service firms and professional service providers build trust with potential customers.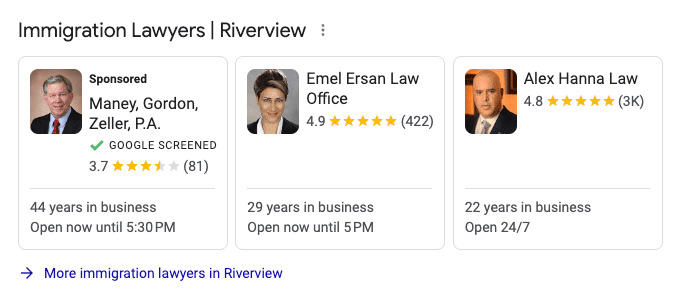 In order to earn the "Google Screened" badge, local firms have to pass Google's background checks, license checks and meet certain quality standards. This badge appears alongside their business name in search results so that it can grow confidence in local customers.
Currently, Google Screened is available for select professional service industries:
Real estate agents and brokers
Lawyers
Financial planners
Childcare and preschool service providers
However, please be noted that Google Screened is currently only available in select verticals in the US.
Industries and regions qualify for Google Local Services ads
At present, specific locations and Local Service ads categories are limited. Besides, Google Local Services ads are currently available in selected countries as well as specific services. So keep yourself updated with Google's changes and policies before investing in this type of Google Ads.
Industries
Take a look at several areas that are currently supported by Google Local Services ads:
Business lawyer services
Carpet cleaning services
Dermatologist
Pet training
Plumbers
Real estate services
Tax services
Tutor
Veterinarian
Yoga studio
For more details, you can check Google's basic guides to Local Service ads.
https://support.google.com/localservices/answer/6224841
Regions
While Google Local Services ads may not be available in all regions, they are accessible in metropolitan areas. Google has intended to further expand Local Service ads coverage internationally.
Austria
Belgium
Canada
France
Germany
Ireland
Italy
Spain
Switzerland
United Kingdom
United States
Advantages of Local Services ads in Google
How can Local Service ads increase businesses' visibility, trust, and targeted reach? Let's take a look at their simplified communication and a mobile-friendly format.
Expand the reach of your paid search Google Ads
Google's Local Services ads appear above Paid Search ads and other organic ads. However, they don't replace traditional Search ads or organic local listings. Users still visit websites before deciding on a local service provider. The prime position on SERPs and user reviews matter, but will influence conversions later.
Manage no ads or keywords
For Paid Search advertisers, keyword research and ad testing can be time-consuming tasks. However, Google Local Services ads are automatically activated when a customer searches for relevant terms.
Simple steps to set up Google Local Services ads
First, complete the Google Local Services ads login and follow the following steps.
Step 1: Check business eligibility
First and foremost, confirm your business eligibility!
Fill in your job category.
Add your business's location.
Don't forget to add the ZIP code (E.g. Illinois: 60601)!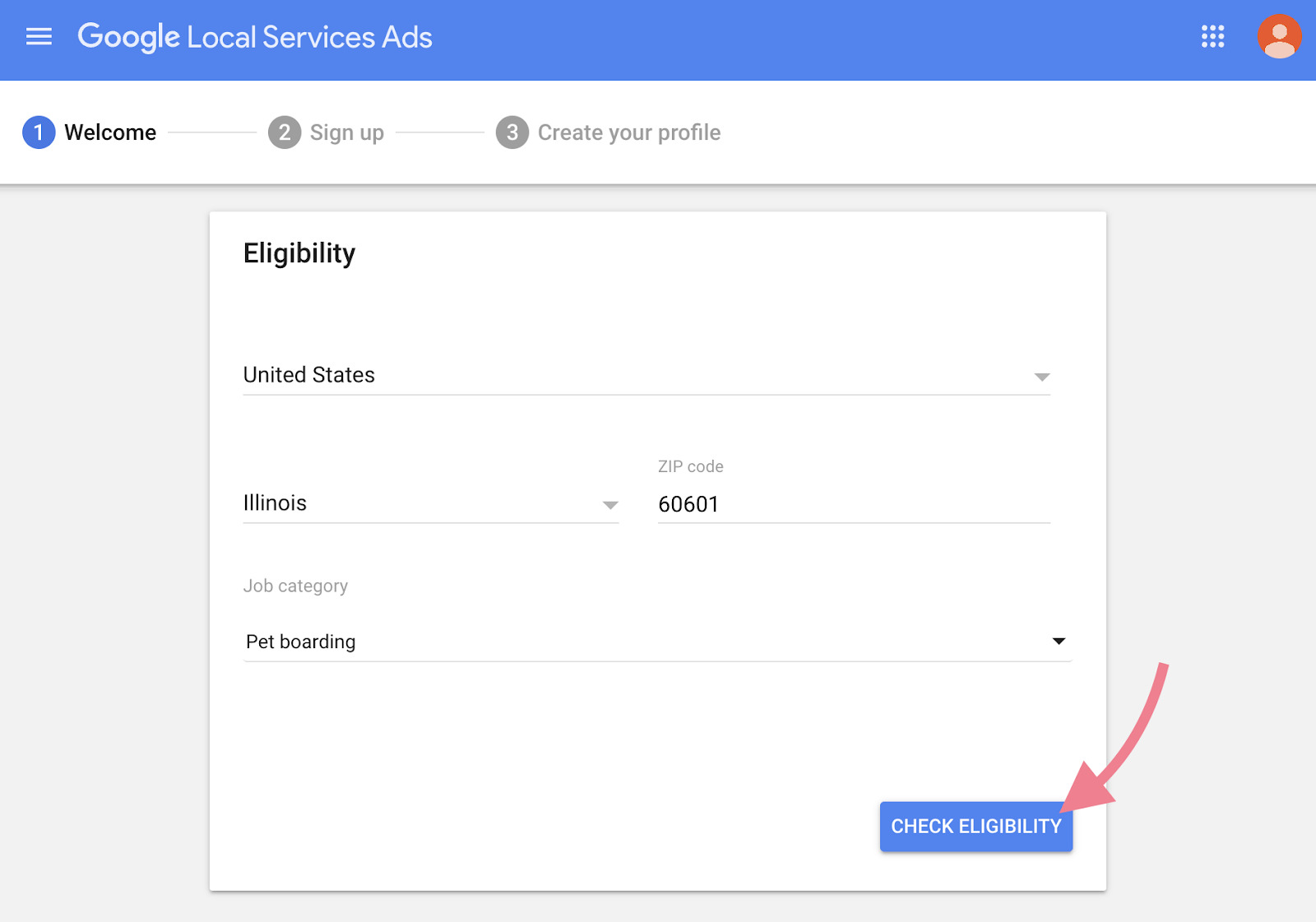 If Local Service ads are not available in your region, businesses can sign up for notifications as Google will expand further. Eligible businesses can create a separate account to manage their ads because they are distinct from ads created in Google Ads or Google Ads Express.
Step 2: Create your business profile
Remember that your Google Local Services ads profile is separate from your Google My Business account. Your Local Service ads profile focuses on the jobs that are matched to your ads.
Besides, you should clearly state the services you provide and the areas in which you want to gain leads.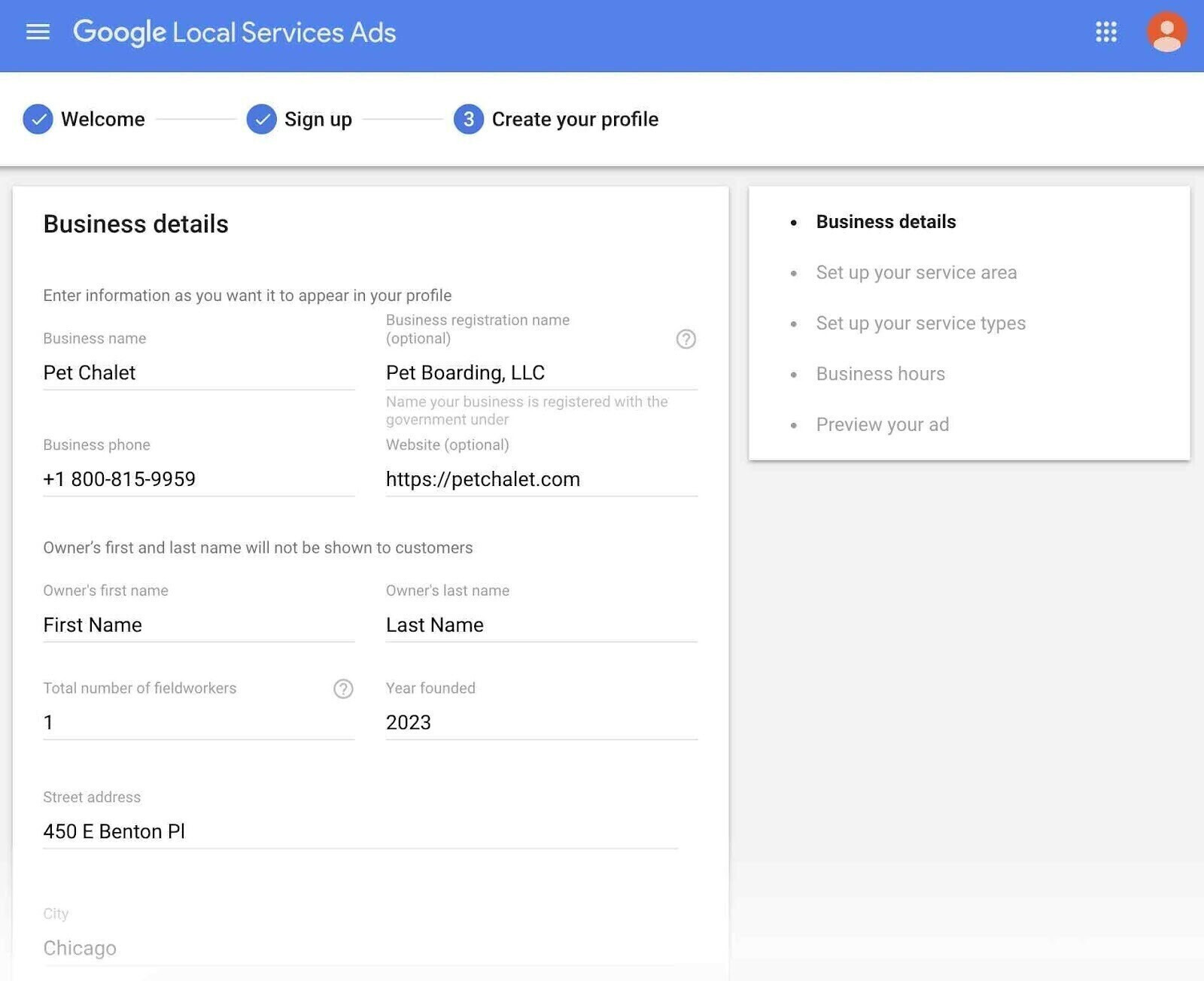 Step 3: Fill out license and insurance details
To earn the Google Guarantee badge and run Local Service ads, remember to submit documents proving that you're a licensed and insured professional.

Make sure to provide up-to-date paperwork. Then, provide your insurance details as well as related professional licenses.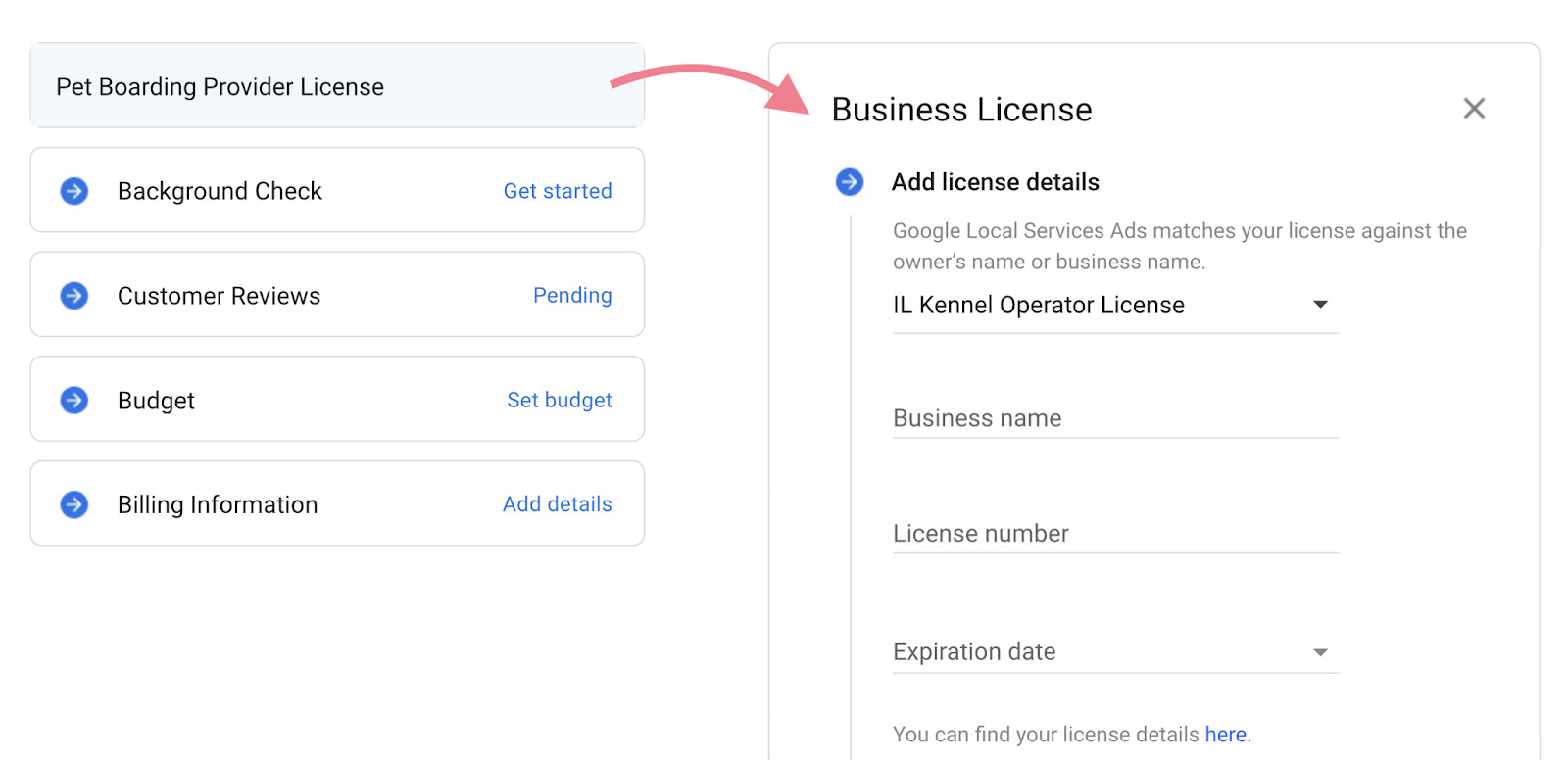 After filling out those sections, Google will automatically look for reviews on your Google Business Profile. The review scores will affect your Google Ad Rank.
In case you haven't had any reviews, you can send the links to previous or current customers to get some.
Step 4: Set your budget
In this step, you can either set your own weekly budget or choose one of Google's suggestions.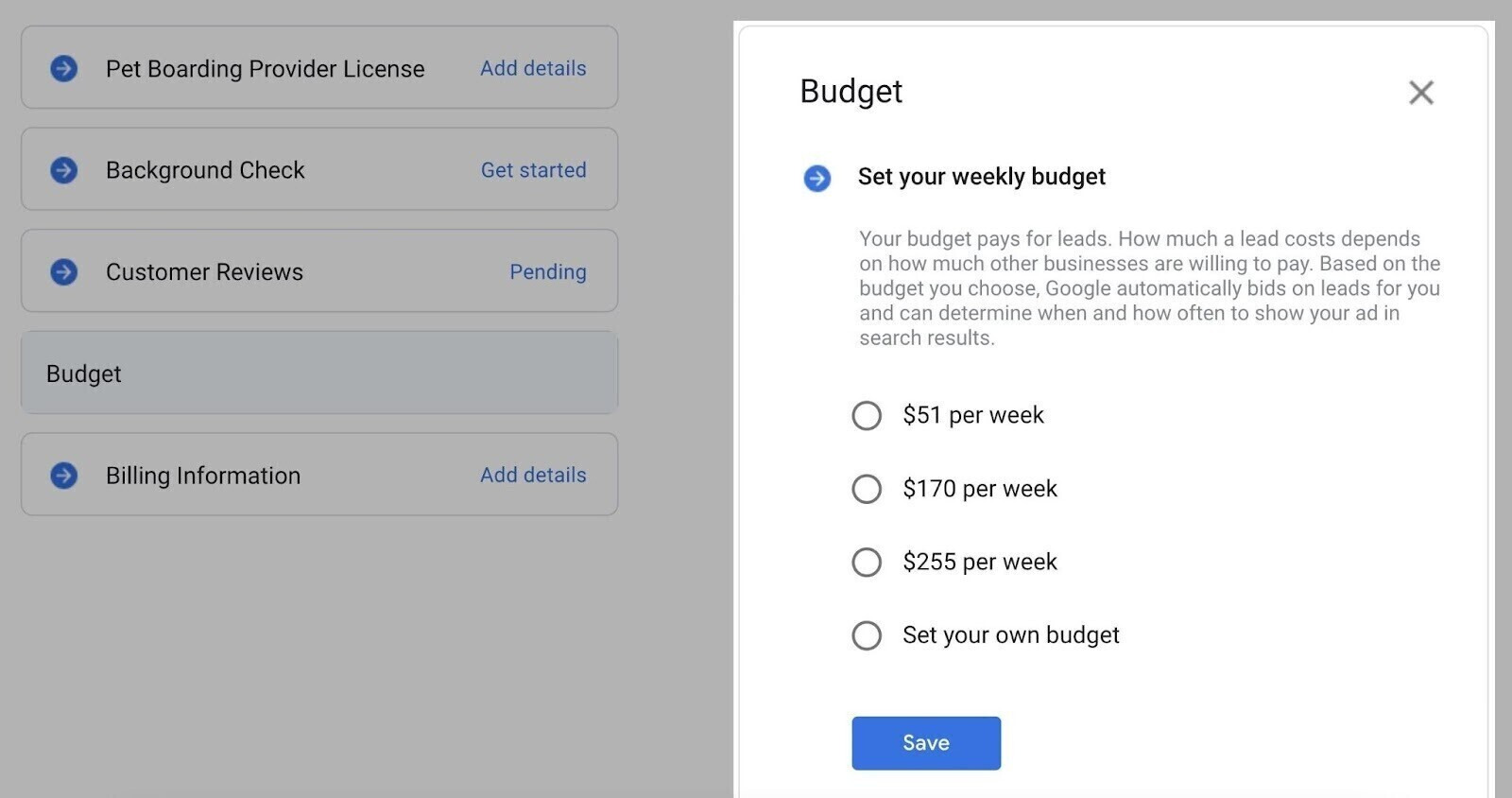 Now, let's come to the final step – billing information. Fill in your account details and you're done.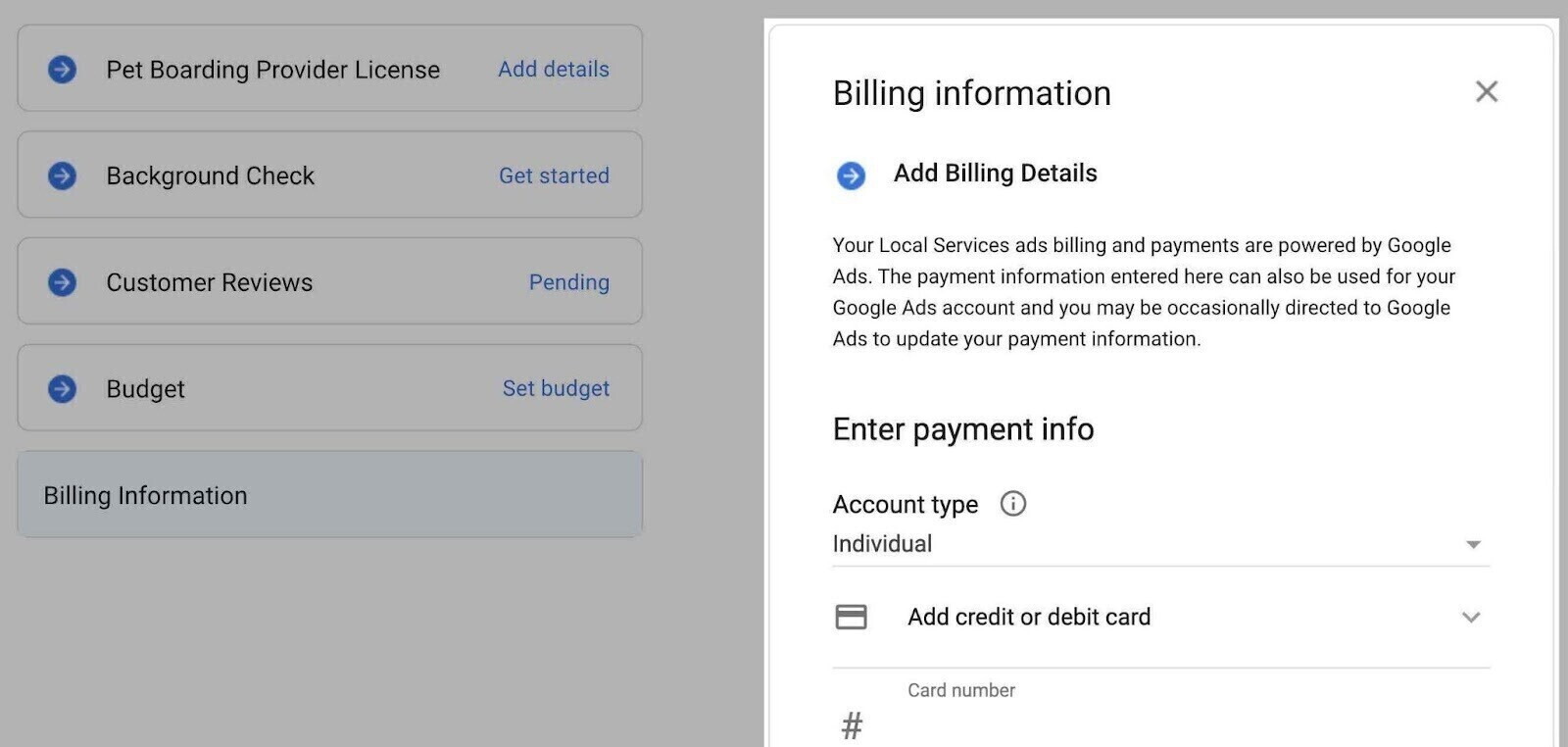 Step 5: Wait for Google's approval
Google's screening and verification process can range from a few days to several weeks. The duration depends on factors such as your business type, location, and other relevant considerations.
Check out Google's screening and verification requirements to learn what's required to complete your verification.
Best practices for Local Services ads management
You can optimize the reach to local customers by effectively managing your Google Local Services ads.
Now, go to your account page and edit your profile. Then, switch the button that says "Your ad is paused" to start launching your ad.
Manage account settings
After turning your ads on, scroll down to view the "Budget". It shows your bidding mode, weekly budget, and leads. You can adjust your budget by clicking on the pencil icon at the top of the box.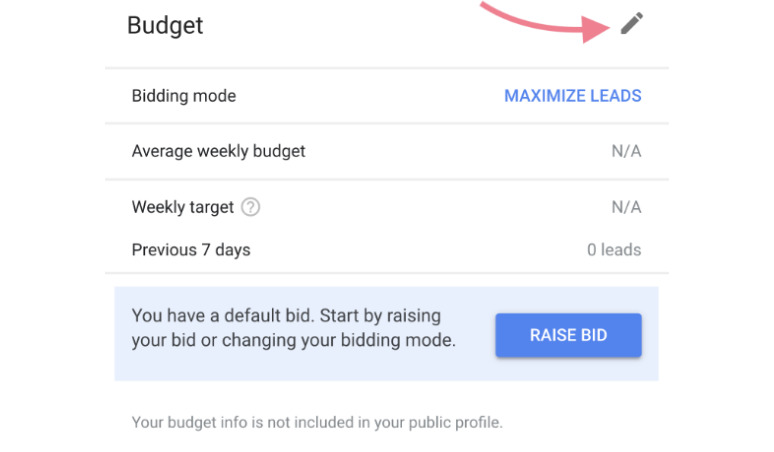 Then, fill out or remove services in the "Job types" box according to the services you offer. After that, you can upload high-quality photos of your services or equipment to gain searchers' trust.
Remember to check out Google Local Services ads photo guidelines for more information.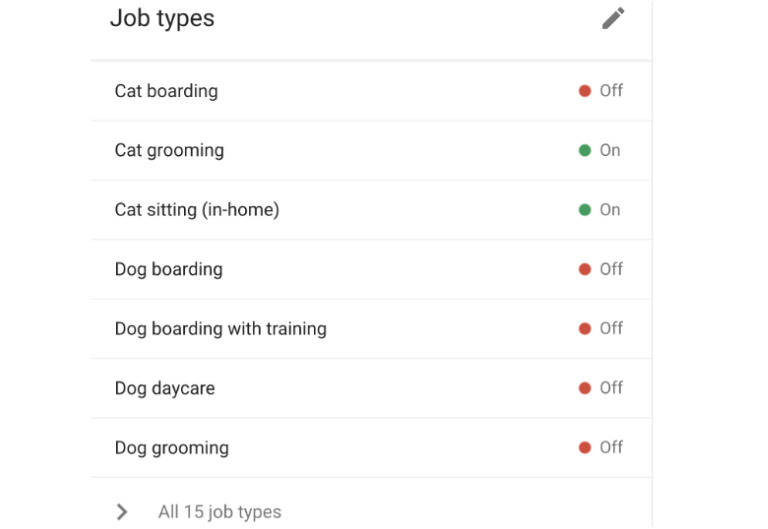 Another important step is to turn on "Message Leads" under "Settings". Messages are 50% cheaper than phone leads. Moreover, potential customers can directly contact you via messages and emails. Remember to check whether this feature is available in your region.

Next, confirm your service areas as well as fill in your business hours.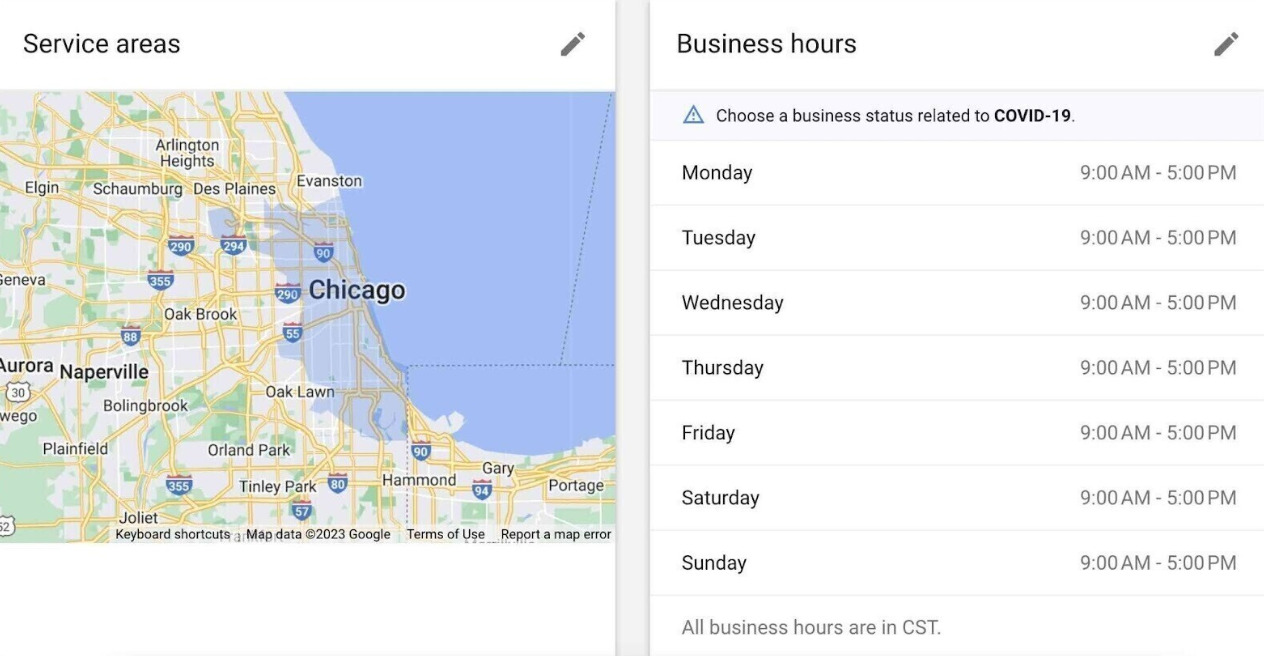 Gain more leads
The sooner you follow up with your potential customers, the higher your chances of converting them into customers. First, click on "Leads" to open the dashboard, in which your new, active, booked, and completed leads are shown. It will also provide you with information like job type, location, and last activity.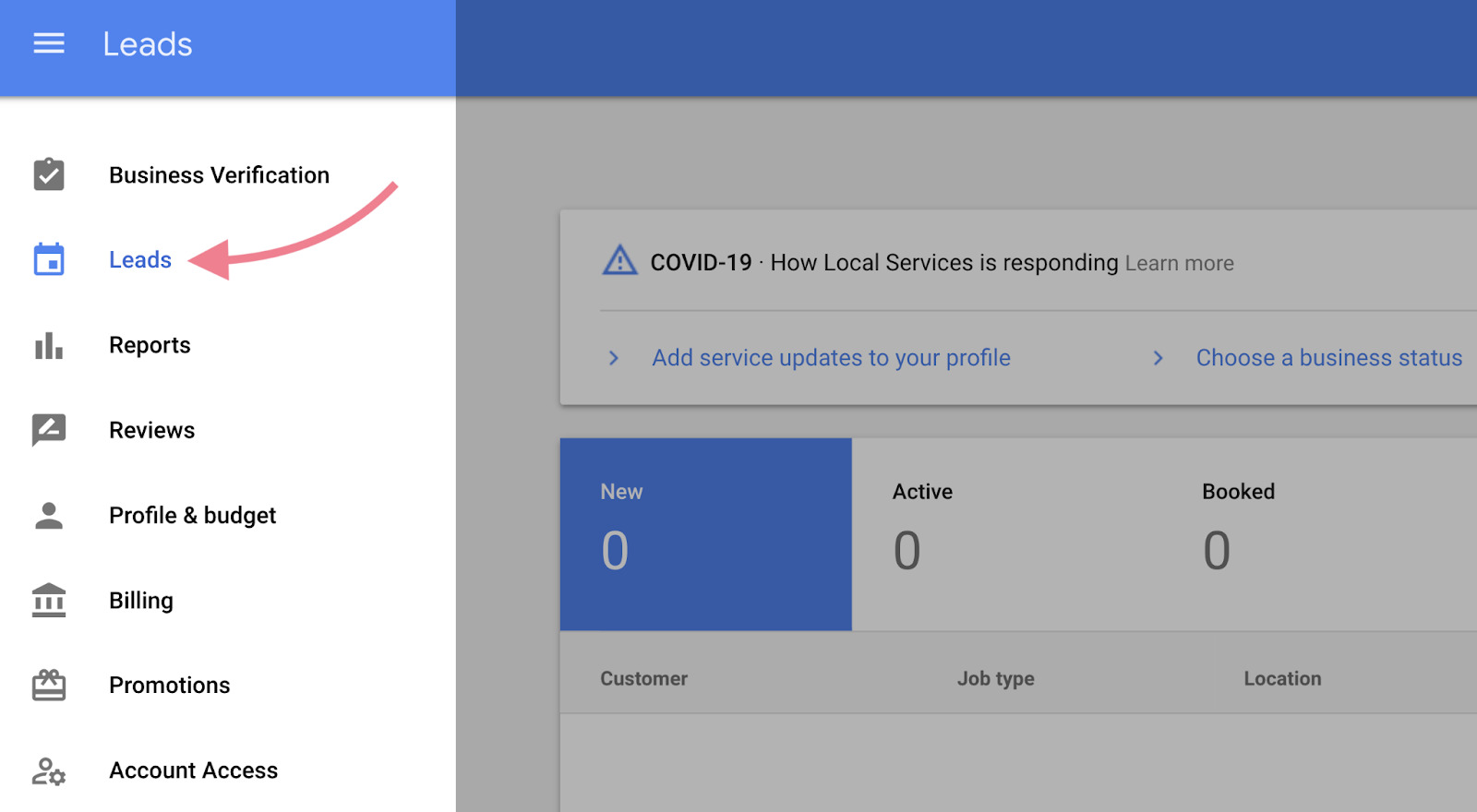 Follow the following basic steps to review your leads based on the dashboard.
Reply by sending emails or text messages.
Call the leads via the phone numbers they provided.
Decline the request if you don't think they are relevant to your business.
Once you respond to a potential customer, the lead status becomes "Active". After that, remember to change the status into "Booked" after taking the job. This feature basically assists you in scheduling appointments via emails or calls and gathering customer feedback.
View Local Services ads reports
Click on "Reports" to review your budget and lead status.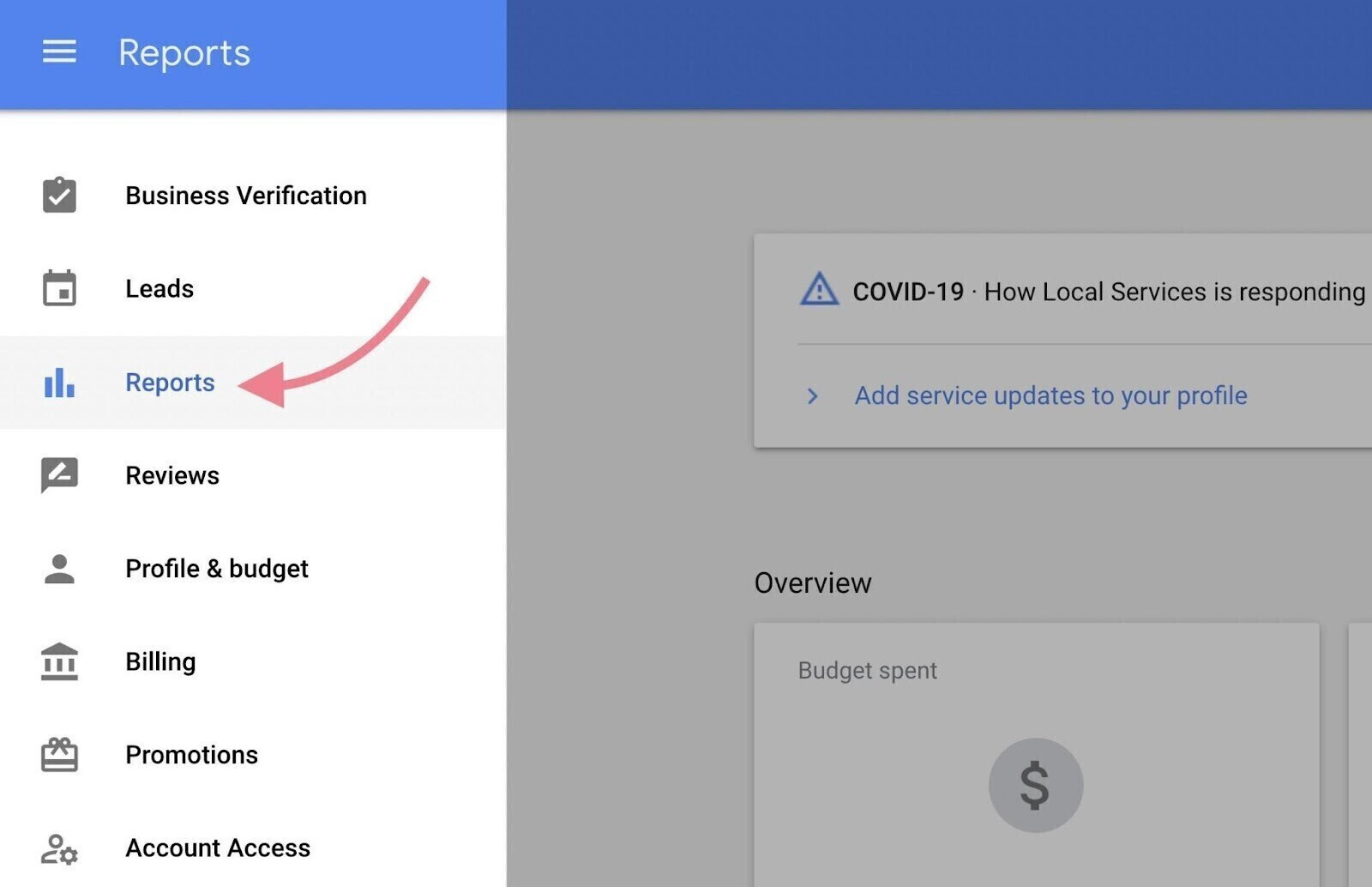 You'll see the number of charged leads and booked appointments. Another insightful value of this report is that it shows specific information about your leads. I.e. you can base on phone numbers, names, lead types, and business categories to assess the quality of the leads. You can thereby make any necessary adjustments for better results.

Frequently Asked Questions
Provided you have met all eligibility requirements of Google Local Services ads, are there any other factors that still need to be considered?
How can I get Google's reimbursement?
Please be aware that in order for customers to be eligible for reimbursement, services must be specifically booked through Local Search ads.
Google will not reimburse customers for the following cases:
Add-ons or future projects
Damages to property
Dissatisfaction with the service price or the provider's responsiveness
Cancellations
For more detailed information on the reimbursement process for customers, I recommend reading Google's reimbursement guide.
How does PPL determine your costs?
In contrast to PPC advertising, Local Service ads offer a different approach. With PPC, you need to conduct keyword research and A/B testing to ensure your ads appear for relevant search queries.
However, Local Service ads determine their rankings based on
Your review rating
Response rate
Proximity to the searchers' locations
Moreover, you only incur costs when a customer directly contacts you by calling or messaging via Local Service ads specifically. This cost structure ensures that you only pay for real interactions with potential customers.
Another tip from Mega Digital is to combine Google Local Services ads with other advertising methods to effectively target a broader audience.
How much do Google Local Services ads actually cost?
You are probably wondering about Google Local Service ads' cost. Well, ads usually cost around $25 per lead. However, costs can vary widely as they depend on your location, industry, and competitors.
One benefit of Google Local ads is that you have control over your budget because you set it based on the number of leads you want per week. And once you reach your monthly limit, your ad stops showing unless you increase your budget.
>>> Read more: How much does Google Ads cost? Is it worth investing money?
Final words
In conclusion, Local Services Ads provide businesses with quality leads and the "Google Guaranteed" badge. For effective advertising solutions and support, trust Mega Digital's Google Advertising services for expert guidance and successful campaigns.