TikTok content distribution is based on TikTok users' behavior and interest. Therefore, running ads with specialized interest targets is one of the most effective ways. Let's find out about the TikTok interest targeting in this article!
What is TikTok Interest Targeting?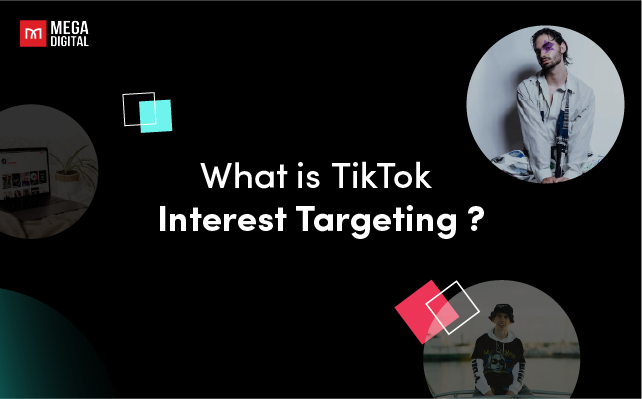 Interest Targeting is a method of finding people on TikTok based on their long-term interests and interactions with content. Using Interest Targeting to find a relevant audience for your ads is a great way to get started. There are two types of Interest Targeting:
Interest Categories: You can use these categories to narrow down the audience you want to reach.
Additional Interest: If you can't find the user interest you're looking for in the Interest Categories, try typing it into the search bar, and the system will return relevant interests.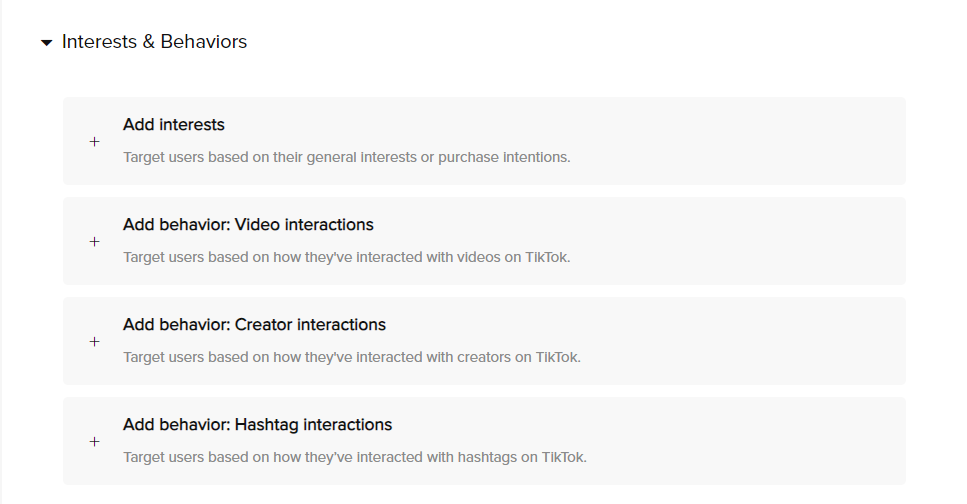 TikTok Interest Targeting list (Interest Categories) is one of the most important feature that advertisers should take noted. When you click to "Add Interest", and tab the search bar, TikTok will show you a series of interesting fields that is popular on this platform. The TikTok Interest Targeting list has been researched through a special TikTok algorithm helping advertisers to target the right audience. Also when you hover over each Interest item, TikTok will clearly display the audience size that you can probably reach. 
A unique thing about this targeting option is when you select an Interest, TikTok will clarify that Interest's categories. That helps advertisers to have a deep reach into the niche market and enhance sales opportunities.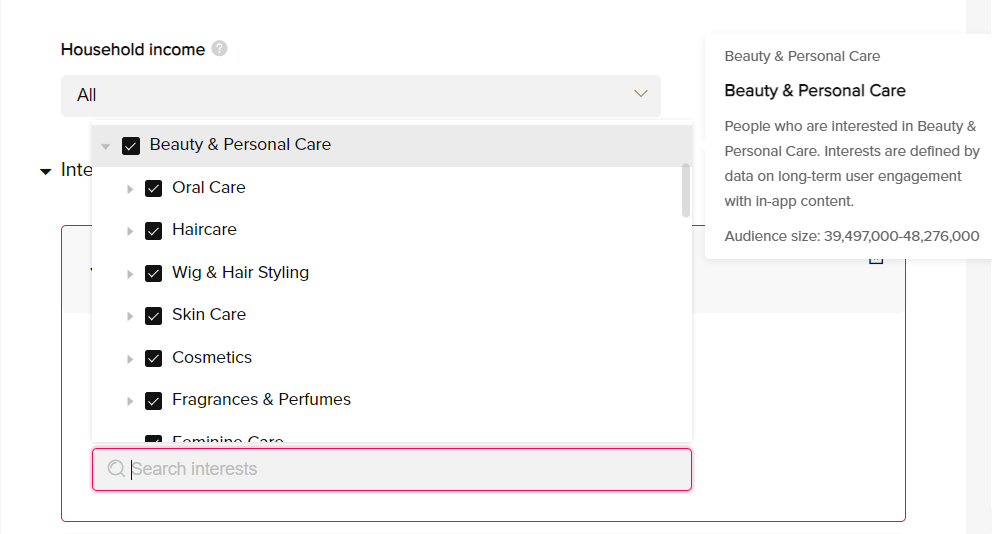 Benefits of TikTok Interest Targeting
TikTok interest targeting helps you to identify a detailed demographic audience which is one of some ads' success factors. Advertisers are not only suggested the interest list suitable for their products, but they can also expand their potential interest categories. This is a valid targeting option for whom do not have a strong hypothesis about the target audience.
Ad spending can quickly become wasteful if companies cannot find targets for their brands. Without them, reaching the target demographic may be much more challenging.
You can directly reach the most relevant audience for your business by selecting interest tags on TikTok based on the personas or characteristics of your target audience.
TikTok suggests using multiple and specific Interest Categories to create a Balanced broad audience. Similarly, choosing a first-tier interest category will assist the system in exploring ad delivery and locating the most relevant audience.
Where does TikTok Interest Targeting list come from?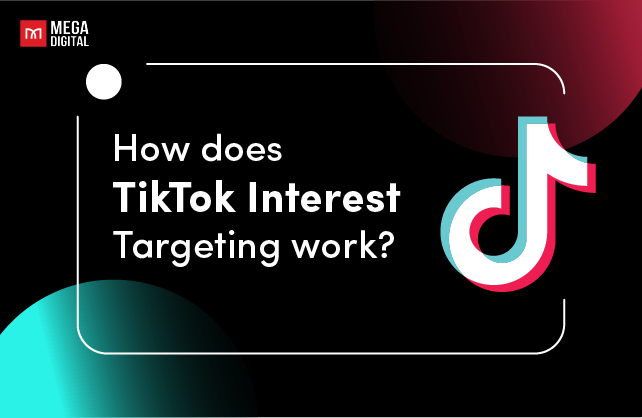 TikTok Ads tracks how users interact with this content via durations, types of videos, and interactions. When a user's interaction with a specific category of interest, such as 'gaming,' is high (for example, they may regularly watch gaming videos or click on gaming ads), their profile is associated with this interest for future advertising purposes.
TikTok Ads' targeting module allows you to select "interest categories." When you create an ad group, your advertisement will target specific users whose profiles match your particular interest category.
Ad delivery accuracy can be significantly improved by fine-tuning your ads to target interest. Let's look at how we can divide interest targeting into two categories:
Product Characteristics
Use Cases
Product Characteristics
You can choose the interest you want to target based on product characteristics in the TikTok Interest Targeting list.
For example, choose "Apparel and Accessories" from the drop-down menu if you promote a Hoodie for this holiday season. You can remove Interest categories unrelated to the product, such as Wearable Tech Devices.
Use cases
With the TikTok Interest Targeting list, you can select the interest based on use cases. For example, if you promote a Hoodie and think that users who travel may have a particular interest in buying a Vacation Hoodie, you can select the interest "Travel."
For example, when you choose interests including Travel, Apparel & Accessories, and Pets, Tiktok will show your ad to users interested in that 3 fields. Remember that when you select multiple interests, the target audience is limited to users who meet only one criterion. Choose the claim that best corresponds to your target group.
What is the difference between TikTok Interest Targeting and Behavior Targeting?
TikTok Interesting Targeting sometimes is mistaken for Behavior Targeting. Behavior Targeting lets you deliver ads based on a user's recent in-app behavior on TikTok. While Interest Targeting concerns a user's long-term content consumption, Behavior Targeting examines the user's most recent interactions with content.
The table below will give you a clear understanding of these two options:
Behavior Targeting
Interest Targeting
Feature logic
Based on user behavior
Predicted through machine learning based on
long-term past behavior & key indicators
Time frame
Recent (7/15 days)
Remote
User behavior
Tracked Behaviour
General Behaviour
Content type
Organic Content
Organic and Paid Content
Advertising type
Hands-on
Hands-off
Note: TikTok will track users' behavior in the last 7-15 days and identify the valuable behaviors for your targeting. Meanwhile, Interest Targeting shows you the result after machine learning analyses users' behaviors for a long time.
Example: Rose clicks on a video about beauty products. Rose's user action will be associated with the Beauty behavior tag. However, their user action might not be associated with the interest tag for Beauty care. This is because the interest targeting algorithm could have found her long behavior to be similar to the audience interested in personal care. As such, they might be tagged with Beauty and Personal Care interests.
TikTok Interest targeting list updated 2023
TikTok Ads Manager provides multiple interest options and updates it every year. Therefore, advertisers should keep an eye on the list to enhance the chances of getting closer to the target audience. Now, the list includes 440+ options, and here are some key categories:
Life Services
Household Products
Tech & Electronics
Home Improvement
Sports & Outdoors
Education
News & Entertainment
Financial Services
E-Commerce (Non-app)
Vehicles & Transportation
Games
Beauty & Personal Care
Appliances
Baby, Kid & Maternity
Apps
Food & Beverage
Apparel & Accessories
Pets
Travel
Business Services
Tips to use the TikTok Interest Targeting list effectively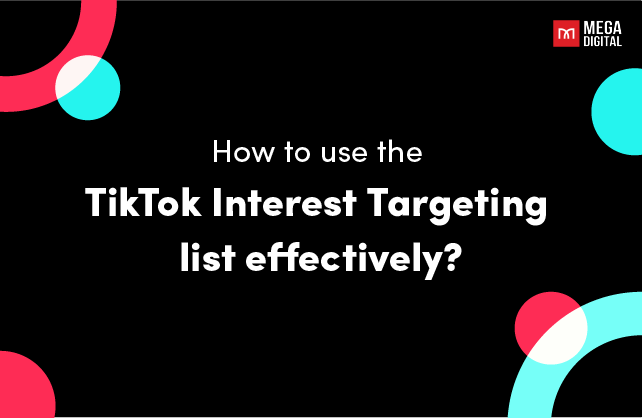 Do not skip the TikTok Interest Targeting
Choosing the TikTok Interest Targeting list on TikTok Ads Manager is not compulsory. Some advertisers usually skip this step because they may see it as unnecessary or the result of choosing an Interest Targeting list is vague.
However, if you constantly use it in the long term, TikTok Interest Targeting will contribute to higher ad performance. With a smart machine learning algorithm, TikTok automatically collects users' interest through video interaction; meanwhile, users do not directly provide the platform with what they like or care about. Then all data that TikTok got may show their latent interest.
Involve more detailed targeting options
Advertisers should apply multiple Interest Targeting to reach more potential customers when setting up an ad campaign. Especially if you notice that a large share of your conversions come from a particular user interest you have not selected previously used. Then, add it to your list immediately.
Besides, adding more explicit other targeting options will help you pull to close the distance with the right customers. It can be listed as TikTok ads geo-targeting, behavior targeting, etc.
CONCLUSION
Overall, TikTok Ads Interest Targeting truly can save advertisers time and money if you know how to utilize it strategically and combine it with other targeting options. If you got any issues with TikTok Advertising, feel free to contact Mega Digital to get advice right away!