Similar to Facebook, TikTok Reach and Frequency help increase brand awareness and gradually become top-of-mind. With this ad-buying type, your brand can control the audiences and have more opportunities to reach the right customers. Let's discover how a brand can utilize them!
What is TikTok Reach and Frequency?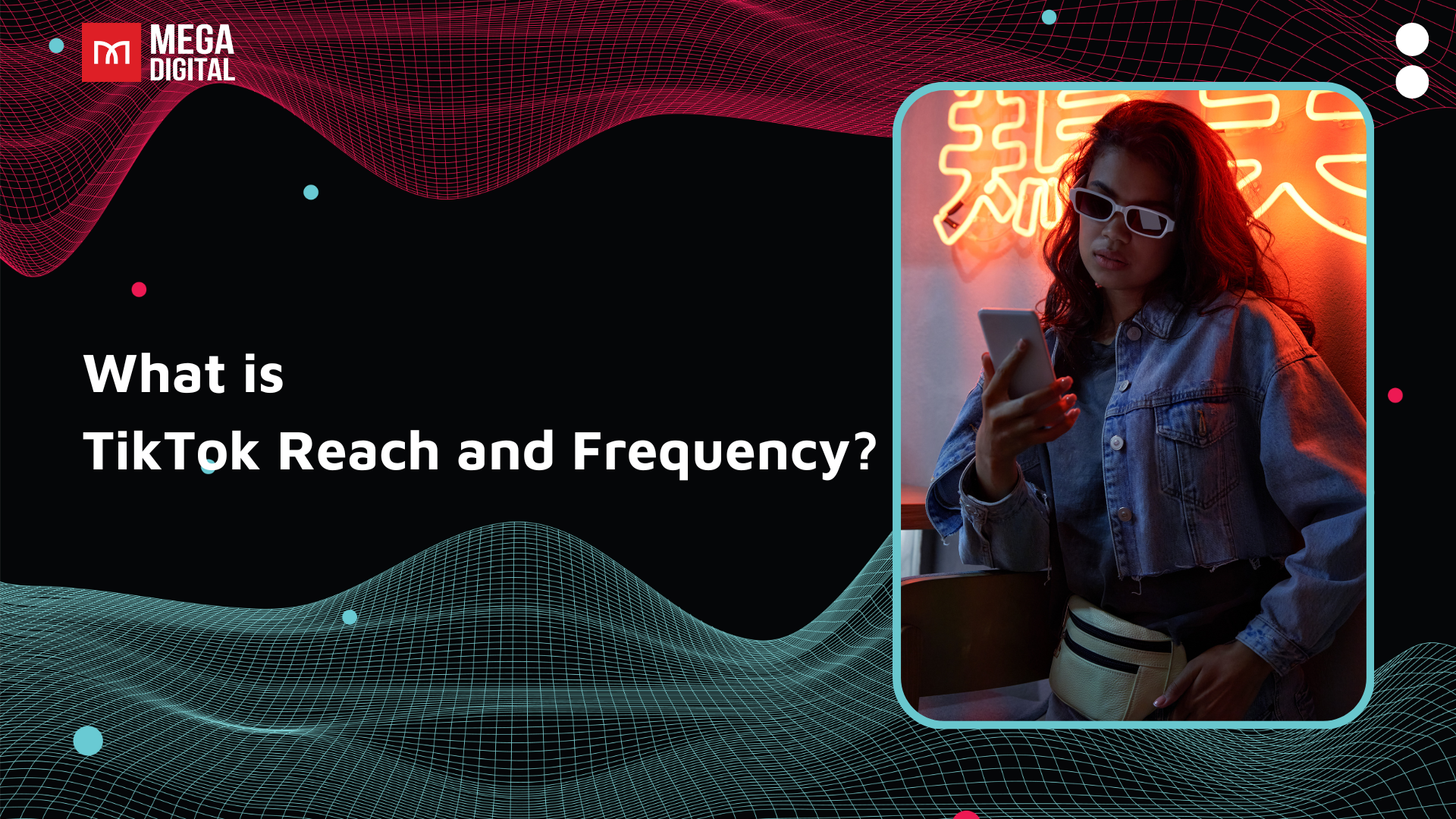 Reach & Frequency (R&F) is a campaign buying type on TikTok Ads Manager that lets you control the audiences you reach and the number of times they are exposed to your ad messaging before delivery. While Auction ad delivery is determined by bid strategy, an R&F campaign can be scheduled with predictable reach and controlled frequency at a set cost.
However, TikTok Reach and Frequency is available only to whitelist ad accounts. Therefore, you need to use a TikTok Agency Account to get access to this type of ad. Contact Mega Digital to possess it within 24h.
How do TikTok Reach and Frequency work?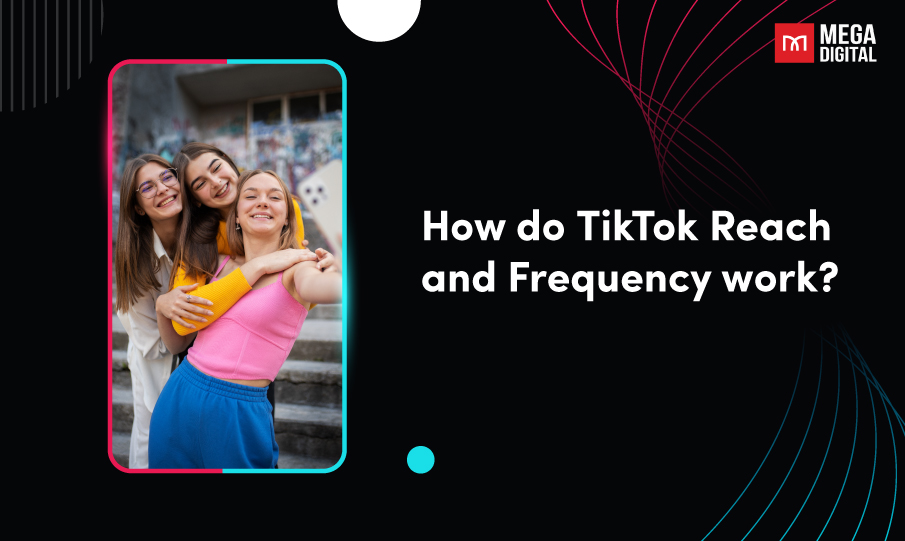 TikTok Reach and Frequency help advertisers maximize three following objectives:
When you create a Reach & Frequency campaign, it'll operate three main components at the Ad Group level. The settings you select for each are then used to forecast the outcome and total cost of your campaign.
Targeting: The audience size that you may reach.
Schedule: When your ads will be delivered.
Reservation and purchase method: You can control variables like budget, impressions, reach, and reach percentage. Based on your targeting and placement, the system will use this selection to predict the campaign's estimated results and total cost.
With Reach and Frequency, you will see how your choices impact the following in real-time: Reach, Impressions, CPM, Frequency, and Budget.
Why brands should use TikTok Reach and Frequency?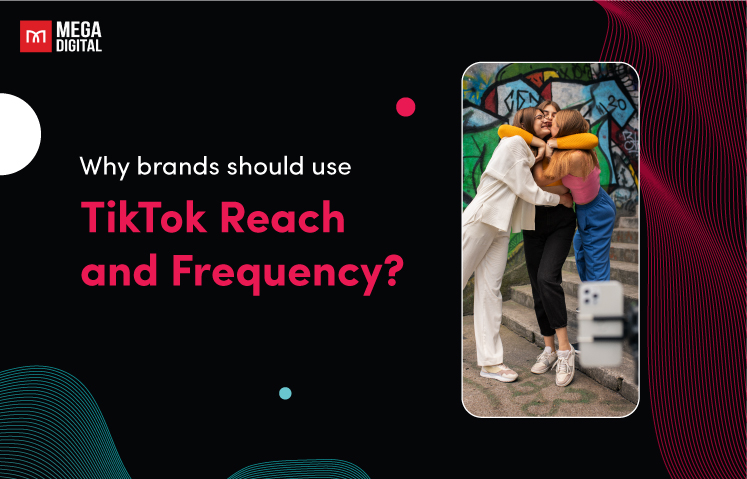 An ad buying type on TikTok that offers "Transparent Media Planning and Predictable Delivery of branding campaigns," allowing advertisers to control the audiences they reach and the number of times they are exposed to their ad content. Therefore, brands can enhance their opportunities to reach prospective customers with needs or demands. Particularly, Reach and Frequency brings the brand these 5 values:
More control: Media transparency and frequency control
Predictable delivery: Guaranteed delivery as soon as 255 days in advance
Unique R&F features: Utilize advanced features such as interactive add-ons and multi-creative delivery strategies to convey your brand message in TikTok style.
Direct users: R&F can be used to promote and drive traffic to the Branded Hashtag Challenge, the Brand Effect campaign, the TikTok Profile page, and the TikTok Shop Product Detail Page.
Build smarter campaigns: Create an audience group using R&F and apply it to a lower funnel campaign.
TikTok Reach and Frequency can accurately predict Reach or Impression within +/- 5% delivery difference at a locked CPM. Significantly, when the brands advertise R&F format with advanced features, they can optimize the ad performance and lead to higher conversion.
When use Reach and Frequency?
Brands should take advantage of R&F if they are looking for:
Extensive awareness generation goals, such as product launches, brand events, and so on.
Spending a set portion of the marketing budget dedicated to reaching TikTok users.
Carry out a campaign with minor monitoring and adjustments in mid-flight.
Seek campaigns with storytelling narratives and require a more relevant, native format
Some key industries will mainly benefit from the Reach and Frequency ads format, including Entertainment, Gaming, FMCG, Retail & E-commerce, and Food & Beverage.
Industry
R&F benefits
Entertainment
– Use Ad Scheduling in R&F campaigns for trailers.
– Engage your target audience in a story-like fashion by genre.
Gaming
Increase TikTok audience exposure through new product launch campaigns, major updates, and IP crossovers.
Retail & E-commerce
– Use Campaign Forecaster to assess budget, reach, and frequency.
– Showcase your products with Optimized Delivery to maximize campaign efficiency, and direct users to TikTok Shop Product Page to drive sales through direct conversions during the holiday season.
Food & Beverage
Use creator content and R&F purchasing to achieve guaranteed branding results.
FMCG
Creates widespread exposure and a targeted audience to re-engage users in Brand auctions with a product offer message.
Some tips to optimize the TikTok Reach and Frequency campaign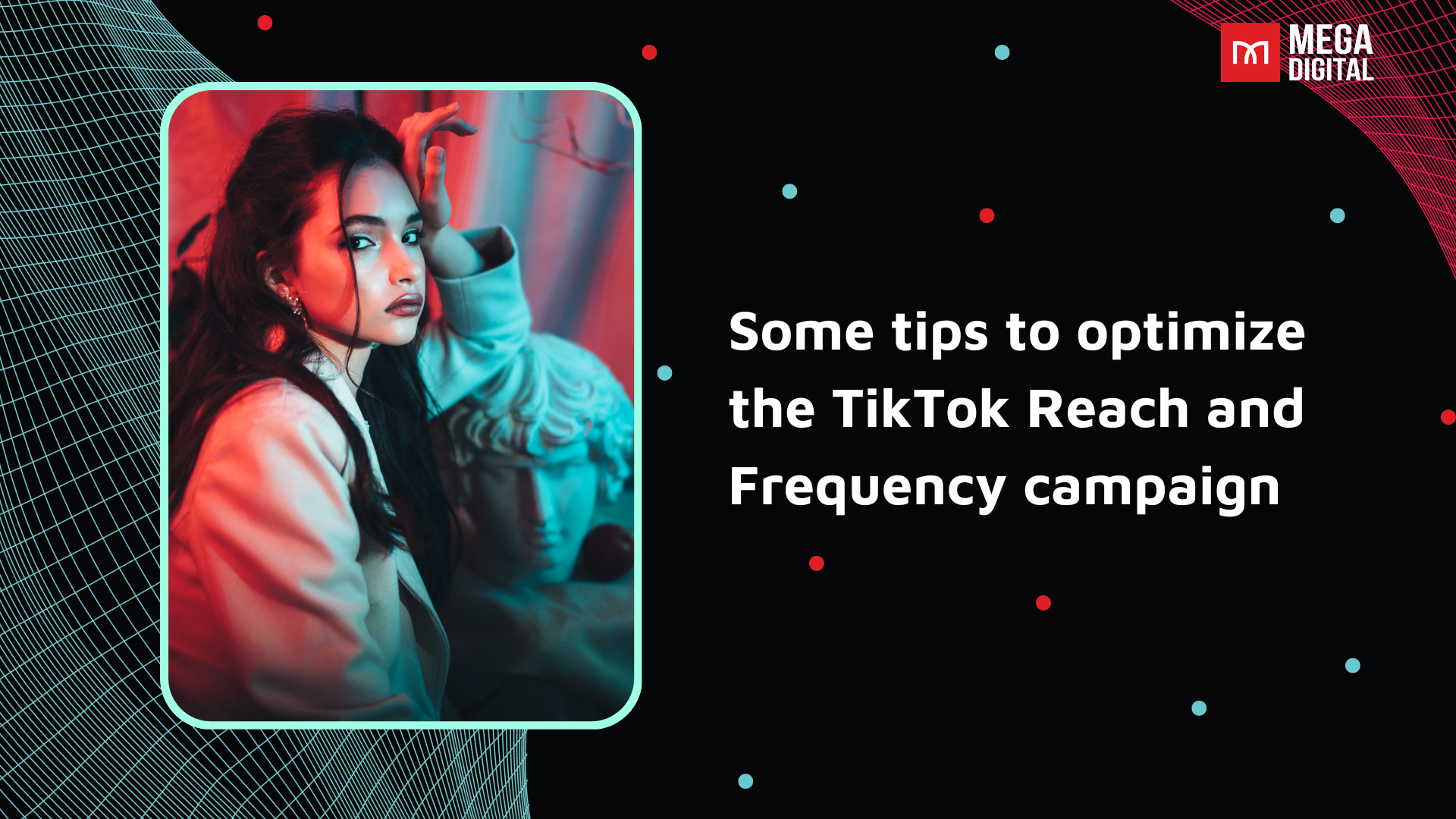 Consider the following best practices to assure success for your R&F campaigns
#1 Utilize Campaign Forecaster
Campaign Forecaster is a straightforward solution that allows you to confidently plan your Reach & Frequency campaigns if you're unsure how to do it. Campaign Forecaster provides advertisers with these 4 values:
Create and compare different versions of Reach & Frequency campaigns in a single place.
Export and share campaign draughts quickly to foster collaboration.
Select and reserve the plans that best meet your requirements.
Compare budget, CPM, estimated reach, frequency per person, and daily spend.
#2 Reserve inventory as soon as possible
Reserve R&F placement as soon as possible to ensure a lower CPM price and maximize campaign reach while staying within the same budget. Besides, you should run a 3-week R&F campaign and interact with TikTok users three times per week.
However, please keep in mind that the TikTok Reach and Frequency campaign is only available for qualified customers. Therefore, following to Agency's consultant is the key to your ad success if you have never run a Reach and Frequency campaign.
#3 Direct Reach and Frequency targeted users to TikTok Pages
When you create a Reach and Frequency campaign, you have the option of sending people relevant TikTok pages when they click on a link in your ads. This type of ad can deliver a seamless experience used to
Drive TikTok Shop purchases.
Increase discoverability and TikTok account followers.
Encourage the creation of content on the Hashtag Challenge (HTC) and Branded Effect (BE) pages.
Outstanding TikTok Reach and Frequency case study – KFC
The objective
KFC, the fried chicken fast food giant, has long advocated for moving the needle quickly with TikTok ads, and this time its goal was broad: Raise awareness for its extensive product line-up and taste-tingling offers.
The solution
KFC utilized TikTok's new Reach and Frequency buying method to run a suite of mouth-watering ads. They also run In-Feed Ads on TikTok and gain traction with eye-catching content.
KFC concisely and clearly showed off its range of tasty products combined with tempting offers by displaying chunky text over bold pops of color and tasty product shots.
The result
The campaign was a finger-licking success, delivering more than 14.9M impressions and reaching over 7.2M users. 
Displaying 1.6 times to each user, the number of times optimized based on the brand's Reach and Frequency parameters. 
How to run a Reach and Frequency campaign?
Reach and Frequency brings in such a potential impact on enhancing your brand awareness. However, since Reach and Frequency is a Reservation ad, not everyone can use this form of advertising. Follow this instruction to run this type of ad:
Step 1: Having a TikTok Agency Ad Account.
Contact TikTok Partners like Mega Digital to get one.
Step 2: At the Campaign level, you will need to
Select Reach and Frequency as Buying Type.
Choose your advertising objective: Reach, Video Views, and Traffic.
Enter your campaign's name.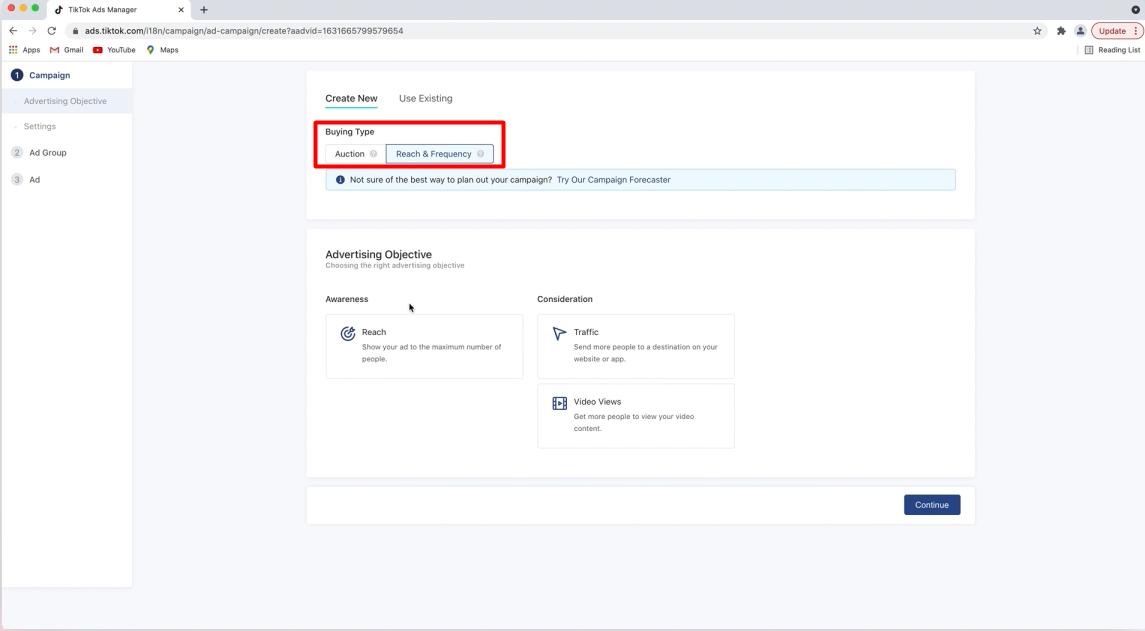 Step 3: At the Ad Group level, all you do is define who, when, and how you want your target audience to see your ads with diversified targeting and delivery options. Some key segments you should focus on
Schedule
Reservation
Optimization Goal
Frequency Cap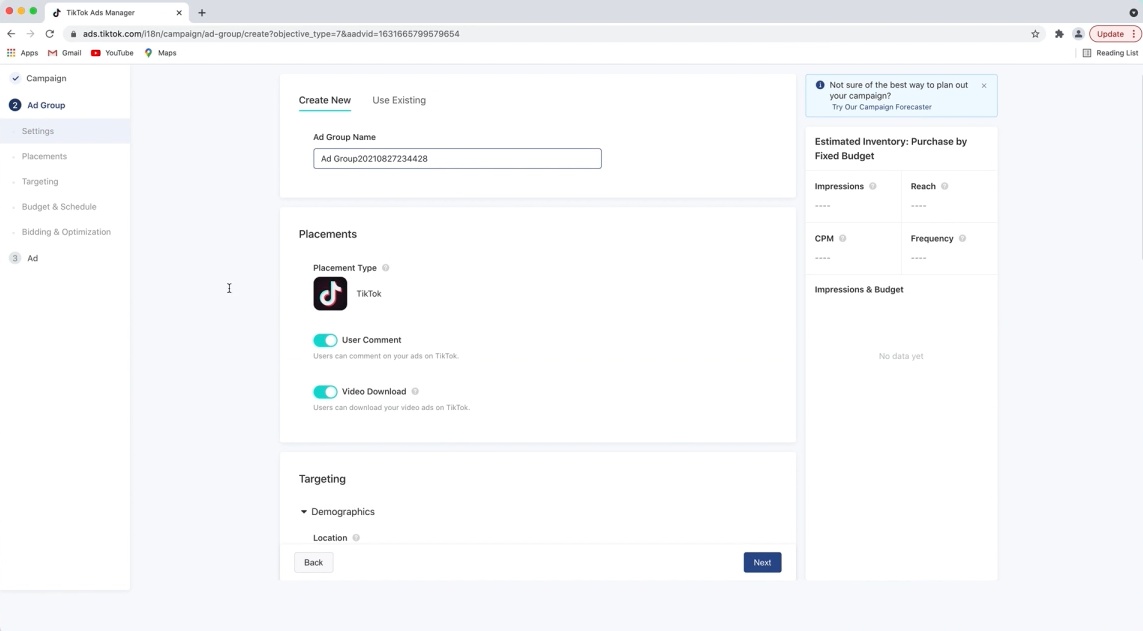 Step 4: At the Ad level, you will add videos, TikTok Posts, and even interactive add-ons to show your audience and the destinations you want to direct your audience to.
Final word
However, it's not easy to achieve a successful TikTok Reach and Frequency campaign because these steps above are just the basic guideline. Contact Mega Digital to deploy TikTok Reach and Frequency right away!