Local Service Ads vs Google Ads are two completely different types of advertising on the Google platform. They come with different purposes, ad placements, bidding strategies,…
In this blog, we will compare Local Service Ads vs Google Ads so that you can have the most overall understanding of these two in order to make informed decisions for your advertising efforts.
1. Reach and Audience
Local Service Ads
LSAs are designed to target a specific audience, primarily local service providers looking to connect with potential customers in their geographic area. For this target, LSAs use geo-targeting to match service providers with customers who are physically close to the business. That is to say, your ads will be shown to users in proximity to your business location.
The primary audience for LSAs is the ones who have immediate service needs. They are actively searching for solutions, such as "plumber near me" or "locksmith nearby." Another potential target audience is those who are ready to make a decision. They are looking for quick assistance and are more likely to convert into customers.
With this target audience, Local Service Ads are lead generation-focused, rather than helping businesses to raise awareness or yield volume.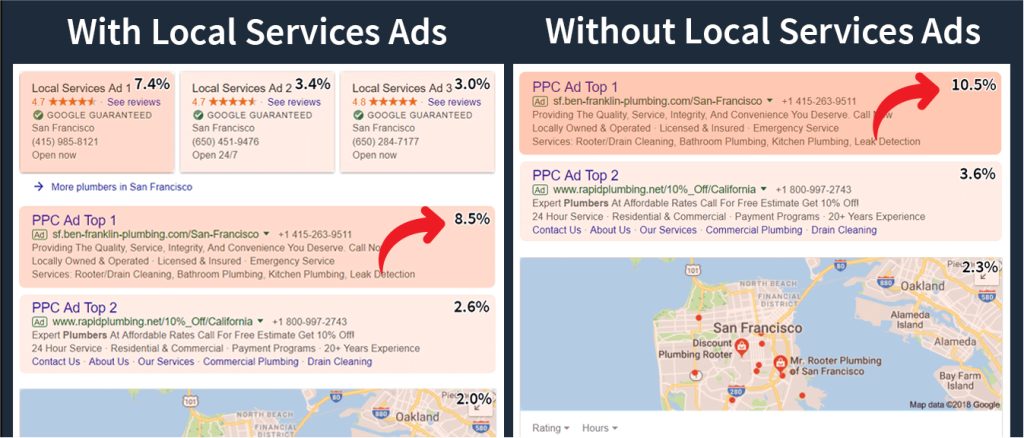 Here is data showing how LSAs could affect the number of clicks for all other SERP types. According to Brightlocal, organic search results get the highest number of clicks among all types of search engine results, but they experience a decrease of 6.8% when Local Service Ads (LSAs) are also displayed. This also implies that Local Service Ads are effective advertising methods as they are the first picks of many users.
"We've been in business since 2018 yet now we've started expanding. Thanks to Local Services Ads, I'm getting phone calls every day from new customers and averaged 33 leads per month in Q4'22. It's great."

Vivian

Owner, Proper Paws Pet Parlour, Lancaster, CA
Google Ads
On the other hand, by offering a wide variety of Google ad types, Google Ads aim at reaching globally, connecting advertisers with audiences all over the world, and allowing businesses to expand their reach to worldwide countries and regions. Google Ads also offer location-based targeting yet they are not as specific and local-customized as Local Service Ads.
Due to its diversity and flexibility, Google Ads can offer advertisers access to a wide-ranging and highly customizable audience. Google Ads also allows advertisers to tailor audience segments to suit different advertising goals, whether it's reaching local customers, targeting global markets, or engaging users with specific interests and behaviors or in specific seasons.
2. Ad Placement
Local Service Ads
LSAs have a prominent placement. They appear at the very top of Google's search results, which means they stand above and ahead of standard Google Ads and organic search results. LSAs are primarily designed to cater to service-based businesses such as locksmiths, plumbers, electricians, HVAC technicians, cleaners,… Consequently, due to this prime position, these ads are highly preferred by local service providers.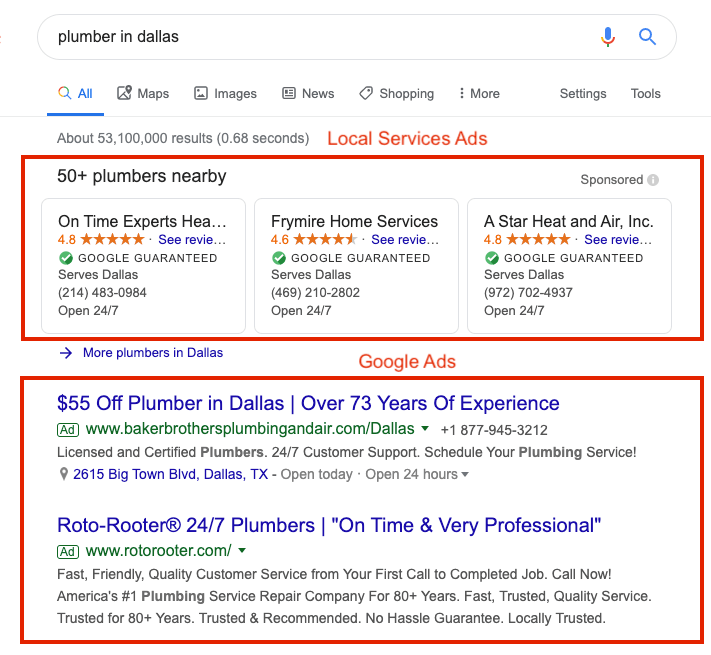 Google Ads
Google Ads, on the other hand, have diverse placements. They are not limited to a specific spot on the search results page. The placement depends on the specific type of Google Ads so they can appear in various locations.
Search Ads
Google Search Ads can appear at the top or bottom of the search results, either in a prominent "Ad" section or among organic search results. They will be the first to appear on Google's search results if there are no Local Service Ads.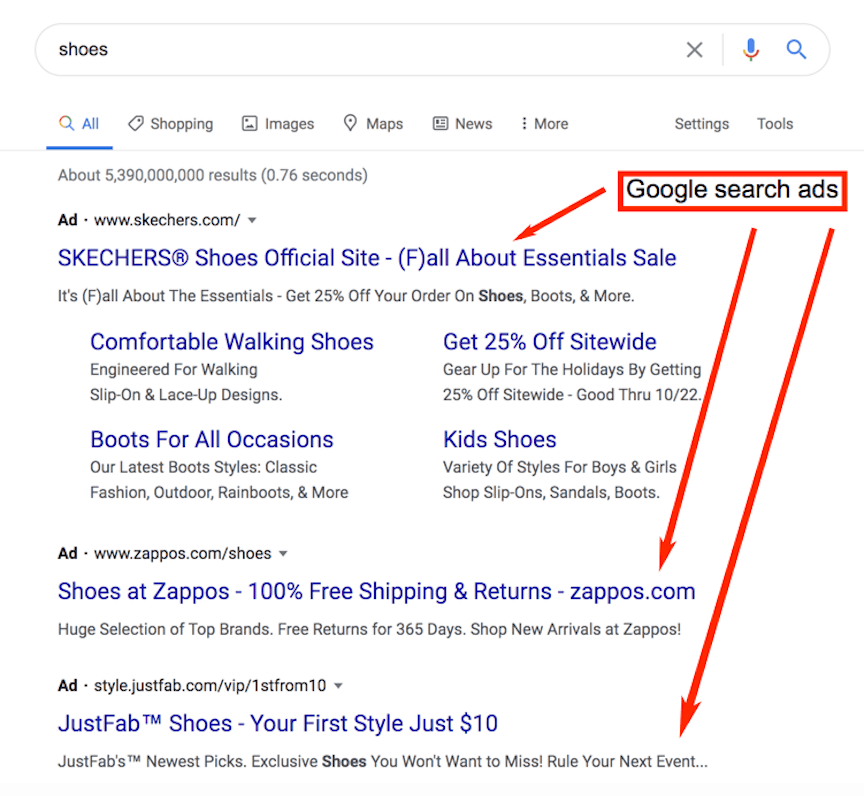 Display Ads
These ads appear on the Google Display Network, which includes a variety of external websites that have partnered with Google to display their ads. For example, if you're advertising hotel rooms, your ad might appear on hotel-booking, travel and tourism websites.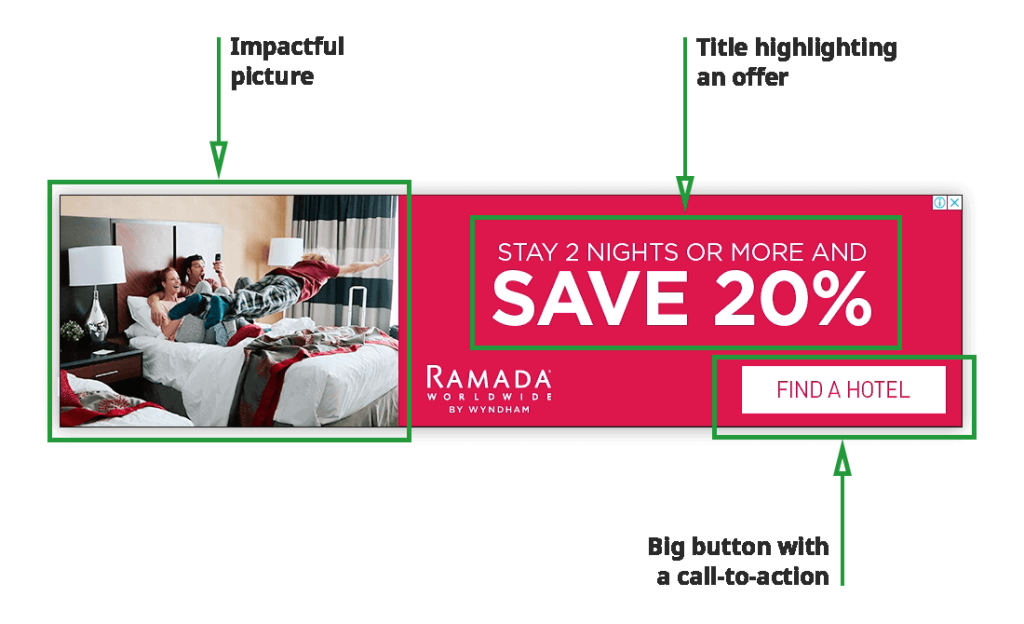 Shopping Ads
When you search for a specific product, Google Shopping ads will appear on the main Google Search results page. They appear right at the top or on the right side of the search results, above the organic search as a natural placement of an ad.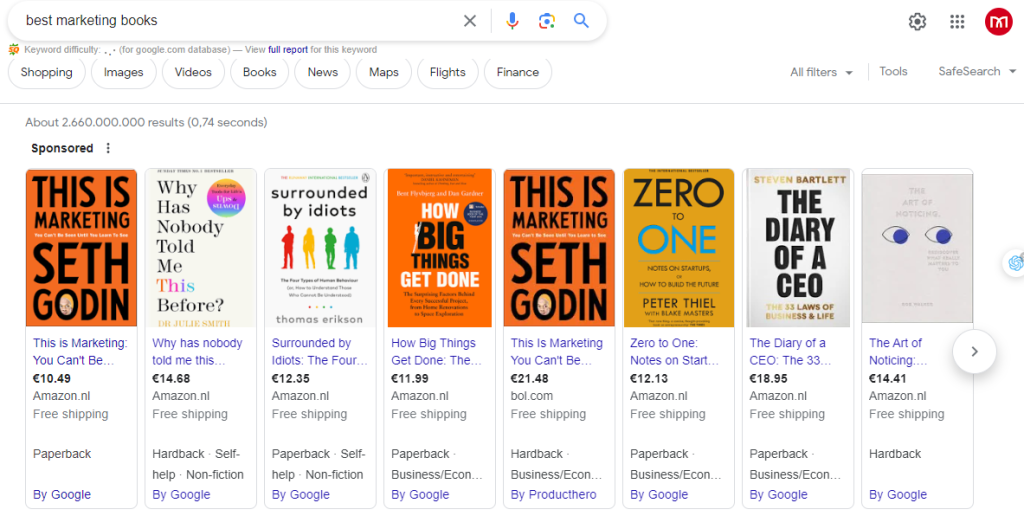 YouTube Ads
Since Google owns YouTube, all YouTube Ads are Google video ads. YouTube is the most widely-used video platform globally and an indeed resourceful platform for any advertiser to take advantage of. There are various types of YouTube Ads, as well as various placements for a YouTube ad.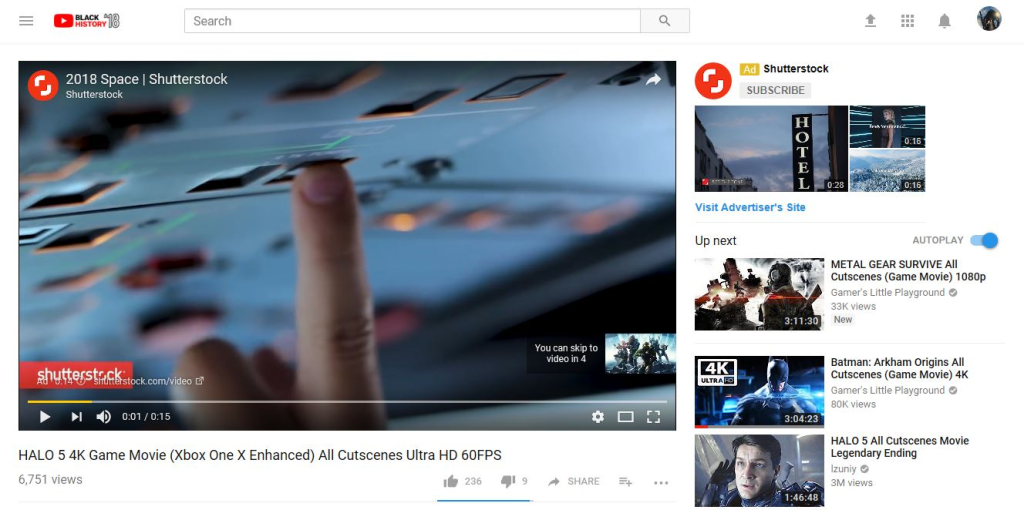 3. Bidding strategy
In Google Ads, businesses follow a pay-per-click (PPC) model, which is based on the number of clicks their ads receive. That is to say, you are charged every time a user clicks on your advertisement, regardless of whether that click leads to a conversion.
On the other hand, LSAs work on a pay-per-lead (PPL) basis. You pay when a potential customer messages or contacts you through the ad, such as by calling your business directly, not just by clicking on the ad.
The different payment models therefore lead to different performance metrics. Advertisers assess performance in Google Ads by focusing on metrics like Click-Through Rate (CTR), Conversion Rate, and Cost Per Click (CPC); whereas with Local Service Ads, the key metric is Cost Per Lead (CPL), which reflects the expense of every new lead.
4. Cost
The average cost per click in Google Ads is between $1 and $4 on the Search Network and under $1 on Display Network. However, Google Ads pricing is subject to industry, current market trend, keywords and customer lifestyle. Some Google Ads only cost around $1 on search network, yet some expensive keywords in Google Ads and Bing Ads can cost you $50 or more per click.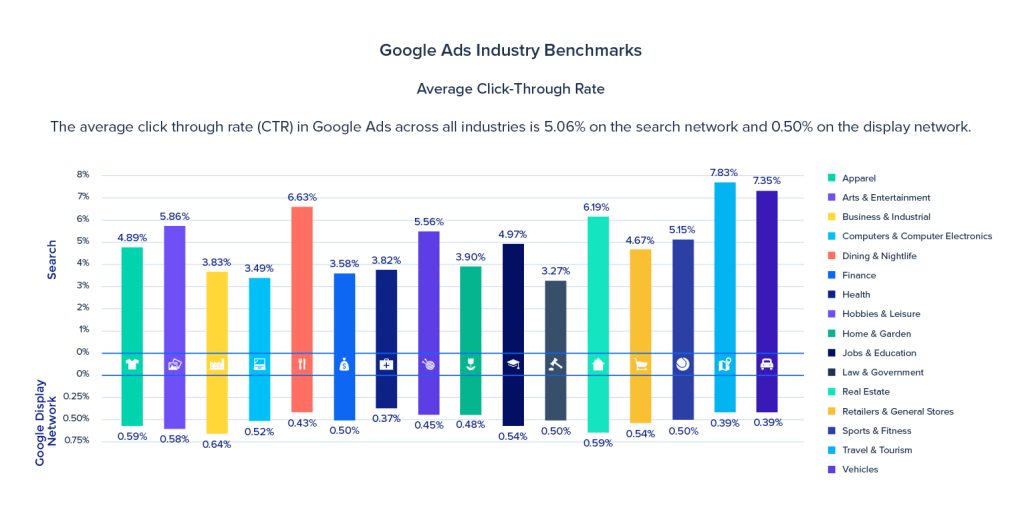 In terms of Local Service Ads, you might expect to spend somewhere between $10 to $225 for each new customer inquiry, with the average cost being around $23.
Here is an average Cost Per Lead (CPC) for the common industry in the USA:
HVAC – $26
Plumber – $24
Electrician – $17
Locksmith – $11
Carpet Cleaning – $21
House Cleaning – $19
Garage Door – $19
It is noteworthy that Local Service Ads are expensive ad types. They are more costly than Google Ads since they generate high-quality leads for advertisers. For an exact estimate of how much a Local Service ad costs, you can use Google's cost estimation. The good thing about this ad is that you can set your budget based on the number of leads you want per week and increase them anytime if you want to. The cost per lead varies depending on different services.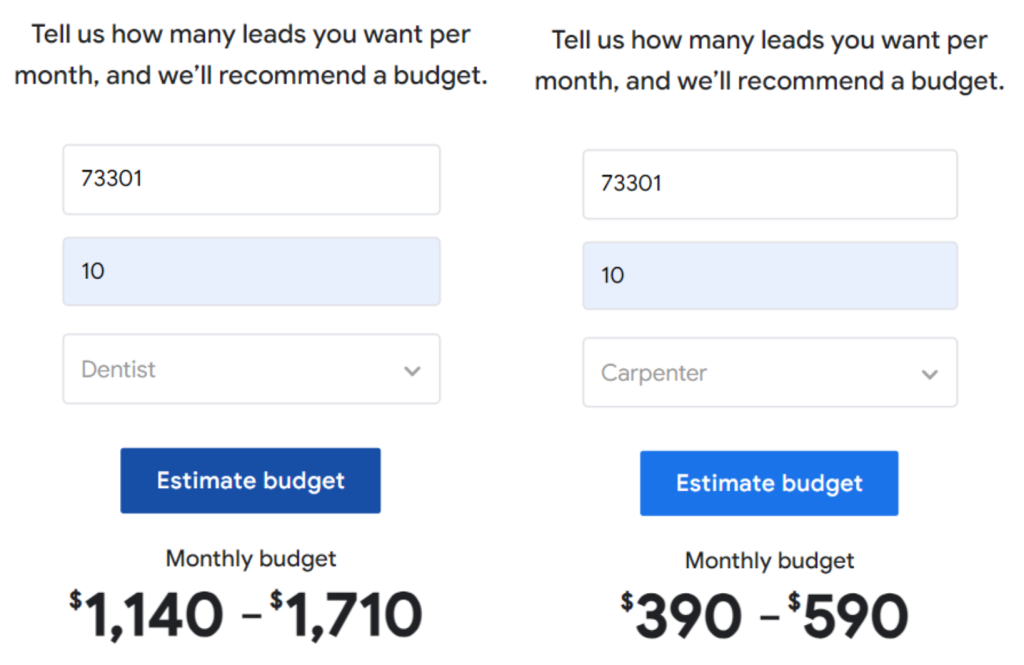 This is the cost to get 10 leads per month from Local Service Ads in Texas. If you are a dentist, you may spend $114 – $171 for a lead, however, if you provide carpenters, you only have to pay between $39 and $59 for every lead.
5. Keyword Research
The biggest difference between Local Service Ads vs. Google Ads is that when you use Google Ads, you have to find the right keywords that are close to customer search intent. These words should be related to your business, and hit directly to customer insight so that they can drive customers to your site.
However, if you're using Local Services Ads, Google does this work for you. You just tell them what kind of business you have and what you offer, and Google figures out which keywords will help people find you. However, this means you have less control over your advertisement and there is little data you can collect from your target audience.
Also, Google Ads offer a wider spectrum of keyword possibilities. Your keyword research can range greatly from the local ("Los Angeles Italian restaurant") to the broad ("best pasta recipes").
6. Google Guaranteed and Google Screened
Another difference between Local Service Ads vs. Google Ads is that in LSAs, businesses can get the "Google Screened" and "Google Guaranteed" badges displayed next to their business names.
The Google Guarantee is a verification badge appearing in Local Service Ads with the green tick, indicating to potential customers that the business has been background-checked and meets certain quality standards set by Google. This increases credibility for businesses and improves their chances of attracting more local clients. Here is where Google Guarantee Badges appear on Local Service Ads.

"Google Screened" is a validation badge indicating that a professional service company has successfully gained licensing verifications. This badge only covers professional services, including law, real estate, financial planning, child care or preschool industry; auto care, beauty and miscellaneous category providers.

Google Guarantee badges and Google Screens are only available for local service providers in select cities and industries. Also, Google Ads don't feature these badges since they don't require businesses to be verified by Google.
Frequently Asked Questions
Local Service Ads vs Google Ads: Which is more effective?
Local Services Ads are tailored to local service-based providers, while Google Ads offer more diverse options. If you are a local service business, we suggest that you start with Local Services Ads and expand to Google Ads as needed.
Can I use both Local Services Ads and Google Ads?
Yes, you can use both. Many businesses combine Local Services Ads to target local customers and Google Ads for broader online marketing campaigns.
Is Local Service Ads worth investing in?
You can compare the cost per lead generated Local Service Ads with other ad campaigns to see which one is actually worth it. However, It also depends on your specific business, goals, and target audience. Local Service Ads are expensive compared to other ad types yet they yield higher ROI (return on investment) because they reach out to potential and high-quality leads.
Final words
We believe this blog has shed some light on the key differences between Local Service Ads vs. Google Ads so that you can decide which one is the best for your business.
If you are a local service business wishing to connect local residents or get high-quality leads, Local Service Ads may be the one for you. However, if you do not target to a specific geographical location, you can choose one among a wide variety of Google Ads types.