Google Shopping ads help you reach a broader audience and attract potential consumers. It can improve traffic and sales by displaying your products on the world's most significant search engine. Take your business to the next level with Mega Digital's complete guide to thoroughly understand what Google Shopping ads are and how it works.
What is Google Shopping ads?
Google Shopping advertising, one of Google Ads' campaign types, is displayed when people search for a product on Google. This is an illustration of Shopping ads when someone searches for "beginner surfboard":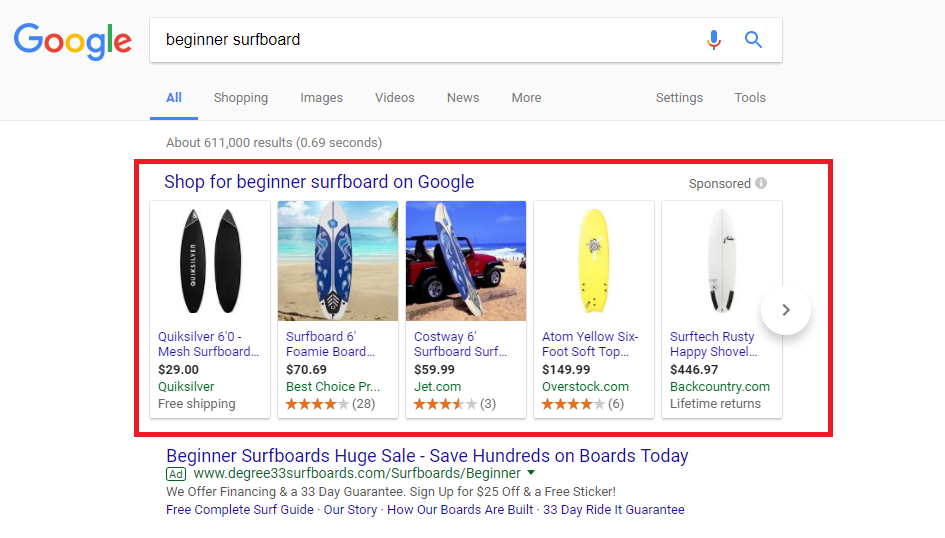 As you can see, Shopping ads will appear at the top of the Search Engine Results Page (SERP) as a sort product carousel, where searchers are most likely to look. These advertisements are powerful because they clearly show the product's image, price, store name, and reviews.
In general, Google Shopping ads inform customers of the product's essential details before they enter an online store.
Differences between Google Search ads and Google Shopping ads
Like text ads, Google Shopping ads are displayed underneath the search bar, but people are more likely to see them since they aren't solely confined to text.
We'll discuss some variations between each ad format's management in the following sections.
Advertisers must enable specific Google Ads campaign types, such as Shopping or Performance Max. Meanwhile, text ads on Search are placed by enabling a Search campaign.
>>> Read more: All Types of Google Ads: How to Choose The Right Campaign Type
Advertisers select keywords to launch ads in Search campaigns.
Based on the product information from the feed, Google determines which product to display for a user query in Shopping ads.
Advertisers can structure their Shopping ads using product groups in Shopping campaigns or listing groups in Performance Max campaigns.
Google text ad structure is simply based on campaigns that contain ad groups.
>>> Read more: Google Ads Account Structure | Organize Your Account in 2023
You can see the Google Shopping advertising at the top and above the text ads.
The Shopping ads occasionally show up on the right side of the SERP.
Responsive search ads and ad extensions are combined to create text ads.
Search campaigns can select from various bid strategies, such as Maximize Revenue or Target Return on Advertising Spend (tROAS).
Shopping ads should almost always apply one of the two automatic bid methods stated above.
How much does Google Shopping ads cost? Is it worth it?
Average cost of Google Shopping ads
A few key metrics for Google Shopping ads that all advertisers and marketers must know:
Average CPC: $0.66, frequently producing extraordinary profit for several brands.
Average CTR: 86%
Average CR: 1.91%
Average Google Shopping ads: $38.87
Average Google Shopping ads budget: $770.41, even though it varies significantly by industry.
Google Shopping ads do not have a minimum bid or a minimum cost. There is no minimum daily budget, and you may set a cost per click as low as $0.01, so you have a lot of freedom in how much you spend on Google Shopping. Depending on how much promotion you want for your products, Google Shopping can cost you $1 per day, $1 per month, or more than $100 per day. Here are a few things:
If your Google Shopping expenses are low, your Google Shopping ads visibility will also be low.
Google will cease delivering your adverts if your Google Shopping daily budget is reached.
The number of your products will also significantly impact the price of your Google Shopping campaign.
>>> Read more: Google Shopping Ads Benchmarks: CPC, CTR, Budget, and More
Is it worth investing in?
The answer is "yes" if you work in e-commerce or retail. Many online shoppers use Google Search as part of their customer journey. Additionally, shopping advertisements enable you to appear directly where clients want to purchase.
Google Shopping advertisements offer some additional advantages that Google's other campaign types do not offer.
Remarkable benefits of Google Shopping ads

Research shows consumers often click on Shopping ads far more frequently than standard text advertisements. Let Mega Digital show you 3 Google Shopping ads advantages that you might not know yet:
Provide The Highest Visibility In Google SERPs:
The ads appear first in the searches, above search ads, and organic results. This is the spotlight position for an ad; being at the top of search engine results pages will encourage more people to buy your stuff.
By directly including product information in your advertising, you can show actual products rather than describe them. Customers can see the details of your product before they click on your ads. It's also helpful when customers aren't exactly sure what they're looking for.
You can improve the quality of your leads by assisting users in making decisions about their purchases. When customers click on the ad, they are aware of the item and its cost, which drives them closer to purchasing action than the average web user.
How does Google Shopping ads work?
Google Ads and Google Merchant Center (GMC) are the two systems in charge of these advertisements. Shopping ads choose how to advertise on Google Shopping and where to display your ads based on your existing Google Merchant Center product data rather than keywords. The information you provide about the products you sell is in the product data you upload via GMC. When we match a user's search to your advertising, we'll use these specifics to display the most related products.
Google uses a cost-per-click (CPC) approach for their Shopping ads products, which implies that they only have to pay the "bid" when a customer clicks on their advertisement.
How to set up Google Shopping ads
Step 1: Set up Google Merchant Center
Create an account
The first step is to create a GMC account.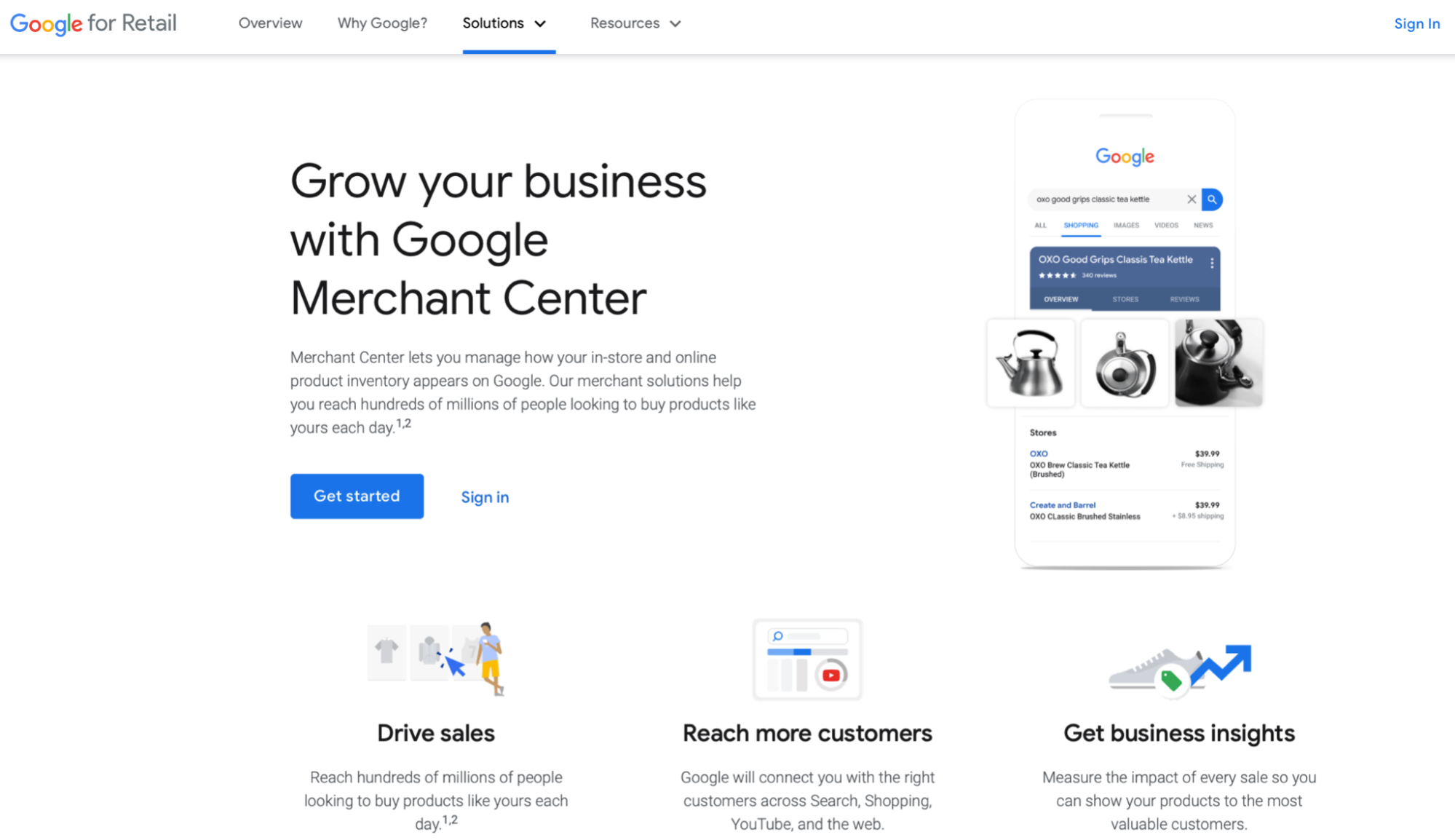 Google will ask whether you sell products online and your store's URL.
Fill in your business name, business country, and time zone.
If you use Shopify or Paypal, select now, or you can connect these later.
Lastly, read and accept the Google Merchant Terms of Service.
Create and upload your data feed
Your product feed shows Google all about your products. The data feed is necessary because it lets Google discover and show your products when users enter specific product phrases.
First, go to your GMC account and find Products > Feeds to create a new data feed.
Fill in your country and language. This determines which location will see your products.
Next, name your product feed and decide how to enter the details of your products.
If you select Google Sheets, you can use a template given by GMC or upload your own spreadsheet. Click here to check the complete list of Google's product data specifications.
Once finished, upload the file to Google Merchant Center.
From that point on, go to Products > Feeds > Main feeds on your Google Merchant Center account to access your product feed.
Set up Shipping
Click on the gear icon, then click "Shipping and returns".
A dashboard will appear with the option to "Add shipping service."
Name the service and set the currency.
Here you have multiple options for what shipping options you'll provide and how much you'll charge for shipping.
Enter the location the products will be shipped; more than one can be added.
Select the shipping service you offer:
Pick how to charge for shipping from free shipping, free shipping over a certain amount, range-based, or flat-rate.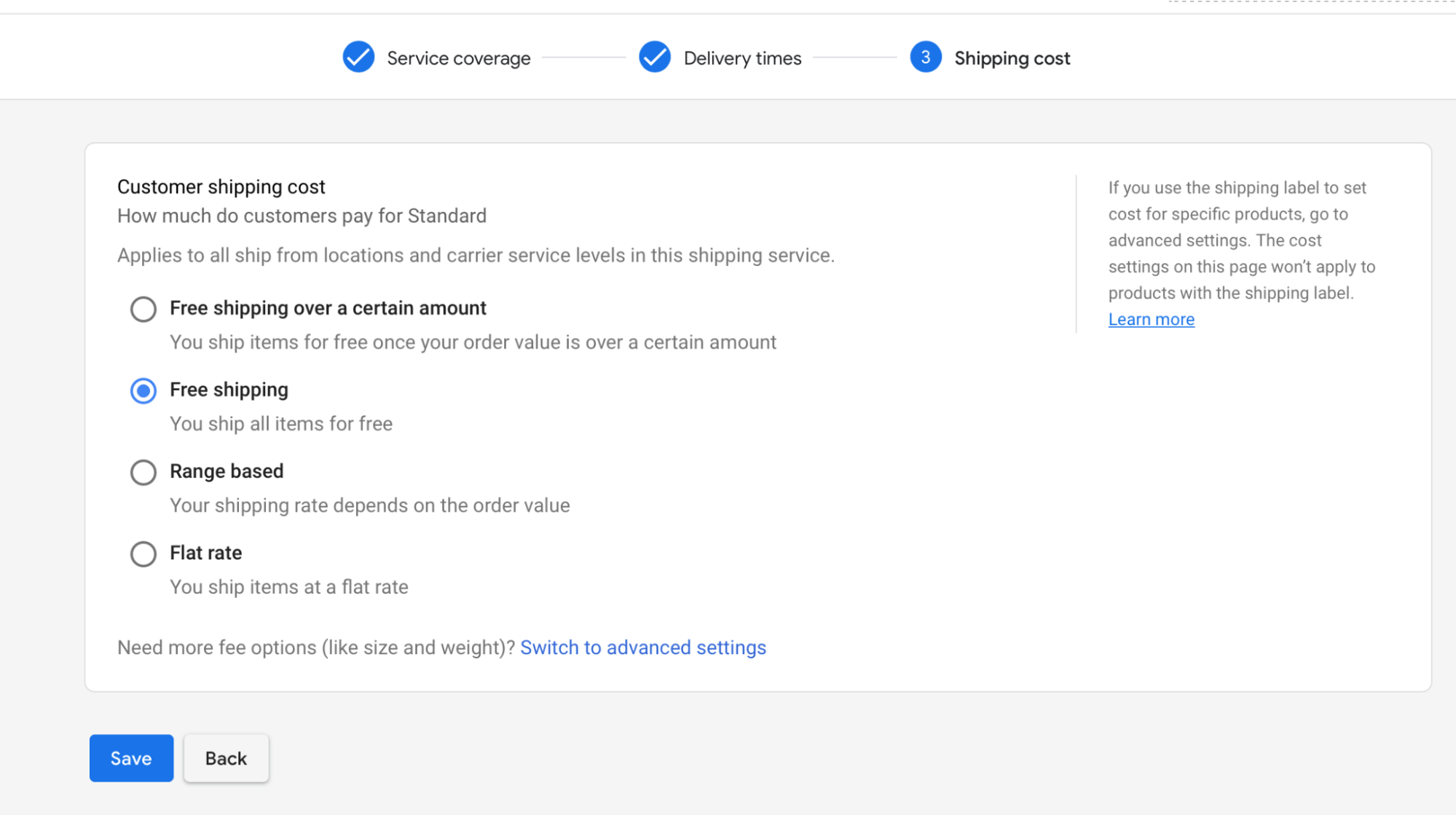 For more detailed steps, please read our below article:
>>> Read more: What is Google Merchant Center? Setup guide for newbies
If you don't want to go through all these struggles to create a GMC account, check out Mega Digital's agency Google Ads account service. We provide premium accounts and 24/7 support service to get the most satisfaction from our valued customers.
Step 2: Link your Google Ads account to the Merchant Center
You must link your Google Ads account to advertise your goods through Google Shopping. Fill in your Google Merchant Center login information. There are three vertical dots in the upper right corner. After expanding the menu by clicking those, select "Account linking."

Next, enter your Google Ads customer ID by clicking "Connect account." Your Ads account should be linked once you're done.
Step 3: Set up a Google Shopping Campaign
Google Shopping campaigns help you advertise your products. Before clicking on your advertisement, customers can view detailed information about what you're selling.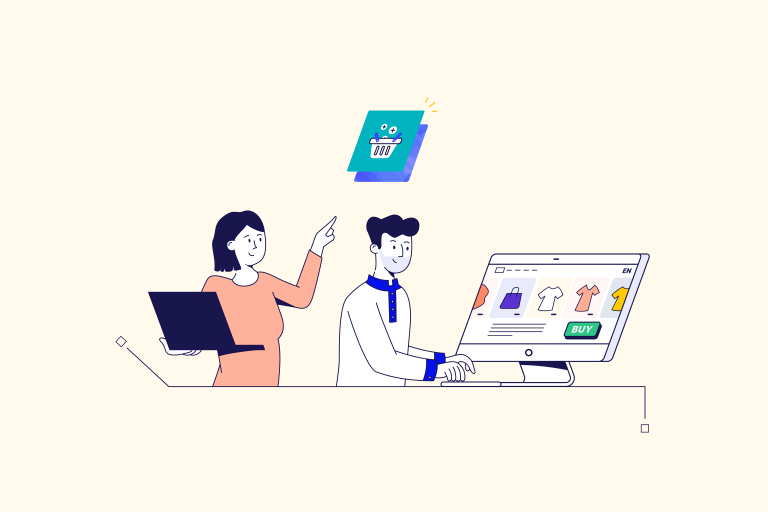 You can choose from two types of Shopping Campaigns: Standard Shopping campaigns and Performance Max campaigns. However, for those just starting, we suggest that you test out Standard campaigns before going further.
To help you learn more about how to set up a Google Shopping campaign, we have written a more sufficient and detailed guide here:
>>> Read more: How to Create Google Shopping Campaigns from A to Z in 2023
Tips on How to optimize Google Shopping ads
Using negative keywords can improve the overall relevance of your ads and increase the likelihood that they will appear to users who are more likely to make a purchase.
Create Product-themed Campaign
In contrast to negative keywords, when you establish a product-themed campaign, you can use targeted keywords and product filters to guarantee that your advertisements are only seen by customers explicitly looking for those items.
Try a two-tier shopping structure
A two-tier shopping structure consists of two shopping campaigns with the same goods placed into them. If you also created a product-theme campaign, you should have twice as many campaigns as you do category themes.

For more details on how to optimize your Shopping ads campaigns efficiently, Mega Digital has shared the most valuable tips here:
>>> Read more: Optimize Google Shopping campaign with expert tips in 2023
Final words
Learning about Google Shopping ads is vital if you have an online store. Mega Digital hopes this guide has guided you through displaying "rich" adverts at the top of the SERPS to attract more qualified leads to your business.
To make the best out of your Shopping ads, we suggest you use our Google Shopping Advertising service for better conversion rates.