Dive into the world of Google Shopping Feed! Gain insights into feed types tailored for your products, grasp specifications crucial for seamless integration, and learn step-by-step setup guidance. Optimize your listings for maximum visibility and drive significant growth to your online store. Elevate your business in just a few clicks!
What is a Google Shopping feed?
A Google Shopping feed, also known as a Product Feed, is a structured data file that contains information about the products you want to advertise on Google's shopping platforms. This is an important component of running Google Shopping campaigns.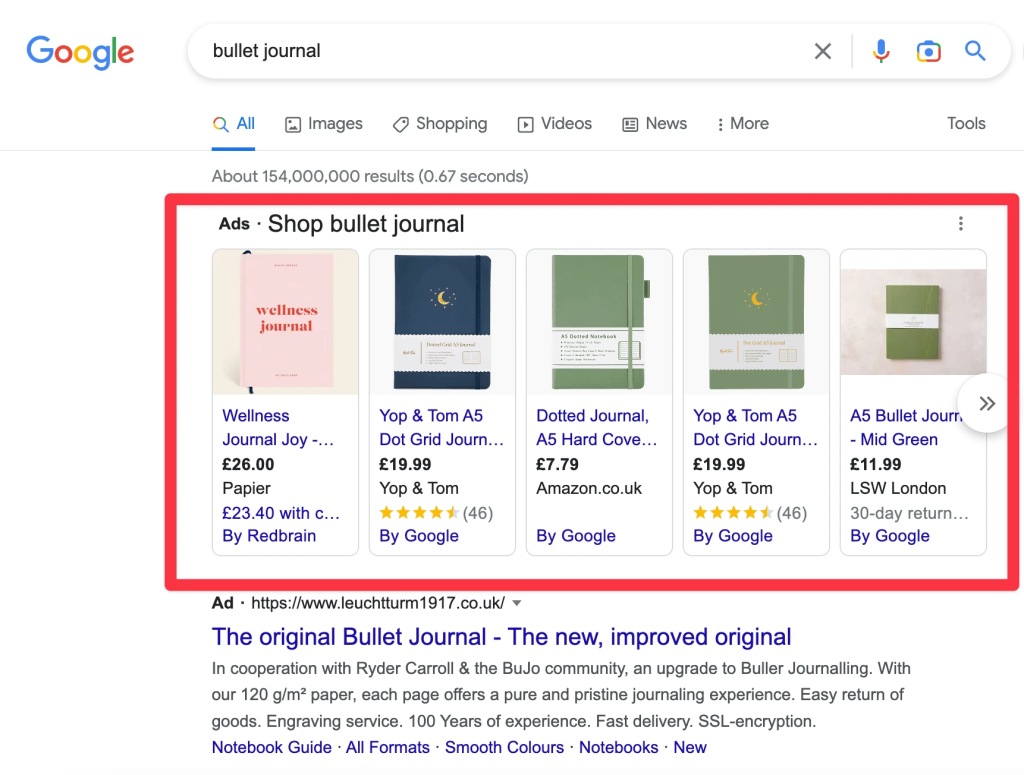 The feed is typically uploaded to Google Merchant Center, a platform where you manage and maintain your product data. Google then uses this data to display your products in Google Shopping search results, showcasing product images, prices, and relevant details to potential customers.
Google Shopping feed types
Although we've talked about creating a Google Shopping feed, but did you know there are six types of additional feeds? Depending on your needs, another feed might be more suitable. Let's explore these options.
Google Merchant Center feed
The main feed in Google Merchant Center is what we've been discussing in this guide. It's like a main showcase on the search results page, showing pictures of products, their prices, your brand name, and star ratings if available.
Product inventory update feed
Another interesting type of Shopping feed is the "product inventory update" feed. This one is a bit different from the main feed because it focuses on showing how much of a product is available and its price. It's mainly used to display information about product stock.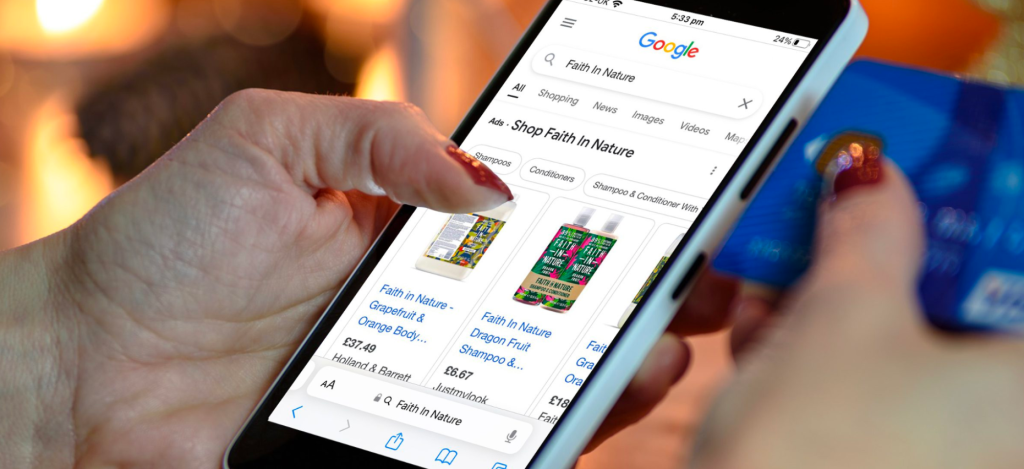 When we tested this type of feed, we found that it worked better on mobile devices and when people wanted to know if a product was in stock at a physical store:
In the Shopping feed, you might notice "In store", and if you click on the item, it might say "In stock". Sometimes, Google might directly mention "In stock" in the feed without needing to click. Remember, you should keep your inventory feeds updated regularly to make sure the information stays current.
Promotions feed
A promotions feed is quite similar to the standard Shopping feed, with just a slight difference. It contains details about ongoing product promotions or shopping ad campaigns. For instance, it could indicate if a product is part of a sale or if there's a discounted price available for that particular item.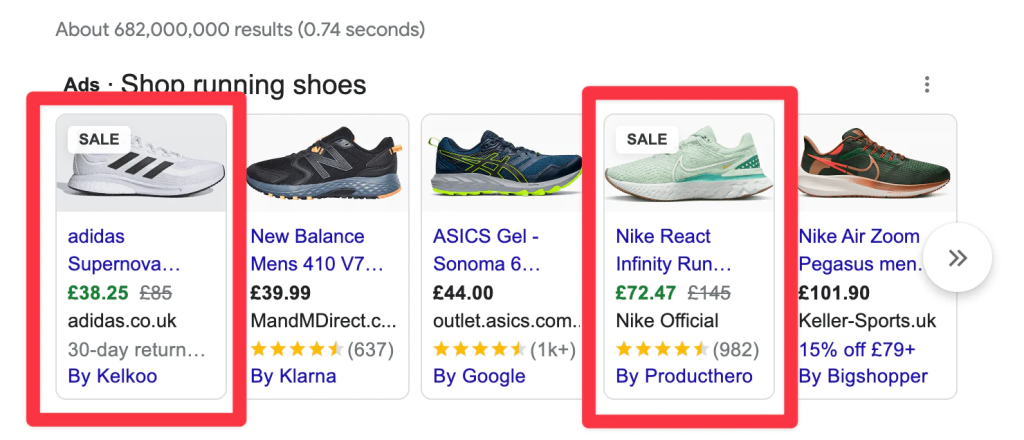 The promotions feed must include six necessary pieces of information: promotion ID, product applicability, offer type, long title, promotion effective dates, and redemption channel.
Local inventory ads feed
The local inventory ads feed is much like the product inventory update feed. It's all about stock details and suits physical stores well.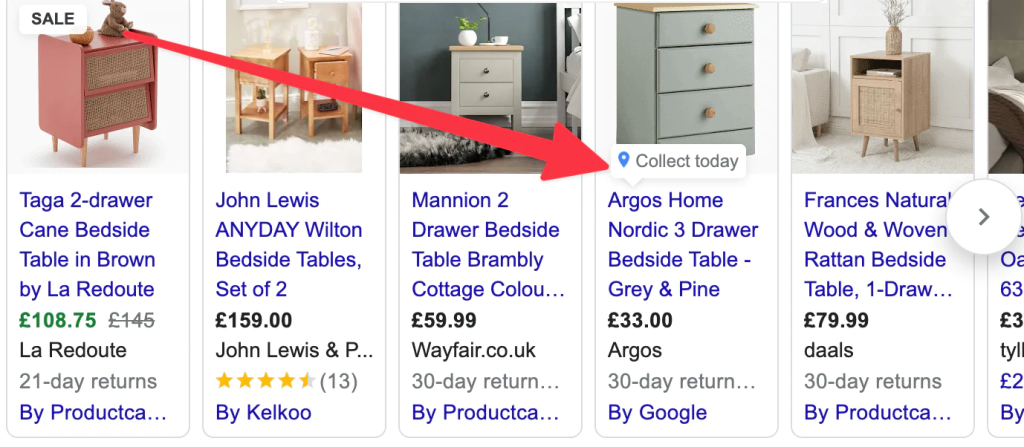 But the special part is, this feed allows store owners to provide local pickup as an option:
To establish this product data feed, you'll require your store code, current product details, item identifier, quantity, and at least the price. Regular updates for these data feeds are crucial to maintain accurate information.
Learn more: How to Use Local Inventory Ads to Reach Nearby Customers
Product ratings feed
The product ratings feed is a crucial aspect of the Google Shopping sales channel. You'll often find it alongside the regular Shopping feed products. Essentially, it comprises listings that display review ratings.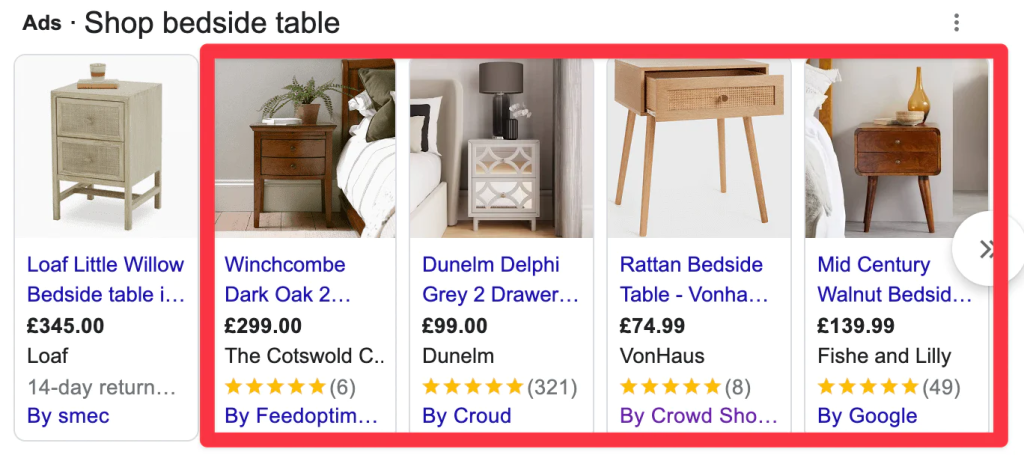 Stores have two methods to transform regular feed items into rating feeds:
Submit feeds to Merchant Center: This involves sending feeds to your merchant center account.
Use third-party review service: You can also use an external review aggregation service. In this case, Google obtains data directly from the aggregator. No need for additional feed submissions. However, if you gather reviews on your store, you must choose the first option and keep the feed updated consistently.
Dynamic remarketing feed
The last type of Google Shopping feed is dynamic remarketing. These ads target people who visited your site or left items in their cart. They appear as regular Shopping feed items, placed closer to the feed's beginning.
However, due to Google's gradual phasing out of third-party cookies, used for tracking user web activity, a key part of retargeting, this feed type might be discontinued within the next few years.
For manual feed management, you need XML or TXT files with the required fields: id, title, description, link, image_link, price, condition, availability, brand, and gtin. You can create these files using Google Sheets or Excel and then export to the specified formats.
>>> Read more: Google Ads Remarketing – How to Set Up a Remarketing Campaign
Google Shopping feed requirements and data specification
After successfully registering on Google Merchant Center and preparing to upload your products, it's important to understand the specific attributes or product data required for your product feed. Let's examine the product attributes necessary for your products to be approved and displayed on platforms like Google Shopping.
Basic product information
You need to provide essential details about your products to help Google Merchant Center understand their characteristics. This information serves as the foundation for crafting product ads and free listings.
Key product details encompass Product ID, Title, Image Link, Description, Mobile Link, and more.

Product description
Certain product identifiers are crucial to distinguish your specific products. These identifiers aid Google in understanding your products' uniqueness and their exact nature. Google uses these identifiers to appropriately position your products in ads and free listings. Moreover, these identifiers assist customers in selecting the most suitable product for their needs.

Product price
Product price holds immense importance in a product data feed. Every product uploaded to Google Merchant Center must have a listed price. If the price changes, it's essential to update the feed to ensure customers view the current price.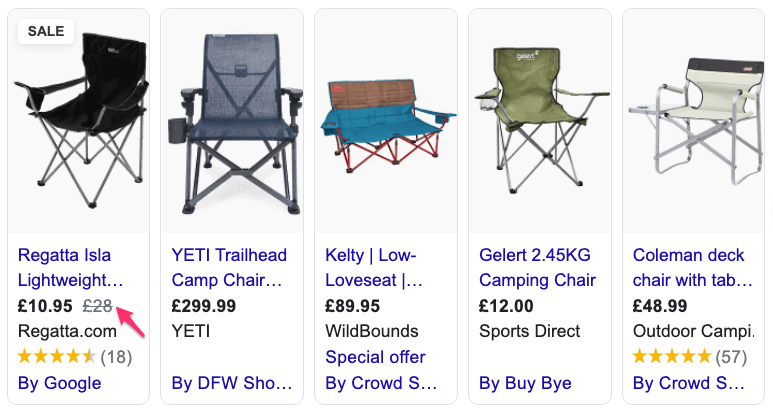 Product category
It's vital to assign a suitable product category to your items so that Google can effectively group similar products and present them to the right audience.
If you omit product categories, Google will attempt automatic categorization using other feed data, but this can lead to inaccuracies. That's why correctly assigning product categories is crucial to prevent misclassification.
Product availability
Google displays product availability to users searching for products similar to yours. It's crucial to provide Google with accurate product availability details. If your product becomes unavailable, promptly update your feed in the Merchant Center. You can even add availability and expiration dates if desired.
How to set up feed for Google Shopping
Step 1: Go to Feed Section in Google Merchant Center
Navigate to the Google Merchant Center dashboard. Access the "Products" section, then click on "Feeds." Locate the "+" icon beneath the "Primary feeds" heading.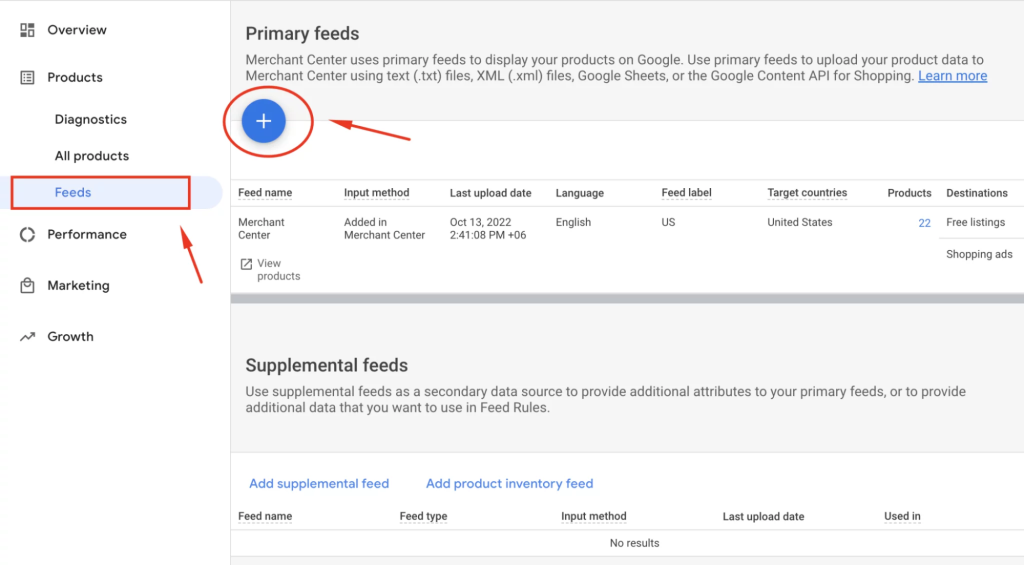 Step 2: Fill up basic information
In the "Basic information" step, start by selecting the targeted countries. Include all the countries where your products are available for sale or delivery. Click "Add," choose the countries, and then hit "Save" when you're finished.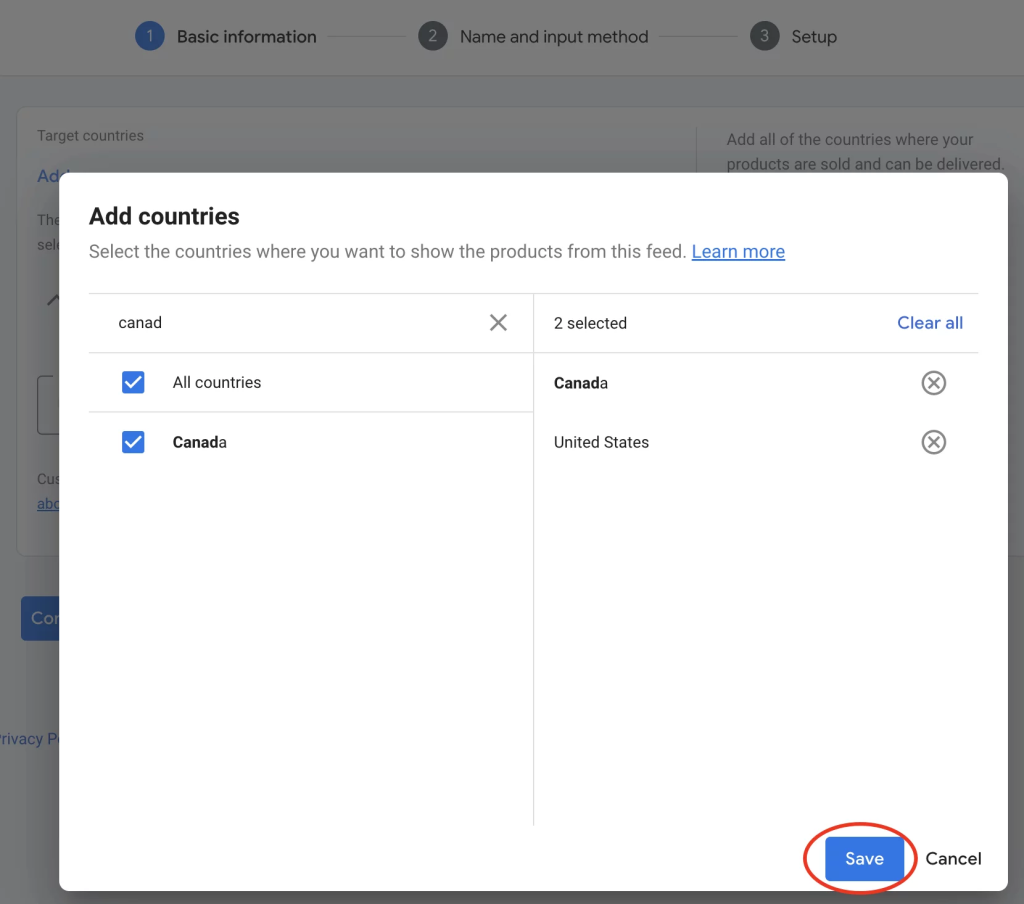 Next, pick the language for the content within your feed.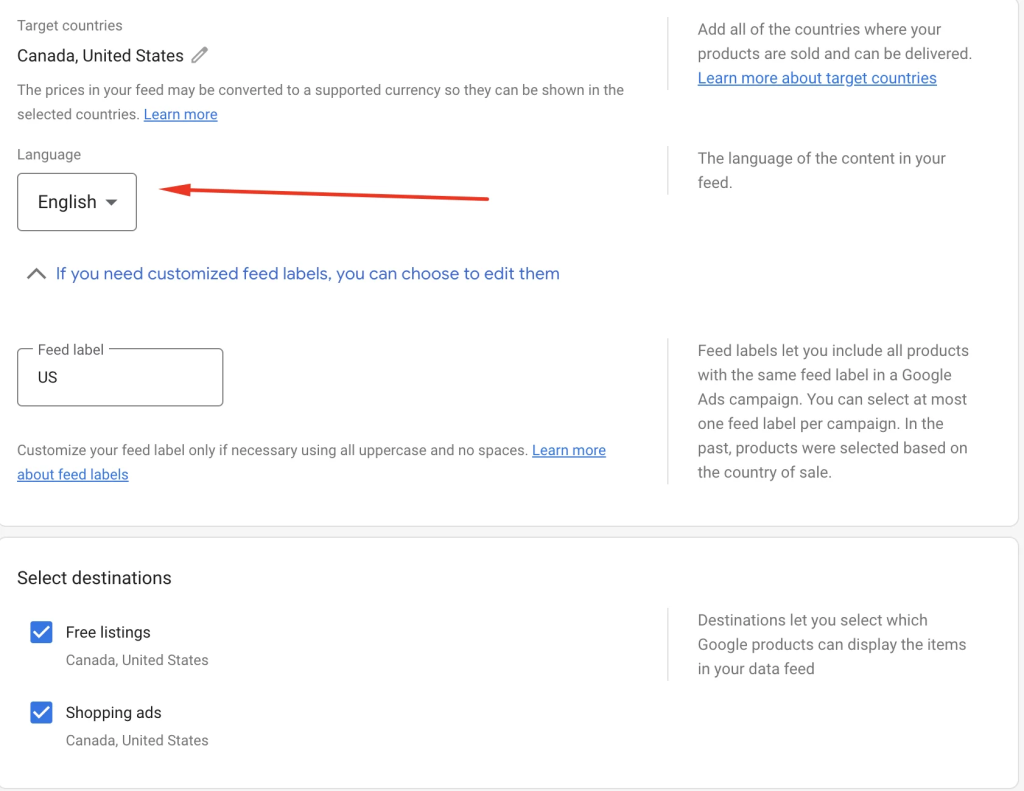 At this point, you'll notice the default Feed label for the targeted country. Modify the feed label only if needed, using uppercase and no spaces.
Further down, you'll find an option to choose destinations. Depending on your goal, you can select Free Listings and Shopping Ads.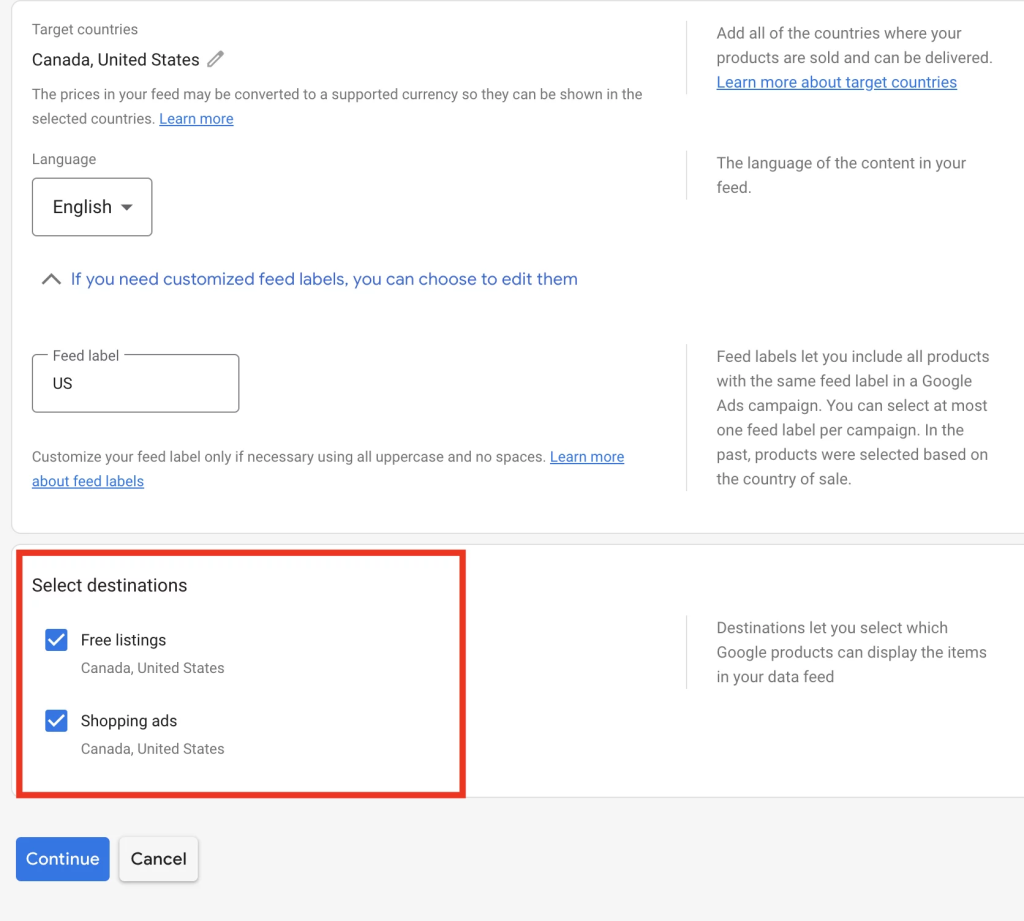 When you've completed these steps, click on the "Continue" button.
Step 3: Fill up name & input method
Begin by naming your primary feed. Scroll down and opt for "Google Sheets" as the method to establish your product feed and link data to the Merchant Center. When finished, proceed by clicking on "Continue."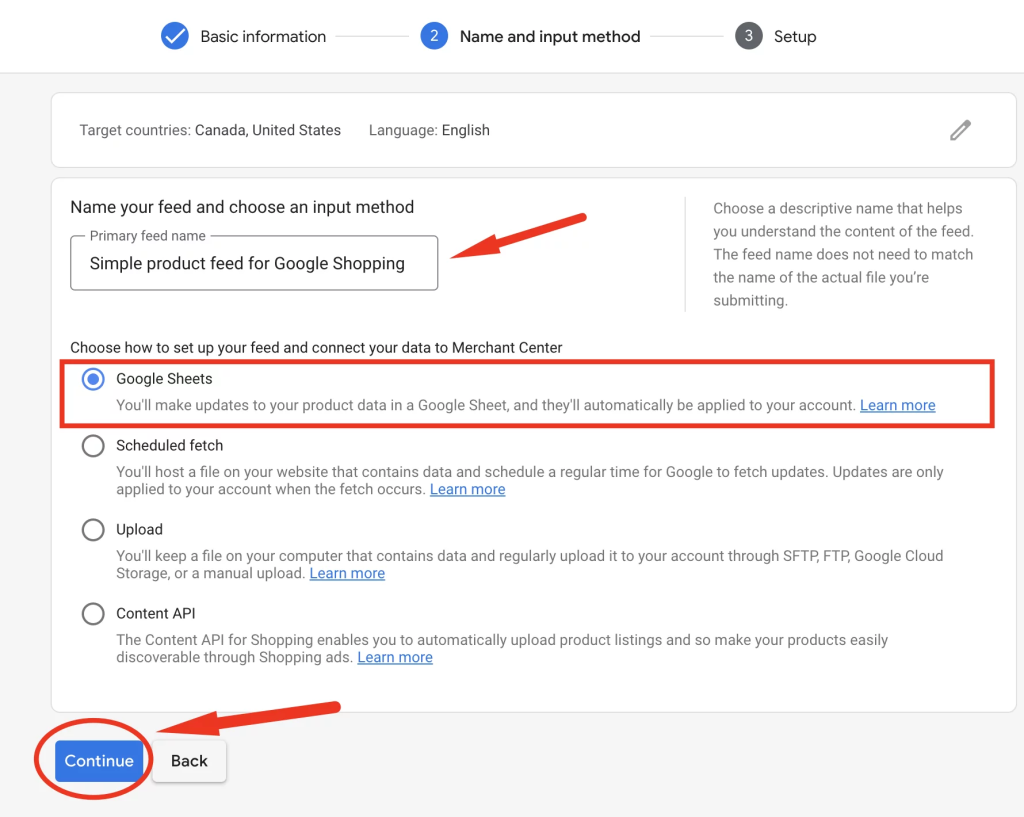 After clicking "Continue," a new window will pop up, allowing you to select a Google account. This account will be utilized to make updates to your product data within a Google Sheet.
Any changes you make in the Google Sheet will automatically reflect in your account.
Additionally, grant Google Merchant Center access to your Google account.
Step 4: Register a Google spreadsheet
In this step, you have the choice to either create a new Google spreadsheet from a template or pick an existing one.
For this guide, we'll create a new Google spreadsheet using a template.
Beneath this, you also have the option to establish an upload schedule (this is optional).
When everything is set, click on the "Create feed" button.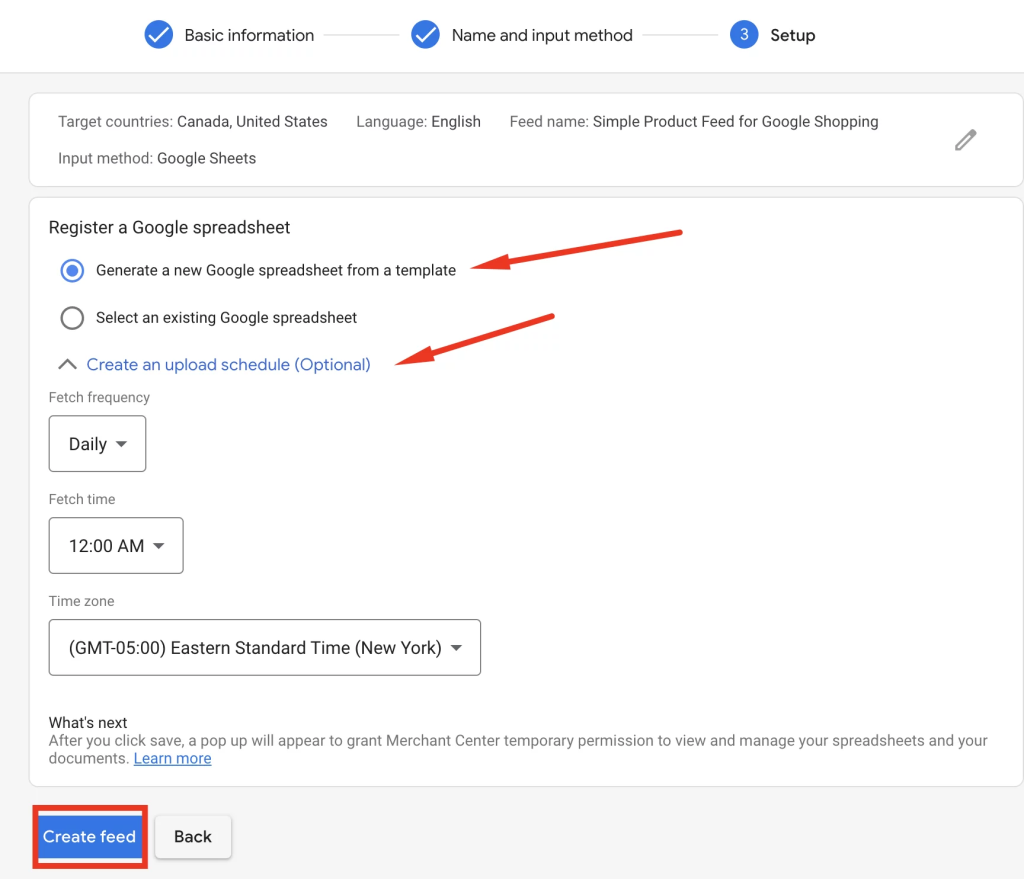 Step 5: Access Google Sheet and fetch
Now, it's time to access the Google Sheet product data feed template. To do this, click on the "Access Google Sheet" button.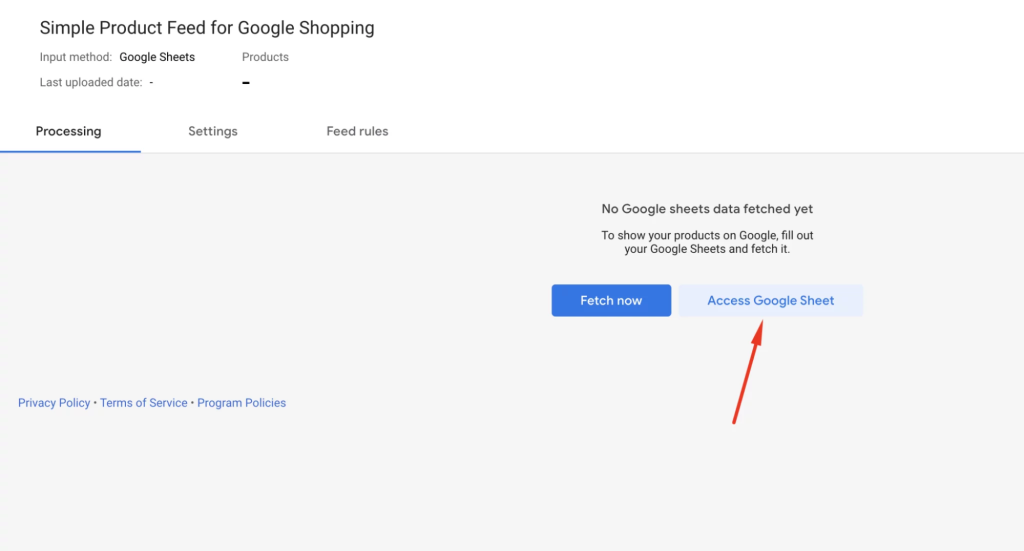 Once the Google Sheet is open, proceed to complete it according to the stipulated Google Merchant Center guidelines. You'll need to input the following details for each product: product ID, title, description, link, condition, price, availability, image link, GTIN, MPN, brand, and Google product category.

When you've finished entering your product details in the data feed, navigate to the Processing tab on the Feeds page. There, click on the "Fetch now" button. This action will initiate the upload of your product data to Google Merchant Center.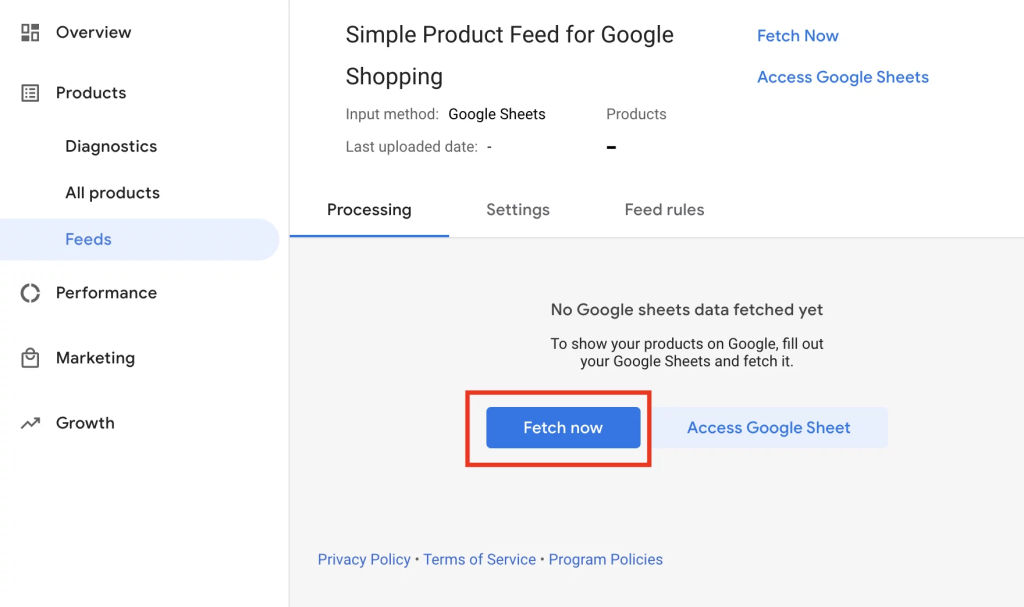 >>> Read more: Google Merchant Center Suspended | How to Fix The Problem
If you're encountering challenges or issues with your Google Merchant Center operations, rest assured that Mega Digital is here to provide comprehensive assistance. From troubleshooting technical problems to offering strategic insights, we're committed to delivering tailored solutions that align with your specific needs.
Google Shopping product feed optimization
Skipping steps or neglecting details can lead to your feed being rejected or result in lost opportunities. To achieve success, you must ensure these aspects are correctly handled from the start. They're prioritized based on their impact on your results. Check these Google Shopping feed best practices for a successful campaign:
Product title
Your product title must be precise and descriptive; otherwise, Google might struggle to determine when to display your product ad.
Should:
Include key keywords: Put your primary keyword(s) in the title if accurate.
Use common product name: Use the widely recognized name of your product.
Differentiate with details: Include color, brand, size, etc., for specific searches.
Prioritize key info: Put the most important details at the start of the title.
Model numbers and descriptors: Consider including model year or edition.
Stay within 150 characters: Be detailed within Google's 150-character limit for optimal results.
Example:
Here's a solid Google shopping feed example for product title illustration for the Bonavita 8 Cup coffee maker.

>>> Read more: Easy ways for Google Shopping product title Optimization
Product description
Product descriptions matter. Google uses them to match keywords and show your ads. Don't underestimate their impact on impressions.
Should:
Concise Description: Avoid excessive details; offer a clear, concise item description.
Think Buyer Needs: Think about what potential buyers require to make informed purchases.
Keywords Importance: Descriptions influence keyword matches; they matter beyond titles.
Front-Load Info: Prioritize crucial details in the opening sentences for maximum impact.
Example:
Here's a better Google Shopping description for an Orca Cooler, focusing on features rather than excessive introductory fluff.

Google product category
Google offers an extensive list of categories and subcategories for your products. This helps Google understand your product accurately, aiding in relevant searches. This step is vital and obligatory for proper product visibility. You must choose from Google's predefined categories.
Should:
View Google's taxonomy: Access Google's list of 6,215 categories and subcategories. Choose Best Category: Select one category carefully; only one choice is allowed.
Be specific, use product type: Be precise in your category choice. If your product doesn't fit perfectly, get close and let the product type provide additional clarity for Google.
Example:
Women's Dresses:
Option 1: Clothing & Accessories > Clothing > Dresses.
Option 2 (Better): Clothing & Accessories > Clothing > Dresses > Casual Dresses.
Product type
This adds another level to clarify your product for Google. If you struggle with the Google product category, this step is crucial. It's not obligatory, but I strongly recommend using and nailing it.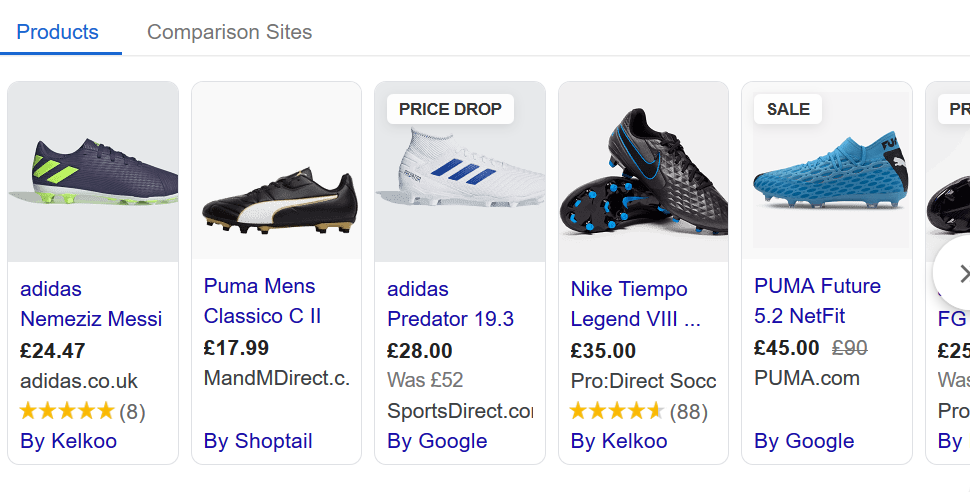 Should:
Use site's taxonomy or breadcrumbs:
Copy your product's breadcrumbs (e.g., Clothing > women > dresses > casual dresses).
Paste these breadcrumbs as your product type in the feed.
If your site's taxonomy lacks clarity, enhance it.
Insert > and spaces between words for added description.
Example:
If site shows Parts > Door handles, add more layers like Parts > Door handles > Chevrolet Truck Door Handles.
Image
The image plays a vital role in driving ad clicks.
Should:
Visible in thumbnail: Clear visibility is key; unclear images deter clicks.
White background: Google mandates white background.
No text/watermarks/logos: Forbidden, except on the product itself.
Compelling: Adhere to effective merchandising. Clothes on an ideal customer. Good lighting, favorable angle.
Price
While the image captures attention, the price often drives clicks, especially when competing with identical products. This holds true for price-sensitive items too. Higher price can hinder or benefit, depending on uniqueness or advantages.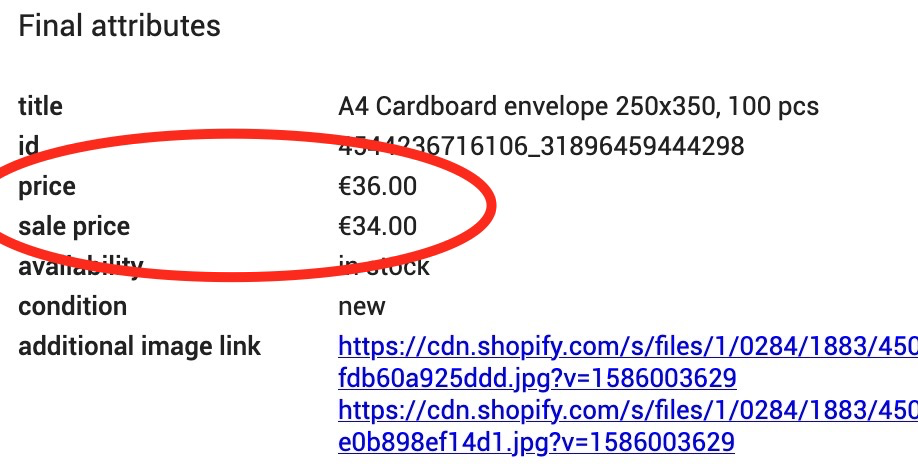 For instance, custom vehicle lights, aimed at quality-conscious buyers seeking unique looks, can use a higher price to attract relevant clicks, even with similar search queries.
Brand
Whether you have your own brand or resell others', each product in your feed must have a specified brand. Many searches are brand-focused, especially by potential buyers with strong purchase intent.
Final words
In the world of e-commerce, a well-structured Google Shopping feed is your key to success. From accurate product titles and compelling descriptions to clear images and competitive pricing, every element matters. Remember, meticulous attention to detail ensures your products are seen by the right audience, driving clicks and conversions. Embrace Google's guidelines and make your feed a gateway to online triumph.
Read More: Top 8 Ways to Optimize Google Shopping Campaign for Starters