Partner with the most proficient TikTok Agency Dubai: Why not?
TikTok, a popular platform for creating, sharing, and discovering short music videos, has gained worldwide popularity.
Especially, the UAE ranks 11th in terms of the number of TikTok influencers in the world. TikTok also ranks 4th among the most-used social media platforms in the UAE.
In the UAE, there are a total of 8.23 million TikTok users. Within this user base, Millennials aged 26-32 constitute 34.88%, while Gen Z aged 19-25 make up 26.54%. Users over the age of 40 account for 5.7% of the overall audience.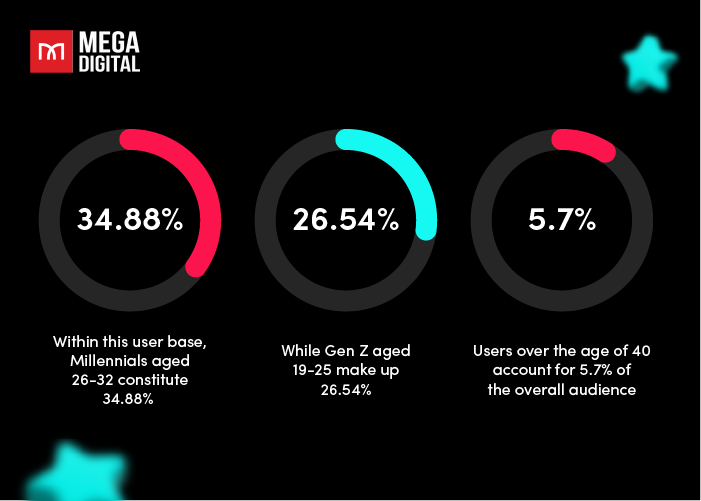 At the start of the year, TikTok's advertising reach encompassed 87.7% of the local internet user base, irrespective of age. Of this audience, 25.8% were female, while 74.2% were male.
The swift rise of TikTok has opened up a fresh opportunity for brands and marketing agencies to connect with their audience. TikTok encompasses key aspects such as influencer marketing, engaging customers, e-commerce features, precise audience targeting, and building consumer awareness. This solidifies its position as a vital platform for promoting online businesses. Collaborating with a TikTok Marketing Agency in Dubai can significantly enhance your product or service sales and drive targeted traffic to your website, maximizing the impact of your advertising budget.
>>> Learn more: What is TikTok Agency Account? Should we need one?
The criteria for Mega Digital to rank the agency companies
Experience: Consider the duration they have operated in the market and the level of understanding they demonstrate in their field.
Market Segmentation: Categorize agencies based on the specific industries or sectors they serve, such as advertising, real estate, finance, technology, etc. This segmentation helps in understanding their focus and alignment with the client's needs.
Service Quality: We based on the diversity of services that the agency company provides to rank these agency companies. Next, we consider the quality of services provided. This involves evaluating the agencies' commitment to delivering high-quality results, meeting deadlines, and maintaining a standard of excellence in their offerings.
Strategic Partnerships: Explore the agencies' strategic partnerships with other businesses or organizations. Collaborations with reputable partners can enhance an agency's capabilities and network, providing additional value to clients.
Customers' Reviews: Review testimonials and feedback from previous clients. Positive testimonials can provide insights into the agencies' strengths, reliability, and client satisfaction.
Dubai Advertising TikTok Agency Top 10+ list
#1. Mega Digital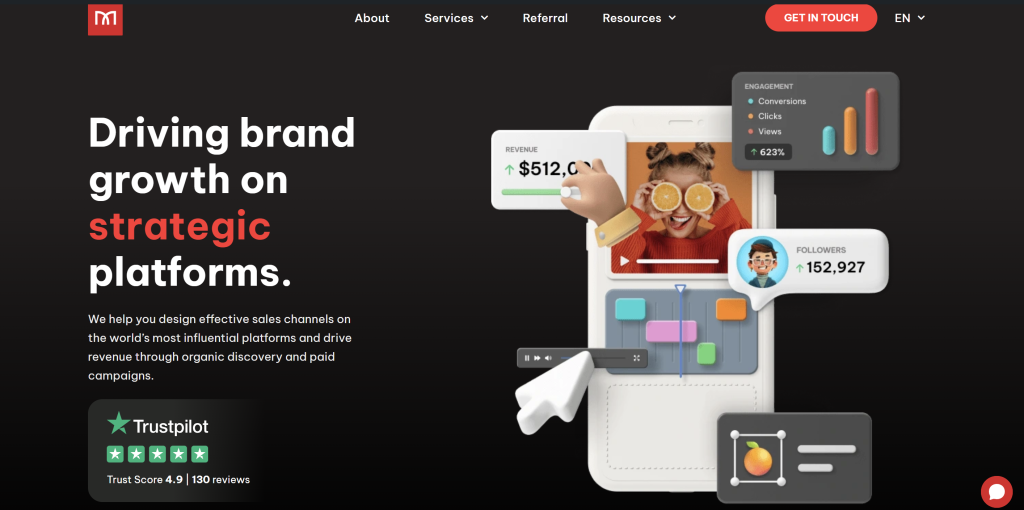 Mega Digital is an established TikTok Agency with a three-year track record. They've developed highly efficient TikTok advertising strategies that incorporate cutting-edge technology to precisely target their desired customer base. With their ability to experiment with beta features and implement finely-tuned campaign targeting, they have provided support to over 500 clients, ranging from individuals to medium and large businesses.
Mega Digital consistently garners 5-star ratings on Trustpilot, reflecting their consistent delivery of exceptional results for their clients. They have a dedicated team of TikTok experts who remain at the forefront of the platform's ever-changing landscape. Among their most sought-after services is the Performance Marketing Solution, which relies on data-driven approaches to tailor solutions to meet each client's specific needs.
Year Founded: 2021
Services:

TikTok Advertising
TikTok Ad Agency Account for rent
TikTok Verification Service for business
Google Advertising service
Google Ads Agency Account for Rent
Search Engine Optimization
Microsoft Advertising Service

Best for: Advertising & Marketing, Technology, Tourism, E-commerce, Gaming, Finance, Fashion, Health, Education,…
Partner with: Google, TikTok, Microsoft
Review:

"I was new to running TikTok ads and I wanted to use Mega Digital to run ads in the USA. I want to shout out to an agent named Fleur. She has been really helpful in helping me get set up and always been there for me when I needed support during the day or during the night with quick replies. They offer multiple ways to make payment to top up Ad accounts. Overall great experience I will definitely recommend especially if you are new to running social media ads." – Zed
"I took the TikTok Agency Ads Account service from Mega Digital and it has been a smooth journey so far. Took multiple ads account from them and every time the account delivery was within some hours. My support agent Ms. Kim Anh Nguyen is a blessing! She listens to my every detailed query patiently, knows a lot about the paid advertising field, and provides accurate solutions. The best support agent and service any business owner can expect." – Faiyaz Abrar
#2. NEXA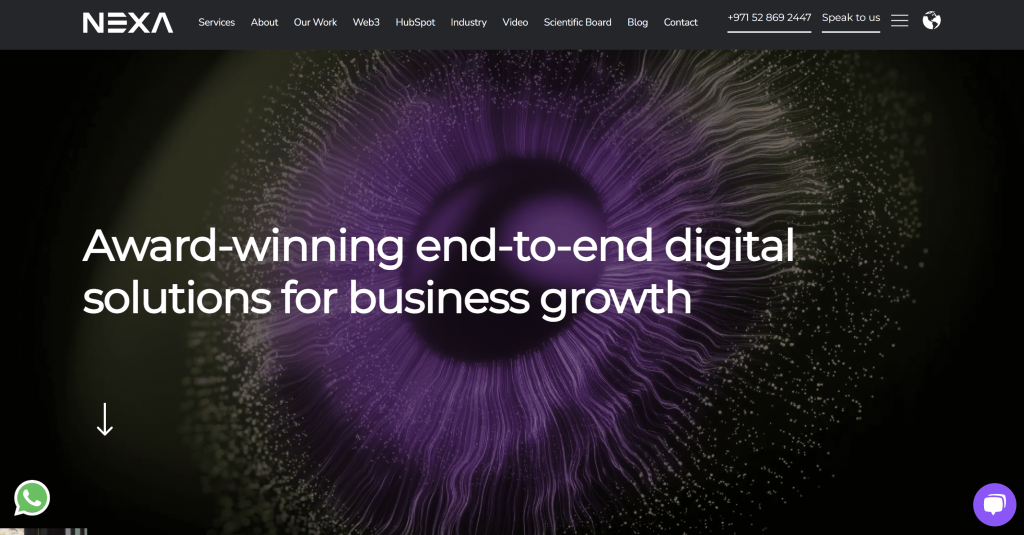 NEXA is a famous digital marketing agency with its head office based in Dubai, UAE. NEXA was HubSpot's first partner in the Gulf region and joined the partner program almost 10 years ago. They have been integral in educating the region about inbound marketing and sales and have applied their expertise to strategic clients in the technology, real estate, and education space.
Year Founded: 2005
Services:

Digital Marketing
Website Design & Development
Digital Campaigns & Lead Generation
HubSpot CRM, Marketing, Sales & Service
Social Media Management
Search Engine Optimization (SEO)
Web3, NFT Projects & Metaverse
Photography & Video Production

Best for: B2B Marketing, Education, Automotive, Healthcare, Hospitality, Real Estate, E-Commerce
Partner with: Hubspot, TikTok, Google
Review: "When it came to attracting leads across the MENA region, we were at a loss. We turned to NEXA to assist us in reaching this large target audience. Needless to say, our expectation were exceeded. NEXA helped us rank in the search engine results, across multiple locations and brought us the highest quality leads and improved sales for Toshiba Printers." – Toshiba
#3. EDS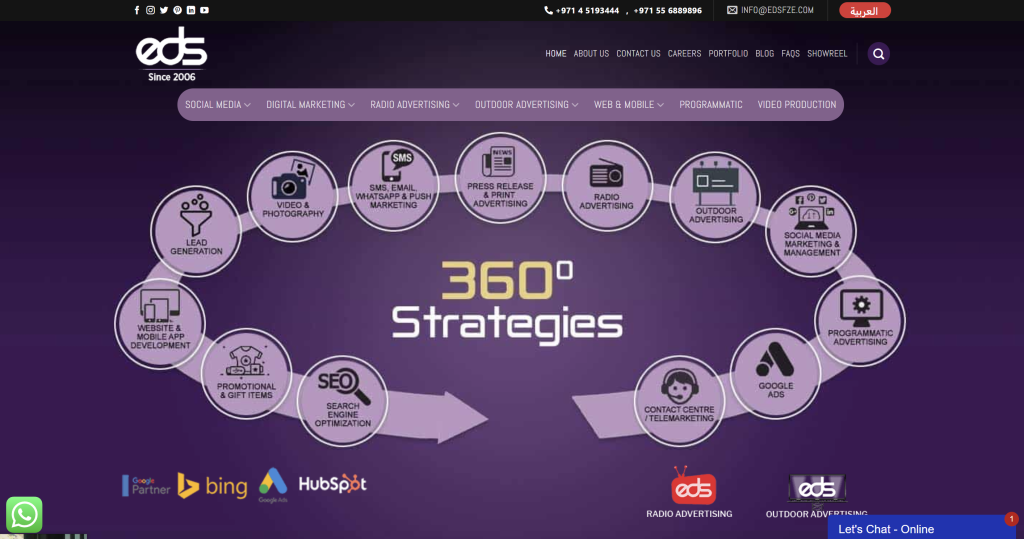 EDS – a leading marketing company in Dubai, UAE, consists of a group of digital media specialists who provide global companies with online business solutions and outstanding digital marketing results. Their expertise encompasses various areas, including website design and development, SEO, social media management,… They create comprehensive digital marketing strategies that employ diverse methods to achieve objectives such as increasing website traffic, generating leads, enhancing eCommerce, building brand recognition, boosting engagement, and more.
Year Founded: 2006
Services:

Digital Marketing (TikTok Advertising, Social Media for Business,…)
Radio Advertising
Outdoor Advertising
Web & Mobile
Video Production

Best for: Spa, Technology, Travel,…
Partner with: Google, Bing, HubSpot
Review: "Excellent experience working with EDS. Very professional and on-time delivery of services. Totally satisfied and will continue using them as our partners." – Mr. Kartik Satija
#4. BLANK SPACE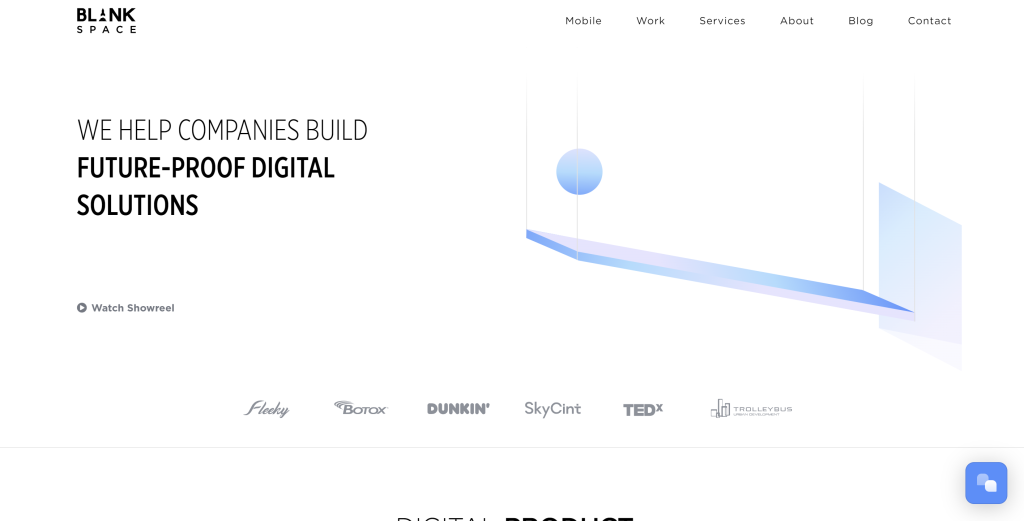 Blank Space aims to develop digital products and campaigns that assist businesses in gaining value and observing growth. Their goal is to shape engaging customer experiences while maximizing your business's ROI. They also build custom loyalty and payment apps for an end client.
Year Founded: 2014
Services:

Mobile Apps
Web Apps
E-commerce
Marketing Solutions: online (TikTok, Facebook,…) and offline
Automation
Branding

Best for: Gaming, Education, Transport, Fintech, Sport,…
Partner with: Adobe, Shopify Plus, Google, Facebook Marketing.
Review: "Blank Space Digital has effectively updated the website, delivering a clean, user-friendly, and attractive design that greatly pleased customers. Their outstanding communication and technical skills shone throughout the project."
#5. GCC Marketing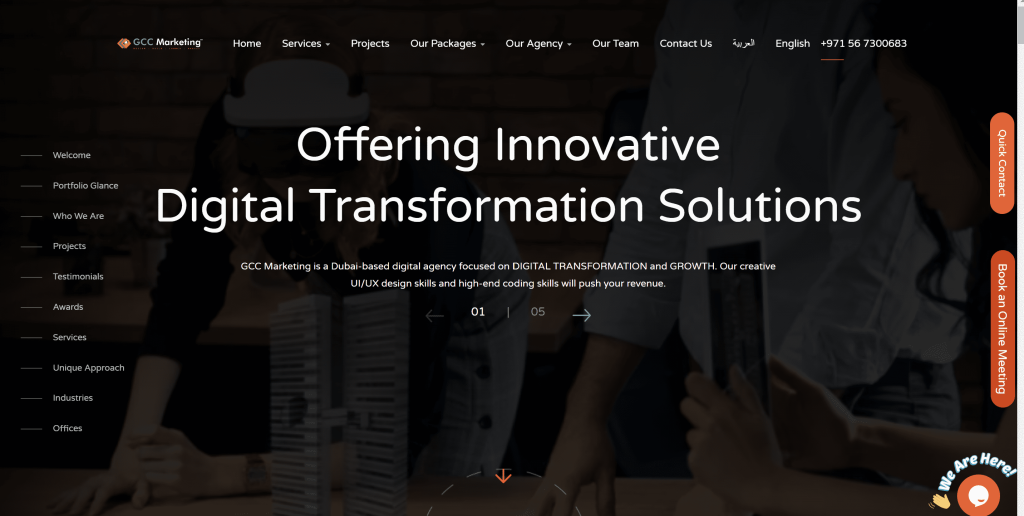 GCC Marketing was founded with a fervent dedication to assisting businesses in attracting a broader customer base through growth hacking and performance marketing. Currently, GCC Marketing is one of top digital agencies in Dubai, UAE. Every project they undertake is distinct and conveyed to your audience through various channels. Their team possesses the creative expertise and experience to transform concepts into reality results.
Year Founded: 2009
Services:

Design Services
Web Services
Mobile Apps
e-Commerce Solutions
Marketing Services: TikTok Marketing, Digital Marketing,…

Best for: Fashion, Beauty, Logistic,…
Review: "GCC Marketing's efforts led to a remarkable 300% rise in visitor engagement and a fivefold surge in interactions and messages for my business. They not only met all project milestones on time but also promptly addressed any of my concerns, leaving me highly satisfied with the partnership."
#6. Norsu Media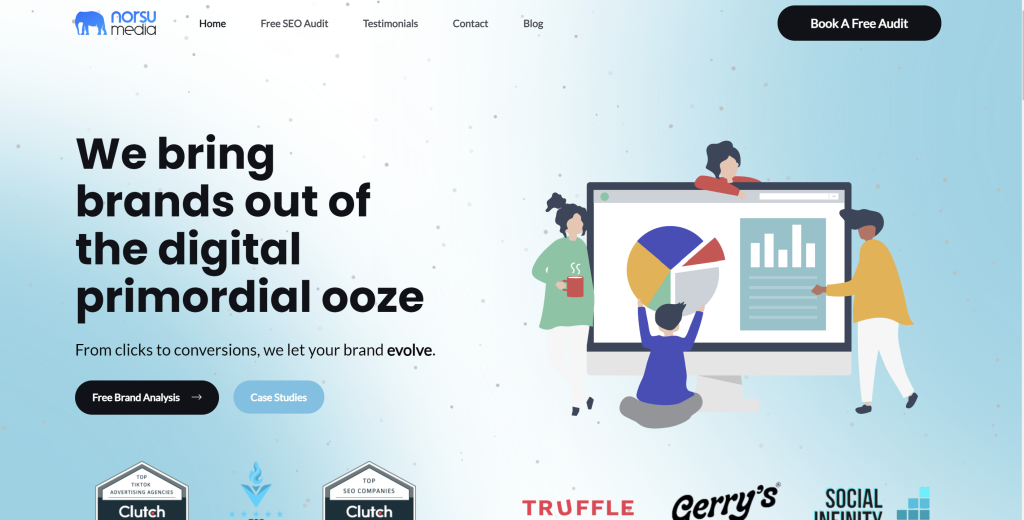 Norsu Media's in-house experts collaborate closely with you to craft a digital marketing strategy tailored to your business objectives. They specialize in driving business growth through data-driven and strategic campaigns. Their team optimizes your ROI, leverages cutting-edge tactics, and stays abreast of the latest digital marketing trends to assist you in reaching your online objectives.
Year Founded: 2019
Services:

Performance Marketing: Facebook, TikTok and other social media
SEO

Best for: Food and Beverage, Entertainment,…
Review: "Thanks to Norsu Media Group, the client's search rankings improved across their target keywords. This resulted in an increase in organic traffic. The client's online visibility also improved, and they gained a higher number of leads. Overall, the team's proactive approach was truly commendable." – Rachel Drori
#7. Prism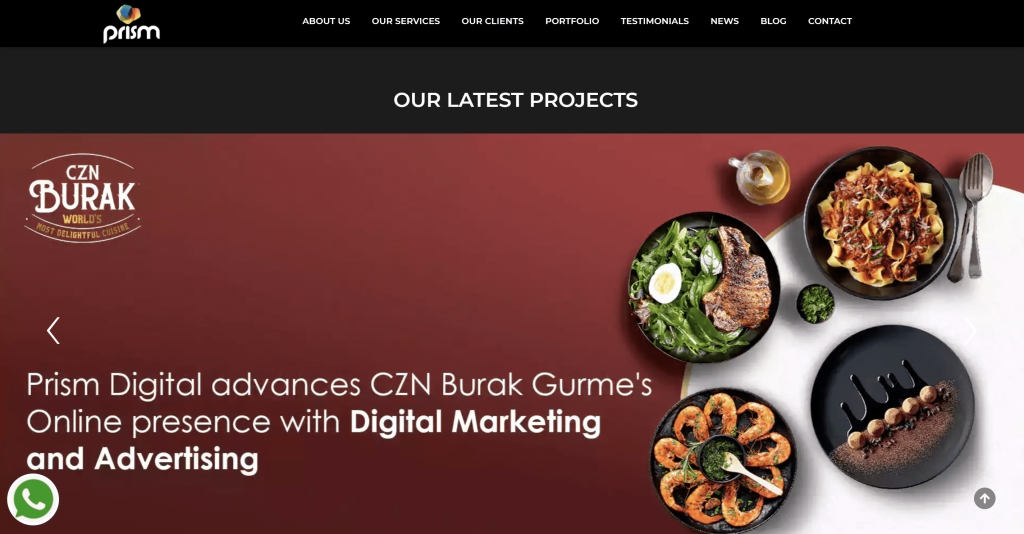 Prism offers unique 360° digital marketing and branding solutions to clients. They specialize in crafting inventive, socially viral content and campaigns. With their in-house technology and creative teams, Prism seamlessly combines technical know-how with strategic content to achieve successful advertising campaigns.
Year Founded: 2006
Services:

Digital Marketing
SEO
Social Media Marketing
Website Service

Best for: Beauty, Technology, Real Estate,…
Review: "I would highly recommend Prism Digital because they increased our sales by over 5 times with the same budget as we were spending before. They also increased our core leads by a much better methodology of targeting campaigns." – VIJU JACOB EZ DEALS
#8. LPS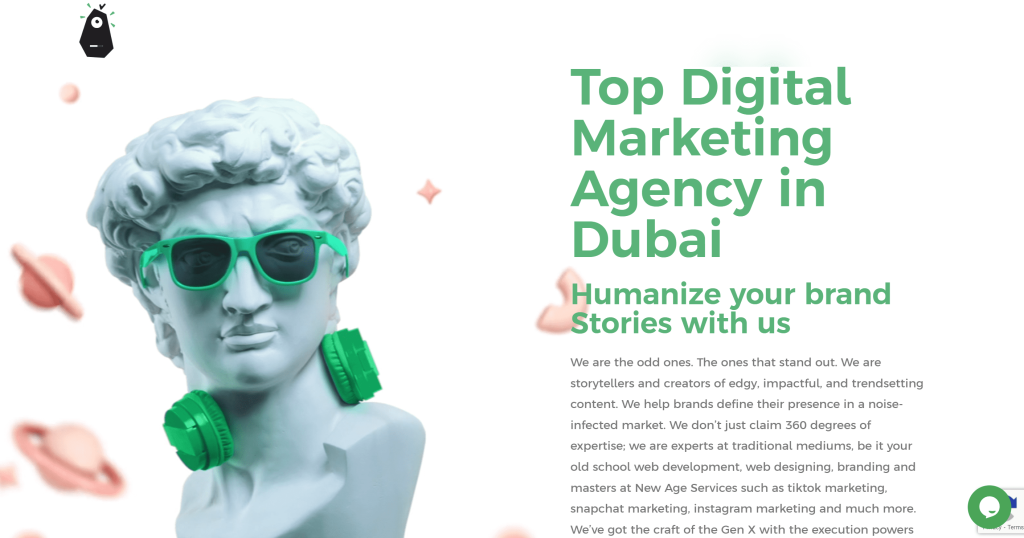 LPS operates in various segments of digital marketing. Additionally, they offer a comprehensive range of 360 media services, including PR, video production, sound design, and other innovative services of the modern era. LPS supports its team of professionals, enabling them to work with fervor to deliver imaginative concepts that surpass client expectations
Year Founded: 2016
Services:

Campaign Strategy
Social Media (TikTok, Facebook, Instagram,…) Marketing
Brand Identity
Chat Bot Services
e-Commerce Marketing

Best for: Food and Beverage, Sport, Education, Gaming,…
#9. THE VECTOR CODE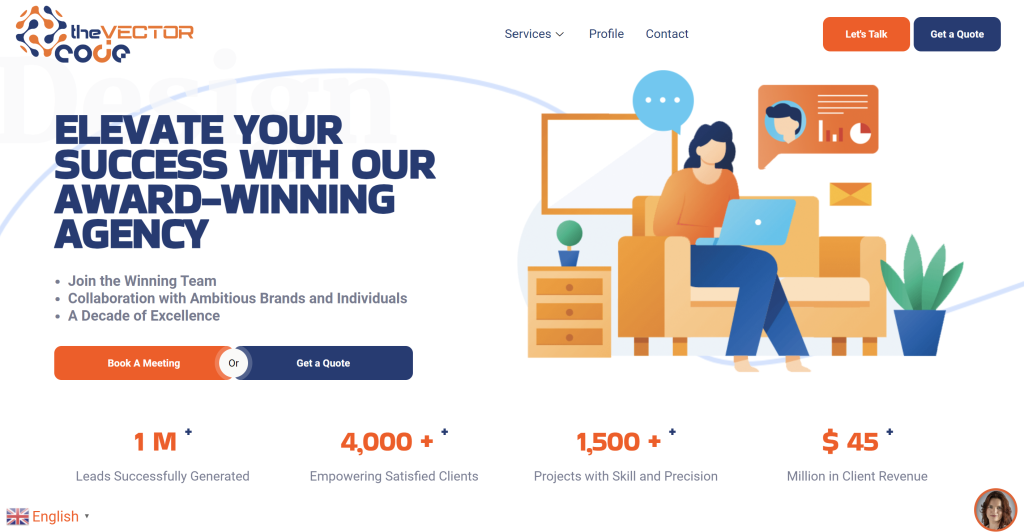 In The Vector Code, innovation plays a priority role in attaining exceptional results. Their aim is to facilitate business growth through the application of the latest and most efficient technologies.Through their team of creative minds, they create unique and compelling campaigns that enthrall audiences, stimulate interaction, and foster the expansion of businesses. Witness the profound impact of creative thought and unlock your brand's complete potential within the digital realm.
Year Founded: 2014
Services:

Design Services
Corporate Branding
Web Development
Mobile Application
Marketing Solution for TikTok, Facebook
Content Solution
Video Animation
Hosting service

Best for: Financial, eCommerce, Education, Gaming,…
Review: "Vector Code has exceeded our expectations in every aspect. Their team's deep understanding of our industry and target audience has resulted in successful campaigns that have boosted our brand awareness and customer engagement. Their commitment to delivering exceptional results idd truly commendable." – David Thompson
#10. Number 9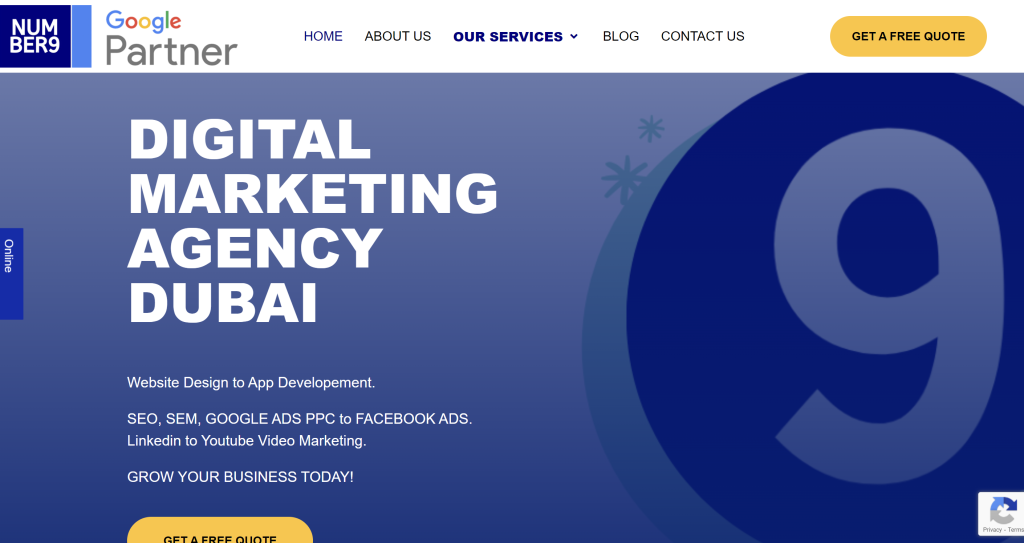 Number9 excels in anticipating new trends rather than following outdated ones, enabling your business to achieve unparalleled success. Their team comprises youthful, skilled, and committed professionals offering comprehensive Digital Business Solutions to elevate your business's prominence within the competitive landscape. They merge expertise and innovation to optimize customer acquisition and retention, enhancing your business's distinction.
Year Founded: 2013
Services:

SEO
Web Development
Google Ads Management
Graphic design
Social Media: TikTok, Facebook, Instagram,…
Mobile App Development

Best for: Food, Car, Electronics,…
#11. Digital Link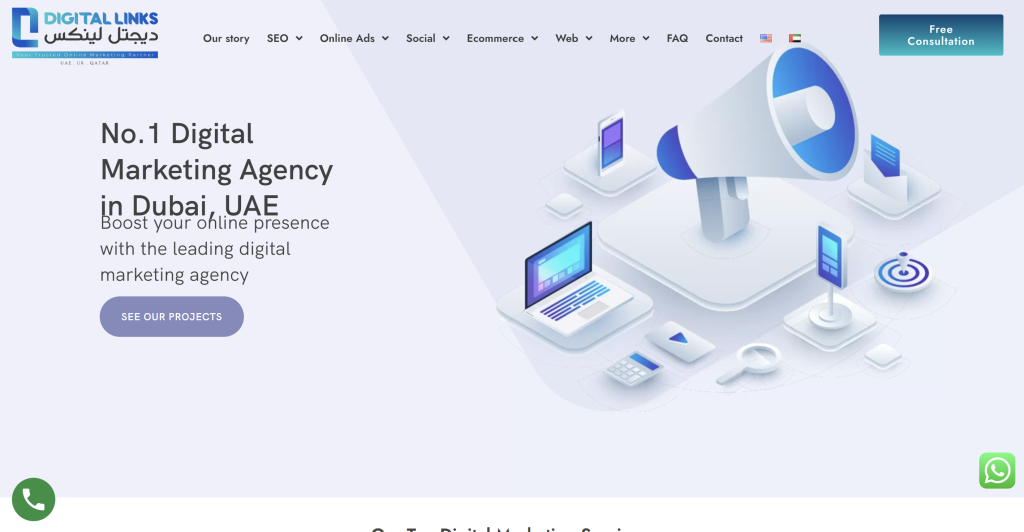 Digital Link acknowledges that building your brand in today's tech-savvy environment is a challenging task. Their vision is to enable every business in the digital realm, and they are committed to exploring emerging digital marketing areas to continuously provide updated services that align with shifting consumer preferences and engagement channels. They possess modern and efficient methods for promoting your online business.
Year Founded: 2015
Services:

SEO
Google Ads
Web Solution
Email Marketing
Social Media Marketing: TikTok Marketing, Facebook Marketing,…

Best for: Technology, Ecommerce,…
Partner with: Facebook, Google
Benefits of Working with a TikTok Agency
Working with a TikTok agency can offer several benefits for individuals, brands, and businesses looking to establish a presence on the platform and leverage its potential for marketing and growth. Here are some of the key advantages:
Expertise and Experience: TikTok agencies typically have a team of professionals who specialize in optimizing TikTok marketing for the platform. They understand the platform's algorithms, trends, and best practices, which can help you create more effective TikTok marketing strategies.
Creative Content Strategy: With TikTok Agency support, you can develop innovative content strategies that align with your goals and target audience. They can assist in identifying trends and creating content that resonates with TikTok's user base.
Influencer Partnerships: If you want to advertise your products/services through TikTok influencers, TikTok agencies will do it effectively. Because they have relationships with many popular TikTok influencers. They also can help you identify suitable influencers for your brand and negotiate partnerships, allowing you to tap into their follower base and credibility.
Data and Analytics: The performance of your content and campaigns will be tracked and analyzed by TikTok agency. They can provide insights into what's working and what needs improvement, helping you refine your strategy for better results.
Ad Campaign Management: If you plan to run TikTok advertising campaigns, agencies can assist with campaign creation, targeting, and optimization of your ad spend and reach.
Trust and authenticity: All TikTok Agencies undergo rigorous certification, ensuring a sense of assurance in collaborating with them. Their expertise and certified status provide a reliable foundation for working partnership.
Time and Resource Savings: By outsourcing TikTok-related tasks to an agency, you can focus on other aspects of your business, knowing that experts are managing your TikTok presence.
However, it's essential to choose the right TikTok agency that aligns with your goals, budget, and brand identity. Mega Digital is a professional TikTok Agency UAE that can help you target the right audience and boost your sales. To stand out from others on TikTok, don't hesitate to reach out to Mega Digital and achieve your desired results. Let's TikTok now!