If you are a small to medium-sized business, In-feed video ads on YouTube are probably one of your first choices. This is because they are highly visible, non-disruptive to viewers and budget-friendly for advertisers.
In this blog, besides providing you with an overall knowledge of In-feed video ads, we will give some valuable tips and insights while setting up YouTube In-feed ads.
What is an In-feed video ad?
YouTube In-feed video ad (formerly known as TrueView discovery ads and YouTube Video discovery ads), is currently one the most popular YouTube video ad formats.
Unlike In-stream YouTube ads, which run before or during another video, In-feed video ads are integrated into the YouTube feed. They place your advertising products and services alongside other YouTube content, such as in search results or on the YouTube homepage.
It is easy to spot In-feed video ads as they are marked with an apparent "Ad" tag just like this.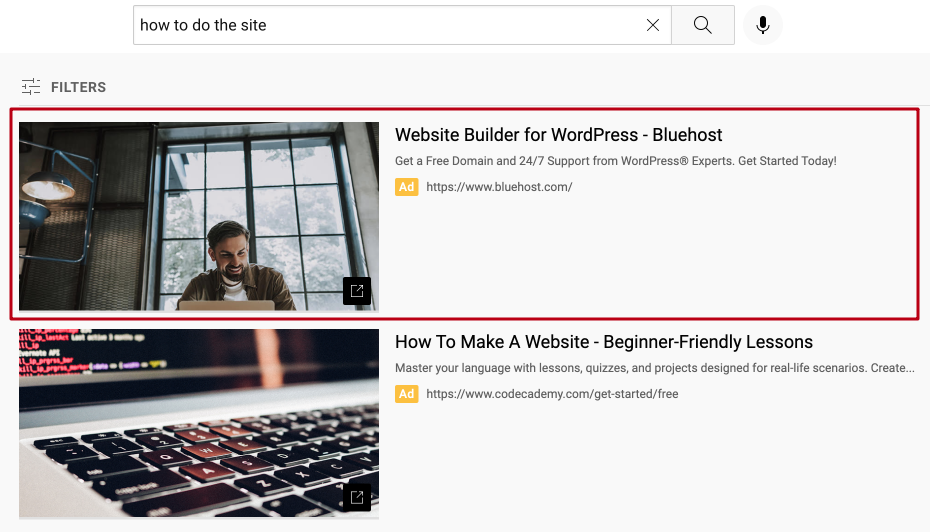 According to Google, In-feed video ads include an image thumbnail, a headline, and a maximum of 2 lines of text. In specific contexts, hovering over the thumbnail will trigger the video ad to play automatically with muted sound.
You have to click on the video thumbnail before watching it. Therefore it ensures that viewers engage with your content intentionally, maximizing the impact of your message.
How do In-feed video ads work?
Due to your settings about your custom audience, In-feed ads will appear on their YouTube search results, Home feed, or YouTube recommended (also known as "What's next). When a viewer engages with the thumbnail, they are directed to the YouTube watch page for the ad as if they've clicked on an organic video result.
However, they only link to the video watch page (there is no other URL included), so if viewers are interested in your ad, they will like, comment, share, subscribe, or look for more videos on your YouTube channels. When viewers do so, these actions are free as they become earned actions.
In-feed video ads run on a Cost-per-view (CPV) basis. The view is counted whenever the video loads successfully after they click on the thumbnail of the advert, not by the time it appears on the viewer's YouTube app or browser. The cost will be discussed later in the blog.
In-feed video ads examples in 3 placements
YouTube search results
These ads are displayed at the top of the search results when users look for specific content on YouTube, as they are relevant to the user's search query. This placement is remarkably noticeable and immediately captures users' attention.
YouTube Home feed
In-feed video ads also appear on the YouTube homepage, which is the first page viewers see when they visit the platform. The ads appearing on this place are tailored according to the user's interests, interaction, and viewing history on the platform.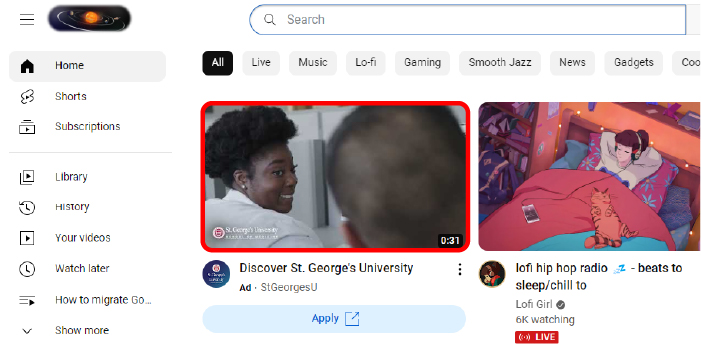 On mobile, your ad appears either at the top of the feed (if there is no Masthead ad playing) or between videos in the feed.
YouTube What's Next
Your advertisement can be displayed in the sidebar of the YouTube video watch page. This location will allow your ad to be in-view for a great deal of time.

On mobile, your In-feed video ads appear with related videos below the primary video.
How do In-feed Video ads benefit advertisers?
Marketing, after all, is selling the right products to the right people at the right time. In-feed video ads can increase the likelihood of your products reaching the right people.
Enhance user interaction
The good thing about the In-feed video ad format is that viewers have to click on the video thumbnail before they watch it. This will result in higher click-through rates, viewer engagement and even better conversion rates as people interacting with the ads are interested in your products or services.
Highly-targeted advertising
In-Feed Video ads are highly targeted because they are relevant to the user's search query and customized based on the user's preferences and past browsing history. This precision targeting ensures that the ad reaches the right audience.

For example, when searching for strategies to improve sales, an In-feed video ad of sales CRM appears. This means that your advertisements are approaching the target audience, which can lead to higher conversion rates. 
High visibility
3 placements in which In-feed Video Ads are prominently apparent, ensuring that they are highly visible to the audience. Even when viewers don't click on the ads, they will encounter in-feed ads throughout their browsing progress. It's the art of marketing: your ads just appear everywhere until viewers know or remember about you.
Non-disruptive experience
In-feed video ads are indeed the least disruptive ads on YouTube platform. These ads don't interrupt the user's experience like In-stream video ads because they blend wisely in the YouTube feed. They appear as if they are part of the content users are already consuming. And you can click or just scroll past them, whatever you want.
Sometimes it is better to use In-feed video ads than others
You are free to run an In-feed video ad campaign alone or combine it with other ads types such as In-stream video ads. However, it depends mostly on your video content and objectives to decide whether to run a single ad campaign or mix two or many of them.
For example, you have a 4-minute video ad about an English course. It is not ideal to use In-stream video ads because these ads will appear before or during the actual content that people want to see and piss them off. Use in-feed format instead. If people are searching for specific topics and you have what they want, using In-feed video ads can entice them to click on your videos. These ads are indeed a good way to be in front of your target audience.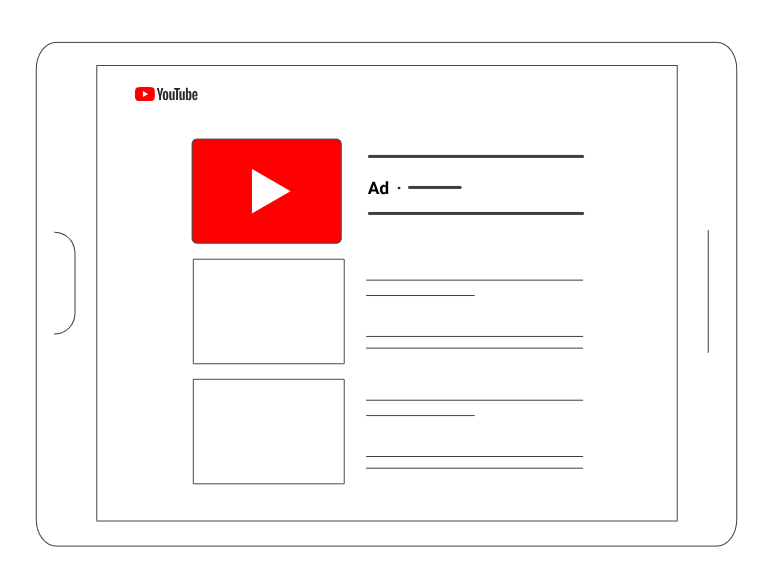 Drawbacks to take into account
Require user engagement
The success of this ad relies a lot on the engagement of viewers. If your Call To Action doesn't effectively prompt a response, you may face challenges in generating clicks. And this is probably the biggest drawback of this ad, making it become underrated by many advertisers.
Limited Messaging
In-feed video ads typically have limited space for text and information (only a thumbnail, headline, and 2 lines of text), which can make it difficult to convey complex messages or detailed product information. It also doesn't spare much room for creativity.
It is apparent that In-feed video ads are not suitable for increasing brand awareness or driving traffic to your websites or fan pages. Hence, if your objectives are to do so, consider other kinds of YouTube video ads such as YouTube Masthead Ads and Bumper ads.
YouTube In-feed ad specs
Ad state: "Public" or "Unlisted"
Ratio:

For horizontal: 16:9 (recommended), 4:3 (SD)
For vertical: 9:16, 2:3 (SD)
For square: 1:1

Format: MPG (MPEG-2 or MPEG-4) (recommended), CineForm & HEVC (h265), WebM, DNxHR, ProRes, MPEG-1, MP4, MPEGPS, 3GPP, WMV, AVI, MOV and FLV
Audio files are not accepted.
File size: Max 256 GB
Resolution: 1080p (recommended), 720p

For horizontal: 1920 x 1080 px (recommended), 1280 x 720 px
For vertical: 1080 x 1920 px (recommended), 720 x 1280 px
For square: 1080 x 1080 px (recommended), 480 x 480 px

Length: > 12 seconds
Google suggests setting length due to marketing objectives: awareness: 15-20 seconds, consideration: 2-3 minutes.
How to set up an In-feed Video ad on YouTube?
Step 1: Log into your account
First, sign in to your Google Ads account.
Step 2: Create a new campaign
Click on "Create campaign"
Select "Awareness and consideration"
If you want to run In-feed video ads on YouTube, choose objectives: "Awareness and consideration" or "Create a campaign without a goal guidance" to create one on your own. (There used to be an objective "Product and brand consideration" but it is now merged into "Awareness and consideration")
This blog will help you set up In-feed video adverts if you choose "Awareness and consideration" as your objective.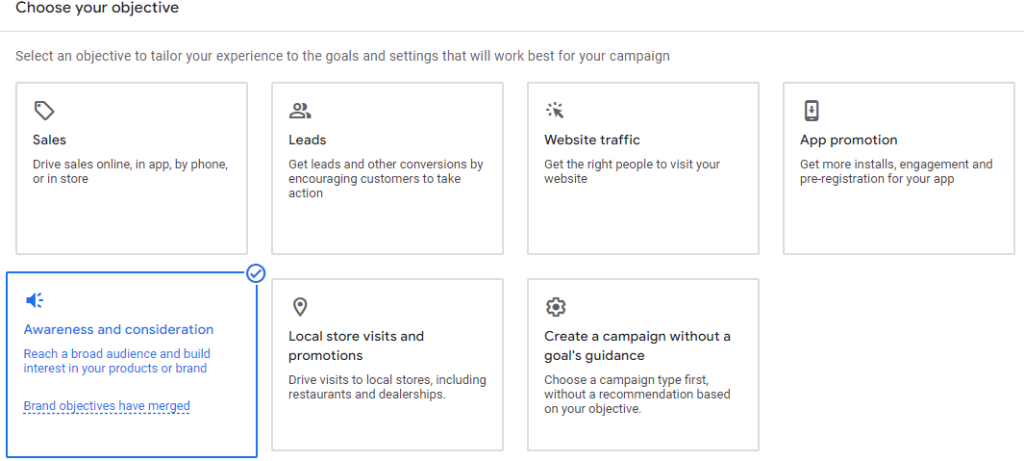 Select campaign type "Video"
Chose campaign subtype: "Video views"
The campaign subtype "Video views" is a new feature of Google, which brings more views for your video ads at a lower cost by displaying them where they perform best. Besides this subtype, you won't find In-feed video ads anywhere else.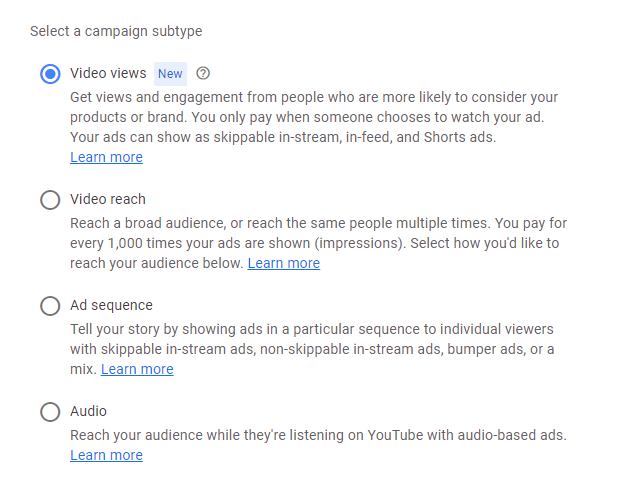 Step 2: Customize your In-feed video ad campaign
Here are what you have to set up according to your campaign's objectives:
Bid strategy: The only allowed bidding strategy for you is Target CPV, which is obvious because the objective is getting more views.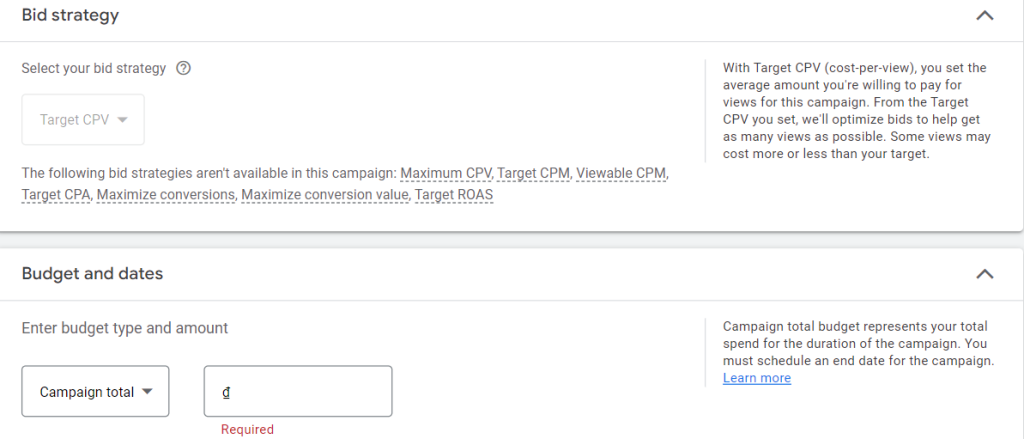 Network: If you choose Google Parnerts, your In-feed video ads will not only appear on YouTube only, but also on video partners on the Google Display Network as well such as blogs, apps, and websites,… This increases the viewability of your ads, especially In-feed ads – the highly targeted and customized ad type.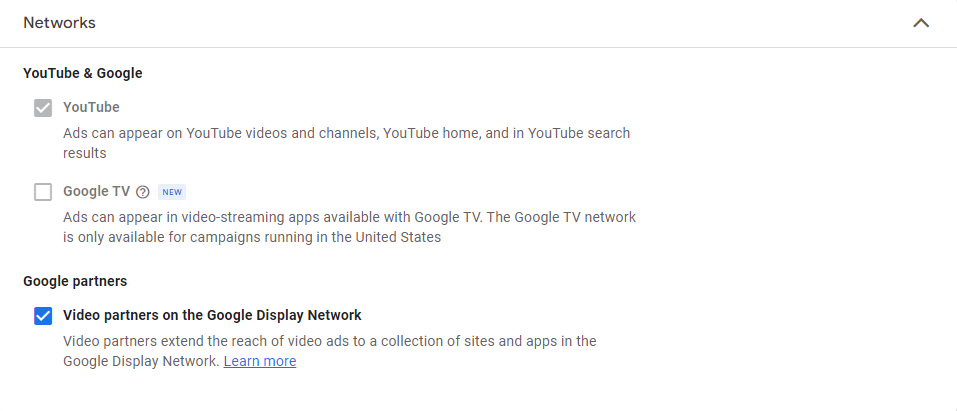 Multi-format ads: This is also a new feature of Google Ads. With this option, your ads won't run the In-feed type alone but also run as In-stream ads and Shorts ads. This will cost you a little more than usual, however, Google guarantees an increase of 40% in views so you can consider giving it a try.

Audience segment: In this segment, we recommend you choose "In-market and life events" and "Custom segments". In-market segments are those who are getting ready to purchase specific products or services while life-event segments are those who are moving through important milestones of life such as graduation, getting married,…  These people have set their minds on buying a specific service or product. As a result, YouTube In-feed video ads will generate better outcomes if targeting them. However, you also can customize your audience to get very specific.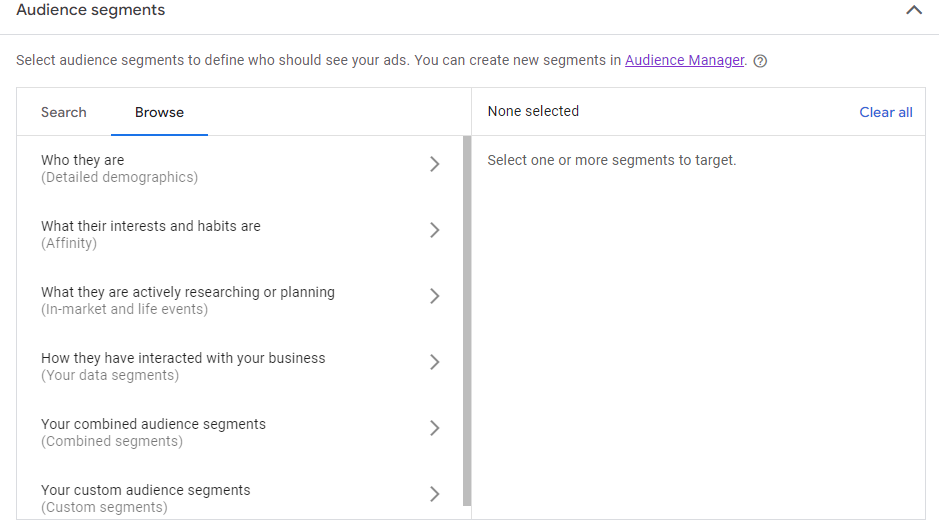 Bid strategy: As for the bid strategy, we recommend you to set your bid low because you can always increase your CPV bid. If you set your bid high, you may have to spend more on every single view on your video.
Finally, review all the settings and then click "Create Campaign".
How much does an In-feed Video ad cost?
In-feed Video ads are sold on a cost-per-view (CPV) basis. This means that you have to pay a certain amount whenever a user clicks to watch the video, not simply seeing the ad on YouTube feed.
YouTube advertising costs can vary depending on your goals, budget, location targeting, and target audience. However, you can expect to spend around $0.10 per view.
It's advisable to work with a YouTube advertising team or a digital marketing expert to get the precise pricing details for your specific campaign.
A case study of Mega Digital client
Mega Digital has years of experience in running Google ads for customers. To give you more valuable insights and practices, here is one of the cases we have solved for our client by using YouTube In-feed video ads.
A is an English center selling online English courses. After the Covid-19, their revenues have gone down due to a lack of students so they were seeking to expand their reach to new customers. After asking for advice from Mega Digital, the company decided to run a campaign on YouTube.
With a restricted budget, we decided to leverage YouTube's In-Feed Video Ads to capture the attention of the English beginners. Our team identified their demographics, interests, and online behavior to create precise audience segments. Then we strategically run an In-feed ad campaign for a month.
CTR Improvement: The CTR for their In-Feed Video Ads was 20% higher than industry benchmarks.
Conversion Rate Growth: Conversions on Company A's website increased by 30% during the campaign.
Budget Efficiency: The CPC model resulted in a 15% cost savings compared to their previous Facebook ad campaigns.
Final words
Youtube In-feed video ads are effective yet often underrated by advertisers. They can be a very valuable tool when you use them with a strategic plan and continuous optimization.
We hope you could learn and leverage some insights shared in this blog and incorporate them into your next advertising campaign.
If you think your brand needs to concisely target more potential audiences and have better conversions, we believe In-feed video ads on YouTube are worth a try.