YouTube Masthead Ads are the digital billboards of YouTube. They are one of the most prominent video ad types that worldwide big brands usually employ. In this blog, you will learn the definition, examples, benefits, and creative approaches that can help you leverage this premium advertising format to maximize your brand exposure on YouTube.
What is a YouTube Masthead Ad?
If you open YouTube and see a brand video ad right at the top of your YouTube homepage (often with brand channels and websites linked nearby), you've encountered a YouTube Masthead Ad.


YouTube Masthead Ads are huge, bold and eye-catching video ads placed at the top of YouTube homepage for 24 hours. The prominent existence and ability to reach millions of people per day make them one of the highest-visibility and sought-after video ad formats on YouTube platform.
YouTube Masthead Ads can last up to 30 seconds and autoplay whenever users are in view. These ads are not disruptive at all since they groove in silence and you can scroll down if not interested.
YouTube Masthead Ads ads are shown to millions of viewers. Therefore they are subject to several specifications, guidelines and rules. The purpose of this is to guarantee a favorable user experience and uphold the platform's quality standards.
You can explore other Google types of video ads at: Google Ads Video campaigns
YouTube Masthead Ads Example
This is an example of a YouTube Masthead Ad. On the left is the video ad that will autoplay without sound, and on the right are the link to the website of the brand, the banner and the call-to-action button. This strategic layout not only maximizes brand exposure but also encourages viewers to engage further with the ad content and take action.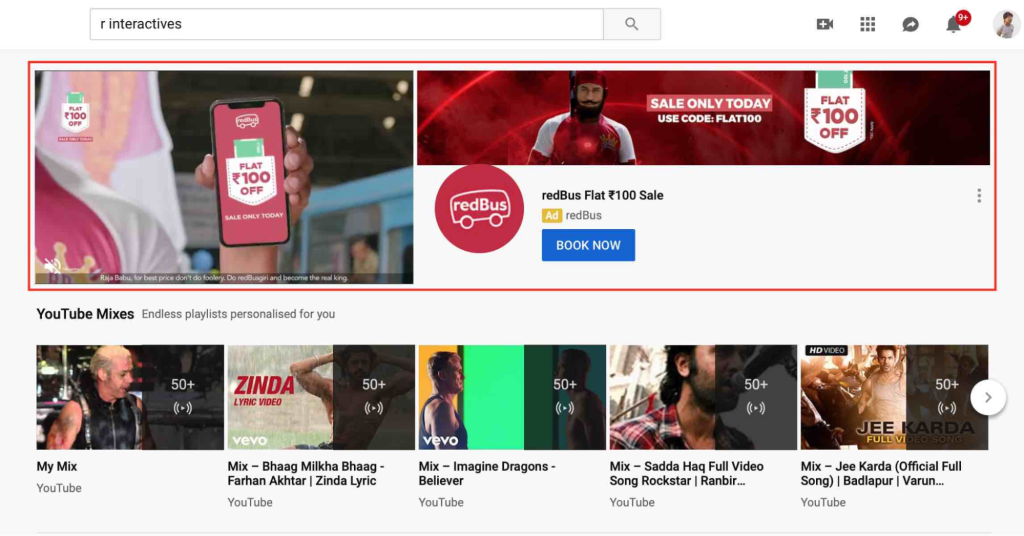 YouTube Masthead Ads can be shown on mobile, desktop, tablet and TV screen. Although there are no big differences in the way YouTube Masthead ads are displayed on these devices, distinct assets are accessible for different devices. Advisers can choose whether to include these assets or not to align the marketing campaign.
| | | | |
| --- | --- | --- | --- |
| | Mobile | Desktop | TV Screen |
| YouTube video URL | x | x | x |
| Headline | x | x | x |
| Call-to-action button text | x | x | |
| Call-to-action click-through URL | x | x | |
| Supporting description text | x | | x |
| Primary video layout | | x | x |
| Autoplay timing | | x | |
| Companion videos | | x | |
| Channel art | | x | |
| Channel icon | x | x | |
How does YouTube Masthead Ad benefit businesses?
Expanded reach & brand recognition
With more than 2.70 billion monthly active users and 1.8 billion active users per month, YouTube will ensure that your brand message is exposed to a vast audience, increasing brand visibility, especially when your ads always appear in the top of YouTUbe
User Trust
It is extremely costly to have an ad on the top of YouTube. Brands that can afford this ad placements are usually perceived as big, trustworthy and authoritative. It is interesting that sometimes brands choose Masthead Ad not just for the views, but for the premium propositioning: We are big and rich, we only appear on top of others.
Cross-Device Impact
YouTube highlights that Masthead Ads drive cross-device engagement. Users exposed to these ads on desktop are more likely to continue engaging with the brand on their mobile devices, contributing to sustained brand visibility.
Cost-Efficiency
According to Google Insight, YouTube Masthead Ads can generate 15% effect with just 9% of your budget, compared to 85% effect with a whopping 91% of your budget for TV. While TV is the most effective media, YouTube Mastheads are most efficient, especially for males aged 20-34.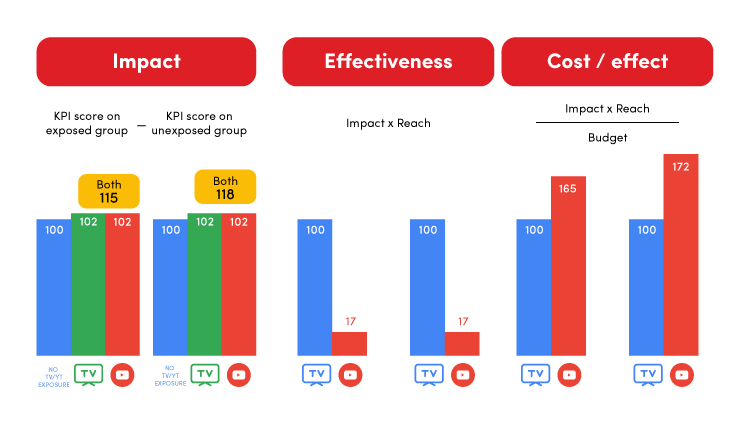 Global and Local Impact
Brands can choose to target Masthead Ads globally or locally, depending on their campaign objectives and target audiences. This flexibility allows for tailored strategies that maximize visibility in specific markets.
Types of YouTube Masthead Ad
Cost-Per-Impression (CPM) Masthead
This type provides a reserved and fixed volume of impressions that are delivered throughout the duration of your advertising campaign. Google also claims that it employs advanced audience targeting solutions to tailor its audience reach for this ad type.
Cost-Per-Hour (CPH) Masthead
CPH Masthead ads allow advertisers to purchase its prime ad slot in the hours preceding, during, or following key moments, such as a sports event or movie premiere. Advertisers are guaranteed a 100% Share-of-Voice (SOV) for eligible impressions within YouTube's Masthead unit. This type of YouTube masthead is suggested for promoting YouTube livestreams or moment-based campaigns that last more than 1 hour.
What are the ad specifications for each device?
Here are the technical specifications for the desktop version of YouTube Masthead according to Google:
Videos should have an aspect ratio of 16:9 (16:9 version allows to display more assets)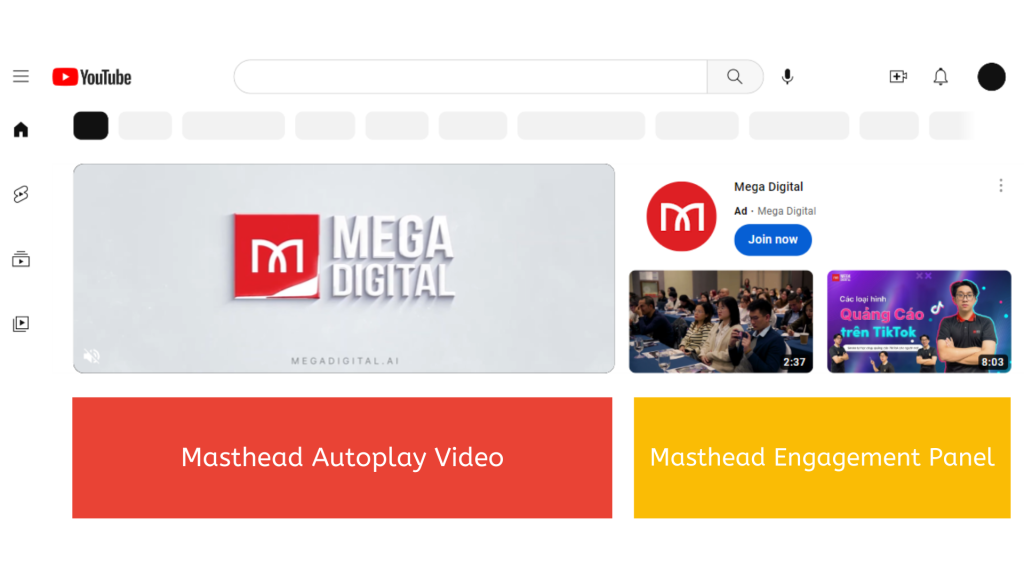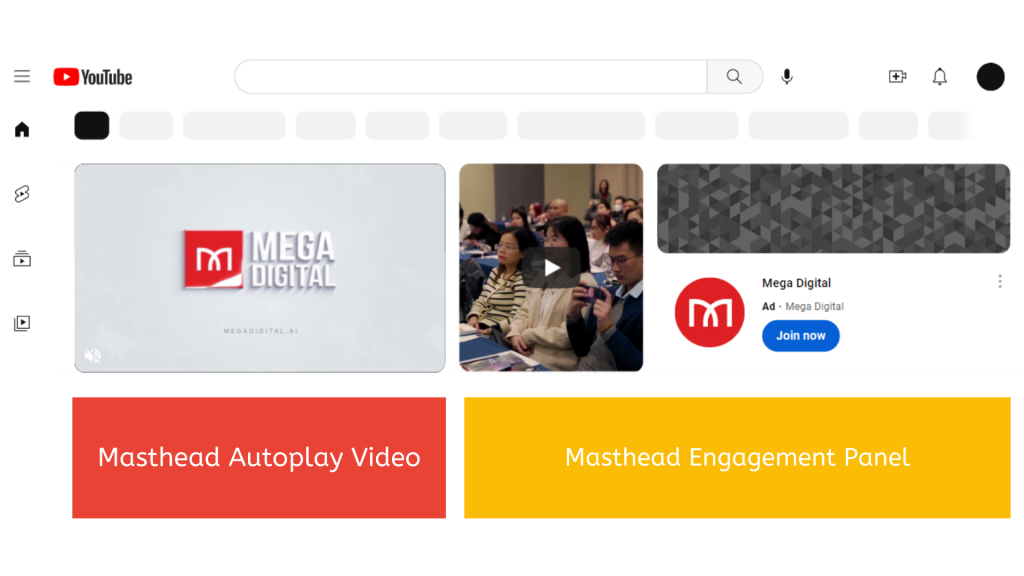 Videos must be "Public" or "Unlisted"
The suggested resolution is 1920 x 1080 or higher
The auto-play is longer than 30 seconds
All creatives within a Masthead must have the same destination URL
The video thumbnail will appear after the autoplay completes
Is YouTube Masthead Ad for everyone?
YouTube Masthead Ads are a premium advertising format. They are the A-listers, the VIP section of the show. They, as a result, require a high budget which may be not suitable for small or medium-sized businesses.
Masthead Ads typically offer exclusivity for one advertiser per day, which makes your brand the sole advertiser in the Masthead slot. This level of exclusivity can be valuable for some advertisers but may not align with the objectives of others.
These ads are best suited for campaigns with specific objectives such as building brand awareness, launching major products, or promoting significant events. Big brands often use Youtube Masthead Ads for movie premieres, brand anniversaries, concerts and music releases,….
If your campaign's primary goal is to drive conversions or sales, consider other ad formats since they may be more cost-effective.
Successful cases using YouTube Masthead Ads
"Harry Potter" 20th anniversary special – HBO MAX
In its "Harry Potter" 20th-anniversary, HBO Max aimed to reach two distinct audiences: die-hard "Harry Potter" fans and a new generation unfamiliar with the franchise. In order to bridge this gap, HBO Max tapped into the compelling trend of nostalgia-driven content. They made a special reunion video of the cast and crew of Harry Potter to revoke all the heartwarming "Harry Potter" memories in viewers' minds.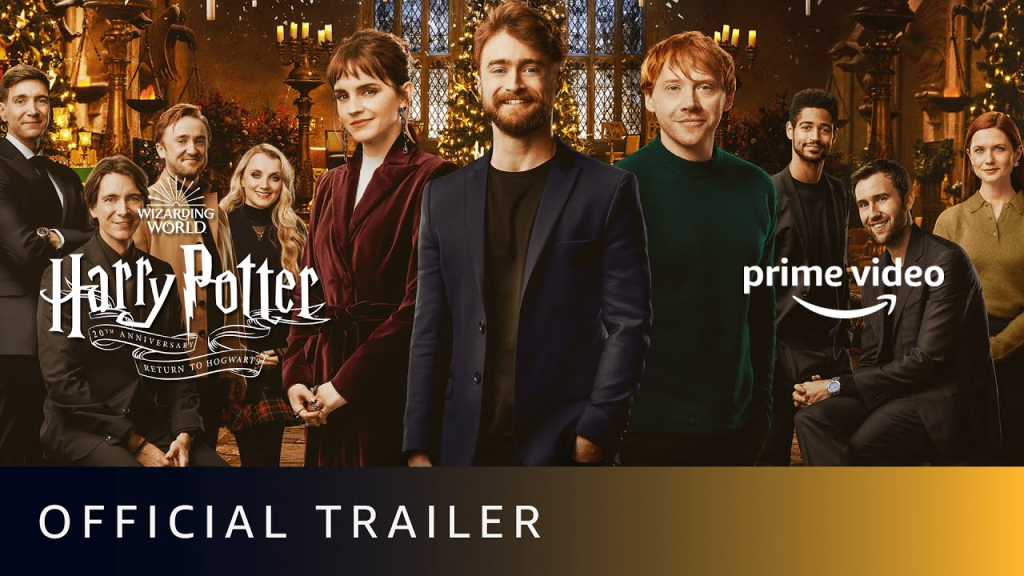 In executing this campaign, HBO Max strategically turned to YouTube as the primary platform to promote their campaign. The campaign, employed various ad formats, including bumper ads, non-skippable and skippable in-stream ads, to drive awareness and consideration.
As the New Year's Day premiere approached, HBO Max strategically concluded the campaign using YouTube Masthead Ads both before and after the premiere. They placed the video on YouTube's home feed to generate mass awareness. This approach ultimately led to 12.7% awareness lift — and reached 49 million unique users.
Film "Toxic influence" – DOVE
In 2022, Dove launched the hard-hitting video "Toxic influence", featuring the toxic beauty advice that many teenagers may encounter on their social media. But this time, Dove has their mothers involved. By using cutting-edge deepfake technology to put toxic beauty hacks and tricks of influencers into the mouths of mothers, Dove exposed the invisible yet self-esteem-destructive influences of social media's toxic advice on young girls.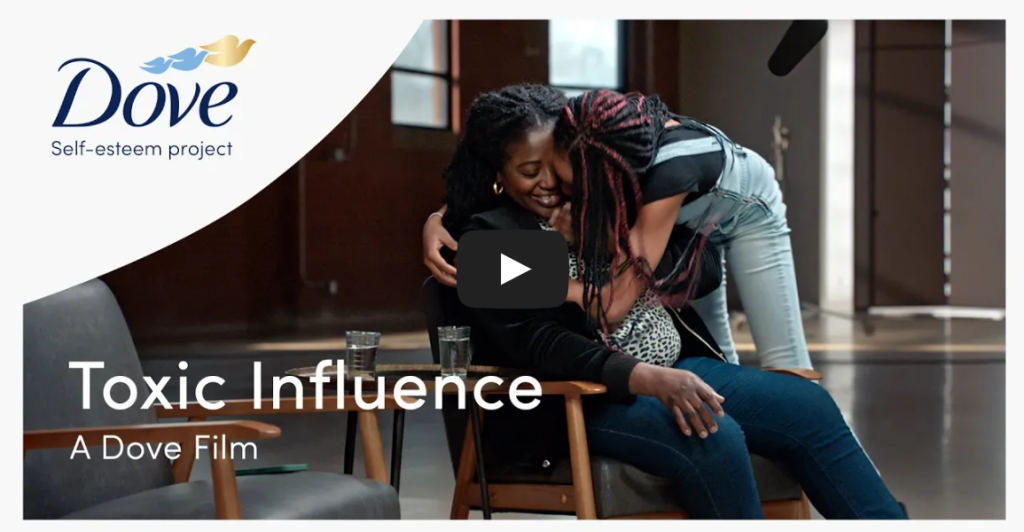 Dove used YouTube Mastheads ads and in-feed video advertisements featuring compelling thumbnail images in the initial phase to encourage clicks and video views. Then they employed video ad sequencing, prefacing the extended version with a brief 15-second clip.
6.2 million users associated Dove with raising awareness about the harmful advice young girls encounter, which was impressive.
Frequently asked questions
1. How much does a YouTube Masthead Ad cost?
Brands may invest approximately $300,000 to $400,000 per YouTube ad. However, in certain cases, it could reach as high as $1 million.
However, the Youtube ad cost still depends on the targeted countries. For the most up-to-date and exact price, please contact the YouTube advertising team.
2. What size are Masthead Ads?
Masthead ads can be displayed in a widescreen or 16:9 aspect ratio format. These dimensions are optimized for visibility at the top of the YouTube homepage on both desktop and mobile devices.
3. Is YouTube Masthead Ads skippable?
We will say yes. There is no "Skip" button for YouTube Masthead such as Skippable Video ads but you can scroll down to see other content on the YouTube platform, so you can choose to skip it.
4. Are YouTube Masthead Ads worth it?
It is undeniable that Masthead ads are expensive, however, we have shown statistics to prove that they can yield positive outcome for brands. So Mega Digital believe that everything worths if you do it right.
Final words
To sum up, YouTube Masthead Ads offer brands prominent visibility, auto-play functionality (without sound), clickability for deeper engagement, and the capacity to generate extensive brand awareness. These features indeed make them a valuable tool in the world of digital advertising.
For brands aiming to make a significant impact and ensure that their message reaches the widest audience, YouTube Masthead Ads are the ultimate choice.