YouTube Bumper Ads are known for their cost-effectiveness, and high success rate in driving brand awareness and ad recall. They are therefore a valuable tool to any advertising campaign.
If you are interested in how a 6-second-long video ad works and benefits your advertising campaign, this blog is for you.
What is a Bumper ad?
Bumper Ad is a short and unskippable video ad format on YouTube. It has a maximum duration of only 6 seconds, which makes Bumper ad one of the most "snackable" types of video ad on any digital platform.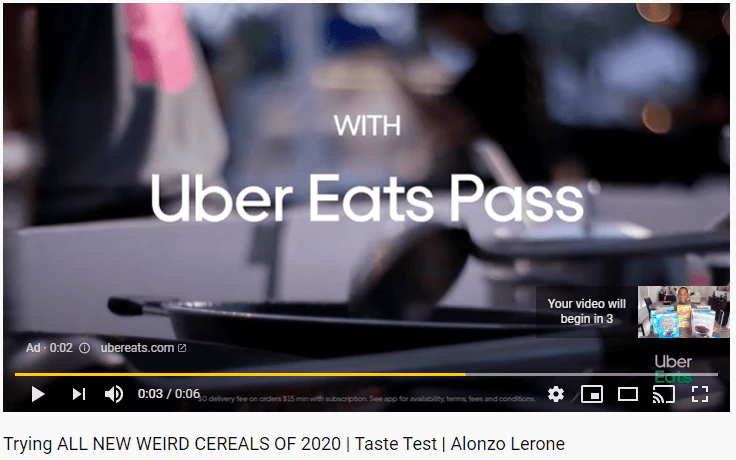 Initially, Bumper Ad was the innovation resulting from a thorough market research and deep customer understanding of YouTube. In 2016, as consumer attention spans continued to shrink, YouTube believed they needed to reevaluate advertising durations and explore new ad formats. The 6-second non-skippable CPM-based Bumper Ads were then introduced. With this new ad format, YouTube aimed to provide advertisers with a method to raise customer's awareness as well as emphasize the value and power of storytelling tailored to mobile platforms.
The fast-paced format of YouTube Bumper ad is especially effective on mobile when people often watch videos on the go. It can run independently by itself but Google suggests running them in a succession, or as part of a broader campaign.
Read More: 22 Types of Google Ads: How to Choose The Right Campaigns
Why Bumper ads? Why now?
According to Hubspot, video is the most popular and effective media format for 4 years in a row. The short-form video also yields the highest ROI for advertisers.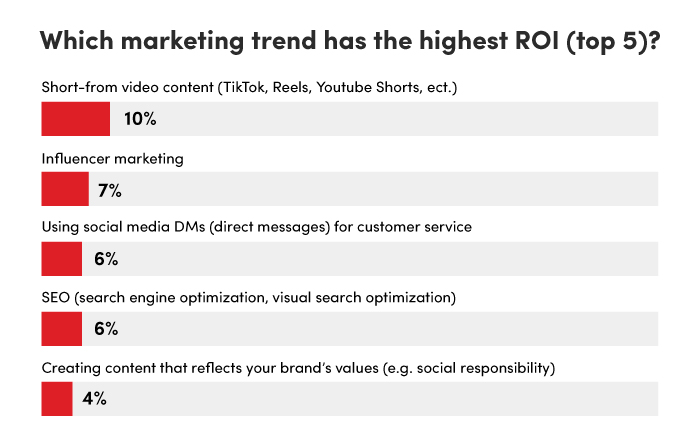 The digital landscape has changed, with short-form video content rising as the leading trend. The popularity of short-form video content is a sign that we should apply short video advertisements to our marketing campaign in order to capture viewers' attention in a matter of seconds.
On the YouTube platform, the 6-second-long Bumper ad can do that.
In 2017, a study of Google on 122 Bumper campaigns in the US found that 70% led to a significant increase in brand awareness, with an average lift of 9%.
Further research revealed that 90% achieved a positive uplift in ad recall, with an average increase of 38% across all campaigns.
(Ad recall is a campaign metric that measures an ad's effectiveness: how memorable the ad is in an audience's mind)
Key benefits
One-third of YouTube's large business leverage six-second bumper ads. These ads are consideres to be the best for raising awareness. Let's take a look at what Bumper Ads offer:
Increased Brand Awareness
Bumper ads can drive a significant lift in brand awareness. This is because they reach people with bite-sized messages without being too disruptive. Also, the more creative your ads are, the more impressive viewers would be. Combining with other ad types, your brand or product will gradually come into mind of viewers until they become viewers' top of mind (TOM).
Concise Messaging
These ads are short, fast and to the point. Messages through Bumper ads are delivered clearly and straightforwardly to the target audience. Even though there is a concern that Bumper ads run too fast for audience to read, it triggers viewers to replay the adverts to understand.
High Viewability Rate
Bumper ads are non-skippable and appear before, during, or at the end of the main video content. Viewers therefore have to watch them to move on. This ensures a high level of viewability. The good thing is that these high view rates aren't paid on the cost of viewers' experiences, as the 6-second-duration lasts even before viewers feel annoyed.
Cost-Effective
Bumper ads are sold on a cost-per-thousand-impressions (CPM) basis, making them more suitable and favorable for small and medium-sized businesses. Even though they are more exepensive compared to other ad types using CPM, Bumper ads are effective and used by various big brands.
The YouTube Bumper ad is a combination of many desired advertising benefits. However, the key point that sets Bumper ads apart from others is that they make viewers watch and think about them (any ad could be creative but viewers don't have much patience for long ones: They may leave before the best part comes).
Drawbacks
Limited message
The strength of Bumper ads can also be its weakness. Due to their short duration, this ad type can only convey limited information or messages, which is not suitable for some complex or detailed promotions. The limited time also makes it difficult for advertisers to express brand identity.
Creativity' restrictions
Crafting a compelling story or message in just 6 seconds is not an easy task, whereas Bumper ads depend on creativity to really stand out. Failure to generate some creative ideas may make your Bumper ads not as effective as it should be, especially when they are usually more costly than other YouTube ad types.
Bumper ad is an Instream YouTube video ad format. You can read about Outstream video ads to find which one suits your business better.
YouTube Bumper ad specs
Aspect ratio: Native aspect ratio without letterboxing (16:9 or 4:3). Google recommends using a video 16:9 ratio to fit better with CTVs.
Max length: 6 seconds.
Maximum file size: 1GB
Frame rate: 60fps
File type: Any file type accepted by YouTube is acceptable (AVI, ASF, Quicktime, Windows Media, MP4, or MPEG)
Resolution: recommended 640 pixels by 360 pixels or 480 pixels by 360 pixels
Device availability: Both mobile and desktop devices
Here are YouTube Bumper examples: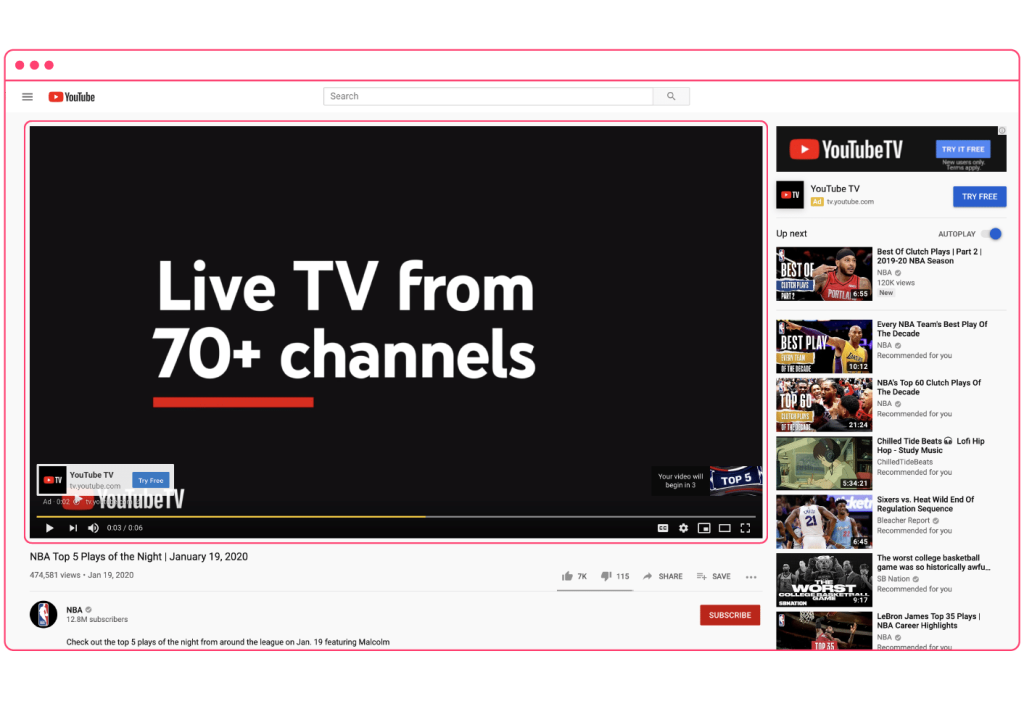 How much does a YouTube Bumper ad cost?
Google Bumper ads are typically sold on a cost-per-thousand-impressions (CPM) basis, which means that you'll be charged a certain amount for every 1,000 times the ad is shown.
The average CPM rate could be between $5 and $20, but this cost can go higher or lower based on YouTube Advertising goals, your budget, your location targeting, and the target audience.
It's important to work with YouTube's advertising platform or a digital marketing expert to get accurate pricing details for your specific campaign. However, you still can set a daily budget and a maximum CPM so that you won't overspend.
Learn More: How much do YouTube Ads Cost in 2023?
Bumper ads vs. Non-skippable ads
Bumper ads are non-skippable but they are not Non-skippable ads. These two types of ads are both In-stream video ads but they run differently.
| hide | Bumper ads | Non-skippable ads |
| --- | --- | --- |
| Duration | Max 6 seconds | 6-15 seconds |
| Content | Hard to convey complex messages, suitable for quick brand reminders or teasers | Suitable for more in-depth storytelling and product demonstrations |
| User experience | Runs fast so sometimes ends before viewers feel annoyed | Viewers feel interrupted and even upset |
| Cost | Are paid per thousand impressions (CPM), a little more expensive due to higher reach | Also paid per CPM |
If you seek broader brand exposure and can deliver a single message, Bumper ads may be a good option. On the other hand, if your campaign requires more time to convey intricate details or storytelling, Non-Skippable ads might be the better choice.
How to create Bumper ads on YouTube? [Updated 2023]
Step 1: Create a new campaign
First, sign in your Google Ads account , then click on "Create campaign".
Select the Campaign Objectives: Brand awareness and reach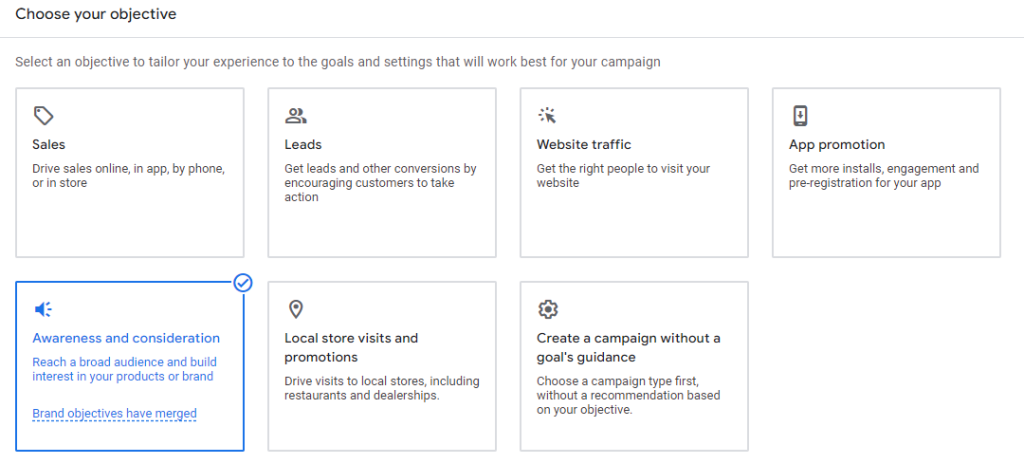 After that, three types of campaigns: "Display", "Video", and "Demand Gen" appear, choose the campaign type: "Video"
Select the campaign subtype: "Video reach campaign"
Bumper ads only appear in the subtype "Video reach" and "Ad sequence". Suppose that you want to reach a broad audience, not individual viewers, choose "Video reach".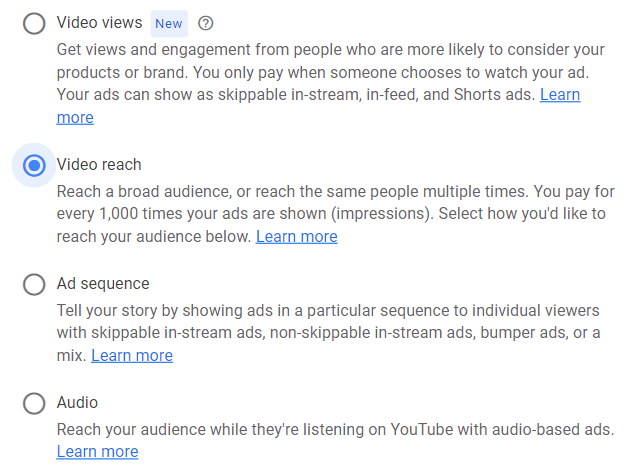 Step 2: Select the way to reach your goal
There will be two ways you can choose to run your Bumper campaigns:
Efficient reach: Help you reach more unique users at lower costs
Target frequency: Help you reach the same people more than once. You can choose the average number of times you want ads from this campaign to show to the same person over 7 days (maximum 4 times/week).
It depends on your campaign goal and target audience to choose which suits you the most.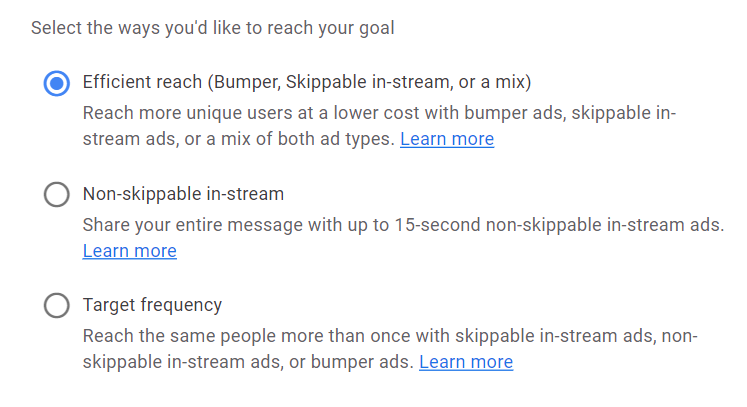 Step 3: Set up your Bumper ads campaign
After finishing step 2, you will have to do settings for your campaign.
Bid strategy: Target CPM is the only bid strategy for Bumper Ads.
Budget and dates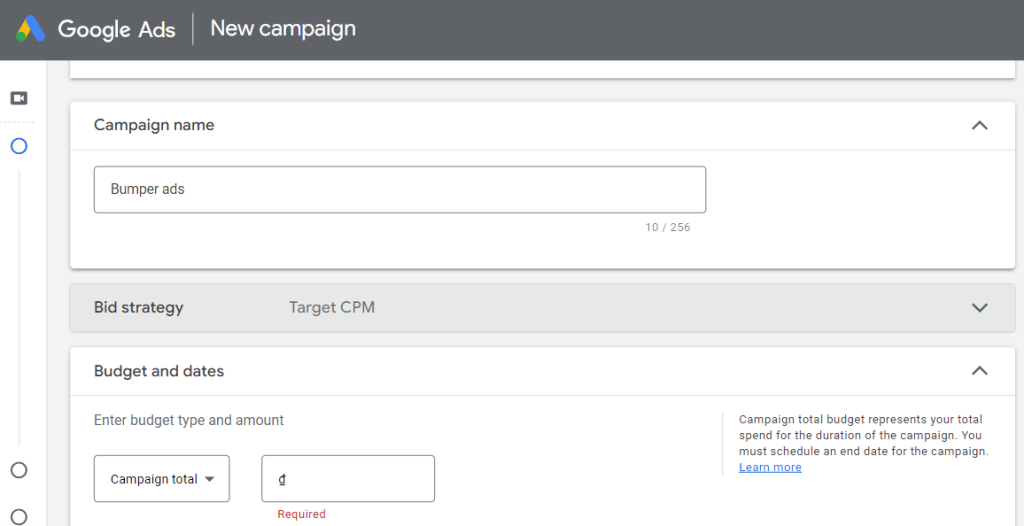 Location
Network: Now, bumper ads can be placed on the Google TV network, besides YouTube and Google Display Network. This will significantly expand the reach of your ads, however, only campaigns running in the USA are entitled this feature.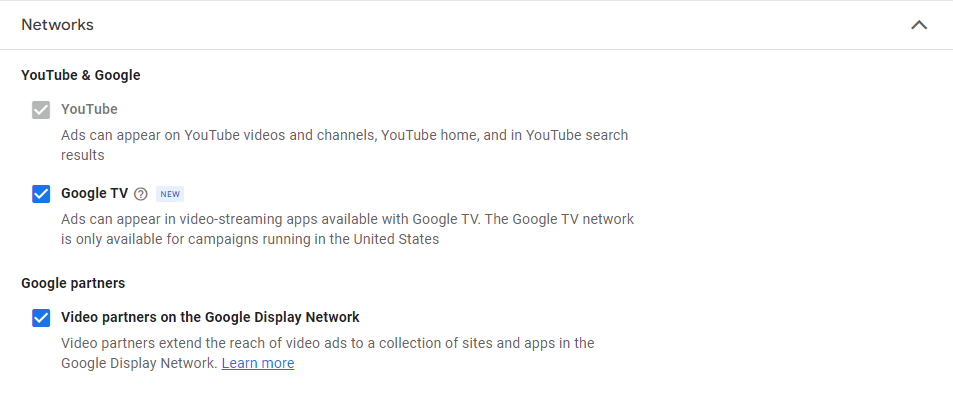 Language
Content exclusions: You can choose where your ads will be shown depending on your product. People usually choose standard inventory to show ads in appropriate places.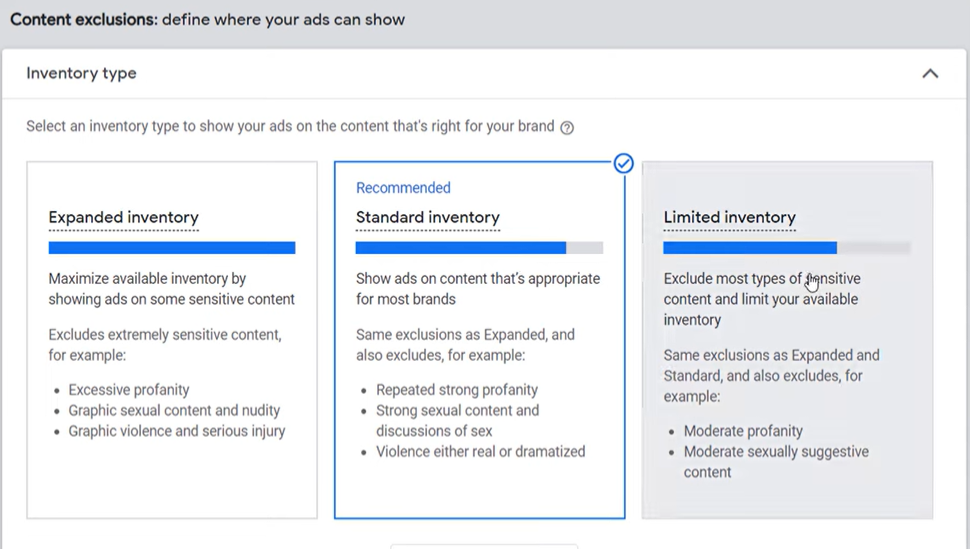 Additional settings
Audience Segment: Just like other ad campaigns, you will choose one or several YouTube targeting options to target audience. For Bumper ads, if your priority is to raise awareness and reach as many viewers as possible, your audience targeting can be "Demographic Targeting" – it shouldn't be too specific.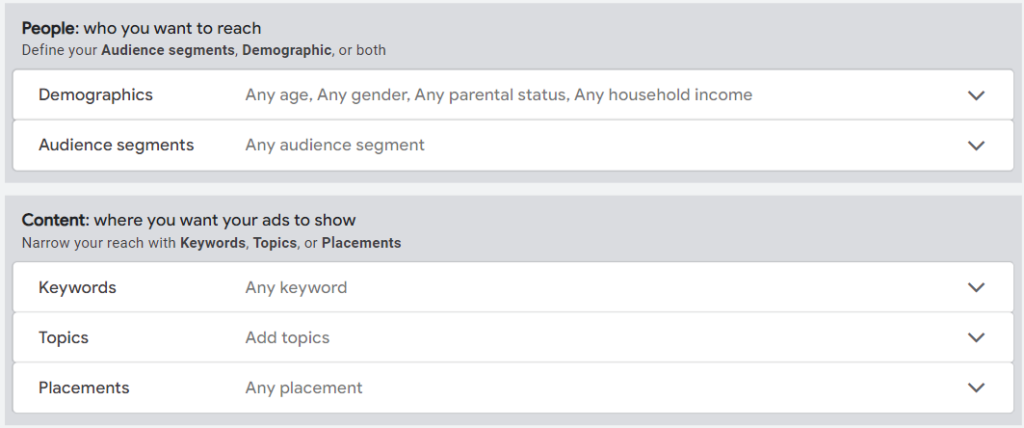 Related videos: You can choose to link with other videos to increase engagement with viewers. Also, remember to upload video ads under 6 seconds so that YouTube can determine them as the bumper ad type.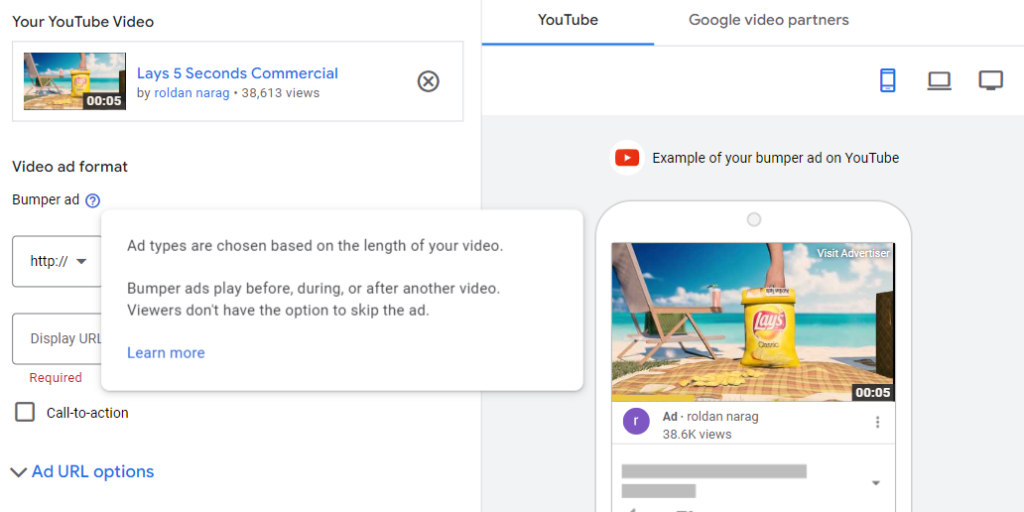 After finishing this, click "New campaign" to run the Bumper Ad campaign when all settings are done.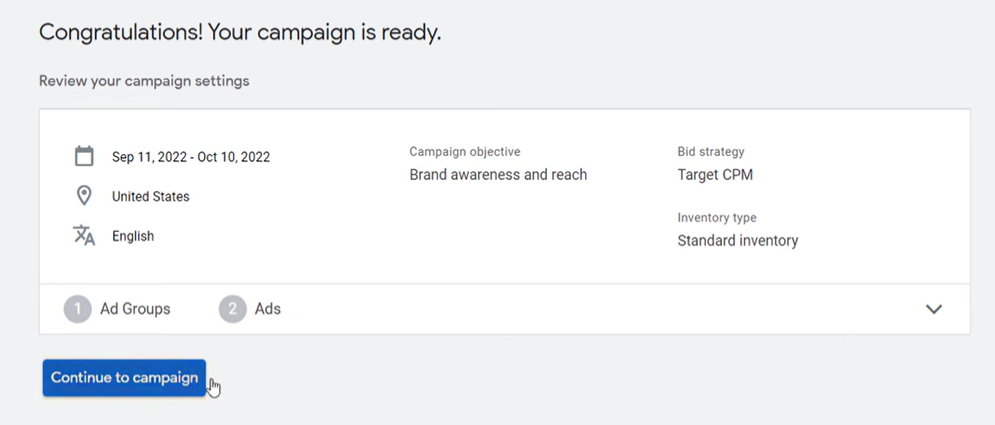 Best Practices of YouTube Bumper Ads
#1. Be creative
To take the most out of a 6-second ad, be as creative as possible. The snappy video ads are like artistic miniatures that require a clever twist to convey a message effectively.
No matter what ways you tell your message, as long as the viewer impresses, you win.
You can find more creative ideas from great Bumper Ads of worldwide brands at YouTube ads leaderboard: Bumper ads edition.
#2. Shoot them in six
Plan and imagine ahead about what the ad will be like in 6 seconds and create it exactly in 6 seconds or shorter.
Making a video ad of 20-30s will not only take you more time to edit but also make it disjointed or unconnected in an effort to cut it down.
#3. Focus on one specific thing
If the Bumper Ad is about a product, focus on one main feature. For example, if you sell a car, what is the USP (unique selling point) of the car? Is it the speed, the design, the shape, the size…? Or is it the luxurious, relaxed, powerful,… feeling that the car brings about? Maybe there is more than one but in a Bumper Ad, pick just one thing that stands out the most.
Bumper Ads make your viewers remember or impress only one thing about your products. Because if not, they will buy from your competitors.
Advice given by the Google Ads specialist at Mega Digital
With experience in running Bumper ads for hundreds of clients, here are some helpful pieces of advice we have concluded:
Not including a strong call to action
Viewers find your ad interesting and impressive but what's next? Our clients are small and medium-sized businesses without a strong brand voice, so an ad may not be enough. After triggering viewers, you should encourage them to take the next step, whether it's visiting, subscribing to your website, or making a purchase.
Not A/B testing beforehand
We may be confident with our creative ad, yet our target audience may not think the same. Many Bumper ad campaigns have failed because advertisers have made subjective assumptions about their customers.
Final Words
Bumper Ads are about delivering the message. Use your creativity and make sure that in just a few seconds, your ads can create a connection that lingers, making audiences more likely to recall the brand and its message. Once you can do it, you unlock its power.
So, don't underestimate the power of these six-second wonders – consider incorporating this ad type into your next advertising strategy to leave a lasting impression on your viewers, and make your brand unforgettable.