Many clothing brands have succeeded in increasing sales on TikTok such as Levis, Fashion Nova, and Zara. Therefore, finding a way to make waves on this platform and drive those sales through the roof is possible but not too easy. However, with the right strategies and a touch of your brand's unique personality, you can make a significant impact. So, if you're a seller looking to boost sales on TikTok in 2023, dive into our list of 7 expert tips to optimize your TikTok clothing ads and watch your sales soar!
Why should brands use TikTok clothing ads?
TikTok is becoming a shoppertainment hub
TikTok, the social media platform that has taken the world by storm, is not just a place for lip-syncing and dance videos anymore. It has become a go-to platform for brands to promote their products and reach new audiences.
And now, with the introduction of TikTok Shop, TikTok is transforming into a shoppertainment hub where users can shop, discover new products, brands, and be entertained all at once. TikTok Shop is a game-changer for brands seeking an exceptional customer experience. It enables customers to engage more fun and excitingly with their favourite brands and products.
Besides, TikTok has provided sellers and advertisers with a bundle of additional features TikTok provides a variety of features like Shopping Ads, Carousel Ads and Interactives add-ons for sellers and advertisers to create effective ad campaigns. These features make ads more visually appealing and increase the chance that they will be shared and go viral.
The purchase rate on TikTok is higher than on other social networks
According to the report of Apptopia – a mobile metrics company, TikTok's in-app purchase revenue has surpassed the combined earnings of Facebook, Instagram, Snapchat, and Twitter by $205 million so far in 2023. This means that the TikTok purchase rate is much higher than other social platforms. It is also an excellent opportunity for clothing brands to promote their collection and increase sales by utilizing TikTok clothing ads.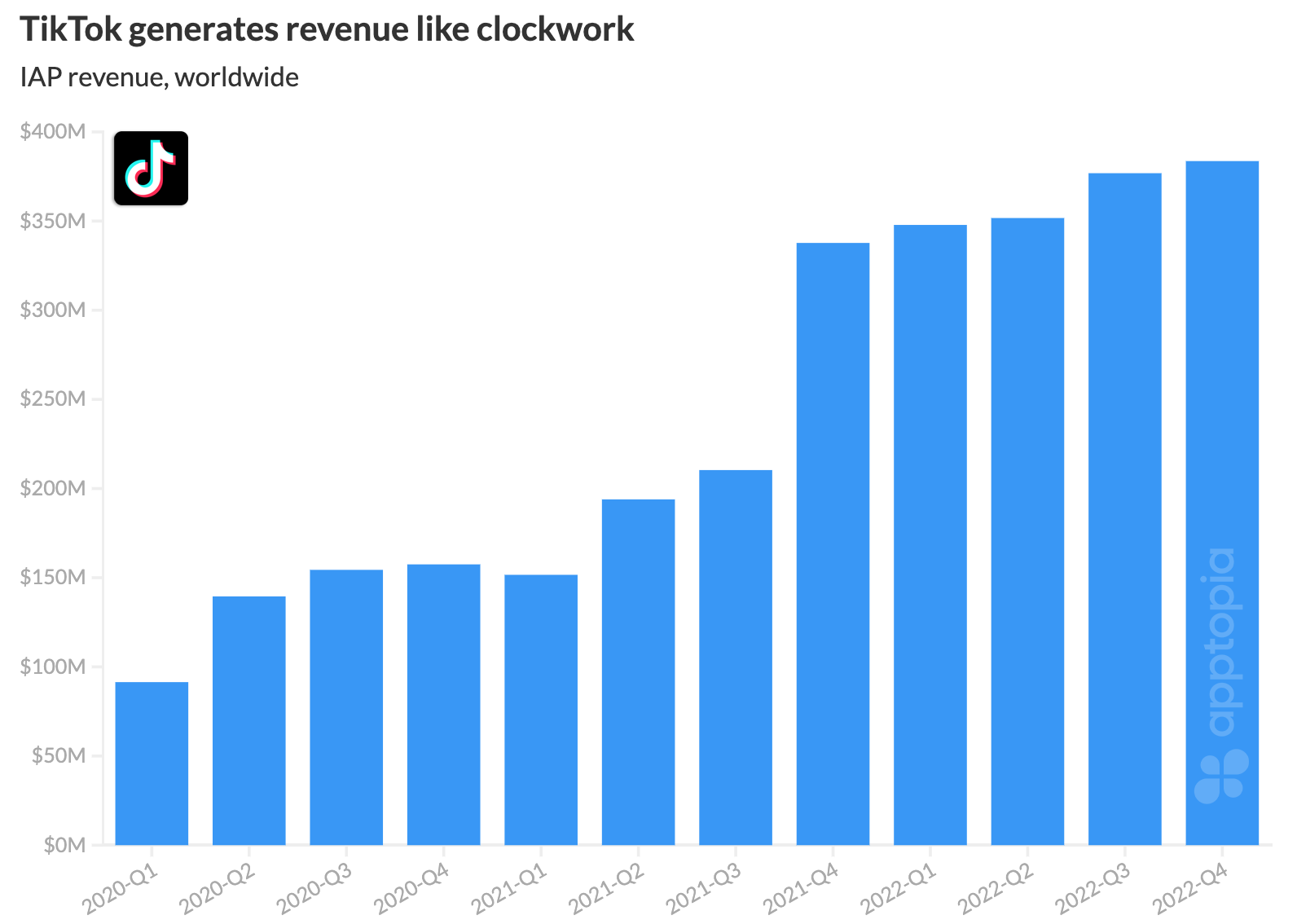 TikTok is the Holiday destination
As the holiday season approaches, TikTok users will likely become more engaged in various activities, especially shopping. In 2022, TikTok Marketing Science researched holiday shopping trends among users and found that most TikTok users (67%) participated in holiday shopping events. Notably, these users were 1.4 times more likely than users on other platforms to make purchases based on products they had seen on TikTok. This highlights the strong influence that TikTok has on consumer behaviour and the platform's capacity to drive sales during the holiday season.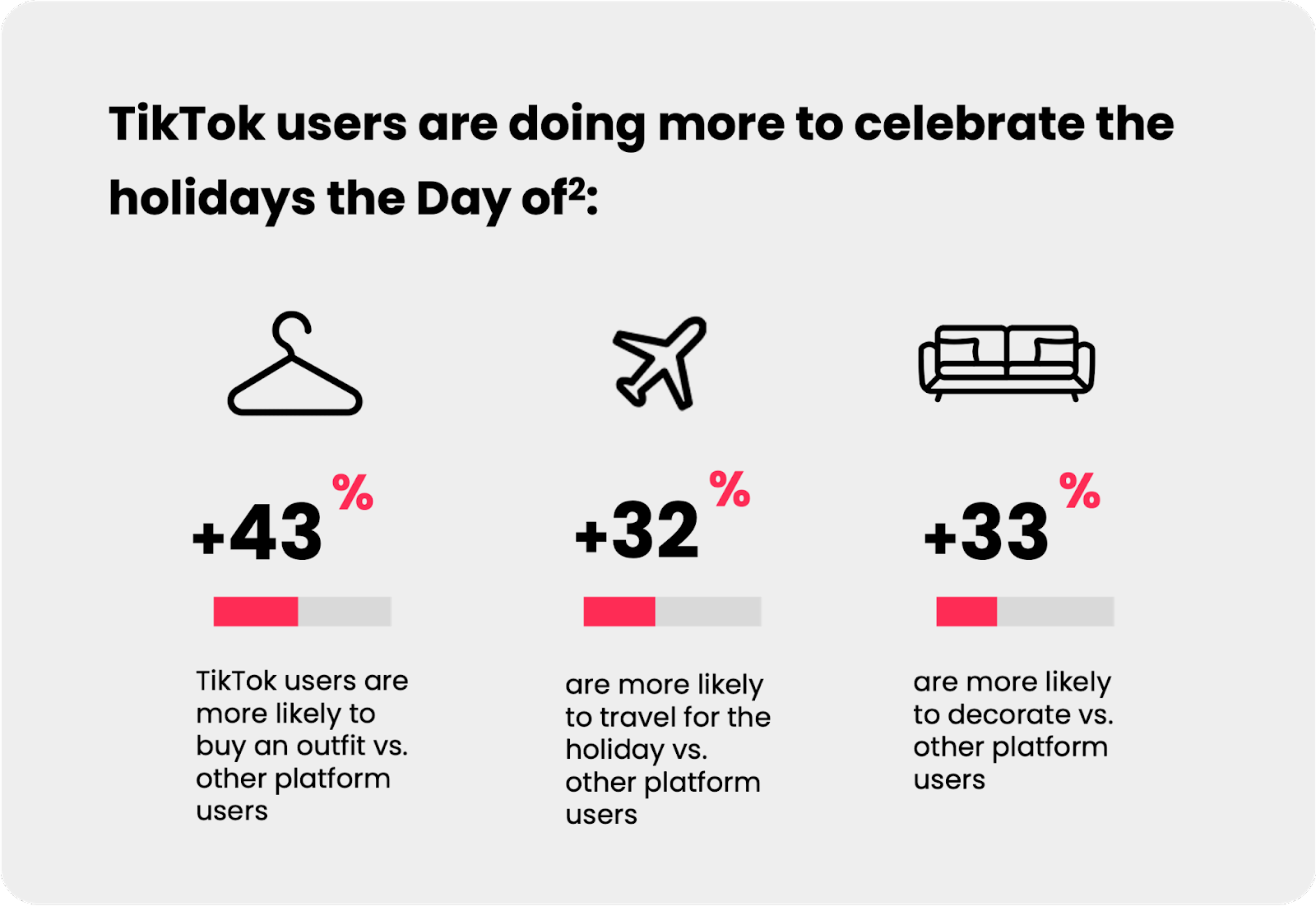 7 amazing tips for unlocking the full power of TikTok clothing ads
Collaborating with Influencers
Collaborating with influencers is crucial to make the most out of TikTok clothing ads. It can bring numerous benefits to brands, such as tapping into the influencer's engaged audience, utilizing user-generated content to build trust with customers, and increasing brand awareness through authentic and targeted promotions.
Various ways to work with influencers include having them become brand ambassadors, advertising products through affiliate links, or partnering on sponsored content. However, to ensure the collaboration is successful, it is important to carefully select the right influencer, like the niche one matching the subculture and the brand value, to boost the conversion rate.
Create User-Generated Content
The TikTok community thrives on creativity, and users always look for new and exciting content to engage with. By encouraging users to create and share their own content featuring clothing products, fashion brands can tap into the potential of user-generated content and leverage it to increase brand awareness and drive sales. In addition, user-generated content is a cost-effective way for clothing businesses to reach a wider audience, build trust and loyalty with their customers.
Utilize TikTok Shopping Ads
TikTok Shopping Ads have emerged as a wonderful strategy to make the most out of the clothing industry. By featuring clothing products in shopping ads, brands can create an engaging and seamless experience for their audience.
With TikTok's shoppable features, users can browse and purchase products directly from the app without being redirected to a different website. This not only makes the shopping process easier for users but also increases the likelihood of conversions for brands. The growing popularity of TikTok Shopping Ads makes it essential for clothing companies to take advantage of this to stay ahead of the competition and drive sales.
Use Hashtags on the Holiday
Apparel brands should add hashtags in their clothing ads on TikTok to increase content visibility, as they allow users to easily search and find specific topics.
TikTok users are 2.1 times more likely to look for fashion ideas and inspiration on the platform than on other social media platforms. This indicates that the community of users interested in creating and sharing their holiday fashion looks, tagged with #HolidayOOTD, is particularly active on TikTok during the holiday season. Not only are they seeking inspiration, but they are also actively sharing their own fashion content with others.
Also, clothing brands can create branded hashtags related to the holiday season to encourage user-generated content and increase brand awareness.

Try TikTok Carousel Ads
One effective way to maximize the power of clothing ads on TikTok is by using carousel ads.
With its unique feature of showing a carousel of products, users can actively swipe, check and engage with each piece of clothing. Therefore, this can be particularly useful for showcasing a collection or promoting different styles within a brand's clothing line. In addition, carousel ads can help to increase engagement and dwell time on the ad, as users may spend more time scrolling through the different items. However, to make use of this ad format, advertisers must rent a TikTok ads agency account which is distributed by TikTok to its following partners like Mega Digital for full access.
Leverage TikTok Interactive Add-ons
With TikTok Interactive Add-ons, clothing brands can effectively promote a sale season or holiday items. By integrating eye-catching features such as stickers, labels, and other interactive elements, companies can actively engage their audience and prompt them to take action. This serves as a complementary component of the creative strategy, allowing for the maximization of contextual relevance in conveying information and messaging. As a result, customers are more inclined to respond and take action toward purchasing the promoted clothing items.
Use the Value-Based Optimization
Value-Based Optimization (VBO) is an advertising approach that targets individuals more likely to become high-value customers. Unlike other optimization objectives, such as click-through rates or app installs, VBO looks for users who are more likely to convert and with higher purchase value.
By optimizing for value, VBO can bring a higher return on ad spend (ROAS) to fashion brands, resulting in more efficient ad spending and increased profitability. This method helps them maximize their ad spend and generate more revenue while delivering a better user experience for their audience.
Successful example of TikTok clothing ads – American Eagle Outfitters
One of the latest examples of TikTok clothing ads is the campaign launched by the American clothing brand – American Eagle Outfitters in 2023. The brand created a series of videos featuring TikTok creators showcasing their outfits and using the hashtag #AExME to encourage user-generated content.
The campaign was a huge success with:
Over 1.2 billion views
25% increase in online sales for the brand
It also received positive feedback from the TikTok community, with users praising the brand for its inclusivity and diversity in its advertising.
Final words
By following these 5 expert tips for optimizing TikTok clothing ads, we hope you can maximize your success on TikTok and increase your brand online sales. Besides, you can refer to the marketing strategies of the 12 best brands on TikTok to find the most suitable for your brand with the article below.