TikTok e-commerce has opened up new opportunities for businesses to connect with their customers through a seamless shopping experience. With various selling options on TikTok, brands can now get creative while promoting their products and services. Let's dive into the world of TikTok e-commerce and enhance your campaign results!
The Rise of TikTok E-commerce
TikTok e-commerce is no longer an unfamiliar term among brands and businesses. It's now shaping the way people buy or sell products and services via video application. As one of the top social media platforms, TikTok has developed plenty of features to support brands in promoting their products, including TikTok Ads, TikTok Shop, TikTok Livestream, TikTok Creative Center,… Let's further explore why businesses should use TikTok e-commerce to grow their brands.
Why should businesses use TikTok E-commerce?
Board audience sizes
In 2023, TikTok experienced a massive growth of 1.066 billion active users, with the majority of them in their 20s and 30s. With high demands for online shopping, these tech-savvy generations are potential customers for businesses to exploit. Especially when the percentage of female users takes up to 57%, making the most contribution to the online shopping market.
Personalized content
With large audience sizes being active, brands and businesses can get access to them via personalized content. Take Fenty Beauty as an example, they have partnered with multiple influencers to create educational content surrounding makeup products and tutorials, building a sense of trust among the followers. Through impressive videos, Fenty Beauty has exceeded 2 billion followers on TikTok, making them one of the top-performing brands on the platform.
Support brands growth
Not only allowing brands to create personalized content, but TikTok e-commerce also supports completing a perfect shopping journey for customers. By adding a shopping cart to the platform, TikTok allows customers to discover and purchase any product without being redirected to other sites.
Integrate shopping with entertainment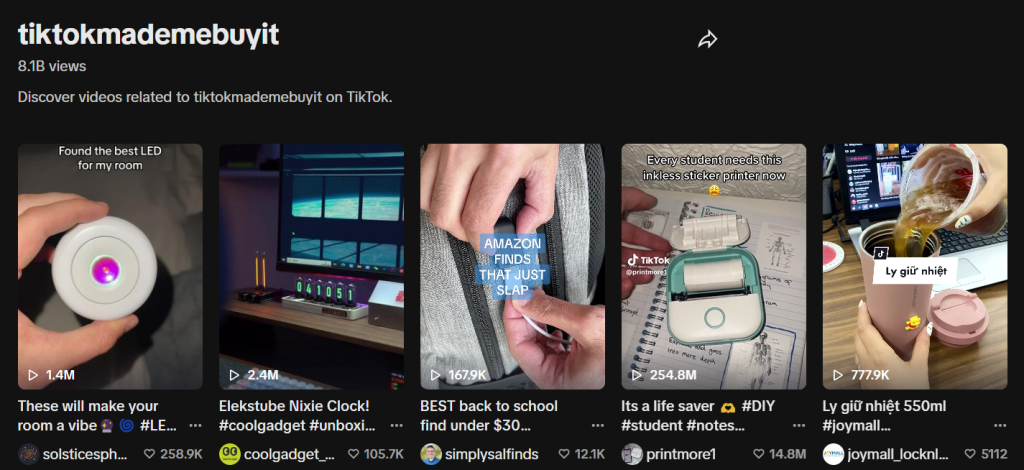 During the pandemic, TikTok has accompanied us with endless content, such as dance challenges, duet videos, daily vlogs,… Along with trending sounds and innovative filters, TikTok has successfully brought joy to viewers during contactless periods.
Taking advantage of this, TikTok has integrated shopping with entertainment (Shoppertainment), creating a fun shopping experience for viewers. The platform has proven its remarkable influences through the famous #TikTokMadeMeBuyIt trend – where users can discover plenty of products from cosmetics, home furniture, to foods and beverages. Ultimately, this trending hashtag received 36.1M views and has become the strongest social proof for online customers.
How does e-commerce work on TikTok?
TikTok supports creators and sellers by introducing great features, allowing them to display and promote their products within the platform perfectly. The key features can be seen below:
Displaying Products on TikTok Shop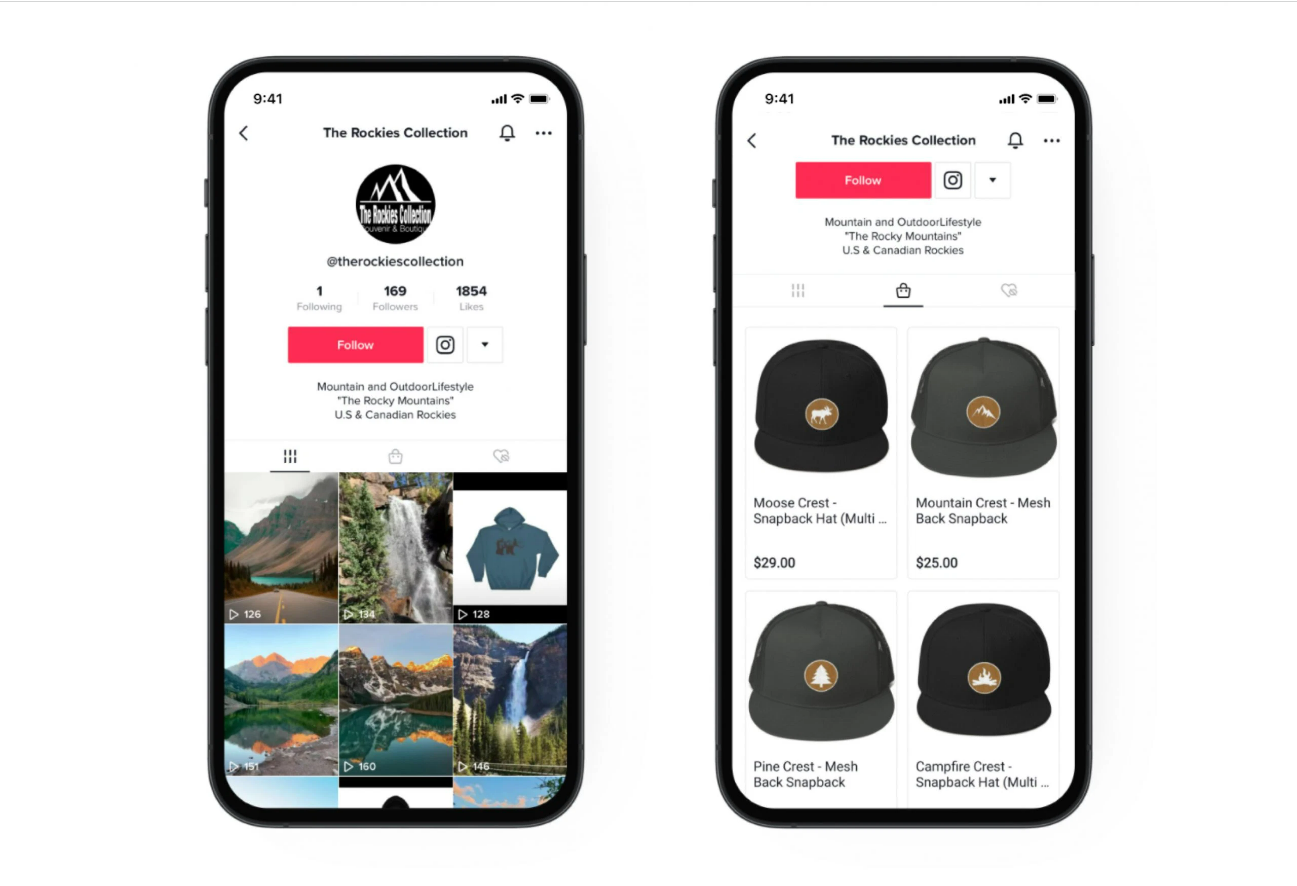 TikTok Shop is a feature integrated into the TikTok app that enables users to explore and purchase products directly within the platform. Through TikTok Shop, users can easily discover a range of curated products from various brands while scrolling through their For You feed or exploring the Discover page. When users find a product of interest, they can click on it to access the product listing, which provides essential details, images, pricing, and a link to the brand's website for purchase. 
TikTok offers an in-app purchase option for select products, allowing users to complete their transactions seamlessly without leaving the app. This integration of e-commerce within TikTok enhances the shopping experience for users, providing them with a convenient and engaging way to explore and buy products from their favorite brands while staying within the TikTok environment.
Promoting Products using TikTok Ads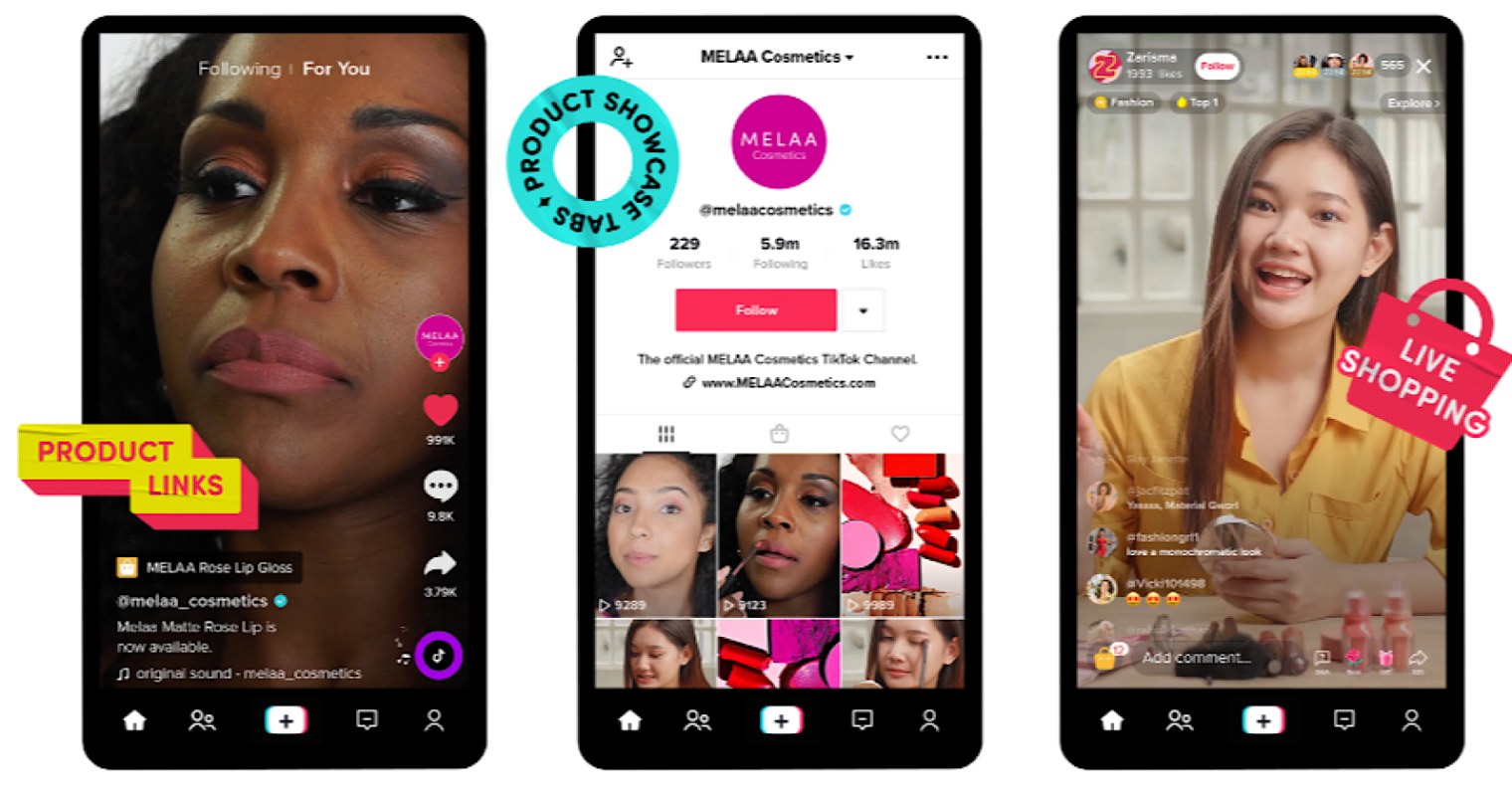 TikTok e-commerce platform offers diverse types of ads for brands' choice. Understanding each one of them will give brands more insights into how to run effective ad campaigns.
TikTok carousel ads
Carousel ads on TikTok allow brands to create multi-image ads and display them on users' Newsfeeds. For carousel ads, businesses can add 2-10 images with captions on each image and let TikTok distribute them to large audience sizes.
TikTok shopping ads
TikTok shopping ads are popular on TikTok e-commerce platform since it allows users to shop directly through videos on For You page feed. Here are 3 formats of TikTok shopping ads: 
Video shopping ads
Video shopping ads enable advertisers to craft interactive videos that feature clickable product links showcased directly on the For you page. This ad type combines elements from two existing TikTok ads: Collection ads and Dynamic showcase ads.
Video shopping ads seamlessly merge captivating video content with product cards, offering diverse variations. The format can focus on promoting specific products to boost sales or deliver a broader brand message to generate interest and consideration.
Catalog listing ads
Catalog listing ads do not require advertisers to produce promotion videos. Instead, it will automatically use product images from brands' catalogs and put them in shoppable places. Users often see this ad type with branded content when exploring the For you page feed.
Live shopping ads
Live shopping ads on TikTok target audiences from the FYP feed and encourage them to join a live shopping session. According to TikTok, live shopping ads help drive more sales than the two listed ad types. This happens since live shopping ads directly target audiences who are ready to make a purchase.
Connecting with Buyers through TikTok Livestream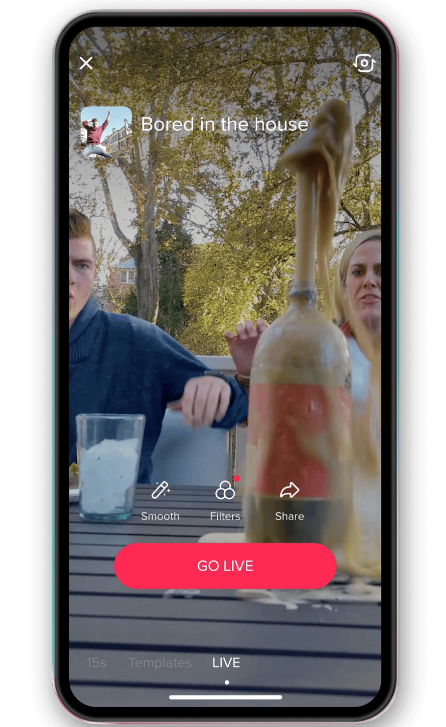 Live streaming to promote products and drive sales is not something new in the e-commerce world. In China, this selling format has become a phenomenon, accounting for 15% of sales in the e-commerce industry. Acknowledging the advantages of live streaming, TikTok has been adding small features within the LIVE section to support brands in connecting with their customers more effectively:
Schedule live-streaming events
Notify followers of Livestream events
Co-livestream by inviting more hosts and guests
Add content coverage through LIVE Topics
Apply coupons during live sections
By taking these features into account, businesses can reach more customers and build stronger relationships with current ones. In addition, live streaming allows brands to showcase their products directly to customers, which creates a sense of trust and credibility among them. This gives brands huge advantages since getting support from loyal customers certainly will build a solid foundation for further development. With TikTok live stream feature, brands can engage with their customers by hosting competitions, playing games, and making live donations with followers.
Shaping Creativity on TikTok Creative Center
Lies inside TikTok for Business, TikTok Creative Center is a free hub where businesses can explore current trends, creative instructions, audio library,… Here are 8 key sections that allow businesses to improve their content quality for better results:
Top-performing ads: With the filtered search function, businesses can find the best-performing ads for different products and industries and see how well they performed using provided metrics.
Keywords insights: By gathering top phrases and keywords on TikTok Ads, this section supports businesses to generate creative copywriting for ads and messages.  
Creativity analysis: Give answers to many questions on creative efficiency. 
Creative strategies: Provide useful tips on finding video ideas and suggest optimizing brands' content quality. 
Success case studies: Learn more about successful brand stories on TikTok and apply them for your own achievement.
Trends discovery: Monitor and apply hot trends to push brands' products on trending sections. 
Top Products: Support in finding current trending products in the marketplace.
Hashtags: Optimize hashtags to make videos and products appear on top of the search bar with the help of TikTok SEO.
How to drive better performance with TikTok E-commerce
Creating challenges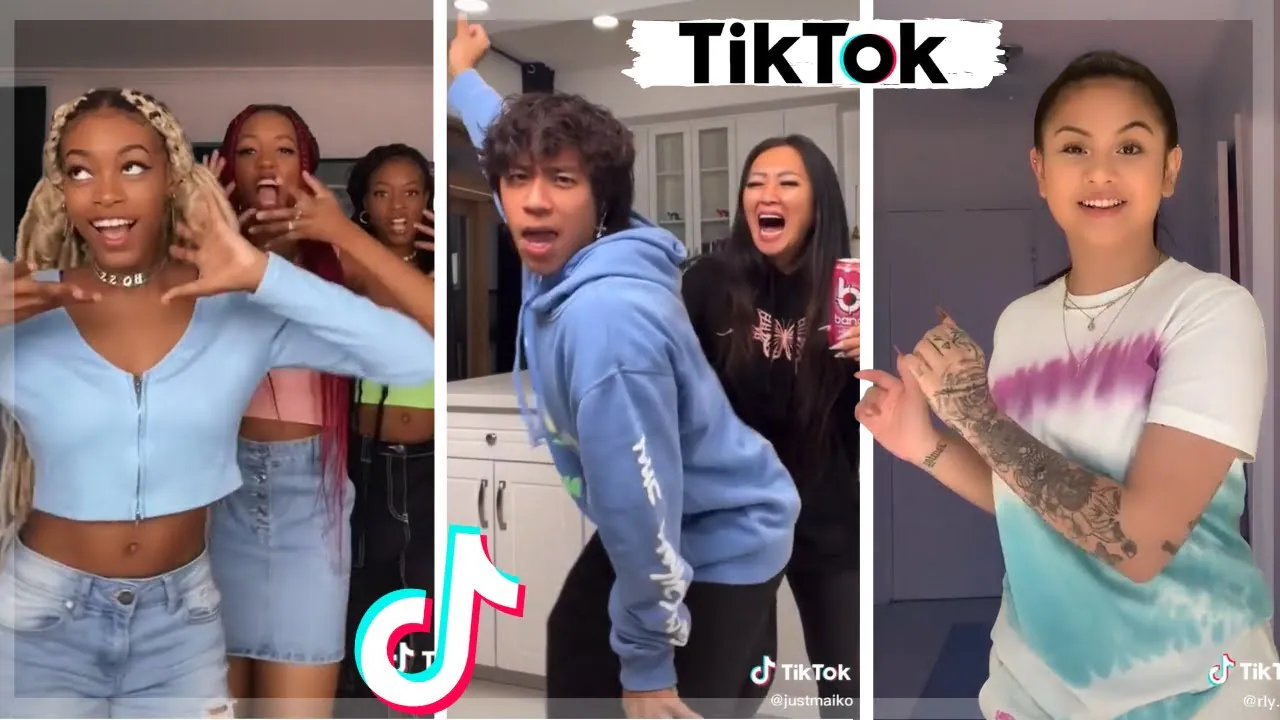 Plenty of TikTok campaigns have gone viral thanks to challenge videos. By generating creative challenges that align with brands' product features, campaigns, and brand messages, businesses can attract a vast amount of customers. It also helps with promoting brand images.
For instance, take a look at Colgate's #MakeMomSmile challenge on Mom's Day. The challenge encourages people to make their mom smile, using multiple creative tactics such as: sending gifts, making surprise breakfasts, or dancing. In the end, the challenge hashtags received 5.5 billion views and succeeded in promoting their brand images and key messages to many people. Here are some ways that brands can create challenges on TikTok platforms:
TikTok Creative Challenge: As an in-app feature, TikTok Creative Challenges enables creators to submit video ads for brand challenges and receive rewards based on their performance. This allows creators to craft authentic and captivating ads, opening up great opportunities for brand collaborations.
TikTok Branded Hashtag Challenge: Acted as a paid ad format, TikTok Branded Hashtag Challenge's main goals are to drive audience engagement, raise brand awareness, and attract customers. By sponsoring the hashtags, brands are encouraging users on the app to produce videos using these hashtags.
Using TikTok Ads
TikTok Ads for e-commerce support retailers in increasing traffic through their marketing and advertising campaigns on TikTok. The feature allows merchants, bands, and retailers to edit a 15-second long video with a wide range of sound effects, filters, and other creative elements. TikTok ads then redirect buyers to other brands' TikTok Shop or other e-commerce sites such as Shopee, WooCommerce, and Amazon to continue their shopping journey.
Affiliate Marketing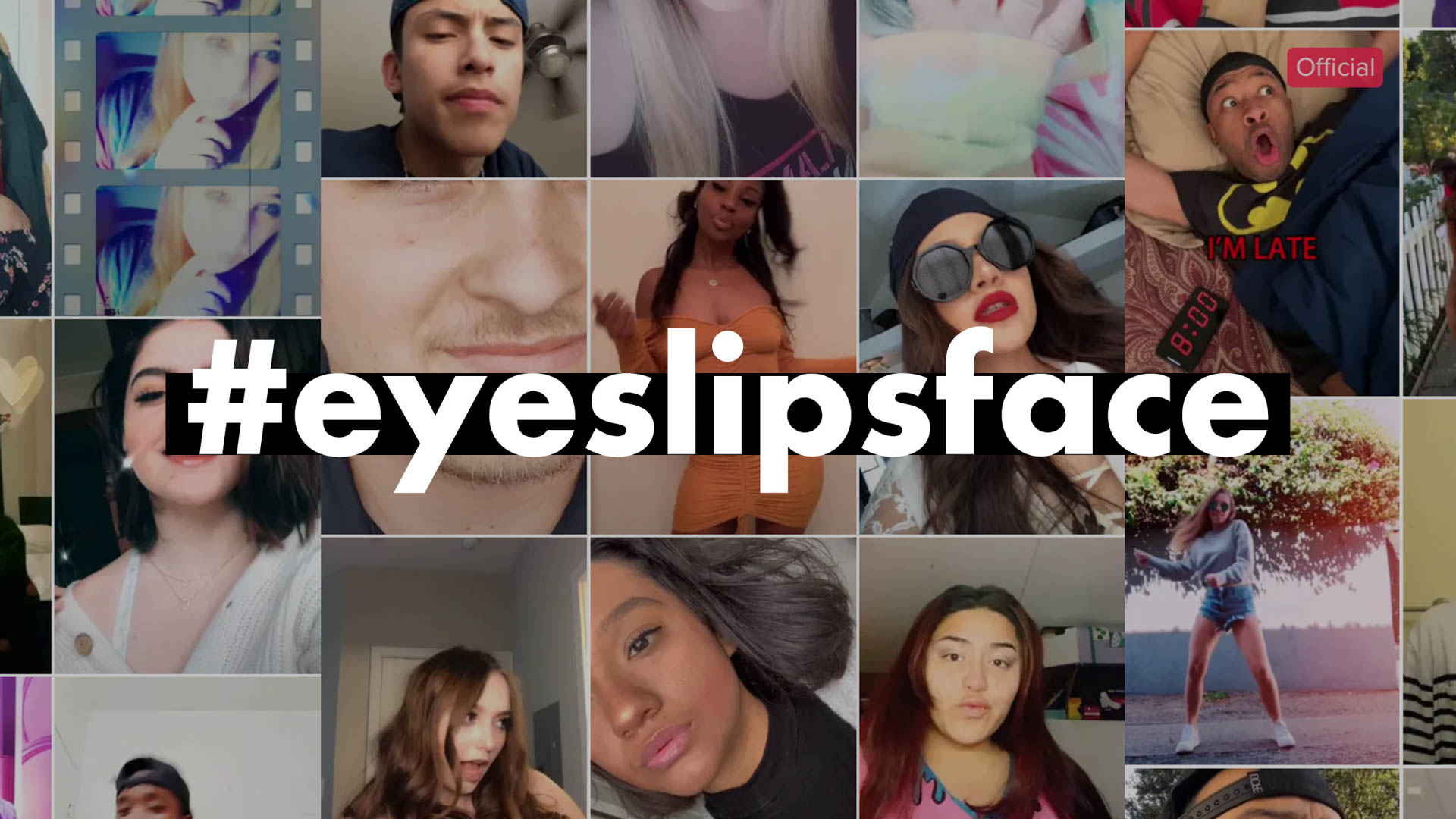 TikTok affiliate marketing refers to using the TikTok platform as a means to promote products and services for advertisers. TikTok content creators get a commission or fee in exchange. They use their large follower base to advertise products or create brand awareness. 
This strategy worked since TikTok has a wide influencer network, ranging from nano influencers with 1.000 – 10.000 followers to macro-influencers with more than 1.000.000 followers. Besides, by optimizing UGC (User-generated-content), TikTok affiliate marketing has connected with buyers through affiliate marketing.
Adding Hashtags
Adding hashtags to your TikTok videos can improve search volume. TikTok is known for analyzing your content and grouping it into specific categories. For instance, if you make content on reviewing beauty products and daily vlogs, TikTok might group your account into beauty and lifestyle categories. Adding a hashtag related to these topics will definitely attract potential viewers to your account. Besides, you can customize your hashtags so others can find your page easily.
Attaching product links
The TikTok e-commerce platform offers businesses the opportunity to improve their online shopping experience. By attaching product links in their store and bio, businesses can streamline the shopping process for customers, resulting in greater satisfaction. Even in regions where TikTok Shop is not available, brands can still integrate their products from WooCommerce or Amazon into TikTok, ensuring a seamless shopping experience for users.
Successful E-commerce brands on TikTok
eBay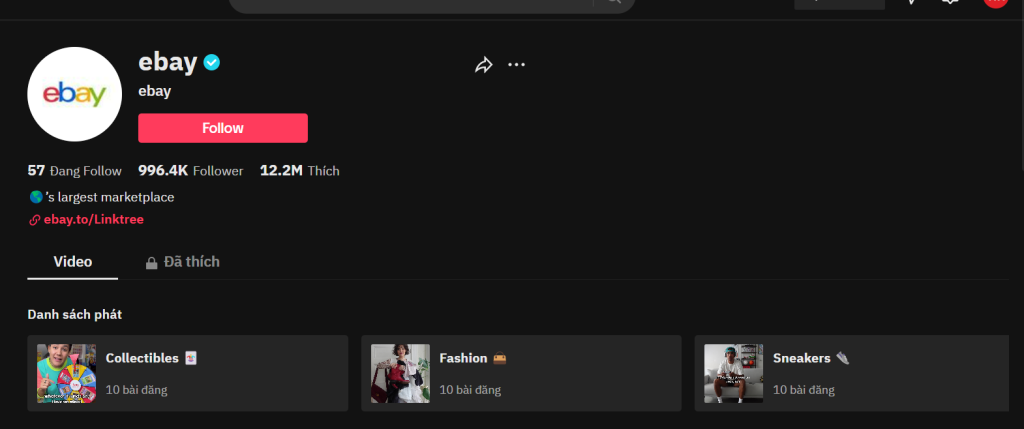 With a strong and active presence on TikTok, eBay has become a favorite platform among sneakerheads for buying and selling sneakers. They are known for their creative and engaging content, consistently staying at the forefront of innovation.
As one of the most favorite TikTok accounts for sneakerheads, till now, eBay has resulted with:
996.4 thousand followers
12.2 million likes
eBay is known for its innovative approach to engaging its audience, and its recent successful campaign, #sneakershowdown, is a testament to that. With an impressive 24.1 million views, the campaign leveraged Voting Stickers (Interactive Add-ons) to encourage interactivity and truly resonated with users. Over 1.2 million users participated in the poll, resulting in a remarkable +54% lift in comment rate.
ABOUT YOU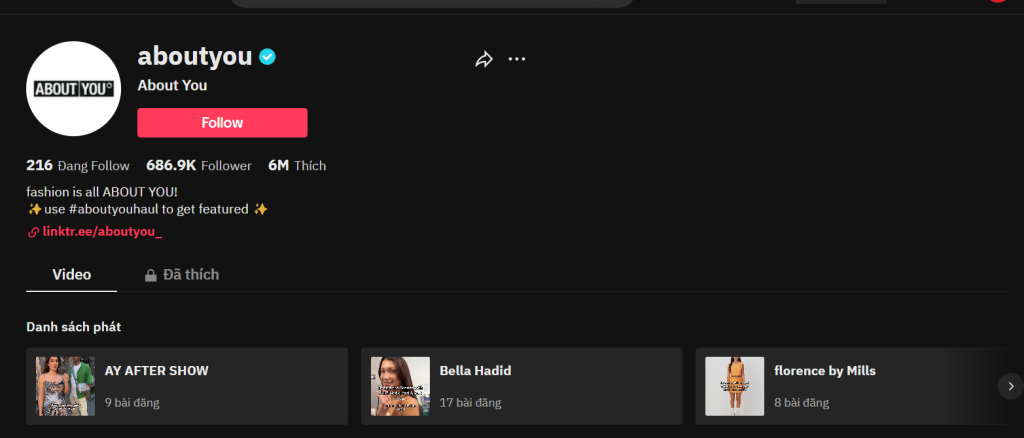 ABOUT YOU is recognized as one of the fastest-growing e-commerce companies in Europe, with a presence in 26 markets and partnerships with over 3,500 brands. Their approach revolves around data-driven advertising, emphasizing continuous testing and staying ahead in their markets to optimize conversions effectively.
ABOUT YOU has successfully reached 2023 with:
686.9 thousand followers
6 million likes
To enhance conversion rates and attract potential customers, ABOUT YOU has planned an advertising strategy employing Video Shopping ads. The team experimented with two new features in their Video Shopping Ads: Dynamic Formats, which blend creative elements into different variations tailored to a shopper's buying intent, and Dynamic Destination, an automated in-app landing page experience. This huge success resulted in a remarkable 30% increase in ROAS in Germany while exceeding 100% in France.
Final words
The TikTok e-commerce platform helps brands reach a large and enthusiastic audience using fun and short videos. Its features let brands show off their products creatively, get noticed quickly, and allow users to buy directly from the app. By using TikTok e-commerce, brands can stay ahead in the ever-changing online retail world and create a real connection with their audience. To do even better during festive seasons, think about using tips and tricks from TikTok Holiday – a complete guide on boosting sales and engagement!