Creating entertaining and captivating content for TikTok is not easy. That is why our list of the 11 best TikTok Video Ideas comes in to spark your creativity whenever you get stuck in brainstorming.
Let's check out what they are!
Top 11 engaging TikTok video ideas 2023
Create simple tutorials
Creating brief tutorials is a great way to engage your audience and give them useful information on TikTok. There are several methods to create these videos, such as demonstrating how to properly do a TikTok dance challenge, showcasing fashion suggestions, or giving recipes for delicious meals. You can present your viewers with intriguing and helpful instructions by creating interesting and instructive content.
Here is an example of a trending dance tutorial on TikTok:
Try the viral content
One of the best TikTok video ideas is to experiment with the viral hack trend. This involves researching and identifying popular trends or challenges on the platform and putting your unique spin on them.
By participating in viral trends, you can increase the chances of your video being shared and reaching a wider audience. However, it is important to ensure that the trend aligns with your brand and messaging to avoid appearing inauthentic.
The viral content on TikTok includes popular songs, newly released movies, and funny dance movements. A great example of this is the "Wednesday" dance trend featured in this clip:
Read More: How To Go Viral on TikTok in 2023
Lip-sync
Lip-syncing to a popular song or sound is one of the easy TikTok video ideas to draw in more viewers. By picking the right soundtrack and utilizing the ideal effect, you can make your lip-sync videos stand out from the rest.
You can get inspired by Elli Mirelli, who has almost 2.4 Million followers on TikTok just for uploading creative lip-syncing videos.
Join a TikTok challenge
You might not have enough time to come up with a brand-new task from scratch. No issue! On the site, dozens of challenges are active at any given time.
Simply tap the Discover page to see what's trending this week that you can participate in, such as the #summeroutfits hashtag that SHEKOU clothing has utilized successfully.
Speed up your process
It's entertaining to see the process of everything come together, whether you're painting a mural, latch-hooking a rug, or preparing an order for delivery. This is especially true if it's done quickly so spectators don't have to focus on the tedious parts for too long.
You should try recording yourself while doing your activity, speed it up, and add trending sounds to your videos like the following instance:
Show products in use
Seeing is believing when it comes to product marketing on social media platforms like TikTok. This is one of the greatest TikTok video ideas for brands. As a result, more and more brands on TikTok are using video material to demonstrate their products. After all, potential clients will be persuaded to buy your product if you can demonstrate how it functions. An engaging and enjoyable way to pique customer interest in your product is to show it in use, whether it's through a live demonstration or a tutorial.
Share a life tip
Product unboxing is one of the most creative ideas to make TikTok video, consistently ranking in the "top watched videos" section. You should make your video a simple and effective way to give more information about the product, assist your audiences to get your point, and engage them directly.
Show behind-the-scenes
TikTok users enjoy discovering how and where products are manufactured. Giving them a peek at your company's inner circle is a fantastic way to highlight the human aspect of your business.
Let TikTok users see the creation of your products. Showcase the thought, care, and attention that goes into every product you manufacture to forge a more intimate connection with your audience.
You can try creating some TikTok videos of:
Arranging your inventory or workspace.
Celebrating significant milestones such as your 100th sale.
Getting ready to launch a new product.
Displaying your design and product selection process.
Check out the behind-the-scenes video from Adobe's TikTok account:
Interact with customers
Taking advantage of TikTok functions can help your brand to encourage customer engagement in a few different ways.
First, duets. If you allow this option, you can create a TikTok video with someone else's video next to it. This is an ideal way to respond to customers who create clips showcasing their purchases or giving product reviews. By providing discount codes, you could even encourage the viewers to repost these kinds of videos.
The alternative is to make a video out of a comment. If a customer asks a question or compliments you, you can click Reply to record a video with the response to their query or compliment.
Show how to pack an order
Filming the process of packing orders is a smart way to show the audience what goes on behind the scenes and the attention you give to each order.
This is your chance to clarify what buyers can anticipate from their package when it comes. And it is a great idea to add items like freebies, thank-you cards, or personalized packaging.
In addition, showcasing the process of packing orders allows viewers to interact with your brand by offering to make a video of packing their specific order. When their comment is replied to with a dedicated video, they might feel a sense of exclusivity and importance. This can help foster a strong sense of community and loyalty towards your brand, leading to increased engagement and sales in the long run.
Introduce your best sellers
Showcase your hottest item to TikTok users and concentrate your advertisement on that product or service. Directly pointing out why the product is your best-sellers will help to increase its appeal. Here are some strategies for drawing attention to your flagship product among TikTok users:
Start with a hook: Your advertisement should begin with an attention-grabbing thing. Information emphasizing the product's popularity is a good place to start.
What makes this the best product: Inform users of the key factors that have prompted many individuals to buy your best offering or subscribe to your service.
Finish with a powerful CTA: Employ language that motivates your readers to take immediate action. Will the item run out? Exists a time-limited promotion exist?
6 creative ways to make TikTok Videos for your products
"Give it a STORY" TikTok Video Ideas
Telling your viewers the story about your product is a great idea to make them engaged and excited to fall in love with it.
Here are some ideas you can refer to:
What inspired you to produce the product?
What and how does the product make of?
What does the product stand for?
"Give it a LIFE" TikTok Video Ideas
Character and personality are vital when it comes to TikTok. To bring your product or brand to life, it's essential to make it more than just an object to your audience. Instead, you should strive to make it a friend that they want and need in their life.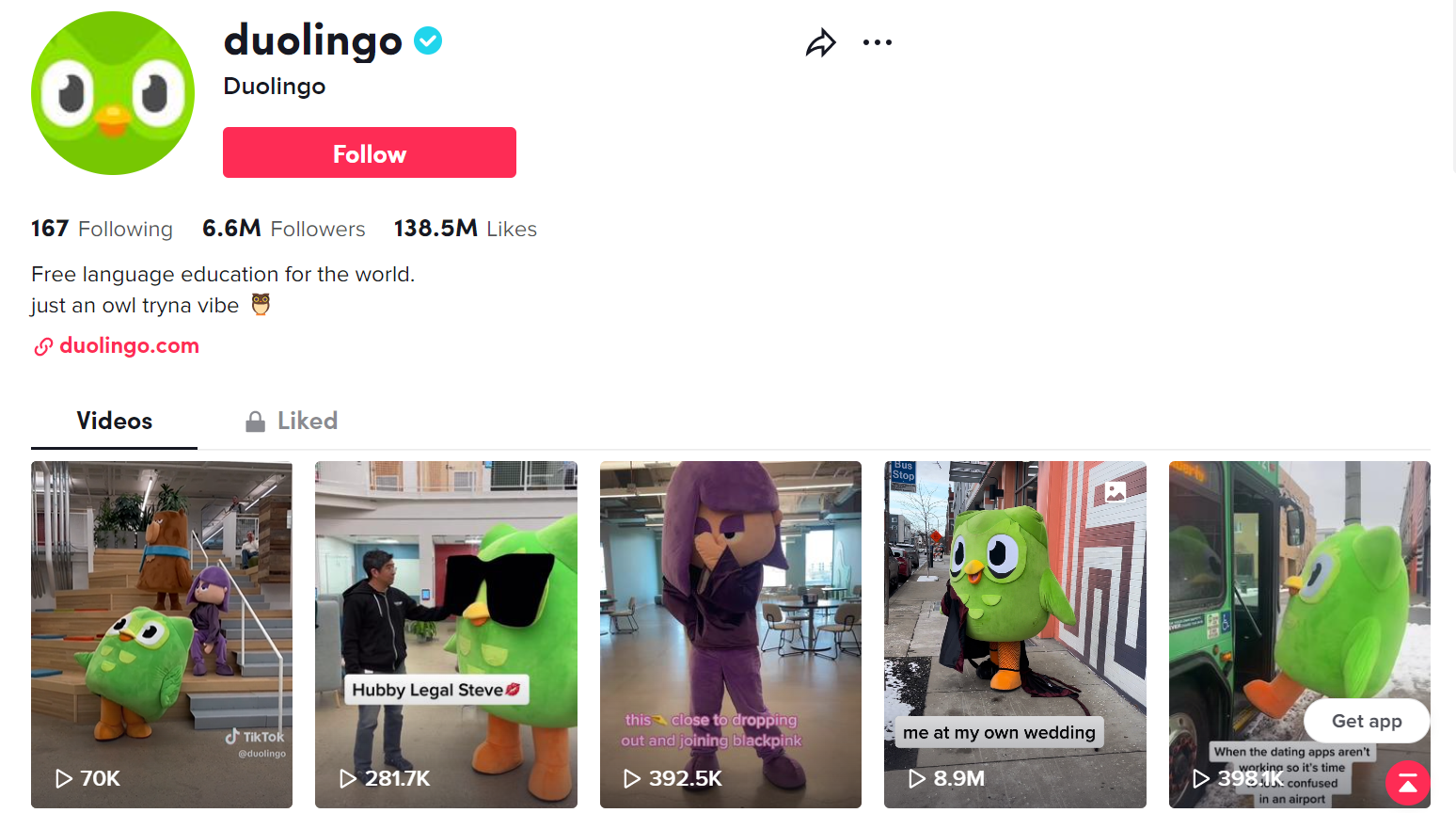 Best Practice: Duolingo, a language-learning platform, has achieved viral popularity on TikTok largely due to its green owl mascot, Duo.
"Give it a HACK" TikTok Video Ideas
As the expert on the product, you should reveal to the world more of what your product can do and be. Let's give a product a hack that elevates the experience for your users, such as the hidden function, secret menu, product hack, or anything that can diversify the usage.
"Give it a TRY" TikTok Video Ideas
One way to make your product's video more attractive is by demonstrating how to use and interact with products through trials, testimonials, and how-to videos.
For example, you can create an experience for them by highlighting the tastes, places, and fun they can expect from using the products. Another one is to give them a visualization of how your products fit into their daily lives.
"Give it some FUN" TikTok Video Ideas
Giving your products some fun simply means that fulfill what your customer dream of but cannot. This can be achieved through the wonders of mixing, crazy tries, or even satisfying videos.
Let's see the following clip to know the Glow Recipe brand applies it:
"Give it a SHOUT OUT" TikTok Video Ideas
Sharing updates about your products with audiences is one of the creative TikTok video ideas.
Whether it's a new product launch, an update on existing products, a sale, or even breaking news that your audience can relate to, share it with them. Build excitement and anticipation that will make them want to buy your products immediately.
How to create the best TikTok Video Ideas with 4Cs Framework
Curate – Subject
Start with thinking about the subject of your videos:
Don't focus only on what is the most trending because everything on TikTok changes really quickly.
Feel free to think out of the box and try new subjects because TikTok is about amusing content. The best TikTok video ideas often come from the creators exploiting strange subjects and offering them a new perspective.
Craft – Genre
Next, select your genre:
Watch other TikTok videos for inspiration. Check to see which parts you can change.
Consider genres you have never seen previously on the platform.
Take into account combining elements such as sounds, effects, and Duet from various genres.
Be mindful of the platform's storytelling speed.
Don't restrict yourself to this list. Genres such as "Transition" emerged only via experimenting.
Catch attention – Thumb Stopper
Determine a unique point for TikTok users to stop and spend time on your videos instead of millions of other videos:
Try to grab the audience's attention with a thumb-stopper as early in the video as you can. Use music or captions, if necessary, to create excitement.
Focus on a thumb-stopper as much as possible rather than using different thumb-stoppers simultaneously.
Try out several thumb-stoppers in your videos. The TikTok community cherishes heartfelt thumb-stoppers just as much as ones that are informational or amusing.
Cue a reaction – Engagement trigger
Think about how and why your audience might interact:
Consider leveraging social currency as an engagement trigger – give viewers a reason to brag to their friends by engaging with your videos.
Try utilizing the support of a bigger cause – allow people to demonstrate their impact by interacting with your content.
Hashtags that appeal to triggers like "Sense of Belonging" gain popularity quickly because they allow a large audience to express themselves.
There may be an overlap between several engagement triggers in your video. Using several triggers might elevate your content and provide readers with more compelling reasons to interact with it.
Engagement triggers can include:
Social Currency
Practical Value
Trends / Popular Opinion
Emotional Resonance
Bigger Cause / Purpose
Sense of Belonging / Pride
Opportunity to continue a story
Final word
The top 11 TikTok video ideas in this post have given you the appropriate mindset to raise follower engagement and have motivated you to produce better content. It's now up to you to unburden your mind, tap into your exceptional intuition, and produce gorgeous TikTok videos that will go viral! With the right approach, you could become notable on this platform.
If you've done everything but still can't get your business to stand out on this social platform, read the following article.