How can you find the best time to post on TikTok? Is the timing essential to go viral? And how do you optimize your content to attract a larger audience? To be a successful TikTok creator, you must know when is the best time to post your videos.
In this article, you will explore all the insights and secrets about the time that make many KOLs succeed on this platform. Want to find out all of it? The key to this padlock is right below.
Is there anything called "best time to post" on TikTok?
Both yes and no. Why? Because the best time to post on TikTok is not permanent.
TikTok posting times depend on who your audiences are. For example, your viewers are youngsters who usually get up late and stay up all night. Therefore, your best time to post should be midnight because it can reach all the audiences who are awake at that time. However, if your audiences are grown-ups, your best posting time will be in the morning when they have breakfast or lunchtime. So, to know when is your best time to post videos, you should check it through the TikTok Analytics feature. All the information about your viewers' behaviors will show up, including the best time to post.
How to find out the best time to post videos on TikTok?
Based on the internet report
If you first start on TikTok and want to test the water, then take a look at Influencer Marketing Hub research right here. It will show you all the high-engaged posting times to reach global TikTok users.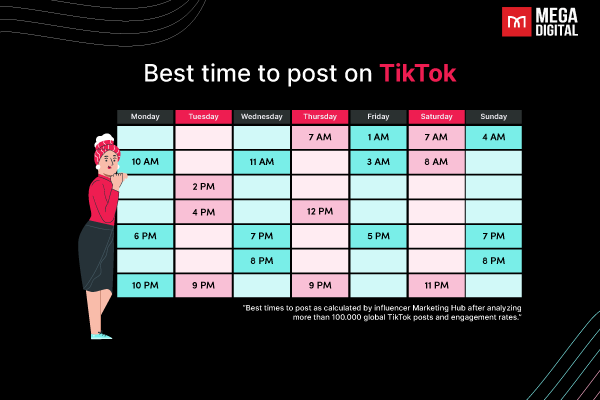 Remember that this is a global report, so you will need to convert it to your timezone before using it.
If you don't target global audiences, you can check out our research of user behaviors in any area below. The best time to post on TikTok is:
7 – 9 a.m: This is the wake-up time, and people usually watch the news on their social media.
11 – 12 p.m: It's noon time which is the best time to look for entertainment and relaxation.
8 – 9 p.m: Off-the-work and dinner time; this is the highest engagement time of the day. Users would love to socialize online with their friends and check for daily trends.
11-12 a.m: Time for the night owls or people checking TikTok before going to sleep.
Overall, you can choose when to post TikTok videos in between this time range or focus only on one specific hour based on your audience. Combining and testing the suitable TikTok posting times for your channel is the best solution.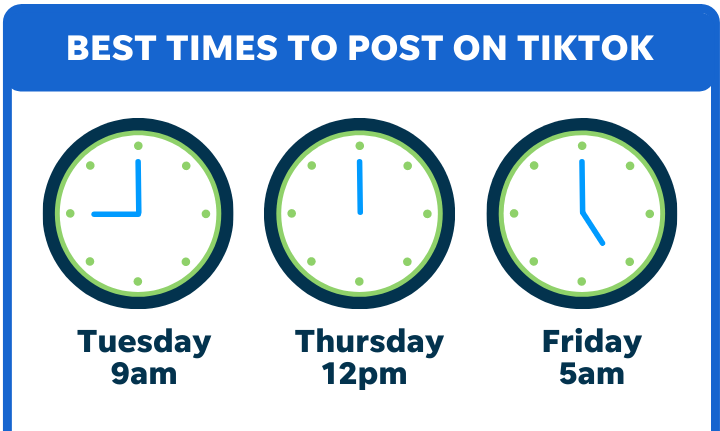 After a period of testing, you will need to decide the times to post on TikTok that suit your audience and the TikTok Analytics feature may help you with that. TikTok has now given access to both Personal and Business Accounts, so users can quickly get information about their audiences.
Based on the TikTok Analytics feature
How to check your audience analytics?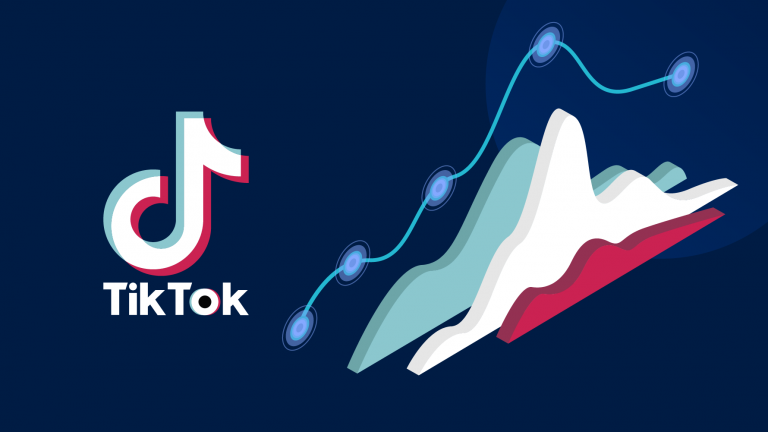 Step 1: Open TikTok and access your Profile
In the right corner of TikTok's main display, click on Profile.
Step 2: Access TikTok Analytics
On the Profile page, click the upper right corner of the screen
Access the Creator Tools (for personal accounts) or the Business Tools (for business accounts).
Then, choose Analytics.
Step 3: See at what times your followers are most active
On this site, you're going to see whether your channel works effectively, and targets the right customers or not. Please focus on the segment of Follower Activity, including both Day & Hour, and see what time audiences actively watch videos or browse your channel.
You only need to choose times with the highest number of viewers to apply to your TikTok channel. And, of course, if you already have trending posts, analyze the key features to maximize engagement.
Please remember that these times are in Coordinated Universal Time (UTC). As a result, you must convert it to your audience's time zone using a time converter tool.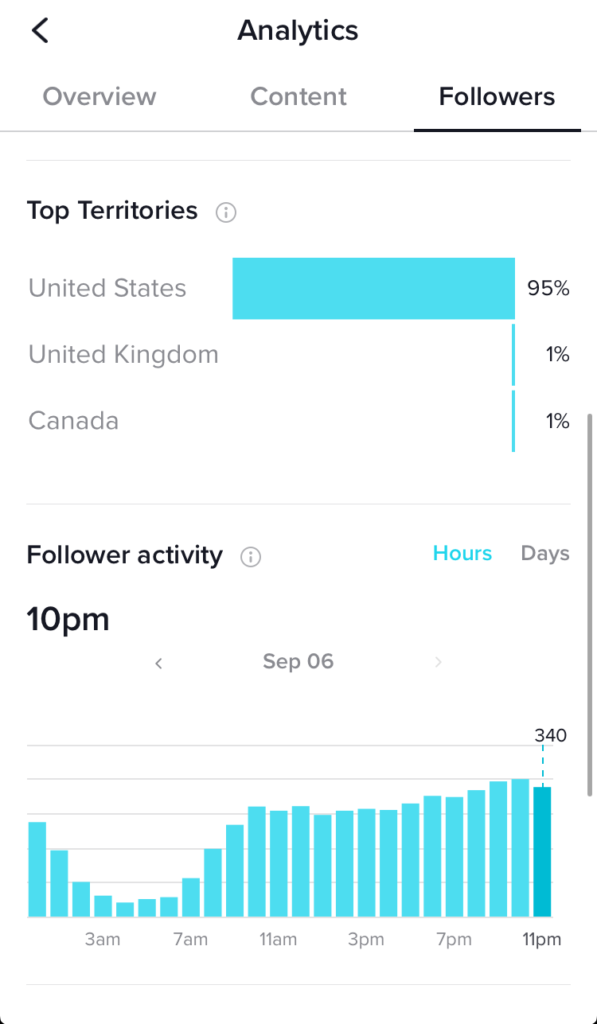 There are many ways to measure the performance of your channel with TikTok Analytics. So, make sure to check and analyze those data for better performance.
Based on your audiences
Here are some questions that will help you learn more about your audience.
1. Where is your target audience located?
TikTok, like any social media site, has a worldwide user base. However, you should choose a specific location where most of your targeted viewers are based. This way, TikTok can distribute videos more precisely while your content can reach the most audience as possible.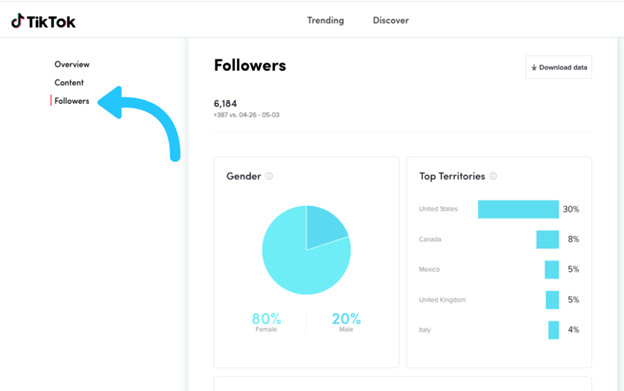 2. What time is your target audience awake?
You've determined the location of your target audience. It's now time to figure out when they're awake.
This section may appear more difficult, but knowing the time zones is just an issue. For example, if you live in Thailand and have many followers in India and Thailand, the time difference is only about an hour and 30 minutes. In fact, with such a little time change, your posting schedule will be unaffected.
On the other hand, you have a significant following in North America and the United Kingdom, that's a different story. You'll need to prepare and arrange material to accommodate an eight-hour time difference.
As a result, you'll need to create a content plan to cover the most popular areas where your fans live. It won't be easy to maintain if you have audiences in different time zones. Still, it appears to be the only method to cover posting content for your audience in the first period of building your loyal fanbase.
3. What is their persona?
To truly succeed on TikTok, you must first understand your target audience. Knowing when they're most active and what type of content they enjoy is key to crafting videos that keep them engaged.
To effectively engage with the majority of your audience, who happen to be members of Gen Z and have a penchant for following the latest trends, it is crucial to time your content delivery for the late afternoon. During this period, they are more likely to be receptive to your message and have the bandwidth to engage with your brand.
But, it's not just about timing. To truly capture their interest and stand out from the sea of content on this exciting platform, you need to deliver top-quality, humorous content that resonates with them. By doing so, you increase the likelihood of holding their attention and going viral, resulting in greater brand recognition and reach.

Is the best time to post affect the viral of your channel?
As we already said, time is not the most critical factor in going viral on TikTok. With its unique algorithms, TikTok will let your videos reach 100 people and track their reactions to see whether it is good. If the video has high interaction, TikTok will extend to 1000 people, and so on.
However, if you posted your videos at the best time above but the content quality has low interaction, TikTok will limit your reach. Therefore, here are some tips to help you have a high interaction when posting at the best time on TikTok.
Consistency is vital
Maintaining a consistent schedule will increase the loyal fanbase who watch your content at a particular time. Besides, more of your material available on the app will also help you gain favor with the algorithm. Thus, pushing your content at the best time will more easily go viral than none.
Stick to content
While it may be tempting to branch out, focusing on one content type or specialty allows TikTok to promote your content more effectively. It will also help TikTok determine your topic type to refer to lookalike audiences.
Jump on trends and stay ahead
TikTok users love to see new trends. If you're missing out on all the directions, you can also not gain more followers. Follow the trend and modify it to be suitable for your target audiences.
Learn from analytics
Analytics is a great feature. You can learn tons of insight from the viewers through this. Remember to investigate all the vital factors that affect your channel. Using it wisely will help you go viral even if you don't post your videos at the best times.
Final words
That's all for finding out the best time for you to post on TikTok. Just remember, TikTok is all about creativity and having fun. Keep following up with your content and stay close to the analytics; you will find the optimal way to grow your channel. Contact us if you need any consults to optimize or improve your channel. As an official partner of TikTok, we know the right way to help your TikTok channel go viral.