TikTok hashtags are an effective tool not only for content creators to approach target audiences but also for viewers to find the content that they are interested in. Besides, brands can take good advantage of these hashtags to make viral challenges connect with their target audiences more effectively. So, what are the best TikTok hashtags for view? How to find and use them efficiently? Let's explore the answers in this article.
What are TikTok hashtags?
TikTok hashtags work similarly to hashtags on other social media platforms, such as Instagram and Twitter, in that they are used to categorize and discover content. However, TikTok hashtags have some unique features:
Recommend related content: TikTok's algorithm suggests content to users based on their interests and past behavior. This means that hashtags on TikTok can be more effective than other platforms in reaching a relevant audience. They can range from broad and generic, such as #fashion or #food, to more specific and niche, such as #jeans or #hotdogs.
Create hashtag challenges: TikTok is the platform where users create and share content based on a specific challenge, such as #FlipTheSwitch or #flowerchallenge. This type of challenge is unique to TikTok and has been a major driver of its popularity.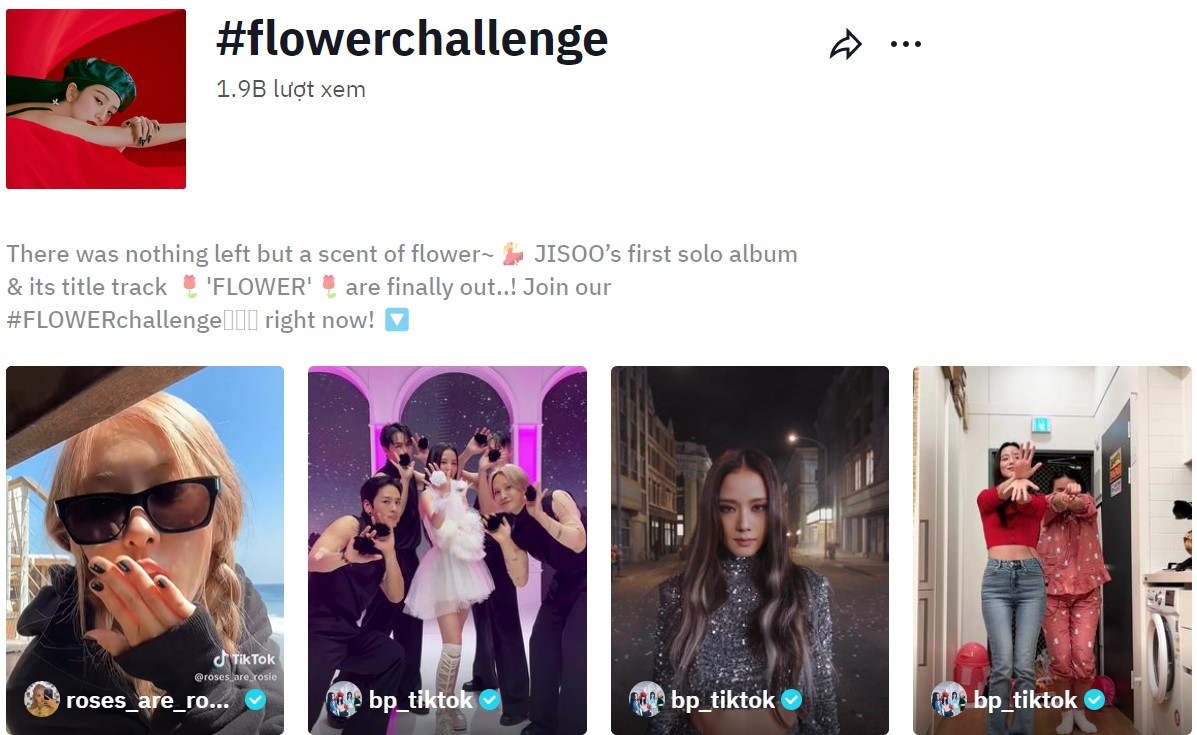 Benefits of using TikTok Hashtags
Hashtags play a crucial role in the TikTok strategy because they can improve your content's visibility, foster community engagement, and help you reach a wider audience. Let's take a deeper look at the top benefits of using hashtags for your business on TikTok!
Boost visibility
Hashtags can increase the visibility and discoverability of your content to the targeted audience. When you include hashtags in your video captions, your content can reach people who are searching for or following those specific hashtags.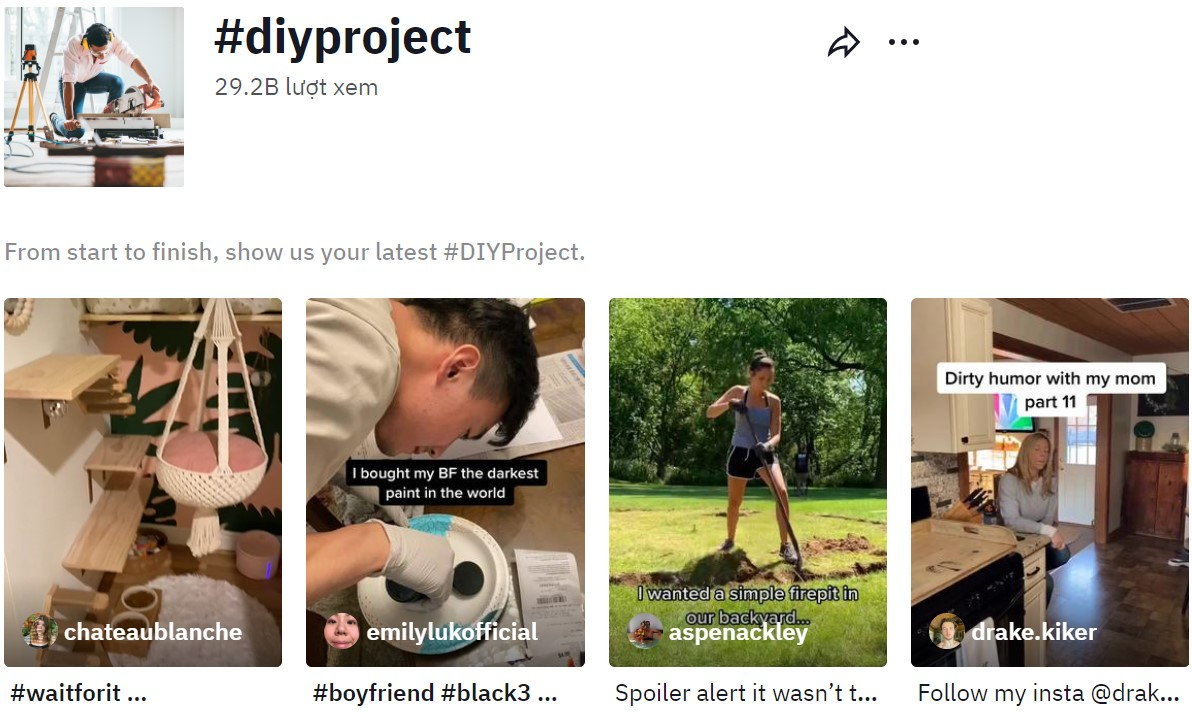 Increase engagement
Hashtags also help categorize and connect your content to a particular topic or theme. As a result, TikTok users who are fond of that topic might engage with your videos by commenting or sharing with others.
Create a community
If you're promoting a brand or product, using branded hashtags is a great idea to increase brand awareness and create a sense of community. With these hashtags, you can not only build a solid group of followers who enjoy sharing related content to your business but also have an opportunity to create challenges and make videos using the brand-specific hashtag.
For instance, BUXOM Cosmetics has successfully created a community around the hashtag #BuxomBabe. Both influencers and beauty fans have utilized the hashtag in their TikTok videos, resulting in 123.1 million views.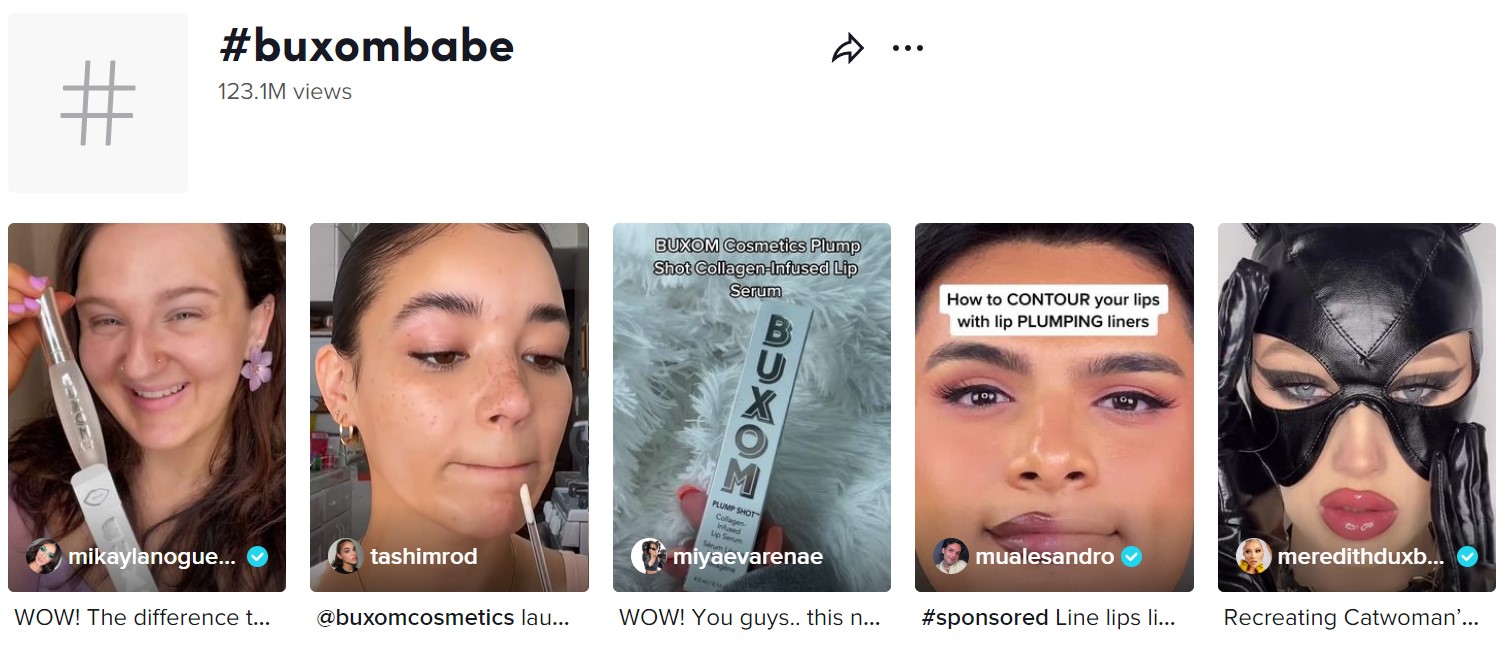 Analyze your competitors' performance
Popular industry-specific hashtags let you find competitors you might not be aware of by searching and adding them to your video captions. Other companies in the same field as you might use these hashtags, so you can click on these to research for competitor analysis with data like likes, shares, comments, and content funnel.
Best TikTok Hashtags in 2023
Some hashtags become famous for a short period, while others have been popular over time.
The following are some of the best TikTok hashtags 2023 with the highest number of total views (updated on 25/4/2023):
| | |
| --- | --- |
| Hashtags | Number of views (billion) |
| #fyp | 40489.9 |
| #foryou | 23906.3 |
| #viral | 15208.5 |
| #foryoupage | 14954.2 |
| #fypシ | 14459.1 |
| #trending | 3639.7 |
| #funny | 3048 |
| #comedy | 1990.4 |
| #viralvideo | 1432.1 |
| #fypシviral | 1325.9 |
Top 10 TikTok Hashtags with the highest number of total views (updated on 25/4/2023)
While it may be tempting to utilize the most popular TikTok hashtags that receive a high volume of views, it is important to remember that these hashtags can be extremely competitive. By searching for a single hashtag in the aforementioned list, one can observe that numerous TikTok videos include these trendy hashtags but have not garnered a significant number of views because of their competitiveness.
Note: Keep an eye on the Discover page to see what is trending on TikTok before you create the video because TikTok hashtag trends change frequently.
How to find the best TikTok hashtags to go viral?
TikTok is all about creative and engaging content, but without the right hashtags, and your videos may not be getting the views they deserve. So, how can you find the best hashtags to use for your content? In this part, we'll explore different strategies for finding the most relevant and effective hashtags to help your videos reach a wider audience.
Search on the TikTok Creative Center
TikTok Creative Center is an amazing place to explore the top TikTok Hashtags because it categorizes hashtags into industry-specific groups, making it easier for creators to find the most relevant and effective ones for their videos. Additionally, the TikTok Creative Center offers insights and analytics on each hashtag, including related videos and trending creators who use the hashtag.
There are some steps to search for the best TikTok Hashtags on TikTok Creative Center:
Step 1: Go to the TikTok Creative Center website.
Step 2: Click on the Trends tab and choose Hashtags.
Step 3: Type or select the region you want to find the trending hashtag from the list.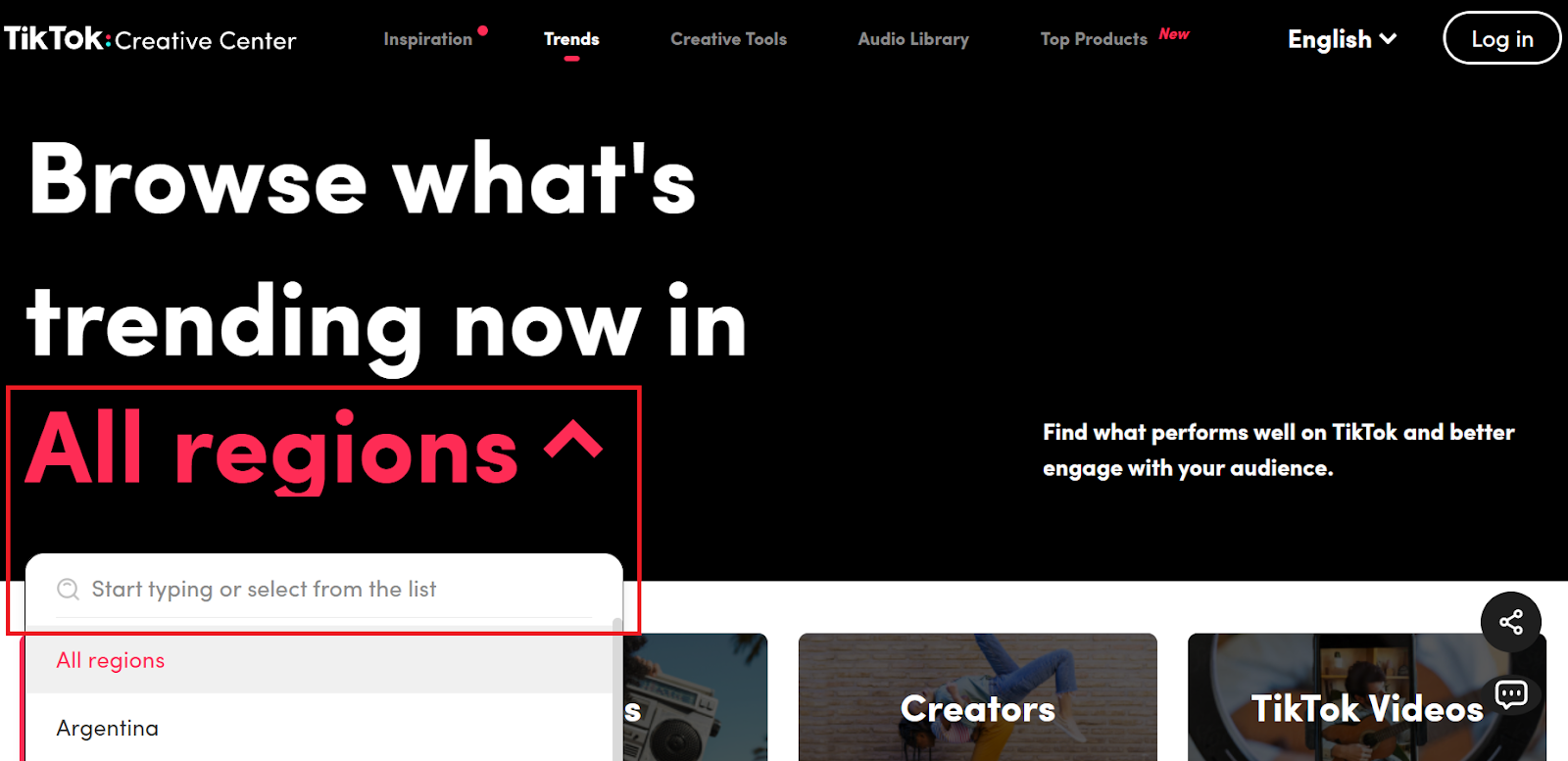 Step 4: Filter results by the industry and time posted.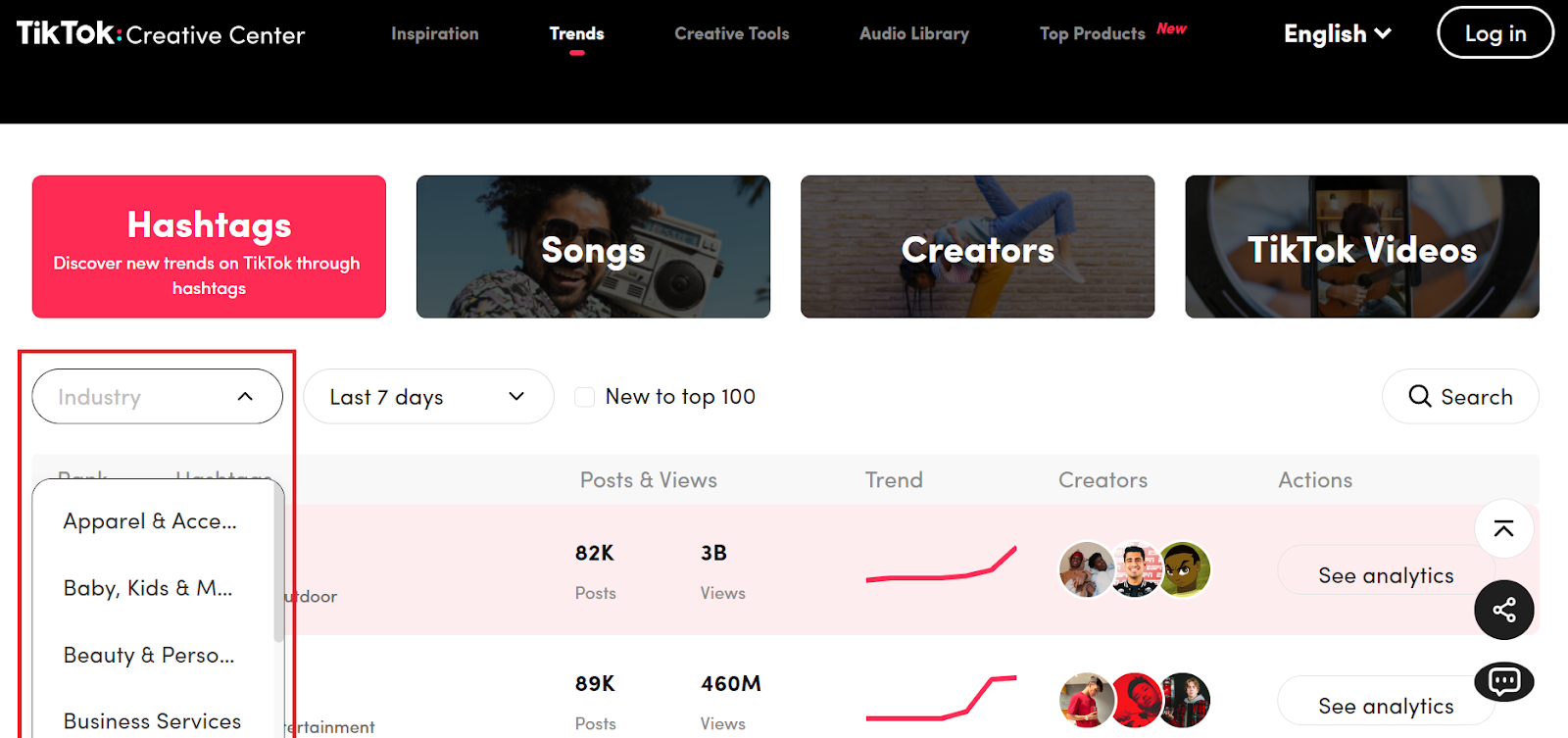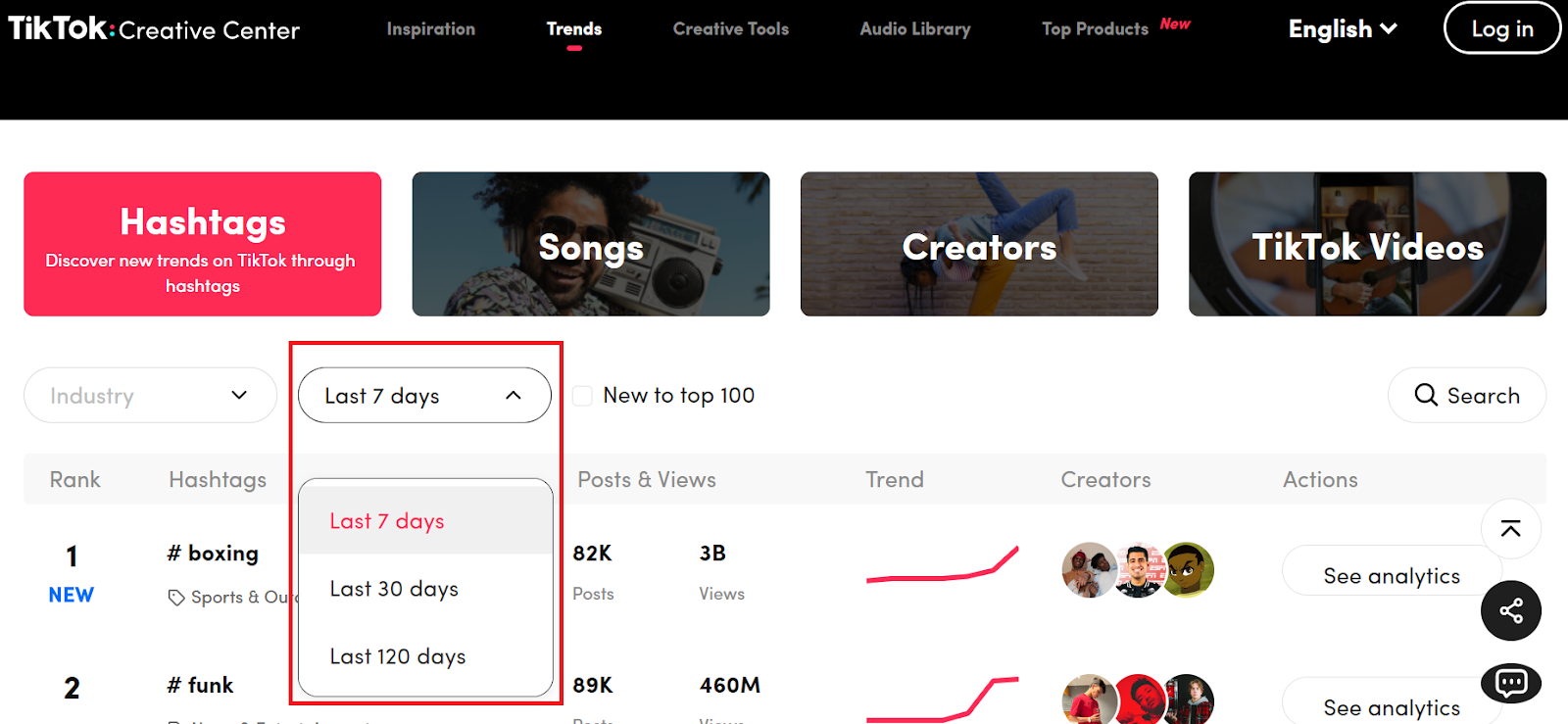 Step 5: Click See analytics to get additional information about each hashtag.

Research competitor hashtags
Look at what hashtags your competitors use in their content and see if they are relevant to your brand. This way not only inspires you to get an idea of what hashtags are popular in your industry or subculture but also helps you avoid the bad performance hashtags.
Analyze your own content
See which of the hashtags you have previously used in your content that has produced the most views and interaction. Consequently, you can identify the most suited TikTok hashtags for your brand and content.
5 tips for Using TikTok Hashtags
Combine the top TikTok hashtags with the niche ones
Mixing widespread and specialized hashtags is the key to optimizing your hashtag reach. As mentioned before, this tip will assist you in approaching both wide and specific audiences.
While popular and trending hashtags can be effective in reaching a broad audience, they are frequently oversaturated with competition, making it challenging to attract attention unless you already have a sizable following.
To overcome this challenge, you should use niche hashtags that appeal to viewers who are already interested in your content. Furthermore, they are typically less competitive and help users to discover your videos easier.
Create branded hashtag challenges
In addition to using hashtags that have been already on TikTok, the platform allows you to create branded hashtag challenges.
While anyone can create a hashtag challenge in the hopes of it going viral, the Branded Hashtag Challenge is a paid version that offers more. As a result, you need to register with TikTok to promote your branded hashtags.
The ideal scenario is for your hashtag to be used by fans and followers naturally, allowing you to gather user-generated content. Or, you can try to make branded hashtag challenges to boost your brand's voice and engage your audience in fresh ways.
Consider the maximum number of hashtags
TikTok lets you use as many hashtags as you want. However, remember the caption character restriction while deciding how many hashtags to use. We recommend using 3-5 hashtags to leave room for a descriptive or entertaining caption of your videos. Be clear and straightforward, and of course, include the brand's identity to make it more special!
Add more hashtags relevant to your content in the comments
Adding extra hashtags in the comments is a little tip if you reach the character limit in the caption. These hashtags are not prioritized by the TikTok algorithm as highly as those in the caption. However, it is still a means of enhancing your video search findings.
Utilize TikTok Hashtags for the Holidays
Incorporating the popular hashtags for holidays like #Christmas, #Festive, and #Halloween in your campaign on TikTok will enhance your brand's reach and appeal to a broader audience. This showcases your brand's alignment with the holiday spirit and can attract more viewers. By embracing the joyful aspect of TikTok, it's possible to improve brand sentiment and increase awareness.
Here is an example of adding #Christmas in the caption for their Christmas Marketing strategy and acquiring 10.2 million likes on TikTok:
Final Word
Using TikTok hashtags is an effective strategy to enhance your reach, amplify engagement, and engage with new audiences on the app. With the best TikTok hashtags list, you can tap into the latest trends, showcase your brand, and gain visibility in your niche. Also, check out our top 10 tips to level up TikTok ad creatives to boost engagement effectively!