Jingle bells, jingle bells, jingle bells rock… Christmas, the most fascinating holiday of the year – is upon us! This is an exceptional opportunity for brands to make great figures. With over 1 billion monthly active users, TikTok is an attractive platform that brands should not miss out on when it comes to reaching more audiences and promoting their campaigns. This article will introduce you some tips to boost sales during this holiday!
Christmas – The golden opportunity for marketing on TikTok 
Christmas is the most beautiful time of the year! Mainly if you are an e-commerce brand. Everyone is shopping for Christmas presents, outfits, decorations, and treats. During this peak purchasing season, if your brand wants to harness the power of 40% of global consumers – Gen Z, TikTok is the most brilliant solution.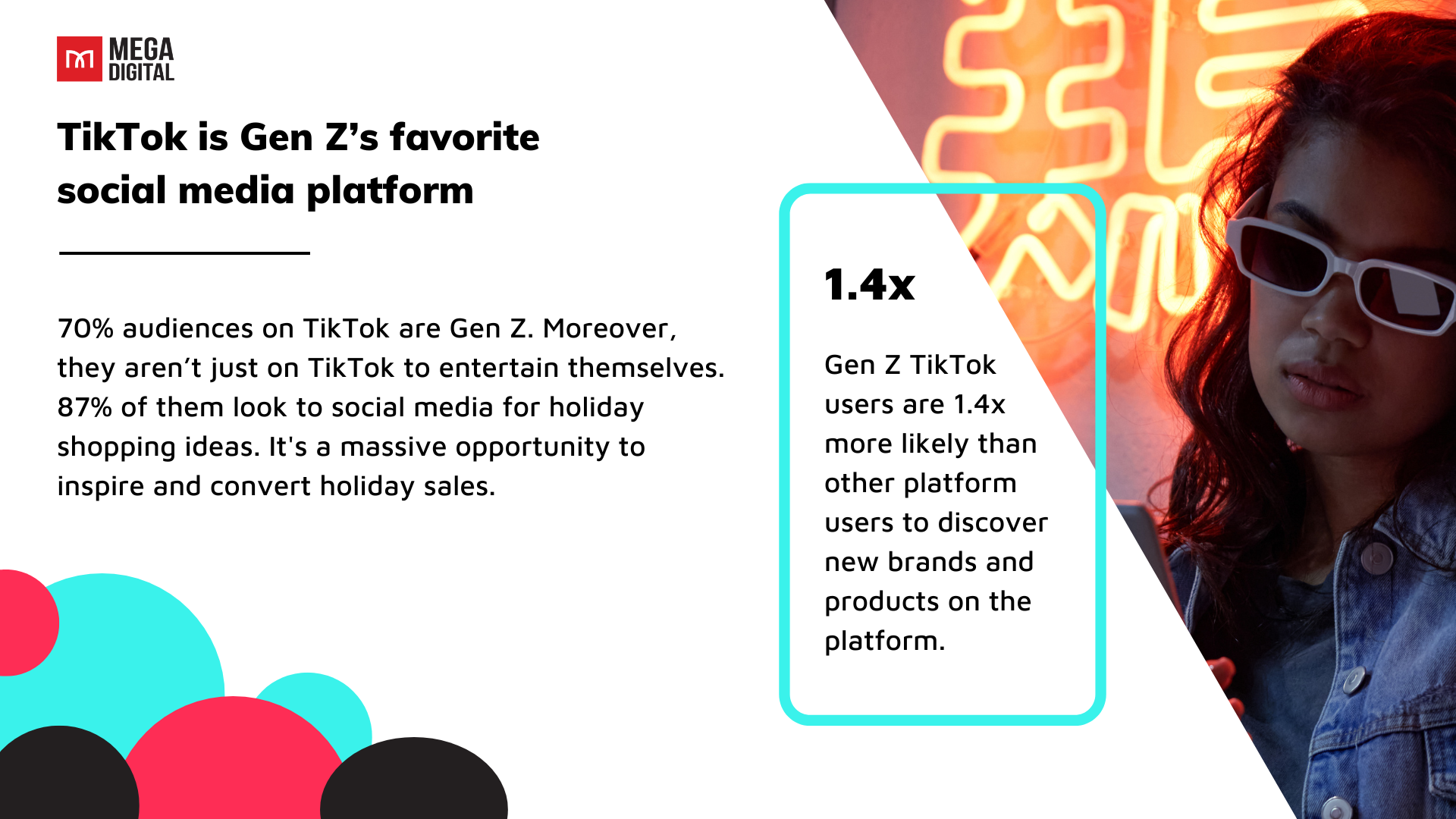 TikTok is a rich source of festive cheer and excitement for its users. Many predict that TikTok will play an essential role in their Christmas shopping this year. According to TikTok's insights, two-thirds of respondents (67%) believe that the platform will help them discover a product or brand they didn't know about and encourage them to buy an item they see either in-store (64%) or online (65%). With users constantly on the lookout for gift ideas in the run-up to Christmas, product reviews, haul videos, and recommendations from Creators are massive opportunities for brands to get discovered on the platform.
Moreover, TikTok provides a social community for everyone to share and communicate. The FYP comes alive with content from all subcultures during the holidays. Using niche communities like these can help you find your brand's niche audience.

Trending hashtags for the Christmas holiday show consumers' intent to search and find ideas on TikTok. For instance: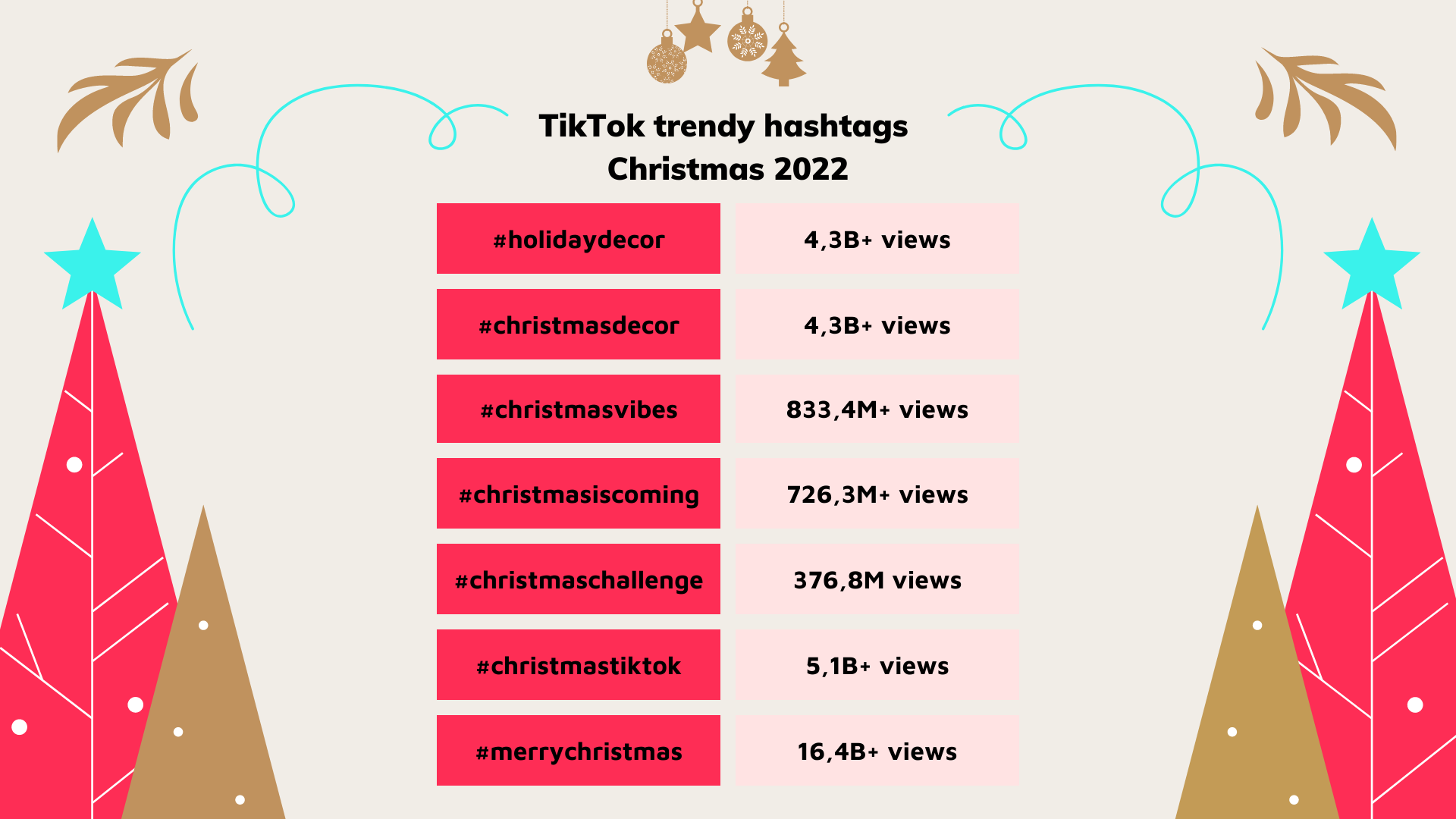 5 Christmas marketing hacks on TikTok
Wanna shine on TikTok this Christmas time? Do not miss these tips below!
Always be the trending hunter
Just glimpse hashtags trending about Christmas, and you will see that Christmas on TikTok has already begun, even before Halloween. Therefore, you should start as soon as possible to make a good impression. Especially incorporate the trending hashtag (like #christmas #festive #christmasshopping) into the brand's Christmas campaign to show that your brand is deep into the vibe and appears to a broader audience. Embracing TikTok's joyful side is a surefire way to boost brand sentiment while also improving awareness.
Work with KOLs/Influencers/KOCs
A TikTok influencer's endorsement can significantly impact your marketing conversion rates. This is because they are the most familiar with the platform and have the expertise, creativity, and their own audiences. Working with KOLs can also generate considerable buzz for the business. This is especially true when KOLs employ more innovative techniques, such as holding contests or creating a TikTok Hashtag Challenge.
Last year, Marks & Spencer maximized its Christmas campaign with an ad featuring Tom Holland's voiceover of the Percy Pig, which has created incredible results for M&S.
Working with the KOLs/Influencers/KOCs is a mutually beneficial relationship! Christmas is an ideal time to connect with creators looking for ways to stand out among the holiday social media buzz. So, why do you still hesitate?
Leverage the branding ad solutions
TikTok provides several ad types for brands looking to promote on its platform. Specifically, with branding ads solutions, your business will be the center of the TikTok Christmas vibe.
Some types of ads you may see most:
Branded effect: Tell unique stories by creating a visual signature and connecting with viewers worldwide.
Branded hashtag challenge: Boost awareness, drive engagement and build an enormous fanbase through the hashtag challenge.
TopView: Catch the user's first look and create a seamless experience when they open the TikTok app.
However, these premium ads are only available in TikTok agency accounts, so you will need to contact their partners like Mega Digital to get early access. Also, remember that Gen Z tends to distrust traditional advertising. Therefore, always be creative!
A great example of this is Pepsi Max, who utilized TopView to burst into For You feeds with eye-catching product placement, using their slogan "Out with the old. Taste the BOLD!". The performance is admirable that Pepsi Max received an engagement rate of 22.71% and a CTR of 21.75% in one day. And also achieved over 5 million impressions, which was well above the benchmark.
Deep into the Christmas vibe
The TikTok community incredibly enjoys the holiday content. The more fun you bring, the more engagement you get. Therefore, immersing your brand in the Christmas spirit is the key to success. However, remember that you should preserve your identity to stand out!
Some ideas you can apply:
Show users your Christmas trees, festive jumpers, Christmas gift ideas,…etc
Offer merriment incentives
Utilize old Christmas music
Unbox Santa Claus presents
Send love and gift to homeless people
Besides being joyful, TikTok is all about respecting positive values toward the community and the sustainable development impact on society. So, harness the Christmas holiday to boost an optimistic impact on your audience.
Cultivate TikTok UGC
UGC (user-generated content) can have a phenomenal influence on your audience. Customers tend to watch reviews and recommendations from existing customers before they decide to buy something. UGC becomes vital in accelerating customers' buying journey. Moreover, it can quickly help brands to engage and build trust.
So, let's get the ball rolling with a festive competition or challenge. Or using your own TikTok channel to respond to UGC which makes customers feel appreciated.
Case study: BOSS – Outstanding Christmas TikTok campaigns
TikTok helped BOSS spread Christmas cheer to the young global audience by launching its latest collection.
The objective
BOSS – the legendary fashion house – gained a beyond-expectation result last Christmas with the help of Branded Hashtag Challenge. Their cooperation with TikTok and the illustrator Justin Teodoro not only spread awareness about the unique collection to the young audience but also spread some Christmas cheer.
The solution
BOSS created a Branded Hashtag Challenge named #MerryBOSSmas. This cooperated with popular creators from markets all across the world to drive massive audience interaction in fun and entertaining festive packages.
Made a Branded Effect accompanying the challenge to encourage users to slip into the role of a dummy and show off their festive looks while throwing up the heart symbol with their hands to trigger the different elements of the effect.
Produced TopView and One Day Max In-Feed ads using creator's videos (Stephen&Allison Boss, Brittany Xavier,…) to spread the campaign message even further.
The result
Receive nearly 3M video views and close to one million video creations from 319,000 creators.
This campaign exceeded all expectations, outperforming market averages and providing unprecedented targeted Gen Z exposure for the BOSS brand and its latest collection.
Guideline for a Christmas campaign on TikTok
Christmas is the most important holidays to many people, so the more careful your preparation is, the more likely you will get success. Many businesses launch their first campaigns very early in September (or even earlier!) to nurture interest in audiences. Check out the guidelines below to determine what you should plan out!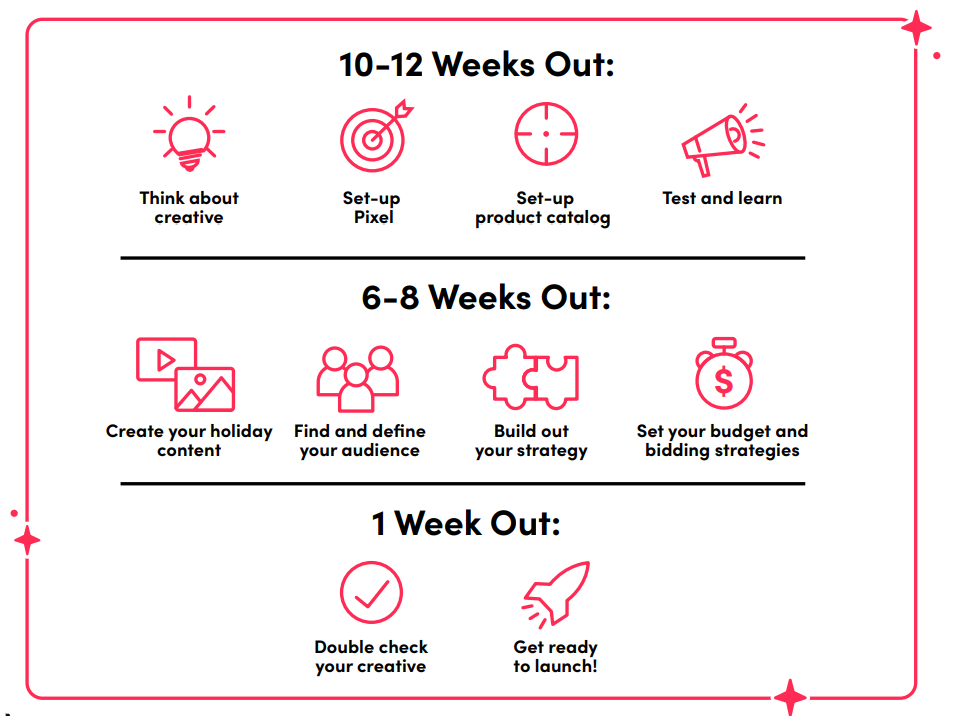 FINAL WORD
Christmas is coming to town! Hopefully, this article gives you helpful pieces of information to make a boom on TikTok at this holiday season. Mega Digital has a lot of experience in helping clients execute Christmas Marketing on TikTok, hence come to our service whenever you need.