If you use TikTok, chances are you have at least once encountered an advertisement right after you launch the app. That is TikTok TopView ads – a suitable ad form for branding activities, new product launches, or marketing during peak sales season, etc. Learn more about this type of ad through this article!
What is TikTok TopView ads?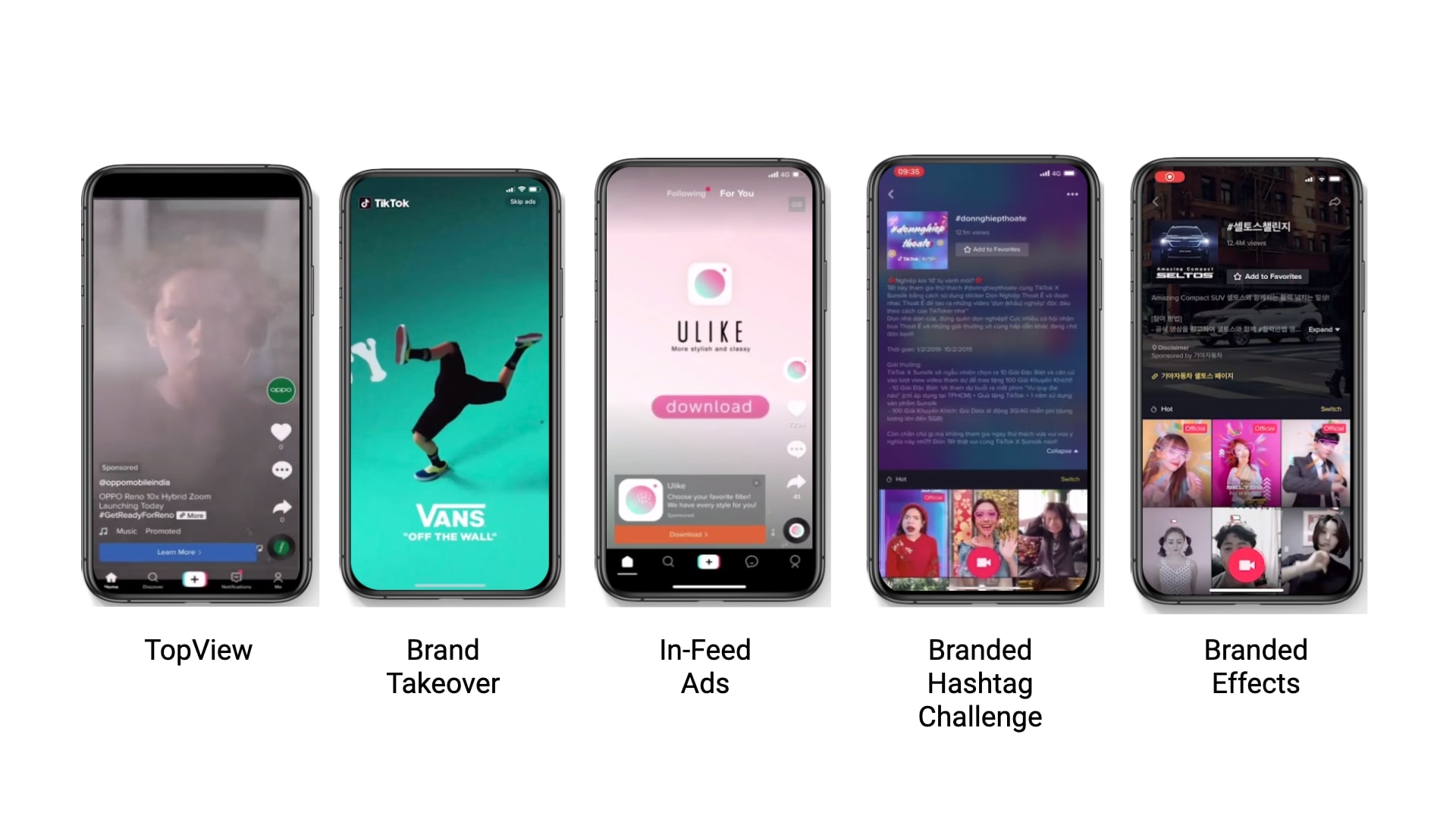 As the first video users see when they open the app, TopView, not to be confused with Top Feed, is TikTok's most premium ad format. TopView ads are 5 – 60 second videos that play as soon as users launch the app and seamlessly transitions into their For You feed. TopView utilizes TikTok's ad placement to put your brand in the spotlight providing a unique viewing experience with no competing content.
Unlike the usual In-feed ads that are distributed on an auction basis, TopView ads are a form of reservation ads, meaning you will be paying a flat rate to get your ad delivered to a certain number of impressions. This way, you are guaranteed to get the exposure that you plan for. However, you'll need to commit to flat-rate pricing which is less flexible, and often higher than auction ads.
Are TikTok TopView Ads effective?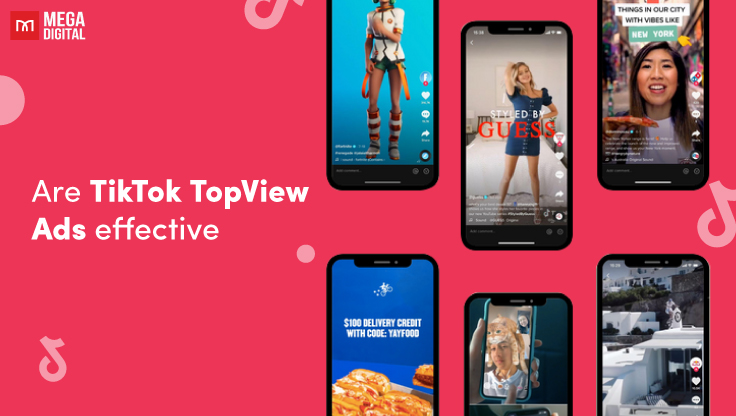 TopView ad is ideal for branding and high-velocity sales campaigns due to its extreme attention grab. It is certainly not for day-to-day campaigns, and brands should make effective use of this ad format by delivering creatives that have a lasting impact.
TopView ads are very suitable for large brands that want to utilize TikTok to create a strong impression on users. When your brand wants to (re)launch a product or edge out a competitive advantage in peak sales seasons, TopView is the best way to put the words out. TopView, although more expensive than other types of ads on paper, allows you to conveniently achieve must-meet branding goals.
A couple of big moments that TopView ads are perfect for are:
Big branding moments
Product (re)launches
Peak season marketing
Reputation boosting
In addition, in a just-released announcement, TikTok allows certain adult product categories to be presented on their premium placement. Some products like dating apps, condoms, alcohol, etc now can take advantage of TopView.
TikTok TopView ad features
With all that being said, the ad itself is not decisive for your business objectives, it eventually comes down to your creatives as well. Below are some notes to keep in mind about TopView ads
Each TopView video is shown to each user only one time a day.
Users can skip ads by clicking the Skip button in the right corner of the screen after 3 seconds or by swiping up.
The link-click format helps to navigate users and increases conversion rates and traffic for landing pages, hashtag challenge pages, and more.
TikTok TopView ads formats & specs
In old TikTok fashion, before you start running TikTok TopView ads, you'll need to make sure your creatives meet the following specifications:
Length: Up to 60 seconds.
Aspect Ratio: 9:16, 16:9 or 1:1.
Resolution: 960×540 px, 540×960 px, and 640 x 640 px.
File format: .mov, .mp4, .3gp, .mpeg, or .avi
Video size: ≦ 500 MB.
Bit Rate: 516 kbps
Successful TikTok TopView ads case studies
Balenciaga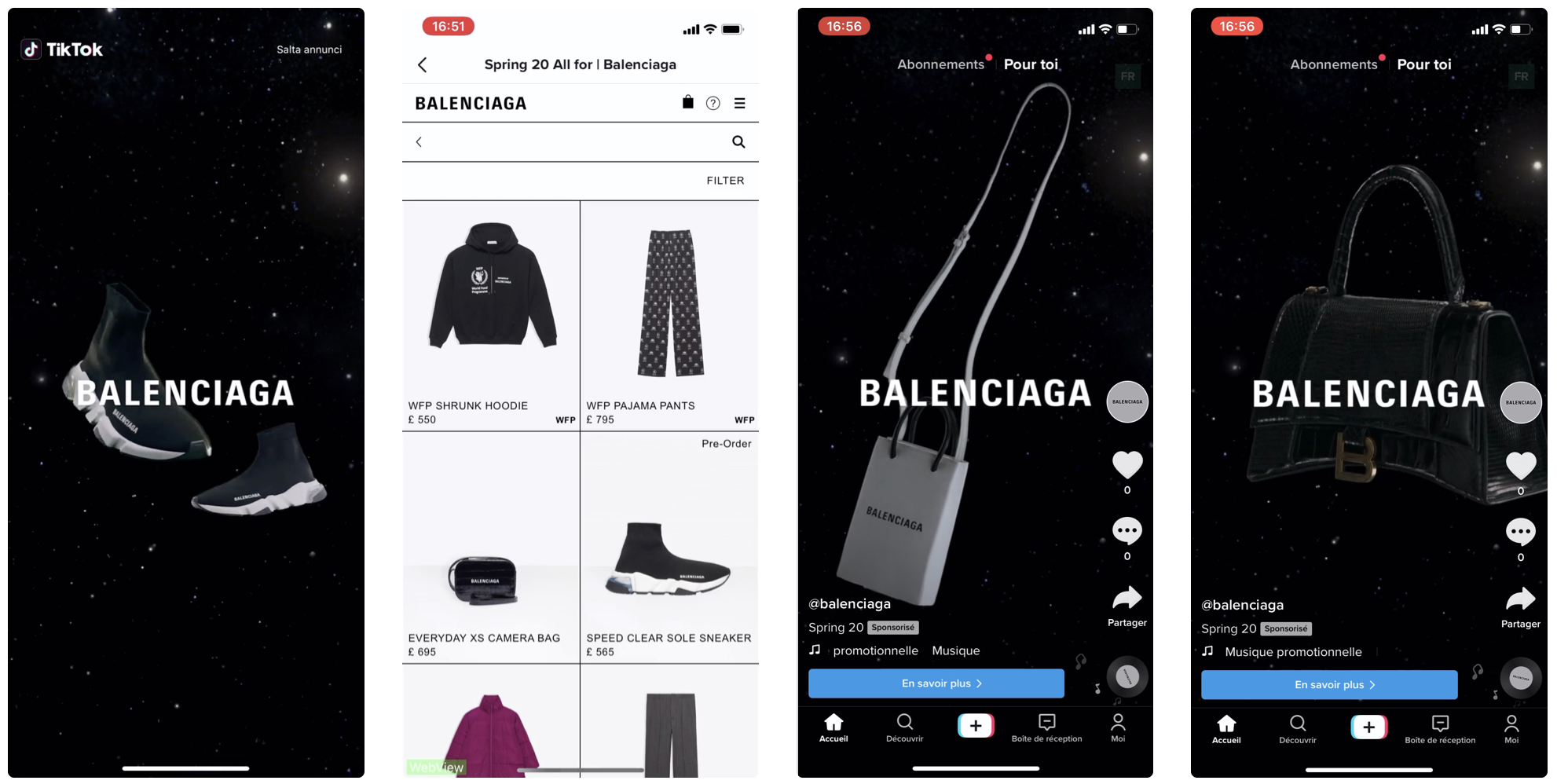 Objectives
Balenciaga has long been known as an innovative, avant-garde couturier of uncompromising standards – a fashion industry forecaster of ready-to-wear trends. Its goal was to raise brand awareness with a new audience on TikTok, as well as be the first high-end luxury brand on TikTok to test and utilize the TopView.
Solutions
Balenciaga would launch a shopping campaign using TikTok Top View ads in the UK and France markets.
Balenciaga's TopView ads are displayed continuously, covering the user's entire screen when opening the app. The ads also combined trendy sounds to get the attention of users. In addition, Balenciaga also uses TikTok Instant Page to let users buy without navigating out of the platform.
The results
Drove 23M+ impressions across the UK, France, and Italy.
The average CTR across markets was around 18%, and notably 20.56% in Italy.
With a total of over 25 million video views and over 4.5 million shop page visits.
CELINE
Objectives
Luxury fashion brand CELINE decided to spread the word about the new seasonal collections by streaming their runway show live from Monaco to younger audiences on TikTok. The creative would be showcasing CELINE's latest collection in a fresh and exciting way.
Solutions
CELINE made four stunning TopView ads featuring its models between the stadium's breathtaking architecture.
A "Watch now" callout leads them to CELINE's official TikTok profile.
The creative is completed with the popular song "I Like Him" by Princess Nokia soundtracking.
The results
52M impressions were recorded with a total of 22,9M 2s video views.
Across the two days and four markets, the average CTR was 17.74%
How to set up TopView ads?
TopView ads belong to the Brand advertising solutions. However, since TopView is a form of reservation ad, you'll need to work with Mega Digital to get approval from TikTok.