In 2022, TikTok introduced a new kind of campaign buying type – Reach & Frequency that enables you to manage the audiences and the frequency of your ad delivery. Coming with Reach & Frequency type, we also have Top Feed TikTok – a new solution with customized targeting and greater control. So, let's learn more about Top Feed Ads and what they can do in the below article!
What is Top Feed TikTok?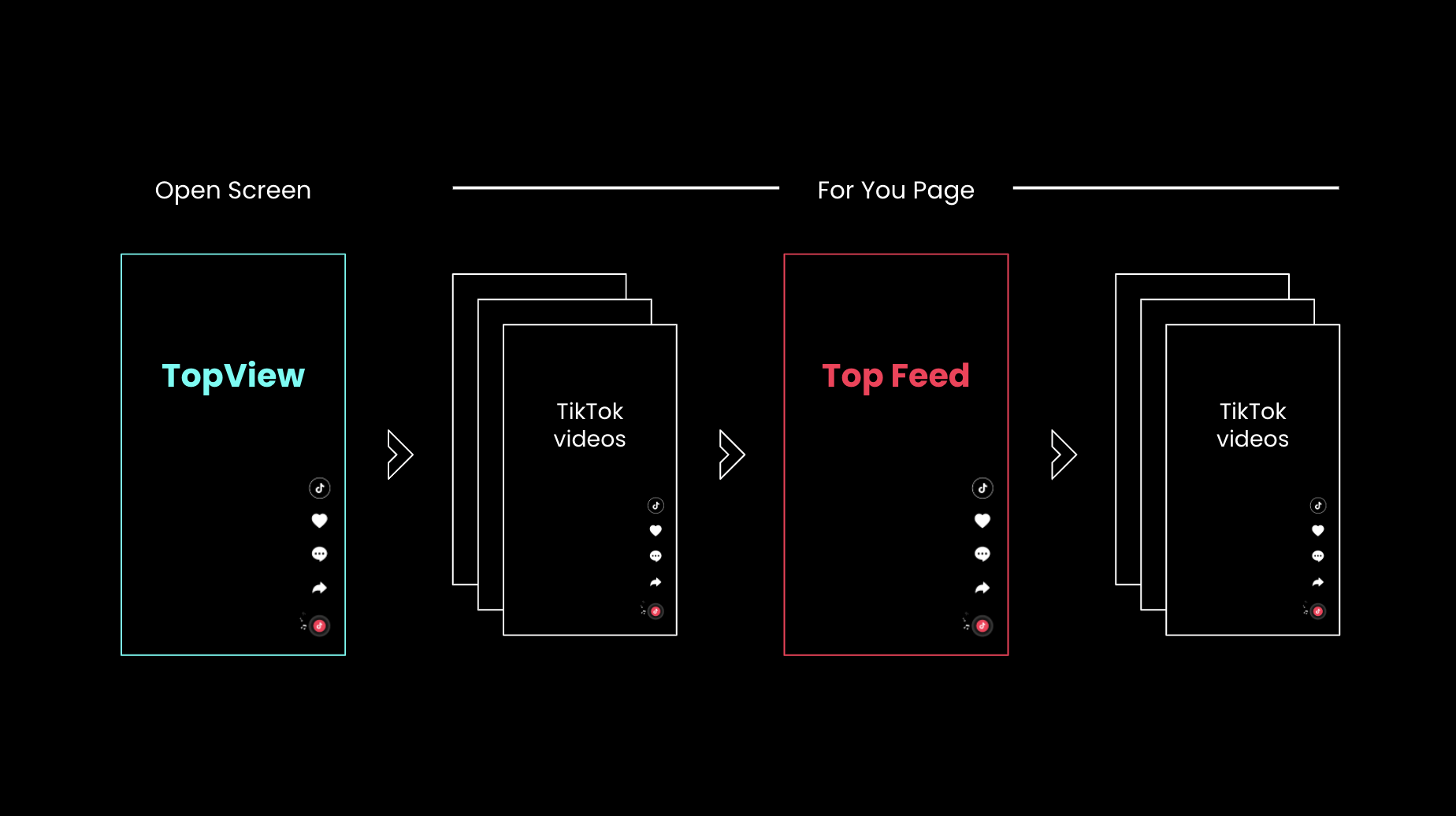 Advertisers have two ad distribution options for Reach & Frequency campaigns: Standard and Top Feed. When users open the app and begin their For You feed journey, Top Feed TikTok places your video in the first In-Feed Ad spot.
With Reach & Frequency buying, Top Feed delivers greater targeting, and its memorable ad placement increases the impact. Additionally, you can use Interactive Add-Ons or other multi-creative delivery methods to improve your Top Feed advertisement.
However, to set up R&F ads and Top Feed, you must use TikTok Agency accounts distributed by TikTok partners such as Mega Digital.
Why should you use Top Feed Ads?
Top Feed ads help capture users' attention by placing ad content at the top of your feed to increase brand awareness.
Top Feed TikTok has several benefits over other feed placements that might help you:
Make a memorable and long-lasting impact.
Acquire additional levels of campaign control.

Utilize R&F's capacity to tailor the frequency and enhance reach.
TikTok Top Feed Specs
As mentioned above, TikTok Top Feed is the 'first' In-feed Ad that appears on the For You Page like any other organic content. Therefore, it must fulfill the following specifications to pass TikTok Ad Review Checklist.
Ratio: 9:16, 1:1, or 16:9.
Video dimensions: ≥540*960px, ≥640*640px, or ≥960*540px.
File format: mp4, mov, mpeg, 3gp, or avi.
Maximum length: 60s, though TikTok recommends 9-15s.
Size: ≤500 MB.
How to set up Top Feed TikTok?
After signing in to TikTok Ads Manager with your TikTok ad agency account, follow these steps:
Step 1: Create a new ad campaign.
On the Dashboard, click Create an Ad to make a new ad campaign.
Step 2: Change buying type.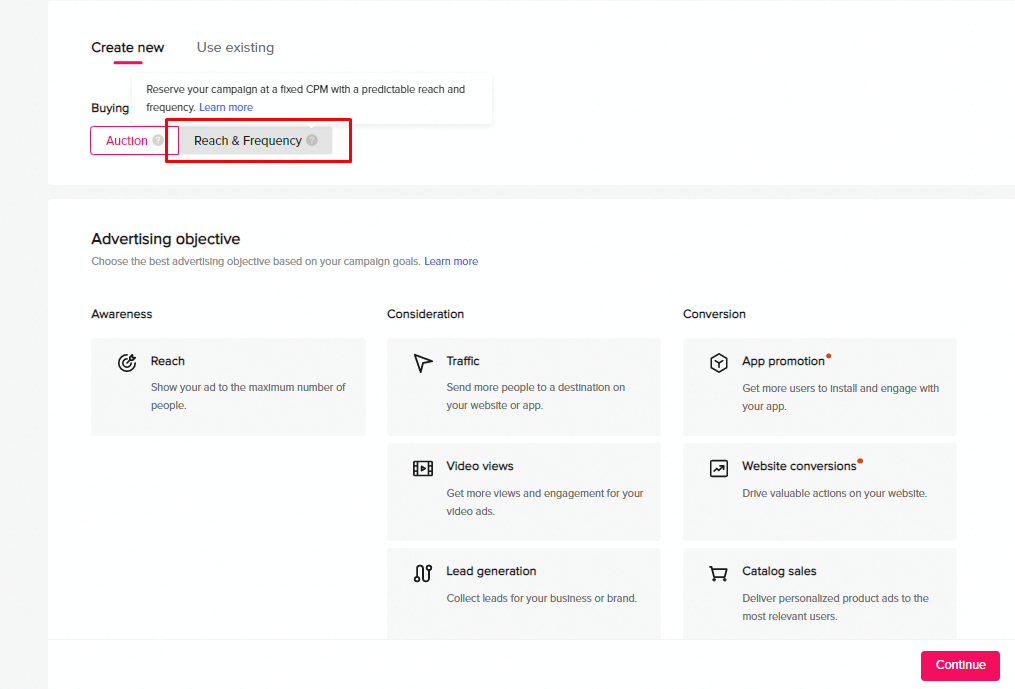 On the Campaign setup, switch the default order type from Auction to Reach & Frequency and select the appropriate ad objective.
Step 3: Select Contextual Targeting.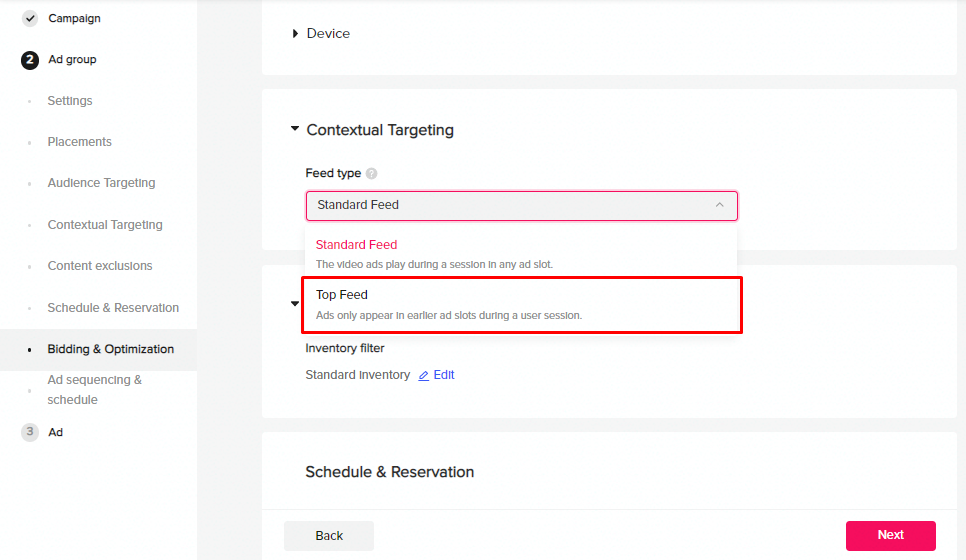 You can fill in the other settings as usual. However, in the News Feed Type section, switch to Top Feed. Then, off you go! Your completed ad will show as Top Feed TikTok.
What are the differences between Top View and Top Feed?
| | | |
| --- | --- | --- |
| Type | Top Feed | Top View |
| Placement | The first in-feed ad | The first ad right after opening TikTok |
| Cost | Cheaper cause it serves as an in-feed ad and depends on competitors' bidding. | Higher cost because of its particular placement. |
| Target option | Show advertisers the estimation of reach and frequency. | Based on the reservation to get the highest reach possible. |
Advertisers should consider the objectives and budget of campaigns to decide between these two types of ads. While Top View TikTok has a higher price, it also shows a more powerful impact in raising awareness and impressions. On the other hand, Top Feed ads – form of advertising use Reach & Frequency feature which provide an estimation of how much reach in a certain period of time. This allows advertisers to optimize their budget while still achieving their campaign goals. Top Feed ads are particularly effective for brand awareness objectives, as they can be used to showcase products or services and increase brand recognition among TikTok users.
Ultimately, the decision between Top View and Top Feed TikTok ads will depend on the advertiser's specific campaign goals and budget. Advertisers should carefully consider the advantages and disadvantages of different types of TikTok ads and choose the one that aligns with their overall marketing strategy. It's also important to continuously monitor and adjust campaigns based on performance data to ensure optimal results.
However, to use Top Feed and Top View, you must acquire a TikTok agency account to set them up. Contact us to use all advertising techniques with agency accounts!