No one likes to spend a lot of time and effort making an creative ads and then watch it to be disapproved. If you don't want yourself to be in the same situation, you must know criteria that TikTok expects at an advertisement. They are all described in TikTok Ad Review Checklist, which Mega Digital will introduce in the following.
General Information of TikTok Ad Review checklist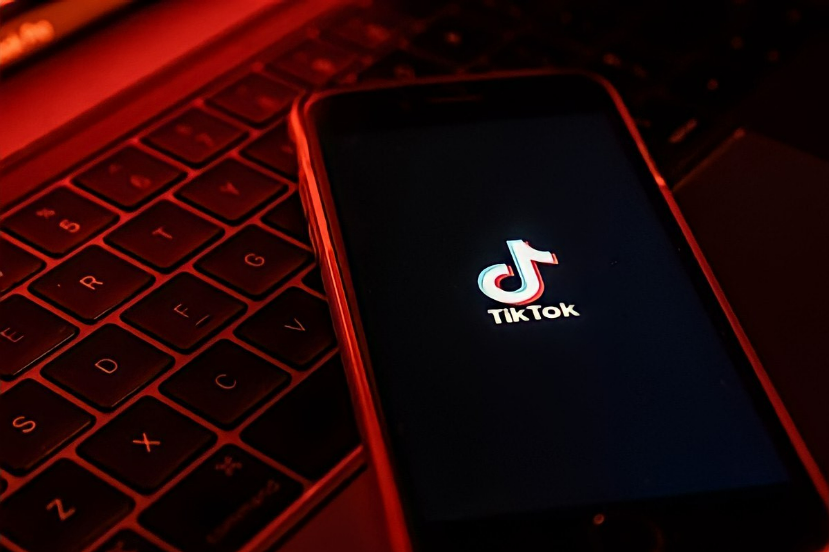 Ad Review checklist is a list of requirements of TikTok to review your ads before publishing them onto the platform. It typically takes 24 hours to review an advertisement that you have submitted. You should make sure your ad complies with the platform's ad criteria and adheres to its policies to prevent any delays. 
In the TikTok Ad Review checklist, there are 4 key components that you should take into consideration:
Landing page
Ad Display
Ads Consistency
Ad Languages
Please use this checklist while setting up your campaign to ensure that your landing page complies with TikTok's requirements.
Ad Review Checklist – Landing Page
Contain valid information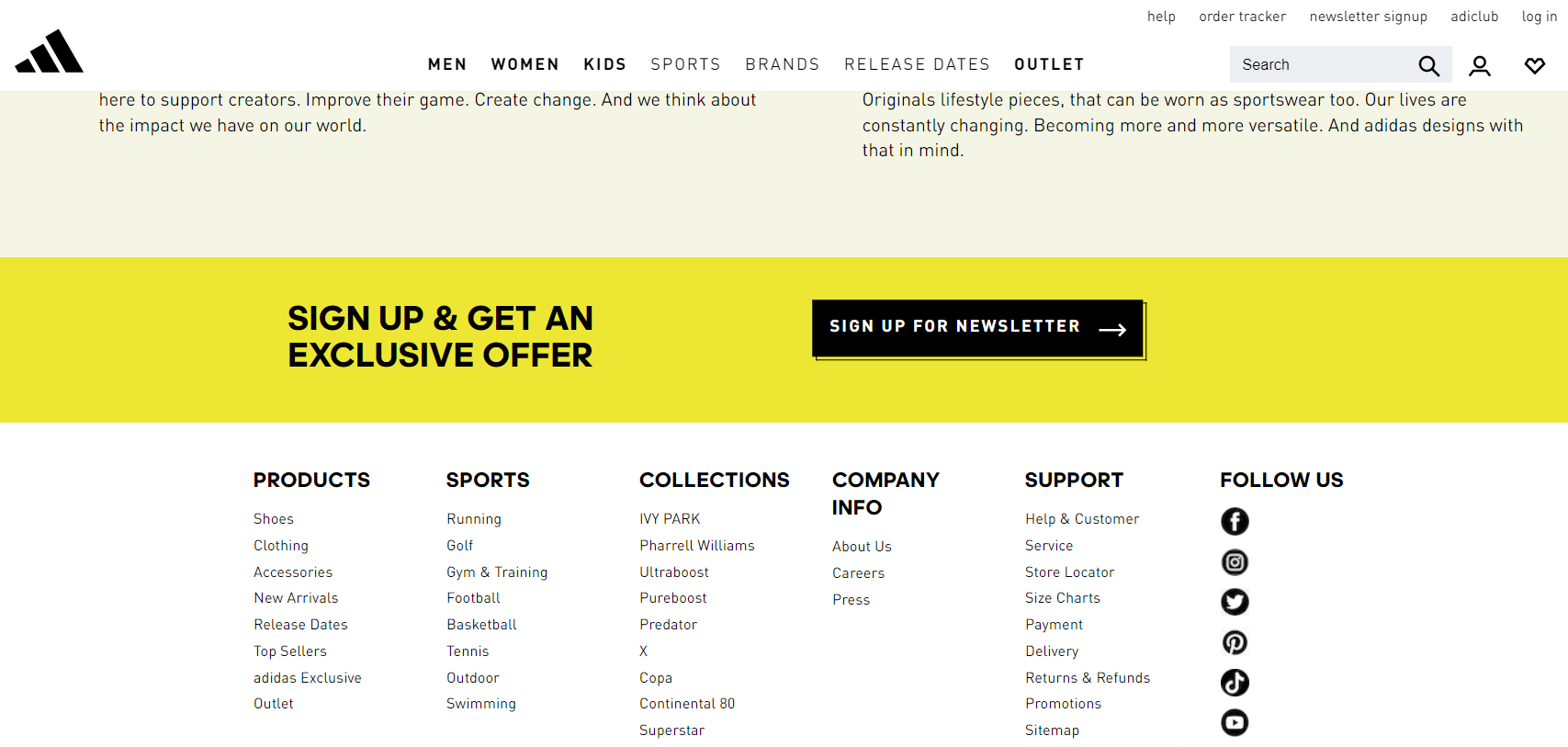 Landing pages for financial service and e-commerce advertisements must prominently display accurate company information:
Contact details
Company name
Policies
Prices in the local currency
Terms and conditions
Business License
Please place this information in a prominent place on each page or URL you use in an ad, such as the footer of your website, to help guarantee that your ads are approved. Ideally, this data ought to be visible on each page of your website.
TikTok will inform advertisers to provide additional information if your landing page is not qualified for TikTok requirements.
Note: Depending on local regulations, advertisers from specific countries or territories might need to submit more information. To obtain additional information, contact sales for your region, nation, or territory.
Must be functional and mobile-friendly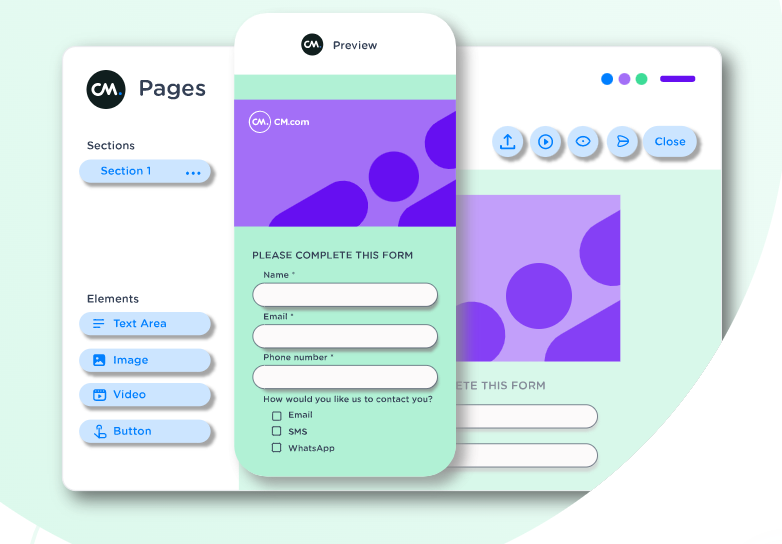 Many advertisements CTAs (call-to-action) lead customers back to their landing pages. Therefore, this is the foremost requirement that your landing page must be functional. If landing pages have one of the following issues, it will result in getting your ad being restricted or banned.
Expired or under construction
Incomplete content or information
Moreover, you need a mobile-friendly landing page. Customers shouldn't have to zoom in to see your text or use your buttons if they can browse your website on a mobile device in both horizontal and vertical orientations. Here are some suggestions for landing page optimization for mobile devices:
Decrease loading time
Put the CTA at the top of the landing page
Include easy navigation or instruction
Not too many images, photos, and videos
Note: It is allowed if the landing pages point consumers to the operating website and webpage of the product or service on TikTok or to Google Play or App Store to download apps.
Forbid to display prohibited products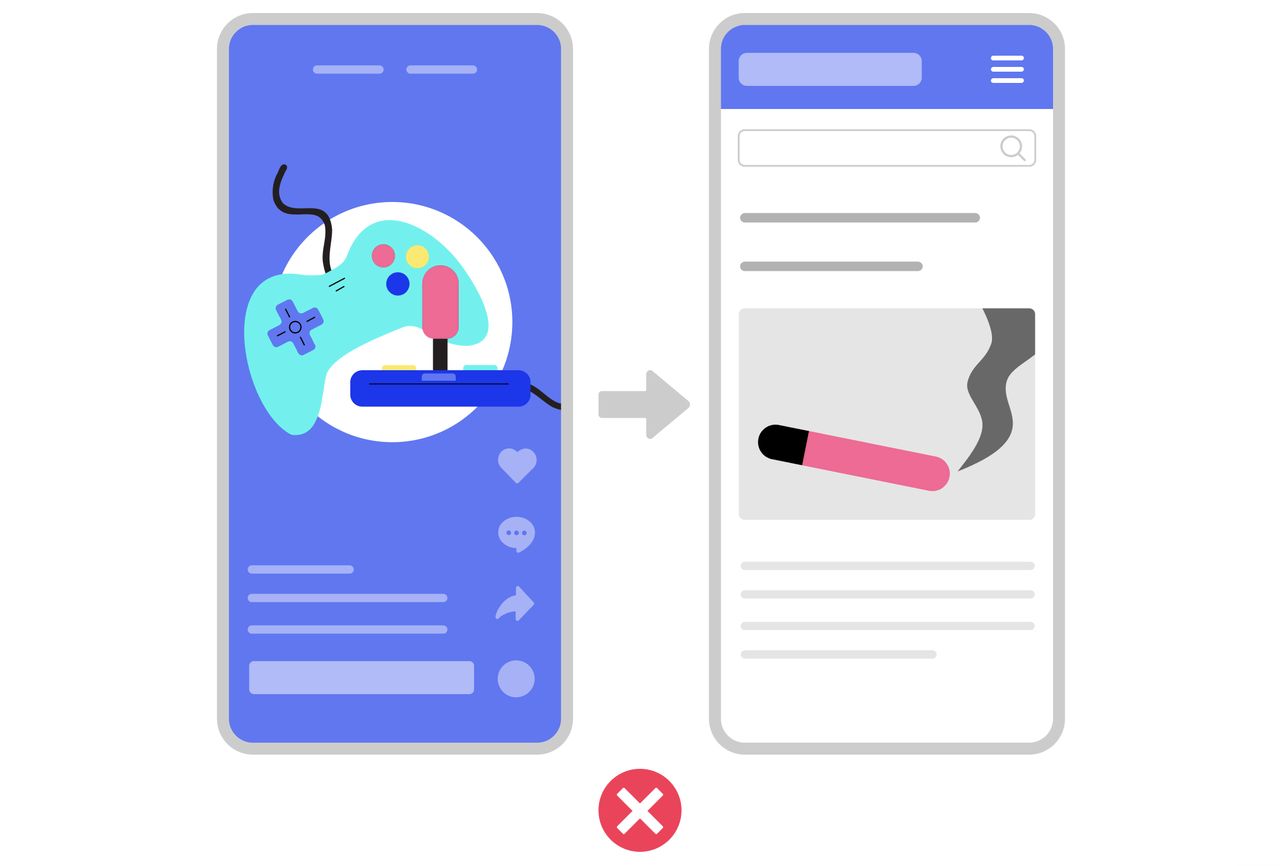 Even if you are not advertising for them, you can not display forbidden products on landing pages. For instance, an advertisement for allowed products, like electronic devices can not lead users back to landing pages displaying banned products, like cigarettes.
View TikTok Advertising Policies – Industry Entry for a complete list of items and services that are not permitted to be advertised on the platform.
Request sensitive information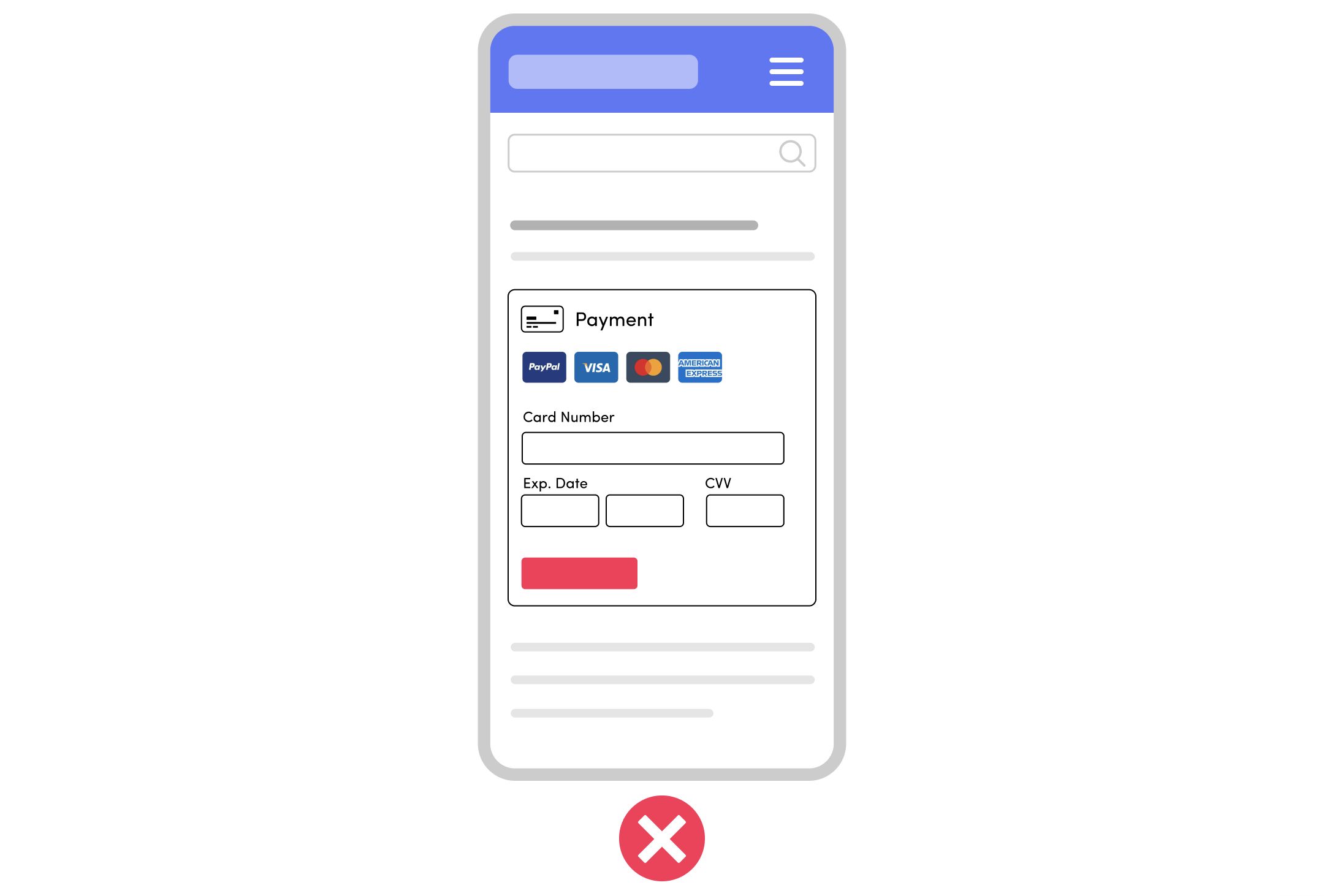 Your landing page cannot require visitors to submit sensitive information like:
Personal information: social security number, identification number, license number, network identification,…
Health, medical or biometric information: biometric data, medications, vital signs, treatment plans, diagnoses, blood types, DNA,…
Financial & insurance information: taxation numbers, banking account, net worth, credit or debit card information,…
Ad Review Checklist – Ad Display
Your advertisement display must follow these requirements to successfully pass the review stage:
Remove any symbols, misspellings, or gimmicky spelling from your display name, ad copy, and creative.
Avoid using copy or creative that instructs users to perform tasks that the app doesn't support, such as swiping up to download or showing a mouse cursor.
Make sure the media you're using has competent quality and complies with video and image requirements.
Ad Review Checklist – Ad Consistency
For a pleasant user and customer experience, consistency is essential. So, there are a few key notes that should be taken into account when designing ad creatives:
Products displayed in the advertisement must correspond to those on your landing page.
Ad Text must match with what is shown in the videos or images.
The branding on the landing page is consistent with the Display Name.
Note: This ad requirement is not applied to Spark Ads.
Ad Review Checklist – Ad Language
One of TikTok's goals is to give users a transparent experience with the app. Therefore, ensuring people understand what they see and hear in the ads is essential.
Each country/region selected in the Targeting > Location module of your ad group shares at least one permitted language.
In ALL the nations/regions that an ad group has targeted, the text/caption/spoken phrases/landing pages of the advertisement correspond to one permitted language.
Note: You should avoid including these language restrictions in your ad creatives:
Using an official country/region's language in place of language targeting.
Targeting numerous nations/regions with various permitted languages in a single ad group.
Using landing page subtitles or material that is incompatible with the accepted languages in the nation or region you are targeting.
While the TikTok Ad Review checklist may seem brief, its importance cannot be underestimated. It plays a crucial role in determining whether your ads will appear on TikTok. So, for more in-depth strategies on troubleshooting TikTok ad issues, download our free e-book: "Cracking all TikTok Ad Issues: Expert Strategies for Troubleshooting." Don't miss out on valuable insights – grab your copy now!
Common errors when reviewing TikTok Ads
To give users a better understanding of the TikTok ad review checklist, Mega Digital lists some most common reasons why ads fail TikTok review:
Misleading, overstated, and exaggerated claims about product performance.
Errors in ad text or caption.
Low-quality image, video, and audio.
Inconsistency in information between ads and landing pages.
Website that fails to work properly or include required information.
Appearance of third-party logos and sexual or shocking content.
Misleading, overstated, and exaggerated claims about product performance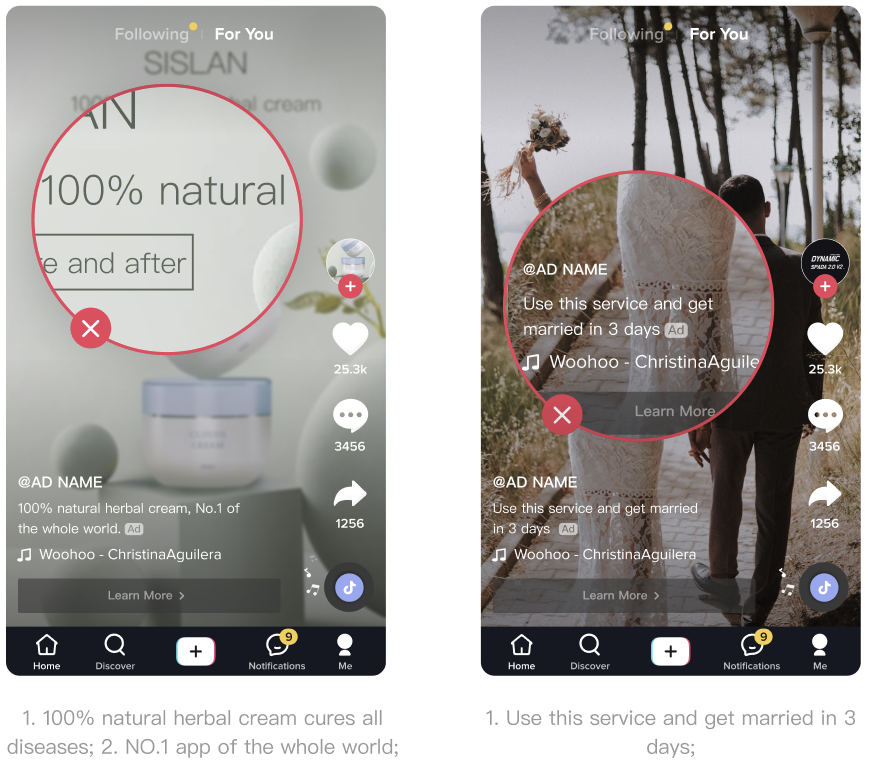 For example, ads include information like:
Use this product to get perfect skin in 2 days.
Top 1 TikTok recommended apps.
Lose 50 pounds in just 1 day.
Errors in ad text or caption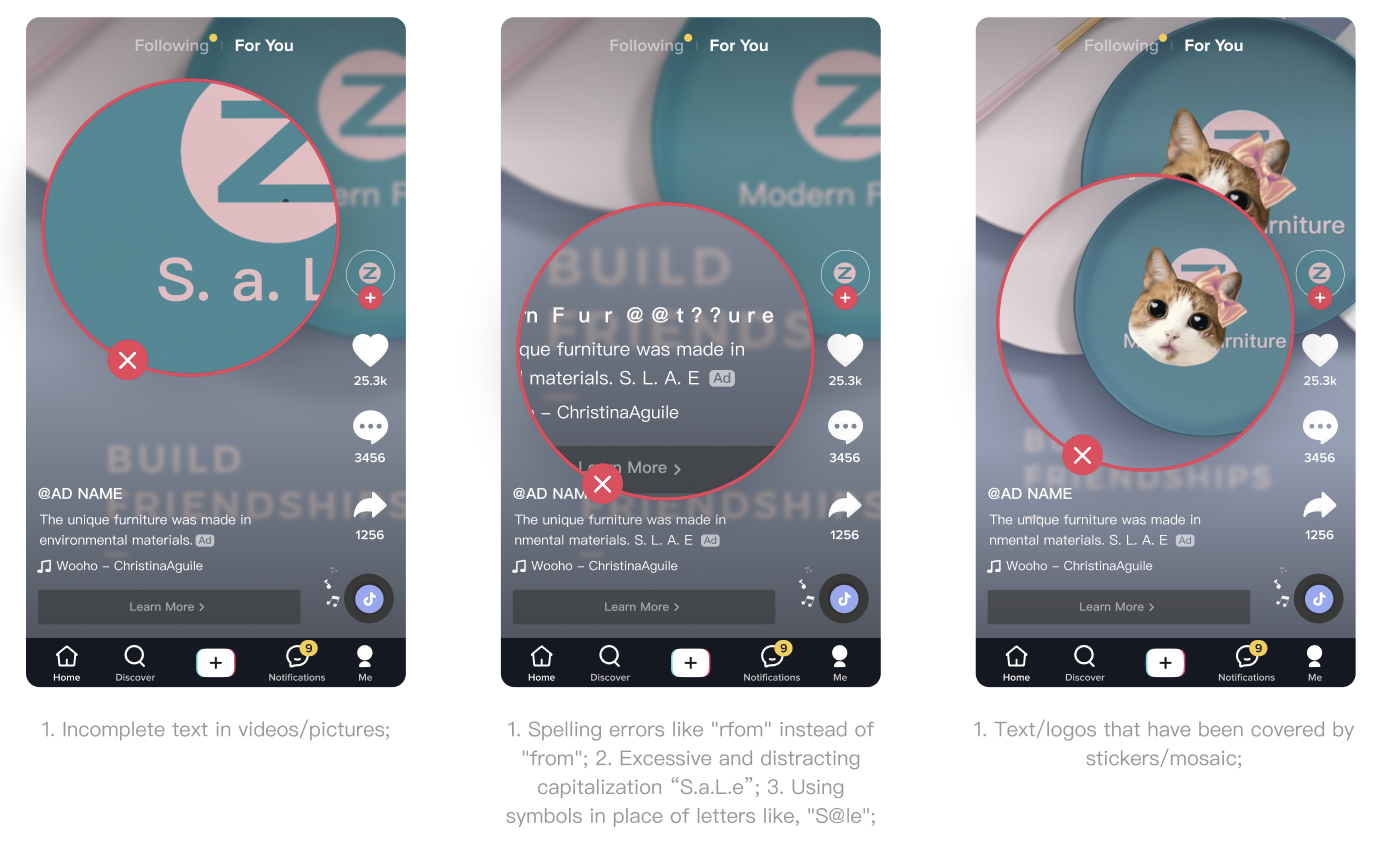 Your ads will be taken down if get issues like:
Contain incomplete text in video or image.
Contain spelling errors, excessive capitalization, or symbols in the caption.
Cover text and logos with stickers, symbols, or mosaics.
Low-quality images, videos, or audio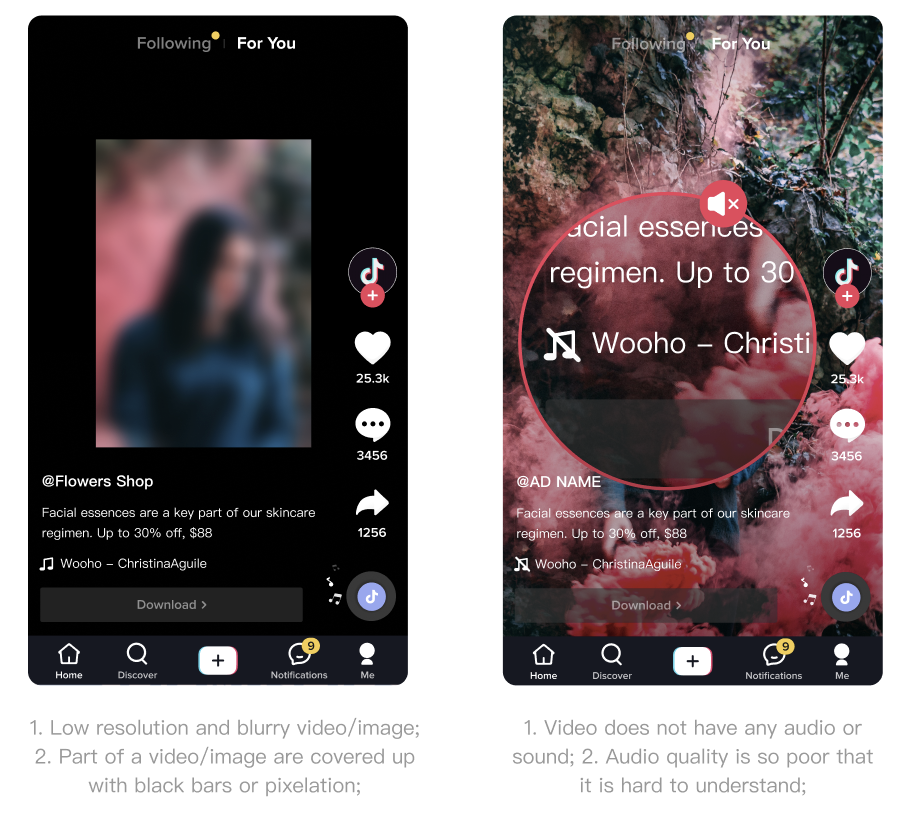 TikTok will suspend your advertisement if the ad contains:
Low resolution and unclear video/image/audio.
Black bars or pixelation covering part of the video/image.
No audio or sound in the video.
Discrepancy in information between the ad and promoted website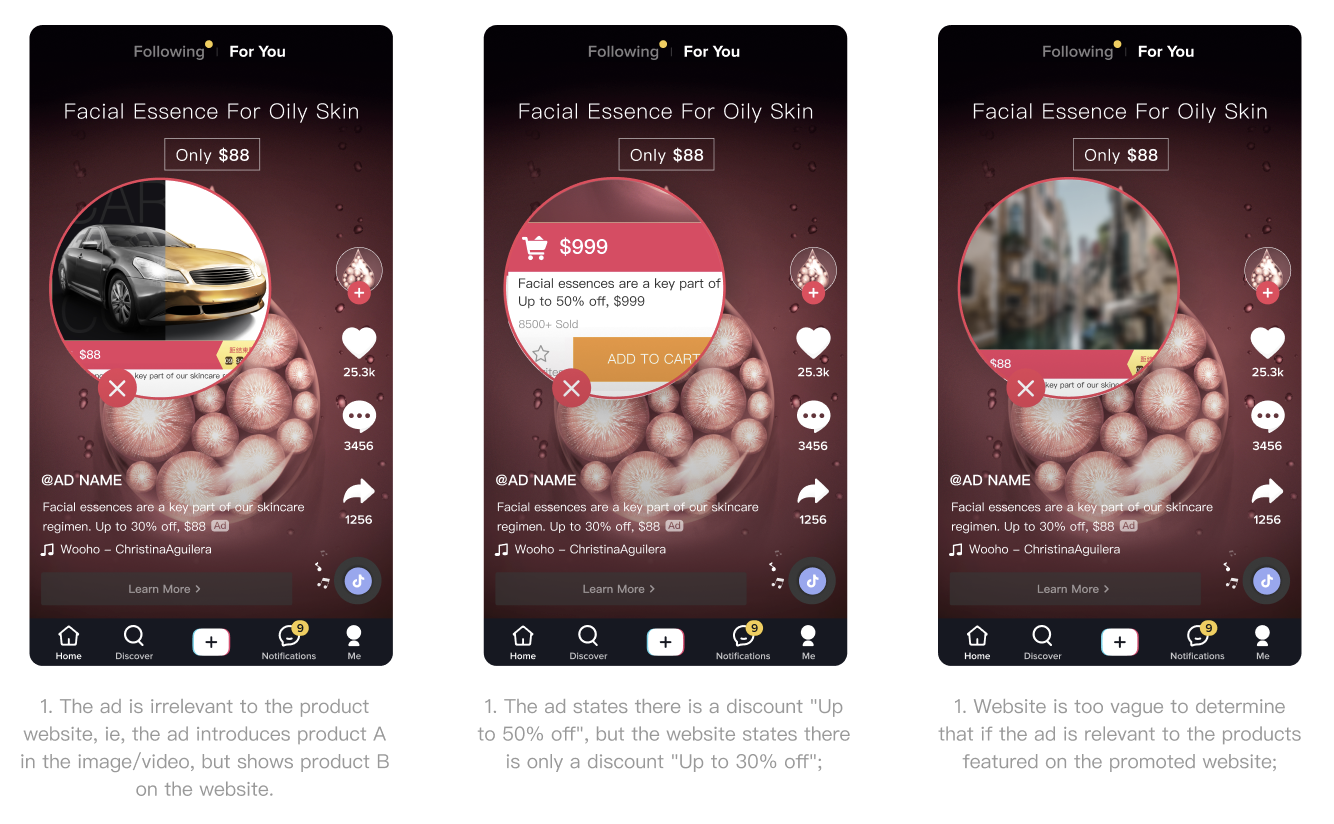 For instance, adverts with the following mismatches between the advertisement and the product website would not pass review:
The advertisement promotes product A in the image or video, yet displays product B on the product website.
The website only lists a discount of "Up to 30% off," despite the advertisement's claim of "Up to 50% off."
Vague website to evaluate the relevancy.
Website that fails to work properly or include required information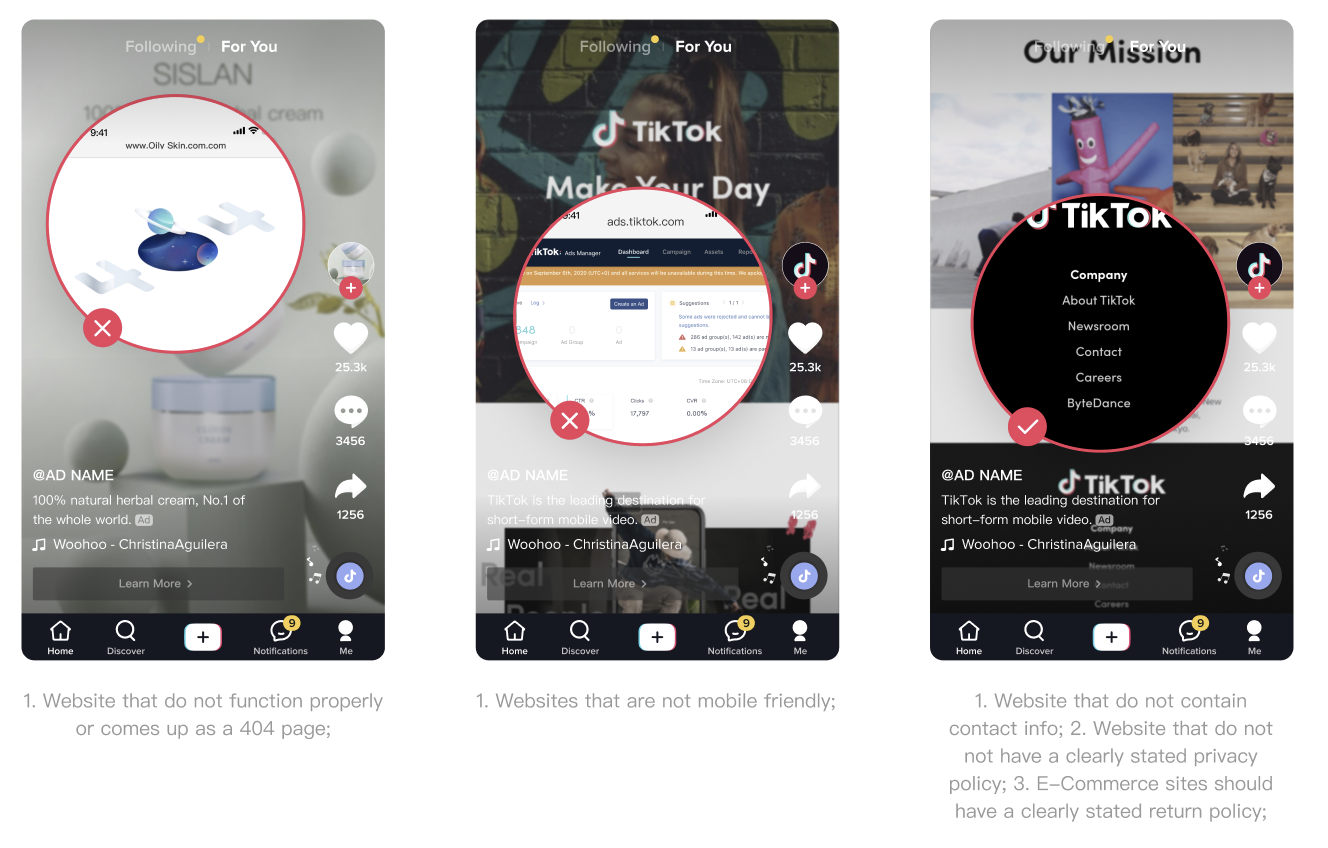 For example, ads that link to a website with the following problem would not be accepted:
Don't work correctly or display a 404 page
Aren't mobile-friendly
Without contact information
Without a privacy statement.
E-commerce websites without a clearly specified return or refund policy
Inclusion of third-party logos and sexual or shocking content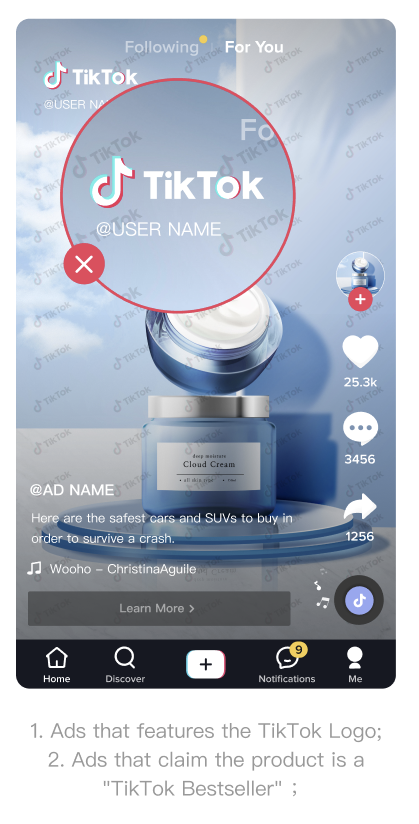 Ads with unauthorized logos and suggestive or gruesome images will not be accepted and banned immediately.
Final Word
Although the TikTok Ad Review checklist is only a small procedure, don't take it lightly since it can decide whether your ads can show up on TikTok or not. Therefore, bookmark this article and make sure you check each and every single ad creative before submitting. In the worst-case scenario, your ad account has already been disapproved, let's consult the following article to find solutions.