TikTok is a content-rich platform with a vast number of creators uploading new clips daily. Many creators have established a loyal following, and now with Creator Next, creators have the opportunity to monetize content and potentially turn the TikTok hobby into a significant source of income. So how to join TikTok Creator Next program? Details of eligibility, application, and registration are all in this blog. Check it out now!
What is Creator Next on TikTok?
Creator Next on TikTok launched in 2021, it is a program to help TikTok creators make money from their content and grow the community. It gives eligible creators access to cool features and tools that can help them earn money and become more popular on TikTok.
With Creator Next, creators can earn money through the TikTok Creator Fund, which pays them based on the impressions they get on each video. They can also team up with brands and get paid for making sponsored content.
The program also gives creators helpful info about their audience and how to improve their content to make even more money.
If you're a TikTok creator and want to turn your passion into a money-making opportunity, Creator Next is the way to go! Join the program, and you'll have a chance to grow your TikTok presence and make some extra cash. It's a win-win!
The Creator Fund
The Creator Fund, established by TikTok, compensates creators based on their metrics like video views and engagement, helping them turn their passion into a viable career. It enables creators to earn livelihoods and advance their careers through financial support for their content.
The Creator Next program further empowers creators by providing access to the Creator Fund and other monetization features, fostering a thriving ecosystem for content creators to grow and earn on TikTok. This initiative allows creators to focus on producing high-quality content while earning a sustainable income, nurturing their communities, and expanding their careers on the platform. TikTok remains committed to rewarding and supporting the talented individuals who contribute to the TikTok community.
The Creator Marketplace
The Creator Marketplace is a vital component of TikTok's Creator Next program, aiming to facilitate seamless collaborations between brands and content creators. This platform serves as an official hub where brands can easily identify and connect with creators who align with their marketing objectives. Here's how it works:
Brand Discovery: Brands can explore diverse creators and review past content with engagement levels.
Campaign Collaboration: Partnerships for paid and reward-based campaigns to promote products or services.
Aligning Objectives: Clear communication of campaign goals and creative ideas from both brands and creators.
Measuring Performance: Brands monitor metrics to gauge campaign effectiveness and make data-driven decisions.
The Creator Marketplace, part of the Creator Next program, connects brands with TikTok creators for paid and reward-based campaigns. Creators can showcase their skills, while brands gain access to influential content creators to promote their products effectively. It's a win-win collaboration!
LIVE Gifts
TikTok provides creators with Diamonds as a reward for the popularity of their LIVE videos through the LIVE Gifts feature. The number of LIVE Gifts received is a crucial factor in determining a video's popularity. Creators can convert these Diamonds into money and transfer the funds to their linked accounts.
Video Gifts
TikTok's Video Gifts feature operates similarly to LIVE Gifts, allowing creators to accumulate Diamonds based on the popularity of their short videos. However, unlike LIVE Gifts, Video Gifts are specifically applicable to non-LIVE content.
Tips: This feature allows viewers to directly support their favorite creators financially. Viewers have the option to send tips of $5, $10, $15, or any custom amount.
The integration of these tools and features within the Creator Next platform streamlines the process for social media content creators to make additional income on TikTok. Additionally, for brands, Creator Next provides a more direct pathway to collaborate with creators who align well with their communities.
What brands can get from TikTok Creator Next?
TikTok Creator Next is a program designed to simplify brand-creator collaborations on TikTok. As the program expands, brands of all sizes can partner with a diverse group of creators more easily.
Brands face a challenge in finding creators that match their values and reach their target audience effectively. Creator Next solves this by providing a user-friendly platform connecting brands with qualified and inspiring creators. This ensures authentic and relatable campaigns with influencers representing the brand.
Moreover, the Creator Marketplace streamlines brand-creator partnerships, acting as a bridge for communication and simplifying the selection process.
By leveraging TikTok Creator Next and the Creator Marketplace, brands can harness the creativity of influencers and content creators to craft engaging campaigns that resonate with their audience. Such collaborations allow brands to tap into the extensive reach and influence of creators, leading to heightened brand awareness and engagement.
Overall, TikTok Creator Next serves as a valuable tool for brands to enhance their presence on TikTok and establish genuine connections with their audience. With the program's continuous growth, brands can forge meaningful partnerships with creators, bolstering their marketing efforts and fostering stronger connections with customers.
What creators can get from TikTok Creator Next?
TikTok Creator Next offers various benefits and opportunities for creators on the platform. Some of the key advantages that creators can get from TikTok Creator Next include:
Monetization: TikTok Creator Next provides creators with access to monetization features and tools. This enables them to earn money from their content through various avenues, such as brand partnerships, sponsored content, and participation in TikTok's Creator Fund.
Collaborations with brands: The program facilitates collaborations between creators and brands. Creators can connect with different brands and explore potential partnerships that align with their content and values. This opens up new opportunities for sponsored campaigns and promotional activities.
Visibility and exposure: By being part of TikTok Creator Next, creators can increase their visibility and exposure on the platform. The program recognizes and promotes talented creators, which can lead to more followers, increased engagement, and a larger audience.
Access to resources: TikTok Creator Next provides creators with access to valuable resources, including educational materials, workshops, and insights. These resources can help creators improve their content creation skills, understand audience preferences, and optimize their performance on TikTok.
Community support: Creators in the TikTok Creator Next program become part of a supportive community of like-minded individuals. They can connect with other creators, share experiences, and learn from each other, fostering a sense of belonging and collaboration.
Overall, TikTok Creator Next empowers creators by offering them the tools, opportunities, and resources they need to thrive on the platform, grow their audience, and build a successful presence on TikTok.
TikTok Creator Next requirements
For brands
TikTok Creator Next is an exclusive program that offers a range of benefits for brands looking to collaborate with creators on the platform. To participate in TikTok Creator Next, brands must meet certain eligibility criteria. Here are some key points to consider:
Verified Business Account: Brands need to have a verified business account on TikTok.
Compliant with TikTok Policies: Brands must adhere to TikTok's community guidelines and advertising policies.
Engaged in Content Creation: Brands should be actively creating and sharing content on TikTok.
Relevant to Creator Partnerships: Brands should have a focus that aligns with potential creator partnerships.
With TikTok Creator Next, brands can access monetization features, collaborate with diverse creators, gain visibility, access valuable resources, and receive brand safety measures. It's a valuable program for brands seeking engaging content and authentic partnerships on TikTok.
>>> Learn More: 12 Best Brands on TikTok
For creators
To be eligible for participation in TikTok Creator Next, creators need to fulfill certain criteria. They must be:
From 18 years or older
Meet specific follower requirements (which vary by region)
Have at least 1,000 video views in the last 30 days
Post a minimum of three times within the same period
Additionally, their account must comply with the Community Guidelines and be based in the US, UK, Germany, France, Italy, or Spain (with Canada and Australia gaining access soon). Business Accounts are not eligible for participation.
Embracing what makes TikTok unique and engaging with the For You feed regularly will allow creators to be warmly welcomed by the TikTok community. By exploring trending sounds and trends, they can gain insights into the platform's dynamics. More, creators are encouraged to share their learning experiences from the #creatorportal by tagging TikTok.
How to Join TikTok Creator Next?
After meeting eligibility requirements, go to the Creator Next page on the TikTok website or use the TikTok app (TikTok may also promote the program within the app, and you can click on the link to register) and do these steps:
Step 1: Provide Information: Fill in the required information, such as your username, contact details, and any other details requested by TikTok.
Step 2: Await Approval: After submitting your information, TikTok will review your registration. If you meet the eligibility criteria, you will receive a confirmation that you have been accepted into the program.
Step 3: Explore Money-Making Features: As a member of TikTok Creator Next, you will gain access to various money-making features and tools, including the Creator Fund, Creator Marketplace, Video Gifts, LIVE Gifts, and Tips.
It's essential to follow TikTok's guidelines and community standards to maintain eligibility and continue benefiting from the program's features. Keep in mind that Creator Next may not be available in all regions, so check TikTok's announcements and updates to stay informed about the program's availability.
Creator next vs Creator fund: What is the difference?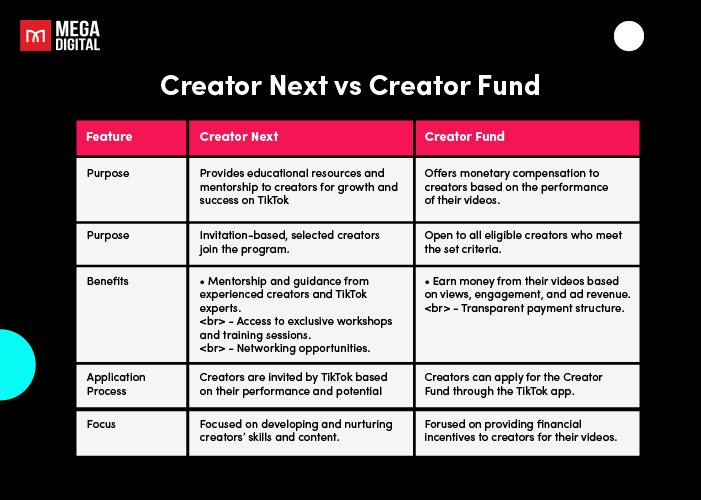 Some content creators found themselves perplexed upon introducing TikTok's Creator Next program. They were already utilizing the Creator Fund to generate income from their TikTok videos, so why should they enroll in an additional program?
Creator Next is like a hub where all the TikTok money-making tools are together and the Creator Fund is a feature of it. Creators can utilize the Creator Fund, brand deals, and viewer gifts to earn money on TikTok. By joining Creator Next, creators gain access to materials that support viral content and increase their earnings through the Creator Fund. It simplifies the management of these tools, making it easier for creators to monetize their content effectively.
Final word
Level up your creator partnerships and harness the power of the creator economy! Discover the endless possibilities of creator partnerships and embrace the power of TikTok Creator Next to unlock new heights in content creation. As the creator economy continues to flourish, brands can tap into this growing network of talented individuals to elevate their outreach, develop impactful content strategies, and foster successful collaborations. Stay ahead of the curve and explore the world of creators with TikTok Creator Next!
>>>> Read more: How to make money on TikTok: 7 ways to monetize your channels