TikTok LIVE Gifts is a convenient feature that lets viewers express appreciation for your live stream. It's a popular way for emerging TikTokers to earn money, contributing to the income of successful TikTok creators. Discover the value of TikTok gift points, and learn how to purchase or redeem them. This article will fill in the entire information!
What are TikTok LIVE Gifts?
TikTok LIVE Gifts are virtual gifts that users can send to their favorite creators during live streams. These gifts, in the form of animated stickers or virtual items, allow fans to show real-time appreciation and support to creators. It's a way for viewers to interact and engage while also contributing to the creator's earnings on the platform.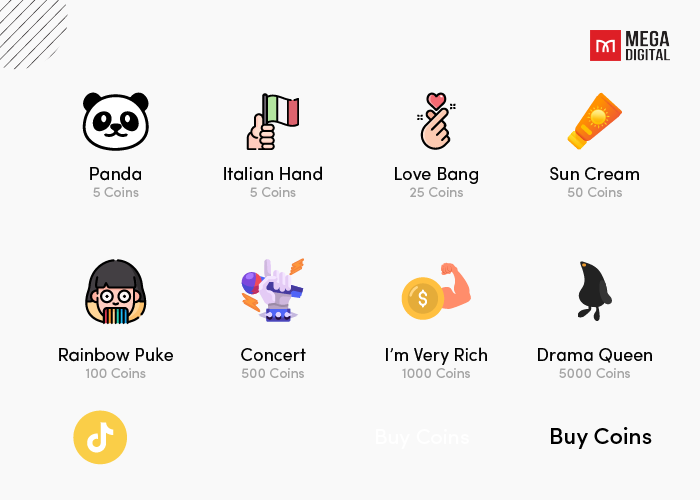 How to Send TikTok LIVE Gifts
Viewers can purchase TikTok Coins and use them to send virtual gifts during a live stream. The gifts have different values in TikTok Coins, which viewers buy to send to their favorite creators.
Additionally, TikTok offers Diamonds that can be converted into money. Viewers can send virtual gifts to their favorite creators during live streams using TikTok Coins, and creators can later exchange these Diamonds for monetary compensation.
Updates to TikTok LIVE Gifts Policies
In June 2022, TikTok introduced new Coins and Rewards policies. This is only for European regions which focus on: 
Purchase or use Coins
Collect Rewards
For users outside these regions, the older Virtual Items Policy, similar to India's version, remains in effect and covers similar topics as the new policies.
How does TikTok LIVE Gifts work?
First, you need to set up LIVE Gifts on TikTok. This requires being at least 18 years old (in most regions). Next, follow these steps:
Step 1: Tap Profile at the bottom right of your screen.
Step 2: Tap the 3-line (hamburger) icon in the top right for Settings.
Step 3: Go to Creator Tools, tap LIVE Gifts, and follow the instructions.
Remember: To also enable receiving Gifts on your other videos by following the same steps and selecting Turn on Video Gifts in Step 3.
Once LIVE Gifting is activated, you'll see gifts popping up during your live video as viewers appreciate your content. After the stream, check your TikTok LIVE summary for the total number of gifts received. To qualify for Diamonds, ensure you meet these criteria:
Part of the Creator Next program.
LIVE Gifts are available in your location.
At least 18 years old (exceptions in South Korea – 19, Japan – 20).
Account active for 30+ days with 1,000+ followers.
Comply with TikTok's Guidelines and Terms.
Not streaming on a TikTok Business Account.
Finally, earn your money! Exchanging Diamonds for cash is not allowed, as per TikTok's policy. Users cannot buy, transfer, or sell Diamonds to others. However, creators can withdraw Diamonds by linking a PayPal account, with the rate determined by TikTok based on various factors, including the number of Diamonds.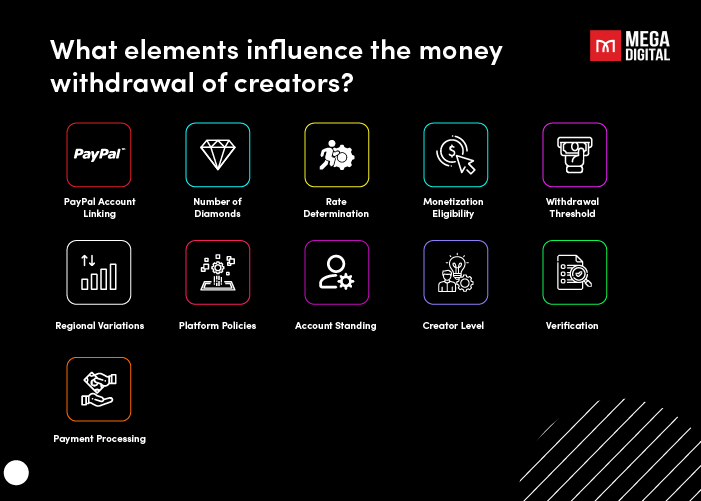 How much are gifts on TikTok worth?
Estimating the worth of TikTok gifts can be difficult due to multiple conversions involved. One coin is approximately $0.01, making a 1,000-coin gift worth around $10. Smaller gifts can cost as low as five coins, about $0.05.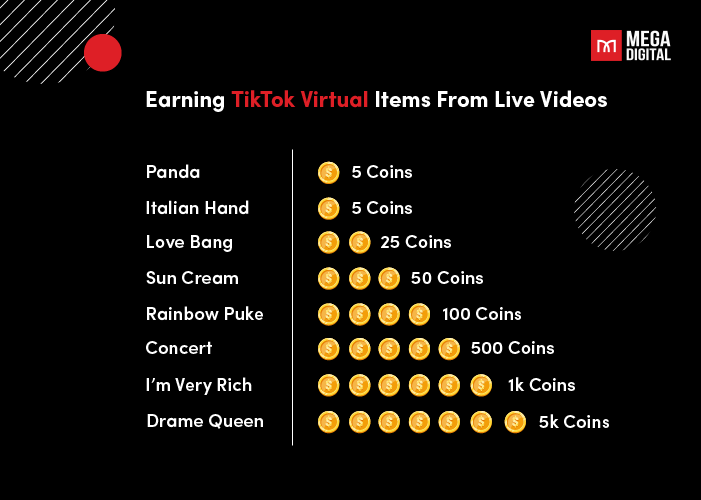 When gifts convert into Diamonds, their value fluctuates, but influencers assume one Diamond equals 2 coins. So, a 5,000-coin gift becomes 2,500 coins worth $25 to the receiver. For a clear mutation metric, refer to the following:
1 coin = $0.01
2 coins yield 1 Diamond
200 Diamonds = $1
However, after TikTok's 50% commission, they can only withdraw $12.5 from a $50 donation.
Note: Currently, TikTok mandates a minimum withdrawal amount of $100 and restricts users from withdrawing more than $1,000 per day.
5 ideas for TikTok LIVE Gifts
As an expert in maximizing TikTok LIVE Gifts and earning money on the platform, here are five powerful strategies to enhance your audience engagement and boost your earnings:
Curate Exclusive Premium Content
Before going live, invest time in crafting exclusive content to reward viewers who send gifts. Showcase these premium packages using the Gift icon, and communicate how gifts unlock these special treats. Engage with gift senders personally, expressing gratitude for their support.
Personalize Shoutouts and Greetings
Strengthen your bond with your audience by dedicating time during the live stream to give personalized shoutouts and greetings to gift senders. Encourage viewers to share their names or usernames when sending gifts for easy identification. The sense of appreciation and connection will leave a lasting impression.
Implement Special Giveaways and Prizes
Increase excitement and participation by offering enticing giveaways and prizes to gift senders. Before the live stream, plan the giveaways and outline participation rules clearly. Utilize a random selection method to announce winners live on the stream, motivating viewers to continue gifting for more chances to win.
Engage with Interactive Trends and Challenges
Heighten viewer involvement through interactive challenges and games during the live stream. Reward gift senders with exclusive opportunities and recognize their achievements on the stream. Encourage participants to share their experiences, promoting your content further.
>> Read more: Catch up with new trends: What are TikTok trends 2023?
Offer VIP Access and Behind-the-Scenes Tours
Foster a sense of exclusivity by promoting VIP access and behind-the-scenes tours during your regular TikTok content. Announce specific dates and times for exclusive live sessions in advance, generating excitement and anticipation. During the live stream, provide privileged experiences, answer questions, and make your VIP audience feel valued and connected.
By consistently implementing these expert strategies, you'll forge a strong relationship with your audience, entice more TikTok LIVE Gifts, and position yourself for sustained success on the platform. Remember, giving unique and valuable experiences to your supporters will help you increase the likelihood of receiving TikTok LIVE Gifts and earning money on the platform.
>> Read more: All about TikTok Live Stream Shopping that you need to know
All Frequently Asked Questions about TikTok Live Gifts
Why can't I send gifts on TikTok?
TikTok has an age restriction on sending gifts to protect younger users from scams. If you're too young to send gifts, you can support creators by sharing their content.
Do TikTok creators make money?
Yes, but there are withdrawal limitations. Famous creators can earn well, but it requires consistent effort and engagement.
>>> Read more: How to make money on TikTok: 7 ways to monetize your channels
When can I send gifts on TikTok?
You can send gifts during a creator's live videos, not on uploaded posts. Going live more often can help you earn digital awards.
Can I get a gift refund?
No, TikTok's policy states all sales are final, and gifts cannot be refunded. Be sure to double-check before sending a gift.
How to buy TikTok LIVE Gifts?
It's easy. First, you need to buy coins, the app's virtual currency. Here's how to buy coins:

Open TikTok on your device.
Go to Settings, tap on Balance.
Choose Recharge and select the coin bundle you want.
Then, tap the gift icon in a video's comment section or during a live video, then select Recharge and your desired package.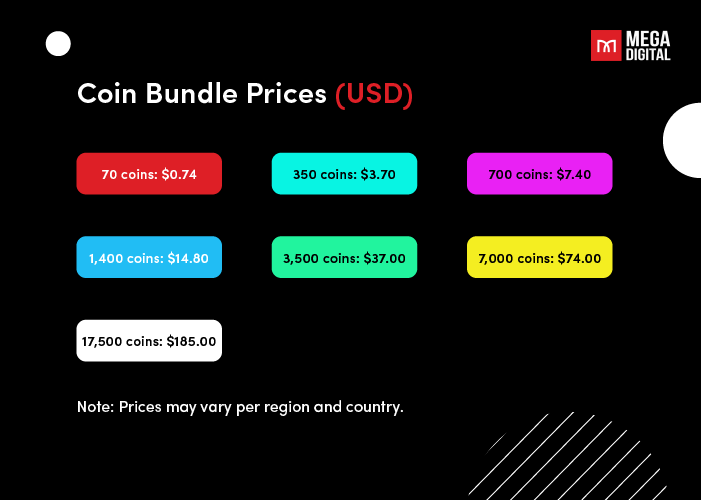 In addition to the fixed prices, TikTok allows custom purchases within the app. If you want to buy more than 17,500 coins, you can choose a custom amount, up to a maximum of 2,500,000 coins, currently priced at $26,500.
Note: Coins and reward points cannot be refunded or converted to real-world currency. Only diamonds can be converted to cash.
Final word
The TikTok LIVE gifts program might seem complex, but now you understand better. Just remember, coins and gifts are non-refundable, so use them wisely. Best of luck in earning diamonds and becoming an internet sensation if you decide to pursue it. Stay creative and enjoy the process—it's challenging to captivate audiences, so have fun with it!
Learn More: TikTok Creator Marketplace: Gateway for both brands and creators