These days, live events on TikTok are increasingly popular with creators and businesses. This is a great tool to help businesses achieve their communication goals as well as increase sales efficiency. Let's dig into the topic: What is TikTok Live Stream Shopping? And how to create an effective TikTok live shopping event?
What is TikTok Live Stream Shopping?
TikTok live shopping is an e-commerce experience that allows brands to display their products in real-time via streaming events. TikTok users can purchase items without leaving the app while participating in these events. This enables brands and customers to interact and engage with one another while also speeding up the purchasing process.
TikTok's live stream shopping function is similar to Facebook's and Amazon's Live. At the merchant's e-commerce store, you can use the pin feature to make the product stand out in the user's interface. After that, viewers can tap that pin to add the item to their cart and check out directly within the app.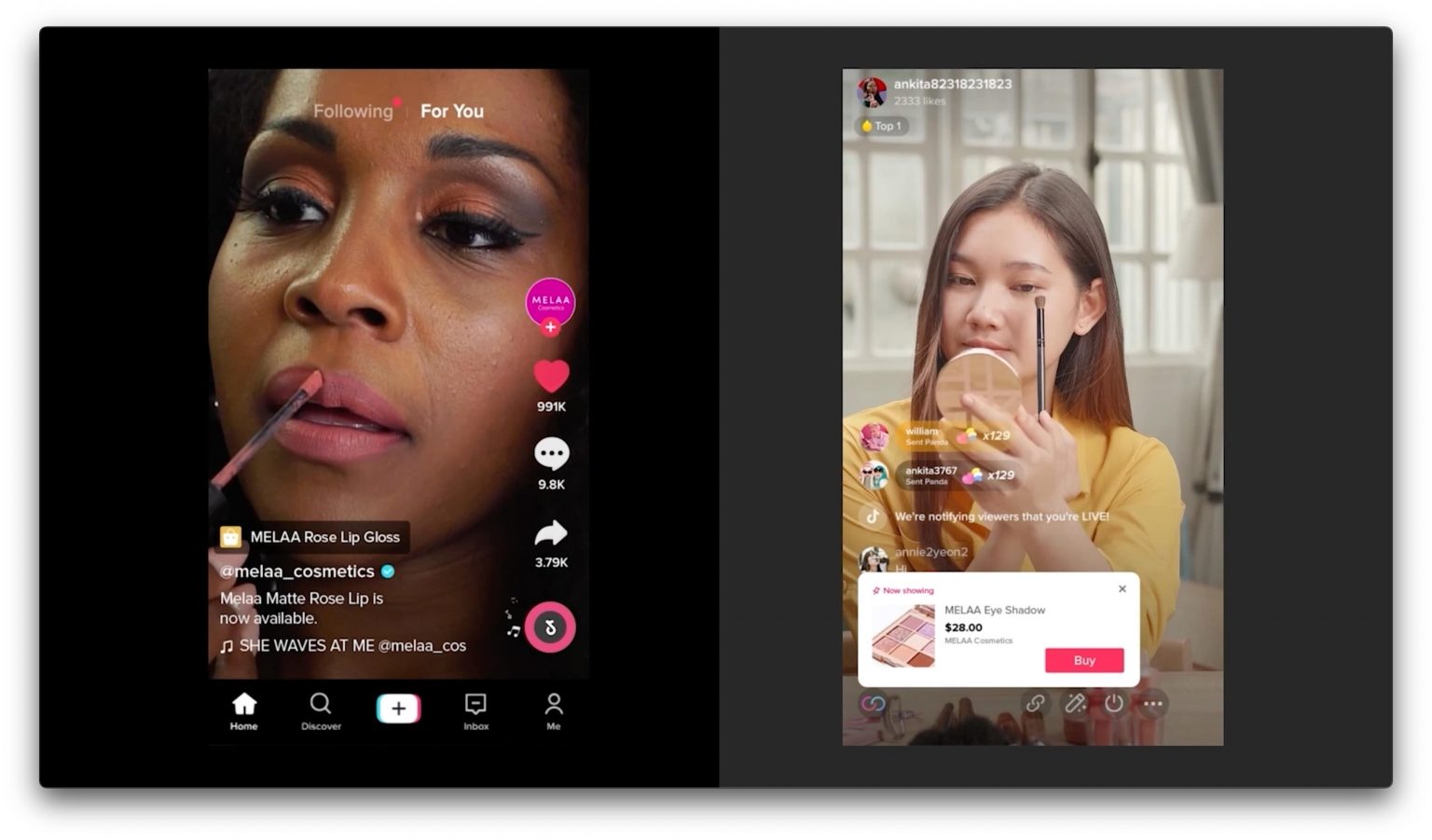 Audiences can also wait until the end of the live stream before browsing through all the featured items in the broadcast. Then, they can simply tap the shopping cart icon and select the items that they want to purchase.
Why should you do a TikTok Live Shopping Event?
Reach to larger audiences
Businesses not only sell more items but also earn greater brand awareness by utilizing TikTok's live shopping function. TikTok, after all, is today's fastest-growing video-sharing and social networking platform. It has already surpassed 1 billion users in the five years since its establishment. TikTok users also spend an average of 858 minutes every month using the app.
Increase views and followers
Walmart's live shopping event on TikTok in 2021 had seven times the number of viewers expected which also increase their TikTok following by 25%. Even tiny firms acknowledge that TikTok has substantially aided their growth. Lauren Davis, a hemp farm video creator, has acquired over 850,000 followers since live streaming on the app in 2020.
Stir up this eCommerce platform
Every day, dozens of TikTok accounts go live, from large corporations to small enterprises. They can sell almost anything on the app, such as cuddly animals and keychains, as well as makeup and phone cases. The famous hashtag #TikTokMadeMeBuyIt solidified the platform's impact on e-commerce last year.
Connect real-time with the audience
Brands may engage and establish relationships with their followers by interacting with them in real-time. They can share dynamic links to items and services during a broadcast, while also demonstrating how to use or apply a product, improving their trustworthiness and sales chances.
Increase purchasing probability
TikTok's user base consists of more than half of Gen Z and millennials. According to research conducted by Influencer Marketing Factory, 40% of this make purchased at least one item or service while watching a social media live stream. With a current purchasing power of $360 billion, Generation Z is a potential market to tap.
>>> Read more: How to sell on TikTok: 6 easy steps for beginners
What are the requirements for Livestreaming on TikTok?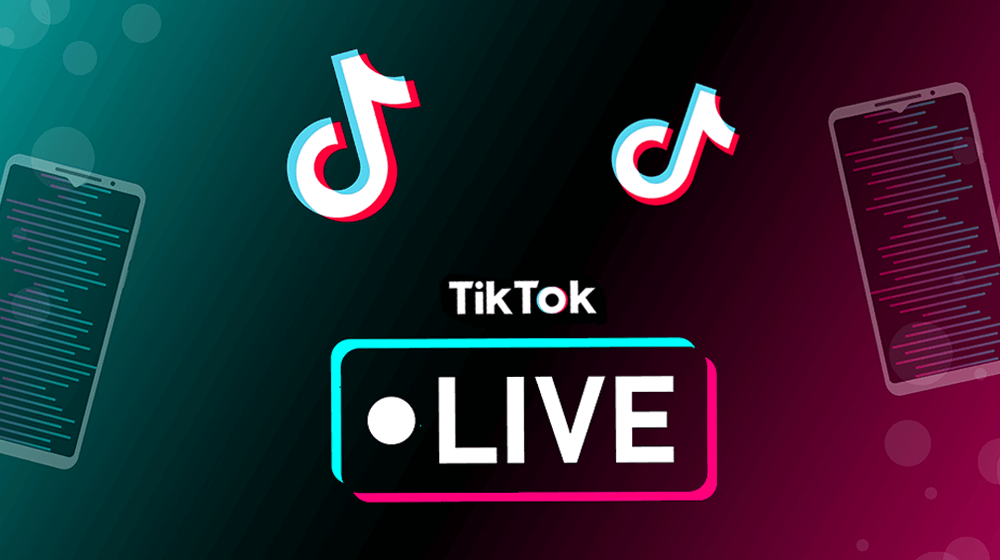 To go live on TikTok, you must meet three below crucial requirements:
You must be at least 16 years old to participate.
On TikTok, your account must have more than 1,000 followers.
You must also follow TikTok's community guidelines as a content creator. This includes maintaining your live stream friendly, respectful, safe, and welcoming to all viewers.
What are the features of TikTok Live Stream Shopping?
There are a lot of tools available to assist your live shopping content as interesting as possible. Here are 5 main features that you should not miss out:
Co-host invitation
You can invite someone else to co-host your live stream. This is a fantastic approach for your live stream to get traction and reach a larger audience. To work together with a co-host, pay attention to 5 below notes:
Make sure you're both following each other on the app.
You and your co-host should both be on the air at the same time.
On the left side of your screen, tap the infinity symbol. This prompts you to invite someone to your live stream.
Enter your co-name, host's then click Invite.
When your co-host accepts the invitation, you will appear on the screen side by side. However, remember that you will only be able to read the comments on your own screen, not on each other.
Adding Moderator
You can invite moderators to your live stream to help keep the dialogue on track or to present opposing viewpoints. Moderators can also help you manage comments from viewers. This way, they can help to reduce cyberbullying and abuse from spectators, which can occur in any broadcast.
Follow 6 steps to appoint a moderator:
Step 1: Make sure you're both following each other on TikTok.
Step 2: Select the Settings icon on the right side of the screen.
Step 3: To add a person, tap Moderators and then the plus icon.
Step 4: Enter your moderator's name in the search box, then click Add.
Effects and filters
TikTok LIVE, like normal TikTok videos, allows you to utilize filters and camera effects. For instance, you can expand your eyes or smooth your skin. You can even change the form of your face. A green screen background can also be used to assist you to set the mood for your broadcast.
Guest invitation
A guest differs between a co-host and a moderator in that they appear on your Livestream rather than on their own. However, your guests must also meet specific criteria, such as having 1,000 followers. Guests must request to go live with you, and after you approve the request, the guest will appear as a thumbnail on your screen.
Question and Answer (Q&A)
Enabling Q&A will help you rapidly find queries in the comments section of your webcast. These questions will appear in a different panel in your stream chats, making them easier to spot and respond to. To turn on your Q&A function, you need to:
Step 1: Navigate to the Settings and Privacy page.
Step 2: Choose Creator, then Q&A.
Step 3: Turn on Q&A to activate the functionality.
How to create a Live Stream on TikTok
After understanding the requirements for TikTok Live Stream Shopping, it's time to Go live on TikTok with 5 easy steps following: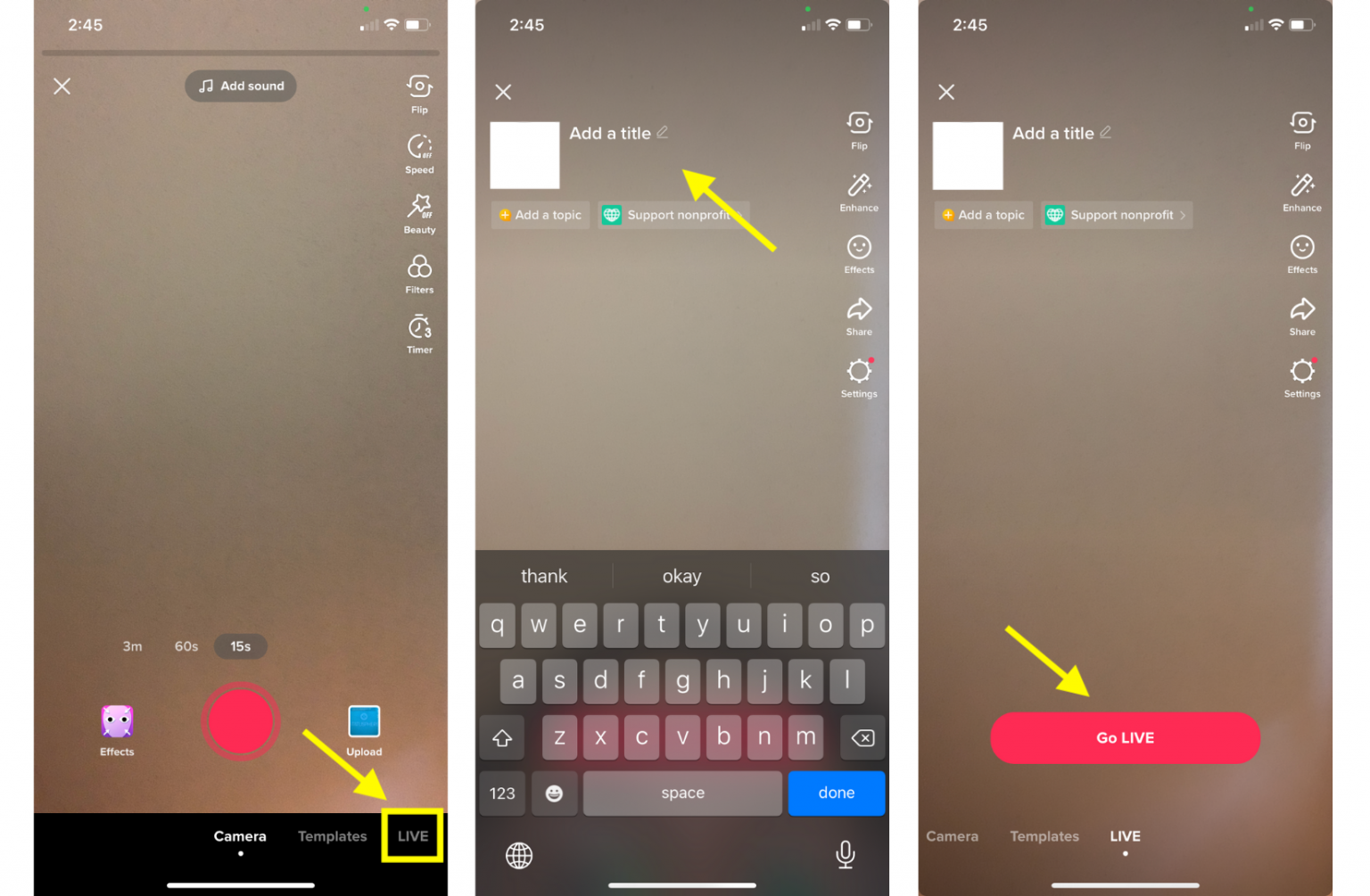 Step 1: Access the TikTok application.
Step 2: Tap the plus sign icon (+) in the bottom-center of your screen, it is similar to creating a normal video.
Step 3: LIVE can be found by swiping the menu bar at the bottom of the screen. Please keep in mind that if you haven't met the requirements for live streaming, this function will not be available to you.
Step 4: Enter the title of your Livestream. You just have 32 characters to make people's interest, so be inventive.
Step 5: Choose Go Live.
How to Schedule a Live Stream Event on TikTok
Scheduling a live event beforehand will give you more time to promote and prepare for it.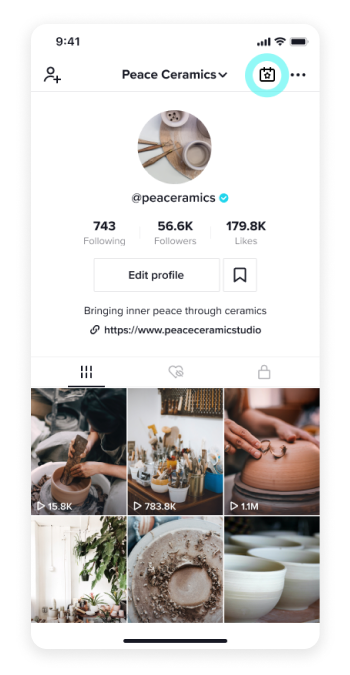 Step 1: Access the TikTok application.
Step 2: Tap the calendar icon in the top-right corner.
Step 3: Click Create an event on the schedule page.
Step 4: Enter your live stream's Event Name, Start Time, and Description. Remember that your Event Name can only be 32 characters long, but your Description can be up to 200 characters long. TikTok will not accept your live event unless you arrange it at least two hours in advance.
Step 5: TikTok will assess your event after you have made it. You just need to wait for the app to be approved. This could take anywhere from a few seconds to an hour. Your approved event will be automatically listed on your profile.
4 popular ideas for TikTok Live Stream Shopping
The following step is to plan the presentation of your live shopping event. Here are a few recommendations.
Tutorials or demonstrations
How-to videos may both educate and inspire your audience. You may also develop an authentic connection with audiences by providing comments and guidance. This was the case with the makeup company – Too Faced. It had 72,500 unique tune-ins and 68,400 engagements for its first TikTok live shopping show, which featured beauty demonstrations.
Behind-the-scenes
People enjoy peering behind the drapes. Giving a behind-the-scenes tour of your firm helps you to highlight its culture. You might even accompany your viewers to photoshoots or manufacturing processes to show them the effort you put into your product. The best aspect is that your live stream does not have to be of studio quality. Instead, recording directly from your phone is a more approachable method.
Variety program
Carrying out an event that brings together multiple businesses in a single live stream can generate a lot of attention. When Walmart piloted TikTok's live stream platform, it adopted this approach. The live shopping event combined a marketplace, video streaming center, and concert venue under one roof was so successful, which made this retail business launch a second one.
Launching Product
When promoting a new product, special collections, or giveaways, brands can use TikTok live stream shopping. When NTWRK introduced a limited-edition garment line on TikTok's live shopping channel, they were able to deliver an interactive direct-to-customer experience with designer Joshua Vides.
Example of a product introduction video by NTWRK
Final word
We hope that this article has covered all you need for the TikTok Live Stream Shopping feature. If you have any problems creating a live session on TikTok, don't hesitate to connect with us. As a TikTok Agency, all your issues will be solved by us – Mega Digital.