As the online world keeps changing, it's the right time to team up with a top-notch Google Ads agencies in Delhi. Benefit from their skilled plans, understanding of the local area, and worldwide influence. Grab the opportunity to push your business to greater achievements with a reliable agency beside you. Meet the top 10!
Top 10 Google Ads Agencies in Delhi
At the moment, there are numerous available Google Ads agencies in Delhi. They can aid in creating advertisements, selecting the appropriate audience, improving ads, and providing you with reports.
#1. Mega Digital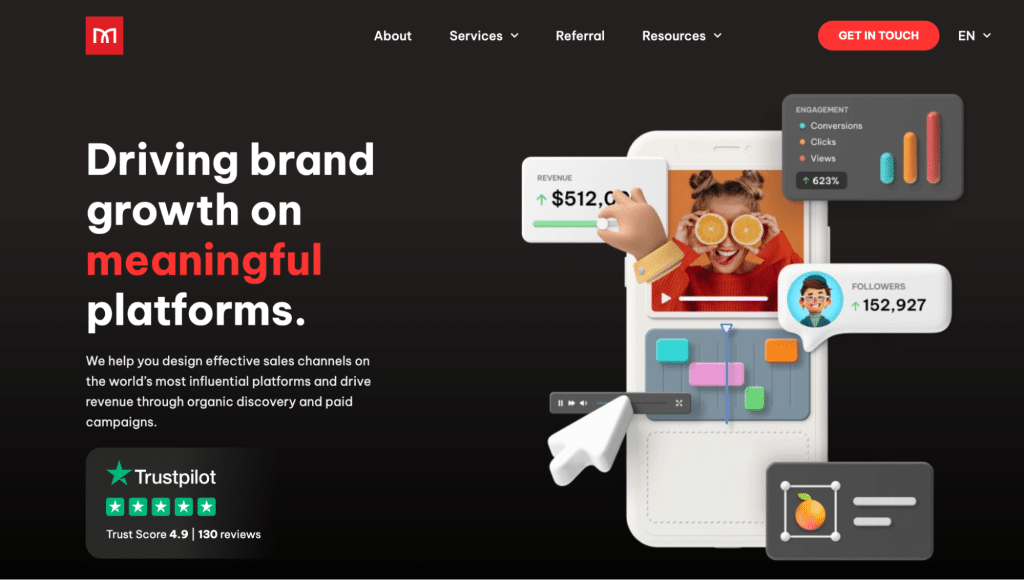 Mega Digital is recognized as the leading Google Partner and TikTok agency in the APAC region. They specialize in providing digital marketing solutions and promotions across platforms like Google, TikTok, and Facebook.
Learn More: What is a Google Partner in India and How to Become One?
After partnering with Mega Digital, New Top Deal increased by around $50,000 every month. Additionally, they managed to reduce their advertising expenses by half. The team demonstrated sincere concern for the client's profits, effectively handling the project and using their extensive expertise. In summary, they achieved remarkable outcomes.
Their services:
Google Shopping Advertising
Google Ads Agency Account for rent
Google Advertising
#2. Black Propeller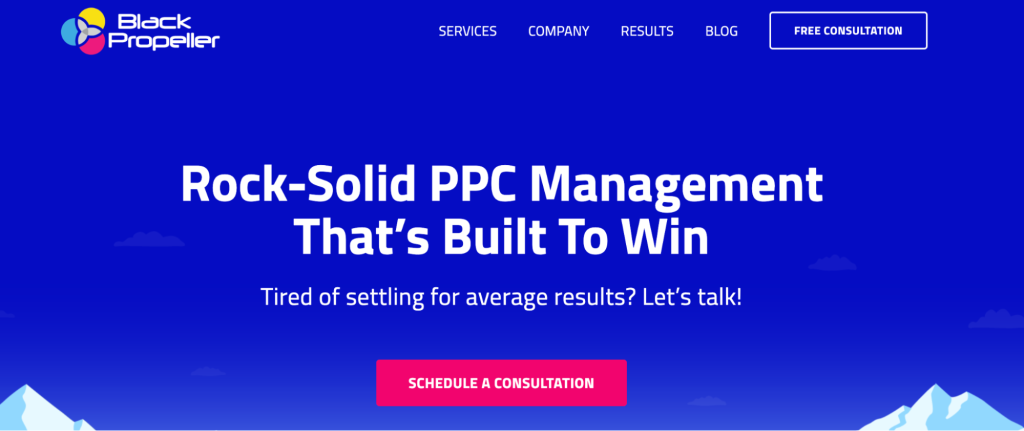 Black Propeller consistently manages the Pay-Per-Click (PPC) strategy for a business specializing in microscope sales and services. Their dedicated team restructures and supervises the client's Google Ads campaign with the primary objective of significantly enhancing sales performance.
Their services:
Google Ads
Facebook Ads
Amazon Ads
E-commerce PPC
#3. Grow My Ads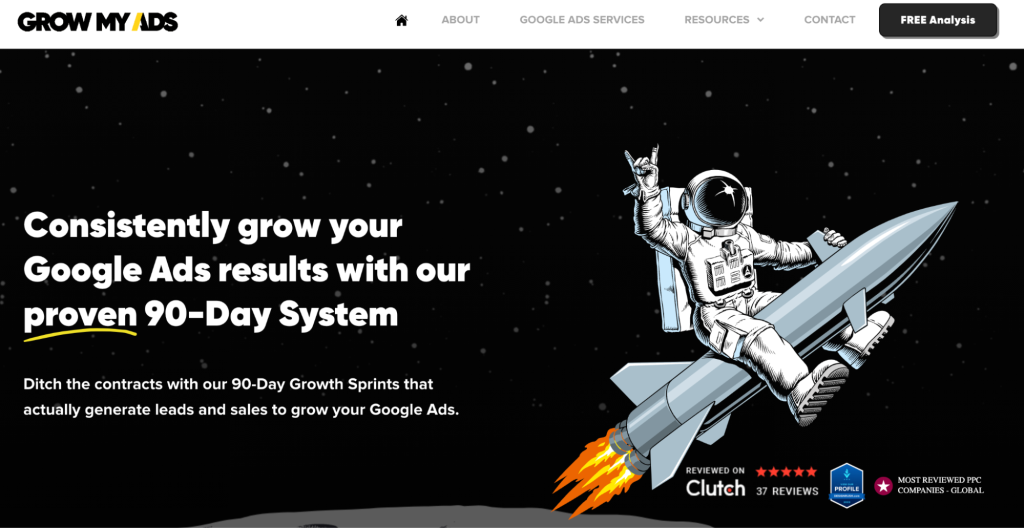 GrowMyAds.com, a Google Ads agency in Delhi, took charge of the entire advertising campaign for a company that focuses on promoting nutritional supplements. They exclusively conducted all advertising operations on Google platforms, encompassing the creation of both text and display ads, skillfully handled by their proficient team.
GrowMyAds displayed genuine expertise. Despite their name implying a focus solely on ad growth, they went beyond that by prioritizing profitability. They genuinely cared about making sure the ads brought in profits. In contrast, other advertising agencies seemed more interested in expanding the ad budget to raise their fees.
Their services:
#4. Xtreme Ads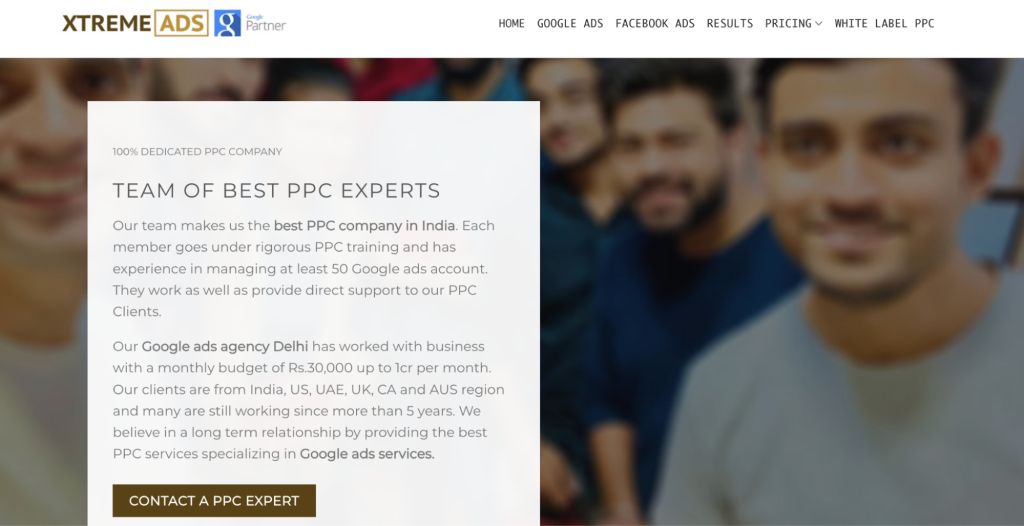 They offer high-quality Google Ads management services to both small and large businesses. With more than 10 years of experience, their team can establish and enhance ads for your company, ensuring improved outcomes from your marketing budget. They additionally offer swift support through WhatsApp, calls, and video meetings. Their pricing packages are also budget-friendly.
Their services:
Google Ads management
Facebook Ads services
Conversion rate optimization
Landing Page Designing
Google analytic setup
Search Engine Optimization
#5. Savage Global Marketing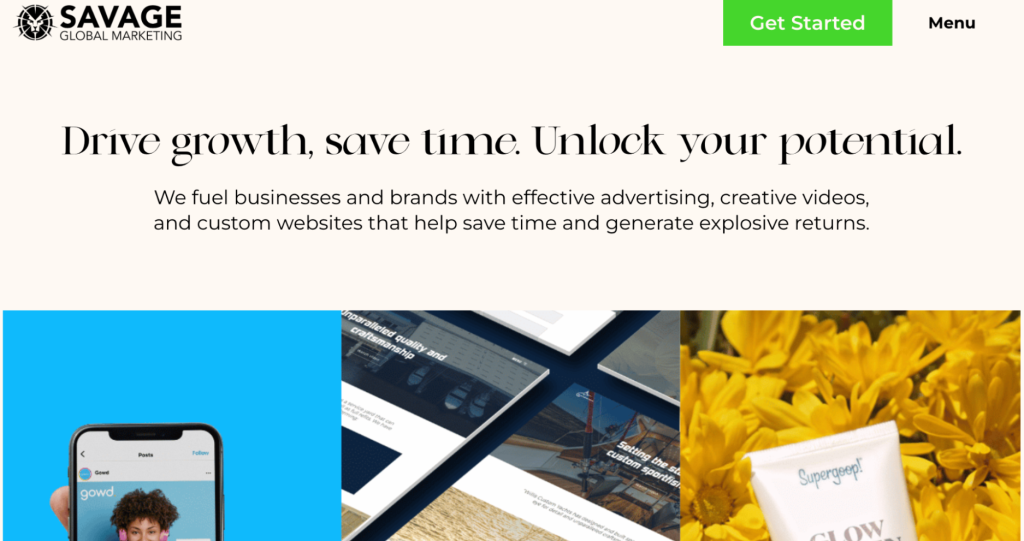 Savage Global Marketing is responsible for overseeing both PPC campaigns and organic marketing efforts for a yacht transportation company. Their team is actively working to broaden the company's reach and connect with potential customers.
The company did a great job with a campaign that led to the company making its highest sales ever. Even though it would be good if the cost of each click was lower, the client is happy with their work. The team has been really professional, knows a lot, and communicates well.
Their services:
Google Ads
Facebook Ads
Web development
Video production
#6. PPC STUDIO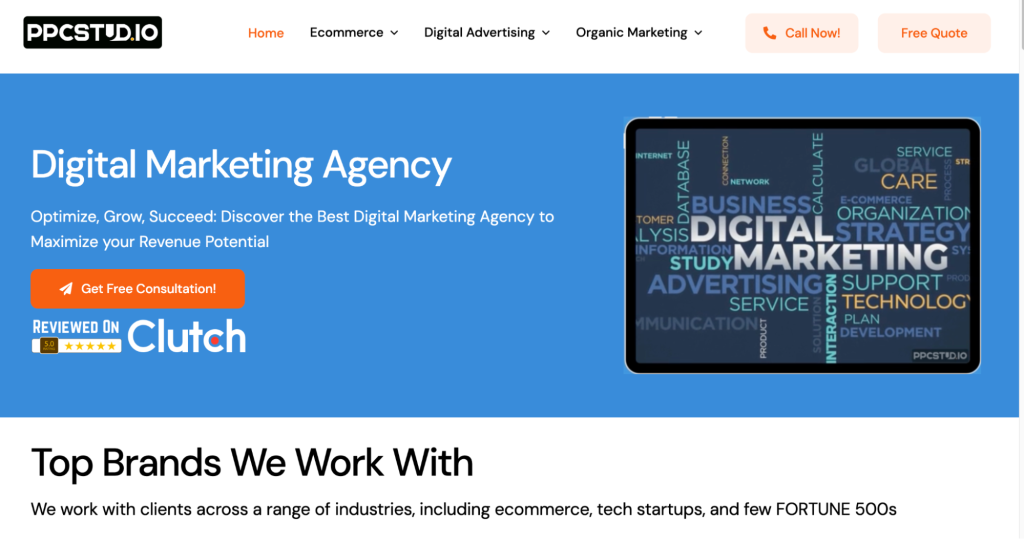 PPC STUDIO provides ongoing PPC services in Delhi: SEO, PPC, SMM, and website development services to a medicine manufacturer. Their aim is to boost search rankings, website traffic, and social media presence. The PPC STUDIO team is committed to helping the client reach these goals.
After teaming up with PPC STUDIO, the client experienced remarkable enhancements in organic search rankings and website traffic. Social media accounts also gained substantial followers and increased engagement. Additionally, the team enhanced the website's user experience, meeting expectations.
Their services:
Google Ads
Native Ads
PPC
Remarketing
#7. Trace Presence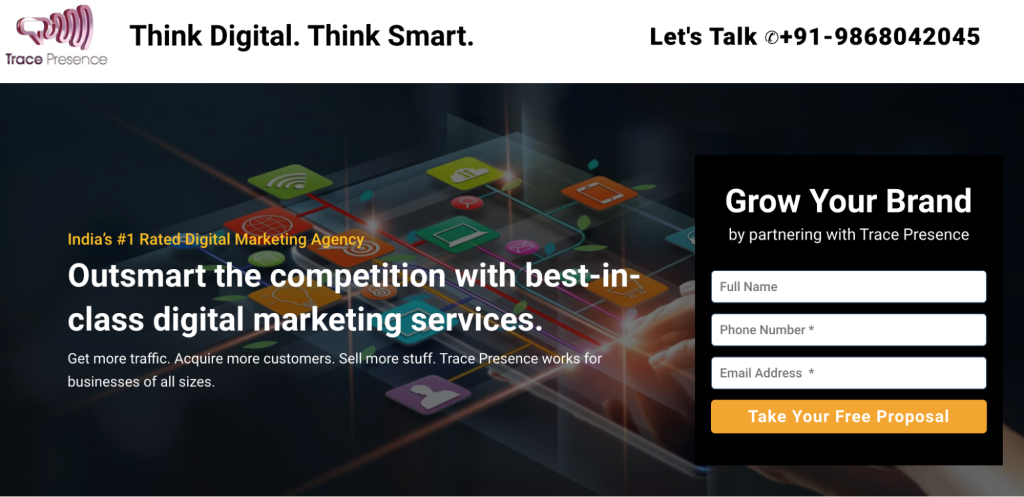 TRACE PRESENCE managed the digital marketing activities for a company that discovers new drugs. They created a strategy with two main parts: sending emails to a lot of people and showing ads on social media.
TRACE PRESENCE's strong plan resulted in a 75% rise in click-through rates and an 85% growth in open rates. This effort helped the client make more than $200,000 in earnings. They led smooth teamwork and made sure customers were happy by staying attentive, professional, and quick to respond throughout the process.
Their services:
Google Ads
Youtube Marketing
PR Outreach
#8. Impressive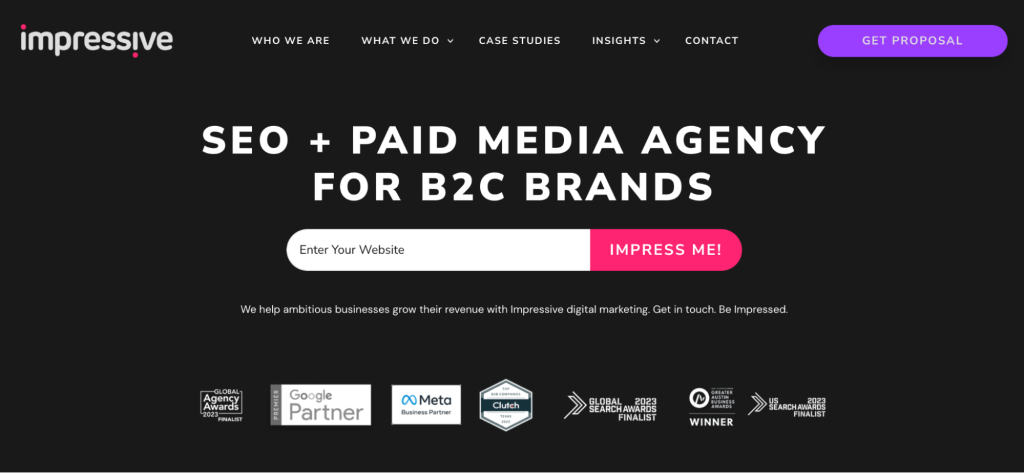 Impressive was brought in to manage the PPC, Social, and SEO tasks for a fitness equipment seller. They employ Google Ads, Microsoft Ads, Facebook, and Instagram for these services.
The Google Ads agency in Delhi has gone above and beyond the client's set goals, working efficiently and taking initiative. They also show great adaptability. They swiftly became an integral part of the in-house team, modifying strategies to match the client's local market.
Their services:
Google Ads
Facebook Ads
SEO
PPC
#9. Cheenti Digital LLC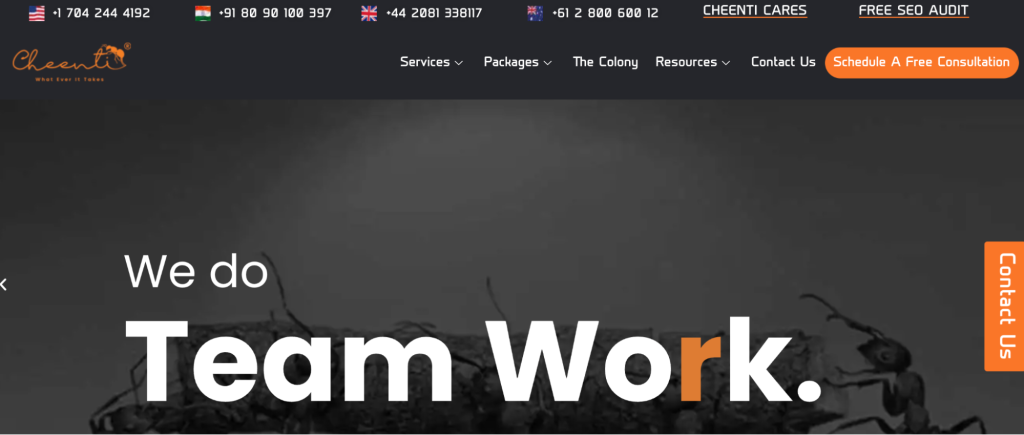 Cheenti offers digital marketing solutions to a renewable energy company. Their support includes enhancing SEO, managing PPC campaigns, creating content, and providing monthly reports.
The client is receiving 70% of their leads through digital platforms, and nearly 30 keywords have positioned them on the first page of Google search results due to Cheenti's hard work. The team is adaptable, cooperative, punctual, and pleasant to collaborate with. They also respond promptly and fulfill requested tasks efficiently.
Their services:
PPC
SEO
E-commerce Digital Marketing
#10. HitsValue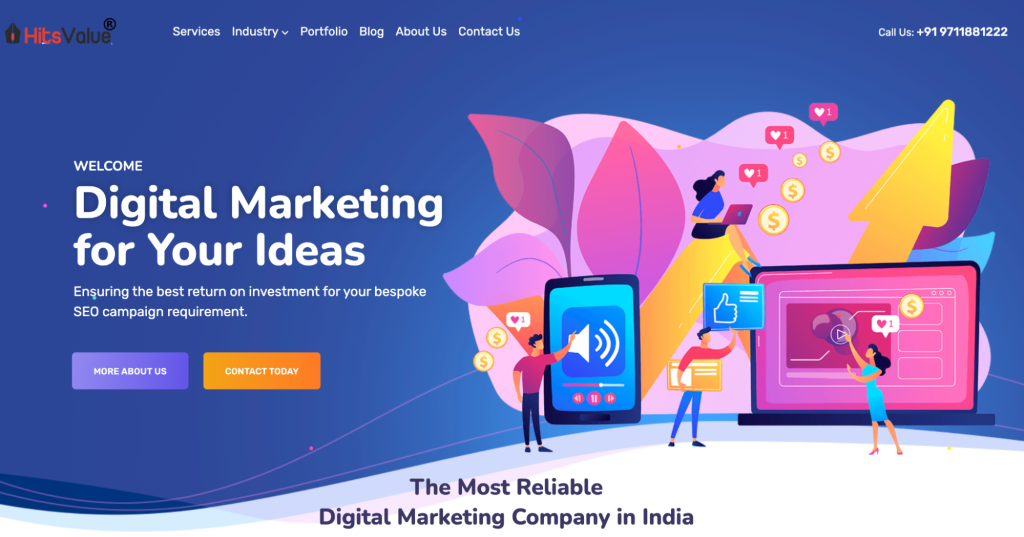 HitsValue was brought on board by a hospitality company to provide web design services. The objective was to enhance rankings and search outcomes using a freshly designed platform integrated with modern communication standards.
HitsValue consistently evaluates the effectiveness of their actions on Google Ads, social media, and Google Shopping. The team provides a high level of professional knowledge across various digital marketing services.
Their services:
Google Shopping Ads
Website Promotion (SEO)
Paid Marketing (PPC)
eCommerce SEO Services
SEO Consulting
How to pick the best agency for your business
Every agency has strengths and weaknesses. So, when you're considering a specific company, you should think about certain things to see if it's a good fit for your business. Here are some important things to consider.
Cost
When choosing an ad agency in Delhi, it's important to think about how much it will cost. Even if the agency seems great, it can't be the right choice if their services are too expensive for you. Look for an agency that you can afford while still having the right skills you can trust.
>>> Learn More: How Much Does Google Ads Cost in India
Trustability
Before partnering with a Google Ads agency in Delhi, you should gather some basic information about their business. Find out where their office is located and if they have the necessary license to operate. Use Google to search for their name and see if you find any details about them. Also, check for any negative reviews.
After that, compare the information on their website with what's on their social media pages. This helps ensure their details are consistent. A trustworthy ads agency usually appears on various platforms to gain customer trust.
Experience and Expertise
To assess an agency's experience and expertise, look at their history, main area of focus, client list, and achievements.
History: An agency that has been successful for a long time and has achieved significant milestones is likely to be strong and reliable. However, even new agencies can be trustworthy if they understand trends and have a clear strategy.
Main focus area: Each agency specializes in a specific industry. This is where they have the most knowledge and resources to excel. To find out an agency's main focus, check their blog and social media to see which topics they emphasize.
Client portfolio: Reviewing an agency's past clients can also provide insights. If they've worked with diverse partners across various industries, it shows they have different experiences. If most of their clients come from one industry, it suggests they are experts in that field.
Final words
That's everything for now. We hope you discover the finest Google Ads agencies in Delhi to create fantastic ads for your business. So, go ahead and begin taking action!
>>> Read more: Best 11 Google Ads Agencies in India (2023 Updated List)