Google Shopping ad spend has risen by 38% compared to 2022, while traditional Google Search ad spend is declining. This is due to the visual and informative nature of Google Product Listing Ads, which attract customers who are ready to make a purchase. Google generates approximately 80% of its revenue from ads, get ready to have a strategy in place!
What is Google Product Listing ads?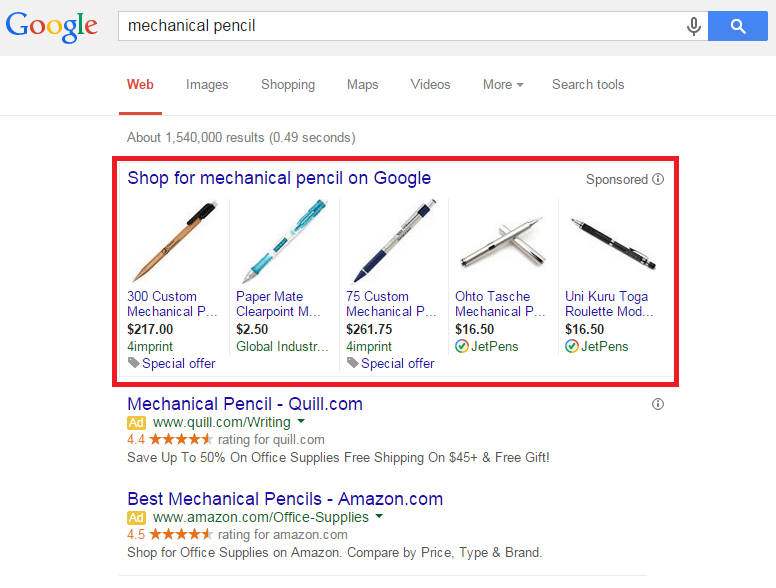 Like Google Shopping ads, Product Listing ads appear when a client searches for a product on Google. E-commerce businesses use Product Listing ads (PLAs) to showcase their products, increase website traffic, and create quality leads. Google PLA ads increase the discoverability of all your items among your clients. Simply said, PLAs may bring clients to you without even trying.
The ability to add product photos, real-time pricing data, and reviews makes product listing advertising unique. Because Google gets its data directly from your product feed, it is always up-to-date.
How does Google Product Listing ads work?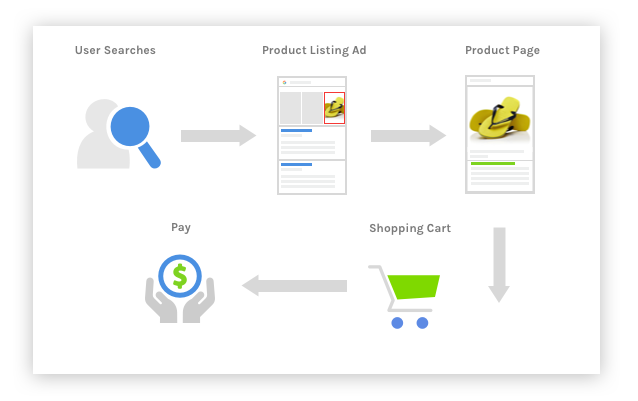 Google PLAs are prominently positioned above the organic results at the top of the SERP. Customers can quickly discover your business without you having to work hard to catch their attention, thanks to the shortened customer experience.
The following are three common types of Google Shopping Product Listing ads:
Single product ads: These PLAs showcase a single product and include an image, title, price, and other relevant information. 
Multi-product ads: These PLAs show multiple products simultaneously, each displayed in a separate box. They are typically used for product categories or collections.
Local inventory ads: Search engines employ information from local inventory data to link buyers to a merchant's items and provide customers with pickup alternatives. 
Showcase shopping: These advertisements are created by merchants by categorizing their items into similar groupings so that customers may compare and contrast different brands or models.
Differences between Google Shopping ads and Product Listing ads
Google Shopping ads and Google Product Listings are two distinct types of advertising available on Google.
Google Shopping ads require a monthly budget and are displayed in the sponsored listing section of Google Shopping. They are highly effective at generating traffic, revenue, and performance and can dynamically remarket your products to people across all Google networks, including YouTube, Gmail, and Search.
In contrast, Google Product Listings do not require a budget and place your products on various Google surfaces, such as Google Search, Google Images, and Google Lens. They can also appear in the new Organic area of the Google Shopping page, providing valuable exposure to potential customers. Here is a Product Listing Ads example: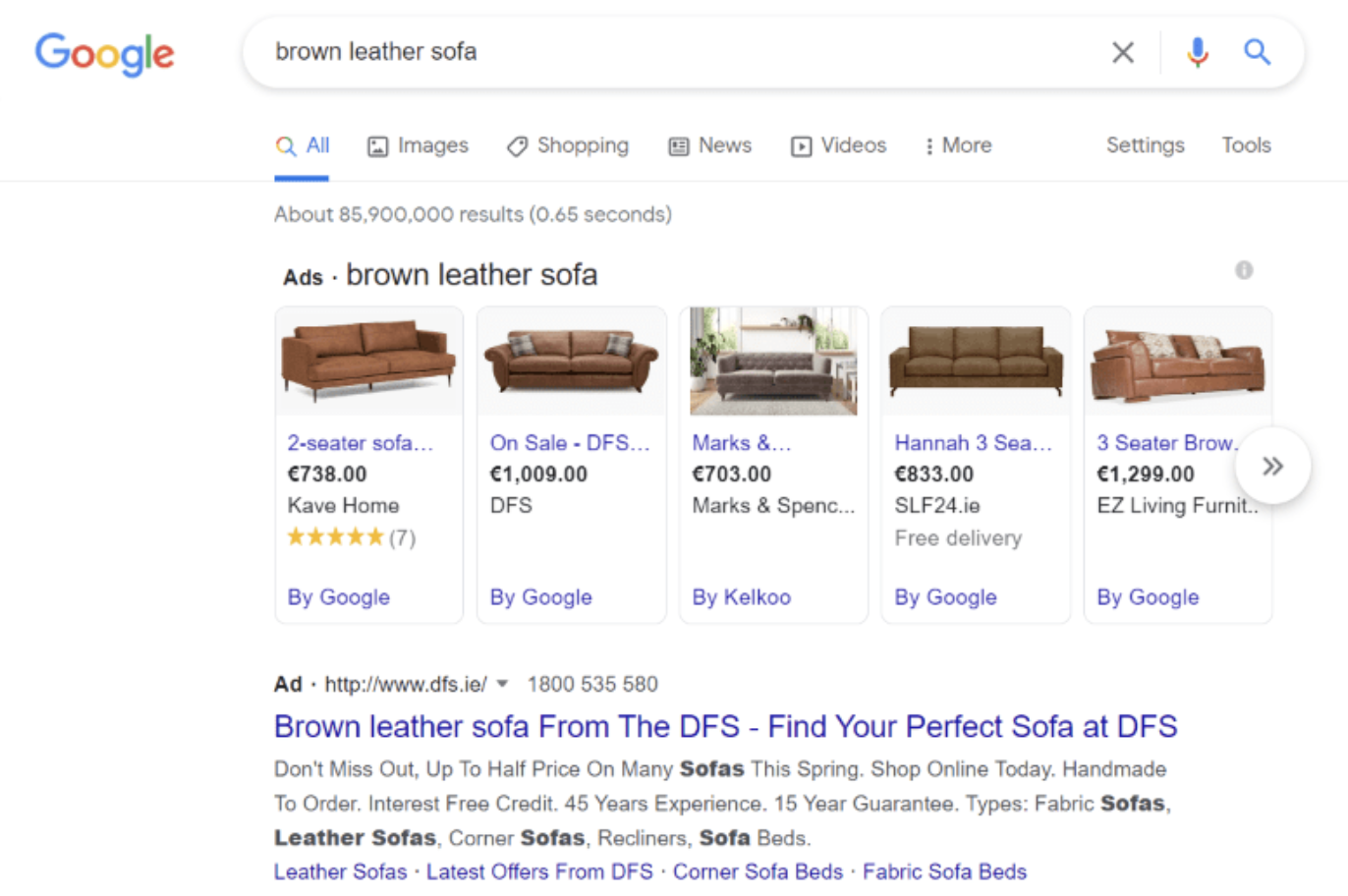 It also pops up next to text ads and search results (except on mobile devices):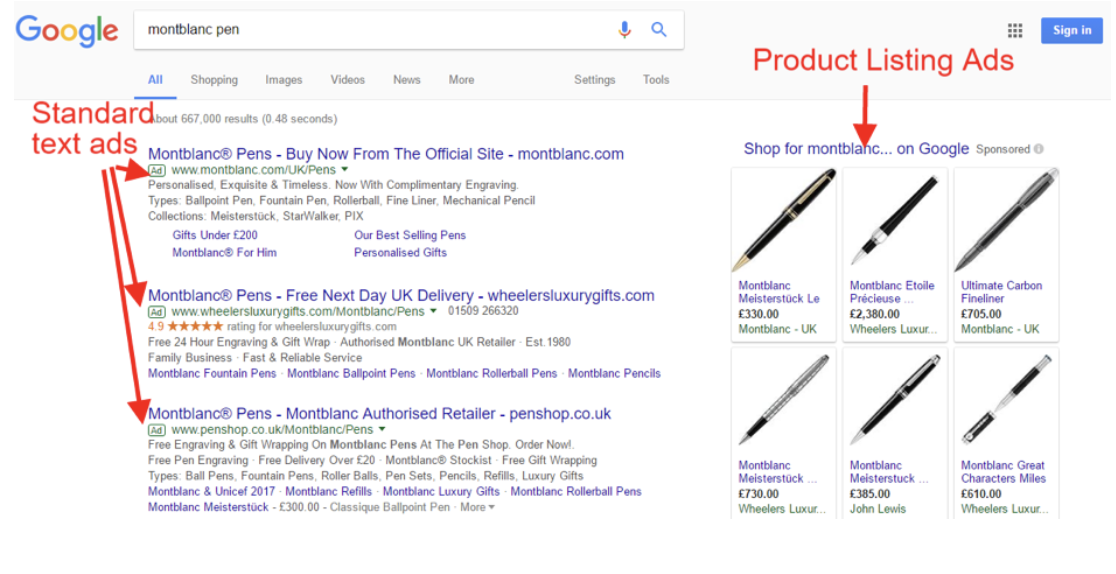 In the "Shopping" tab:

And in the "Images" tab: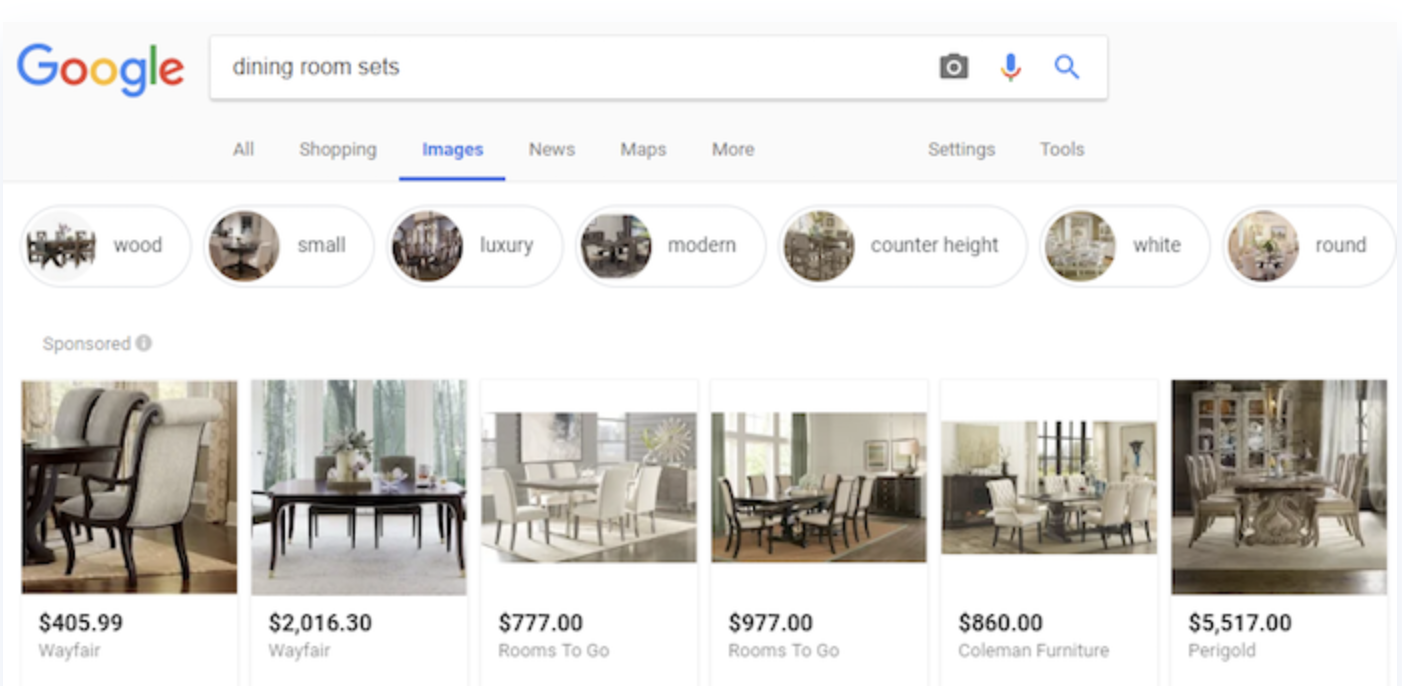 Both advertising options offer unique benefits and can be used together to create a comprehensive strategy. There is no conflict between Google Products Listings and Google Shopping Ads because they work together to maximize visibility for your items! By understanding the differences, businesses can effectively utilize each option to reach their target audience and achieve their goals.
Benefits of Product Listing Ads
According to a survey, 49% of consumers use Google to locate new products or commodities. Running your ads on Google thus gives you access to a range of exposure. Additionally, it also helps your business to get:
Center product position
Brands have the potential to connect with a larger but highly relevant audience thanks to product listing ads. Shoppers will likely pay attention to Google PLA advertisements due to their prominent placement and appealing presentation.
These advertisements can help your brand get visibility even if they don't wind up clicking through. But, as PLA advertising only costs money when someone clicks to examine your product, you won't have to pay for this benefit.
Higher conversion rate
Your conversion rate will increase since individuals who click through will see a picture of the product and the price. Providing extensive information in your ads enables you to target consumers who make quick purchasing decisions. When someone clicks on an ad with a price and an image, it usually signifies they're ready to buy. This improves lead quality and conversion rates.
Wider reach
You may reach a larger audience by including Product Listing Ad campaigns in your digital marketing plan. Product Listing Ads place your ads at the top and middle of the page, which helps you pique potential buyers' interest. Because of Google PLAs' prominent location, relevant audiences and buyers are likelier to discover your ads. Moreover, Google lets you display more than one of your PLAs in the search results.
Retail-centric campaign management
Google Product Listing Ads display advertising based on product parameters in your Merchant Center data feed instead of keywords. This lets you explore your product inventory directly in Google Ads and build product groups for goods you wish to bid on.
How to set up Google Shopping Product Listing ads
Step 1: Create a PLA ads account with Google Merchant Center
You must have an active Gmail account to create a Google Merchant Center account. You can create a new Gmail account or use an existing one. Navigate to the Google Merchant Center homepage and fill in your business information.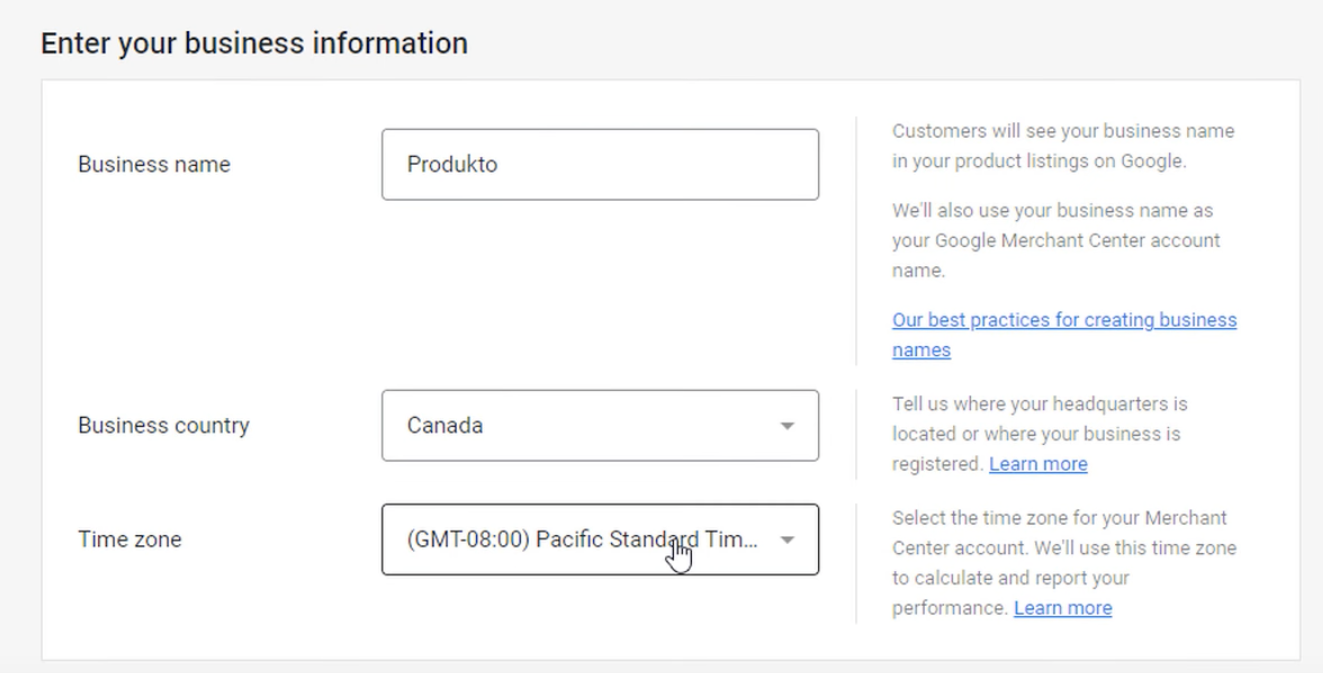 To see details on how to create a Google Merchant Center account as well as how to create a product feed, click the link below to see the full article:
>>> Read more: What is Google Merchant Center? Setup guide for newbies
Step 2: Verify your online store
You must first prove to Google that you are the authorized owner of your shop before you can start any PLA advertising campaigns.
There are three ways to verify if you provide a legitimate website URL. They include an HTML tag or HTML file uploaded to your website. You can check by using Google Analytics and Google Tag Manager. These techniques all have the same effect on the verification procedure.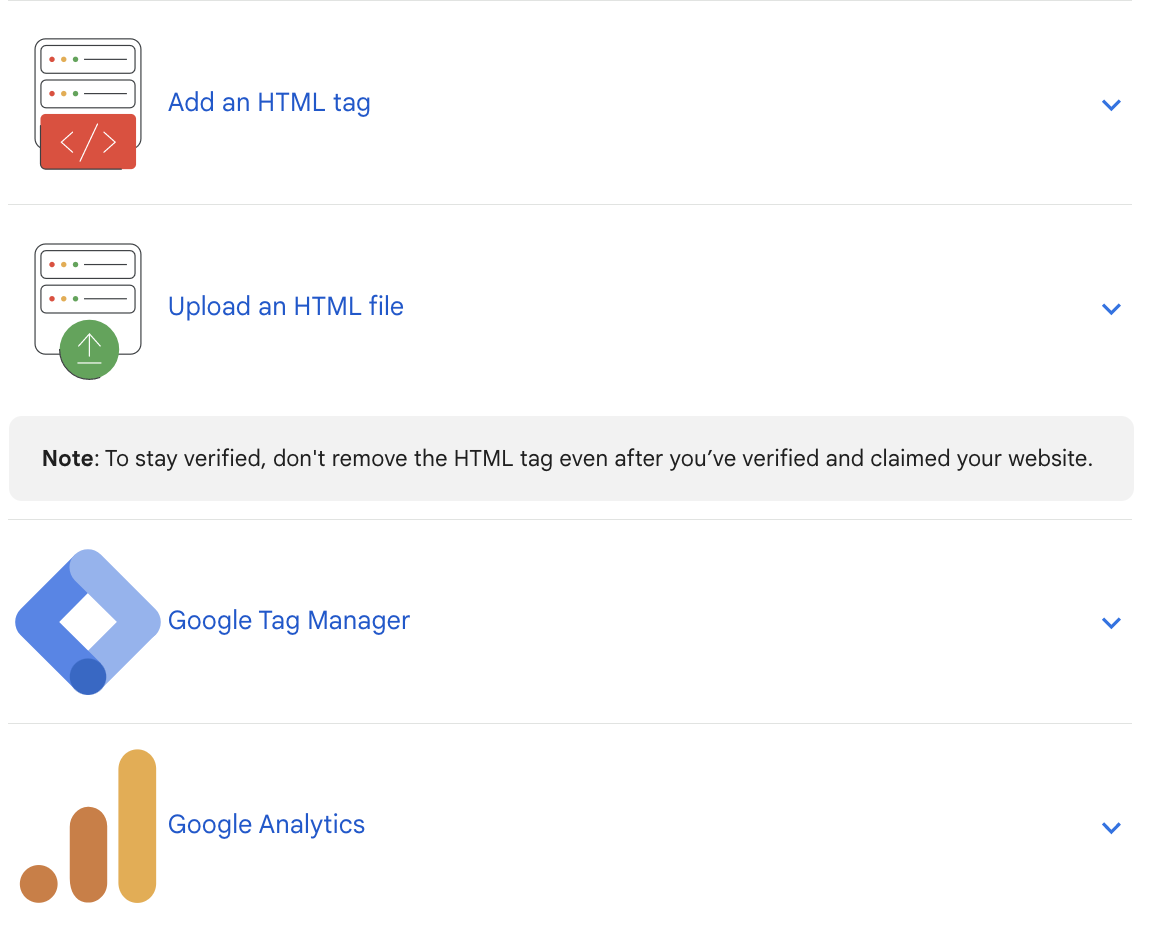 Because the majority of retailers support HTML, Google advises adopting this alternative. You will have two possibilities if you select the HTML option. They include uploading an HTML file and adding an HTML tag. For this verification procedure, different users might employ various techniques. The techniques' verification procedures are listed below.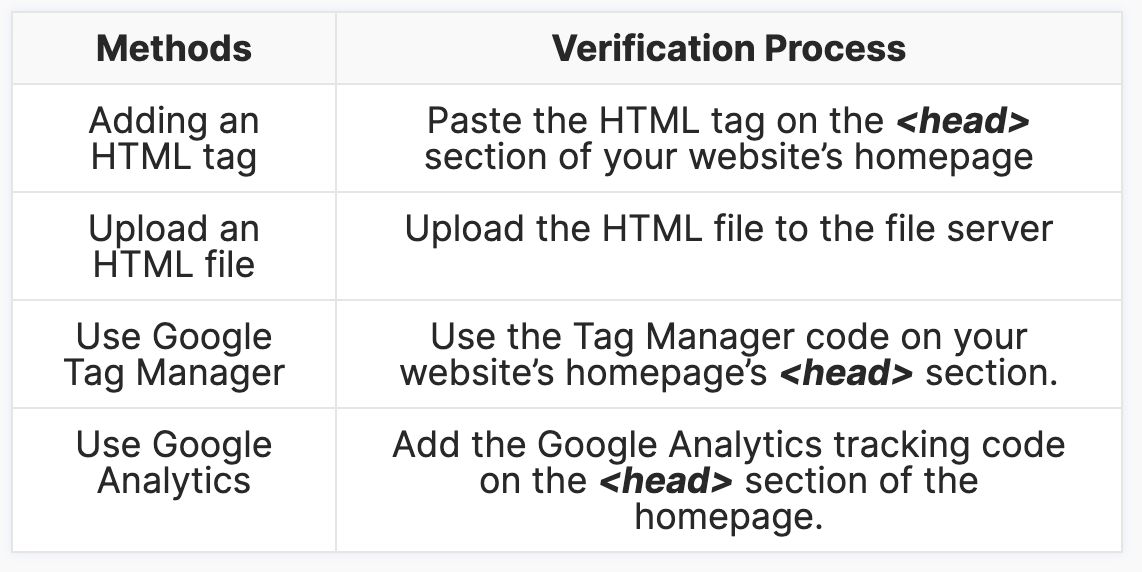 Return to your Google Merchant account and click the "Verify URL" button in the lower right corner to complete the procedure. After that, you may begin developing product advertisements.
Step 3: Upload your Products
Select a method for uploading: Log into your Merchant Center account before submitting the product feed. Then go from the left sidebar to the Products section. The next step is to select the product uploading method.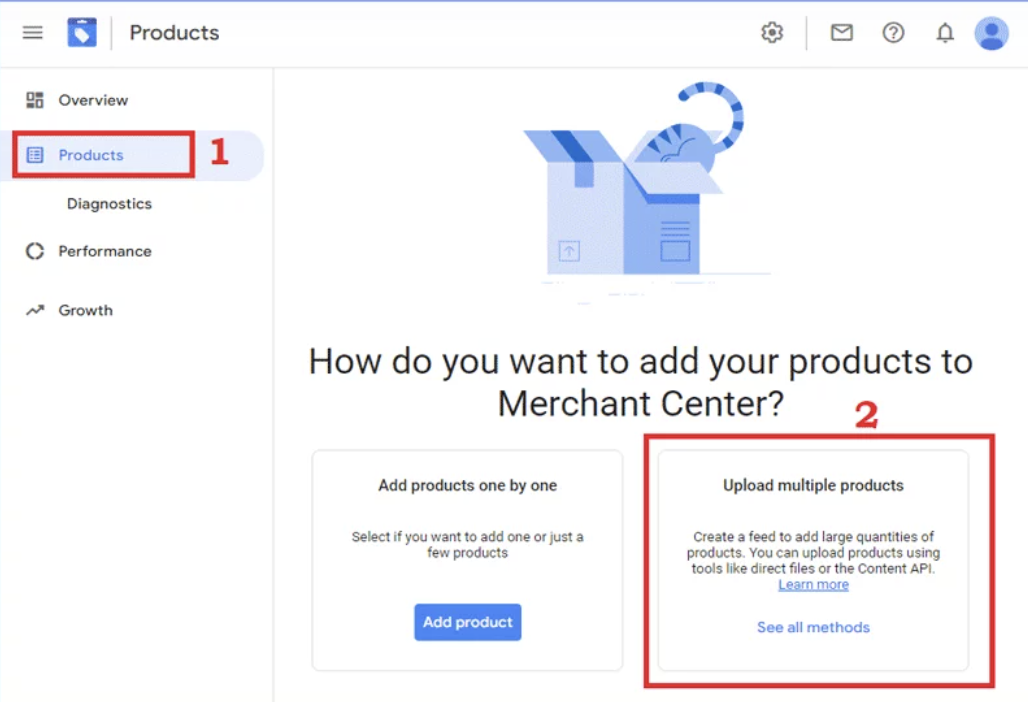 GMC offers two options for product posting. They include adding items one at a time or uploading several items via a product feed.
We will employ product feed since the product feed alternative is significantly simpler, quicker, and more trustworthy.
Complete the required fields: Filling out the details in the product feed is the first upload step. First, you must enter three pieces of information: Language, Country of Sale, and Destination.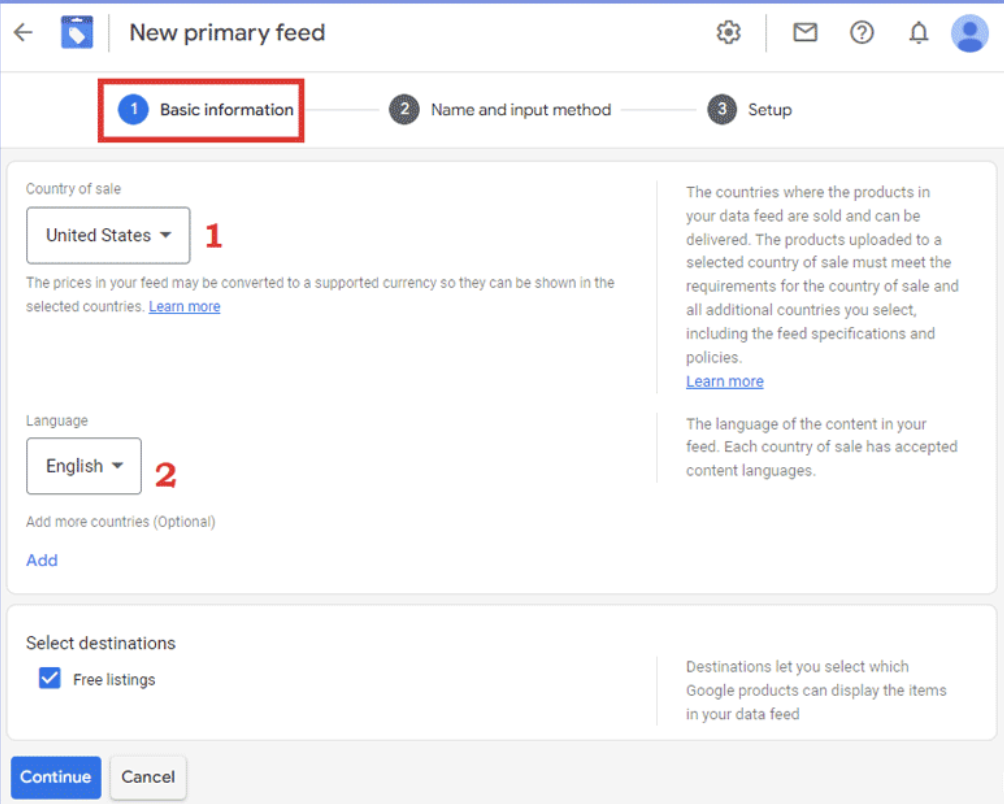 Enter feed name and choose submission method: You must select a submission method and enter a legitimate name for your product feed in this area. Google accepts product feed submissions using four different approaches.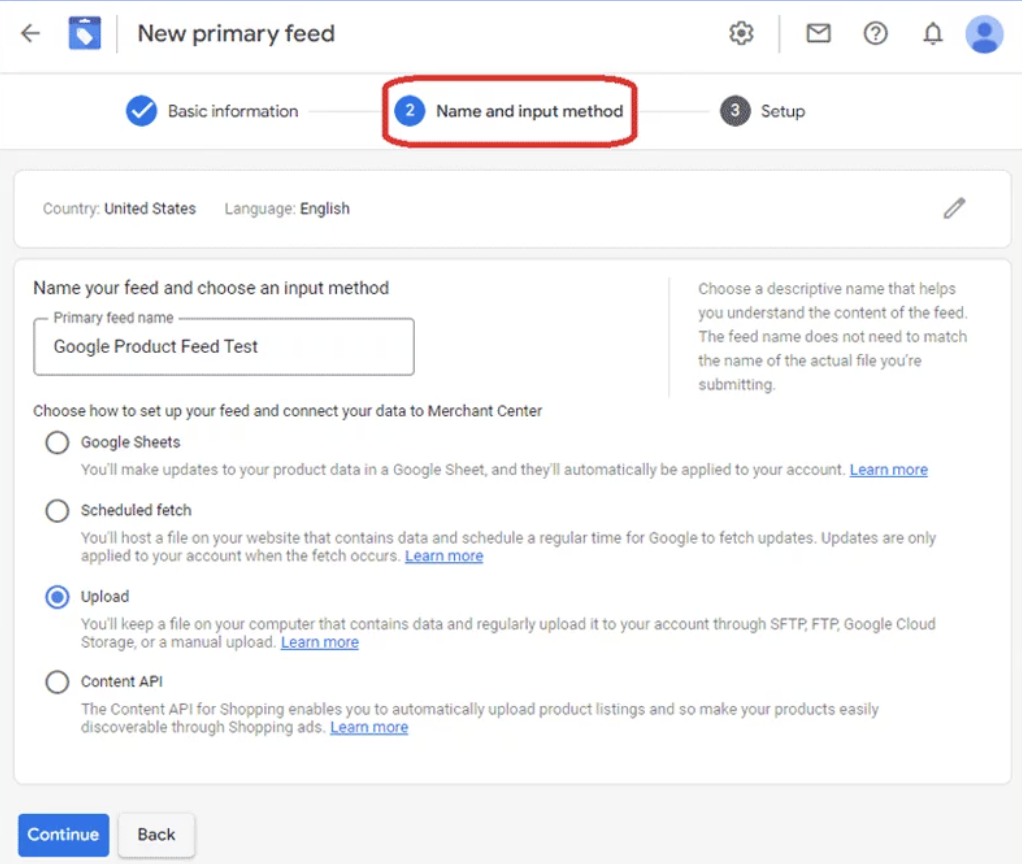 The outcomes of each of these product feed submission techniques are the same. Hence, you may select whatever you like most. Use the table below to see which approach will be most effective.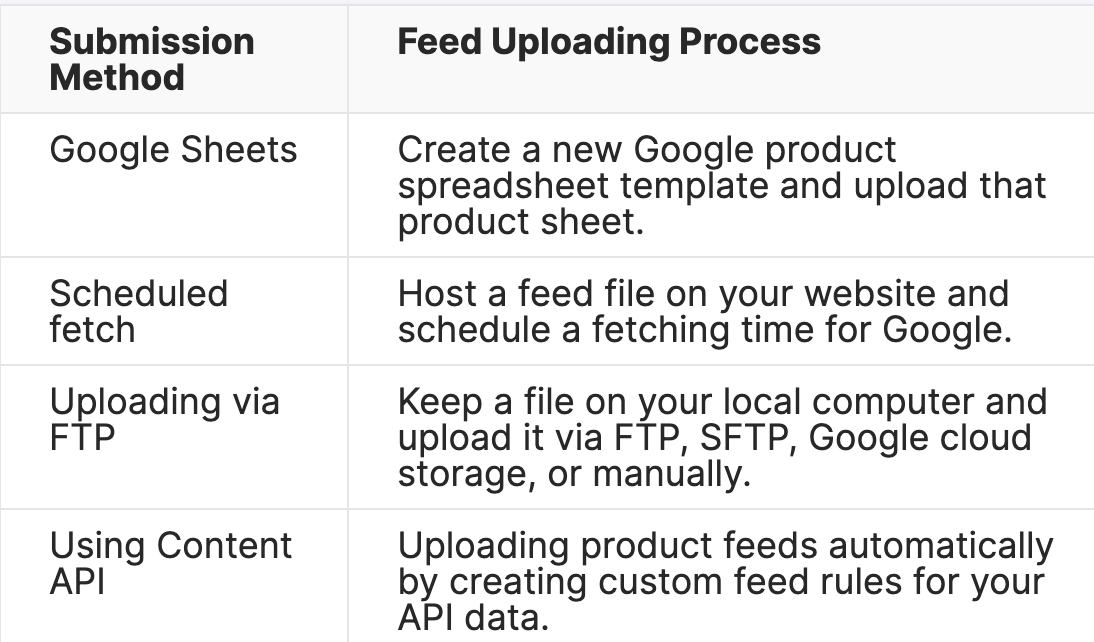 Step 4: Create your PLA Advertising
The creation of a Google product feed ends with this step. You must provide the feed file name and URL (depending on the submission type) and arrange the time for fetching in this step.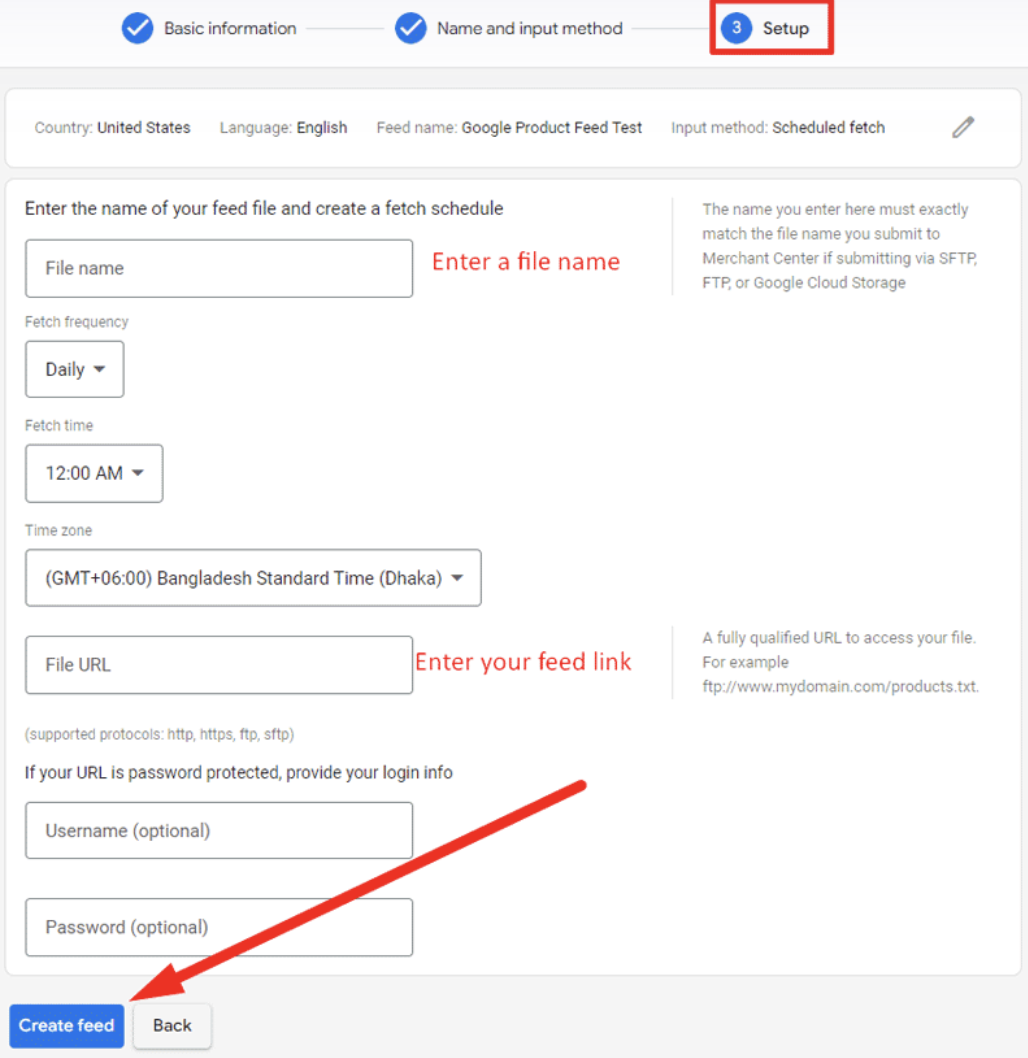 Google, by default, provides daily, weekly, and monthly fetch frequency timing. The decision you make must take into account how frequently you update the content on your website.
After submitting your items, create a Google Shopping Campaign in your Google Ads account. Set budget, target audience, and bidding strategy based on your goals. Create visually appealing Product Listing Ads with high-quality images, detailed descriptions, ratings, and reviews.
You can try Mega Digital's Google Ads account rental service to make the process easier. Send your information to us, and we will help you set up a GMC account. Besides, we also provide Google Shopping advertising services. Let us run your campaigns for you with a low budget but high efficiency!
Google Product Listing ads optimization
Divide up product categories
The "All products" choice is the default. On the other hand, you don't want to use the same bid on all of your items, just as you wouldn't use the same bid on all of your keywords. Thus, using a tiered, relational structure, build several product groups: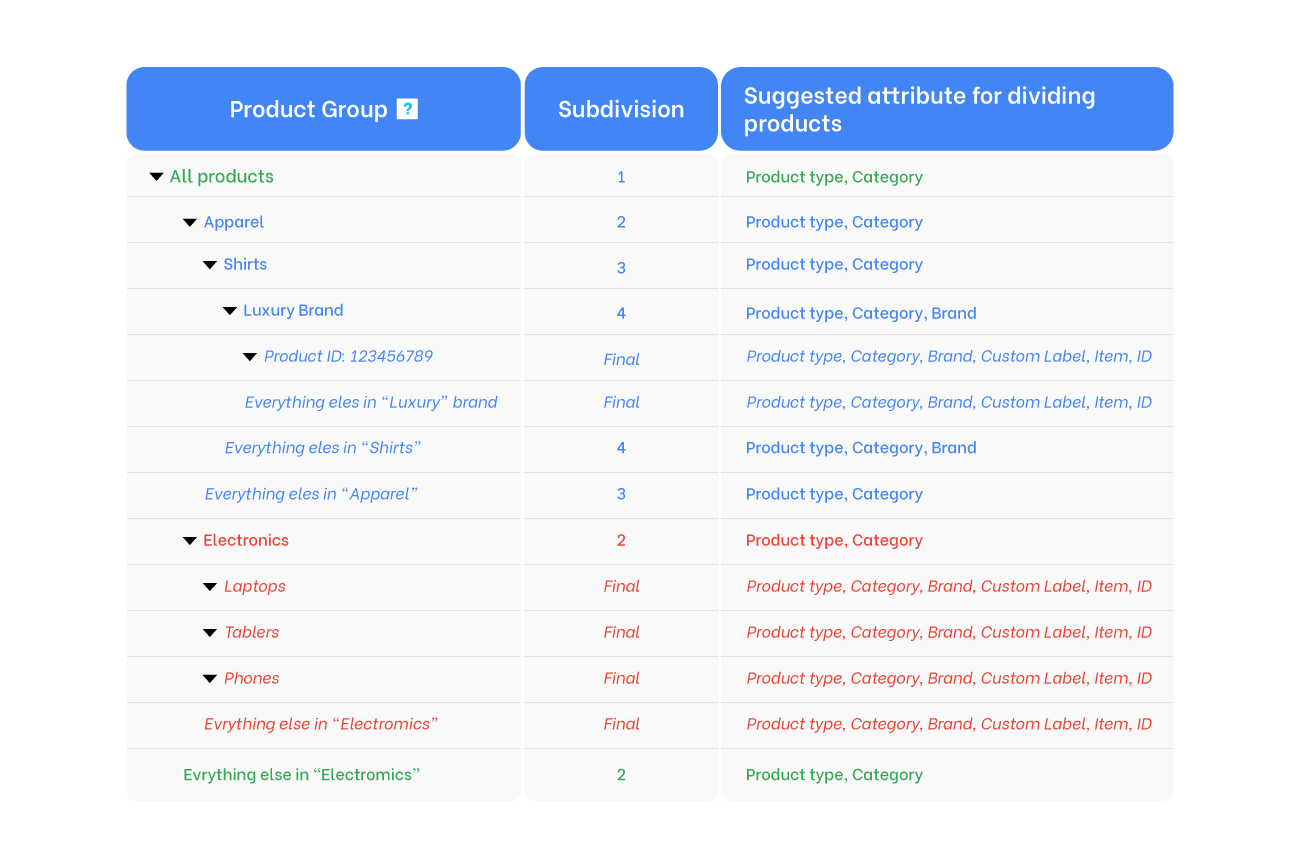 Start with broad categories based on product type and category. If needed, further segment items using more targeted qualities and sufficient data. This approach provides full bid coverage, improves bid management, and enhances performance reporting transparency. Avoid wasting advertising dollars on small product groupings or inactive item IDs.
Take advantage of automatic extensions
You may design your PLAs to provide clients with benefits other than an alluring pitch. A popular PLA optimization strategy provides discounts or bonuses for clicking on your adverts. Automatic extensions can assist you in setting them up and monitoring the outcomes to see whether they are profitable for a business.
Make your product data stream better
While creating your PLA content briefs, use SEO techniques just as you would when creating a website or other written material. This strategy will enable search engine algorithms to connect your items with relevant inquiries. Creating concise headlines and descriptions may persuade readers to click on your material.
Add enhancements to your ads
To attract more attention, enhance your PLAs with unique offers highlighting online promos. These enhancements have no added cost but maintain CPC pricing. Product ratings provide valuable information to buyers and only appear on 5-star rated ads with a minimum of three reviews. Use Google Customer Reviews to gather feedback from customers who purchase from your website.
FAQs
1. How many items can I sell?
If you sell fewer than 500 items, you may receive less attention than companies that sell more than 500 items.
2. What kind of products should I sell?
PLAs are suitable for advertising less competitive product categories such as car parts, baby supplies, tools, or furniture. However, more competitive items, such as garments or footwear, may need help to profit from this campaign if you are not a household name like Nike or Adidas.
3. How much must be sold to make money from Google Product Listing ads?
If your margins are too tight, you can have trouble making a profit or find yourself having to cut back on your everyday spending. This changes greatly depending on your items, the competitors, and the margins.
4. Can I make changes to my data feed?
If you don't, controlling your PLA campaign will be significantly constrained. Without modifying your data feed, you won't be able to conduct several technical tasks like (but not exclusively):
Establishing your campaign
Making ad groups for top-selling commodities, goods that fall within or outside a given price range, seasonal goods, etc.
Making changes to or modifying campaign sales.
Resolving concerns with validity (when setting up ad groups).
Preventing your campaign from being rejected due to insufficient or erroneous data feed elements.
Final words
In conclusion, Google Product Listing ads can be a game-changer for e-commerce businesses. Optimize your product titles and descriptions, use high-quality images, monitor your campaigns regularly, and use Google's reporting tools to get the most out of them. With these tips, you can increase your online visibility, drive more traffic to your site, and ultimately boost sales.
If you need help getting started or want to take your campaigns to the next level, don't hesitate to contact Mega Digital. You can set up your Google Product Listing ads with our rental account. We're here to help you succeed!