Predicting the next viral moment may be challenging, but TikTok is often the place where it all starts. With its popularity, opportunities for monetization abound. The TikTok Creator Fund launched with a massive investment of $200 million USD, aims to reach $1 billion in the next three years. For content creators, this fund offers a chance to earn from their captivating work. But what exactly is it, and is it worth your time? Find all the answers in this article!
What is TikTok Creator Fund?
Introduced in July 2020, TikTok Creator Fund is a special money program designed for content creators. This fund helps creators earn money from their videos and turn their hobby into a real job! The Creator Fund is also part of the broader Creator Next program, which offers a range of monetization features. This comprehensive approach empowers creators to concentrate on crafting exceptional content while also building a sustainable income and nurturing their communities. This initiative aims to encourage creators to continue producing high-quality and engaging content while allowing them to earn from their efforts.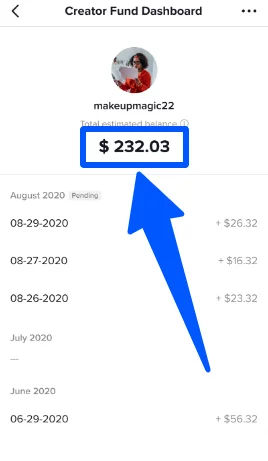 Right now, the Creator Fund has 2 funds – one for the United States and another for Europe. It's still a new thing, but it's a cool way for creators to make money while doing what they love!
Requirements to join TikTok Creator Fund
To be part of the TikTok Creator Fund and earn money from your videos, you must meet these requirements:
You must be at least 18.
You need to have more than 10,000 followers.
Your videos should have received over 100,000 views in the last 30 days.
You must regularly post original content.
Make sure to follow the rules of the TikTok Community.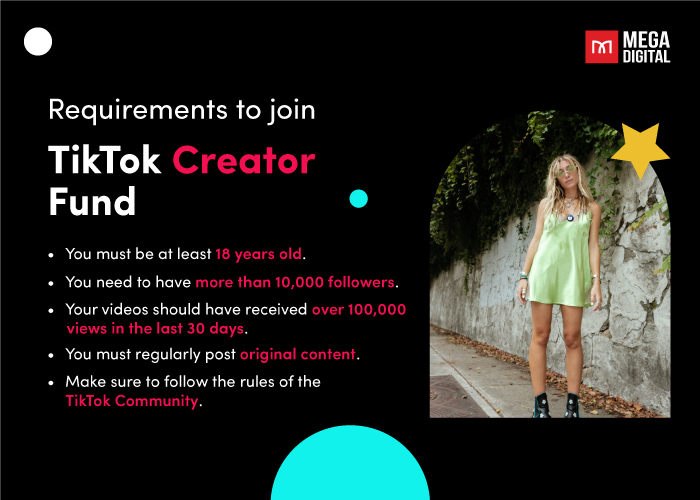 After you meet these criteria, read and accept the Terms and Conditions carefully. Next, you'll be required to input the following information:
Full name
Address
Active or passive income status
Social security number
Once you've provided these details, you can proceed to apply for funding through the TikTok Creator Fund.
Note: Even if you meet all the requirements, there is a chance that your TikTok Creator Fund application might not be accepted. If this occurs, you can try reapplying after 30 days.
How does TikTok Creator Fund work?
The workings of the TikTok Creator Fund are straightforward: the higher the engagement on your posts, the more money you'll earn. Creating content demands significant time, dedication, and resources, and TikTok acknowledges the vital role of talented creators in shaping the platform and connecting with audiences globally.
The TikTok Creator Fund opens doors for creators of all types, offering them a chance to transform their creativity into a profession. There is currently no restriction on the number of creators who can join, so the more, the merrier! Continue reading to discover how to apply for the TikTok Creator Fund below.
How to join TikTok Creator Fund?
Applying for the TikTok Creator Fund is a breeze if you meet all the requirements. Follow these simple steps:
First, tap the hamburger icon on your profile's top right corner and go to "Creator tools."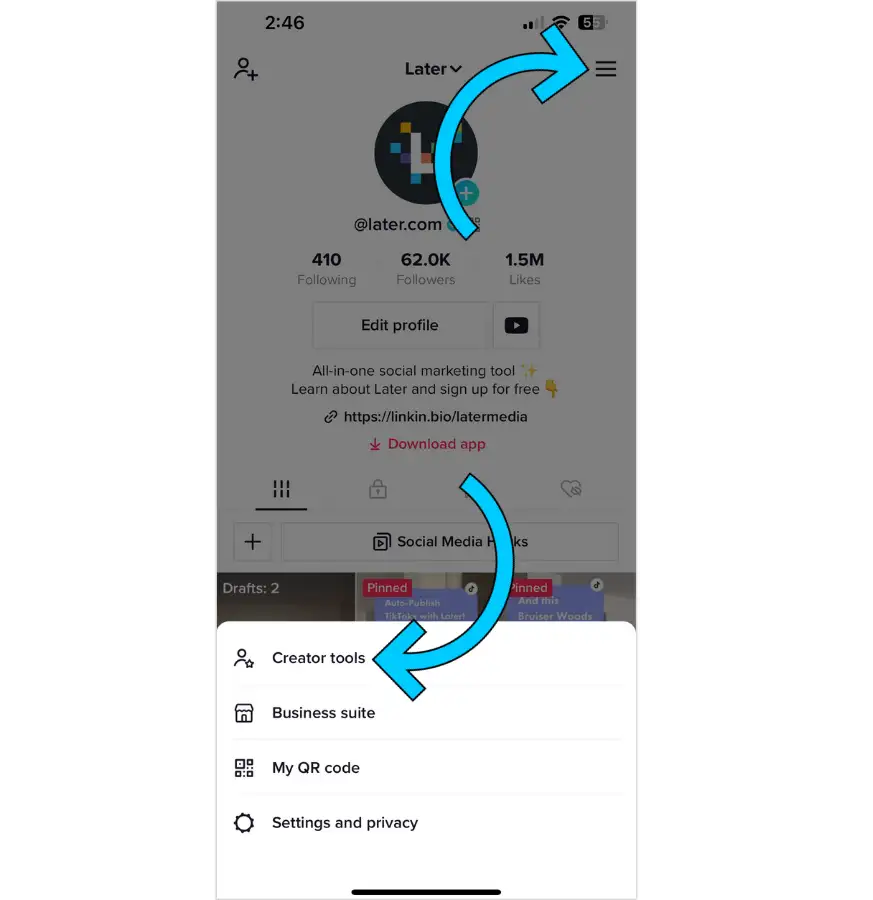 Click on "Creator Fund" and verify that you are at least 18 years old. Make sure to read and accept the TikTok Creator Fund Agreement.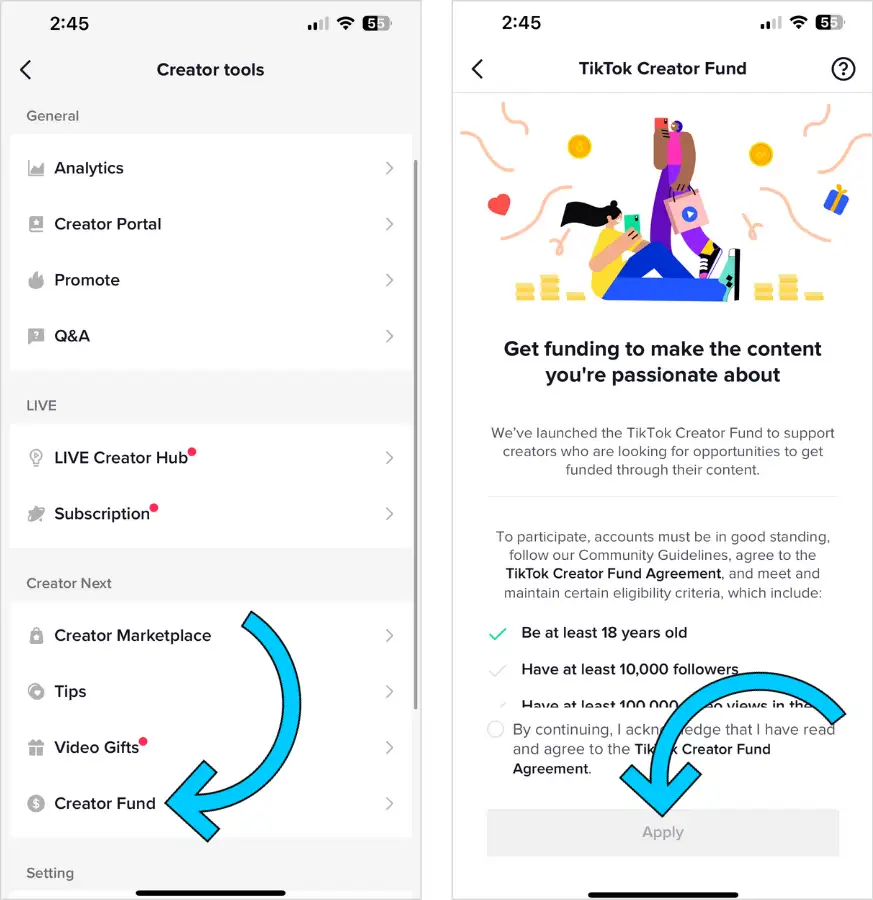 Now, all you have to do is wait for TikTok to review your application and notify you of their decision.
NOTE: If your application gets rejected, don't lose hope! You can reapply after 30 days.
How are earnings calculated?
The amount creators can earn on TikTok depends on several factors:
The content must adhere to TikTok's Terms of Service and Community Guidelines.
TikTok mentions key aspects like the number of views, authenticity of those views, and the level of engagement.

Tips: The region where the videos are viewed can play a role, as reported by Business Insider and VICE.
In essence, the more captivating and engaging your video is, the higher your earnings potential. Since not all videos perform the same, your rewards will vary accordingly. You can check your earnings in the creator dashboard, which displays the accumulated views after three days. Creators have up to 30 days from the video's posting date to withdraw their payment.
The great news is that TikTok has not set a daily cap on the money it releases, and there is no maximum limit to how much a creator can earn. The earning possibilities are virtually unlimited.
How much can you earn from TikTok Creator Fund?
With TikTok Creator Fund, creators earn money based on their videos' total views, and the average Creator Fund rate typically ranges from $0.02 to $0.04 per 1000 views.
To maximize earnings, consider other opportunities like TikTok affiliate products, merchandise sales, brand deals, crowdfunding, and the creator marketplace. Many influencers find direct arrangements with brands more lucrative, with payments ranging from $200 to higher amounts per branded video.
Is the TikTok Creator Fund worth it?
Yes, definitely! TikTok Creator Fund comes down to personal preference. While it may not make you rich, it offers a low-risk opportunity to generate additional income from your content. So don't be discouraged by the Creator Fund's limitations. Young influencers are still making a good living on TikTok.
The Creator Fund "pot" is always fluctuating — based on the way the platform and your videos perform day after day — the dollar amount varies. As long as you create genuine content that connects with your audience and meets the mentioned criteria, TikTok will gladly welcome you into the program.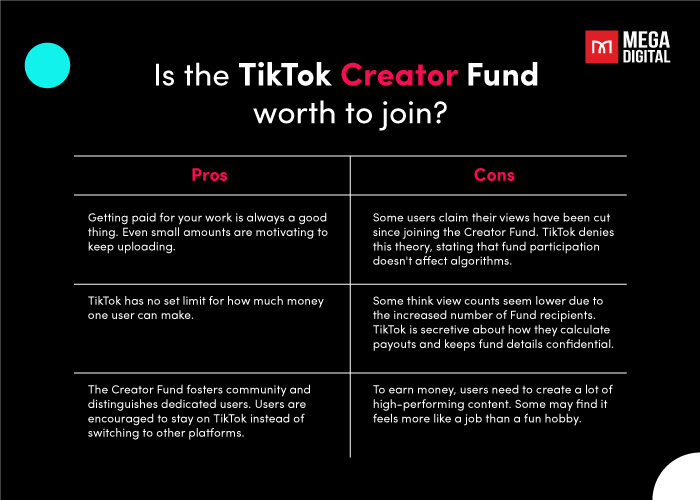 If you meet the requirements, there's no harm in giving it a try. And if it doesn't work out, you can always opt-out.
FAQs
How can I withdraw from my Tiktok Creator Funds?
To withdraw your TikTok creator funds, you can follow these steps:
Open TikTok on your smart device and log in.
Tap the "Profile" tab in the bottom right corner.
Tap the menu icon in the top right corner.
Select "Creator Tools."
Tap on "TikTok Creator Fund" to access your creator fund dashboard.
Once you are on the dashboard, tap the three dots in the upper right corner of your screen.
You can withdraw funds ($10 minimum) 30 days after the month ends in which they were accrued and transfer to your preferred payment method.
How much money can I get from TikTok Creator Fund?
The TikTok Creator Fund is still relatively new, and limited information is available. Some users who joined have reported earning less than expected, but some gain living money by it. While you can make money on TikTok, consider using other monetization opportunities like brand, sell, or other deals.
How do I see estimated funds on Tiktok?
To see your estimated funds on TikTok, you can access your Creator Fund Dashboard. Estimated funds should appear in your Creator Fund Dashboard approximately three days after the day on which video views were accrued.
How can you gain more views on TikTok?
To increase your followers on TikTok, first, you need to improve your engagement. We suggest you to follow these tips:
Understand your audience
Optimize your profile
Consistently create relevant content
Engage with your followers regularly
Share your TikTok videos on other social media platforms
Participate in trends and challenges
Use hashtags strategically
Post at optimal times
Collaborate with UGC creators
>> Read more: 11 TikTok Tricks to Boost Engagement in 2023
Wrap up
Whether you're into storytelling or dancing, becoming part of the TikTok Creator Fund can be a fulfilling experience. If you want to connect with your audience and meet the requirements mentioned above, TikTok will likely accept you into the program without hesitation. Don't wait any longer – apply today and start turning your creativity into earnings!
>> Read more: How to make money on TikTok: 7 ways to monetize your channels