Discovery ads vs Display ads serve different marketing purposes. Understanding the key distinctions between Discovery ads vs Display ads enables brands to reach the appropriate audiences and achieve remarkable outcomes in their marketing efforts. After all, it's about using the right approach for the right goals!
Discovery ads vs Display ads similarities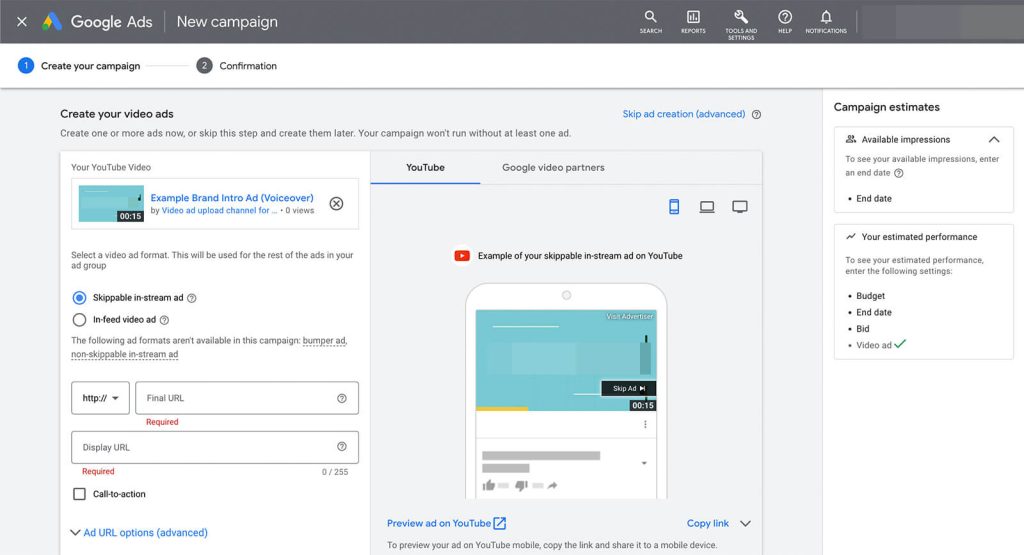 Both Discovery ads and Display ads are one of Google Ads types, enabling brands to post pre-design creative assets and let Google machine learning transform them into multiple ad combinations. They might seem alike but still hold major differences in terms of targeted audiences and scenarios to use them. Let's explore the differences between Discovery ads vs Display ads below!
Differences between Discovery and Display ads
Discovery ads target specific audience segments by analyzing user signals such as clicked videos and followed topics on social media. They reach audiences even before they search for items, making them ideal for sales and acquiring new customers.
On the other hand, Display ads target general audiences based on demographics, online behavior, and interests, aiming to encourage actions like form filling or brand page visits, making them best for building brand awareness.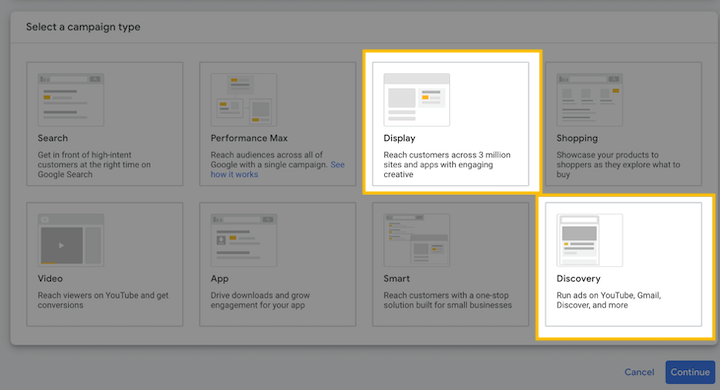 Below are more detailed comparisons of Discover ads and Display ads, based on 6 factors:
Placement
Appearance
Ad specs
Bidding strategies
Targeting techniques
Lead forms
1. Placement
The key difference between Discovery ads vs Display ads is where their ads appear. Display Ads can showcase tons of ads across 3,000 websites and platforms on Google properties and Google Display Network (GDN). GDN allows brands to place their ads on many of Google partners' websites, mobile applications, and any other properties, including eBay, Forbes, and YouTube. This increases the chances customers see brands' ads repeatedly on cross-platforms.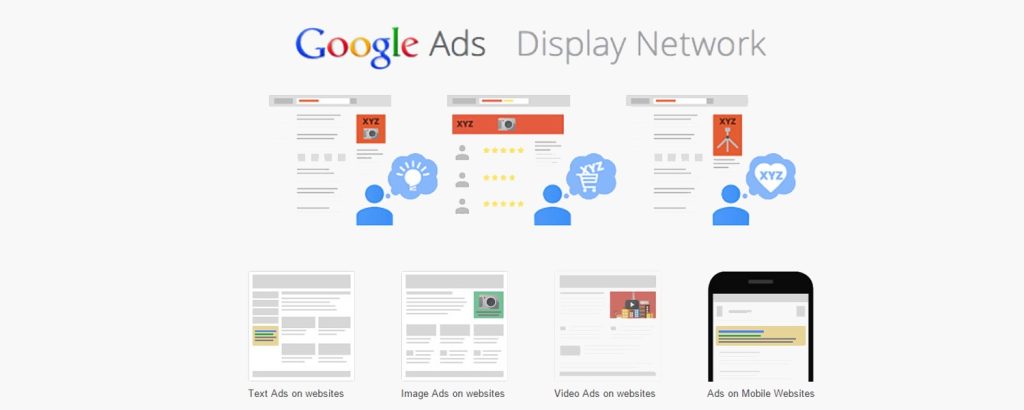 Conversely, Discovery campaigns only display ads on platforms owned by Google. These platforms can be websites or applications using Google AdSense to make money, similar to the ways other networks like LinkedIn or Facebook have their own ad networks. Also, it has some setting limitations on:
Manual bidding strategies
Placement and Device targeting
Contextual targeting
Frequency tapping
Delivery method
2. Appearance 
Both Google Ads Display and Discovery campaigns rely on image-based formats. When creating Responsive display ads or Discovery ads, you'll need to supply headlines, descriptions, and images. Google then adapts these elements to suit different ad placements, similar to how a Responsive Search Ad works.
Here are five subtle distinctions in the appearance of Discovery ads compared to Display ads:
Discovery ad headlines can extend to 40 characters, whereas Display ad headlines are limited to 30 characters, similar to search ads. Google recommends "medium-length headlines" for Discovery ads.
Both Display and Discovery ads accept square (1:1) and landscape (1.91:1) images. However, Discovery campaigns also support portrait (4:5) images, designed to accommodate Meta Ads assets.
Display ads allow video assets, and while Google announced this feature for Discovery ads in Google Marketing Live 2022, it's not yet available at the time of writing.

Display campaigns commonly use dynamic remarketing by linking the Google Merchant Center feed. Discovery campaigns have launched a beta program allowing feed connection, focusing on both prospecting and remarketing, not just dynamic remarketing.
>>> Read more: How to Set Up & Optimize Google Shopping Feed in Merchant Center
Discovery campaigns offer the option of creating a Discovery carousel ad with multiple images, headlines, and links in a single ad unit, akin to Meta. Display campaigns do not provide Carousel ads.
3. Ads specifications
The next part will discuss the similarities and differences between Discovery ads vs Display ads in terms of specifications.
Ads specs
Discovery Ads
Display Ads
Images
Square images (1200 x 1200)
Landscape images (1200 x 628)
Portrait images (960 x 1200)
Square images (1200 x 1200)
Landscape images (1200 x 628)
Portrait images not supported
Headlines
5 headlines with a limitation of 40 characters/headline
5 headlines with a limitation of 30 characters
Descriptions
4 descriptions with a limitation of 90 characters/description
5 descriptions with a limitation of 90 characters/description
Business name
Limited to 25 characters
Limited to 25 characters
Logos
Square logo (1200 x 1200)
Square logo (1200 x 1200)
Videos
Video assets are not compatible
Video assets are compatible
Ads form
Carousel ads supported
Carousel ads not supported
Lead form
In-ads lead form supported
In-ads lead form not supported
>>> Read More: Google Discovery Ads Specs and Pro Tips for Brand Success
4. Bidding strategies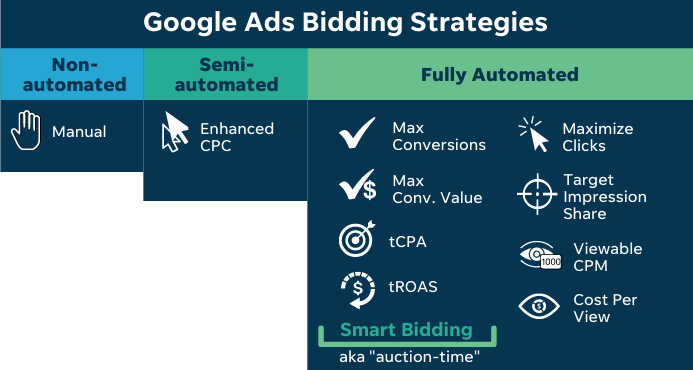 Discovery campaigns are designed to boost conversions, using one of the strategies: Maximize Conversions or Target Cost Per Acquisition (Target CPA). By applying these bidding strategies, Discovery Ads target people who are more likely to take action on a brand's website through an intent-focused approach.
On the other hand, Display Ads offer more bidding options for brands, such as bidding for Clicks, Impressions, Conversions, Conversion Value, ROAS (Return on Ad Spend), and Manual Bidding. This allows brands and businesses to use Display campaigns for multiple purposes, including building general brand awareness, increasing sales, or leading generation campaigns.
5. Targeting techniques
Google display ads campaigns provide you with many options to reach different types of people. You can choose to target a broad audience or a very specific one. Both Discovery ads and Display ads give access to the same audience targeting techniques, including:
Custom audiences
In-market audiences
Affinity audiences
Specific demographics
Audience segments based on life events
People who have visited your website before (retargeting)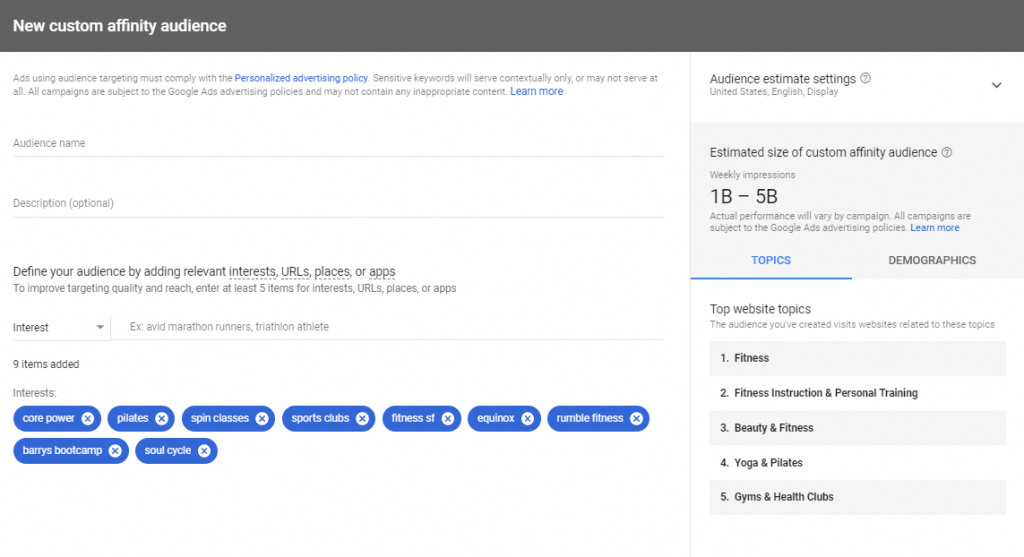 However, there is a minor difference between Discovery ads vs Display ads when it comes to targeting techniques. While Display ads allow both content targeting and audience targeting, Discovery ads only allow for audience targeting.
Note:
Both Discovery ads and Display ads have default optimized targeting options, which can be turned off in the audience settings section.
>>> Read more: A Complete Guide To Display Ad Targeting For Beginners 2023
6. Performance
One final difference between Discovery ads and Display ads lies in the performance that they bring to brands and businesses. According to experts, Discovery ads bring more conversions and engagement in comparison to Display ads.
In 2022, Pandora collaborated with iProspect in a Discovery ads campaign, using product feeds to produce personalized ad experiences. The results were outstanding, with a remarkable 94% increase in sales from potential customers and a 28% year-over-year growth in return on ad spend. Olav van der Lans – Digital Performance Lead at Pandora NOEU – expressed appreciation for using Discovery ads' product feeds to enhance ad relevance and engage more customers.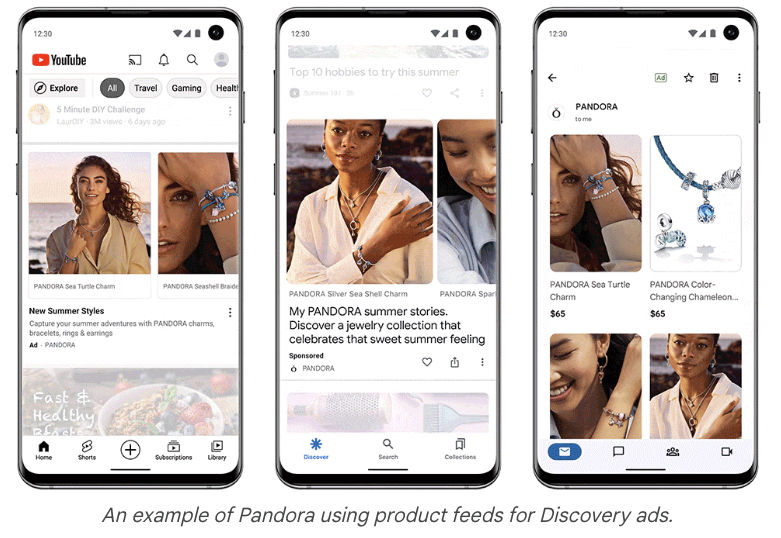 Interactions
In Google Ads, a "click" signifies a paid visit to your website, typically resulting from interactions with search or Display ads, for which you incur charges.
Conversely, an "interaction" encompasses any paid click within Google Ads, even if it doesn't direct the user to your website. For instance, when someone clicks on a Gmail ad, it opens the email without leading them to your site. To access your website, they must read the email and subsequently click the call-to-action button.
Due to this distinction, a Gmail open qualifies as an "interaction" but not a "click." Given that Gmail is among the three Discovery placements, it's essential to monitor not only clicks, click-through rates, and costs per click but also interactions, interaction rates, and costs per interaction.
Engagements
Furthermore, there are "engagements" when a user performs a valuable action that isn't categorized as a click or an interaction. For instance, watching 10 seconds of your video qualifies as an engagement, but it's important to note that you only incur charges when someone watches a minimum of 30 seconds of your video, or the video's entirety, whichever comes first.
Similarly, forwarding your Gmail ad to a friend constitutes an engagement. If a user "likes" your Discovery ad, that's also considered an engagement. Although I typically don't focus on the engagement, engagement rate, and cost per engagement metrics, they can be valuable for troubleshooting purposes.
Which is better? When to use each?
Discovery ads campaigns
Google Ads Discovery campaigns work best with strategies that focus on getting more conversions, such as:
Maximize Conversions: Aim at getting more people to complete desired actions on your website.
Maximize Conversion Value: Pay attention to achieving higher-value conversions that bring in more revenue.
Discovery campaigns are great at targeting people who are closer to making a decision, helping bring in more valuable traffic for brands. Although its CPC (cost per click) cost higher than in Display campaigns, it's said to be a good idea to try Discovery campaigns first before using Display campaigns. Consider using Discovery ads when your campaign objectives lie heavily on getting more people to take action, such as making a purchase or signing up.
Quick Tip:
If you want to use Discovery campaigns to raise awareness about your brand or products, consider setting up a conversion action based on page views. This way, your campaign will focus on getting more clicks instead of just conversions.
Display ads campaigns
Google Ads Display campaigns are quite versatile and can be used for multiple campaign objectives. They can be used to achieve different goals when applying different bidding strategies:
Use "Viewable CPM" bidding to reach broader audiences.
Select "Manual CPC" with optional enhanced CPC or "Maximize Clicks" for more clicks.
Use "Maximize Conversions" with optional target CPA or "Maximize Conversion Value" with optional target ROAS for more conversions.
Also, many people find Display ads campaigns appealing since they offer an exclusive feature called "Pay per conversion bidding". This allows you to pay only when receiving conversion. However, you should be aware of the rules and limitations on how and when you can use this bidding method. If you're unsure whether Display campaigns are suitable for your conversion goals, it's worth experimenting with pay-per-conversion bidding, especially for performance advertisers.
>>> Read more: 9 Google Display Ads Best Practices & Examples That Work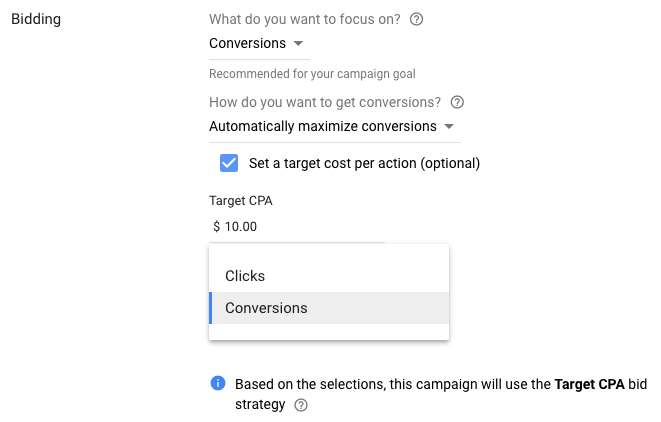 Final words
In conclusion, understanding the differences between Discovery ads vs Display ads allows brands to align their advertising approach with their campaign objectives effectively. This not only leads to cost and effort savings but also ensures the right marketing strategy is implemented.
As the foremost Google partner in the APAC region, Mega Digital provides exceptional Google Ads services that significantly enhance your ad campaign conversions. Our team comprises seasoned experts with years of experience in the field, and we take pride in our track record of delivering success to numerous campaigns. Get in touch with us today to optimize your ads for superior results!