Google Display ads appear as banners, images, or interactive media on websites that are part of the Google Display Network (GDN). The GDN reaches millions of websites to increase brand visibility and drive traffic to their websites. Businesses can select specific demographics, interests, and behaviors to show their ads to the right audience.
What are Google Display ads?
Display ads are banners, videos, and image ads that are shown across websites and mobile apps in the GDN. This network also includes Google-owned properties like YouTube and Gmail.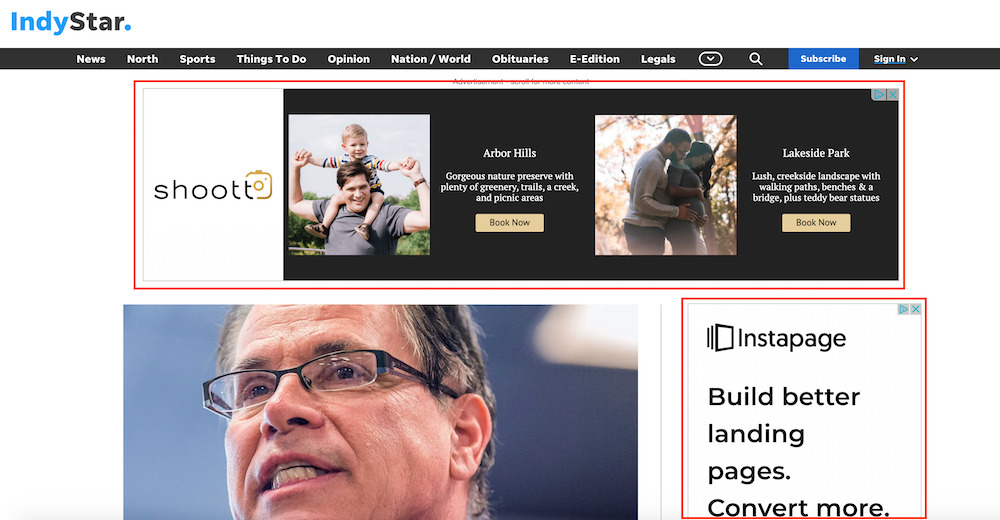 Google offers a range of ad types. That's why Display ads are often mistaken for Search ads. If GDN ads meaning is still vague to you, let's look at this Google Search ads and Display ads comparison table, how are they different?
| | |
| --- | --- |
| Display ads | Search ads |
| Static images, animations, and interactive content | Purely text-based ad format |
| Appear on Google Play, in the Shopping tab, and Google Maps, including the Maps app | Appear in the Search Network (search engine results pages) |
| Bid strategies include Cost per action (CPA), Return on ads spending (ROAS), Cost per click (CPC), and Cost Per Thousand Impressions (CPM) | Generally uses CPC; CPM isn't available |
These two Google ad types can be run simultaneously, however, for new advertisers, we recommend testing 1 type first to review and monitor the ad performance easily.
>>> Read more: Search Ads vs Display Ads: Differences and Which to Choose
Benefits of Display Campaigns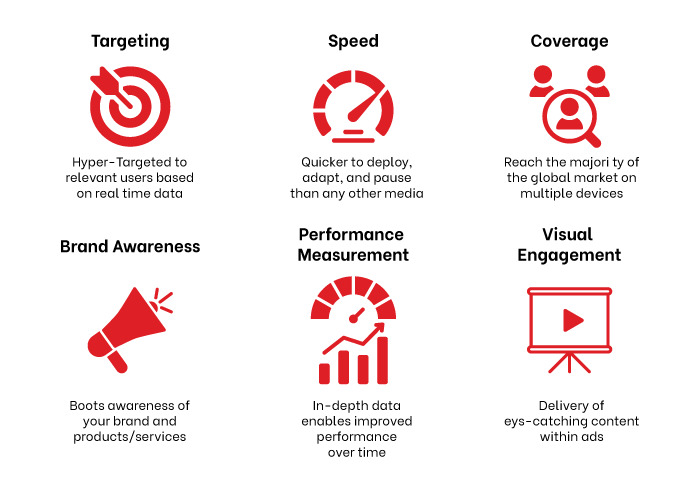 There are several benefits of Google Display campaigns for advertisers, including:
Expand reach: GDN campaigns reach over 3 million websites and more than 90% of internet users worldwide. They appear on millions of websites, apps, YouTube, and Gmail, increasing brand awareness by 1046%.
Remarketing: Google Display Network ads target users who have previously interacted with your website or app. Google Ads remarketing campaigns can result in a 10% increase in conversion rate compared to non-remarketing campaigns.
Design to use easily: Display campaigns use machine learning to simplify targeting, bidding, and ad formats, resulting in a smooth and hassle-free campaign experience.

Optimized targeting: Identify and target the most relevant audience segments that are likely to convert, boosting your chances of meeting conversion goals by 59%.

Smart bidding: Use machine learning-based bidding strategies to optimize conversions or conversion value in each auction.
How do Google Display ads work?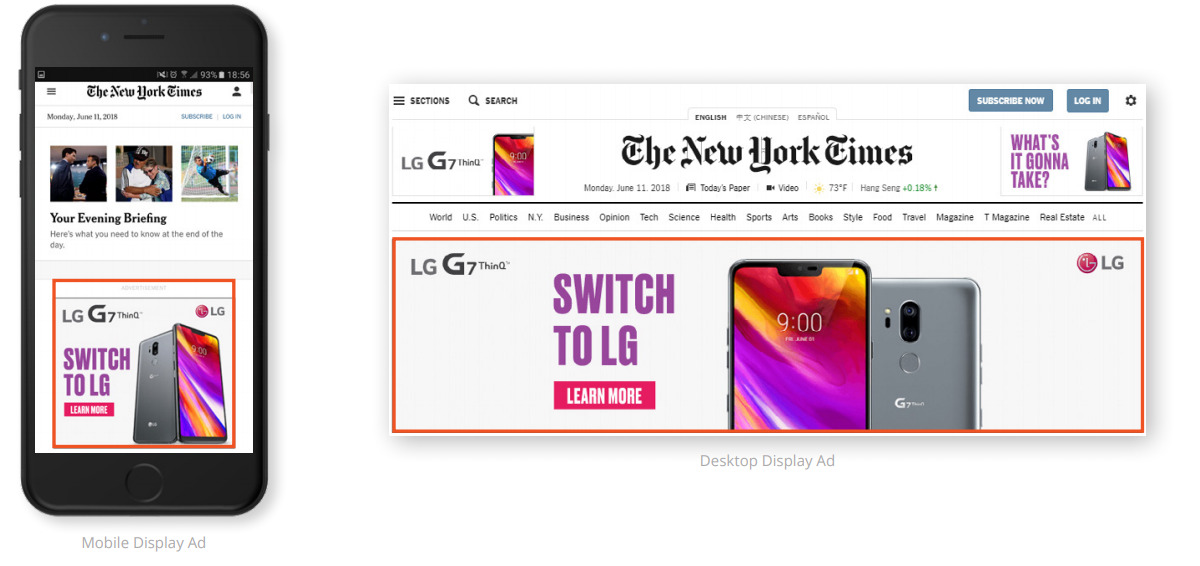 The GDN offers a range of targeting options that enable you to reach your desired audience effectively. Here are a few examples of how you can make use of targeting with Display ads:
Find new customers or engage existing ones using audience segments: Google Display ads work by targeting specific segments of users based on their interests, behaviors, and online activities. Through browsing history and demographic information, GDN campaigns help businesses expand their customer base. Additionally, businesses can retarget previous site visitors and increase the chances of conversions and repeat visits.
Drive more conversions through automation: Automated targeting helps identify high-performing audience segments based on your existing audiences and landing pages. Besides, it adjusts your bid automatically to align with your return on investment objectives. Plus, Smart Display campaigns also combine automated targeting, bidding, and creative strategies to maximize conversions on Display campaign Google Ads.
Google Display ads types, sizes & ad formats
Best Google Display ads come in a variety of sizes. You can see the most common dimensions below:
Desktop: 970×90, 300×250, 336×280, 728×90, 300×600, 160×600, 468×60
Mobile: 300×100, 300×200, 300×50
Both devices: 200×200, 250×250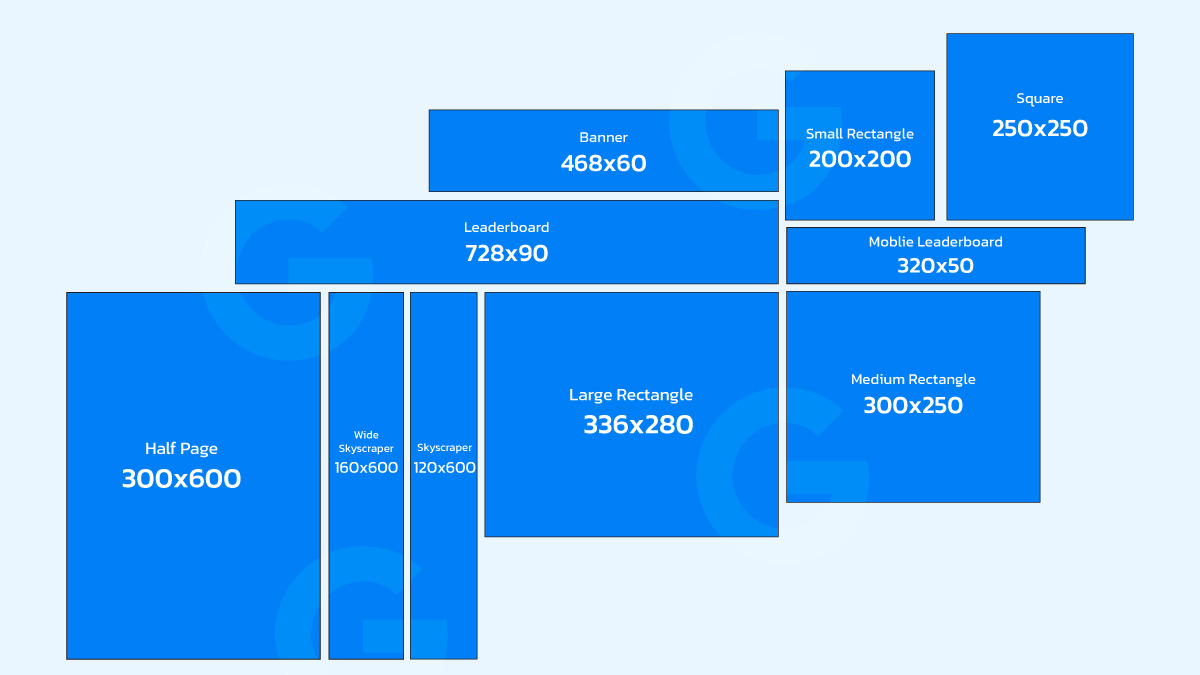 Now you've learned the sizes of your GDN ads. What are the main types and which one should you opt for? Here are two main types of Google display ads: Responsive Display Ads and Uploaded Display ads.
Responsive Display ads
You upload a few images and pieces of text (headlines and descriptions). Then Google mixes and matches them to find the best-performing combinations—this way, you don't have to create multiple ad creatives in different sizes. Since these best Google Display ads automatically adjust to fit any available ad space on the GDN, they have the greatest reach.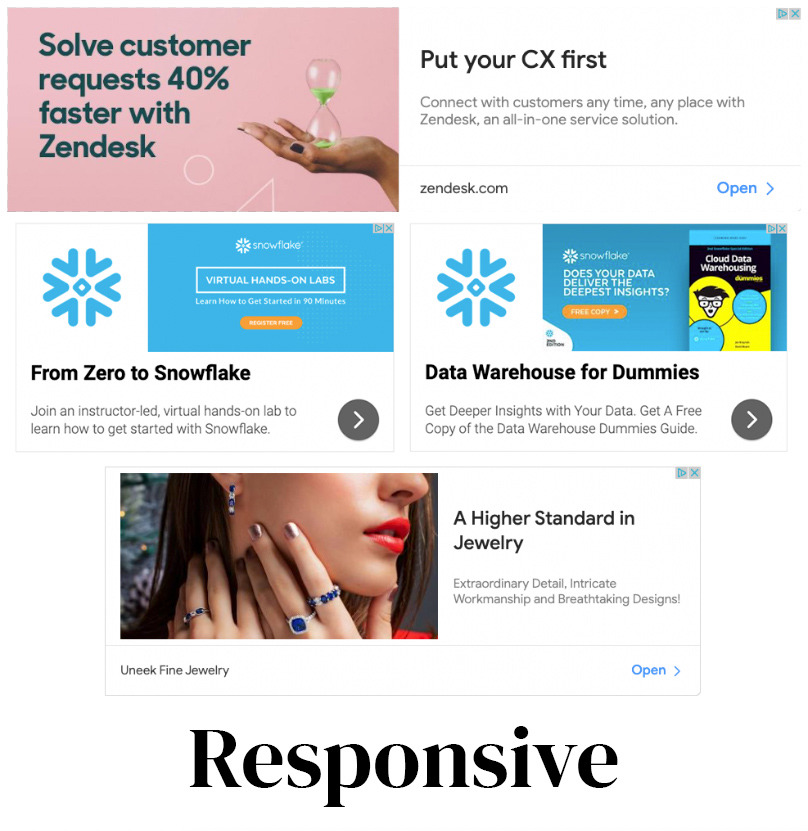 Uploaded image ads
Uploaded image ads give you more control over the design and appearance of your Display campaign in Google Ads. You can create custom image ads in different sizes or use HTML5 to create interactive and animated ads.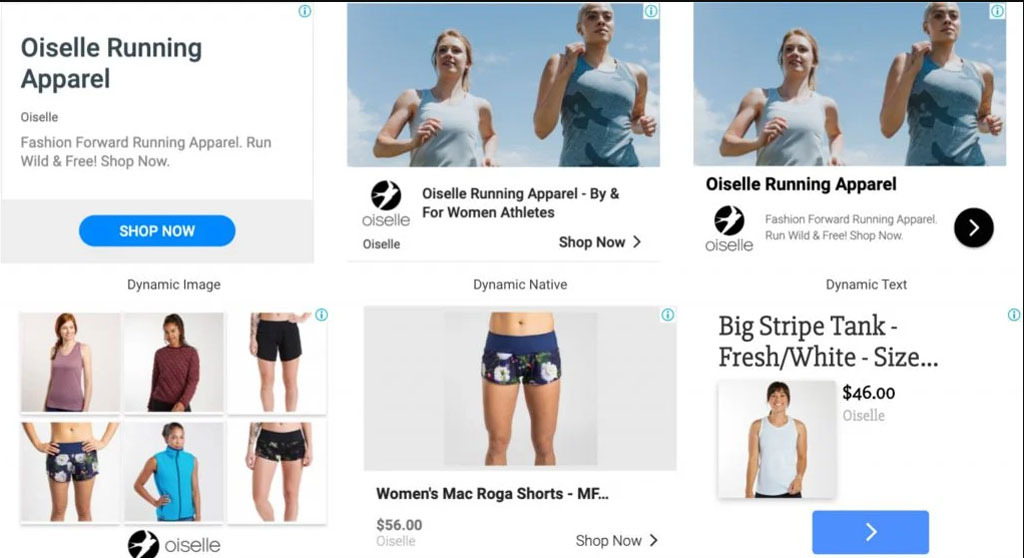 Which type should you use?
| | | |
| --- | --- | --- |
| | Responsive Display Ads | Uploaded Image Ads |
| Pros | Automated ad creation based on available assets | Full control over creative design and content |
| | Wide reach across various Google properties | Ability to create highly customized visuals |
| | Optimized for different ad placements and devices | Ability to use custom or branded visuals |
| | Easy to set up and manage | Ability to showcase specific product features |
| Cons | Limited control over ad appearance | Requires design skills or graphic assets |
| | Limited customization options | More time-consuming to create and update |
| | Less control over individual asset performance | May not dynamically adapt to different sizes |
| | Dependence on machine learning for optimization | Limited reach compared to Google properties |
Google recommends using responsive ads in most cases as they are easy to install. Create at least one responsive display ad for each ad group and include multiple titles and descriptions to optimize performance.
How much do Google Display ads cost?
Just like how Google search works, Google Display ads also operate on a Google auction system. When your ad meets the criteria for a particular ad space based on your targeting settings, it enters into a quick auction with other advertisers.
Google determines where your ad will be placed and how much you'll pay for each click based on:
Targeting options
Bidding strategy
Here are some bidding strategies to give you a better idea of Google Display ads costs:
CPC: The average CPC for Google Display ads ranges between $0.50 and $2.00. For example, if your ad receives 100 clicks at an average CPC of $1.50, you would pay $150. Usually, the actual amount you pay per click is lower than your maximum CPC bid. In the end, you only pay the necessary amount to outrank the advertiser below you.
CPM: Google Display ads cost calculated by CPM can range from $0.50 to $5.00. For instance, if you run a campaign with a CPM rate of $2.50 and it generates 50,000 impressions, you would pay $125.
Industry variations: Keep in mind that some industries may have higher competition and more expensive clicks. For example, industries like insurance, finance, or legal services may have higher average CPCs, probably between $5 and $20 or more.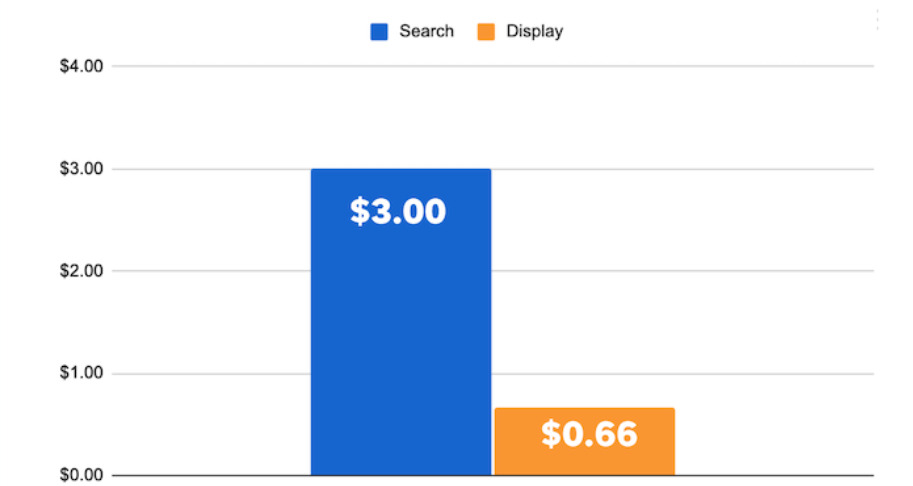 According to Mega Digital's data, the average CPC on the GDN is $0.63. In comparison, the average CPC on the search network is $2.69, around four times higher. This is because clicks on the search network are generally considered more valuable.
How to set up Google Display ads
No matter which type of display ad you choose, learn how to set up and adjust targeting options to reach your desired audience.
Step 1: Create a new campaign
Log in to your Google Ads account and select "+ New campaign".
After that, you'll have different options to choose your campaign goals. Choose the one that best aligns with your campaign goals. E.g. choose 'Sales' if you want to boost your sales revenue or 'Brand awareness and reach' if your Google Ads campaign objective is to reach more potential customers.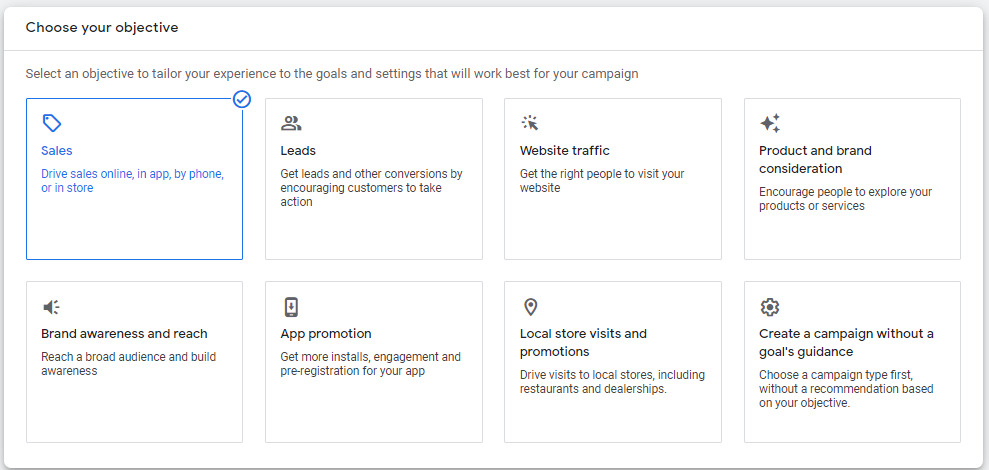 However, you can select "Create a campaign without a goal's guidance" option if you want to have all possible settings available at your disposal.
In order to run a Display Network campaign, choose the 'Display' campaign type.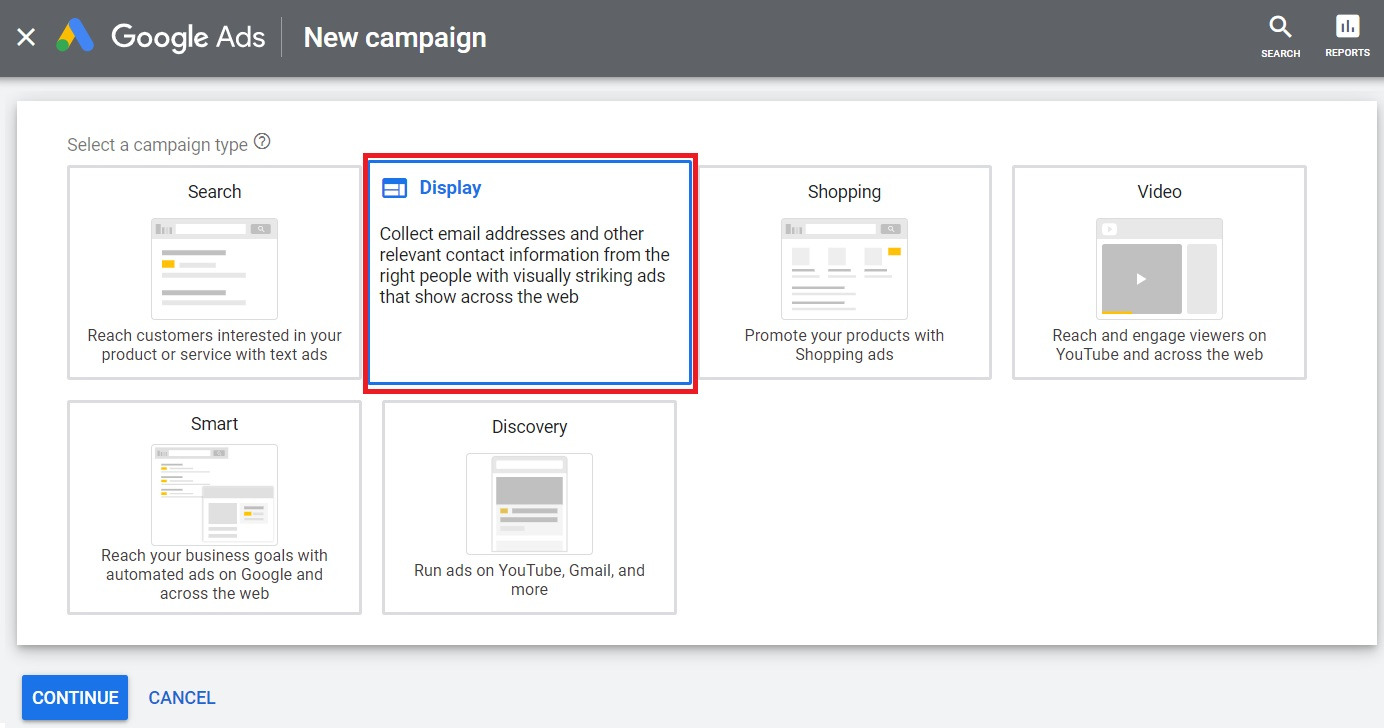 Name your Display campaign Google Ads, then click "Continue".
Step 2: Set up the campaign
To improve the effectiveness of your Google Display ads campaigns, it is important to set up location targeting and language targeting. This will help you reach a wider audience and ensure that your ads are shown to the right people in the right locations and languages.
What languages ​​do your customers speak? Where are your customers located? Use that information to set the location and language for your Display campaign in Google Ads.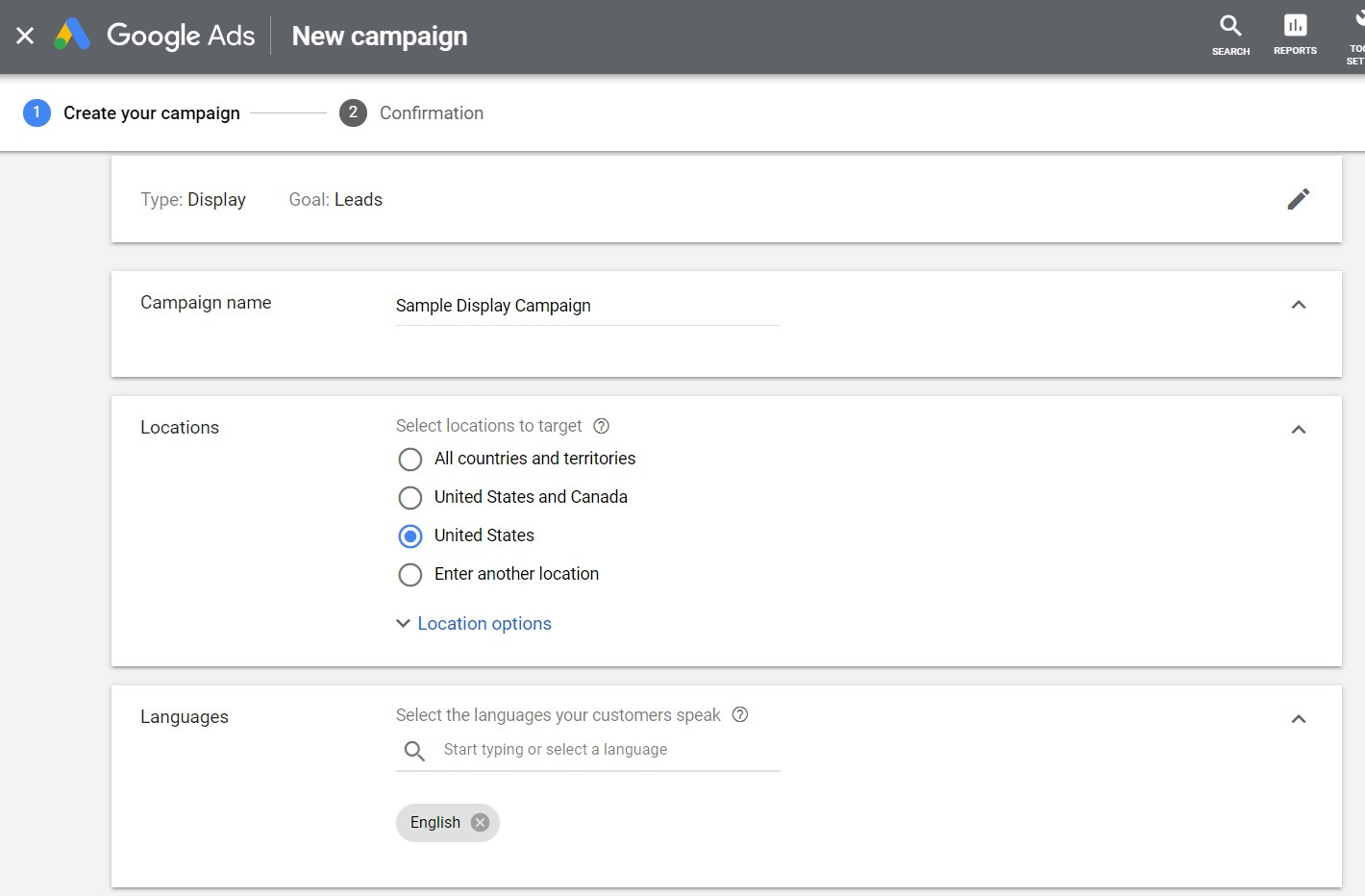 Under location options, we can specify if we want to include people who have shown interest in our targeted and excluded locations. For example, you can choose the "Presence: People in or regularly in your targeted locations" option.

When a Google Ads Display campaign has been tested for a while, people from other countries will eventually pop up if they frequent your targeted location. You can specify an excluded location to remove these people, and thus, only target people that live in your targeted location.
After that, check out the "Advanced search". By choosing this option, you can target an area within a 15-mile radius (the radius setting is up to your goal).
Step 3: Add more settings
There are different settings you can choose for your campaign including:
Ad Rotation: Determine how your ads are shown (optimize or rotate evenly).
Ad Schedule: Specify when your ads should be displayed.
Start and End Dates: Set the duration of your campaign.
Devices: Choose which devices your ads will appear on.
Frequency Capping: Limit the number of times an ad is shown to an individual.
Campaign URL Options: Add tracking parameters to destination URLs.
Dynamic Ads: Customize ad content based on user behavior or website context.
Conversions: Track and measure user actions on your website.
Content Exclusions: Exclude specific types of content or categories of websites.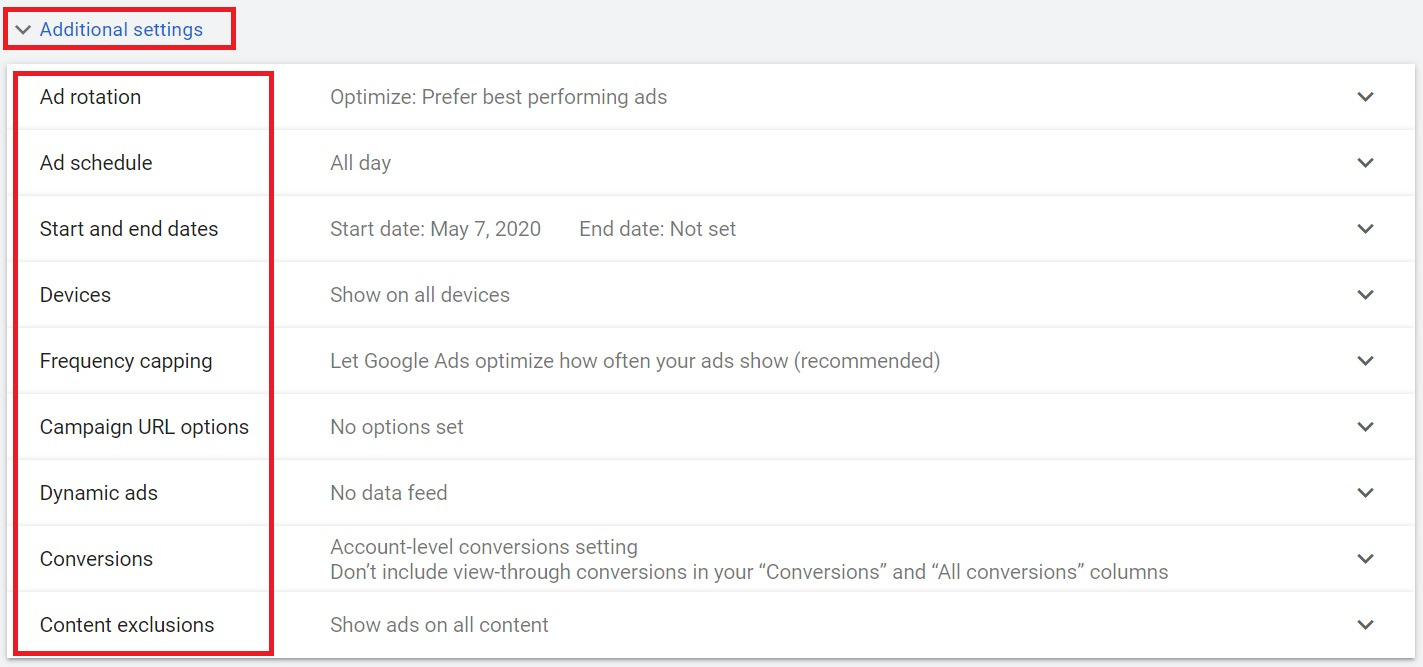 Step 4: Set budgeting and bidding
Let's look at the average daily budget for the Google Ads Display campaign. Most commonly, you can divide the amount you're willing to spend on your ad into 30.4 (average days in a month) to calculate your daily budget.
If you're using conversion tracking, you might want to use a smart bidding strategy like:
Target CPA
Target ROAS
Maximize Conversions
Maximize Conversion Value
You can start your campaign using advanced CPC manually and then switch to a smart strategy.
When setting up a new campaign, it is recommended to manually set your bids instead of relying on automated or smart bidding strategies. Automated bidding uses machine learning technology but requires sufficient campaign data to deliver optimal results. Therefore, gather data before implementing automated bidding strategies for better performance.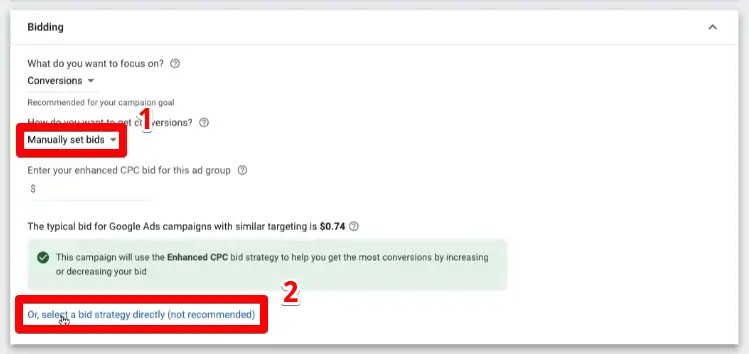 When using Manual CPC bidding, you have control over setting the maximum amount you are willing to pay for each click on your ads. Additionally, you have the option to enable Enhanced CPC, which combines manual CPC and smart bidding to optimize conversions based on historical data.
Step 5: Targeting
Let's move on to Google display ad targeting. In this part, you'll be given multiple options:
Keywords: Google Ads Display campaign will thereby match the ads with the relevant website or app content.
Topics: GDN campaign will display the ads on websites or apps that have content related to specific themes or chosen topics.
Placements: This provides more control over Display Network Google ads placement and allows advertisers to target specific publishers or websites. They can choose specific websites, mobile apps, or individual web pages where they want their ads to appear.
Demographics: Advertisers can target their ads based on demographic criteria such as age, gender, and parental status.
For more detailed audience targeting, you should set up the "Audience segments".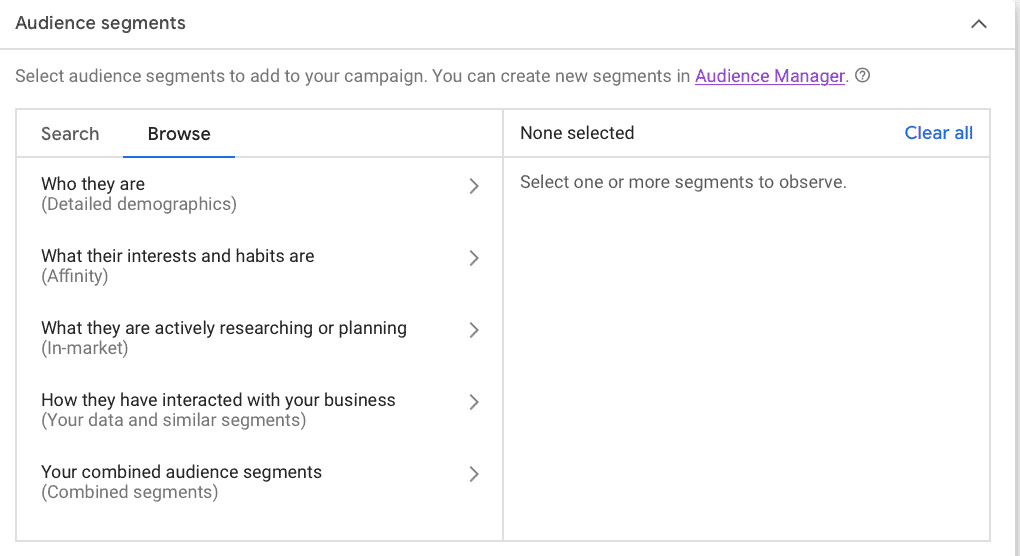 Affinity Audiences: Users who have demonstrated a strong interest in specific topics or industries.
In-Market Audiences: Users who are actively researching or showing purchase intent for specific products or services.
Custom Intent Audiences: Advertisers create their own audience segments based on relevant keywords, URLs, or apps.
Remarketing Audiences: Users who have previously interacted with an advertiser's website, app, or other digital properties.
Similar Audiences: are created based on the characteristics and behaviors of an advertiser's existing customers.
Remember to select audience segments and other audience targeting that are relevant to your business.
Step 6: Add Ad creation
First, let's specify the Final URL and then upload images and logos of our Display Network Google ads.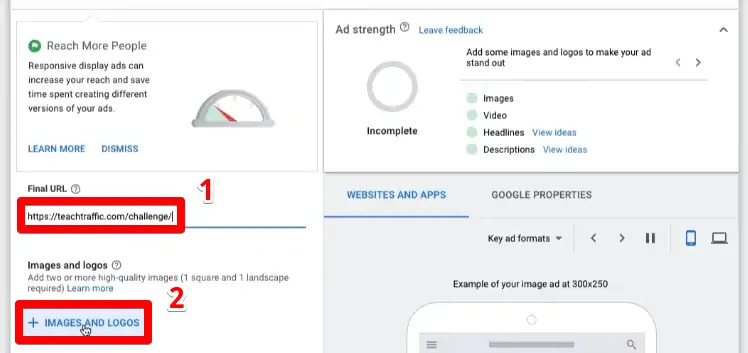 Click on the images and logos you want to include and then save. Next, enter Headlines, a Long headline, and descriptions. Then, see different ad combinations by clicking on the right side of the page.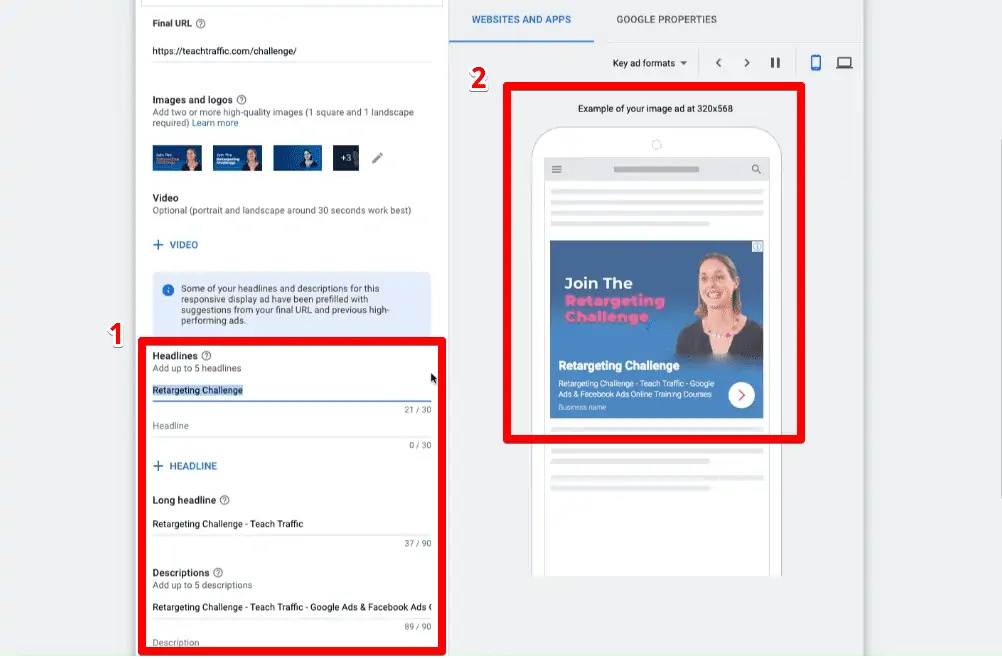 In order to get the best Google Display Network ads outcomes, consider uploading 5 or more images, 2 or more logos, 5 headlines, 5 descriptions, and a video.
Finally, add your Bussines name, and then click "Next".
Step 7: Set up conversion tracking
Install Google Ads conversion tracking on your website to track conversions.
After testing your ad, define the actions you want to track as conversions, such as form submissions or purchases. Then, review your campaign settings and ad creatives to make suitable adjustments if needed.
Lastly, save and launch your campaign.
6 best practices for Google Display ads success
Now that you've learned the technical aspects of Google Display advertising, let's shift our focus to some effective Display Ads strategies that can help you gain success and maximize your returns.
1. Check out your top-performing search keywords in Search ads
If you're considering keyword targeting, start with your most successful search keywords. Find out the 'top-performing' keywords for your Google Display campaign. Keep in mind that consumer intent varies between these two Google Ads networks. If there are a few keywords that consistently generate low-cost clicks or conversions on the search network, it's worth trying them out on the GDN ads.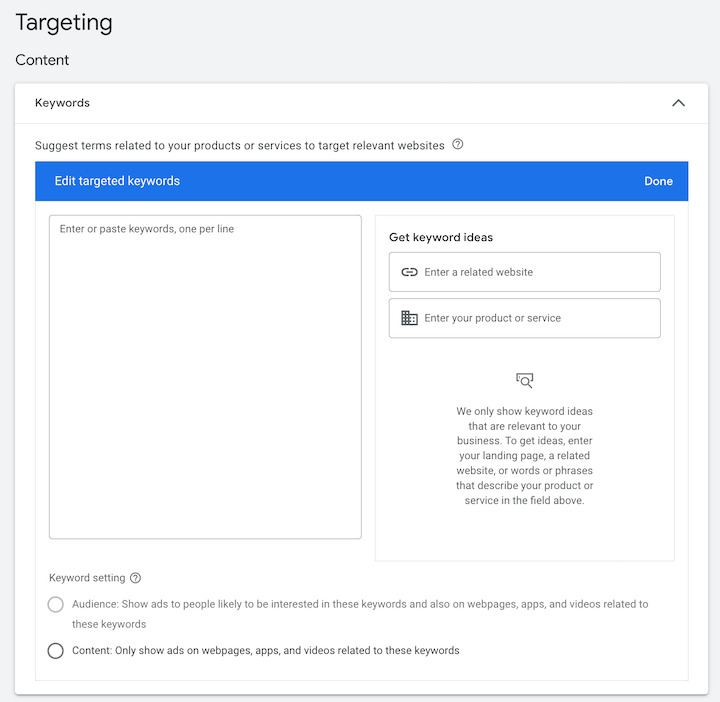 2. Use 'Bid adjustment'
Once you have gathered enough data from your Google Display Network ads, you can make informed decisions about their performance. This includes identifying which keywords and affinity audiences are performing well or poorly. Bid adjustments provide a valuable strategy to act on these insights.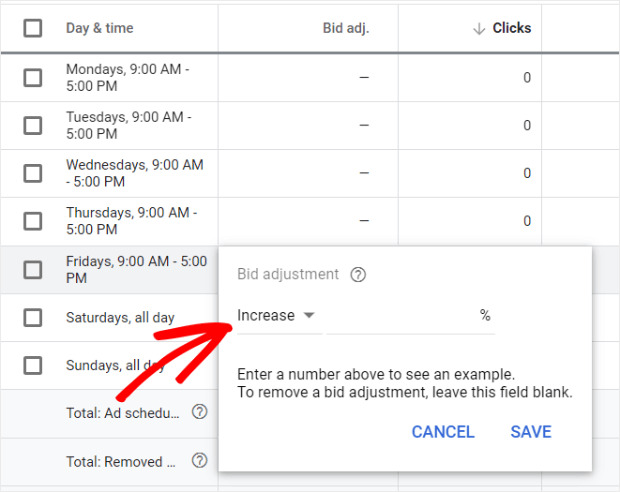 If you apply a positive bid adjustment to an ad group, then you instruct Google Ads to increase your maximum CPC bid whenever ads from that group display. Conversely, a negative bid adjustment reduces your maximum CPC bids for that ad group.
3. Check out 'Referrals'
Google Analytics provides a lot of valuable information, particularly for Google Display advertisers. One particularly valuable report for display advertisers is the referral traffic report.
Select 'Acquisition' and then click on 'All Traffic'. You'll see 'Referrals'. This report shows which websites attract people who could potentially benefit from your product or service. These websites are ideal locations to display your ads as you will reach relevant audiences and generate returns on your impressions and clicks.
4. Highlight your business value
As consumers have become used to Display campaigns in Google Ads, it's very likely that they would scroll past your ads without notice. To prevent potential waste of Google Display ads cost, especially if you're using CPM bidding, it is vital for your display ads to capture the attention of your prospects.
The visual appeal of your display ads (e.g. color scheme and typography), is undoubtedly important in grabbing attention. However, the role of your value proposition, the benefit that your future customers will experience, is often overlooked. For instance, if you're advertising pet food, your value proposition could be the support of pets' health at every age.
Regardless of your specific value proposition, it should be prominently highlighted in your ads to make it stand out and grab the reader's attention.
5. Focus on headlines in Responsive Display ads
You'll write four pieces of copy when creating a Responsive Display ad:
A short headline: 25 characters
A long headline: 90 characters
A description: 90 characters
Your business's name: 25 characters
When writing headlines in Responsive Display ads, keep in mind these two important points:
Google Ads will never display both headlines simultaneously
Google Ads may occasionally exclude your description.
Therefore, make sure that your headlines are strong enough to stand on their own. Each headline should effectively convey the unique value of your business or the offer you are displaying. This ensures that even if the description is not shown, your headlines alone can effectively communicate your message.
Here's a successful Google Display ads example of a strong headline:

>>> Read More: Top 10 Google Display Ads Examples That Works
6. Use videos
According to Bannerflow, Display campaigns in Google Ads with a video gain an 89% higher click-through rate (CTR). Here's the good news – creating a Google video Display ad is simpler than you think. It doesn't necessarily require a recorded video as you can include basic text animation, movement, or even a GIF.
Final words
Google Display ads offer a powerful platform for businesses to reach their target audience across a wide range of websites, apps, and other online platforms. If you're looking for support from experts to run ads in various formats, including images, videos, and responsive ads, check out Mega Digital Advertising services.