Uploaded display ads offer complete creative control to advertisers. They can design custom visuals, headlines, and descriptions, reflecting their brand identity. Ideal for tailored messaging and A/B testing to optimize campaign performance. Maximize impact with unique and targeted ad creatives.
What is uploaded display ads?
Uploaded display ads, which are part of the Google Display Network, give you the option to use your own images. However, it's important to adhere to specific rules for the images used in these ads.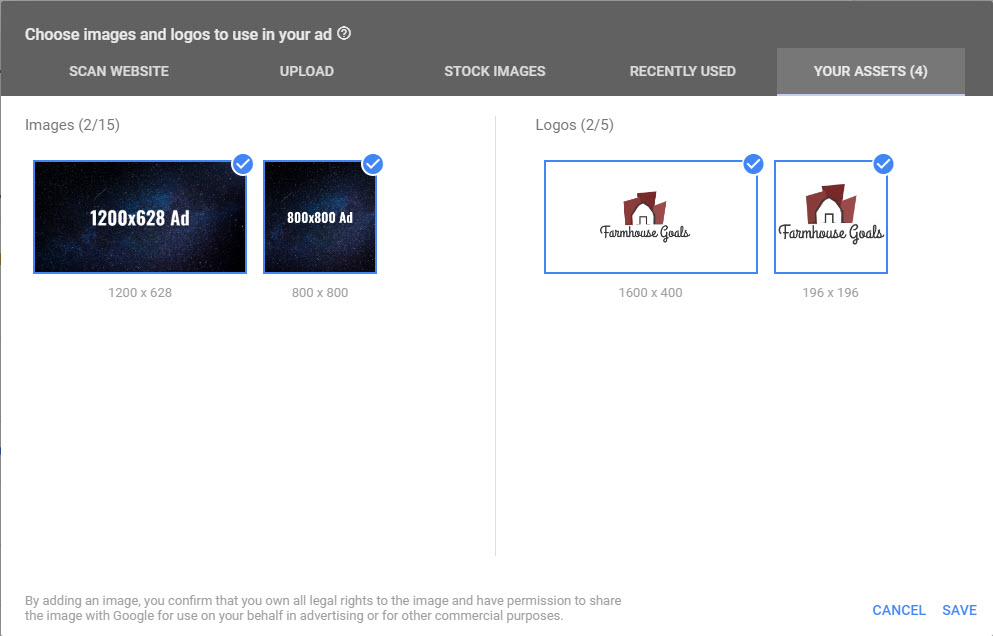 Along with Responsive display ads, these two types of campaigns offer you different options for your display advertising strategy.
To get more information, refer to the details in this article.
Uploaded ads vs Responsive display ads: Pros & cons
They have the following similarities:
Both are types of Display ads campaigns used on the Google Display Network, aiming to target a broad audience.
They allow you to include your own images, headlines, and descriptions in the ad content.
They allow for customization to some extent, giving you control over the ad content.
They can be effective in promoting your products or services to potential customers.
Uploaded ads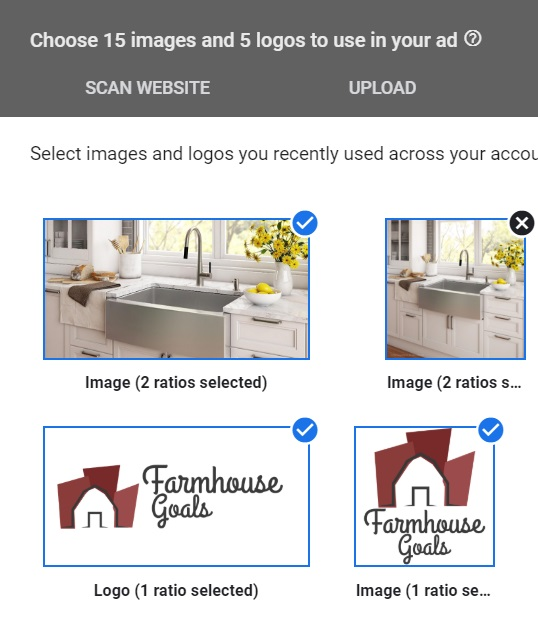 As you can see, uploaded ads are what people usually think of when talking about display advertising. As the marketer, you have full control over these ads. You create the ad design with images and headlines and upload it to Google Ads.
Pros: Have the most control over how your brand looks in your display campaigns and the message you want to convey.
Cons: Require more work because you have to create the whole ad yourself. There's a chance of making mistakes, and you might not be sure what will be most effective.
Who should use: Ideal for businesses with specific design preferences.
Responsive display ads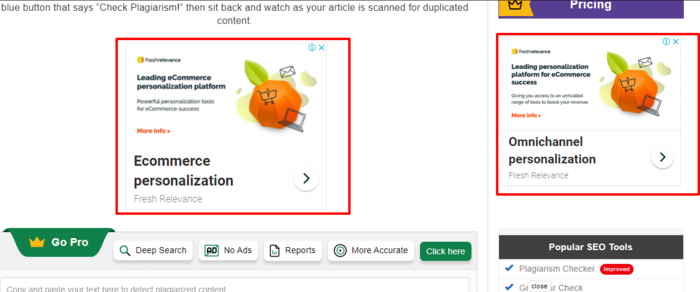 On the other hand, Responsive Display ads are much easier to manage and offer additional benefits of being more efficient and scalable. With these ads, you just need to upload your creative assets like logos, images, headlines, and descriptions, and Google will create the best combination for you in real-time using its machine learning.
Responsive display ads are more convenient, and you can trust Google's powerful technology to develop your ads instead of guessing yourself. If you're okay with giving up some creative control, responsive display ads are a great choice.
Pros: Easier to handle, scalable, and more effective.
Cons: Less creative control.
Who should use: Great for businesses seeking easy ad creation and adaptability.
Uploaded display ads specs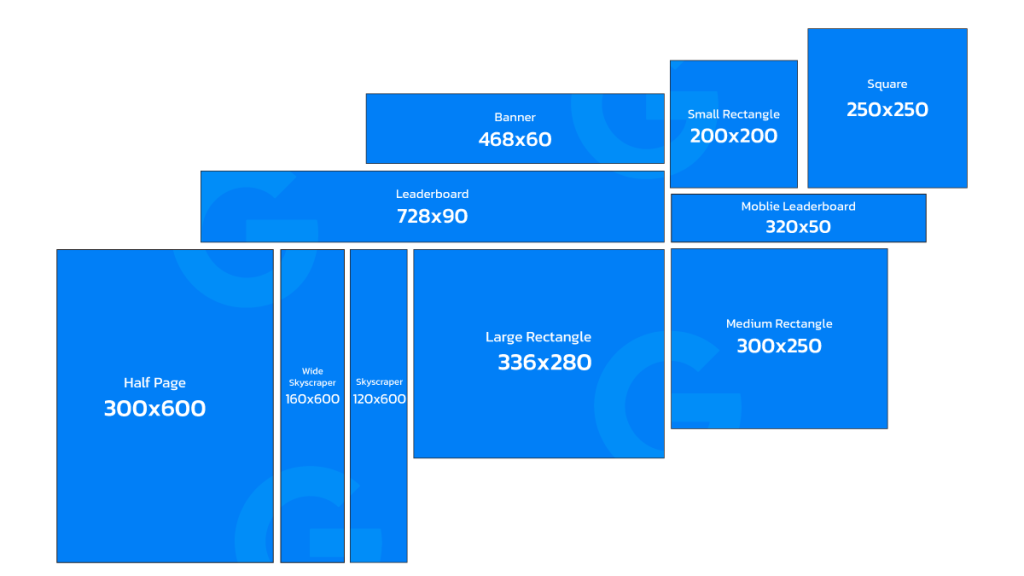 The specifications for uploaded display ads in Google Ads are as follows:
File Formats: JPG, PNG, or GIF (for images), and HTML5 or AMP HTML (for responsive ads).
Image Size: The recommended image size is 1200×628 pixels for responsive ads. For non-responsive ads, the sizes can vary depending on the ad slot requirements.
File Size: Up to 150KB for images and up to 200KB for HTML5/AMP HTML ads.
Headline: Up to 30 characters.
Description: Up to 90 characters.
Logo: A square logo with at least 128×128 pixels is recommended.
Final URL: The destination URL users are directed to when they click on the ad.
>>> Read more: Top Popular Google Display Ads Sizes with Detailed Specs
How to upload your own Display ads
To create Uploaded Display Ads, follow these steps:
Sign in.
Click on "Campaigns".
Select "New campaign".
In the "Ad" section, click the "+ New ad" button.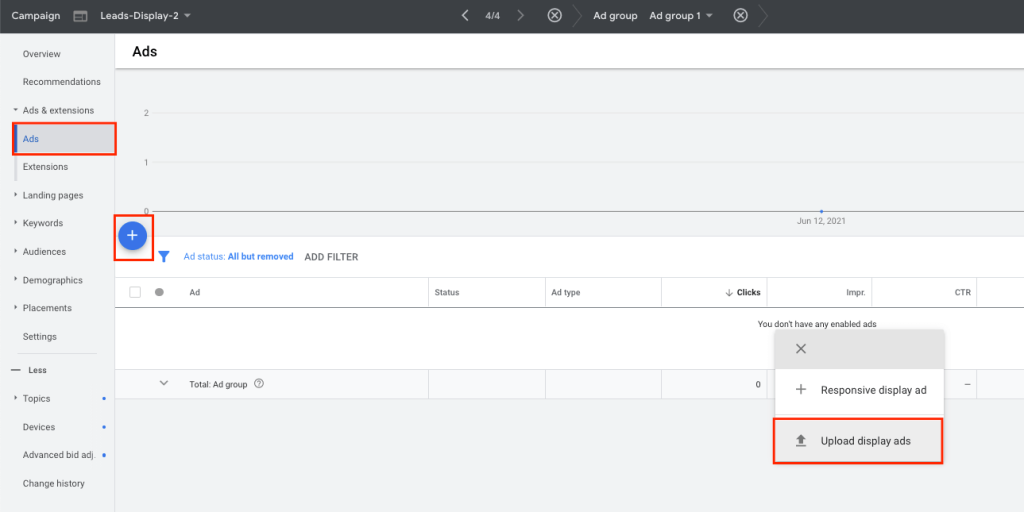 Choose "Uploaded image ad" as the ad format.
Upload your images, headlines, and descriptions for the ad. Follow the specifications provided by Mega Digital for image size, file format, and other requirements.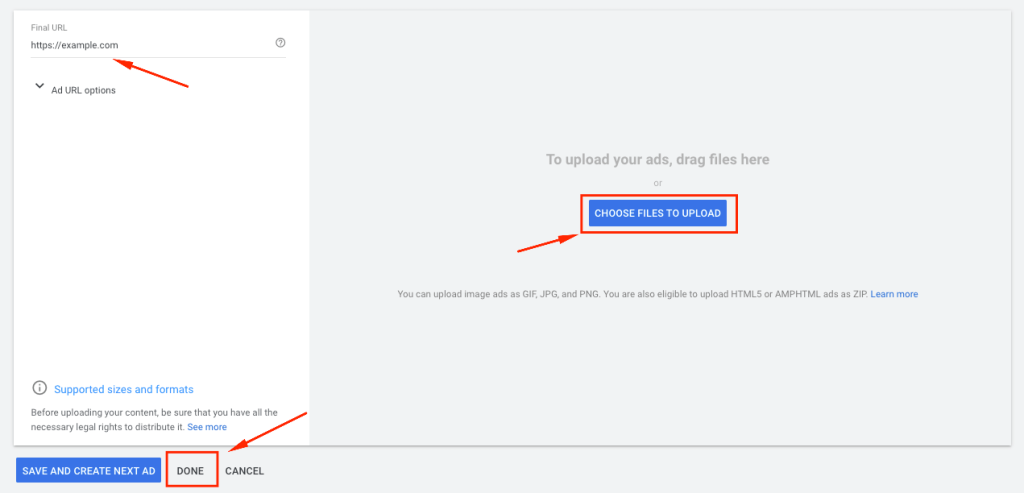 Preview your ad.
Add a final URL.
Save your ad and complete the rest of the campaign setup.
Frequently asked questions
What is the recommended length for Display ads?
Display ads should be limited to a maximum of 3-5 frames. It's important to feature a high-quality logo on each frame, ensuring it remains legible even in small sizes. To achieve this, consider revising your logo, preferably in .eps format
How to improve the effectiveness of your display ads?
Target accurate audience.
Make eye-catching ads.
Engage users with rich media.
Get optimized landing pages.
Ensure ads work well on mobile devices.
Remarket to re-engage potential customers.
Monitor and test ad performance.
What are the examples of Display ads that work?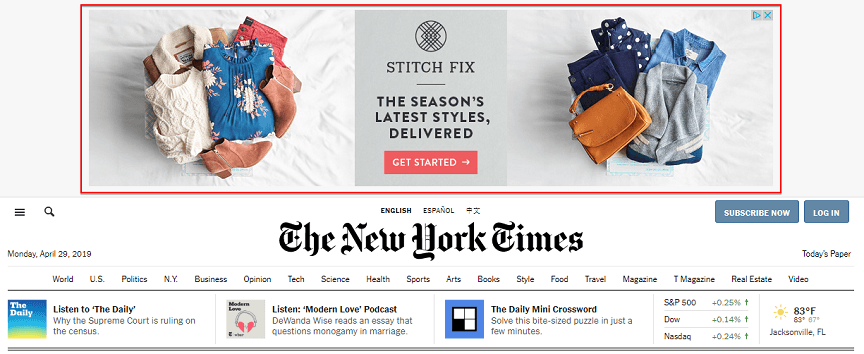 Unlike Search ads that mainly rely on text, to get clicks on Google Display ads, you need eye-catching images and persuasive writing. Mega Digital has collected the top 10 examples of Display ads that are great at driving sales, which can inspire your next campaign.
Find out here: Top 10 Google Display Ads Examples That Work & Drive Clicks
Final words
In conclusion, uploaded display ads offer marketers the power of creative control, enabling them to design and upload custom ad creatives, including images, headlines, and descriptions. This level of customization allows businesses to showcase their brand identity effectively and tailor messages to their target audience.
While requiring more effort in ad creation, the potential for unique and impactful ad campaigns makes uploaded display ads a valuable tool in the advertising market.
>>> Read more: A Complete Guide To Display Ad Targeting For Beginners 2023