With Google responsive display ads, you can upload pre-design materials (images, logos, videos, descriptions, headlines) and get ad combinations that are automatically generated via Google AI. Google responsive display ads are often used in Display ad campaigns.
What exactly is Google responsive display ads?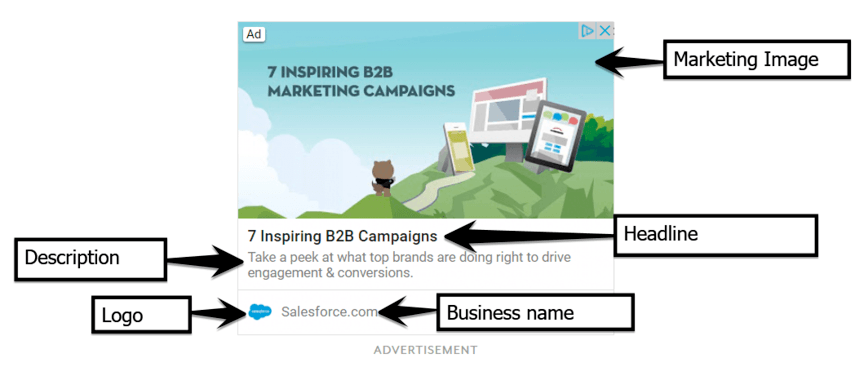 Responsive Display Ads (RDAs) are one of the Display ads types. It allows users to upload creative assets and automatically generate various ad combinations to fit in different ad spaces. Unlike the old times where you had to design multiple versions of ads to match plenty of platforms, RDAs were born to save time and bring efficiency into the "ad race".
Benefits of using Google responsive display ads
Here are some of the advantages you will achieve when applying RDAs:
Reach broader audiences
By adapting to many ads sizes and formats, RDAs help your ad campaign reach larger audiences. Not just that, responsive display ads can boost the performance of your advertising campaign by aiming at the right customer through data tracking. You can see the data below as the verification on how RDAs can obtain better results than standard display ads.


Save time and resources
Instead of producing multiple ad sizes and formats to suit various platforms, you can now let RDAs alter your ads automatically. This supports cutting down the demand for extensive ad design and production, simplifying your advertising workflow. Besides that, it creates more time for advertisers to focus on designing assets for other ad projects.
Track performance
Responsive display ads provide you a scoreboard to check if your ad is performing well and where you can improve. This allows you to manage and optimize RDAs easier than ever before. Moreover, you can check in-depth insights on what asset combinations are working best through the Combinations tab under the "Ads View Details" section.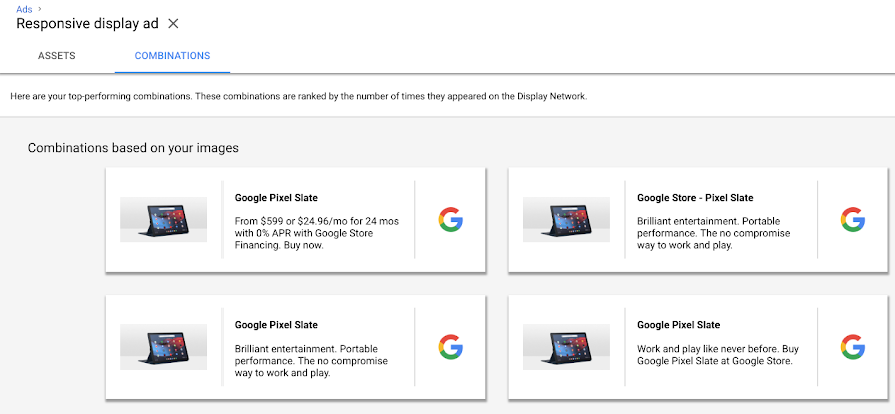 Google responsive display ads sizes & specs
Before getting ready to run the ad campaign, here are some of the RDAs specifications you might want to check on:
Specifications Types
General Info
Note
Landscape Image
1200 x 628 pixels
File size limit is 5120 KB
Square Image
1200 x 1200 pixels
Landscape logos
1200 x 300 pixels
File size limit is 5120 KB
Square logos
1200 x 1200 pixels
Videos
Upload up to 5 videos, each 30s long
Headlines
Up to 25 characters for short headlines & 90 characters for long headlines.
URL
Redirect users when click on ads
Not visible in the ads
GIFs
Not supported
Business name
Up to 25 characters
Descriptions
Up to 90 characters
>>> Read more: Google Display Ads Sizes with Detailed Specs
In total, Google responsive display ads allow us to produce up to:
5 descriptions
5 headlines
5 logos
5 videos
15 marketing images
Steps to steps on creating Responsive Display Ads
The process is really simple. First, prepare all pieces of assets including photos, logos, descriptions, videos in advance and then let Google do its amazing work. With Google responsive display feature for ads, you are able to produce up to 20 banner ads in multiple sizes, which saves so much time and energy for the designers!
Follow these detailed guidances to create Responsive display ads:
Step 1. Log in to your Google Ads account
Visit the Google Ads website (ads.google.com) or search "Google Ads" in your preferred search engine.
Click on the "Sign in" button located at the top right corner of the page.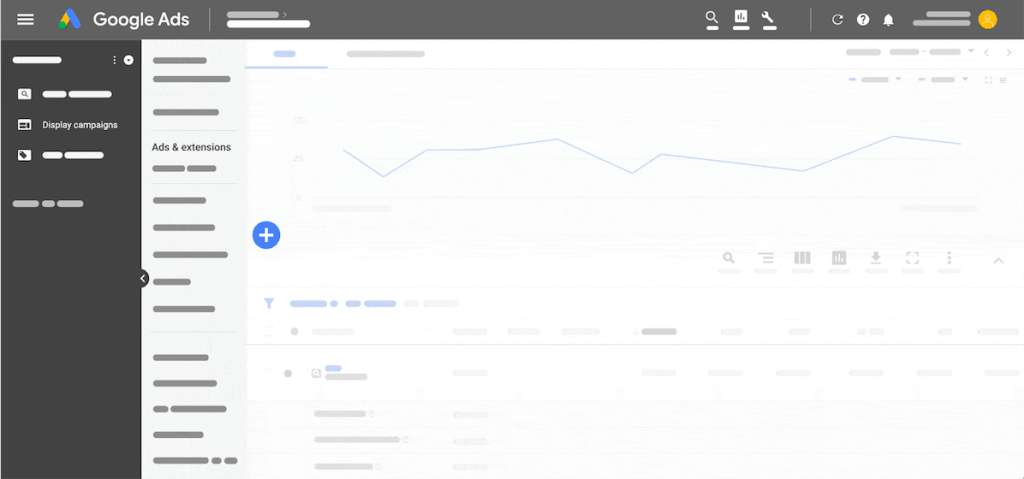 Step 2. Select Display Campaigns section
On the left-hand side of the dashboard, locate and click on "Campaigns" in the navigation menu.
In the dropdown menu that appears, click on "All campaigns" to view a list of your existing campaigns.
Scroll down the list of campaigns and look for the campaign you want to work with or create a new one by clicking on the "+" button.
Click on the campaign name or the "Edit" button to access the campaign settings.
Within the campaign settings, navigate to the "Settings" tab at the top of the page.
Scroll down the page until you find the "Networks" section.
Under the "Networks" section, you will see different campaign types. Click on "Display" to select the Display Campaigns section.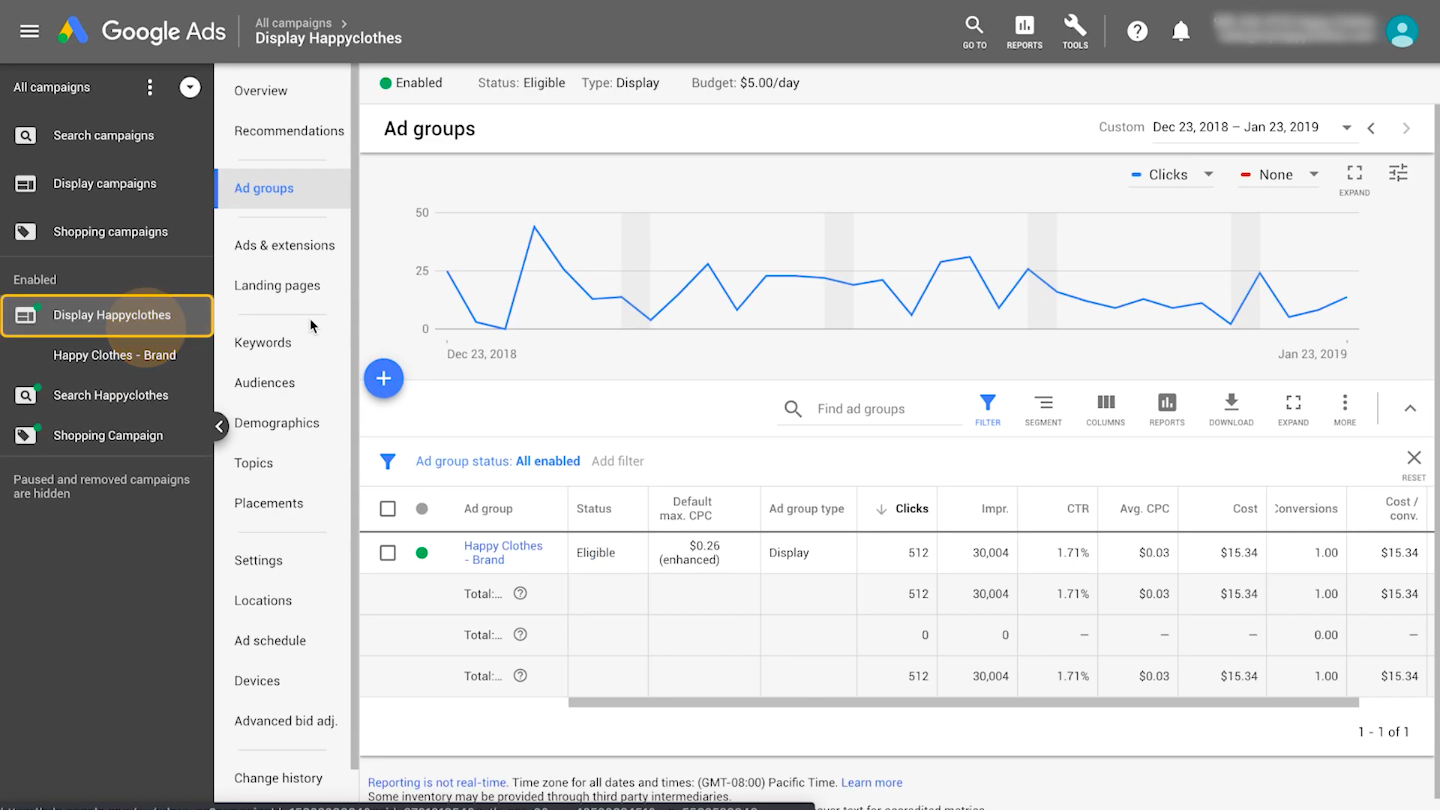 Step 3. Select Ads & Extensions
Click on "Ads & extensions" to access the section.
Upon selecting "Ads & extensions," you will be directed to a page where you can view and manage your existing ads and extensions.
Click the "+" icon and choose "responsive display ads".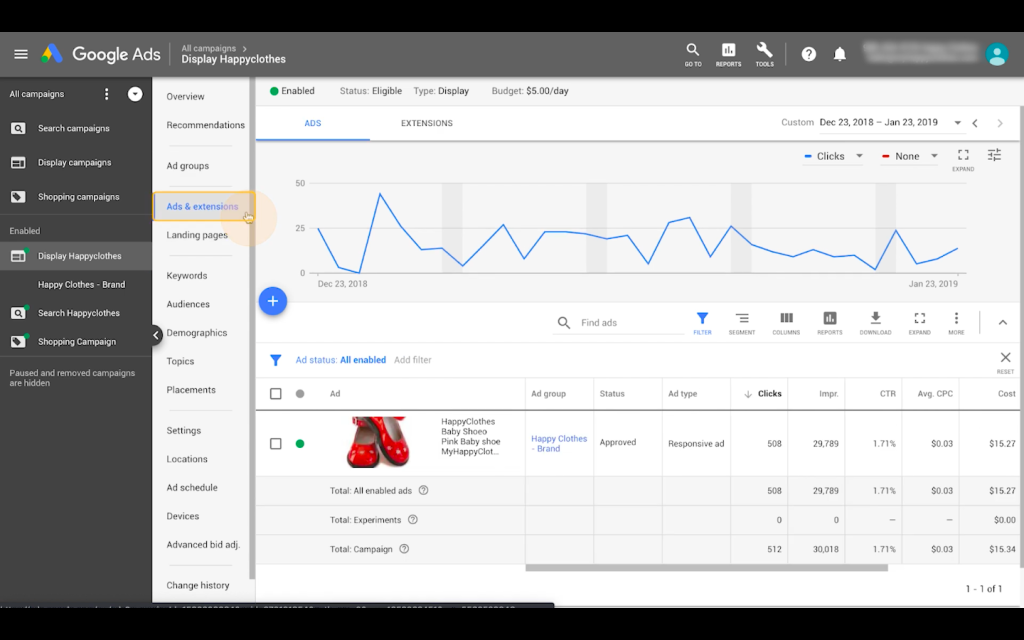 Step 4. Select your ad group
Click on the appropriate option to proceed with creating or editing responsive display ads within the chosen ad group.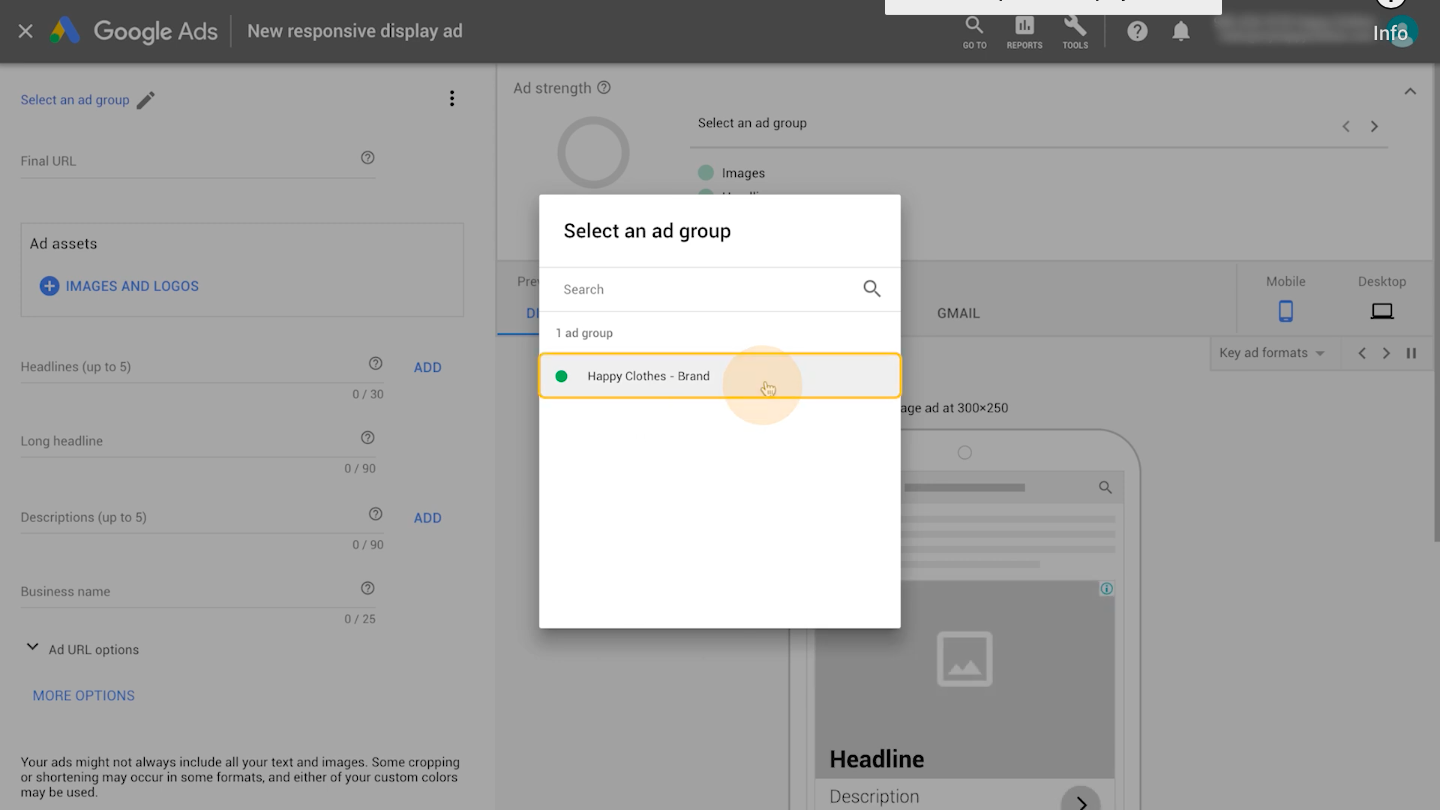 Step 5. Add your assets (images, logos, headlines, descriptions)
Click on the respective sections and follow the prompts to upload or select the desired assets.
For headlines and descriptions, you can enter multiple options, and Google Ads will automatically test different combinations to optimize ad performance.
Make sure to follow the recommended guidelines for asset specifications, such as image size and format, to ensure they are displayed correctly.
Once you have added the assets, review the ad preview to see how your responsive display ad will look to users.
Save your changes and submit the ad for review.
To see ad strength, you can check the Scoreboard as shown below: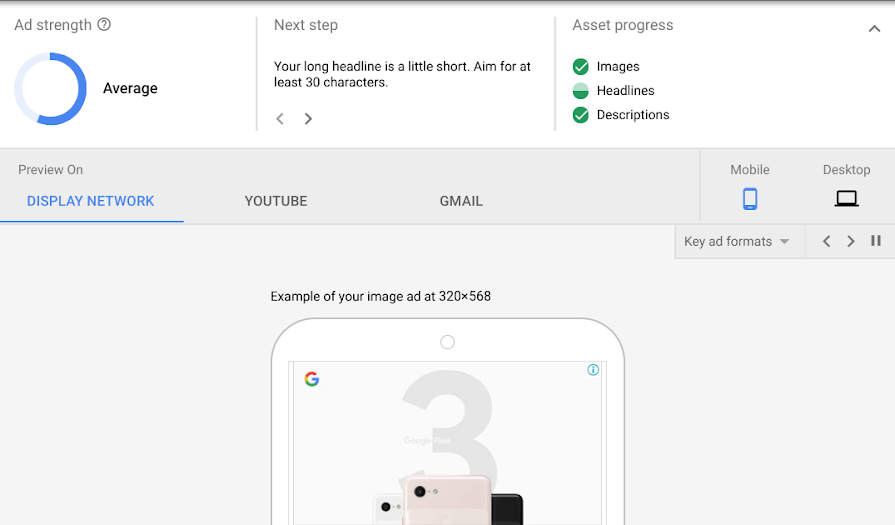 Note:
Make sure all of your assets work together perfectly, since Google AI will mix and match it automatically to produce multiple ad banners.
Monitor the ad performance for at least 1-2 weeks before making any modifications on your responsive display ads.
Choose "website" as what you're advertising to enable the use of responsive display ads.
Responsive display ads examples
COSMEDIX
COSMEDIX was founded in 1999, with a high focus on improving the beauty market by using top-notch ingredients, innovation and strict management over producing standard formulas. In one of their ad campaigns, COSMEDIX used Google responsive display ads and drove performance to their campaign through auto generated promotion videos.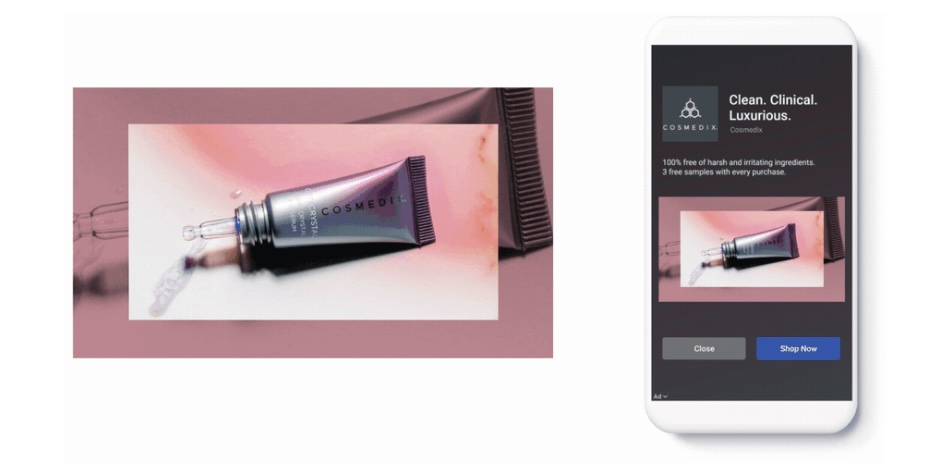 Why it works:
Clear CTA buttons
Colorful and bright colors used in the video help increase audience engagement
The use of contrast colors make the video standouts from the background and other design elements
Bloomberg Media
In 2022, Bloomberg Media – a huge newsroom with more than 2,7000 journalists and analysts from the US and international subscribers – has partnered with Kelpers (Media Agency) in an ad campaign.
With the goals of increasing viewers and subscribers, the twos have tested 2 types of ads: standard ads and responsive display ads. Eventually, the results pointed out that responsive display ads perform better with 81% lower cost-per-site visit and 8% lower cost-per-action (CPA).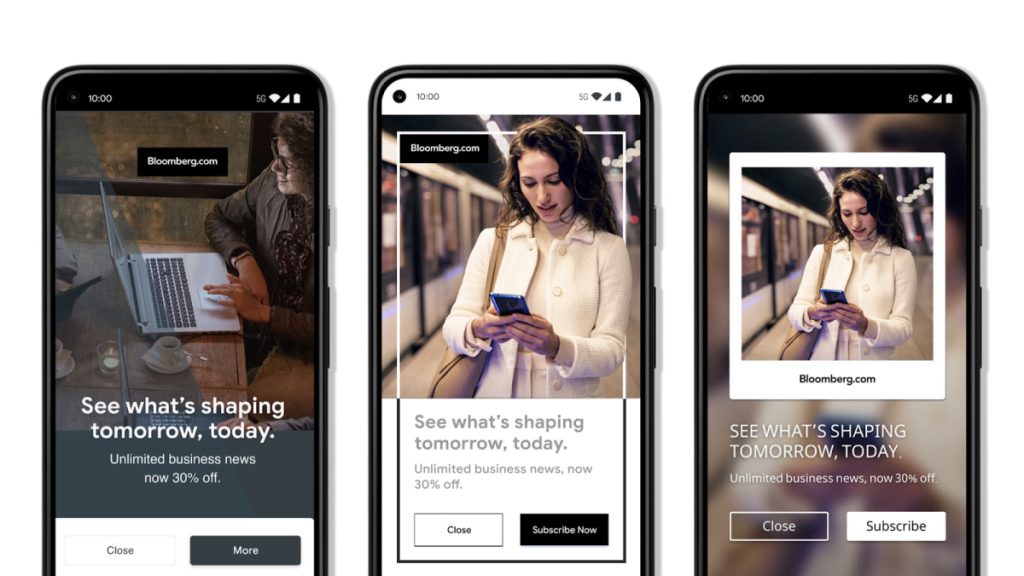 Why it works:
Minimalism designs: Using lots of white space in the designs, Bloomberg manages to grab viewers' attention through good readability.
Diverse ad versions: Using the same messages and images but with different templates, Bloomberg's ads keep viewers being interested.
Effective use of colors: With 3 basic colors (black – white – dark blue), all design elements blended perfectly and kept viewers' attention on the main messages.
Lexus
Founded in 1983, Lexus has become a luxury car brand after its first introduction in the US. Since then, the brand has developed up to 6 car models and continues to make innovation for superior quality. Unlike ad campaigns of COSMEDIX or Bloomberg Media, Lexus's advertising emphasized on human eyes. It's an indirect way of marketing for their latest innovation: Lexus ES's new speaker system.

Why it works:
Attractive image: Using images of attractive eyes evoke viewers' curiosity and encourage them to click on the ad.
Clickable ads: Similar to the image of the eyes, using direct questions and simple CTA messages increase the effectiveness of ads by making viewers click to solve the mystery.
Read More: Top 10 Google Display Ads Examples That Work & Drive Clicks
Uploaded Ads or Responsive Display Ads?
Google Ads own up to 22 ads types, amongst them Uploaded Ads and Responsive Ads are often used in Display campaigns. Do you know the difference between when to use them? Check the information below for in-depth understanding on when to use mentioned ads:
Uploaded Ads
Uploaded ads refers to pre-design materials including static images, animated images, logos, videos that are produced by human intelligence. It is then distributed to various platforms for promotion by advertisers. Here are the scenarios for using uploaded ads in your advertising campaign: 
Campaigns that have specific design requirements
Advertisers want to take control over the creative process entirely
Advertisers own ready-made ad assets and aim for maintaining brand images consistently at high levels
Responsive display ads
Different from Uploaded Ads, here are the scenarios of when you should using RDAs:
Adding on automation to save time for the design process
Producing wide selection of ads banner for multiple campaigns in a short time
Adapting quickly for creative assets to fit in many ad spaces available on the Google Display Network.
Final Words
Google responsive display ads has been one of the best tools for advertisers in the past few years. Not just bringing more efficiency to your advertising campaigns, RDAs offer lots of features that enable you to spend less time but get more!
Getting started on improving your display ads by visiting Mega Digital – Top leading Google Partner for better performance today. A team of certified experts with many years of experience in the Google Ads field will help optimize your ad campaign to the best.