Microsoft changed the name Bing Ads to Microsoft Advertising. Many businesses have taken advantage of this opportunity to reach hundreds of millions of customers worldwide. So, what is Microsoft Ads? Should we use it?
Everything you want to know about this platform is gathered here by Mega Digital.
What is Microsoft Ads?
Microsoft Ads (formerly Bing Ads) is like an extended and better version of Bing Ads because now you can advertise on all their platforms, instead of just on Bing.
In FY2023, Microsoft earned about $12.21 billion in revenue through Search ads.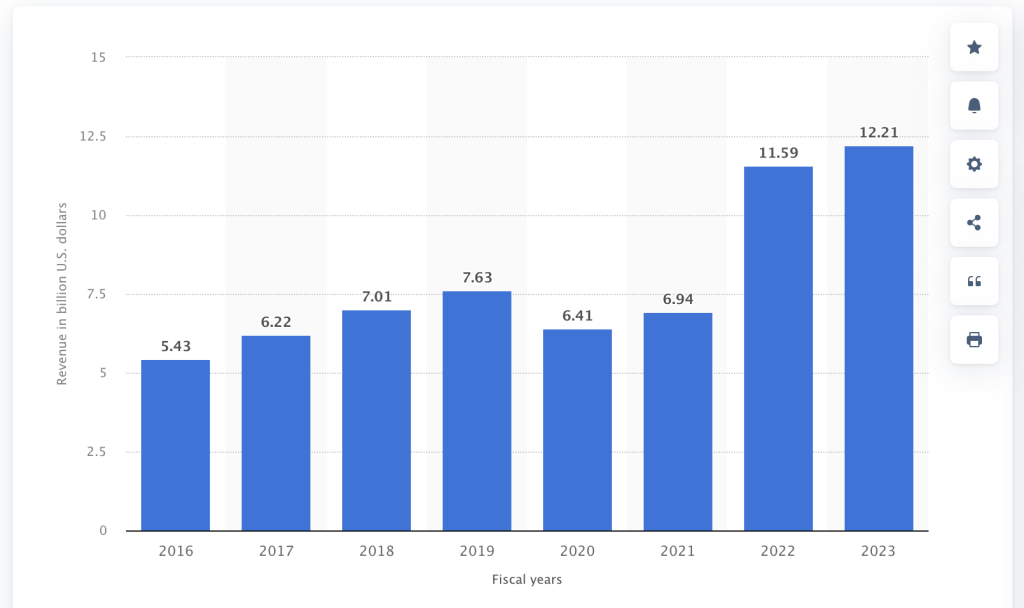 It helped Microsoft achieve remarkable growth, nearly doubling after the name change, this is strong evidence that advertisers should use this solution.
Microsoft Advertising ecosystem
Microsoft Ads displays your ads on its entire ecosystem, including Bing, MSN, Yahoo, AOL and more; enabling advertisers to efficiently manage campaigns and reach a broad customer base.
The key components of the Microsoft Advertising ecosystem include:
Bing Search Engine: Create and manage ad campaigns to target users who search on Bing.
Yahoo: Allow ads to be displayed on the Yahoo search engine.
AOL: Similar to Yahoo.
Outlook: Similar to Gmail.
MSN (Microsoft Network): A collection of internet services and web content.
Xbox: Allow advertisers to connect with gamers and reach a highly engaged audience.
Windows: Engage with users across the Windows ecosystem.
How does Microsoft Ads work?
Microsoft Ads is a suitable second choice if you're already advertising on Google Ads, serving as a valuable addition to your Google Ads campaigns.
Keywords
When it comes to selecting keywords for your Microsoft Ads campaign, you should take into account 3 primary considerations:
Relevance: How closely do your chosen keywords align with your product or service?
Bid: What's the amount you're willing to allocate for each click?
Quality score: What's the level of relevance and value associated with your ad?
For instance, let's say Sarah runs a boutique bookstore and wants to attract more customers interested in classic literature. She chooses "vintage novels" as a keyword for her ad. When someone looks for "antique novels", her ad will be displayed on the Microsoft Search Network search results page.
Ad placement
When a customer initiates a search on Bing, AOL, or Yahoo, an auction decides which ads are displayed and their location on the page.
This location is referred to as ad position, signifying where your ad is positioned on the search results page of Bing, AOL, or Yahoo—whether it's at the top, on the side, or at the bottom of the page.
Several factors determine ad position:
The bid amount for your chosen keyword.
The bid amount from competing advertisers for the same keyword.
The relevance of your ad.
The performance of your ad.
Ad Cost
Microsoft Advertising works just like Google Ads. It's a Pay-Per-Click (PPC) system, you only pay when someone clicks on your ad. You can set a daily budget, and you won't spend more than that.
Getting started with Microsoft Advertising is free, and you can decide how much money you want to spend. The typical cost for each click is around $0.60 to $0.80, but this can vary depending on your business and the words you use in your ads.
Learn More: How Much Does Microsoft Ads Cost? Is It Worth in 2023?
Benefits and drawbacks of Microsoft Ads
According to research from Wordstream, Bing Ads have an average click-through rate (CTR) of 1.25%, which is higher than Google Ads, where the CTR is just 0.86%.
Benefits
So, the main benefits of Microsoft Advertising include:
Multiple sites display
When you advertise with Microsoft Ads, your ads can be displayed on various platforms, including Bing, MSN, Yahoo, and AOL. This broad reach allows you to connect with audiences across different online properties.
While Google dominates the global search market with an 84% share, Microsoft's search engine, Bing, holds the second position with 9%. Although there's a gap, Bing still attracts over 1 billion unique visitors monthly.
Reduced competition
Microsoft Advertising typically has less competition compared to other platforms, and this can be good for your wallet. When there are fewer advertisers trying to reach the same people, it's more likely that you'll get good results without spending too much money.
Cost savings
Microsoft Ads often offer lower click costs, meaning you can get more value for your advertising budget. This allows you to reach more potential customers without spending too much.
Audience Targeting
Bing Ads attracts a user base that tends to be aged 35 and older. This demographic is often associated with higher income levels, making it an attractive option if your products or services cater to this specific audience.
Drawbacks
It's important to note that it may have limitations too, like lower search volume compared to Google Ads. However, in the world of advertising, sometimes bigger doesn't necessarily mean better.
Which industries can benefit from Microsoft Ads?
According to Microsoft Search Network data, industries that can significantly benefit from Microsoft Advertising include:
Auto
Microsoft Ads can help businesses in the automotive industry reach potential customers looking for vehicles, parts, or related services.
B2B (Business-to-Business)
Microsoft Advertising provides a valuable platform for B2B companies looking to connect with other businesses and decision-makers.
Finance
Financial institutions, insurance companies, and related businesses can leverage Microsoft Advertising to promote their services effectively.
Travel
Companies in the travel and tourism industry can find a receptive audience on Microsoft Ads, catering to those planning trips and vacations.
Retail
Retail businesses can tap into Microsoft's user base, which includes consumers interested in various products and shopping experiences.
8 types of Microsoft Ads and examples
Just like Google, Microsoft Advertising also provides a range of ad types to suit different campaign objectives and formats. These ad types include:
Microsoft Expanded Text Ads
Expanded Text Ads is a type of online advertising format designed to help advertisers create and display compelling and informative text-based advertisements across the Microsoft Search Network, which includes Bing and other properties.

Microsoft Responsive Search Ads
Responsive Search Ads is a helpful tool to make ads work better and fit what customers are looking for when they search on Bing and other Microsoft-owned search websites. They work in a way similar to Google's Responsive Search Ads (RSAs).
Microsoft Dynamic Search Ads
Dynamic Search Ads is a campaign type that appears just like expanded text ads. But instead of choosing specific words, Microsoft looks at what's on your web pages and decides where to put your ads based on that. It looks at the pages, the categories on your website, and other things to figure out where to show your ads to people.
Learn More: What is Microsoft Search Ads: A Beginner Tutorial for 2024
Microsoft Product Ads
Notice those attractive ads you see right at the top of your screen? Well, these are simply product ads.
Microsoft Audience Ads
Audience ads (also known as Bing Display Ads) is currently accessible in Germany, Australia, New Zealand, France, the United Kingdom, the United States, and Canada. Therefore, if your location is different from these countries, you won't have the option to use this ad format, unless there are alterations in the near future. Audience Ads are native promotions that Microsoft puts on articles published by websites within the Audience Network.
Microsoft Advertising in Bing Smart Search
This ad format is exclusively accessible in the United States, Canada, Germany, the United Kingdom, and France. Hence, if you are situated outside of these nations, you won't have the option to use this particular ad type.
You'll encounter these advertisements when using the search bar on your Windows computer.
Microsoft App Install Ads
App Install Ads is a lot like Expanded Text Ads, but with one key distinction. Do you want the people you're trying to reach to download your app from the App Store or Play Store? You can use App Install ads to make it happen. Instead of sending your audience to your website or a specific page, you'll guide them to your app's page on the App Store or Play Store.
Microsoft Multimedia Ads
Multimedia Ads won't show up directly in front of your intended audience on Bing. Instead, Bing displays these ads on websites owned by publishers. Multimedia ads use both images and visuals to grab your audience's attention.
6 steps to create a Microsoft Ads campaign
As mentioned earlier, it's pretty much like an add-on to Google Ads. The interface looks almost the same; the only difference is that you need to create a Microsoft account.
Step 1: Register a Microsoft account
To get started, visit the Bing Ads registration page and sign up using your current email address. Here are the steps to follow:
Visit the Microsoft Advertising registration page and click on "Sign up now."
In the next window, next to "No account?" click on "Create one!" That's how you create your Bing Ads account.
You have the option to either use your current email address or generate a new one for managing your Microsoft Ads account.
Afterwards, just adhere to the prompts on the screen. You'll be required to enter some basic information, such as your name and your business location. Once you agree to the Terms of Service and set up your account, you're good to go.
Step 2: Set a goal for your campaign
Microsoft will ask you to select a goal for your campaign. After that, click on "Next".
After that, complete the required information, click "Next".
Step 3: Set up location target
Here's how you can pick your precise location: Type in the location you want and then click on "Target".
Step 4: Choose your keywords
Microsoft will recommend keywords related to your services just below. You can also make use of Microsoft's keyword planner to improve your SEO strategy.
On the right-hand side of your screen, you can get a glimpse of how your ad will appear. Microsoft will also alert you if you exceed the suggested character limit to prevent text from getting cut off.
Step 5: Set daily budget & bid
At this point, you will have to set your daily budget. Enter an amount you're comfortable with (how much you'll pay daily until your ads are active). From this, it will estimate how many clicks & impressions your ad may get. You can also see your monthly maximum below the daily budget field, which is the most Microsoft Ads will charge you in a month.
Step 6: Fill in payment information and go live
Follow the instructions to complete your business's contact details, and then click "Next". On the next page, you'll be prompted to provide your payment information.
Finally, Microsoft Ads will examine your campaign, and you should be up and running in under a day! From this point, you can select "Explore your campaign" to access your data and monitor the progress of your ad.
How to change to Expert mode?
To switch from the basic "Smart" mode to the more advanced "Expert" mode, follow these steps:
Click on "Tools".
Select "Switch to Expert mode" and confirm when asked.
If you're new and just starting your first campaign, you'll be in "Smart" mode. To switch to "Expert" mode, scroll down to the bottom of your screen and click on "Switch to Expert mode."
After completing this step, you can proceed with the following actions to create your campaign.
How much is the cost of advertising on Microsoft?
Firstly, it's essential to mention that the cost of Microsoft Ads varies based on your industry. The average cost per click (CPC) on Bing is $1.54, generally being lower than what it costs to advertise on Google (2$).
How much you pay for each keyword depends on the words you choose and how much you're willing to spend. Keyword prices can vary a lot, from a little under a dollar to over $10, and it depends on the type of business you have. For instance, one of our clients allocated a daily budget of $500 when running Google Advertising, but they consistently spent around $335 per day when they switched to Microsoft Advertising. This scenario is just one example among many of our satisfied customers.
On average, advertising on Microsoft is around 33% cheaper than advertising on Google.
If you have a limited budget and want to choose only one platform to run ads, it is advisable to go with Microsoft Ads.
Microsoft Ads vs. Google Ads: Which to choose?
Choosing between Microsoft Advertising and Google Advertising isn't about right or wrong; it's about leveraging the benefits each platform offers to enhance your business.
Our experts at Mega Digital recommend running Microsoft Ads only after you've already established a successful Google Ads campaign.
Check these aspects for more details:
| | | |
| --- | --- | --- |
| Aspect | Google Ads | Microsoft Ads |
| Market Share | Dominates with 86% of global search | Second-largest with 9% global search |
| Competition | High competition, potentially higher CPC | Lower competition, potentially lower CPC |
| Display Network | Search Network, Display Network, YouTube, Shopping, Map, Discover, Google Play, Google Assistant, Google's Search Partner | Displayed across Bing, MSN, Yahoo, AOL, Outlook, Xbox, and Windows |
| User Demographics | Diverse age groups | Tends to attract users aged 35 and older with higher income levels |
| Cost-Per-Click (CPC) | Varied CPC based on industry and keywords | Average CPC ranges from $0.60 to $0.80 |
| Ad Formats | Text ads, Display ads, Video ads, Shopping ads, App ads, and more | Expanded Text Ads, Responsive Search Ads, Product Ads, Multimedia Ads, Microsoft Audience Ads, Microsoft Advertising in Bing Smart Search, Dynamic Search Ads, App Install Ads |
| Search Partners | Various websites and apps partners | Bing, MSN, Yahoo, AOL, Outlook, Xbox, and Windows |
| Budget Control | Daily budget limits and bidding options | Daily budget limits and bidding options |
| Geographic Targeting | Precise targeting options | Geo-targeting |
| Quality Score | Impacts ad positioning & costs | Affects ad positioning and ad relevance |
Final words
We hope that our comprehensive content above has answered the question "What is Microsoft Ads?" and equipped you with a deep understanding of it. By reading all the information we've given, you should now have a strong idea of how to use this ad platform for your business.
This ad works well when you're already doing good with Google Ads. It can boost your online presence and help you connect with more potential customers. As you begin using Microsoft Advertising, we hope you do great in reaching your audience and meeting your marketing goals.