Microsoft Ads vs Google Ads: While Google boasts a larger market share, Microsoft offers cost-effective options. Google's vast network reaches a global audience, while Microsoft can be more suitable for targeting specific demographics. Both platforms have their strengths and it's essential to choose the one that aligns with your advertising goals and budget.
10 differences between Microsoft Ads and Google Ads
Both platforms have their own strengths and unique features. Here, we'll explore the major 10 differences – Microsoft Bing Ads vs. Google Ads.
1. Demographics
In the world of online search, it's no secret that Google wears the crown. With the largest share of the search engine market, Google boasts the highest search volume and an extensive reach that's hard to match. But what's also worth noting is that Microsoft (Bing), Google's competitor, is making strides in the industry.
Microsoft Ads can reach 63 million searchers who aren't accessible through Google Ads. So, if you're not using Microsoft Ads, you're missing out on a big chance to connect with more people online.
Bing also lets advertisers target a more mature and educated audience. As you can see from the pie chart, almost 40% of the Microsoft Network is made up of people between 35 and 54 years old, and the majority of Microsoft users are 35 years or older.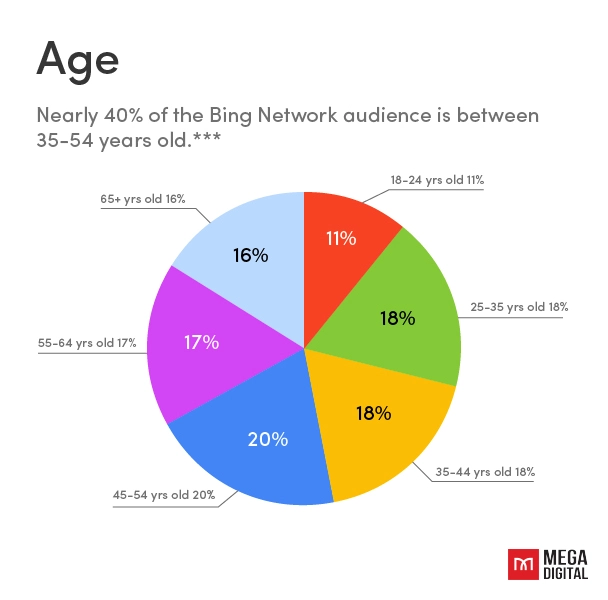 Additionally, roughly one-third of the Microsoft Network boasts a household income exceeding $100,000, while almost half of the Network has a household income of $75,000 or higher.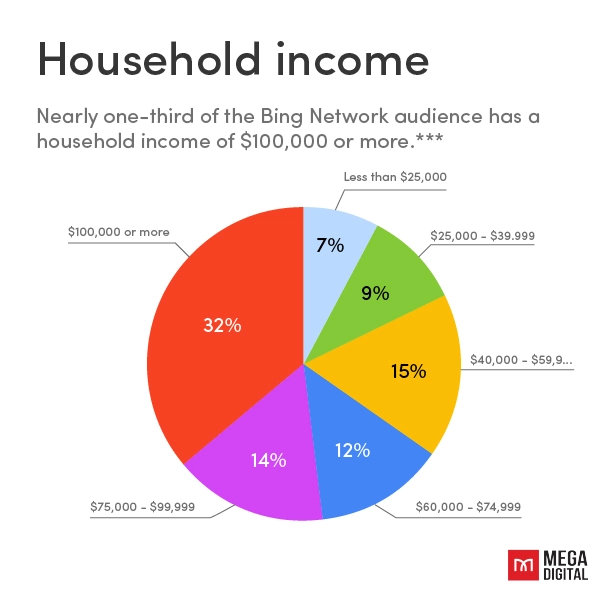 Here's a detailed table for Microsoft Ads and Google Ads demographics:
| Microsoft Ads | Google Ads |
| --- | --- |
| 85% of Microsoft users reside in the United States. | Google boasts more than 1 billion active users each month. |
| Microsoft commands a 30% share of all searches conducted in the US. | Google's users tend to be younger and more tech-savvy. |
| A substantial 87% of Microsoft users access the search engine via Internet Explorer. | Google's userbase is primarily made up of white-collar professionals. |
| Microsoft tends to attract more blue-collar workers compared to Google. | On average, a user spends approximately 12 minutes on Google every day. |
| Over 70% of Microsoft users are 35 years of age or older, with an average age of 45. | A substantial 80% of businesses prioritize Google Ads as their primary PPC (Pay-Per-Click) advertising strategy. |
| Approximately 46% of Microsoft users are married. | Google.com stands as the world's most-visited domain. |
| 30% of Microsoft users have children living at home. | Google handles a staggering 40,000 search queries per second. |
| A notable 38% of Microsoft users report a household income exceeding $100,000. | Google commands a 73% share of the Paid Search market. |
| | In the United States, Google accounts for 62% of all search queries. |
Microsoft Ads vs Google Ads demographics
2. Search volume
Because Google is used for about 74% of all searches worldwide, it means that 3 out of 4 people who search the internet use Google.
On the other hand, Microsoft has also made progress in getting more popular online.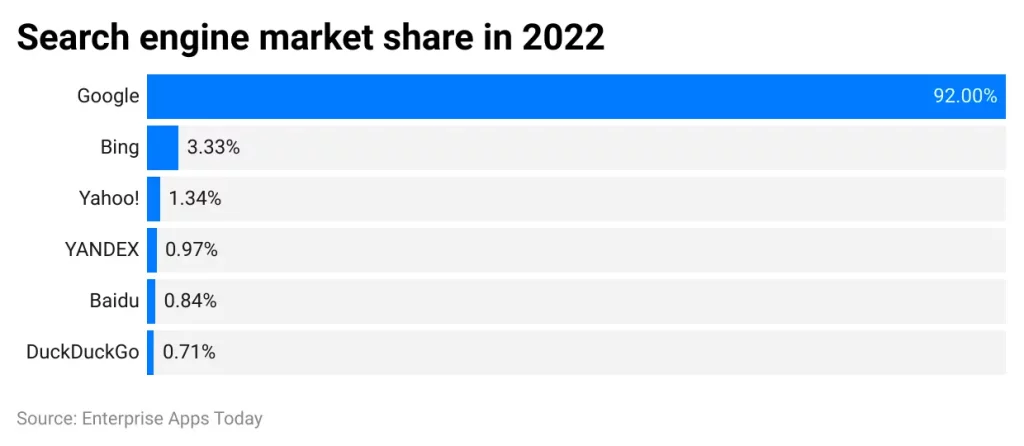 3. Competition
Google's high search activity results in a lot of competition for advertisers using their platform. In contrast, marketers on the Microsoft platform encounter less competition, roughly 36% less compared to Google.
4. Ad metrics
We can't discuss Microsoft Ads vs Google Ads without considering how well ads perform and the return on investment. So, let's compare the standard performance measures for both Google and Microsoft.
| Metrics | Microsoft Ads | Google Ads |
| --- | --- | --- |
| Average CTR (Click-through-rate) | 2.83% | 3.17% |
| Average CPC (Cost-per-click) | $1.54 | $2.69 |
| Average CVR (Conversion rate) | 2.94% | 3.75% |
| Average CPA (Cost-per-action) | $41.44 | $48.96 |
Microsoft Ads vs Google Ads ad metrics
5. Cost
Actually, the typical cost for each click on Microsoft Ads can be as much as 70% less when compared to Google Ads. A research conducted by Search Engine People revealed that in the automotive sector, the cost-per-click (CPC) was 32.5% lower on Microsoft Bing PPC than on Google, and in the insurance industry, it was 59.2% lower.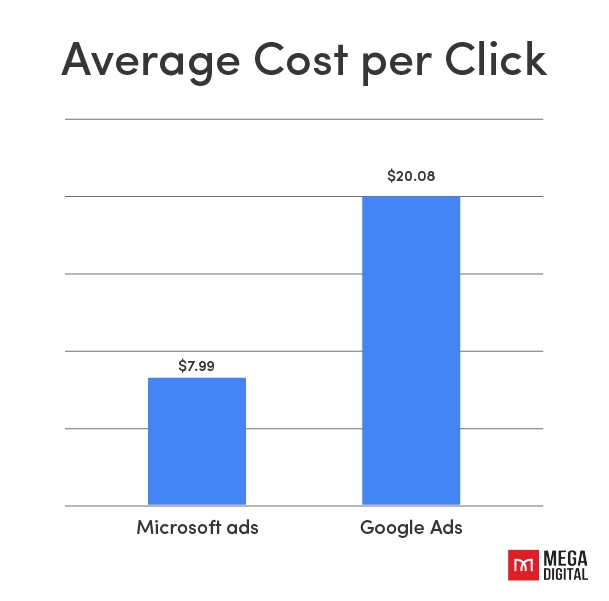 Google may cost more, but it excels in beating the competition and reaching a wider audience. Microsoft Ads offer higher engagement but lag behind Google. Google's average conversion rate is about 3.75%, while Microsoft Ads is at 2.94%. These numbers can vary by industry.
Now, let's examine the Cost Per Click (CPC) for some keywords on both Microsoft and Google.
| Keyword | Google | Microsoft |
| --- | --- | --- |
| Bankruptcy lawyers | $27.65 | $8.23 |
| Personal injury lawyers | $10.24 | $2.22 |
| Divorce lawyers | $3.98 | $0.12 |
| Car accident lawyers | $27.65 | $8.23 |
| Plumber | $7.99 | $0.61 |
| PC vpn | $0.98 | $0.17 |
| Seo services | $10.80 | $0.68 |
Microsoft Ads vs Google Ads costs
Even though advertising budgets can vary depending on the industry and the specific advertiser, a specific digital marketing agency discovered that Microsoft's spending was only 20% to 35% of what they spent on their equivalent Google Ads campaign.
| Platform | Budget |
| --- | --- |
| Microsoft Ads | $400 – $700 |
| Google Ads | $2000 |
Microsoft Ads vs Google Ads budget
Recently, Mega Digital helped a client run Microsoft Ads with an optimal budget. We cut the client's ad expenses by 70%, which was a huge saving, and the client saw their Return on Investment (ROI) go up by a whopping 300%. This is just one of many successful cases that showcase our ability to optimize online advertising campaigns for clients.
6. Ad formats
Here's a brief overview of the ad types you can run on Microsoft and Google:
Microsoft Ads vs Google Ads ad formats
Search Ads
In June 2022, Google Ads replaced Expanded text ads with Responsive search ads, and Microsoft Advertising is set to do the same in February 2023. Responsive search ads require you to provide various headlines and description lines.
Both Google and Microsoft will then experiment with different combinations to discover the most effective and relevant ones for each search query. Because both platforms use a comparable approach to this format, the ad copy often performs similarly, making it easier for advertisers to maintain consistency.
Shopping Ads
Both platforms offer Shopping ads. Google provides more optional fields to enhance product listings, making them more visible and competitive. Microsoft is user-friendly with fewer required fields, ideal for newcomers to test before exploring Google's advanced product feed options.
On both Google and Microsoft Bing, Shopping ads display right below the search bar, followed by Text ads. Google labels ads with "Sponsored" in bold, whereas Microsoft Bing is subtler, placing the label to the right for shopping ads and just before the description line for text ads.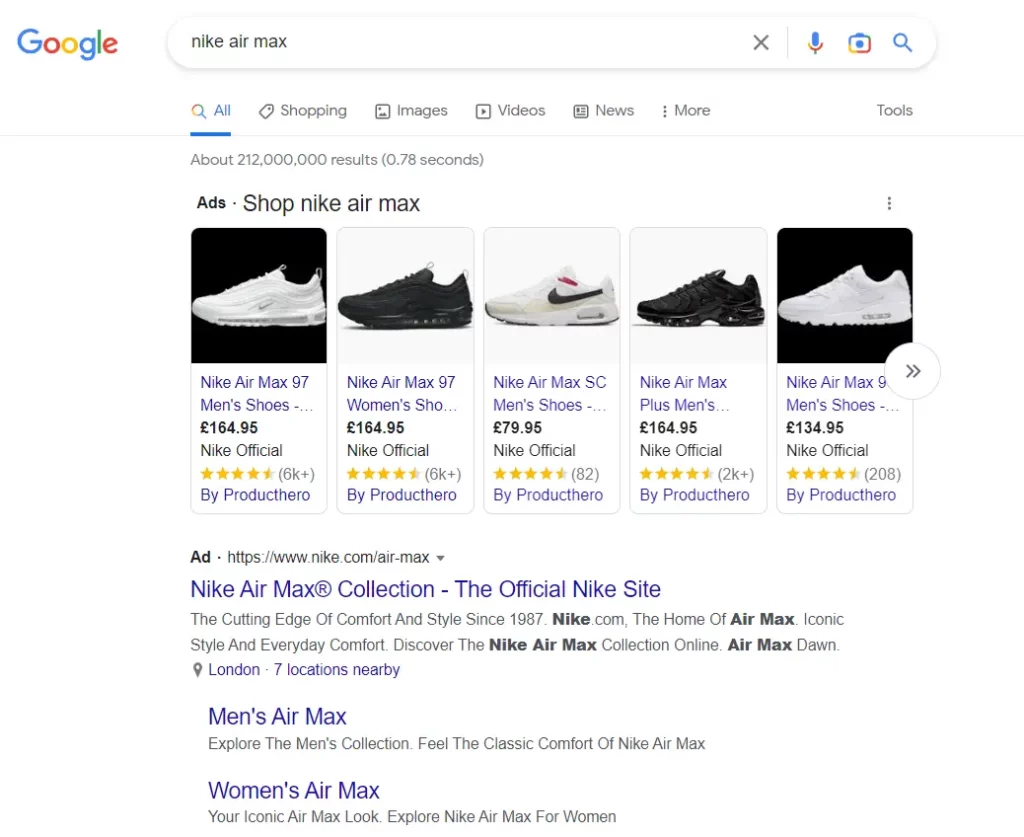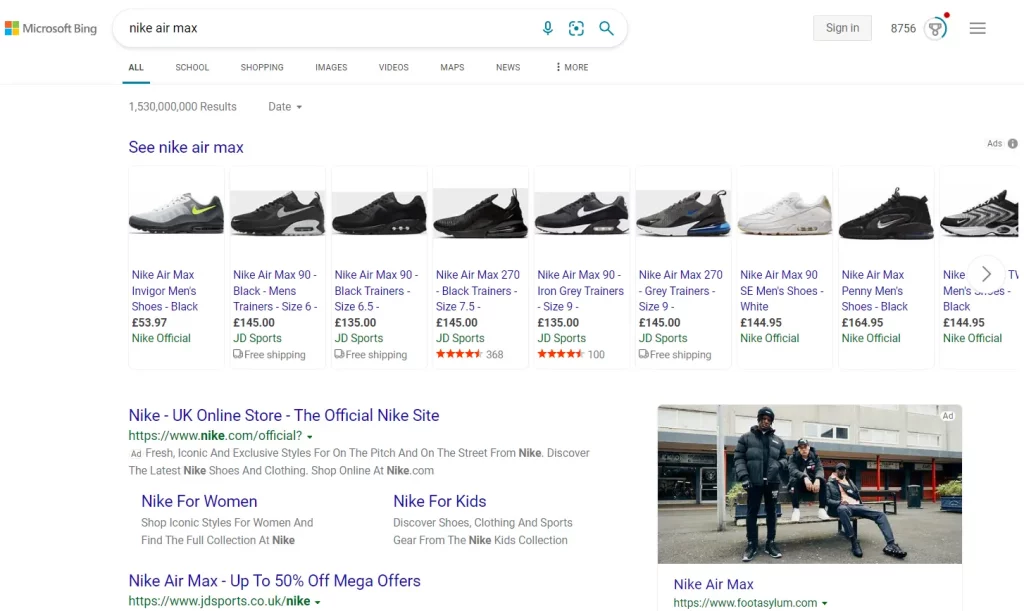 Display Ads
Microsoft can provide Display Ads across a variety of channels, including display, mobile, native, and video. It extends its reach to audiences through several Microsoft-owned properties, such as Microsoft Edge, MSN, Outlook, Windows, and Xbox.
Google Ads, on the other hand, provides extensive reach through Google's own properties, including the Google Search Network, YouTube, Gmail, and other partner sites.
7. Keywords
Google and Microsoft Bing both provide a keyword research tool, broad match and allow negative keyword targeting. However, the primary contrast between the two lies in the fact that Microsoft generally experiences significantly lower traffic volumes for keywords.
8. Targeting options
While some believe that targeting features are alike on both platforms, it's worth exploring the specific niche options each platform provides before deciding where to launch your campaign.
Microsoft Ads
Google Ads
In-market
LinkedIn profile
Custom audiences
Keywords
Location
Day of the week
Time of day
Gender
Age
Device
Remarketing
– Audience targeting:
Demographics
Affinity
In-market
Custom intent
Similar audiences
Remarketing
– Content targeting:
Topic
Placement
Keywords
Display expansion for search
Microsoft Ads vs Google Ads targeting options
Google Ads offers more ways to reach people, but Microsoft is better for B2B. With Microsoft's LinkedIn Profile Targeting, you can choose who sees your ads based on their company, industry, or job, which is useful because people don't always mention these things in their searches.
9. Language options
Language targeting in Microsoft Ads offers a narrower range compared to Google Ads:
| Platform | Target languages |
| --- | --- |
| Microsoft Ads | Up to 12 |
| Google Ads | 40+ |
Microsoft Ads vs Google Ads language options
10. Display URL
Both Google and Microsoft display URLs below the ad headline. However, Microsoft Bing uses bold formatting to make their display URLs stand out, while Google Ads does not.


Pros & cons of Microsoft Ads and Google Ads
Microsoft Ads pros & cons

Pros of Microsoft Ads
In addition to Microsoft Bing, it provides access to various networks, including Yahoo and MSN.
It captures an audience that Google cannot reach.
Microsoft Ads tend to be more cost-effective with lower average Cost-Per-Click (CPC).
It is well-suited for targeting US audiences that are older, blue-collar, and have higher incomes.
Microsoft displays more ads at the top of search results, making it easier for users to discover brands.
There's less competition for specific keywords.
Cons of Microsoft Ads
Microsoft Bing, as the world's second-largest search engine, holds a smaller market share.
A smaller market share translates to less traffic.
Microsoft Bing is primarily used in the US, limiting your ability to reach international audiences.
Google Ads pros & cons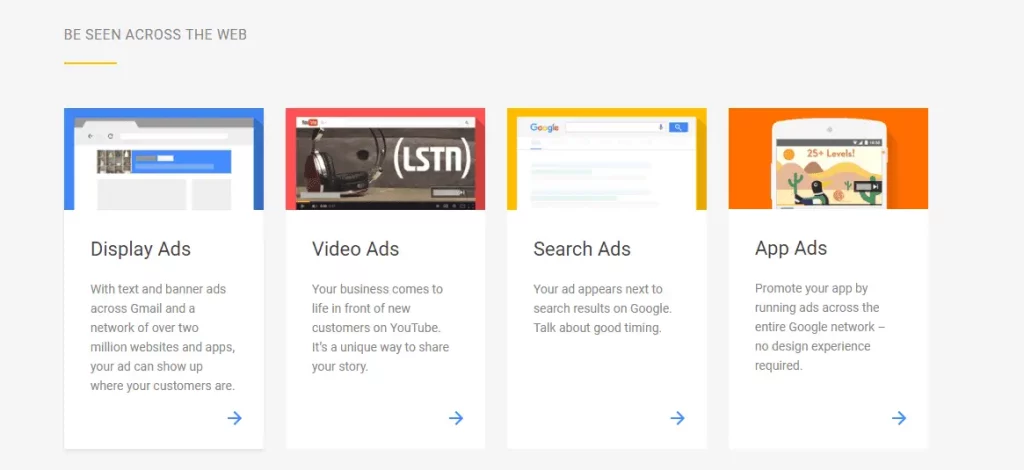 Pros of Google Ads
Google dominates the search engine market.
Google offers powerful keyword tools that empower advertisers to explore and enhance their campaigns.
The Google Display Network reaches over 2 million third-party websites, extending the reach of your ads indefinitely.
Google Ads can complement your SEO efforts and enhance your visibility in Google search results.
Google Ads come with robust retargeting capabilities.
Google provides valuable data insights for advertisers to make informed optimizations.
Cons of Google Ads
Highly competitive keywords can be costly, yet not necessarily effective.
Google Ad campaigns are intricate and demand significant time and hands-on management.
Campaign effectiveness can be restricted by budget constraints; once your budget is exhausted, your ads cease to run.
Microsoft Ads vs Google Ads – which to choose?
The Microsoft Ads vs Google Ads age-old debate may no longer be as significant in today's marketing landscape. While Microsoft Ads is more budget-friendly, we recommend running Microsoft Ads alongside your existing Google Ads campaigns. By this point, it should be clear that the most effective digital advertising approach involves using both platforms together, as long as your budget permits.
Google Ads is often the first choice for digital advertising, and Microsoft Bing is an excellent complement to your PPC strategy that fills in any online presence gaps. When Microsoft Ads accompanies your Google Ads campaigns, you can extend your reach to new and distinctive areas. Despite Google's larger search volume, Microsoft Bing offers higher ad placement, reduced bidding competition, and typically a lower cost per click.
Final words
Your most effective strategy would be to combine both Microsoft Ads and Google Ads, and that's a winning approach!
Now that you're well-informed about the Microsoft Ads vs Google Ads discussion, which of these advertising networks will you choose to promote your brand?