Staying updated on TikTok's expanding array of monetization choices is a challenge, so this platform consistently introduces fresh avenues for creators to monetize their content, and here's another exciting addition – TikTok's Series. This feature presents an opportunity for creators to earn from longer videos. If this aligns with your interests, keep reading to delve deeper and discover how you can start generating income.
What is TikTok Series?
In simple terms, TikTok Series are special collections on TikTok, and TikTok Series monetization refers to the process of creating and sharing episodic content series. This program allows content creators to generate revenue by producing engaging and consistent series that capture the interest of their audience. Through a combination of views, engagement, and partnerships, creators can monetize their series and turn their creative efforts into a source of income on TikTok.
Additionally, the TikTok Series feature is one way for creators to earn money from their content. But TikTok offers many ways, such as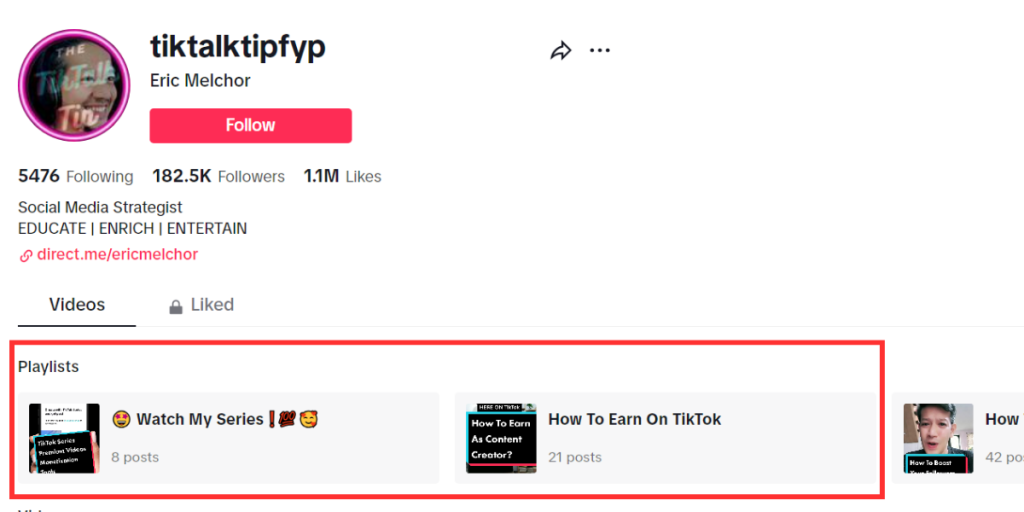 What sets TikTok Series apart? TikTok Series has a key difference: they're sets of content that followers pay to access – that's the main thing that makes them stand out. TikTok said it's a new way for creators to share their stories, talents, and creativity as premium content in a blog post. Plus, TikTok Series monetization lets creators connect more deeply with the TikTok community.
How does TikTok Series work for monetization?
TikTok enthusiasts know what they're after, and they're vocal about it. When creators drop something intriguing, the audience clamors for a "part 2" or more. This is where TikTok Series steps in, offering a solid solution. It neatly gathers those captivating story times and cooking demos, giving creators an avenue to deliver what their fans are craving.
With TikTok Series, eligible creators can showcase exclusive content at a price they set. Each Series can host up to 80 videos, with each video stretching up to 20 minutes—a significant departure from TikTok's original one-minute video constraint. As the app gradually expanded video length options, this move to introduce longer content is strategic.
TikTok Series aligns seamlessly with creators who already share a sequence of related videos. Beyond the monetary gain, TikTok Series will deepen the bond between creators and their audience. TikTok's Live Subscriptions have already shown that fans are ready to invest in their favorites.
What are TikTok Series monetization requirements?
TikTok Series is exclusively accessible to a chosen group of creators who fulfill specific criteria, details are:
Creators must be at least 18 years old
Creators possess an account older than 30 days and maintain a positive account status.
Creators need to boast a follower count ranging from 1,000 to 100,000 and accumulate 1,000 to 100,000 video views within the last 30 days.
For the LIVE monetization feature, creators must have spent a minimum of 30 minutes live in the past 28 days.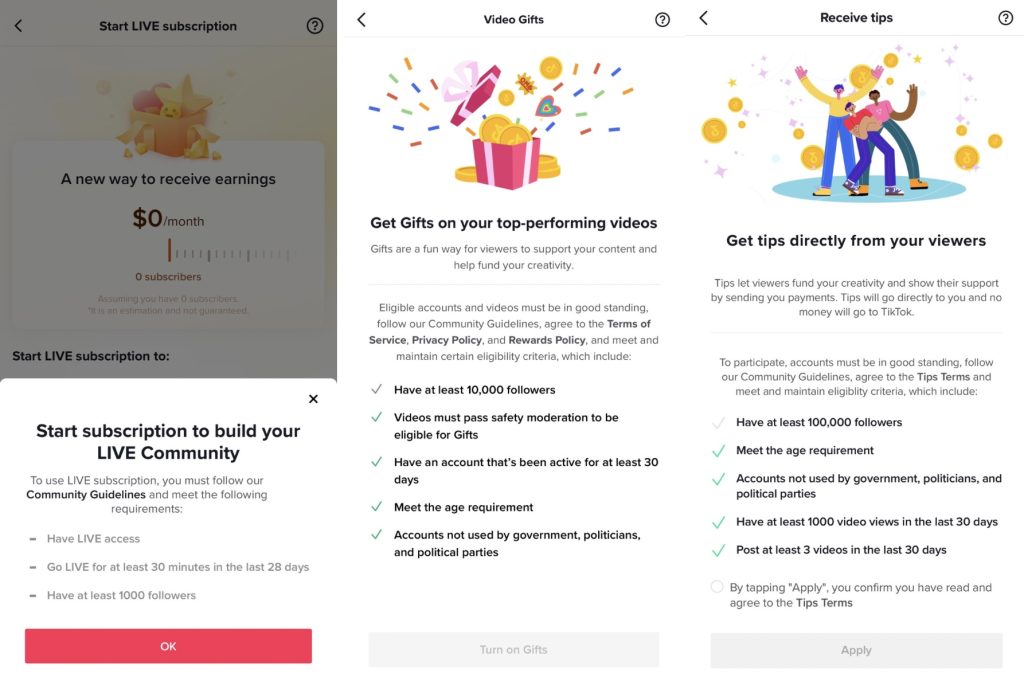 To figure out if you qualify for TikTok Series monetization, dive into the Creator Tools section within the TikTok app. There, you'll spot the available monetization programs tailor-made for you. Make sure to study each program's eligibility bars and apply for the ones that align with your account size and content style the most.
Note: TikTok monetization isn't up for grabs for accounts linked to government bodies, politicians, or political parties.
Remember, creators must stick closely to the Community Guidelines. Videos need to sail through safety checks; otherwise, they could lose their monetization status.
How much did TikTok Series pay?
Content creators have the freedom to choose their pricing, within the range of US$0.99 to US$189.99. TikTok has informed that, for a "limited period," creators will receive the entire amount after platform and processing charges. Users can purchase access to Collections directly through in-video links or a creator's profile.
How to sign up for TikTok Series?
After meeting all requirements and knowing how much you could get from the TikTok Series, let's check out how to sign up for it! If you've received an invitation, you're one step closer to becoming a part of this exciting feature. Here's a simple guide to help you get started:
For Invited Participants:
Open the TikTok app and tap on your profile icon at the bottom right corner.
Click on the Menu button (usually represented by three horizontal lines).
Select "Creator tools" from the menu options.
Tap on "TikTok Series" and follow the provided instructions to initiate the sign-up process.
During this step, you'll need to carefully read the program's terms and policies. Also, confirming your age is necessary to complete your application.
For those prompted to showcase content, provide a link to any premium content you've previously sold on other platforms. This showcases your experience and expertise. And TikTok's team will thoroughly review the information you've provided.
After submitting your application, sit tight! TikTok's team will review your request diligently. If your application aligns with our eligibility requirements, you'll receive an approval notification within the app. However, please keep in mind that not all applications featuring sample videos are approved if they don't meet our specific criteria.
How to optimize TikTok Series?
Whether you're a seasoned creator or just starting, these insights will help you create a TikTok Series that captivate, resonate. Let's delve into the world of TikTok Series optimization and unlock its true potential. These tips for optimizing TikTok Series, exploring strategies that can elevate your content, engage your audience, and leave a lasting impression.
Theme and Consistency: Choose a clear theme for your Series that resonates with your target audience. Consistency in content style and messaging helps build anticipation and keep viewers engaged.
Content Planning: Plan your Series content. Map out the sequence of videos, ensuring a smooth flow and logical progression of information.
Engaging Hooks: Begin each video with an attention-grabbing hook to entice viewers to watch the entire Series. Use intriguing questions, challenges, or teasers to pique curiosity.
Compelling Introductions: In the first video of the Series, introduce the concept and explain what viewers can expect. Provide context to make it easy for viewers to understand.
Seamless Transitions: Ensure smooth transitions between videos. You can use visual signals, narration, or text overlays to connect the content seamlessly.
Optimal Video Length: Keep each video within TikTok's time limit, but make sure the content is engaging and concise. Maintain viewers' interest throughout the Series.
Call to Action: Include a call to action (CTA) in each video. Encourage viewers to follow, like, comment, and share. Use CTAs strategically to guide user engagement.
Cross-Promotion: Mention the Series in your other TikTok videos or social media platforms to drive traffic. This can help increase visibility and attract more viewers.
Engage with Comments: Interact with viewers' comments to foster a sense of community. Respond to questions, feedback, and suggestions to build stronger connections.
Track Performance: Monitor metrics such as views, engagement rates, and follower growth for each video in the Series. Remember, analyze what's working and adjust your process accordingly.
Feedback and Iteration: Pay attention to viewer feedback and iterate based on their preferences. Adjust the content, style, or format as needed to enhance the Series.
Shareable Content: Create content that viewers find shareable. If your content resonates, viewers are more likely to share it with their friends and followers, expanding your reach.
Final words
Before diving into TikTok Series, think about what would entice you to pay for exclusive content. Because your audience values their money, so ensure your content truly delivers value. Strive for excellence to make them feel their investment is justified. Best of luck with monetizing your TikTok Series! And don't forget to explore our guide on 7 effective ways to monetize your TikTok channels.