Introducing TikTok Pulse, the revolutionary solution that unleashes the full potential of TikTok Ads! No more random ad placements from now on, only precision targeting. With TikTok Pulse Program, your brand's message will effortlessly reach the right audience, right after the top 4% of top-rated topics. Explore its features, requirements, and upcoming additions below!
What is TikTok Pulse?
TikTok Pulse is a revenue-sharing program designed to benefit creators, brands, and TikTok itself. This advertising program allows advertisers to place their advertisements after the top 4% trending topics, which cover up to 12 categories:
Fashion
Beauty
Gaming
Cooking
Studying
Books
Sports
Health
Wellness
Lifestyle
Pets and Animals
Entertainment
By placing brands' ads alongside top-rated topics, it ensures brands' advertisements reach larger audiences, increasing brand awareness and conversion rates.
Once signing up for TikTok Pulse, creators will receive 50% of the money TikTok earns from sponsored posts displayed alongside their top 4% of popular content. This program competes directly with YouTube's revenue-sharing program for YouTube Shorts. Unfortunately, TikTok Pulse is only available in certain countries, including the US, UK, French, Italy, Germany, and Spanish currently. This new product is planned to be available in other countries in 2023.
Examples of TikTok Pulse Ads
A brief example of how TikTok Pulse Ads will be displayed after the top 4% of trending videos is shown below: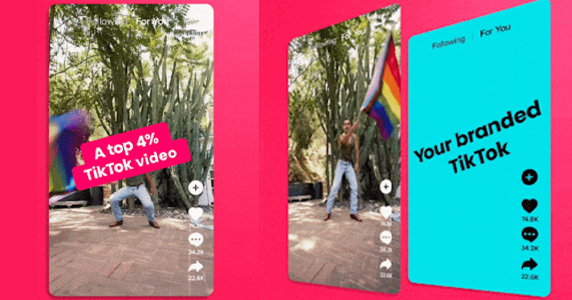 As observed, TikTok Pulse Ads will come after a top 4% trending video and be categorized to fit in one of the 12 topics from the TikTok platform. Appearing on users' FYP (For You Page) news feed within top trending UGC content, TikTok Pulse Ads are expected to reach broader audience sizes.
How does it work?
TikTok Pulse Program focuses on bringing the ads closer to audiences by placing branded advertisements after popular culture topics. In each Pulse topic (topics related to culture like foods, pets, lifestyles, etc.), TikTok picks out the top 4% of trending videos using its exclusive scoring system. This system makes sure creators' and brands' ads fit well with the cultural topics. Here are the scoring criteria:
Interactions (likes, shares, comments, etc.)
Video views and recent growth (to determine the most engaging content on the platform)
Creator interaction signals
Signals related to brand safety and suitability for both creators and contents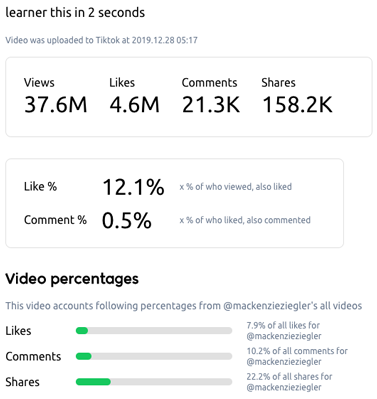 For creators, they need to ensure their videos are getting into the top 4% trending topics to make money out of TikTok Pulse. Once approved, they will receive payment from TikTok in the first half of the following month. Until now, there isn't much information regarding how much creators receive for each video reaching the top 4% of trending topics. However, it's worth trying if your videos are receiving positive performance on the platform.
Learn More: 7 ways to Make Money on TikTok
Why should brands use the TikTok Pulse Program?
The TikTok Pulse Program was launched in the middle of 2022 and since then, it has observed positive results. According to TikTok, using TikTok Pulse has helped raise engagement level by 2.6 times and awareness level by 6.8%. Also, what is worth noticing is the ability to recall ads of users has soared up to 9.8%.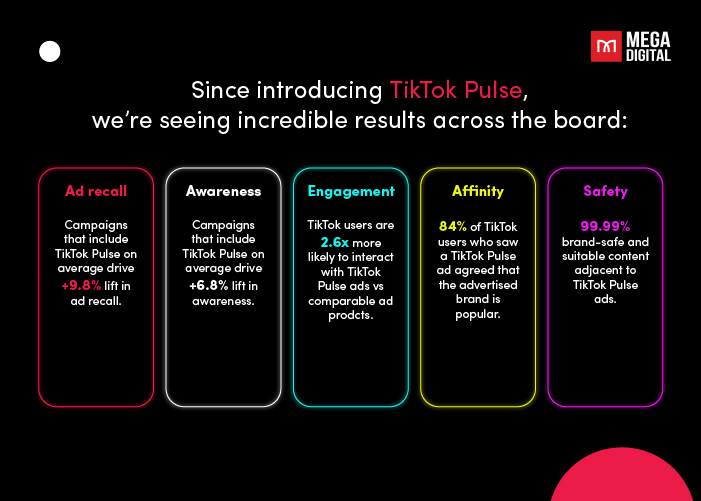 This means the platform's strategy of placing sponsored posts after top-performing videos has worked perfectly. Taking advantage of users' curiosity towards interesting and trending topics, TikTok Pulse guarantees that sponsored content will be getting more attention. Here are more advantages coming from TikTok Pulse:
Control over ads and budget
TikTok Pulse program gives brands control over their ads campaigns and budget. Brands can choose between Spark ads and non-Spark Ads to connect effectively with their target audience using UGC (User-Generated Content).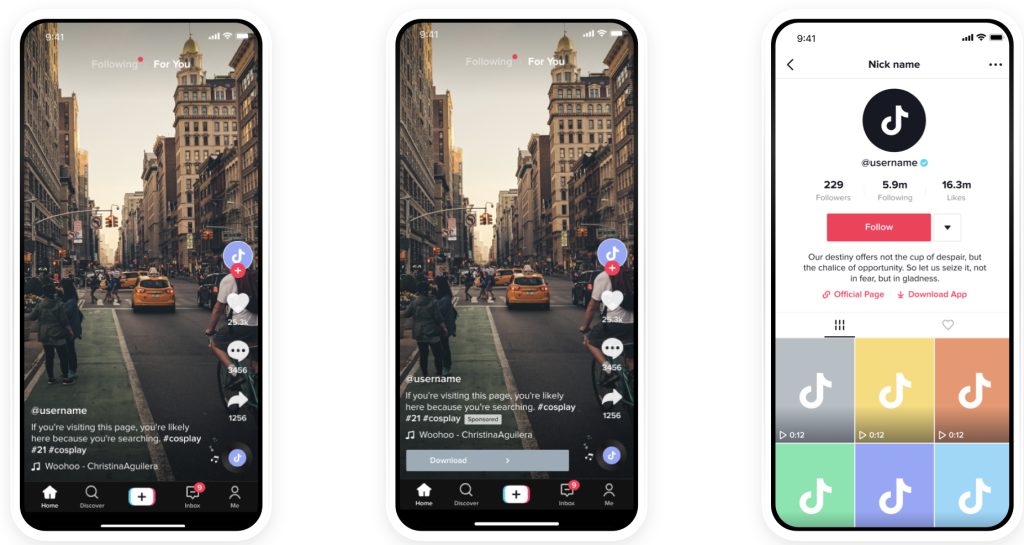 Drive sales and engagement
Brands get exclusive opportunities to engage diverse communities by appearing alongside top creators and videos on TikTok. With 12 brand safety categories, ads can be placed next to relevant content to build meaningful connections.
Protect brands' safety
TikTok makes sure to protect brand suitability and safety by filtering ads near verified content. Also, TikTok Pulse allows brands to use third-party tools to measure the effectiveness of their campaigns.
Requirements of TikTok Pulse Program
TikTok Pulse does have its own rules that creators and brands need to follow. Making sure you meet all the requirements to become eligible for TikTok Pulse:
1. Be at least 18 years old.
2. Have at least 100,000 followers on TikTok.
3. Post at least 5 videos within the last 30 days.
4. Ensure videos follow TikTok's Community Guideline
5. Join TikTok Creator Marketplace.
How to create a TikTok Pulse Campaign?
Creating a TikTok Pulse ads campaign does not take up much time. Follow these steps for detailed information on generating a TikTok Pulse at Campaign Level:
1. Log in to your TikTok Ads account
2. Select New Campaign from the Campaign section
3. Add Reach & Frequency as your buying types
4. Choose Reach in the Advertising objective section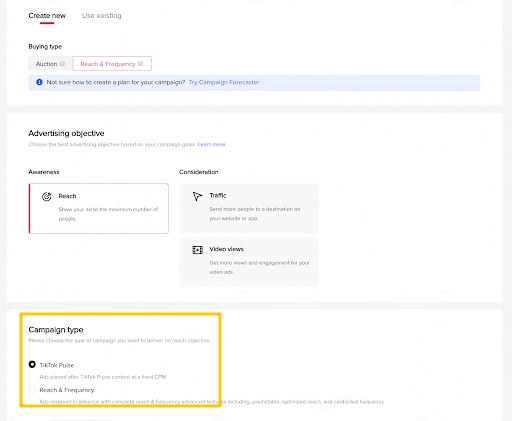 5. Choose TikTok Pulse as your campaign type
6. Add Campaign Name and click Continue

After 6 steps, you are all set to start promoting your advertisements on the TikTok Pulse program. For more instructions on creating TikTok Pulse at Ad Group Level, visit TikTok Business Help Center for further guidelines.
Differences between TikTok Pulse vs Spark Ads
TikTok Pulse and TikTok Spark Ads are serving the same purposes of raising brand awareness and increasing their audience sizes. However, here are the things you need to differentiate the two of them:
| | | |
| --- | --- | --- |
| | TikTok Pulse | Spark Ads |
| Definition | Contextual ad format for brands | Influencers' content in partnership with brands |
| Ads Placement | Appear next to the top 4% outstanding content in For You Page (FYP) newsfeed. | Displayed in users' home feeds, with the "sponsored" label. |
| Targeting Purpose | Align brands' ads with relevant content creator's posts | Aim at users who are not necessarily follow influencers and brands |
| Content | Align brands' ads with relevant content creator's posts | Using UGC and targeted advertising |
| Mission | Break the gap between brands and the community on TikTok | Boost brand recognition and increase followers |
| Profit Division | Dividing ad revenue by 50:50 to creators on TikTok | Not available |
Upcoming Features on TikTok Pulse
TikTok is planning to add more features within TikTok Pulse Ads, including Pulse Seasonal Lineups and Max Pulse, in 2023.
Max Pulse
This feature will let advertisers put their ads next to the top 4% of popular content across all categories on TikTok. It will also work with the existing 12 content categories. The goal of Max Pulse is to help brands reach a wider audience and make the most of TikTok Pulse campaigns while ensuring their ads are suitable for the platform.
Pulse Seasonal Lineups
By late 2023, TikTok will offer "seasonal lineups," which are collections of the most popular and trending content during special times like Thanksgiving and winter holidays. This will give brands a chance to reach a larger audience and increase their awareness, relevance, and connection with users during these key moments. These seasonal lineups will be available in specific markets.
>>>> Get your TikTok Holiday's tips & tricks in 2023
TikTok Pulse Premiere
TikTok Pulse has expanded the program, by introducing Pulse Premiere – an extra program that will place brands' ads after appropriate videos from top publishers. In the Pulse Premiere program, TikTok has proudly introduced its partners, with many big names such as Buzzfeed, Dotdash Meredith, Hearst Magazines, NBCUniversal, UFC, Vox Media…
Final words
In conclusion, TikTok Pulse Program is a game-changer for brands looking to make a significant impact in the digital world. With its innovative tools and resources, the program empowers businesses to seize the spotlight and unlock their full potential on the TikTok platform.
As digital marketing keeps changing, using the TikTok Pulse Program is a special chance for brands to stay ahead and do well on social media. It helps brands succeed in the fast-paced online world. So, don't miss out on this revolutionary program and consider applying best practices from TikTok Advertising 101: A Crash Course for Beginners!