TikTok in-feed ads are a powerful tool for brands looking to reach a younger, highly engaged audience on the platform. These ads allow you to create immersive and interactive content that captures the attention of users and drives engagement and conversions. Considered the cheapest ad type, in-feed ad is a cost-effective option for advertisers looking to reach a broad audience.
Let's get a full notebook about TikTok in-feed ads right here!
What are in-feed ads on TikTok?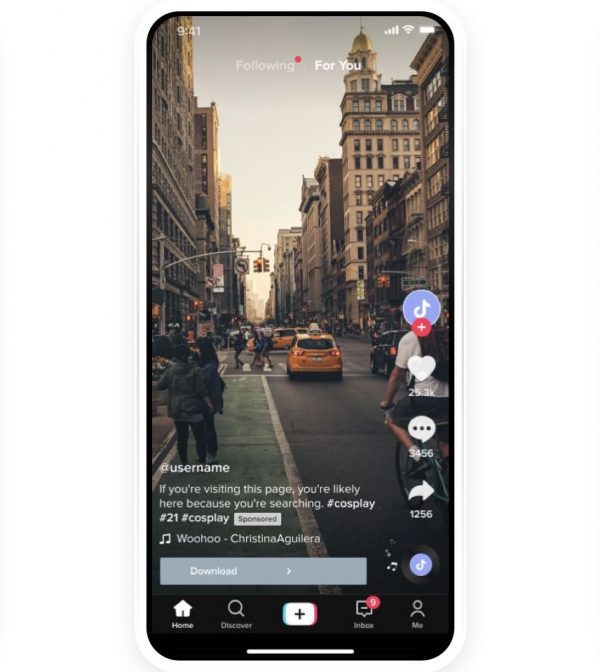 In-feed ad is the TikTok default advertisement format. It enables users to integrate videos that will automatically play on the "For You Page" like any organic video. Users can have the option to like, comment, share, follow, and record videos like native content due to them having the same user interface as organic posts.
This ad type is usually used to drive traffic toward external landing pages, app downloads, or brands' channels.
Why should you use TikTok In-feed ads?
In-feed ads are especially suitable for brands with limited budgets cause it has pretty reasonable prices compared to other ad types.
Easily set up and manage within TikTok Ads Manager.
Obtain multiple advertising objective types (reach, video views, followers, etc.)
Increase brand exposure to users.
In-feed ad specs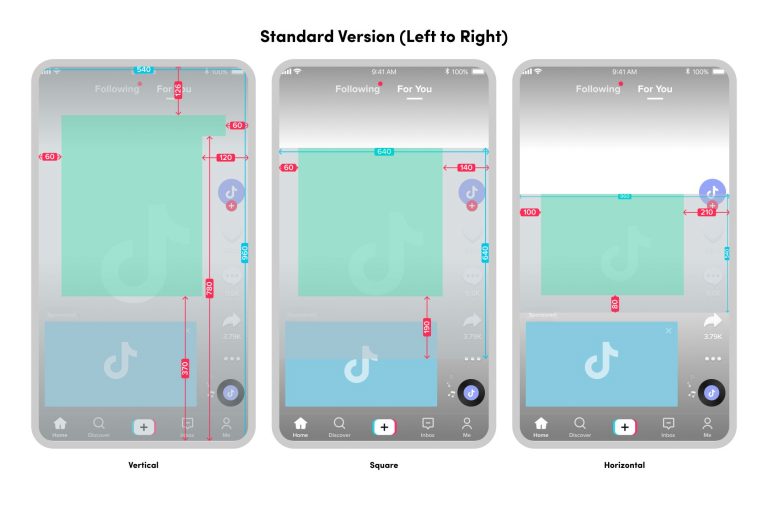 One of the unique qualities of In-feed ads is that they appear like any native content on For You Page. Therefore, you should note its specs to ensure that none of your key visual elements are blocked by TikTok's user interface overlay.
Duration: 5-16 seconds (Recommend length: 15 seconds).
Dimension: 16:9, 9:16 or 1:1
Resolution: 1280px x 720px, 720px x 1280px, and 640px x 640px
File supported: .mov, .mp4, .3gp, .mpeg, or .avi files in your ads
Size: ≤ 500 MB
>>> Read more: How to start advertising on TikTok for beginners
5 best practices to use TikTok In-feed Ads

#1 Design with Sound on
On TikTok, sound is an essential element in every video. In fact, 88% of TikTok users said that sound was crucial to their experience on the app. This gives advertisers a wide range of options, like using a standard music track, producing a voiced accompaniment with captions, or experimenting with other audio effects. 
Advertisers can access thousands of royalty-free tracks available on TikTok's Commercial Music Library. Mega Digital suggests using a fast-paced track around 120bpm for the best effect!
#2 Shoot Vertically
Although TikTok allows advertisers to upload horizontal or square assets, producing content with a 9:16 – full-screen aspect ratio is advised. Videos that follow this ratio have had an overall boost in impressions of 60.5%.
This is because the full-screen advertisement is more attractive and appears more naturally on the platform than in a horizontal or square format.
#3 Catch the trends
Every three to five days, trends in challenges, effects, music, and memes shift. However, using a trend as a reference point in your creative material will make it simpler for users to relate to your brand. This also gives more chances for the TikTok algorithm to boost your videos forward.
#4 Work with Influencers
Creating new video content might take anywhere from six to eight months for many businesses. As a result, using TikTok influencers is a good idea since they have more excellent experience creating TikTok content that appeals to people. An approachable solution to connect with influencers is the TikTok Creator Marketplace.
#5 Test for better results
TikTok's advertising UI provides an A/B testing tool for clean testing. You can try various advertising tactics as well as multiple target functions. To have a more thorough understanding of how specific content is performing, advertisers can also use the platform's multi-session measurement.
How much are in-feed ads on TikTok?

In contrast to Facebook and Google, TikTok does not use cost per click as a metric. The platform employs cost per mille (CPM), which equals the price per 1000 views. So, in-feed ads are quite affordable because they only cost $10 per CPM compared to other types of TikTok Ads.
Smyth Jewelers – example of TikTok In-feed ad's success
The advertising campaign of Smyth Jewelers – an online jewelry brand – has successfully boosted user awareness and reached younger new customers with TikTok's In-feed ads.
Smyth Jewelers has implemented TikTok In-feed ads to attract users to their profile page with a budget of only $40/day. Smyth Jewelers' promotional videos have grossed nearly 800,000 views and more than 19,000 new followers. This result has helped the sales of wedding and engagement rings increase 2.3 times.
Is TikTok In-feed Ads effective?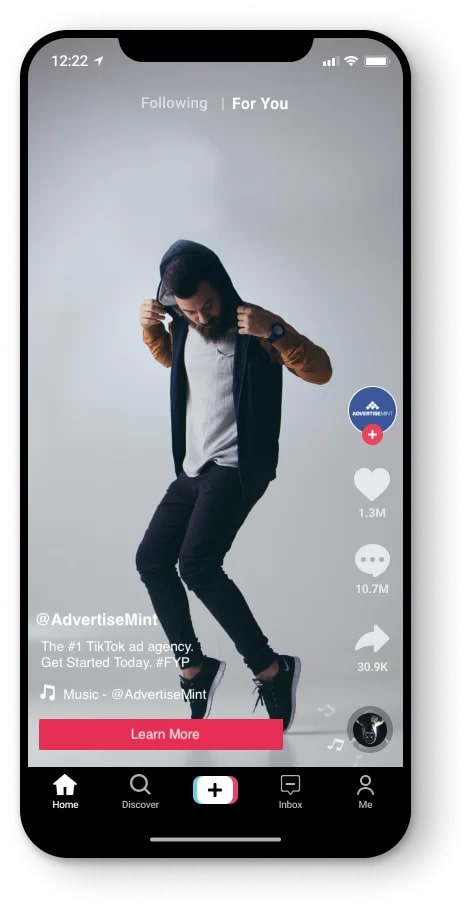 66% of users had a positive view of TikTok advertising, while 52% said that TikTok ads were entertaining and exciting. Since consumers are ready to participate in campaigns and don't think of in-feed ads as intrusive, reaching a receptive audience is a significant advantage for advertisers.
Hopefully, the above article will give you helpful information about TikTok In-feed ads. If you want to start advertising on TikTok, you can learn more about TikTok Ads from Mega Digital's experts and start an advertising campaign.