When you first get started with TikTok advertising, it may be confusing that among dozens of TikTok ad formats, some allow you to set up on your own while others do not. This is strictly related to the two ad distribution mechanisms on TikTok: TikTok Auction vs Reservation Ads. Let Mega Digital help you fully understand the difference between them.
TikTok Auction Ads
What is TikTok auction ads?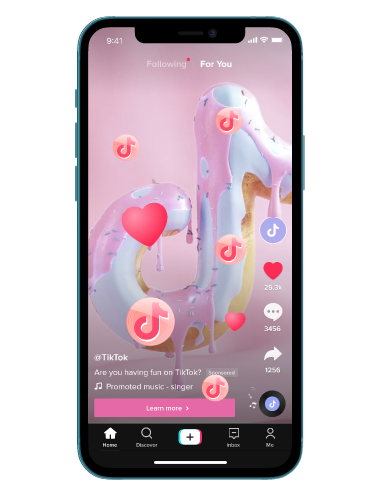 TikTok Auction ads operate in a way quite similar to an auction when advertisers must compete with each other by bidding to get an ad placement. TikTok will consider a lot of factors, such as the bid offered, the quality of the video content, the conversion rate of the landing page,… to distribute ads on TikTok.
TikTok Auction ads give advertisers the freedom to create, run and optimize their campaigns from creating to running and optimizing the ads. Therefore, it is more suitable for professional advertisers who have experience in running TikTok ads.
TikTok Auction Ad formats
In-feed ads are the only TikTok ad format that follows the TikTok auction ads mechanism. With in-feed ads, advertisers can actively choose between different objectives that align with their campaign like:
Awareness – Build brand identity.
Consideration – Build interest in a specific goal.
Conversion – Cause a conversion action on the website/landing page.
Catalog Sales – Boost sales on TikTok Shop.
TikTok has published Spark ads, a variant of In-feed ads which allows users to advertise UGC content in other channels. In this way, brands can identify which organic content uploaded by TikTokers suits their campaign and contact the creators to change it for commercial purposes. The ad type is very promising since it doesn't make audiences feel like they are watching ads.
TikTok reservation ads
What is TikTok Reservation Ads?
Like the word "reservation", TikTok reservation ads refer to the method that advertisers book placement for their ads via ads agencies or TikTok partners. Although reservation ads cost you more than auction ads, the effects it brings to the campaign are highly remarkable. Therefore, big brands often take reservation ads rather than small and medium enterprises.
TikTok Reservations Ad formats
TikTok Reservation ads are available in the following formats:
TopView Ads
TopView Ads uses short video content under 60 seconds and in a vertical frame, displayed when a user has just opened the TikTok application. It is often adopted by brands, businesses, and advertising agencies to increase brand exposure and convey messages to customers better. TopView ads also help pull traffic to the website, landing pages, reach, and web views,… to continue to pursue and remarket with other ad formats.
Branded Hashtag Challenge
Branded Hashtag Challenge is a form of TikTok advertising by creating a trend with a certain topic and attaching a hashtag (#). Brands can work with TikTok's marketing team to create their hashtag. TikTok also allows challenge banners to appear in the TikTok Discover section (Discover page banner) and motivates TikTok users to create content to push that hashtag trend.
Branded Effects
TikTok Branded Effects is an ad format unlocks brands' creative potential using specially designed stickers, filters, and 2D, 3D, and AR effects. It helps brands connect seamlessly with their users' most memorable moments.
Top-Feed Ads
Top-Feed ads are the first In-feed ads that appear to the audience. Top-Feed is the only one that applies the reservation mechanism among many types of In-Feed ads. It is often used when advertisers want to make a memorable and long-lasting impact, acquire additional levels of campaign control, or utilize R&F's capacity to tailor the frequency and enhance reach.
Differences between TikTok Auction vs Reservation ads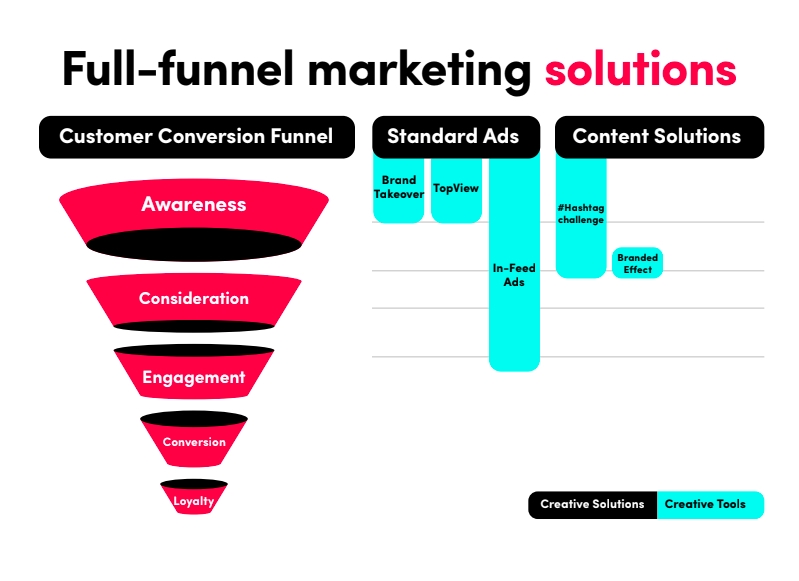 Auction vs reservation ads TikTok can be different in a few aspects, of which the 3 most outstanding are application, optimization, and price.
Application
It is probable that the most transparent difference between Auction vs Reservation ads TikTok comes from who can access it.
With Auction ads, all users can set up, run and optimize the ads.
With Reservation ads, you cannot set up on your own but must contact TikTok partners to let them handle it. However, self-running and optimizing are still available.
Optimization
With a TikTok Ads Manager account, you can bid on an ad and set the budget you're willing to pay for your Auction ad. In contrast, you're not able to set up a Reservation ad on your own but rather buy ad placements from TikTok partners. This way, Auction ads on TikTok are more flexible, and the ad cost will stay within your budget.
Furthermore, one of the biggest differences between the two ad types is that Auction ads can be optimized for conversions. Based on metrics on TikTok Analytics, you can modify your tactics for better performance. Hence, the cost is 100% under your control.
Price & Visibility
TikTok ad cost, in general, is not fixed but varies according to the scale and target of the campaign. However, since they can stand in the most significant positions to attain audiences' attention, Reservation Ads are relatively extravagant ($20,000 – 50,000/campaign on average). Auction ads are commonly more flexible and pocket-friendly since they set no standard for minimum expense. Spending entirely depends on your decision, and TikTok will charge according to your target and results.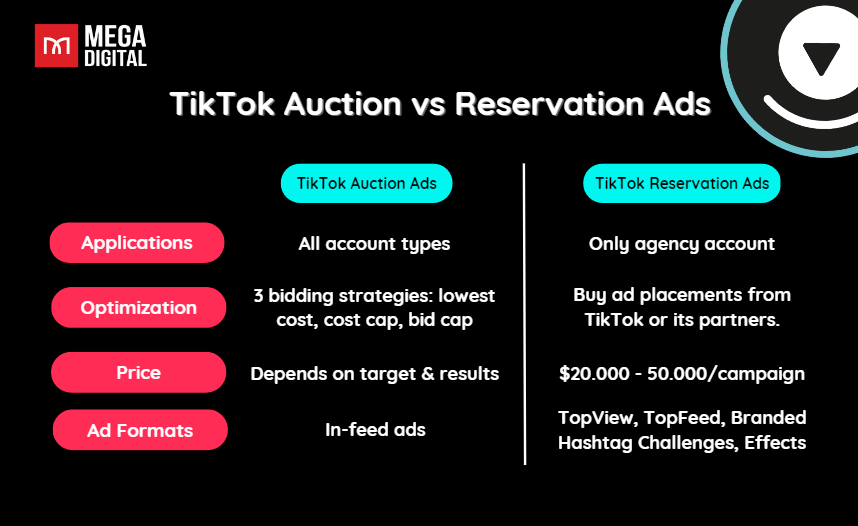 How to set up a TikTok campaign using Auction and Reservation ads?
How to set up a campaign with TikTok Reservation ads?
Setting up a reservation ads campaign may be complicated since you must directly contact TikTok or book ad placement via a TikTok partner. However, these ad formats are very diverse and impactful, so it's worth the money and effort for branding.
How to set up a campaign with TikTok Auction ads?
Step 1: Log in to your TikTok Ads Manager, find the Campaign tab, and Create a new campaign.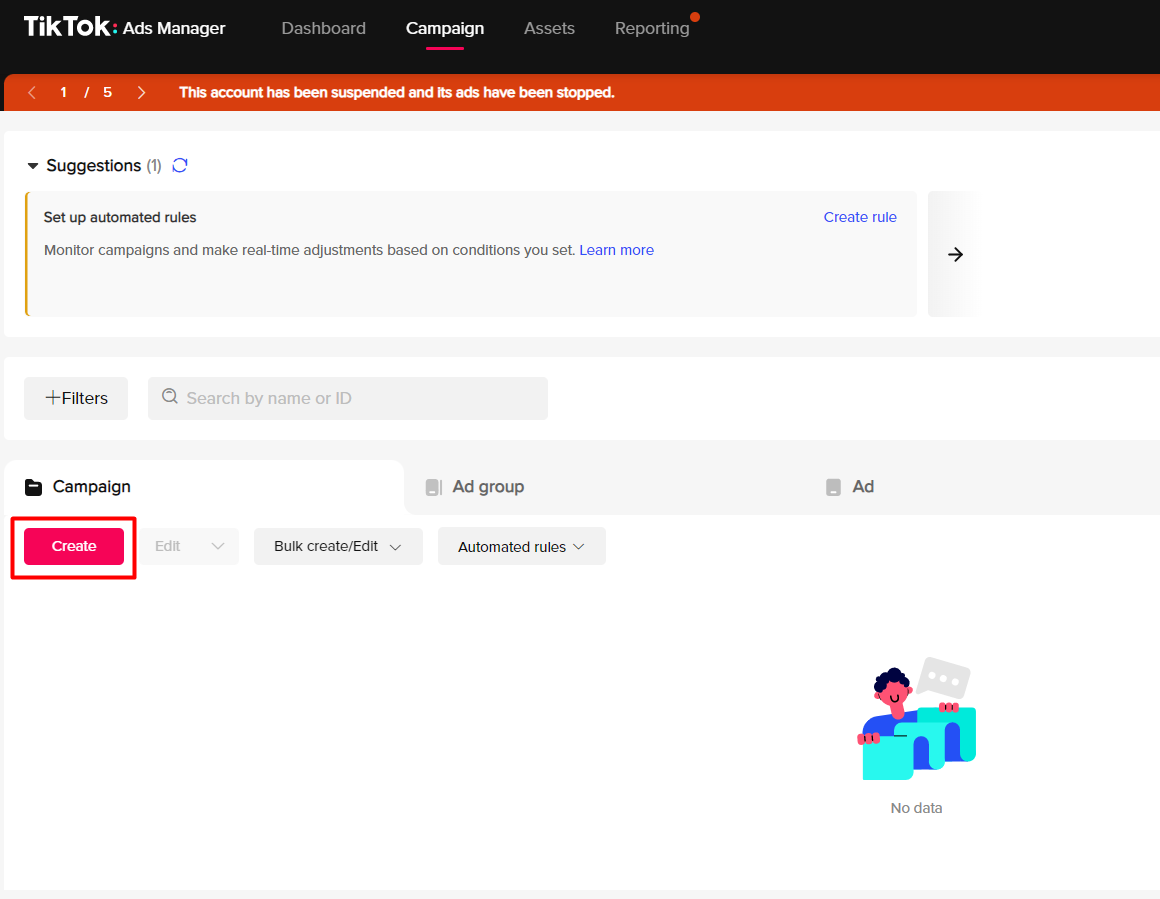 Step 2: Choose the objective for your ad campaign, Awareness, Consideration, or Conversion. Then set up your campaign name and budget.
Step 3: Name your TikTok ad group, and choose placements and other targeting options based on your desires, like demographics, interests, behaviors, etc.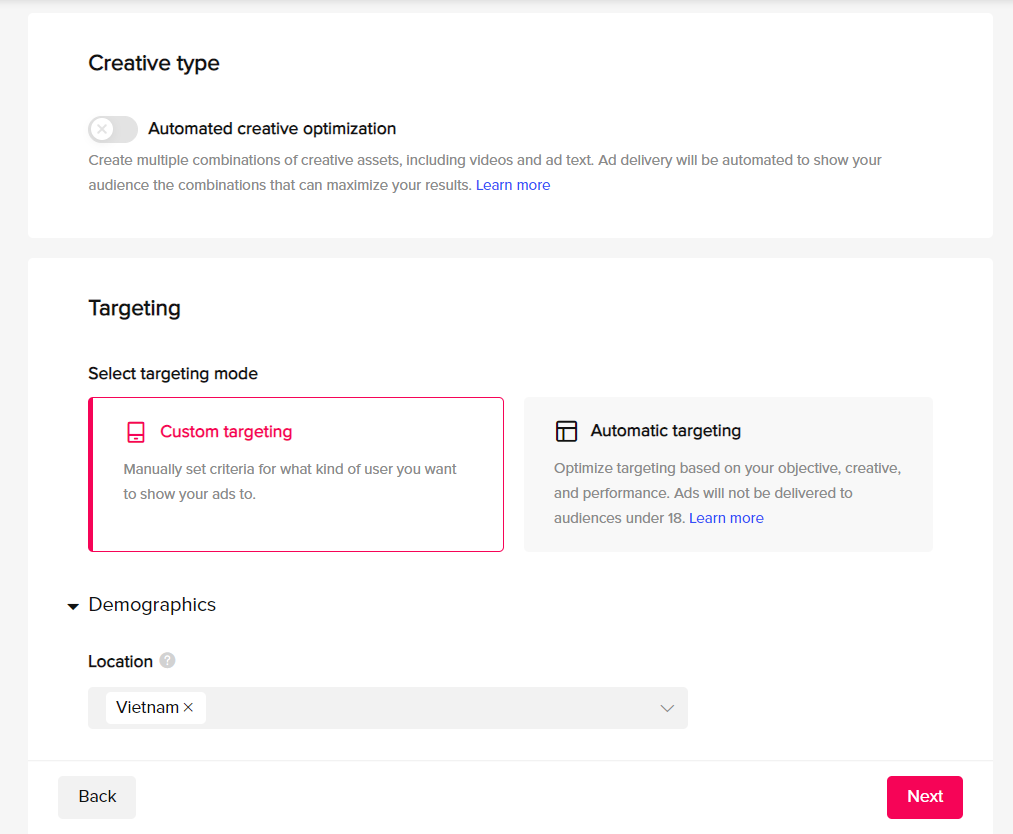 >>> Read more: How to set up TikTok ads audience targeting for beginners
Examples of successful brands with TikTok Auction vs Reservation Ads
Clearly, with Branded Hashtag Challenges
Clearly is a Canadian online eyewear store selling contact lenses, prescription glasses, and sunglasses online. They turned to TikTok to drive more brand awareness and consideration with a previously untapped demographic.
They created the #ClearlyTransform Branded Hashtag Challenge, which encouraged TikTok users to show off their best looks with their favorite glasses. This campaign was incredibly effective.
According to TikTok, Clearly gained over 20 million video views while reaching 116 million unique users globally in just six days. Besides, over the six days of the campaign, they reached the following:
241,000 video submissions and 32.7 million engagements
An increase of 12,000 brand followers
An ad recall increase of 13%
Main Takeaway: With Branded Hashtag Challenge, Clearly cleverly combined brand placement with authenticity and User Generated Content (UGC) to boost brand awareness. Their campaign audio and visual investment also helped them grab attention and encourage new users to engage actively.
Amazon SG with Branded Hashtag Challenge and Branded Effect
To drive awareness of Amazon Prime Day in Singapore, Amazon resorted to TikTok Branded Hashtag Challenge ads to leverage the unboxing experience to create a viral online campaign.
Their #UnboxAmazonPrimeSG campaign encouraged TikTok users to share their reactions when unboxing their Amazon package. Amazon offered a S$50 Amazon.sg gift card for potential customers to motivate them to take action.
Asides from using TikTok Branded Effects, TopView, and In-Feed Ads, Amazon SG collaborated with some TikTok creators to drive awareness of the campaign.
As a result, the campaign got:
More than 900k TikTok users
Over 3.6 million unique video views
9.1k UGC videos
Main Takeaway: It was very sensible of Amazon to combine unboxing with Branded Hashtag Challenge since it drove brand awareness and boosted sales. Thanks to that, they could easily sneak into the local market. Using Branded Effects and TopView was also a thoughtful move to double effects.
Guess with TopView campaign
Guess is an American clothing brand. To promote their Fall Denim Fit collection, they used TikTok to drive awareness during the back-to-school shopping season. With millennials and Gen Z consumers as target customers, they launched the #InMyDenim Hashtag Challenge and posted various official videos in the sound of Bebe Rexha's "I'm a Mess."
Using TopView (Brand Takeovers), they booked four influencers to demo their concept, which went viral within six days.
The result is the #InMyDenim campaign and Brand Takeovers generated:
10.5 million views.
14.3% engagement rate
12k followers added
16.5% CTRs
Main Takeaway: Effectively using trending songs and the power of influencers helped Guess succeed. It is to see the importance of selecting the right figures for the target customers.
The Farmer's Dog with In-Feed ads
As an online dog food subscription service, The Farmer's Dog chose TikTok In-Feed ads to reach and convert more potential customers aged 25 and older in the US.
First, they collaborated with creators to convey their core message: "The most convenient dog owner's choice for healthy living". Then, using In-Feed TikTok Spark Ads to reach users who were interested in pets, they lowered CPAs at scale.
After 2 months, it cost The Farmer's Dog $100,000 per month on TikTok advertising budget alone, while bringing:
33 million video views
62% reduction in CPAs
5% increase in conversion rate
Main Takeaway: Interest targeting is a wonderful tool for eCommerce brands to expand their market and reach. However, The Farmer's Dog's excellent optimization and campaign management ensure their success.
Final Word
In a nutshell, if you are an individual or small enterprise who first entering the market, let's focus on Auction ads. If you are a big and medium brand finding a solution to spread your identity, Reservation ads are effective options. Download our Ebook to learn more about all TikTok ad formats to better consider which one to choose.