Choosing the right audience can help you improve the performance of your ads. The TikTok Ads Manager provides a few solutions to enable advertisers to reach the right customers, including Custom Audience, Lookalike Audience, and Audience Integration. Let's find out what TikTok ads audience targeting is and which solution is right for you.
What is TikTok Ads audience targeting?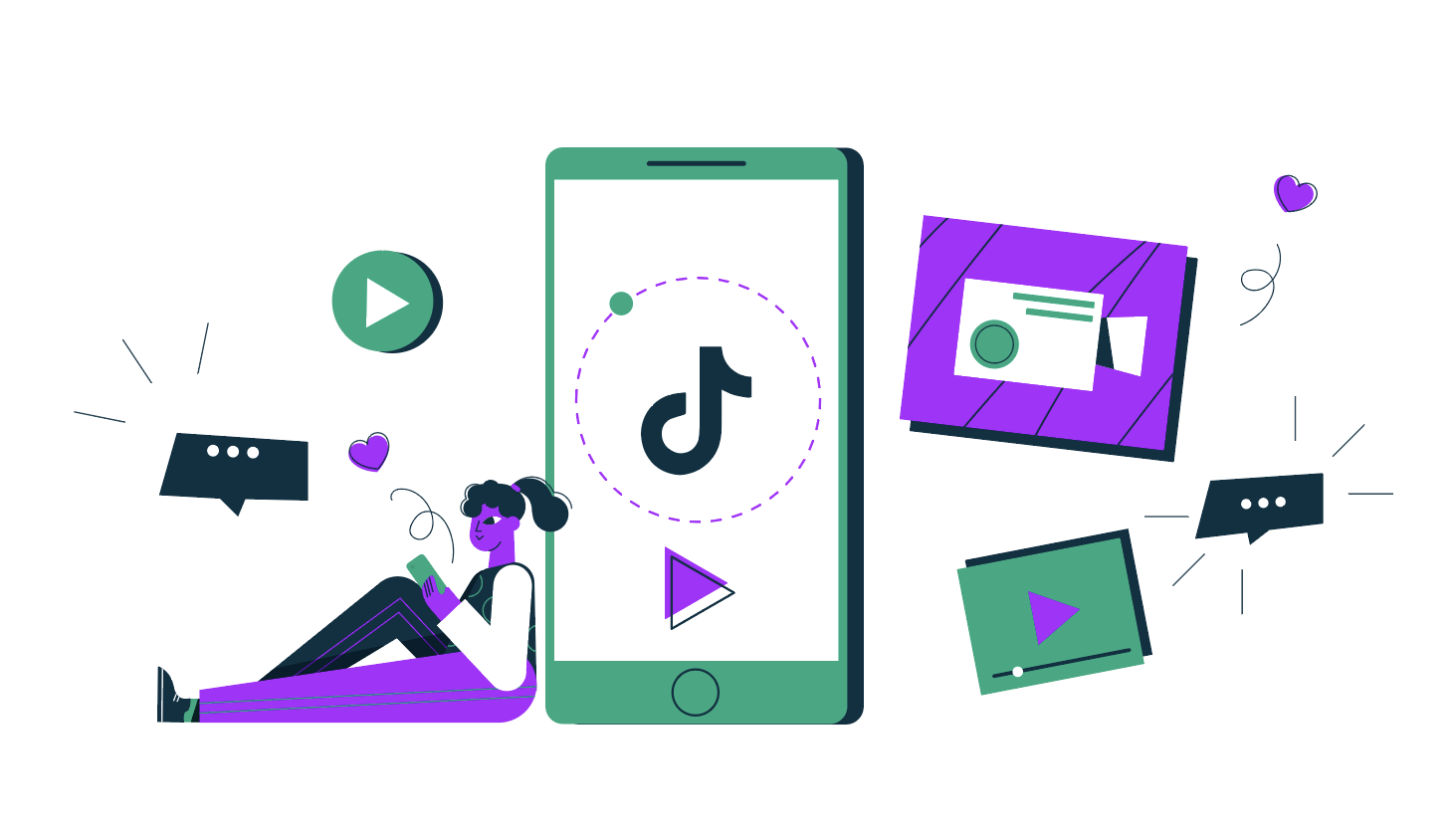 TikTok Ads audience targeting is one of several TikTok Ads targeting options, which belongs to step 3 when setting Ad Group. Targeting the right audience is essential to your TikTok advertising campaign's success. Reaching the right audience on TikTok can help your brand build genuine connections, increase customer loyalty, and increase sales. Before getting started, the advertiser or brand should draw a persona that is influenced by ads and brings value to your business.
There are 2 approaches when thinking about TikTok audience targeting:
Broad Targeting: The system will find the best customers based on no predefined criteria. You simply leave the targeting options blank, and TikTok's intelligent algorithm will assist you in discovering potential customers that you were previously unaware of.
Narrow Targeting: The system will find the best customers based on your specific targeting settings and then show them your ads.

Custom Audience.
Lookalike Audience
Audience Integration
Note: If you already got your business persona, then Narrow Targeting is much more suitable and will bring more value than Broad Targeting, whose range is slightly excessive. 
Review 3 TikTok ads audience targeting solutions
Solution 1: Custom audience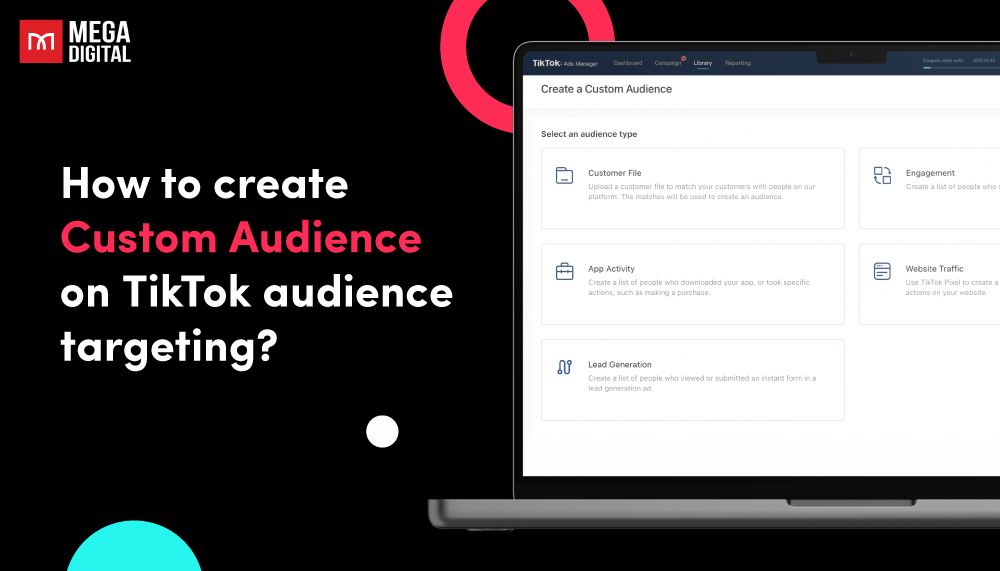 What is Custome Audience?
Custom Audience is an ad targeting option that allows you to find people who already know about or have interacted with your company. This type of targeting is an effective tool for 
Remarketing 
Reaching out to potential repeat customers 
Growing your following 
Increasing app engagement
Creating lookalike audience
How to set up a Custom Audience
To target Custom Audiences in an ad group, a minimum audience size of 1,000 is required. Follow these steps to make a Custom Audience:
Step 1: Open up the new section of Audience Targeting
Click on the Create New button in the Include segment.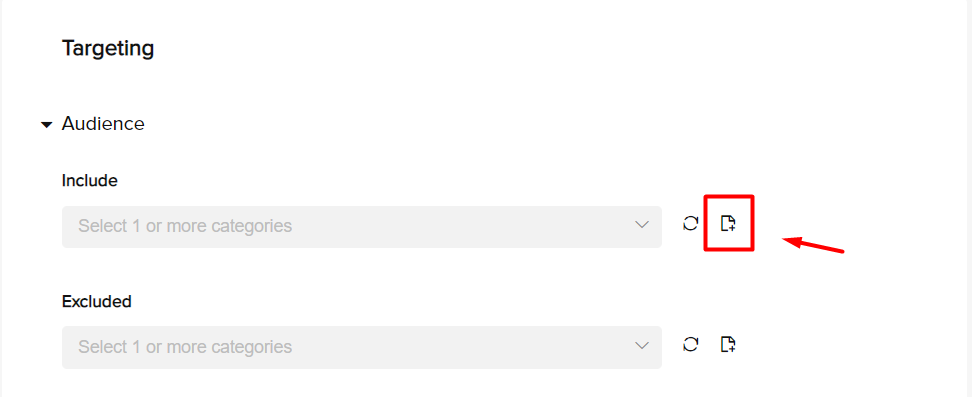 Step 2: Create the suitable Custom Audience
First, click on Create Audience and choose Custom Audience.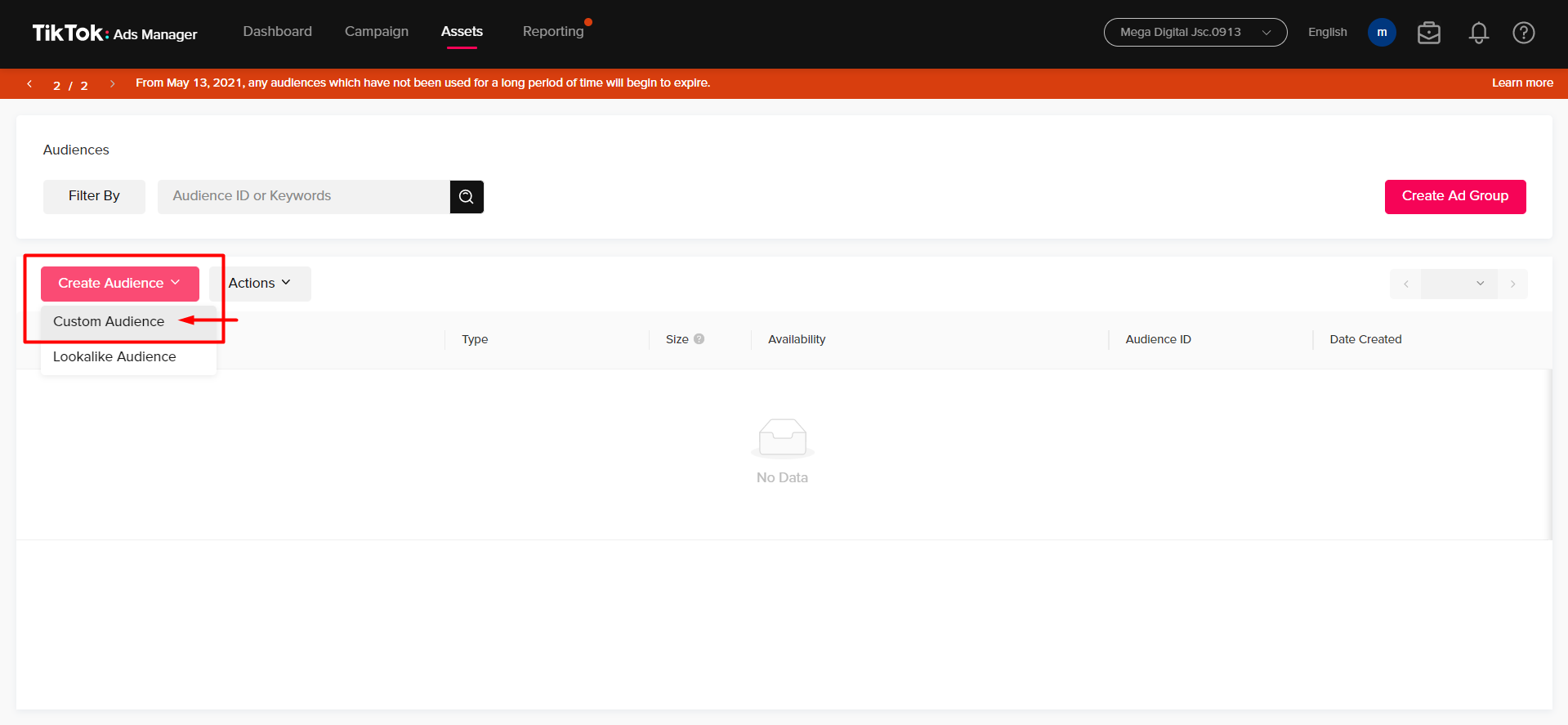 After that, you will see six ways to create a Custom Audience: Customer file, Engagement, App activity, Website traffic, Lead generation, and Business account audience.
All these six above have similar setup steps, in turn as follows:
Select the type of engagement, Ad group ID, and time period under the Include.
Click the Add more rules icon and choose Broaden Audience or Narrow Audience. 
Click Exclude People and enter the time period, engagement, and Ad group ID if you want to exclude certain users from being added to your Engagement list. However, you can skip this step if you want to include everyone. 
Name the audience. 
Toggle Auto-Refresh/Reach and Frequency
Click Confirm to form your audience.
6 ways to create a Custom Audience
1. Customer File 
You can upload your Customer File to TikTok Ads Manager to create a Custom Audience. TikTok allows customers to upload files using Mobile Ad Identifier (MAID) and accepts both Apple Identifier for Advertisers (IDFA) and Google Advertising ID.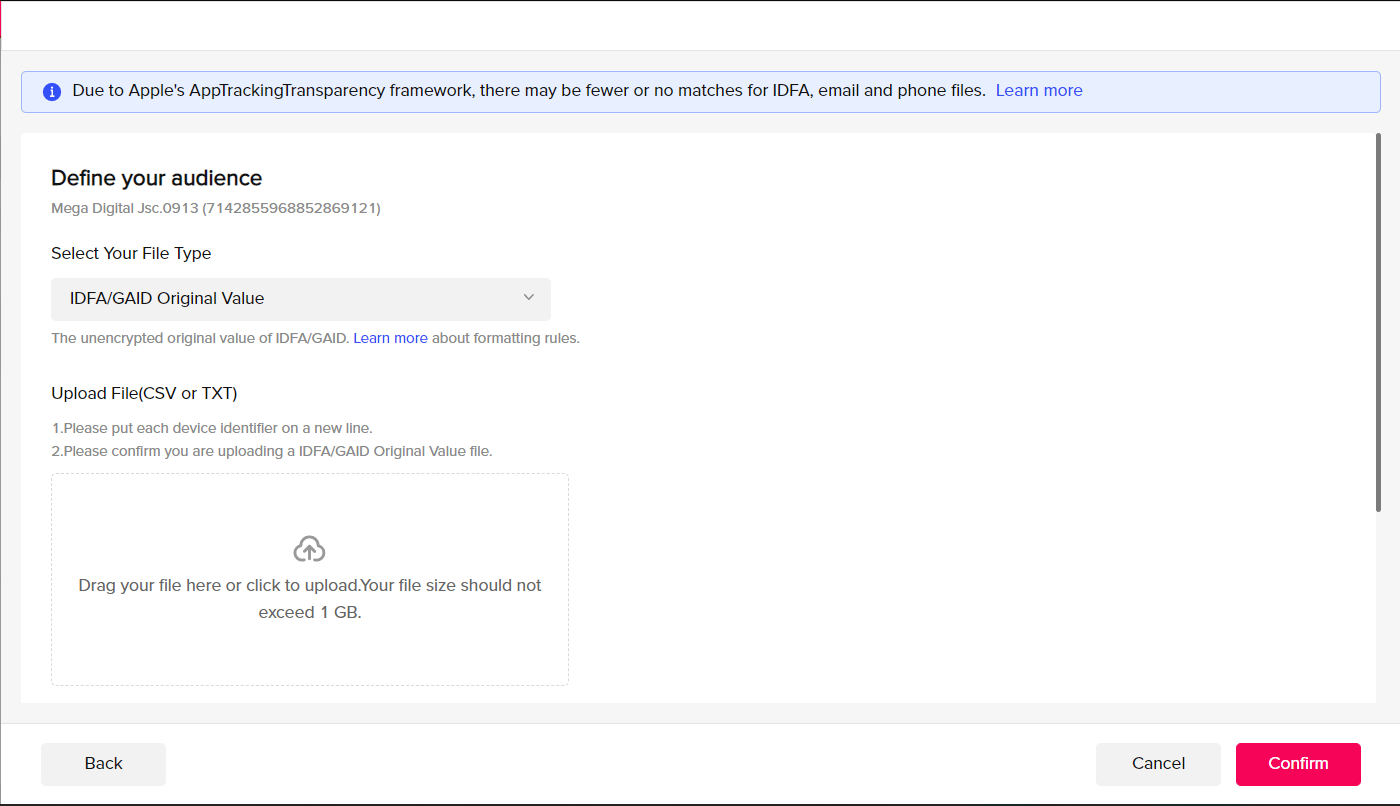 Note:
Your upload needs to be in .txt or .csv format and not larger than 1 GB.
Within the account, you can have up to 400 custom audiences at once.
2. Engagement
Engagement audiences enable advertisers to retarget users who have previously interacted with a brand's ad content. That includes all types of Video ads on TikTok and ad solutions for instant experiences (Instant Page ads and App Profile Page ads).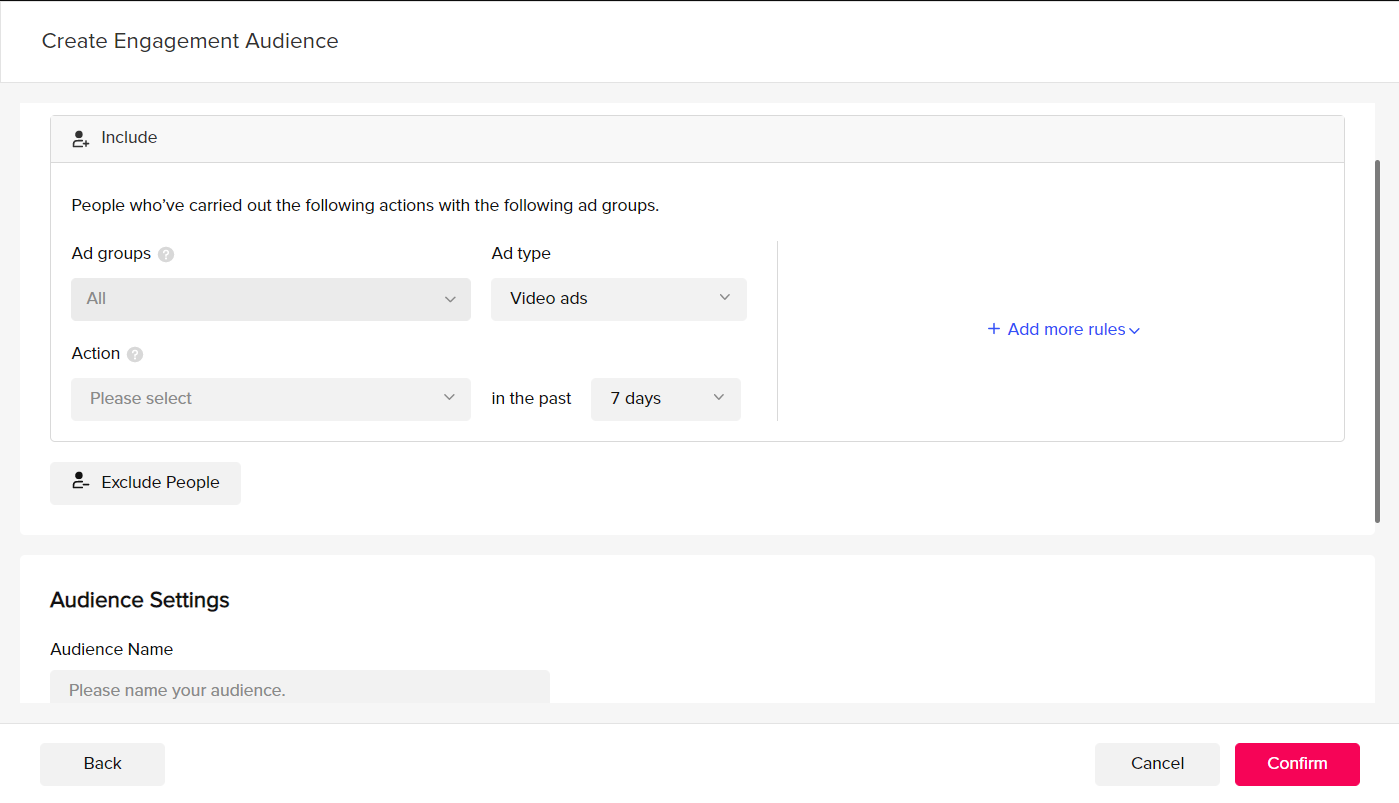 Note:
The Website Traffic Audience is different from Engagement Audience. The engagement audience comprises people who have taken action on TikTok Ads Manager's family of apps, including TikTok, BuzzVideo, and Babe. Website Traffic Audience is the audience that has taken action on your landing page and has been tracked by our pixel.
Pangle placement only supports audiences derived from "clicks" and "impressions." Other actions are not supported, such as "video views."
Within the account, one advertiser can have up to 400 custom audiences.
3. App activity
This allows you to create an audience of app users who have completed specific events. You can target your ads to people who have previously used your app or who you want to re-engage with. Once set up, you can create audiences by id/name app from attributed and non-attributed events.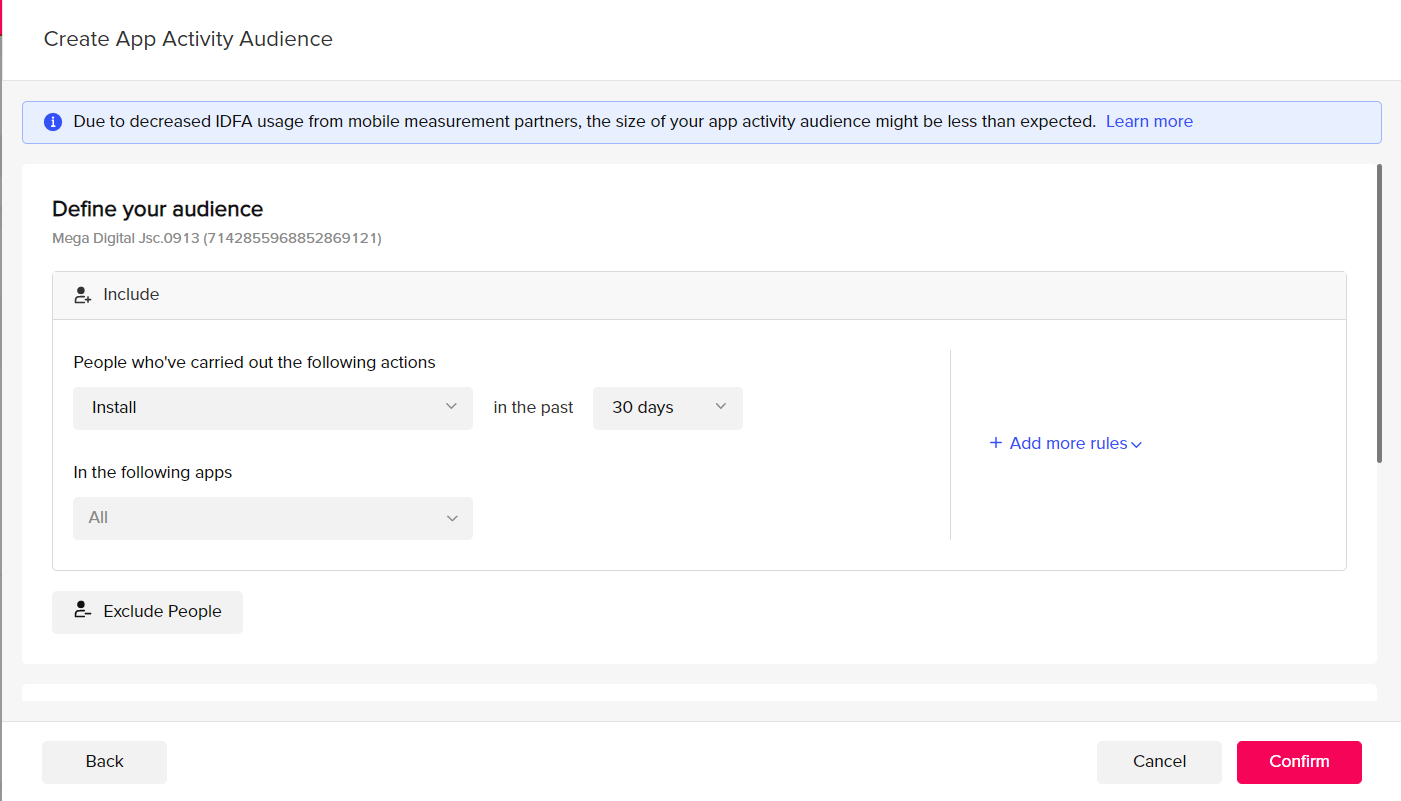 Note:
Condition of using this feature:

Before setting up the event, configure app events and access your third-party tracking platform to send back event data to TikTok.
Please ensure that the in-app events option in your third-party tracking platform is enabled for the App Activity audience to function correctly. Unless you configure it for other events, the Install event will be posted back by default once enabled.

An advertiser can have up to 400 custom audiences at one time within the account.
4. Website Traffic
Website Traffic is an option that allows you to create a group of users who have visited your website or taken a specific action on it.
Note:
Prerequisite for using this feature: You need to set up TikTok Pixel and determine the event to track.
Pangle placement only supports audiences generated from Attributed Events.
Within the account, one advertiser can have up to 400 custom audiences.
Advanced Matching can be enabled to expand targeting even further; this can be done with the TikTok Pixel.
5. Lead generation
Lead generation allows you to create an audience of users who engage with your Lead Ads. For instance, you can retarget users who viewed the form page of your Lead Ads without submitting it to enhance campaign efficiency.
A Lead Generation Audience, in particular, refers to users who have interacted with your Lead Ads by viewing or submitting the form.
Note:
Within the account, one advertiser can have up to 400 custom audiences.
Lead Generation only supports TikTok placement.
6. Business account audience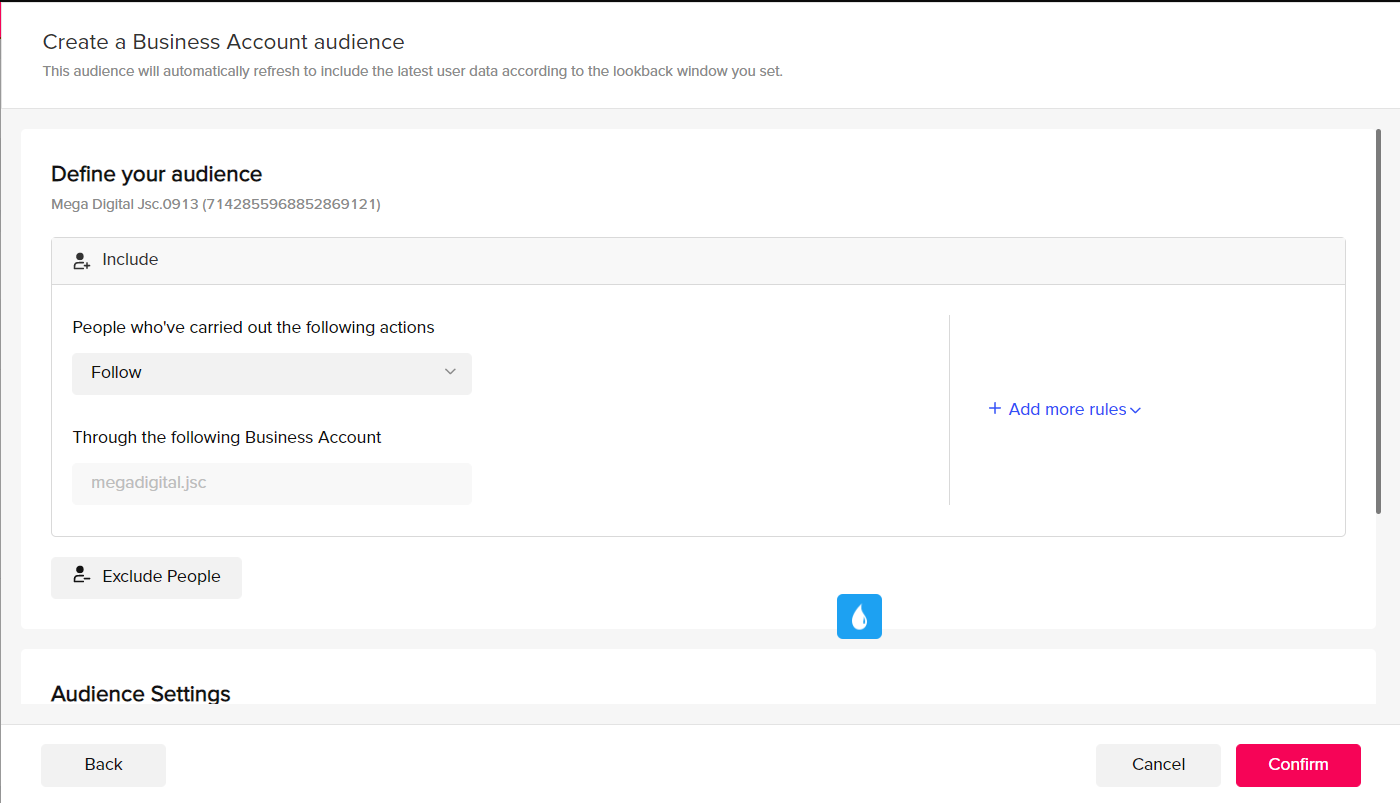 A new Custom Audience type that allows you to retarget audiences using your own TikTok Business Account only if your organic profile has completed one of the following events:
Follow
Visit Profile
Video View (2s, 6s, 100% view)
Video Engagement (React/Share/Comment)
Before creating a Business account audience, you must first link your TikTok for Business Account. When your Business Account is successfully connected and ready to create audiences, it'll be seen under Through the following account. At this step, you should:
Choose the following rules and settings for your Business Account audience:

People who've carried out the following actions
Add more rules (optional)
Exclude People (optional)
Audience Name

Click Confirm to complete your Business Account audience.
Note: Audience Auto-Refresh is turned on by default and cannot be disabled. You can only create an audience with the linked Business Account, which cannot be changed. Business Audience cannot be used in conjunction with another TikTok Ads account.
Solution 2: Lookalike Audience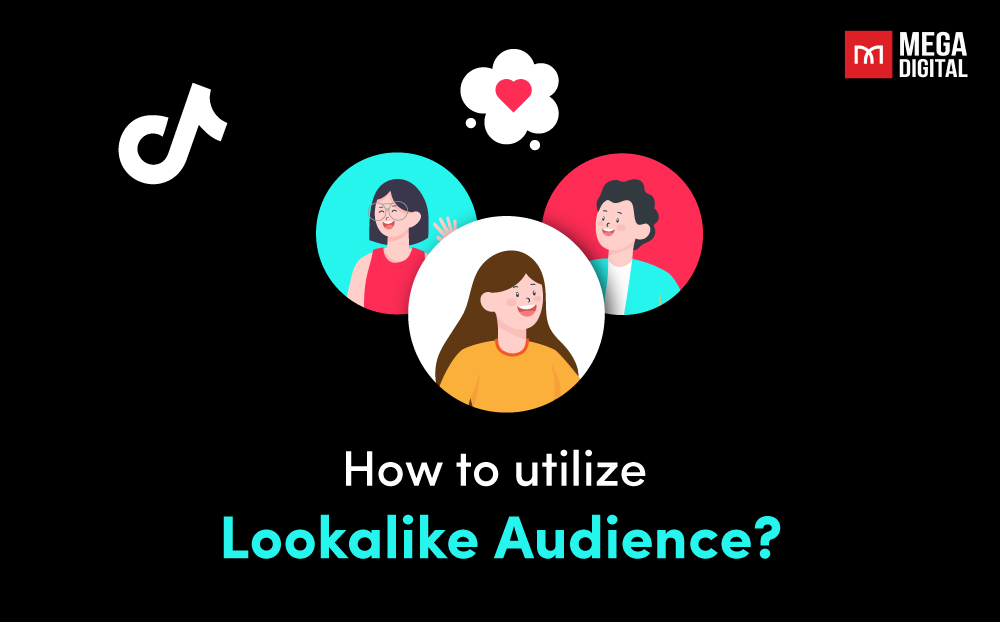 What is a Lookalike Audience?
Lookalike Audience can assist you in identifying audience groups that share commonalities with your existing customers. It could help you find audiences interested in your product and broaden your reach.
You can employ Lookalike Audiences throughout the different phases of the Ad Group delivery.
Cold start: Lookalike Audience can help the algorithms learn more quickly which group of users will be interested in your ads and the product you are promoting during this phase, allowing you to get conversions faster.
Mature delivery phase: When your delivery curve has reached its peak, and you have a sufficient number of conversions, you can use Lookalike Audience to broaden your audience and maximize your ROI.
Decline phase: Lookalike Audience can be used to extend the life cycle of ads delivery when your ad group delivery is in decline.
How does Lookalike Audience work?
The model will study the characteristics of the custom audience you create using algorithms. Particularly:
The model's accuracy in producing a user list is determined by the audience you provide TikTok. A source audience of 10,000 people is recommended to ensure the model runs smoothly. It is critical that you double-check the list and attributes you provide.
Another factor considered by the model is the option for Audience Size, which can be Specific, Balanced, or Broad. The more specific the audience size, the more similar an audience the model will look for.
For example, TikTok will examine the demographics, location, operating system, and users' interests from the Custom Audience type you selected. Then TikTok will look for other users and groups with similar characteristics.
How to set up a Lookalike Audience?
Lookalike Audiences are based on your business's Custom Audiences. Ensure you have uploaded your customer list or created a Custom Audience list before creating a Lookalike Audience. This will save you time when making thIs type of audience.
Step 1: Open up the Lookalike section
First, click the Audiences section under Assets.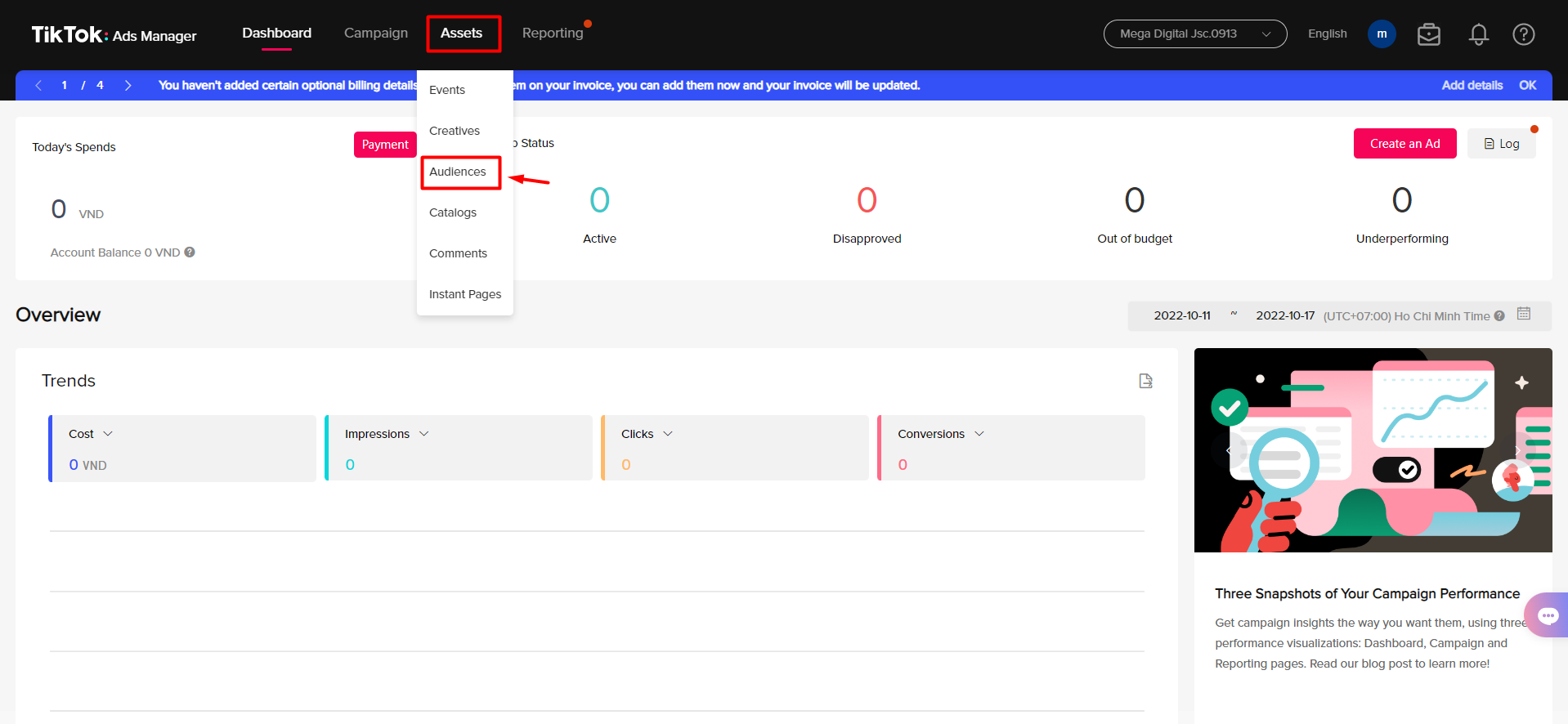 After that, go to Create Audience and select Lookalike Audience.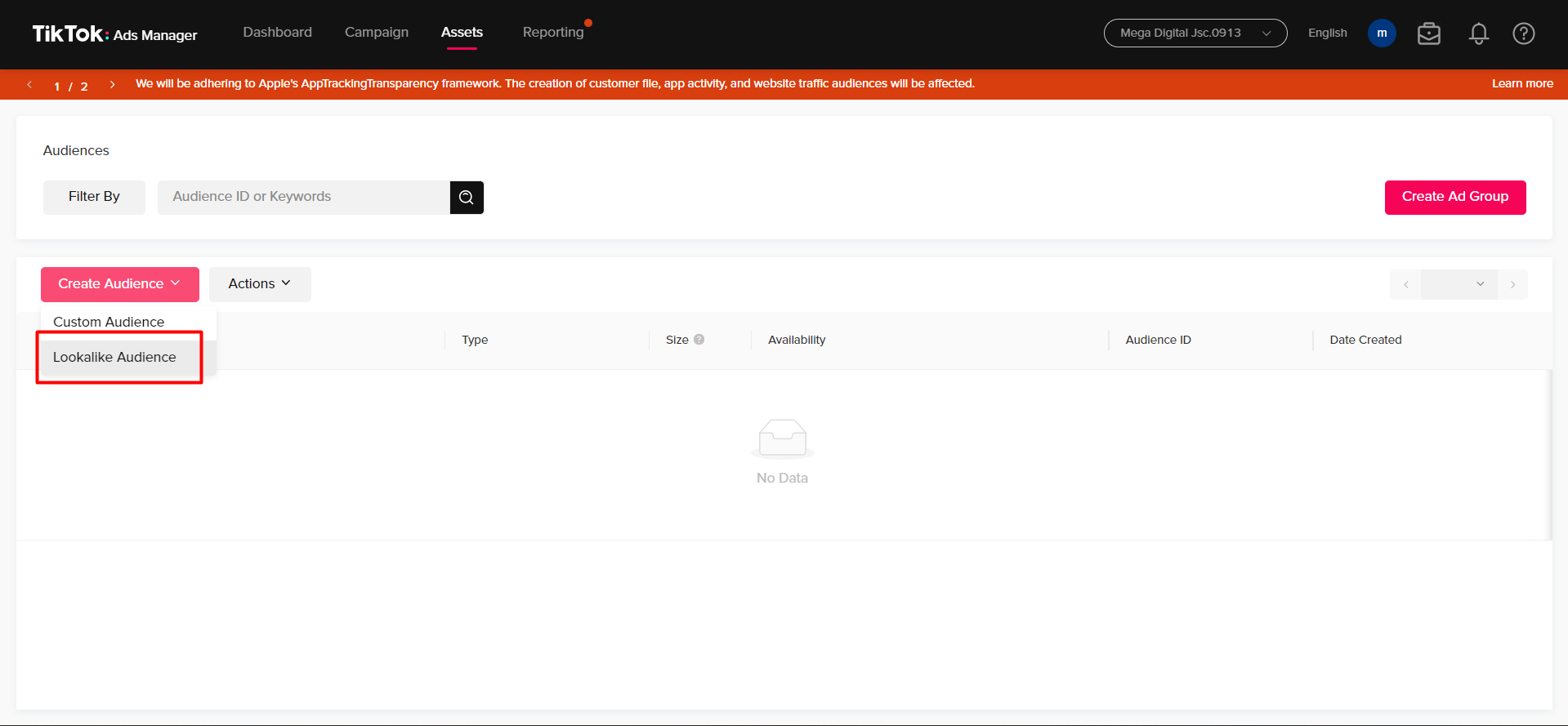 Step 2: Fill in the set-up information
Select your suitable option, including
1. Source
Click Source, and a drop-down menu will appear. You can then select a previously uploaded Custom Audience. If you have not previously uploaded your customer list as a Custom Audience, you may click on the Create a Custom Audience option. Only after having Custom Audiences can you able to create Lookalike Audiences.
2. Contain Source
Select Omit or Contain
Omit: Lookalike Audience will not include the Custom Audience you are basing it on. Your ads will be shown only to your Lookalike Audience and not your Custom Audience.
Contain: Lookalike Audience will include the Custom Audience you are basing it on. Your ads will be shown to your Lookalike Audience and your Custom Audience.
3. System
TikTok provides 3 system options All, IOS, and Android
You should create different Lookalike Audiences for each operating system if you are trying to drive app installs.
For example, if you are trying to get people to download your iOS app, select iOS when creating your Lookalike Audience. Select All for website conversions that do not need to specify an operating system.
4. Placement
TikTok Ads Manager currently supports TikTok, BuzzVideo, and Helo.
You should select the exact placement as the Custom Audience source you used for creating a Lookalike Audience.
For instance, if you created the Custom Audience for ads on TikTok, select TikTok as the Placement when creating your Lookalike Audience.
5. Location
Choose where you'd like to find a similar group of people. You should select the exact location as the Custom Audience source you used for creating a Lookalike Audience.
6. Audience Size
Choose either Narrow, Balanced, or Broad. The more narrow the audience size is, the more similar it is to your Custom Audience source.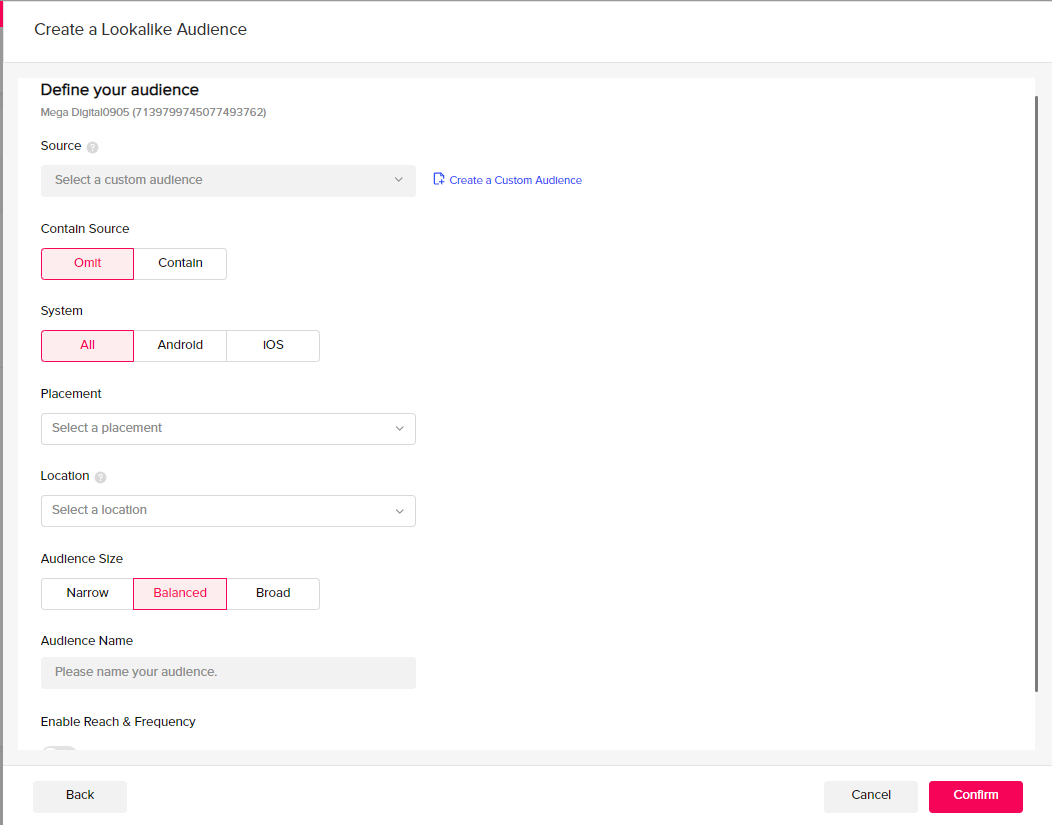 Step 3: Complete the procedure
Name your Audience and then click Confirm to finish the process
Note:
The Lookalike Audience takes about 40-60 minutes to create. It will be marked as Unavailable before creation.
Once applied to a running ad group, the Lookalike Audience will be auto-refreshed every seven days.
If necessary, go to the Audiences section of Assets and apply Manual Refresh.
From the same Custom Audience source, you can create up to 400 Lookalike Audience groups.
If the source Audience is deleted, the Lookalike Audience created from it cannot be refreshed.
Recreate your Lookalike Audience if the system detects "Refresh Unavailable."
Solution 3: Audience Integration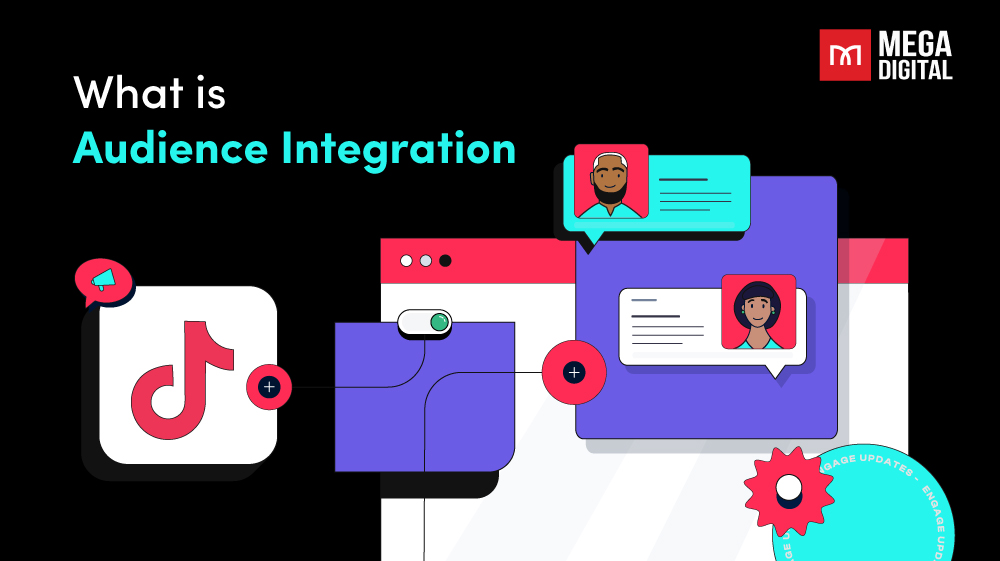 Custom Audiences and Lookalike Audiences are there two effective solutions most advertisers use. However, there is also an approach that can optimize your data audience. It's Audience Integration.
TikTok's audience integration with data partners allows you to import audience assets into TikTok Ads Manager and use them in auction campaigns. You can use TikTok Audience Integration in certain cases:
Inclusion: use the audience for re-targeting purposes to continue to activate your customers on TikTok.
Exclusion: use the audience as a suppression list to minimize media waste on converted customers.
Lookalike Audience: use the audience to build a lookalike audience to find similar users on TikTok with efficient media spending.
After TikTok has successfully received audiences, you will see these audiences from your data partner in the TikTok Ads Manager audience library.
Prerequisite for using this feature: You must already have a relationship with a TikTok-supported data provider. To learn more about TikTok's support for third-party audience data and take advantage of Audience Integration, contact a TikTok representative such as Mega Digital. 
Final word
Choosing ads audience targeting solutions has a tremendous impacts on the cost and effectiveness of your TikTok advertisement campaign. With the above article, Mega Digital has reviewed 3 solutions that TikTok offers you and instruct you how to set up them successfully. With years of experience partnering with TikTok, Mega Digital is confident to comprehend everything about TikTok Marketing, esspecially TikTok Advertising, so don't hesitate to contact us if you have any question.