When setting up a TikTok advertising campaign, targeting is a crucial step. TikTok offers a variety of targeting options, similar to many advertising platforms. Therefore, you must carefully understand all of the TikTok Ads targeting options if you want your campaign to reach the right audience and be effective. Let's discover it through this article!
How many TikTok ads targeting options?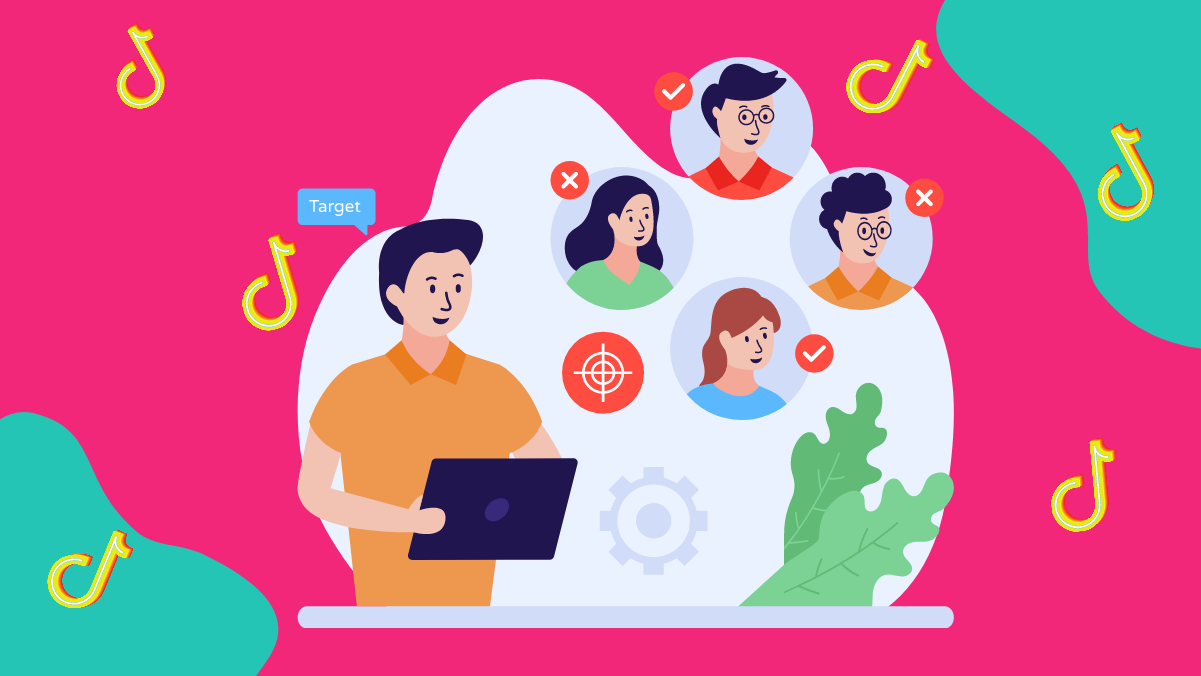 TikTok Ads Manager allows advertisers to target their campaigns to specific audiences by utilizing various ad targeting options. It is critical to comprehend how these targeting options influence the outcome of your campaign. There are 4 TikTok Ad targeting options, including
Demographics (location, languages, age, gender, household income)
Audience (include and exclude)
Interests and behaviors
Device (operating system, OS versions, device model, connection type, carriers, device price)
TikTok Ads Demographics Targeting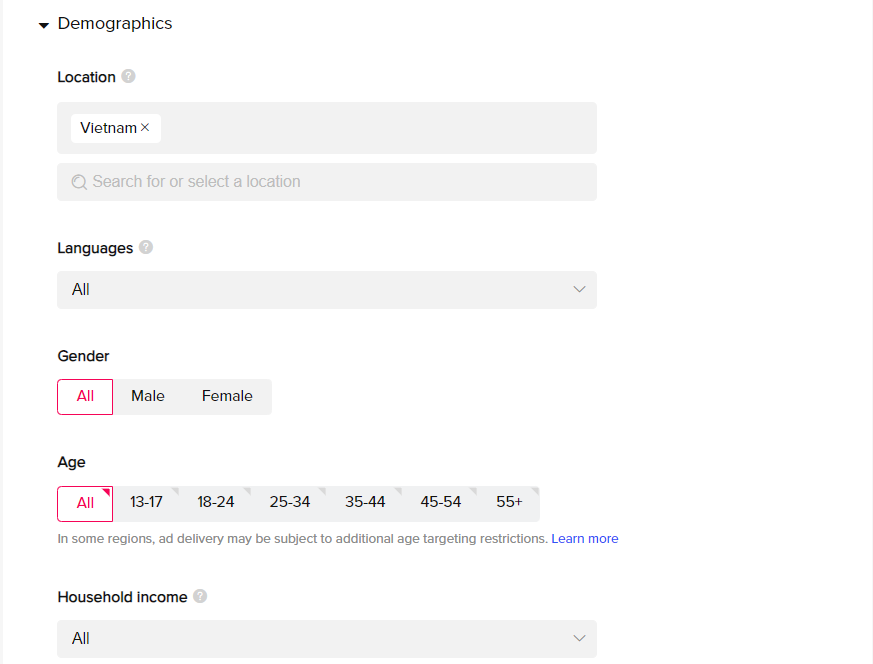 Demographics is a primary targeting option every social media provides. On TikTok, you can also target audiences based on location, language, gender, age, and household income.
TikTok Ads enable marketers to target specific audiences in cities, countries, regions, counties, departments, districts, DMA Regions, oblast, provinces, states, and urban communities. Remarkably, the DMA Regions is a particular TikTok Ads geo-targeting. It provides businesses that want to reach customers and users with more granular location targeting options, tapping into more opportunities across enterprise, mid-market, and SMB businesses.
Suppose you want to promote your brand to other countries without limited TikTok policies. In that case, the only solution is to use the TikTok Agency account established by Agency as Mega Digital provides.
Languages: Ads will be shown to users based on app language.
Gender: Male/Female
Household income: Your businesses can target audiences based on income bracket.
Age: 13-17, 18-24, 25-34, 35-44, 45-54, 55+
Note: Ad delivery may be subject to additional age-targeting restrictions in some markets. Markets that necessitate other age restrictions include but are not limited to: Argentina, Brazil, Chile, Colombia, Israel, Mexico, and Peru.
TikTok Ads Audiences Targeting

Although TikTok provides various targeting options, choosing the correct TikTok ads audience targeting is the key to your ads campaign success because it can help you improve your ads' performance. TikTok provides two ways to approach your audiences which are:
Narrow Targeting: The system will find the best customers based on your specific targeting settings and then show them your ads.

Custom Audience.
Lookalike Audience.

Broad Targeting: The system will find the best customers based on no predefined criteria. Just leave the targeting options blank, and TikTok's algorithm will assist you in discovering potential customers.
Custom Audience
Custom Audience is an ad targeting option that allows you to find people who already know about or have interacted with your company. This type of targeting is an effective tool for remarketing, reaching out to potential repeat customers, growing your following, increasing app engagement, and creating lookalike audiences.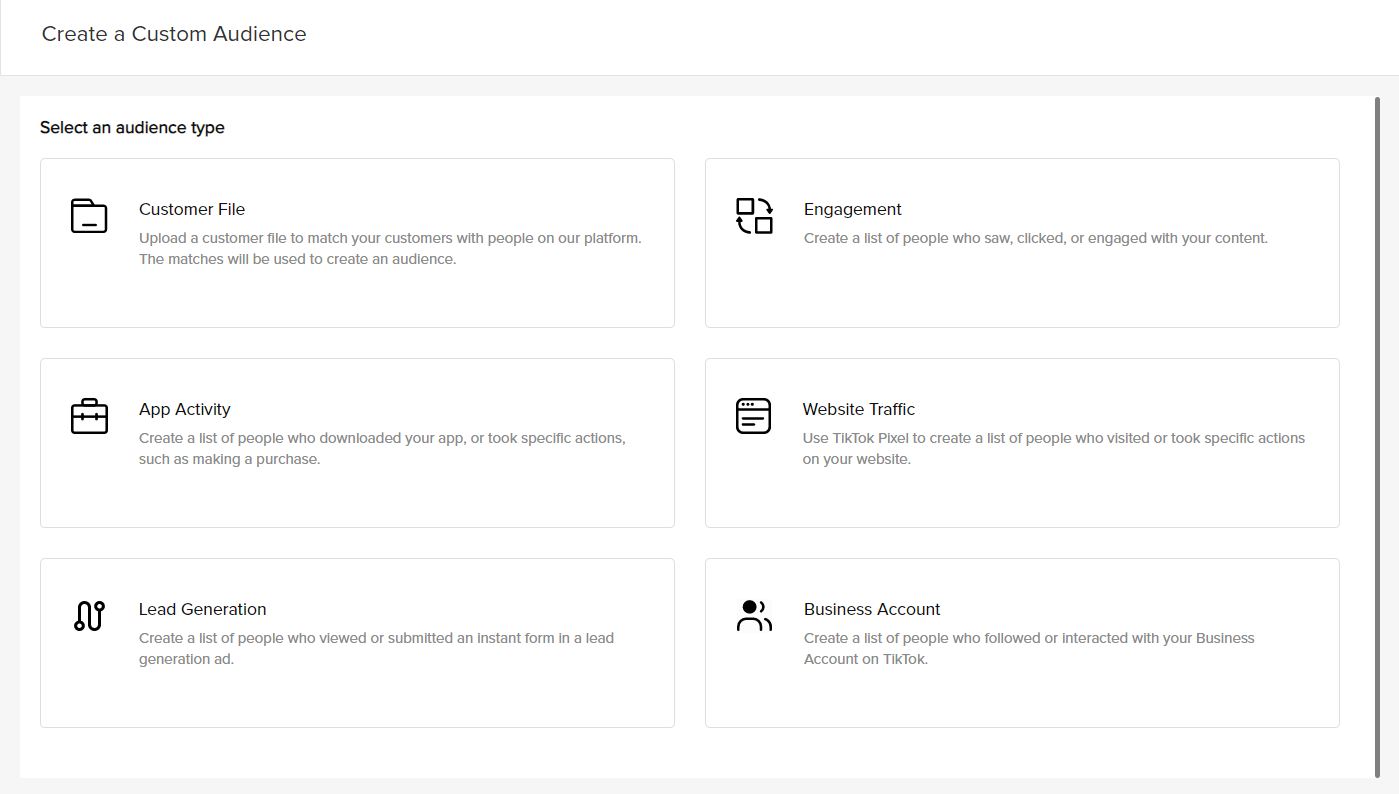 There are six ways to create a Custom Audience: Customer file, Engagement, App activity, Website traffic, Lead generation, and Business account audience.
Lookalike Audience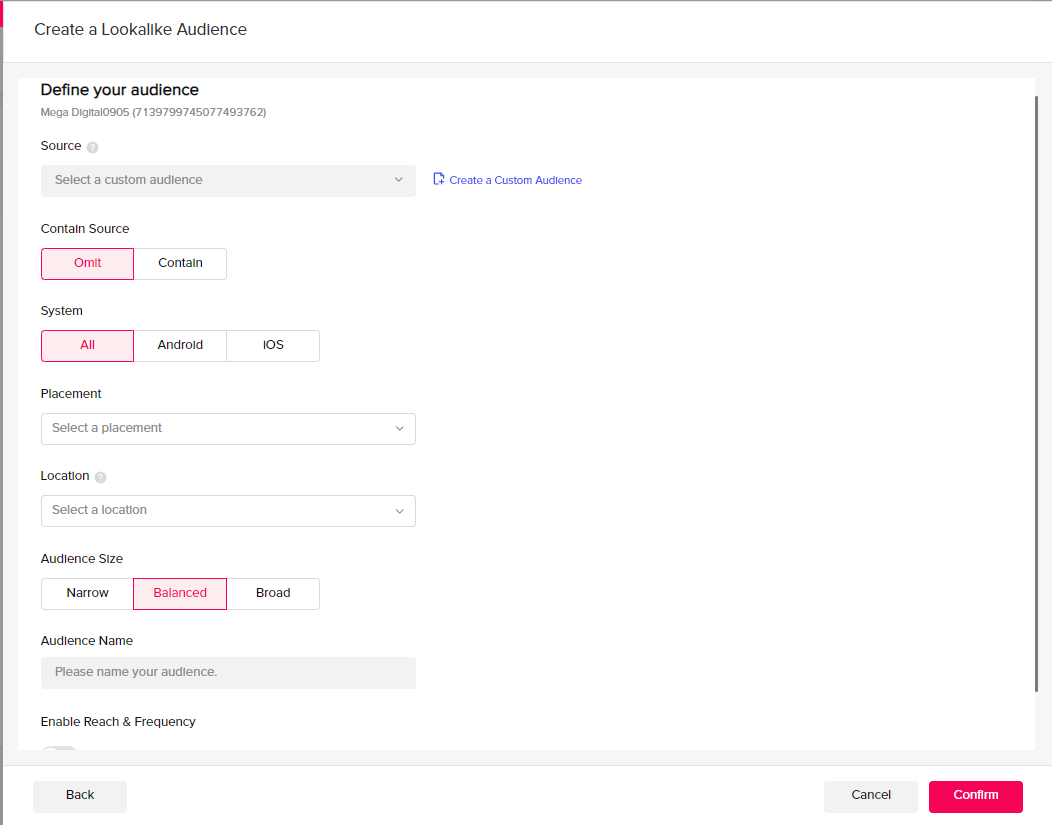 Lookalike Audience can assist you in identifying audience groups that share commonalities with your existing customers. It could help you find audiences interested in your product and broaden your reach.
Interest and Behavior Targeting
TikTok Ads Interests and Behaviors Targeting is a fantastic choice to determine users' insights.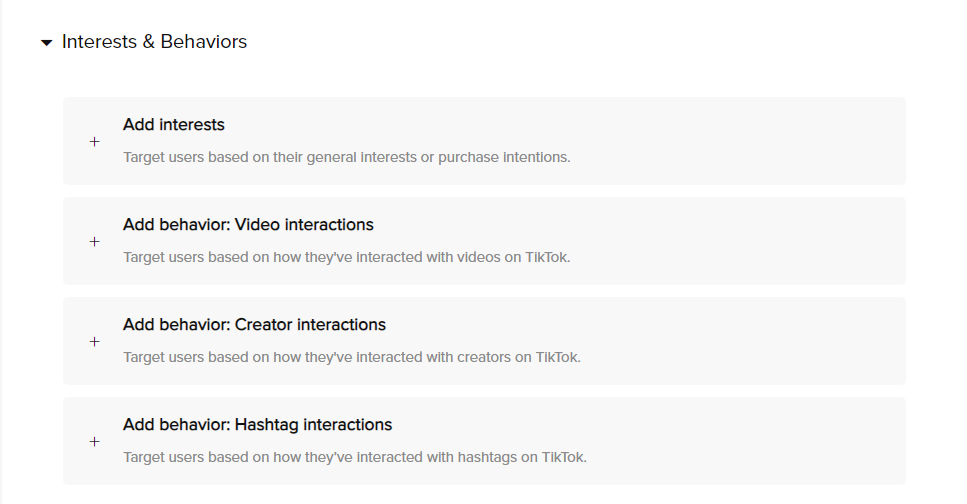 Interest Targeting
Interest Targeting is a method of finding people on TikTok based on their long-term interests and interactions with content. Using Interest Targeting to find a relevant audience for your ads is a great way to get started. There are two types of Interest Targeting:
Interest Categories: You can use these categories to narrow down the audience you want to reach.
Additional Interest: If you can't find the user interest you're looking for in the Interest Categories, try typing it into the search bar, and the system will return relevant results.
Behavior Targeting
While interest targeting concerns a user's long-term content consumption, behavior targeting is the user's most recent interactions with content. There are three behavior categories:
Video Interactions: Contain video completion, like, comment, and share behaviors that happened in the past 7 or 15 days recorded by TikTok. Users will be associated with video tags based on their recent behavior. When advertisers create campaigns, they are given category options under behavior targeting.
Creator Interactions: TikTok provides two types of engagement under this category:

Following: You can target users who follow specific creator types.
Viewed Homepage: You can target users who have recently viewed the profile pages of a particular type(s) of creator(s).

Hashtag Interactions: TikTok allows you to target users watching specific hashtags. Hashtag Interactions are available in 16 languages, including Chinese, English, Japanese, French, Italian, Spanish, German, Korean, Turkish, Thailand, Vietnamese, Indonesia, Malaysia, Arab, Saudi, and Russian.
Note: The standard hashtag lists will be remade every day. TikTok chooses a common hashtag based on
Its popularity in the past 7 days
Videos with that hashtag have been censored.
The differences between Interest Targeting and Behavior Targeting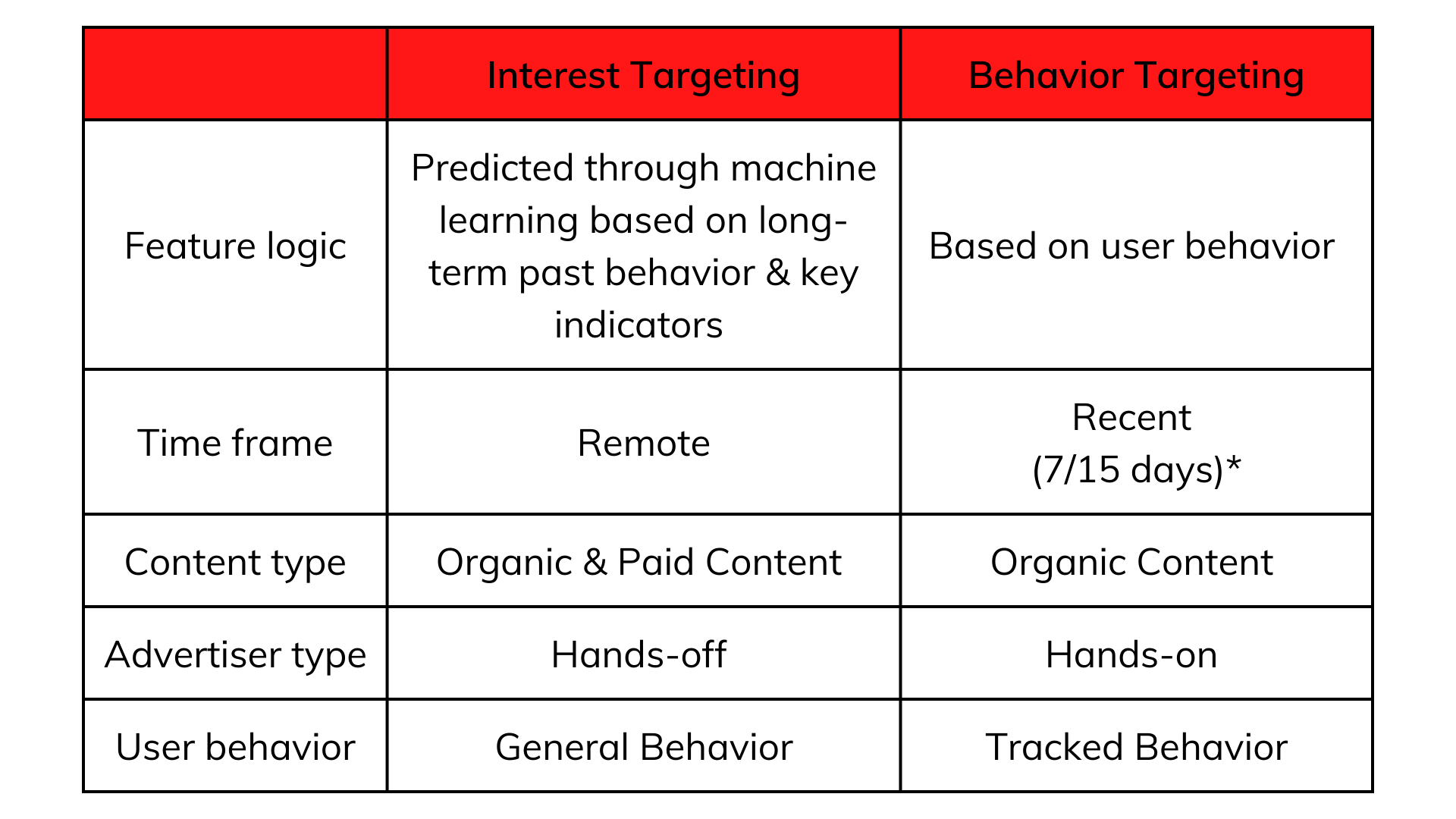 Device Targeting
Is an option to target audiences with specific device usage characteristics, particularly
Connection type: WIFI, 2G, 3G, 4G, 5G
Operation system: IOS & Android
Operation system version: Deliver ads to users based on the software version. e.g., iOS 10.0 or above, Android 4.0 or above.
Device model: Delivery ads to users based on the user's device model.
Device price: Deliver ads to users based on device pricing, ranging from no limit to $1000+.
Carrier: Deliver ads to users based on mobile phone carriers.
Some notes for beginners TikTok Ads Targeting
Before getting started, you should well-balance the number of targeting options. If it's too overlapped, too in-depth, or too extensive targeting, your campaign will get some problems, such as TikTok Ads not delivering.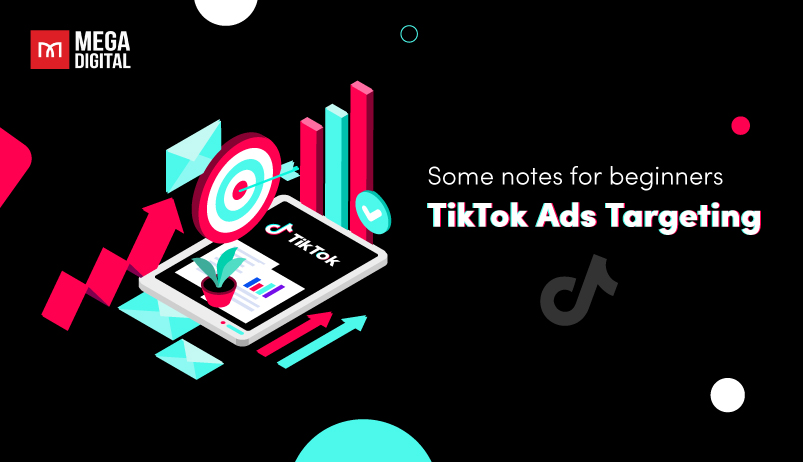 Apply multiple Interests and Behaviors targeting
Adding more than 01 option in Interests and Behaviors Targeting will help your ad reach more potential users.
User profiles are assigned various interest and behavior category tags depending on the different types of content they deplete. When you run an ad, the system will only deliver your ads if you specify interest and behavior targeting criteria.
However, when a user converts (clicks or installs), the system will include all of the user's interests and behaviors tags.
Therefore, if you notice that a large share of your conversions come from a particular user interest/behavior, you have not selected previously used. Then, you should add that to your target to approach more potential users.
Example: Rosie has recently viewed content related to Beauty and Travel, so these category tags will be associated with Rosie's profile. When you select targeting the interest/behavior about Beauty, TikTok will deliver your ads to users with Beauty related to their profile (including Rosie). Furthermore, if Rosie converts (clicks or installs), the system will include all the interest/behavior tags, including Beauty and Travel.
Note: Remember that conversions and clicks are only counted once in your billing.
Make use of Targeting Recommendations and Targeting Expansion
If you don't know which categories to choose, you can use Targeting Recommendations and Targeting Expansion to help find the right audience.
Targeting Recommendation is a feature on TikTok Ads Manager that allows you to determine appropriate audiences for your ads. Setting up your ad group's targeting will show you a list of recommended Interest & Behavior categories from the audience most likely to contribute to your campaign's advertising objective.
Targeting Expansion is a clever feature that automatically helps you discover the right audience for your ads. When enabled, Targeting Expansion will expand your targeting settings when the system predicts that your initial targeting selections will make it difficult to deliver ads.
Utilize the TikTok Agency Account to promote your brand to multiple nations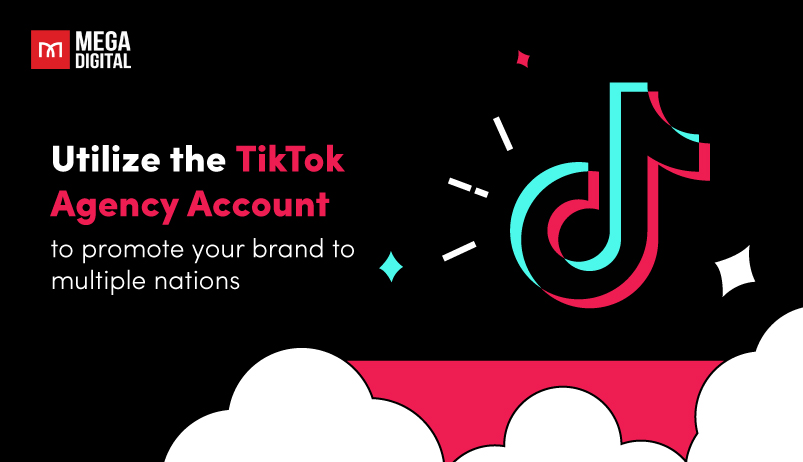 TikTok has specific policies in each country, so using a standard TikTok account will be limited to advertising to various countries/regions. To expand the brand's customers to foreign countries, you will need to use a TikTok Agency Account.
This type of account will help you:
Target global audiences
Deliver your ads quickly
Directly supported by TikTok partners
Top up without TikTok's tax
Accept various payment methods
Reallocate your balance if your account suspended
However, this account is only granted to Partners like Mega Digital. You will need to contact them to rent a TikTok Agency Account.
Final word
Effective targeting is a critical element in achieving success with ad campaigns. If you target too broadly or narrowly, it can result in delivery issues and ad performance. To mitigate these risks and improve targeting strategies, it's important to conduct research and experimentation. Don't hesitate to check out Mega Digital's informative articles about interest targeting to gain insights and discover the full range of TikTok ads targeting options. Do your due diligence and experiment to discover your TikTok ad targeting options!