Before developing your TikTok Marketing strategy, you may wonder the question: "How much do TikTok Ads cost?". TikTok Ad costs vary depending on how well you collaborate and integrate them into your campaign. When compared to Facebook, Instagram, and other social media platforms, we can tell you that the benefits TikTok provides will be far greater than you anticipated.
Continue reading to see how much it costs to promote on TikTok and whether it is worthwhile to make the investment!
TikTok Bidding methods
Your TikTok ad campaign can be priced using one of four different bidding methods:
CPC (Cost Per Click)
CPM (Cost Per Mille)
CPV (Cost Per View)
oCPM (Optimized Cost per Mille/Thousand Impressions)
Your bidding methods will be defined by the goal of your campaign. CPC, for example, is best suited for website traffic or app installations.
How much do TikTok Ads cost?
There are particular ad options for each campaign aim that can help you obtain the greatest results. The cost of TikTok advertising is classified according to its mode of creation:
Self-service (in-feed ads, top view ads, brand-takeover ads)
Collaborative (branded effects and hashtag challenges, sponsored ads)
TikTok ads costs start at $0.50 per mile, or 1000 views, and $0.02 per click. On Quora, TikTok Ads users recommend that you should budget at least $1,000 for a simple campaign and $50,000 to $100,000 for the bigger ones.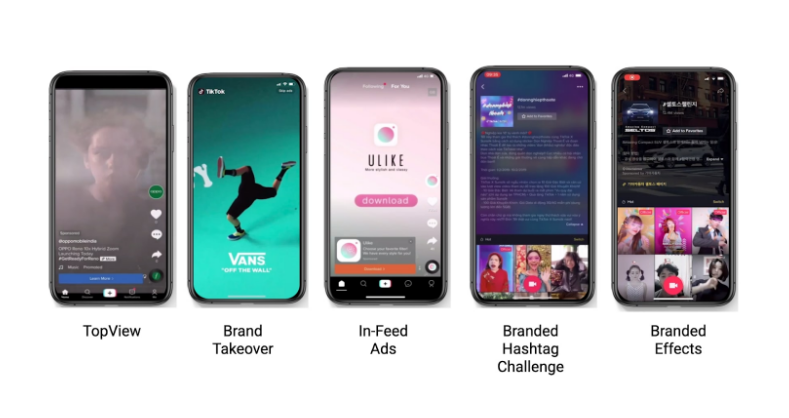 In-feed Ads
Because the videos can include a call-to-action (CTA) button, this TikTok ad format is excellent for increasing sales and other conversions. The average CPV (cost per view) for this ad style is not fixed. Different ad settings influence the cost per view, although in-feed advertisements start at $10 per 1,000 impressions on average.
Top View Ads
Top view Ads are perfect for grabbing users' attention and perform well with advertising that requires longer durations, such as game trailers, tutorials for new products, and others.
Top-view Ads are TikTok's premier ads that come at a high cost. While the precise TikTok Ads pricing depends on the specifics of your campaign, you should anticipate paying around $65,000 for 7.4 million impressions.
Brand-takeover Ads
Because of the exclusivity, running a brand takeover campaign isn't cheap.
The cost of this brand-takeover ad starts at around $50,000 per day.
Branded Effects
This ad type is quite successful and engaging due to its interactive aspect. It works well for generating brand exposure and promoting engagement.
TikTok Branded effects advertising costs $45,000 for 30 days.
Branded Hashtag Challenges
Businesses that operate branded challenges get exclusive access to the branded hashtag campaign's performance. You can monitor how much user-generated material is produced and how much interaction the videos receive.
How much does it cost to advertise on TikTok? This exclusivity comes at a premium cost of almost $150,000 for 6 days.
Sponsored Ads (Influencers Advertising)
In addition to TikTok's advertising features, you may promote your company on the site by engaging with influencers. It is one of the most effective techniques to increase your brand's visibility on this social network.
You can hire influencers and look into their profile in Creator Marketplace. The cost of hiring an influencer varies according to:
The number of followers they have
The niche they are in
The aims of your campaign.
Compare TikTok Ads cost with other platforms
It's difficult to make a comparison of social ad platform costs because there are so many variables. But when it comes to CPCs and CPMS, TikTok is quite comparable to Facebook and Instagram.
A single TikTok Ads cost may range from $50,000 to $120,000, depending on the type of ad you choose.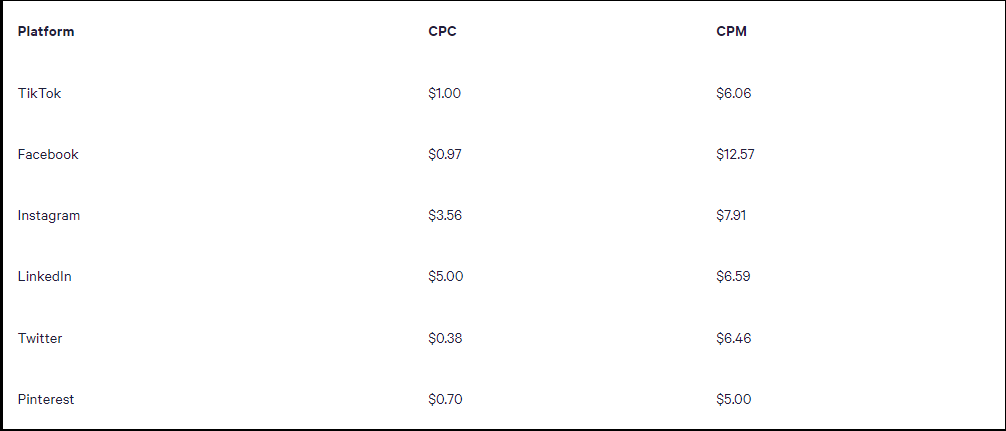 What is the average CPM for TikTok Ads?
TikTok employs CPM as its measurement metric, unlike other platforms such as Facebook and Instagram, which use CPC (Cost Per Mille). It signifies that the cost of the advertisement is determined per 1000 views.
TikTok commercials have an average CPM of $10.
Charged by impressions
Target to increase reach
What is the average CPC for TikTok Ads?
Although TikTok commercials are new to the advertising world, they have shown to be effective for digital marketers. TikTok advertisements have an average CPC of around $1.00, depending on bidding – not the most cost-effective campaign, but a promising one.
Charged by click
Target to increase traffic, install, conversion, and community interaction.
How To Optimize Your Budget for TikTok Ads
TikTok's auction ads system will optimize its algorithm to keep your spending under your daily budget limit or utilize cost per result, depending on the bidding approach you choose. However, you must remember that TikTok ad space between you and your competitors will be decided in this period.
Bid cap: This is the particular bid amount you're willing to pay per optimization target (click, conversions, impressions, views, etc.). Using this method, your daily budget will fluctuate depending on how much your rival bids. If your competition outbids you, your money may not be used up. This also implies your ad will not perform effectively.
Cost cap: The cost per result ranges between lower and higher than the bid amount with this option. This strategy serves the following advertising goals: app installs, conversions, and lead generation.
Lowest cap: This technique takes into account your everyday budget. The ad system automatically adapts to maximize the number of conversions based on the budget, while the budget is always spent at the end of the day/campaign. Therefore, this ad model is built for traffic, reach, views, app installs, conversions, lead generation, and catalog sales.
Effective TikTok Ads with brands
TikTok has already established an amazing track record of providing solid results for advertising across a wide range of sectors.
Synth Labs Intl.
This skincare brand conducted a Spark Ads campaign to generate 300,000 impressions at $0.32 CPC. Spark Ads was were a perfect fit for Synth Labs Intl which had already had experience producing organic creative material on the platform. Spark Ads are a native ad type that allows marketers to boost their own organic videos or popular artists' videos as In-Feed Ads.
The campaign doubled the brand's organic following, raised profile likes by 80%, and total video views surpassed 100,000.
G2A
G2A, an online gaming marketplace, achieved 12 million impressions with video advertisements at $0.16 CPM and $0.06 CPC.
The company met its marketing objectives by purchasing In-Feed Ads through TikTok Ads Manager's auction approach. G2A and TikTok collaborated to produce an excellent campaign that not only raised awareness but also attracted new clients to the G2A marketplace. It eventually reached over 2.2 million users and received approximately 12 million impressions.
Wet n Wild
The Big Poppa campaign by Wet n Wild was a success. A combination of a Branded Hashtag Challenge #BiggerisBetter, TopView, One Day Max, and In-Feed Ads generated significant awareness. Overall, this campaign created a total of more than 1.5 million video users, resulting in 2.6 billion total views and a phenomenal 18.6 percent average engagement rate.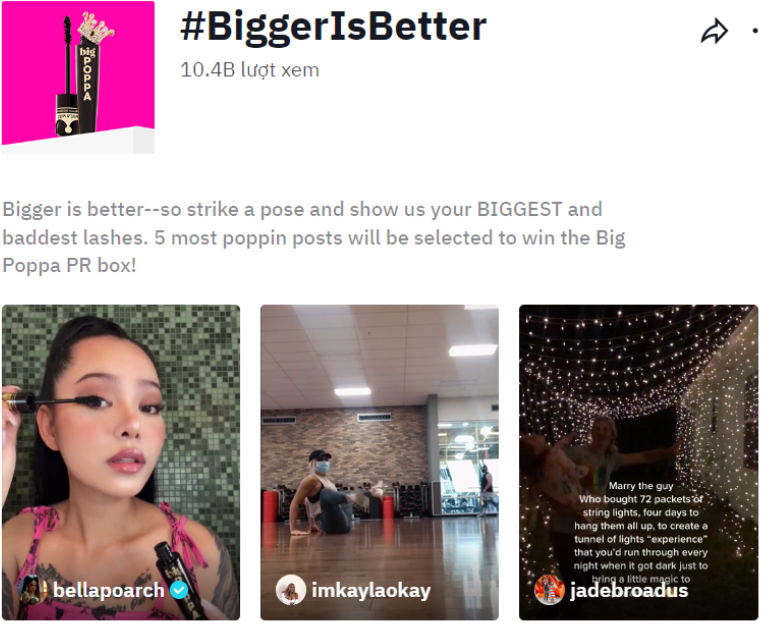 Is TikTok Ads worth your investment?
The answer is yes.
Smaller e-commerce businesses are seeing positive results from TikTok advertising, and marketing opportunities on the network are expanding. -Affordable standard feed advertising means that smaller firms can begin experimenting with video ads and gradually expand their lifetime budget as performance data becomes available.
Once you acquire confidence in the outcomes TikTok is giving, you can increase your spending and even invest in bespoke solutions if your ROAS justifies it. Therefore, reaching a responsive audience on a developing platform is a solid investment for any e-commerce business, and advertisers can easily take a gradual and steady approach.
As a TikTok Marketing Partner, Mega Digital is proud to say that we comprehend TikTok's algorithm so we can apply it to help brands and businesses build a viral TikTok channel from zero or execute and optimize their TikTok Ads Campaign. If you are struggling with the TikTok platform, please contact us. We will solve your problem immediately!