How much do TikTok Ads cost? It is the common question that every newbie always wonders when they first get into the TikTok advertising market. With TikTok CPM (cost per mile) charging mechanism, advertisers will have to pay $10 (or £9) for every 1,000 views. But if you want to run an advertising campaign, the minimum budget will be $500 (or £410).
However, that is only the tip of the iceberg. Advertisers cost more than 500 bucks! So, how much do TikTok ads really cost? All the secrets will be revealed in this blog!
What are TikTok ad-buying methods?
It is for sure that there are no bloggers or advertisers who can tell you precisely the number how much TikTok Ads cost. Because TikTok provides multiple ad types, and each solution has a different range of prices. Therefore, to know the exact cost of each solution, we must understand all the ad-buying methods that TikTok has.
Currently, advertisers can buy TikTok ads with 3 approaches as follows:
Bidding
Booking
Reach & Frequency
Every single buying type matches a different objective. It depends on what your goal is when advertising on TikTok. However, Bidding or CPC is the most common, adaptive, and easy-to-approach method that all sizes of businesses can use for their sales or branding campaigns.
Let's dig into the details!
Bidding types
As discussed above, this advertising method is too familiar if you have used Facebook or Google ads. TikTok currently offers 5 bidding ad types: In-Feed, Collection, Dynamic Showcase, TikTok Shopping solutions, and Deeplink to Marketplace.
Unique features of bidding methods:
Easy to create on TikTok Ads Manager.
Flexible costs, no upfront fees.
No need to buy ad space.
Suited for conversion efficiency.
Booking types
TikTok offers this booking method due to the limited number of ad placements. Advertisers who want to use these ad formats must book in advance to hold their place. And they cannot automatically run as bidding ad types. This type of ad includes TopView, Branded Effect, and Branded Hashtag Challenge.
Unique features of booking methods:
Higher cost than bidding type.
Required to book and pay in advance with TikTok agencies – Mega Digital.
Great for increasing awareness and branding.
Exclusive ad solutions that only TikTok has.
Reach & Frequency
Reach and Frequency (R&F) allows you to control the reach of your target users and how often your ads are shown based on a fixed budget.
R&F has 2 forms of distribution: Standard and Top Feed, in which Top Feed is an advanced setting form that helps optimize the display position for the standard one. This form of advertising is often used in combination with other types to maximize the number of people reaching and interacting, increasing brand recognition.
Factors that influence TikTok Ads Pricing
When planning a TikTok ad campaign, businesses must consider various factors that can impact their ad costs. Understanding how these factors affect TikTok ad costs can help businesses make informed decisions when planning their campaigns and maximize their ad spending value. Several factors that influence TikTok ad pricing are:
| | |
| --- | --- |
| Ad format | The different ad formats available on TikTok can affect the cost of your ad campaign. In-Feed Ads, for example, are more affordable than other ad formats like Brand Takeover Ads or TopView Ads, which are more expensive due to their high visibility and exclusivity. |
| Target audience | The more specific your targeting is, the higher your ad cost is likely to be. Additionally, the popularity of the target audience segment can also impact the ad cost, with more competitive segments being more expensive. |
| Bidding strategy | Depending on the bidding strategy you choose, you may need to adjust your ad budget accordingly. |
| Geographical location | Ad costs vary depending on the location of your target audience. For example, if you target a country where TikTok has fewer users, the ad costs may be lower. On the other hand, if you target a country where TikTok is popular, the ad costs may be higher due to increased competition. |
How much are TikTok Ads?
TikTok ads' minimum budget should be $500. The costs start at $0.50 per mile, or 1000 views, and $0.02 per click. As with brands we've worked with, we recommend you set aside at least $20/day on your first campaign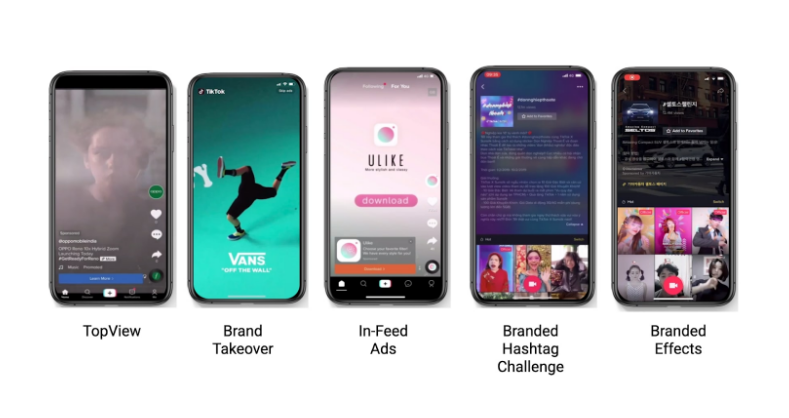 How to calculate TikTok ad-bidding types?
Bidding advertising costs are estimated based on four bidding methods, including: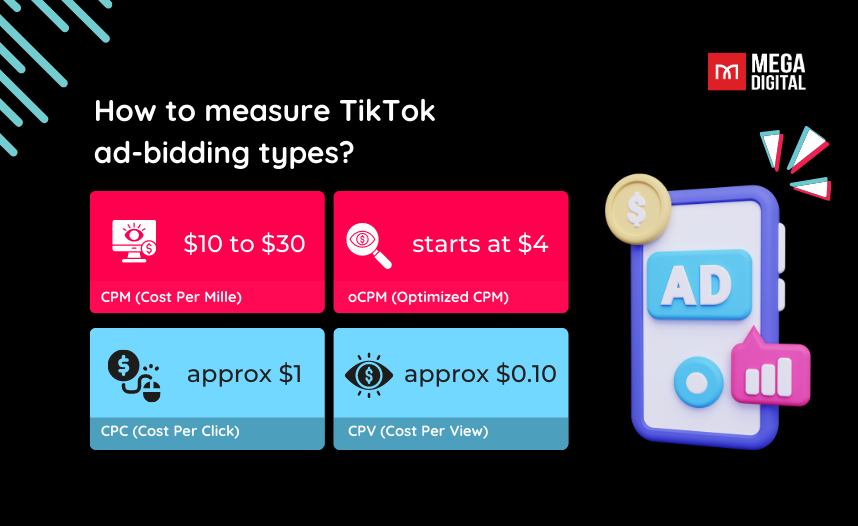 ​CPM (Cost Per Mille/Cost per Thousand Impressions)
This is a price you're willing to pay for 1,000 impressions. From there, TikTok will deliver your ad to get the most impressions and reach as many customers as possible within your budget. For every 1,000 impressions, the TikTok CPM average ranges from $10 to $30. However, TikTok CPM rates can vary widely and may be higher or lower than this range.
TikTok CPM = (Total cost / Total impressions) * 1,000
Charged by impression
​Advertising Object: Reach
oCPM (Optimized Cost per Mille)
This is the price you're willing to pay to generate 1,000 impressions (similar to CPM). In general, oCPM costs start at $4. However, the system will target users who are likely to convert, become leads, or are following similar products. oCPM is currently the default bidding method for the "Conversions" or "App Installs" ad objective.
​oCPM = (Total cost / Total impressions) * 1,000
​Charged by impression
​Advertising Object: Shop Purchases, Product Sales, Conversions, App Install, Lead Generation, Community Interaction (Follows).
​CPV (Cost Per View)
This is the bid you are willing to pay for every 1,000 video views within 2 or 6 seconds till the end of the video. The system will deliver the video to the maximum number of viewers within your budget. TikTok allows you to set a maximum CPV bid for 1,000 with a 6-second or 2-second video view. You can simply choose your own spend per view on TikTok.
​CPV = Total cost / Total video views
Charged when a viewer engages with your video, either by watching it for at least 6 seconds or for the complete duration if it's under 30 seconds.
​Advertising Object: Video Views
​CPC (Cost Per Click)
This is the cost you will pay per click, TikTok cost per click is around $1. The system will deliver your ad to users who are most likely to click on the link in the ad at the closest cost to your bid.
Depending on each form of advertising, the cost will be different. For instance, on TikTok Ads Manager, the minimum cost of In-Feed advertising per day is $20.
​CPC = Total cost / Total click
​Charged by click
​Advertising Object: Shop Purchases, Product Sales, Traffic, App Installs, Conversion, Community Interaction (Profile Visits).
How much do TikTok ad-booking types cost?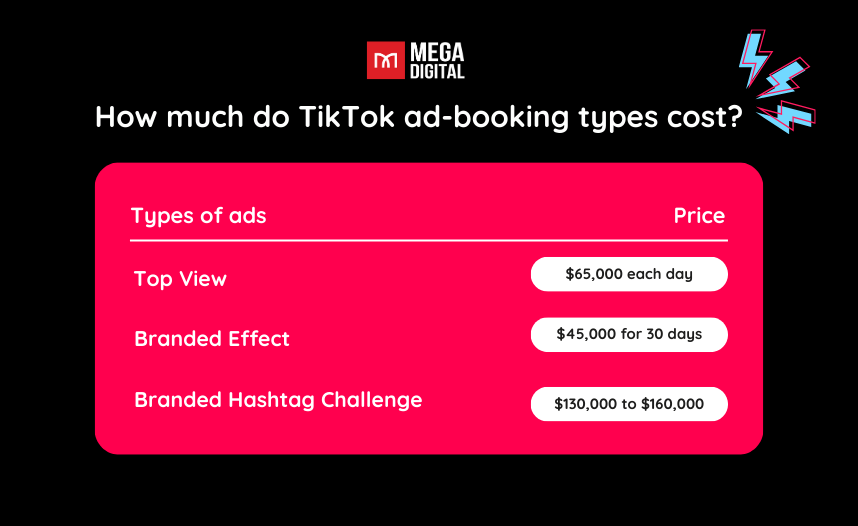 Top View
Top View is a form of advertising video that is displayed as soon as the user opens the application. This is the most advanced type of advertising on TikTok, with a full display time in 1 day, helping to attract millions of views, and delivering high engagement and brand recognition. Advertisers must spend $65,000 each day for 7.4 million Top View Ad impressions.
Branded Effect
Branded Effect uses stickers, filters, and motion effects to highlight products, campaigns, and brand names. Users can create their own content with brand effects in the filter list of the TikTok video recorder. To be able to advertise with Branded Effect, the cost you need to spend is around $45,000 for 30 days.
Branded Hashtag Challenge
Branded Hashtag Challenge is a type of ad where a brand creates a featured hashtag and encourages users to attach it to a video with a related topic. It allows advertisers to build custom dance or comedy challenges with a hashtag that acts as a call to action for users to create their own versions over the course of six days.
Unsurprisingly, this is one of TikTok's more expensive ad formats. However, sponsors receive numerous benefits, such as official music to accompany the hashtag and specific content protection to prevent videos from being restricted from the challenge. The booking price for the Branded Hashtag Challenge is around $130,000 to $160,000.
How much does Reach & Frequency cost?
With R&F, advertisers can control how many people reach their ads and how often they are shown at a fixed price. After collecting information about the audience, purpose, and budget, the system will give an estimate for the following indicators: the number of ad objects reached, and the number of ads displayed and delivered at the average cost per 1,000 impressions (CPM).
Therefore, the cost of an R&F advertising campaign can be flexible and determined according to the needs of each advertiser.
Compare TikTok Ads cost with other platforms
It's difficult to make a comparison of social ad platform costs because there are so many variables. But when it comes to CPCs and CPMS, TikTok is quite comparable to Facebook and Instagram, in which the average CPC of TikTok ads is only $1.
A single TikTok Ads cost may range from $50,000 to $120,000, depending on the type of ad you choose.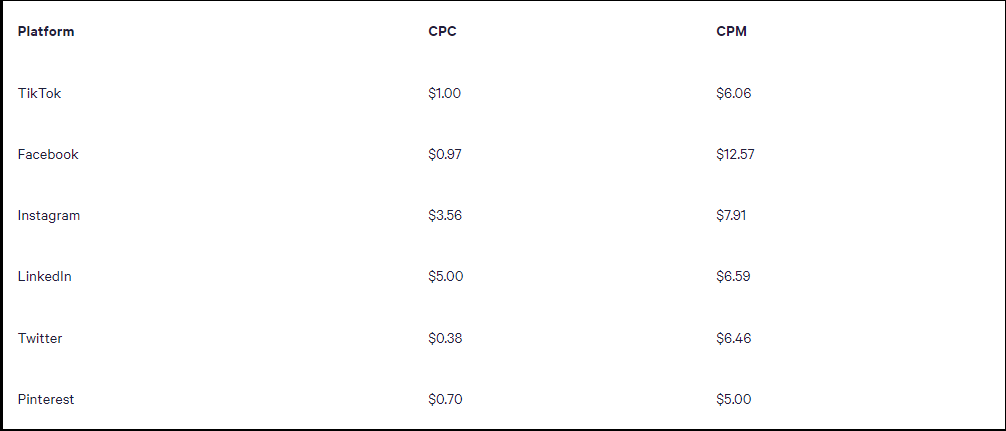 >>> Read more: TikTok Ads vs Facebook Ads: Which is the best for your brands?
Compare TikTok Ads cost in different countries
When it comes to TikTok advertising, one of the burning questions on the minds of each advertiser is the ad cost, such as: "How much do TikTok ads cost in UK?", so do other countries. But now, let's delve into the complications of TikTok Ads cost across various countries, providing insights into the average CPM (Cost Per Mille) and CPC (Cost Per Click) for each region. By understanding these cost variations, you can make informed decisions about your TikTok advertising strategy, ensuring that your budget is allocated effectively to reach your target audience in the most cost-efficient manner.
| Country | Average CPM (Local Currency) | Average CPC (Local Currency) |
| --- | --- | --- |
| United States | $10 USD | $1.50 USD |
| United Kingdom | £7 GBP | £1.10 GBP |
| Canada | $12.60 CAD | $1.90 CAD |
| Australia | $13.50 AUD | $2.25 AUD |
| Germany | €8.70 EUR | €1.25 EUR |
| France | €6.70 EUR | €1.08 EUR |
| India | ₹75 INR | ₹11 INR |
| Brazil | R$16.50 BRL | R$2.75 BRL |
| Mexico | $40 MXN | $6.75 MXN |
| Indonesia | Rp20,000 IDR | Rp3,300 IDR |
| Pakistan | PKR 1,200 | PKR 200 |
| Japan | ¥1,200 JPY | ¥180 JPY |
| South Korea | ₩10,000 KRW | ₩1,500 KRW |
| Spain | €7.50 EUR | €1.15 EUR |
| Italy | €8 EUR | €1.20 EUR |
| Netherlands | €7.80 EUR | €1.17 EUR |
| Sweden | SEK90 SEK | SEK13 SEK |
| Russia | ₽80 RUB | ₽12 RUB |
| Turkey | ₺70 TRY | ₺10 TRY |
| Saudi Arabia | ﷼70 SAR | ﷼10 SAR |
| United Arab Emirates | 🇦🇪70 AED | 🇦🇪10 AED |
How To Optimize Your Budget for TikTok Ads
TikTok's auction ads system will optimize its algorithm to keep your spending under your daily budget limit or utilize cost per result, depending on your chosen bidding approach. However, you must remember that TikTok ad space between you and your competitors will be decided in this period.
Bid cap: This is the particular bid amount you're willing to pay per optimization target (click, conversions, impressions, views, etc.). Using this method, your daily budget will fluctuate depending on how much your rival bids. If your competition outbids you, your money may not be used up. This also implies your ad will not perform effectively.
Cost cap: The cost per result ranges between lower and higher than the bid amount with this option. This strategy serves the following advertising goals: app installs, conversions, and lead generation.
Lowest cap: This technique takes into account your everyday budget. The ad system automatically adapts to maximize the number of conversions based on the budget, while the budget is always spent at the end of the day/campaign. Therefore, this ad model is built for traffic, reach, views, app installs, conversions, lead generation, and catalog sales.
>>> Read more: TikTok Ad Budget and Campaign Budget Optimization
Effective TikTok Ads with brands
TikTok has already established an amazing track record of providing solid results for advertising across a wide range of sectors.
Synth Labs Intl.
This skincare brand conducted a Spark Ads campaign to generate 300,000 impressions at $0.32 CPC. Spark Ads was were a perfect fit for Synth Labs Intl which already had experience producing organic creative material on the platform. Spark Ads is a native ad type that allows marketers to boost their own organic videos or popular artists' videos as In-Feed Ads.
The campaign doubled the brand's organic following, raised profile likes by 80%, and total video views surpassed 100,000.
G2A
G2A, an online gaming marketplace, achieved 12 million impressions with video advertisements at $0.16 CPM and $0.06 CPC.
The company met its marketing objectives by purchasing In-Feed Ads through TikTok Ads Manager's auction approach. G2A and TikTok collaborated to produce an excellent campaign that not only raised awareness but also attracted new clients to the G2A marketplace. It eventually reached over 2.2 million users and received approximately 12 million impressions.
Wet n Wild
The Big Poppa campaign by Wet n Wild was a success. A combination of a Branded Hashtag Challenge #BiggerisBetter, TopView, One Day Max, and In-Feed Ads generated significant awareness. Overall, this campaign created a total of more than 1.5 million video users, resulting in 2.6 billion total views and a phenomenal 18.6 percent average engagement rate.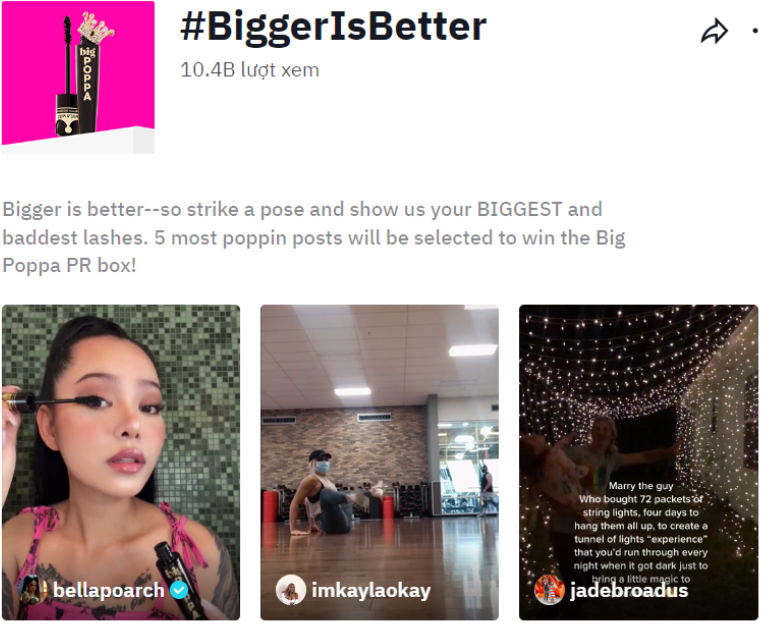 Frequently asked questions about TikTok Ads cost
What is a good CPC for TikTok ads?
An effective TikTok ads CPC usually ranges from $0.20 to $2.00, with an average of $0.50 to $1.00. However, bear in mind that these are only estimates, and your actual CPC TikTok ads may vary depending on your target demographic, ad formats, and competition.
Are TikTok Ads worth your investment?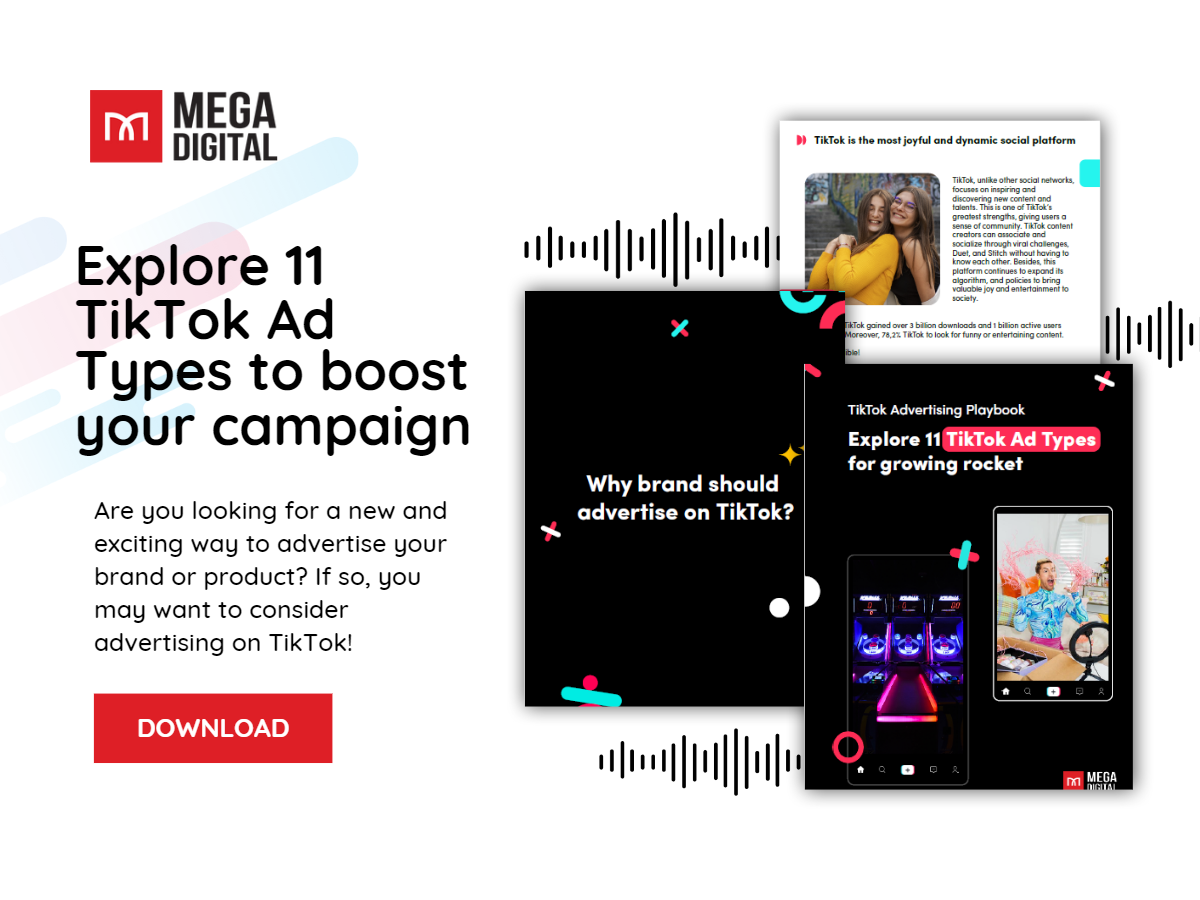 The answer is yes.
Smaller e-commerce businesses are experiencing positive outcomes from advertising on TikTok, and the platform's marketing opportunities are expanding. The cost-effective standard feed advertising allows smaller firms to experiment with video ads and gradually increase their budget based on performance data. As businesses gain confidence in TikTok's outcomes, they can invest more and even consider custom solutions if their return on ad spend justifies it. Therefore, investing in reaching an engaged audience on a growing platform is a wise decision for any e-commerce business, and advertisers can adopt a gradual and steady approach.
TikTok provides various types of ads for advertisers to customize based on their interests and objectives. So, don't hesitate to rent a TikTok agency account for full access to 11 ad types and multiple targeting locations! Check it out now!