Google Merchant Center Next isn't just about how it looks; it's going to change how things work. Now, your products can be added automatically from your website. This is good news because it means people who aren't tech-savvy won't have as many problems with product feeds. It also means that retailers who want lots of data will get better information.
What is Google Merchant Center Next?
During Google Marketing Live 2023, Google presented Merchant Center Next, which is a simpler approach for businesses of all sizes to effortlessly showcase their products and services to consumers across Google's platform.
The significant improvement is that Merchant Center Next will automatically identify product information from your website, including details like product name, description, size, price, and product image, and import this data into Merchant Center Next without manual effort. This design aims to simplify the process of creating and managing a product feed, reducing the chances of errors caused by an incorrectly set up feed compared to the previous version of Merchant Center.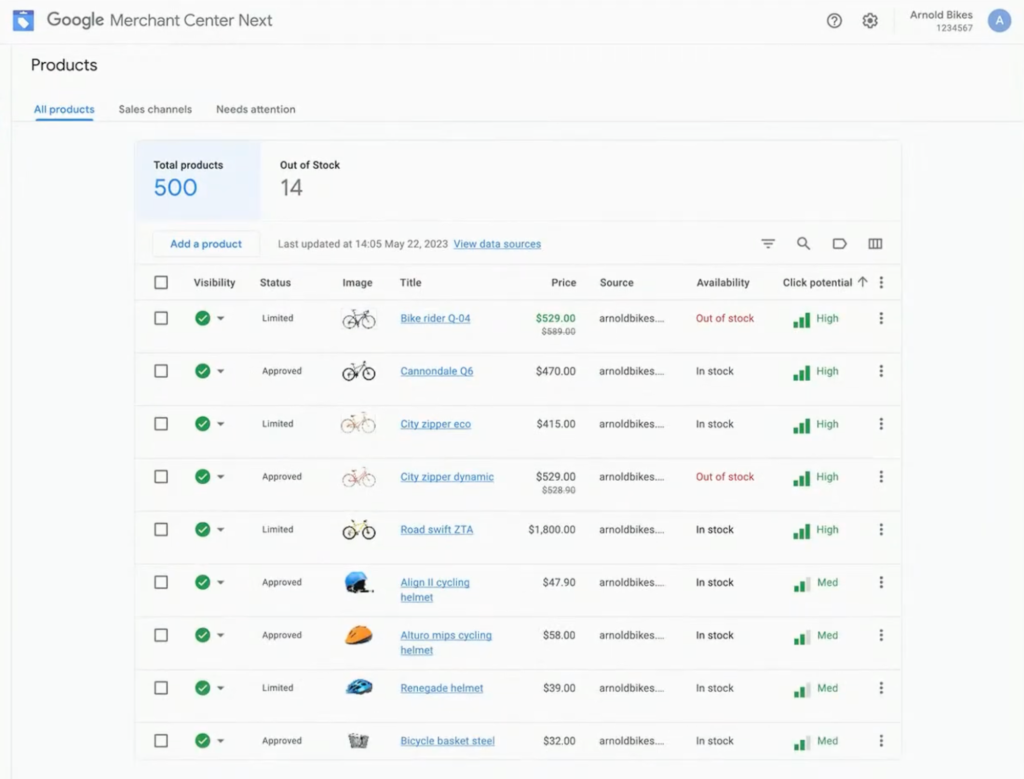 The rollout of Merchant Center Next is ongoing for both existing and newly created accounts, and Google plans to finish this process by 2024. Google is handling the transition entirely, so there's no option to switch to the new version manually. However, if you're already using Merchant Center Next, you can switch back to the regular GMC. Keep in mind that once you choose to stay with the old version, there's no way to switch back unless Google replaces the regular GMC for all advertisers.
Google Merchant Center Next vs. Google Merchant Center
Many people are curious about the changes that will come with Merchant Center Next, aside from the automatic product import. They're also wondering how it will affect them and what sets it apart from Google Merchant Center.
Currently, not all advertisers have access to Merchant Center Next, and not all features have been fully introduced. There is some uncertainty, and patience is important at this stage. However, we do know that there are notable differences in terms of the user interface and available features when compared to the regular Google Merchant Center.
Here, we'll provide an overview of Merchant Center Next, its appearance, and how it differs from Google Merchant Center.
1. Simpler interface
Merchant Center Next boasts a neater and more organized appearance compared to the current Google Merchant. It has received similar upgrades as the Google Ads interface has over the years. Typically, these user interface enhancements prove to be advantageous once users become familiar with navigating the platform.
2. Streamlined product diagnostics
In terms of product diagnostics, Merchant Center Next provides a concise overview that displays the current status, including what's approved, under review, limited, and not approved. In contrast, the previous version used to feature a timeline showing the historical product diagnostics and their changes over time.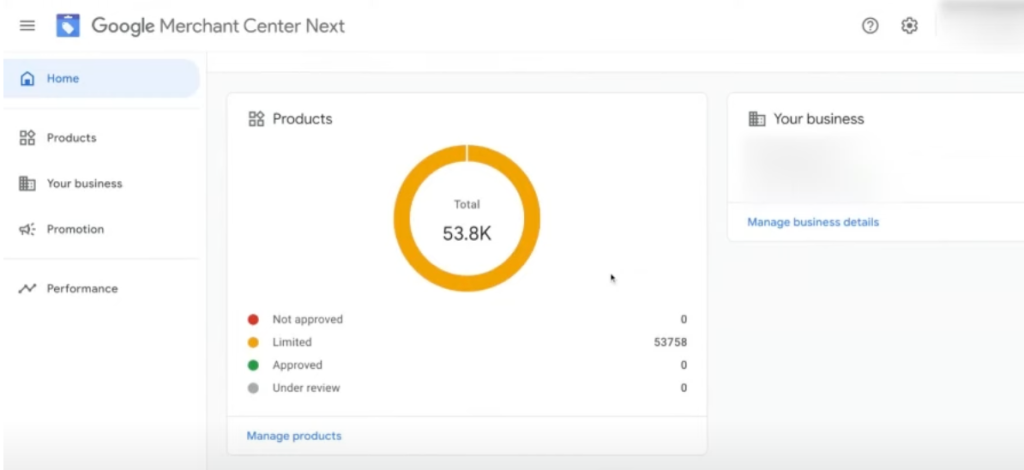 Modify a product directly within Google Merchant Center Next by selecting an individual product within the 'All products' section: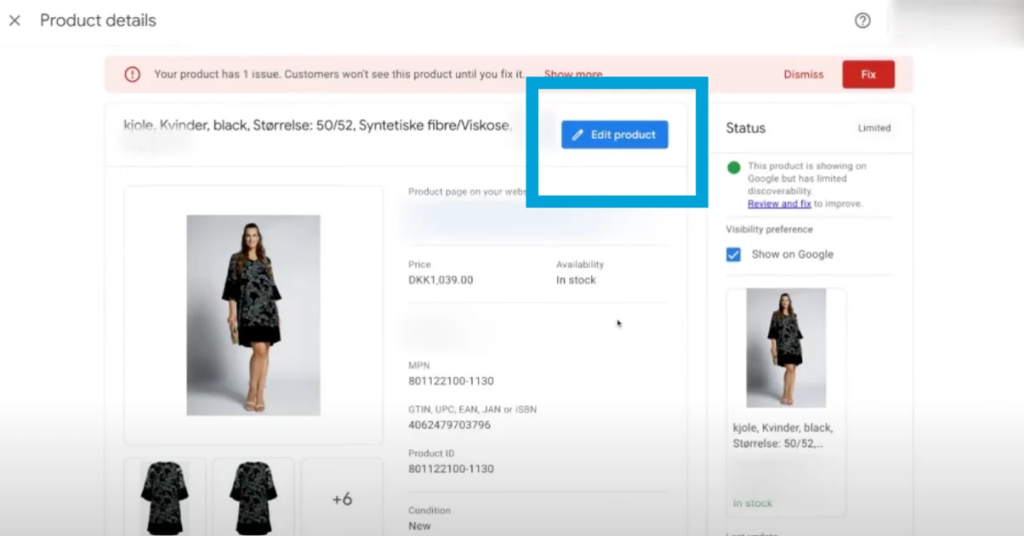 3. Product feed
Currently, you can't view your product feed or its raw data in Merchant Center Next. The "Feeds" tab from the existing Google Merchant Center is not present in Merchant Center Next. If you want to check the source you're currently connected to, go to "Products," select "All Products," click the item Title, and on the lower right corner, you'll find the "Source."
4. "Click Potential" metric
There's also a new metric in Merchant Center Next called 'Click Potential'. It analyzes historical data to estimate how likely users are to click on your product listing ads. This calculation is based on your products' performance compared to others in your Merchant Center Next account and can help optimize products with low click potential.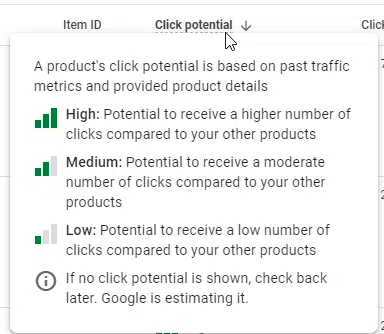 5. Tab movements
With the new layout, there have been changes in the placement of several tabs.
The Growth tab, which provides opportunities to enhance feeds and campaigns for increased traffic and better delivery, is currently absent in Merchant Center Next. This absence also extends to features like the price competitiveness report, best sellers report, and 'manage programs'. It's uncertain whether this omission is temporary or permanent.
Business details have been relocated from the top panel's main settings to the left side of the screen. Advertisers can now edit business and online store details from this new location.
The 'Performance' and 'Promotion' functionalities from the standard Google Merchant Center have been retained. The only distinction is that in Merchant Center Next, you are unable to modify the date range while reviewing product performance, unlike in the current Google Merchant Center where this adjustment is possible.
Merchant Center Next limitations
While Google Merchant Center Next generally presents a cleaner and more simplified interface, there are certain limitations that should be kept in mind. Here's an overview of these limitations in Merchant Center Next, but it's important to understand that these limitations may evolve over time.
Sole focus on Google products
Merchant Center Next is exclusively designed for Google products, similar to the current Merchant Center. Despite its updates and simplifications, it remains restricted for advertisers who use their product feeds on other platforms like social media and online marketplaces.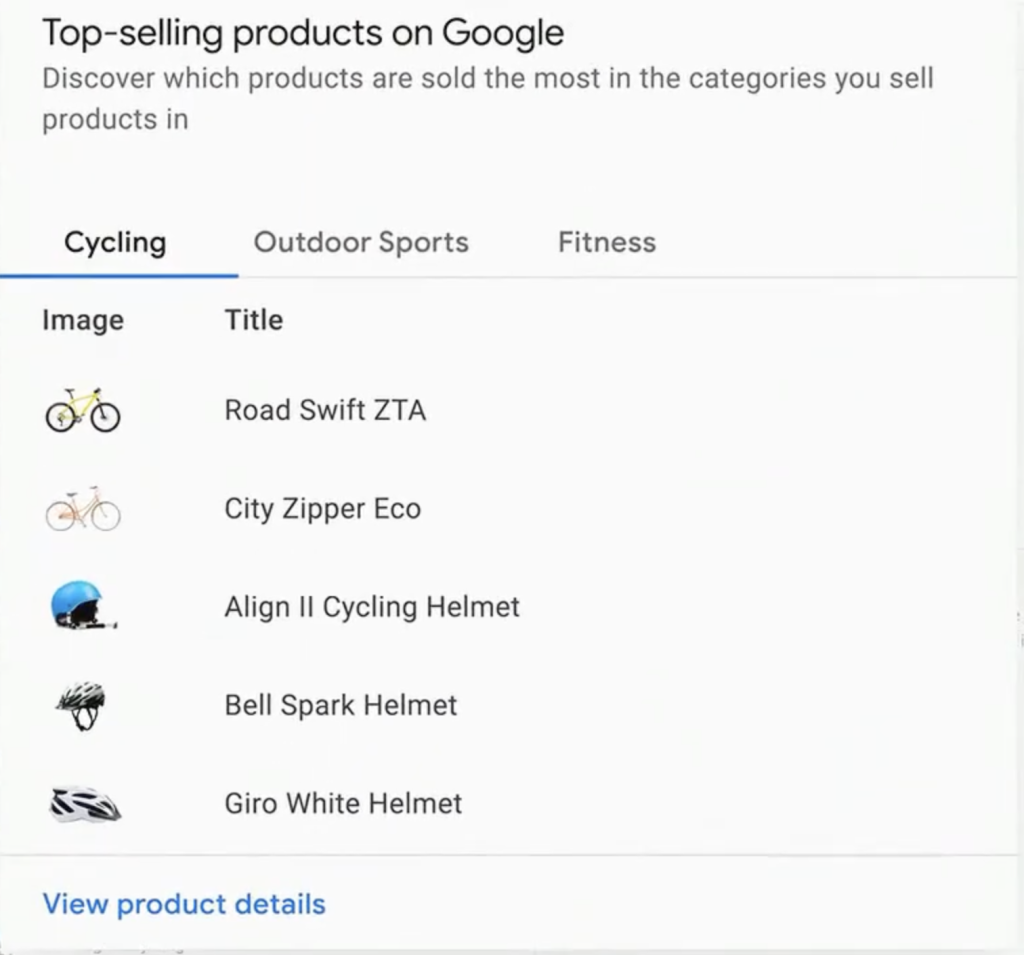 Limited optimization capabilities
Advertisers have limited capacity to utilize Merchant Center Next as a tool for feed optimization. While it's now possible to edit product data directly in Merchant Center Next, this can only be done on a per-product basis. This manual approach is slow and primarily suitable for minor product adjustments and updates.
For businesses with extensive inventory and large data feeds to manage, this method is not a practical way to achieve optimization. To create a well-optimized shopping feed, a third-party feed optimization tool is essential.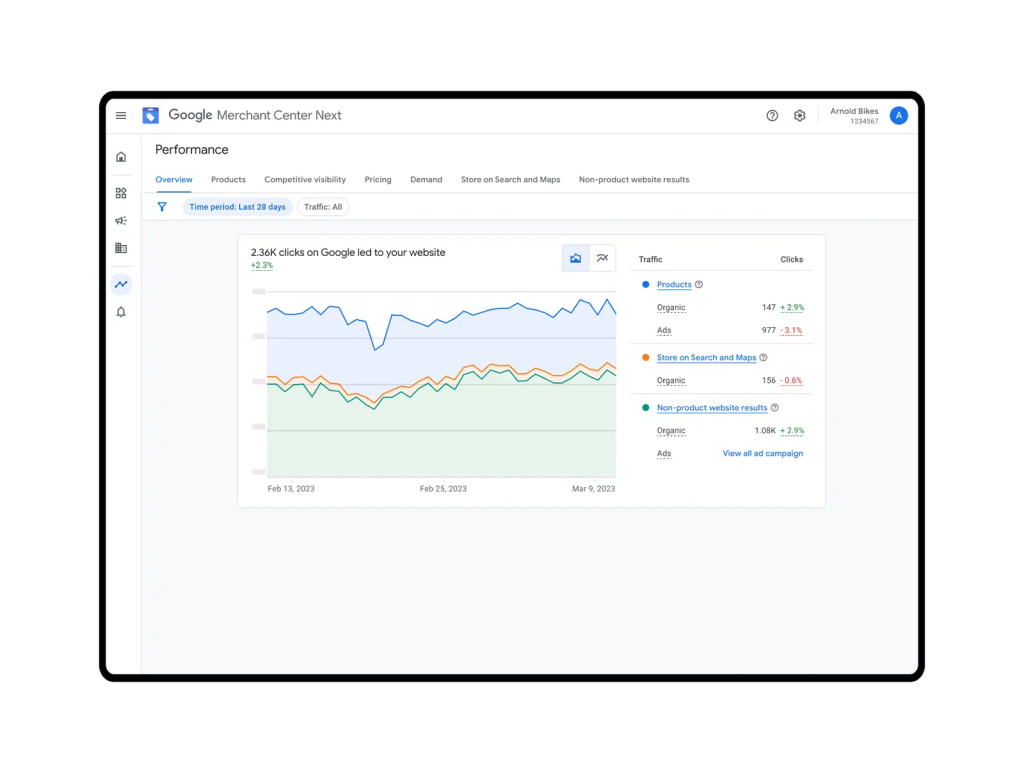 Lack of features in Merchant Center Next
As mentioned earlier, Merchant Center Next has several features missing when compared to the current Google Merchant Center. This means there will be a transition period where users will need to adapt to the absence of these features, unless they are slated for future inclusion in Merchant Center Next in the coming months.
Here's a summary of some noteworthy features that are currently absent from Merchant Center Next:
Growth tab
Merchant Center Programs
Feed tab
Ability to create supplementary feeds
Product diagnostics timeline
Product performance date range
How to import products to the Google Merchant Center Next?
There are 5 methods available for importing your products into Merchant Center Next:
Automatic import from your online store.
Automatic import from your ecommerce platform (if it's running on a third-party platform like Shopify).
Import from your feed file.
Import from a Google Sheets template.
Manual one-by-one import.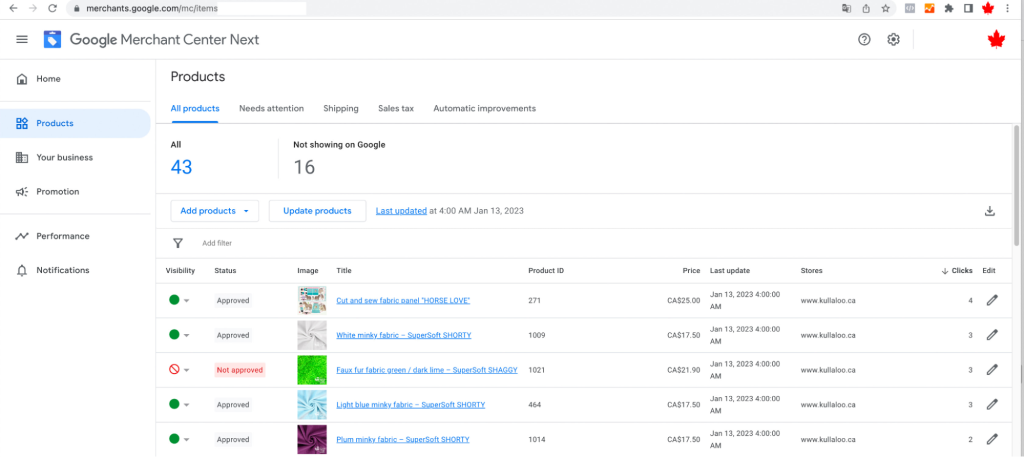 How to automatically import products from your website?
Once you input your website's URL, Google will scan your site to gather all the product information from your online store and synchronize it with Merchant Center.
To ensure Google can scan your domain, it's important to have a sitemap on your website and structured data in your HTML, which acts as a representation of your product data that Google can interpret.
When you opt for automatic product import, it may take up to 3 days for your products to appear in the panel. The connection is dynamic, so any updates you make to your products on your website will be automatically reflected in your Google Merchant Center Next account.
Final word
Google Merchant Center Next is definitely simpler and easier to use compared to the regular Merchant Center. However, it's a real improvement for small businesses with only a few products that want to run Performance Max campaigns without spending too much time on feed optimization.
But for retailers who want to get the most out of their ads, feed optimization will still be the best way to get great results. We'll have to wait and see how Merchant Center Next really affects things when all the features are available. Luckily, we won't have to wait too long since it should be fully rolled out by 2024.