Google App campaigns, previously known as Universal App Campaigns (UAC), are a type of automated Google Ads specifically designed for promoting apps or game installs. The campaign uses machine learning algorithms to optimize ad delivery on Google Search Network, Google Play, YouTube, and the Google Display Network.
What are Google App Campaigns?
Google Ads App campaigns are an automated advertising format in Google Ads that help marketers boost app installations and in-app actions. By using machine learning, Google Universal app campaigns identify top-performing ads and display them to relevant audiences.
According to Google, UAC can deliver 140% more conversions per dollar compared to other app promotion solutions offered by Google.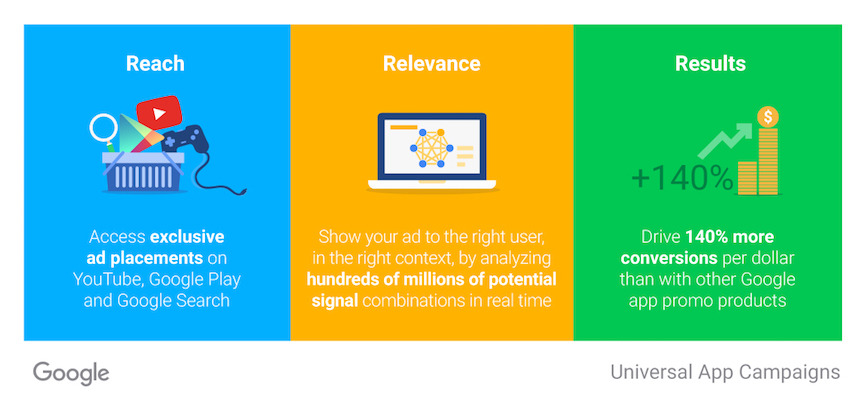 Universal App Campaigns make it easier to create ads without manual testing. Instead of creating individual ads, you provide different text lines, images, and videos, and Google uses these to create ads automatically.
Here are some Universal App campaign examples: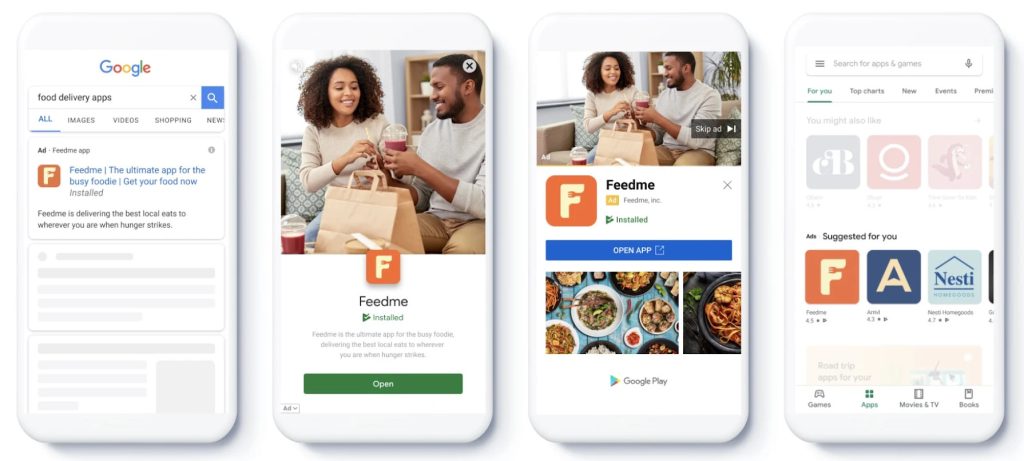 Types of Google App campaigns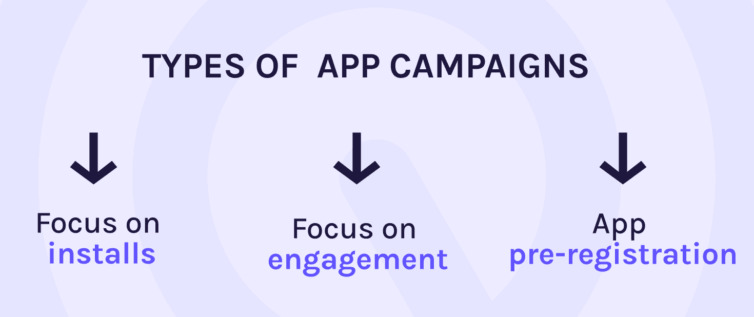 When you select "App promotion" as your goal, you will have three campaign subtypes to choose from:
App Installs
App Install campaigns focus on encouraging users to install your app. Google Ads automates targeting and bidding to optimize the value of each download. You can also refine your targeting to reach valuable users based on in-app conversions.
Google considers several key factors when it comes to creating and displaying app install ads:
Where the ad appears (Search Network, Google Play, YouTube, etc.)
The ad format (banner or interstitial ad)
The content of the ad (app icon, description text, app store rating)
The action taken after clicking the ad (linking to the app store or directly installing the app on the device)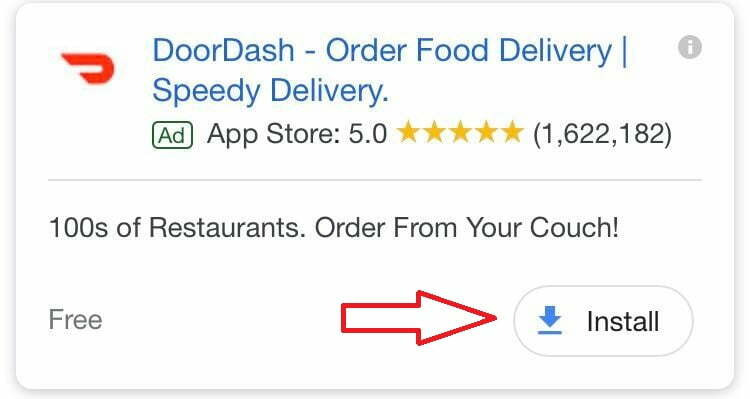 App Engagement
With App Engagement campaigns, you can re-engage users who have already installed your app and prompt them to take specific in-app actions. These ads can appear on Google Search, YouTube, Google Play, and other apps in the Display Network.
After launching your campaign, it's important to implement optimization techniques to improve your results. These optimizations involve:
Ensuring your Google Play Store listing is current and optimized.
Linking your accounts for seamless integration.
Making bid adjustments to maximize performance.
Modifying the conversion window to align with your goals.
Conducting asset testing to refine your creative elements.
Implementing geo-targeting to target specific locations.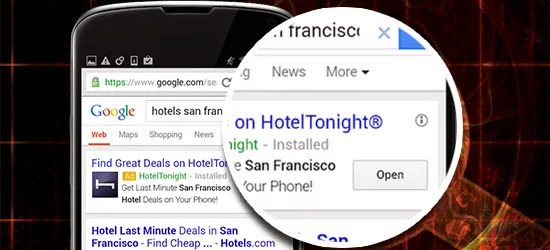 App Pre-registration (android only)
If you have an upcoming app or game release on Google Play, you can run App Pre-registration campaigns to increase awareness. After enabling pre-registration in your Play Console, you can create an App campaign to promote the title. Users who click on the ad can then pre-register for your app or game directly from the Play Store.
If you expect your app will be popular, make sure to start the pre-registration process early and use the full 90 days to attract as many users as possible.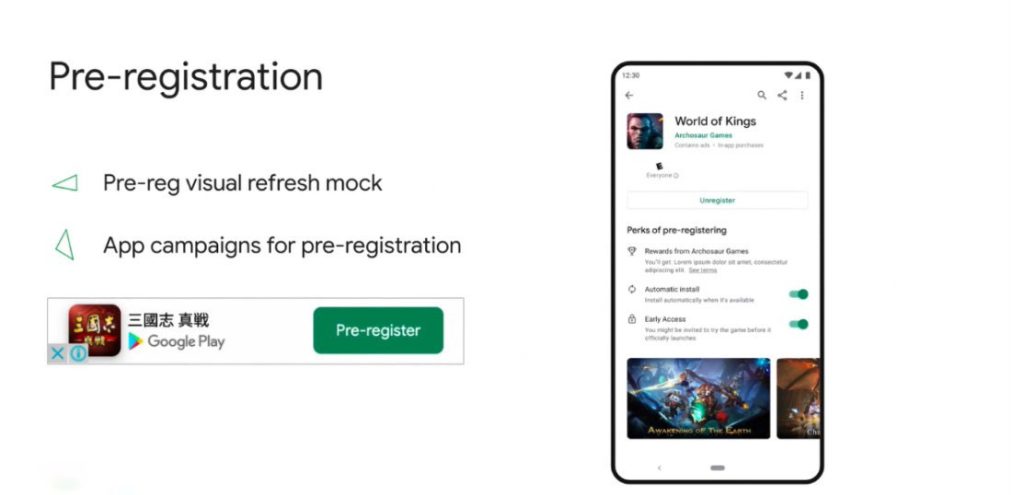 Benefits of Google App Campaigns
App campaigns have three main advantages over other app channels:
Exclusive access: Google properties are only available through app campaigns (unless you use Google Ads for web campaigns).
Scale: Google's ad inventory is enormous, with the potential for unlimited reach across various channels. Google claims to reach over 1 billion users on each platform.

Easy to manage: App campaigns are highly automated, requiring minimal manual work. This saves time and reduces management costs.
How do Google App campaigns work?
Google app campaigns work differently compared to other Google Ads types.
Automated assets combination: Instead of manually selecting keywords, you provide assets like text, budget, images, videos, and HTML5. Google then combines and matches these assets to create relevant ads for your app.
Search terms: What's unique is that you don't need to worry about keywords. The algorithm looks at the search terms used in Google Play for apps similar to yours. So, it's important to include relevant keywords for your Google Ads App campaigns to help your app appear in relevant searches on Google Play.
App's store listing: To make your app campaign successful, it's essential to optimize your app's store listing. Google considers the keywords you use in your app's description and title to display your Universal App campaigns.

Once you've provided the necessary assets, Google displays your ads on different channels, including:
Google Search Network (Google Search and search partners like YouTube)
Google Play (search results, related apps, and other suggested apps)
YouTube
Google Display Network (Gmail, mobile websites of news and blogs)
AdMob
Google Discover
Simply put, Google app campaigns use your assets to create ads and show them in various places where potential app users are likely to see them.
Basic steps to set up Google App campaigns
Now that you have learned how Google UAC campaigns work, we'll guide you through the setting-up steps.
Step 1: Choose the campaign goal
Google Ads UAC is a particular objective you see when creating a new campaign, choose "App promotion".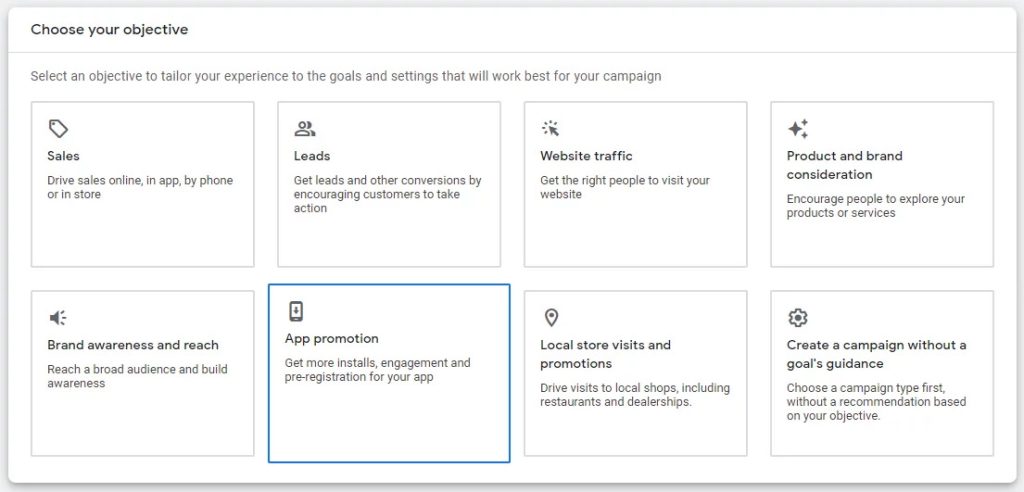 Step 2: Set up the campaign
Set a daily budget: How much money do you want the campaign to spend every day?
Consider your advertising objectives: What do you want to optimize? Installs, install most likely to complete an in-app event, in-app events, or value optimization (if revenue is passed)? This amendment may impact volume (from most to least) and performance (from least to most).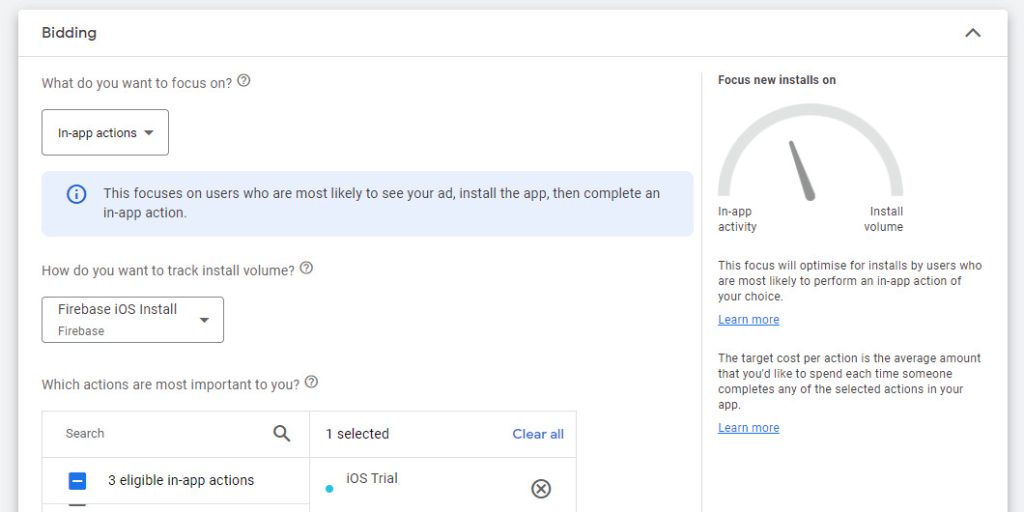 Bid for this optimization: (e.g.: $1.00 cost per install (CPI)). Google names "tCPA" the target cost per app action. If you're looking for value optimization, the bid is called tROAS (target return on ad spend) and corresponds to %.
Set Location and languages.
Note: There is no option whatsoever about audience targeting. Universal App campaigns Google doesn't provide the option to only show ads to a specific gender, interests, devices, or OS versions.
Step 3: Track conversions
This should be set up before launching the Google Ads UAC, under the "tools and settings" section, specifically in the "conversions" tab.
The origin of the conversions is crucial, and you have two primary options:
Sending them through Firebase
Using a mobile measurement partner
Google strongly encourages using Firebase as the preferred source, citing better performance. Additionally, certain features, such as excluding existing users, are only available to advertisers who integrate Firebase.

For Android campaigns, it's important to connect your Play console linked to your account because this improves data flow and unlocks extra features.
Step 4: Add Creative assets
Google Universal app campaigns recommend using a variety of formats to increase your chances of reaching your target audience. If you don't have any videos, then you might miss out on valuable ad placements on platforms like YouTube.
There are four main formats for your creative assets:
Text: You can provide both shorter headlines and longer descriptions.
Video: Your videos should be hosted on YouTube and cannot be directly uploaded. Besides, they should be diverse in length and content, quickly grab attention, and showcase the in-app experience and brand image.
Images: Use a range of different image formats. Images should use the full ad frame, have high resolution, minimal text overlay, and avoid superimposing logos and calls to action.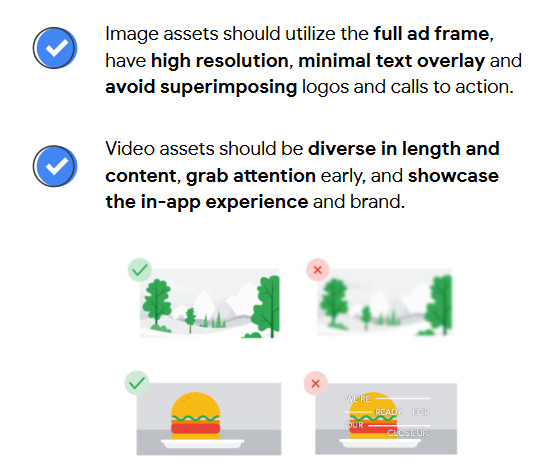 HTML5: This format is mainly used for interactive playable ads, particularly in gaming apps.
Remember to utilize the existing assets from your app's store listing as part of your creatives. Besides, those are not final Google App campaigns assets, Google will then recombine different elements after analyzing asset performance.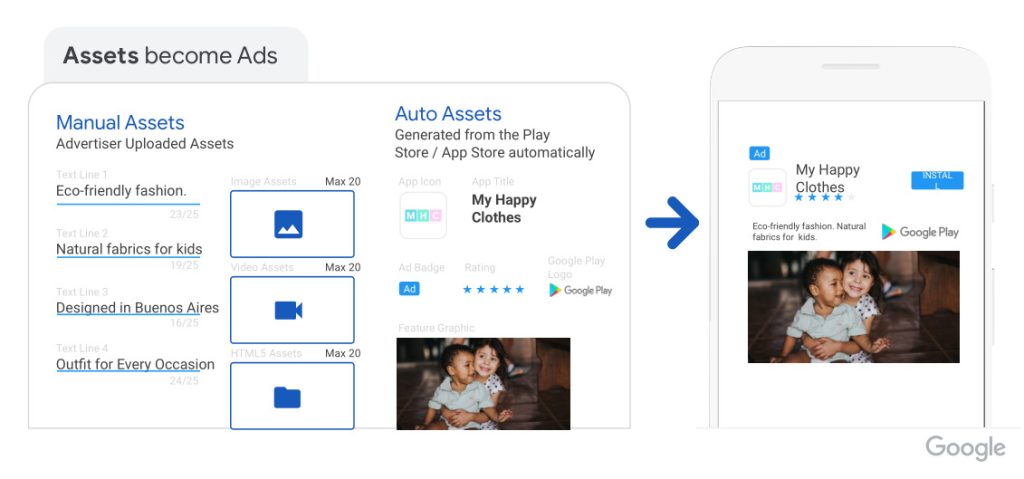 Google provides an "ad strength" index that focuses on evaluating the formats of your ads. However, this doesn't assess the potential impact of your creative assets. For example, even if all formats are included and the ad strength is at its maximum, your account may still be missing landscape videos.
Best practices for Google App campaigns success
Creative assets
The general guidance is to provide various formats so the system can explore placements and audiences. At first, aim to have pretty much all of them. However, you are limited to 20 per category and by your own production capacity.
Images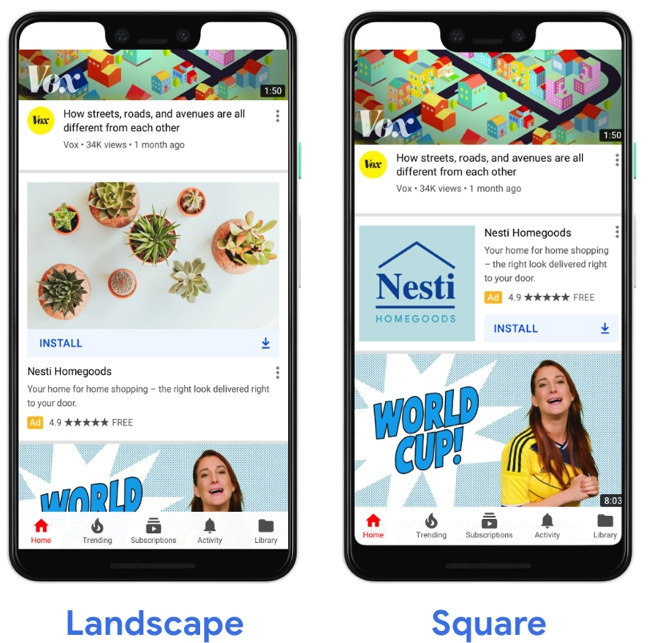 There are 32 image dimensions. However, we recommend you should be able to cover most with the following three ratios (Google UAC ad specs):
1.91:1 (e.g. 1024×628, similar to your feature graphic on Play)
6.4:1 (e.g. 320×50, usually a small banner that generates a lot of impressions with little impact)
1:1 (e.g. 200×200)
Videos
We recommend you add two portraits, two squares, and two landscape, and test what happens with each. The more the better.
Besides, you should also test various lengths and Google UAC ad specs, in particular 6, 10, 15, and 30 seconds because these combinations of size and length may all show up in very different places to different users.
Text assets
You need to ensure they make sense independently because Google will recombine texts in unpredictable ways. What users see is not reported to the advertiser, so you need to anticipate those possible recombinations. Be mindful that Google can also use your store text without disclosing it.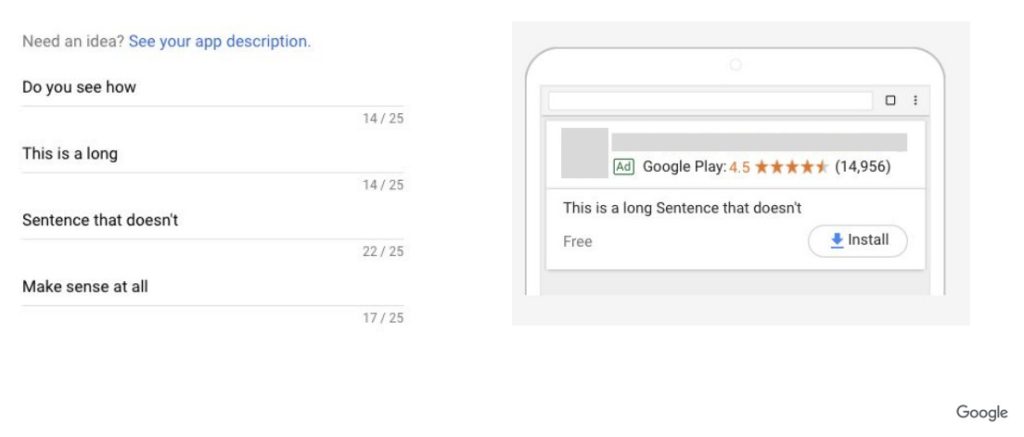 Creatives in ad groups
A couple of years ago, Google added "ad groups" to Universal App campaigns Google. Those work a bit differently from other networks, and are meant to group creative assets by "theme". This may be a seasonal campaign or a visual style.
Note: You can't edit any settings at the ad group level (e.g. by language) and for optimization, you want to target conversion volume per ad group, not the campaign as a whole.
Content
Advertisers should focus on testing various messages and concepts to understand what aligns with your audience. Our advice is to try different approaches, ranging from diverse imagery to personalized content, or TV-ad style content.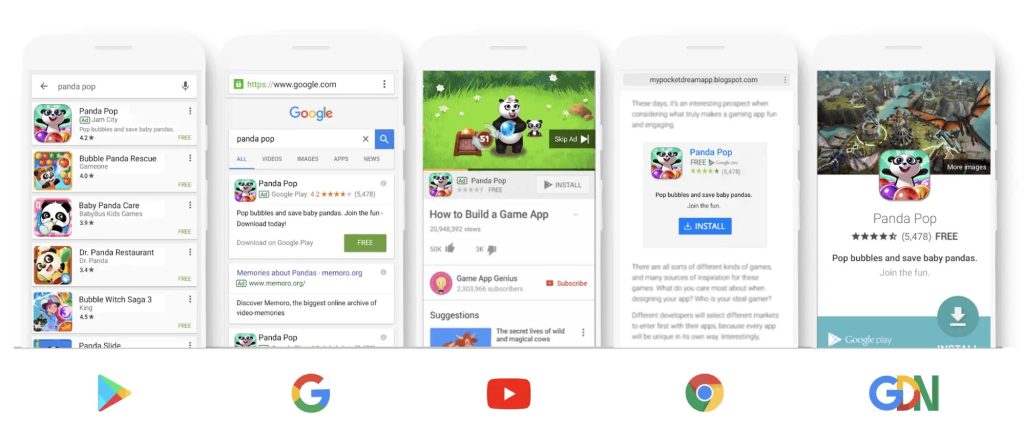 Once you have a range of assets, launch your campaigns and continuously monitor the performance data. Google provides asset ratings, such as "Best", "Good", or "Low". It's important to compare assets within the same category. Besides, don't forget to consider secondary metrics like engagement rate, click-through rate (CTR), and modeled CPI or CPA.
>>> Read more: 10 Google Ads Metrics You Need to Track Daily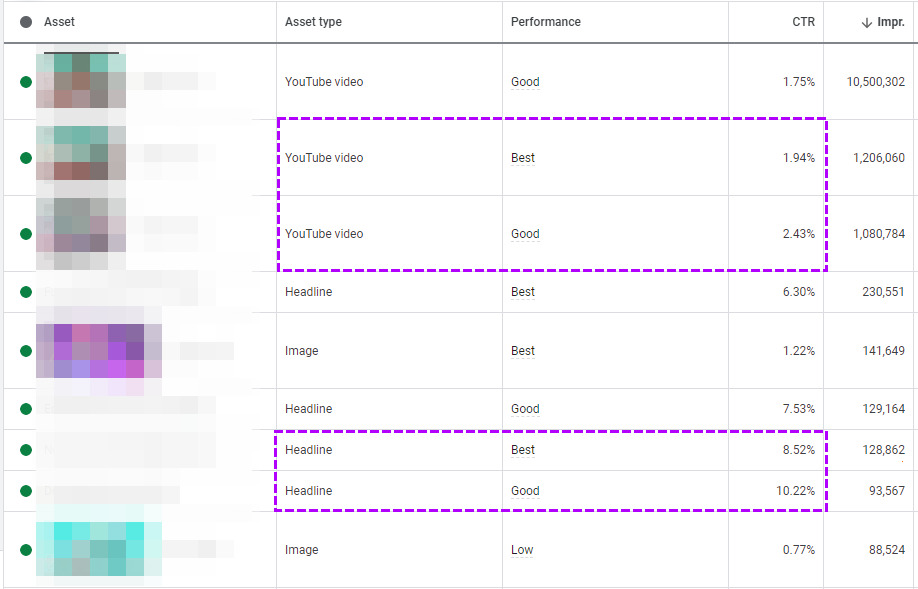 Remember, even if an asset has the "Best" rating, it may not have the highest CTR or the lowest CPI or CPA. Google Ads UAC's determination of the best assets may consider other factors.
Bidding strategies
To optimize machine learning, make sure your budget and bids allow for enough events to occur. Aim for at least 10 events per day, but having 50 or more is even better.
When setting your bid, consider factors like:
CPA on other networks
Past campaign performance
Revenue generated by the app from the targeted event
Set your bid based on the return on investment (ROI) you want to achieve. Keep in mind that Google often suggests bidding higher than your target to learn faster, but be cautious not to bid more than you can afford.
>>> Read more: What is Google Ads ROI: Ways To Calculate and Improve Your ROI

Sometimes, if your bid is too low, Google may struggle to get conversions at the desired price, resulting in higher CPAs. This can cause overspending without sufficient optimization. In such cases, you can:
Increase your bid
Choose a different action that happens earlier in the user journey
Update your creative assets
Target different countries
Consider stopping the campaign if it consistently underperforms
Remember that overspending might occur before making necessary adjustments, which can impact your profitability.
Performance tracking
You should analyze the "campaigns" tab (or ad groups within a campaign). Here, we can use predefined filters to view only the live campaigns of a specific type and customize the columns to show the most relevant information (don't forget to save your preferred settings!).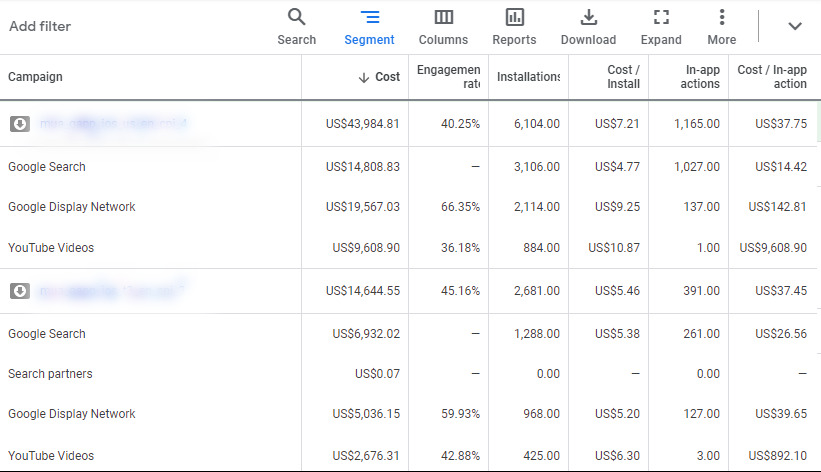 To gain valuable insights, use the "segment" feature to analyze data based on placement, days, or devices. However, when segmenting by "days," keep in mind that the timeframe is limited to 2 weeks, which is difficult to observe long-term trends. You can manually export reports to analyze data beyond 14 days. Unfortunately, when exporting reports, you can't include both costs and conversions together. Therefore, you need to manually combine them. 
>>> App Campaign Best Practices & Examples That Work in 2023
Frequently Asked Questions
You may be asking: "Why is conversion tracking critical for Google App campaigns?" or "What are the three tracking solutions for Google App campaigns?". Mega Digital will guide you through these matters.
Why is conversion tracking important for Google App campaigns?
Conversion tracking provides valuable insights that can shape push notifications and the messages you get on your phone from apps. By tracking specific actions users take in the app, companies can learn what users like and target them with personalized messages.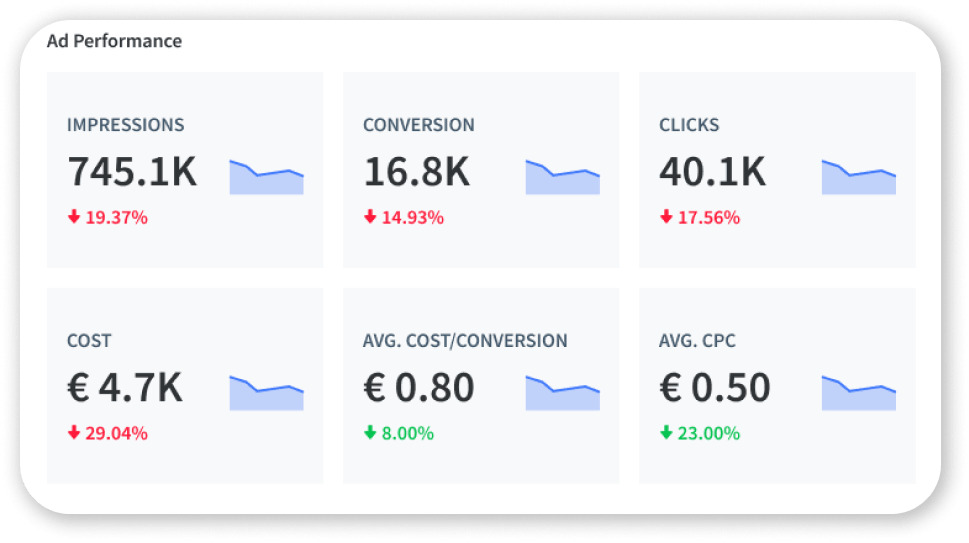 Besides, the data collected through conversion tracking on Google Universal app campaigns is really powerful. It also helps machine learning algorithms get smarter and make better predictions about what users want.
What are the three tracking solutions for Google App campaigns in 2023?
Google Analytics 4, Google Play, and Third-party App analytics are the three tracking solutions for Google app campaigns in 2023:
Google Analytics 4 Properties: This powerful tracking solution combines the capabilities of Google Analytics and Firebase. It allows you to track user interactions, events, conversions, and user acquisition data for your mobile app. With detailed insights and reports, you can measure the effectiveness of your app campaigns and make data-driven optimizations.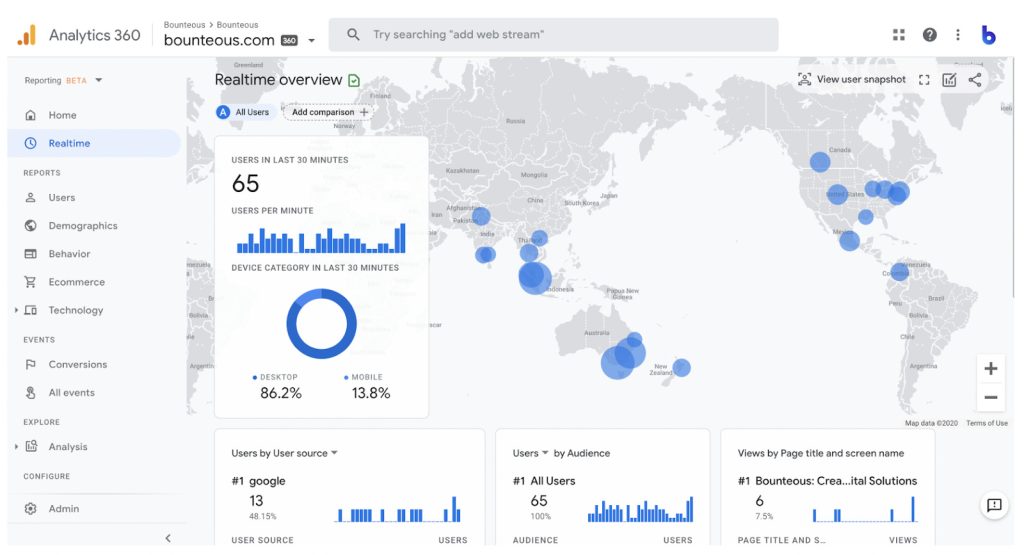 Google Play: Google Play provides a codeless tracking solution that allows you to track specific in-app events and conversions without modifying your app's code. By setting up conversion events in the Google Play Console, you can track actions such as app installations, in-app purchases, and engagement events. This makes it easier to track and optimize your app campaigns without requiring development resources.
Third-party App analytics: Google Ads integrates with various third-party apps attribution partners like Adjust, AppsFlyer, and Kochava. These partners provide advanced tracking and attribution features, allowing you to accurately measure the performance of your app campaigns across multiple channels and platforms.
These tracking solutions provide valuable insights and data to help you understand user behavior, measure campaign performance, and optimize your app campaigns for better results.
What drives impact at scale for Google App campaigns?
Machine learning drives effective outcomes at scale for Google App campaigns. It utilizes a wealth of information and data to increase reach, relevance, and simplicity for the massive success of App campaigns. It's like having intelligent computers that can analyze vast amounts of data and discover patterns, continuously improving how ads are delivered.
Machine learning enables Google App campaigns to achieve three key benefits at scale:
Reach: Machine learning studies user behavior and signals to identify potential users who are likely to be interested in the app. Therefore, this expands the reach of the campaigns to a wider audience and introduces them to the app.
Relevance: Google App campaigns' algorithms learn from user interests and actions. This will show ads that are highly relevant to each individual.
Simplicity: Machine learning automates complex tasks involved in-app campaigns. It handles tasks such as ad creation, bid management, and audience targeting.
How do Google App campaigns help both marketers and users?
Google App campaigns benefit both marketers and users by delivering highly relevant ads at the right time. For marketers, these campaigns automate ad creation, reach a wide audience across multiple platforms, and optimize performance through real-time adjustments. Users experience personalized ads tailored to their interests, ensuring a relevant and engaging ad experience.
With machine learning driving the campaigns, marketers save time and improve targeting while users discover apps that align with their needs. The result is a win-win situation where marketers achieve better results and users are presented with ads that are valuable and timely.
Final words
Are you looking forward to increasing your audience engagement on Google Play, YouTube, and other Google platforms? Google App campaigns can help! Reach your potential customers through mobile app advertising and optimize your advertising spending by partnering with Mega Digital. Check out our expert Google Advertising Services to achieve remarkable outcomes and drive exceptional results.