Have you reached a point when your marketing campaigns aren't producing the same results as before, despite attempting new strategies? Then you've come to the right place! You can freshen your ad campaigns and break out of the plateau phase by utilizing TikTok behavior targeting. This targeting tool can assist you in reaching out to new potential customers who are more likely to interact with your adverts and take the appropriate actions. Let's look at how TikTok ads behavior targeting can affect your campaign!
What is TikTok Ads Behavior Targeting?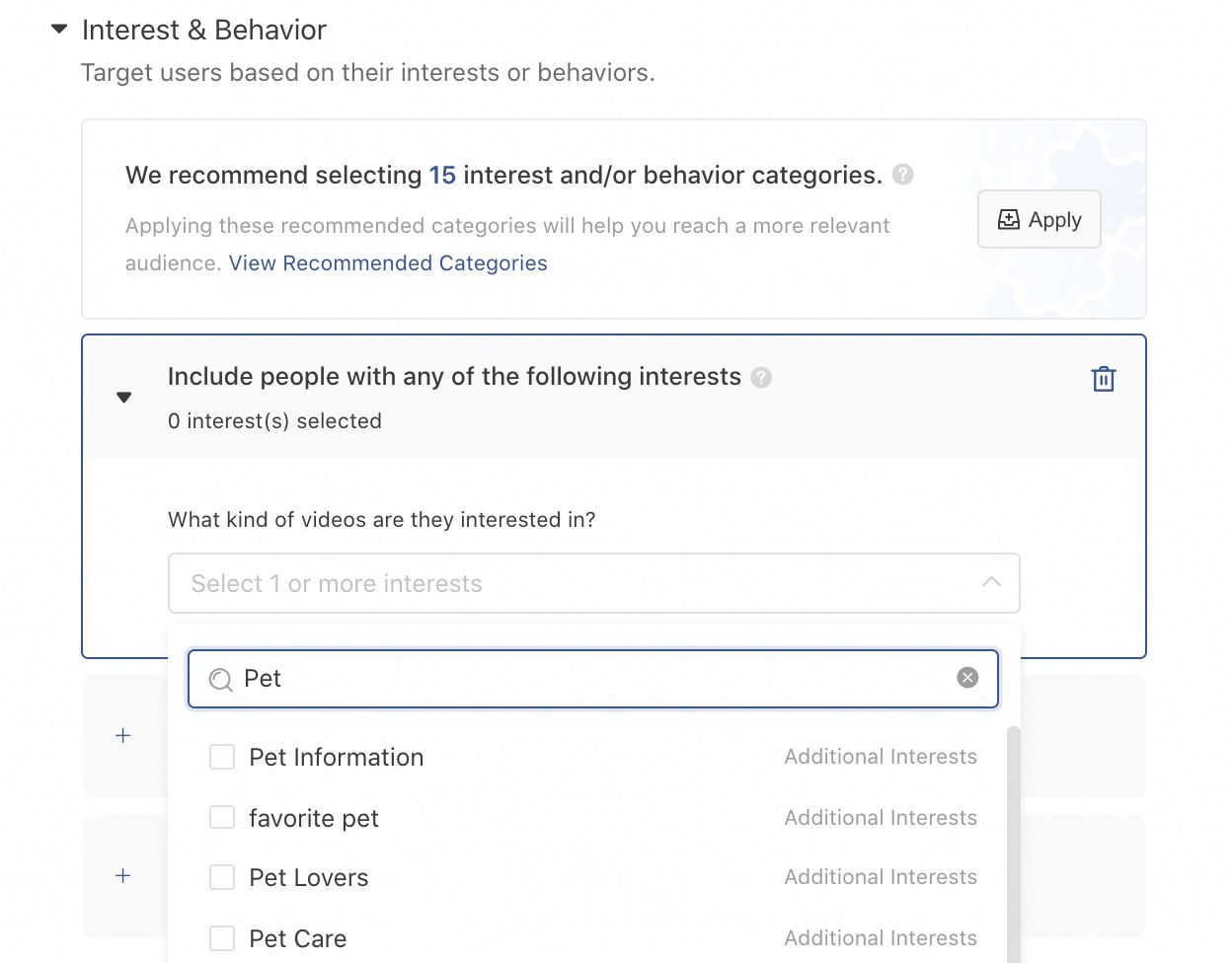 Behavior targeting on TikTok allows advertisers to deliver ads based on a user's recent in-app behavior. Unlike interest targeting, which focuses on long-term content consumption, behavior targeting focuses on a viewer's recent interactions with content on TikTok. There are three main behavior categories that advertisers can use for targeting:
Video-related Interactions: They refer to actions that show users' engagement with organic video content. These actions are limited in video completion, like, comment, and share within 7 or 15 recent days.
Creator Following Interactions: This category includes two types of engagements: Following and Viewing Homepage. Advertisers can target users that follow specific types of creators or users who have viewed the profile pages of specific creators in the last 30 days.
Hashtag Interactions: This category allows advertisers to target users who watched TikTok videos with certain hashtags.
Benefits of TikTok ads behavior targeting option
Behavior targeting is a vital tool for TikTok advertisers, providing a variety of advantages that can help you reach your target audience more efficiently and get better results. Let's look at some of the most prominent features of this targeting option.
Audience Testing
Behavior Targeting can help identify your target audience and test hypotheses about their behavior. It would be best if you used it during the first stage of advertising on TikTok Ads Manager.
Campaign Boost in A Plateau Phase
When the existing targeting criteria no longer provide more audiences for your campaign, you can turn to behavior targeting to access a good source of new users with strong purchase intent for your product or vertical.
Cost-effective advertising
By more efficiently targeting your ads, you may eliminate wasteful advertising spending and focus your budget on those who are more likely to be interested in your products or services.
Deeper insights into your audience
Behavior targeting can assist you in gaining a better knowledge of your target audience's interests and behaviors, which can affect your overall marketing strategy and support you in creating more effective campaigns in the future.
Increased engagement & conversion rates
Behavior targeting allows you to target people who are more likely to convert, resulting in improved engagement, conversion rates, and revenue.
How to set up TikTok ads behavior targeting
Setting up behavior targeting for your TikTok advertisements campaign can help you reach a more targeted audience and achieve better results. However, understanding the procedures required in setting up behavior targeting is necessary to ensure the success of your campaign.
Video Interactions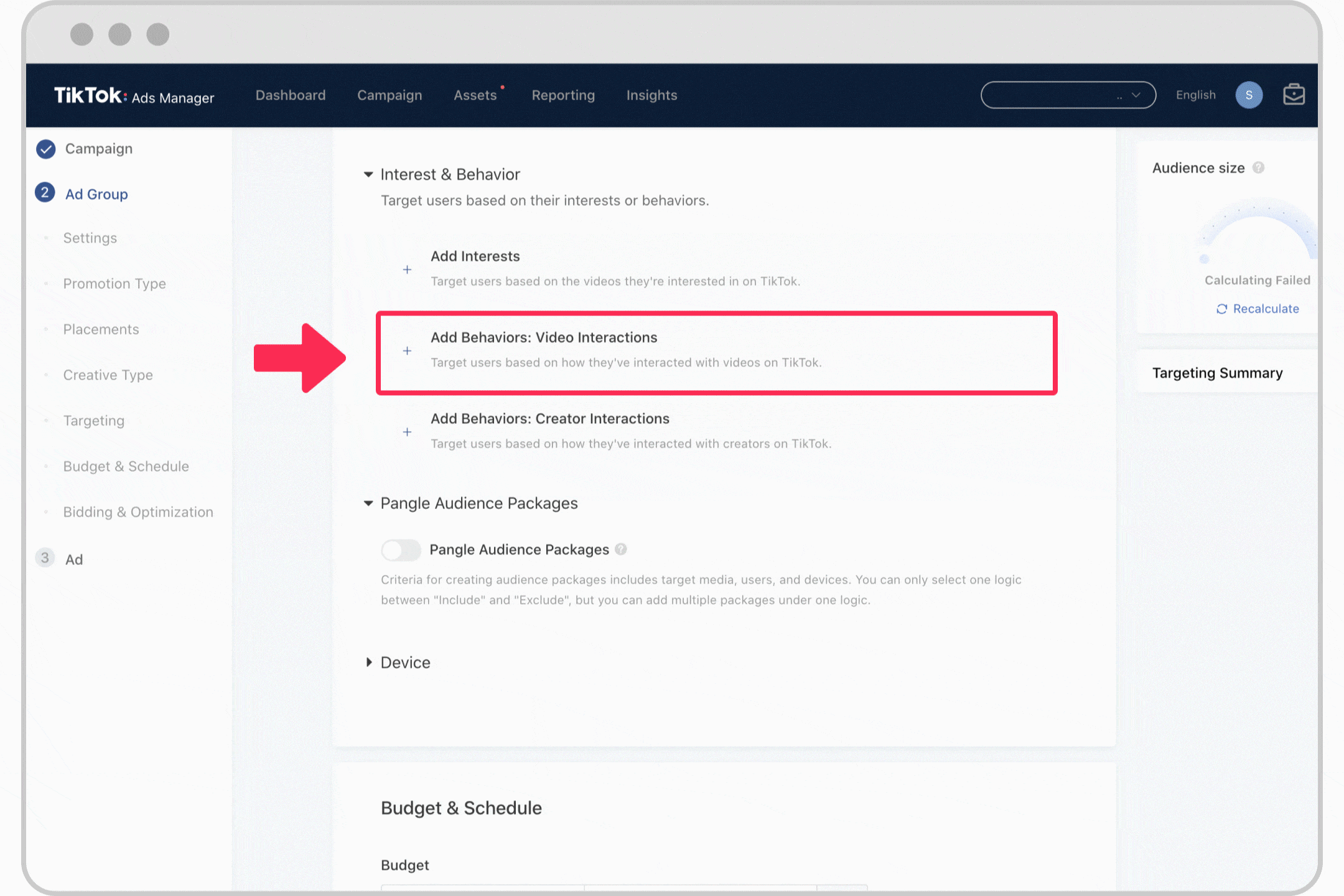 To target audiences who interact with your content, you can follow these steps:
Step 1: Click Add Behavior: Video Interaction
Step 2: ​Select the desired user behavior you want to target: watched to the end, liked, commented, or shared
Step 3: ​Determine the look-back time: 7 days or 15 days.
Step 4: Search for and select the content Category you want to target at the box "Define what kind of video they've interacted with".
Creator Following Interaction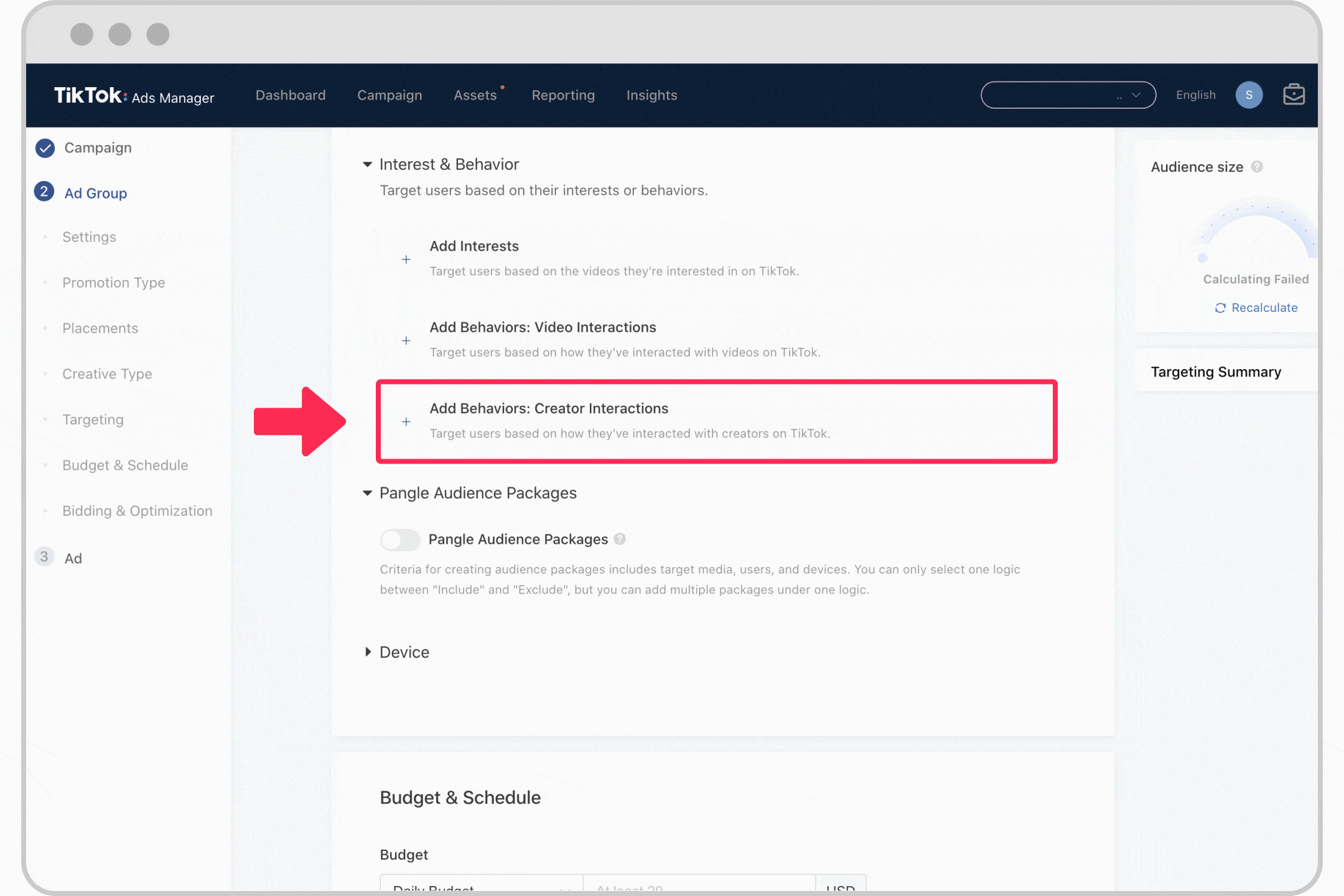 Preferring users who followed certain types of Creators on TikTok or those who viewed the homepage of certain types of Creators on TikTok, let's do as follows:
Step 1: ​Click Add Behaviors: Creator Interactions
Step 2: ​Check the box to select either Followed or Viewed Profile
Step 3: At the 'Define what type of creative they've interacted with', a drop-down list shows up, and you can choose the one that fits your requirement.
Hashtag Targeting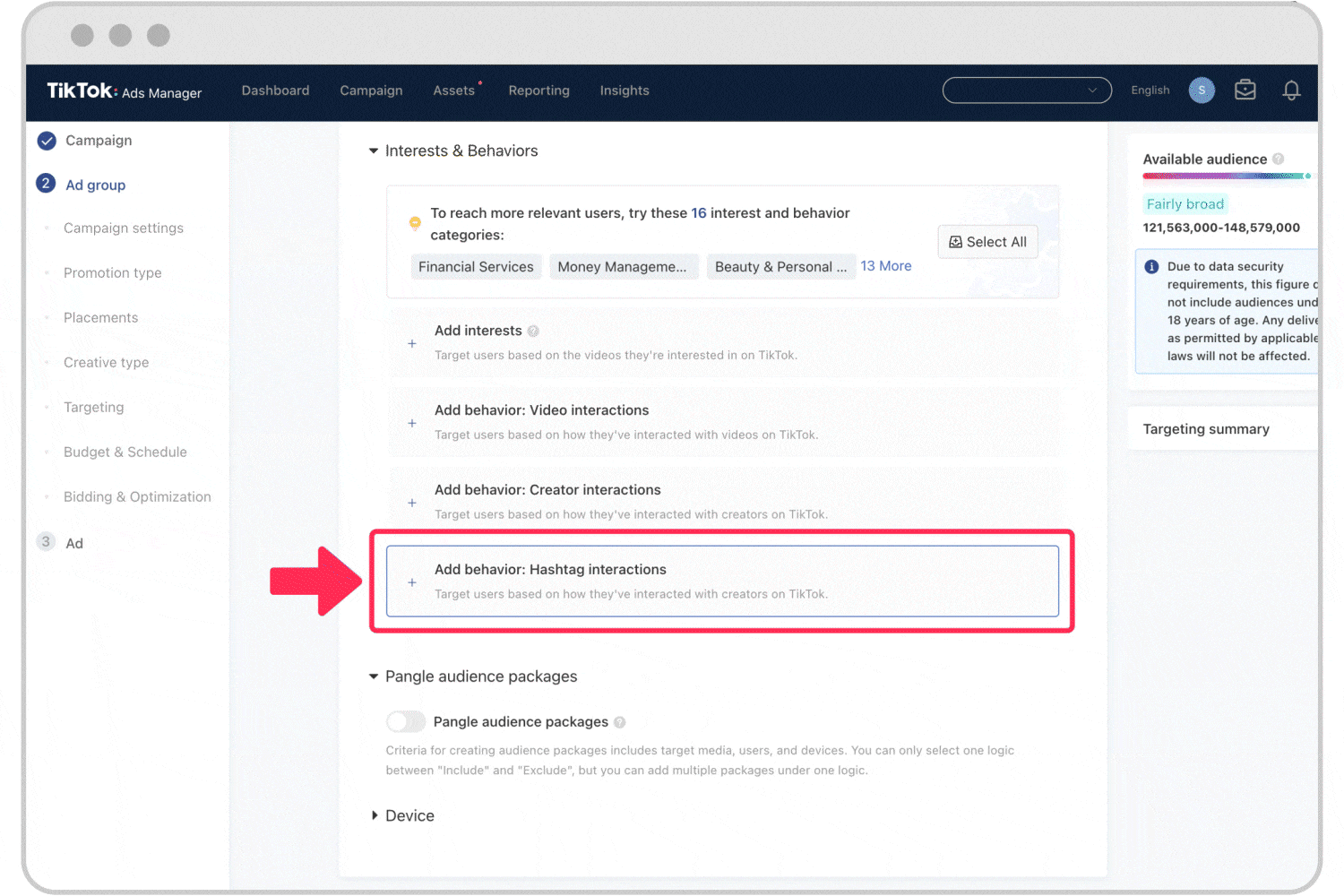 With Hashtag Targeting, you can target users who watched TikTok videos with certain hashtags. To enable Hashtag Targeting:
Step 1: Click on the section Add Behavior: Hashtag interactions.
Step 2: ​Find relevant hashtags in the segment 'People who've watched videos with the following hashtag'.
Step 3: Select the hashtags to target.
FAQs about TikTok Ads Behavior Targeting
How to differentiate TikTok Behavior Targeting vs Interest Targeting?
TikTok Ads Behavior and Interest Targeting are both based on user behavior. However, they are still different to some extent. Let's make a comparison in the following table.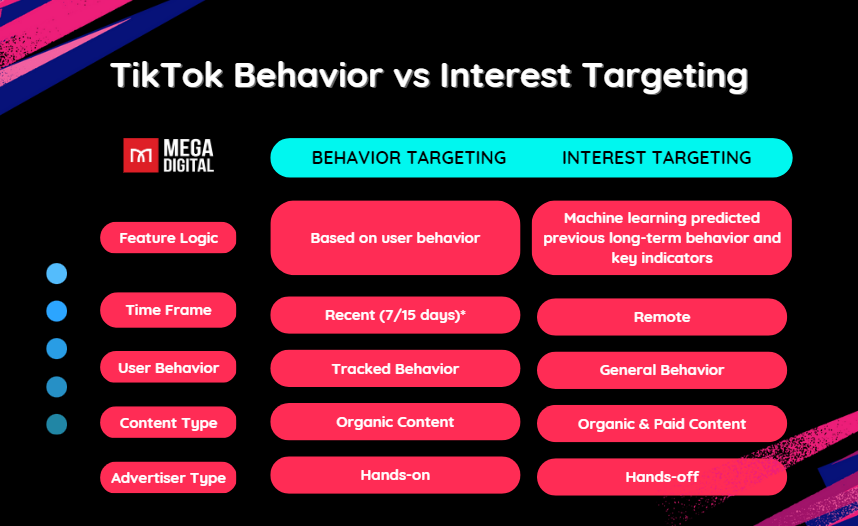 Why do some behaviors that weren't selected still appear in my report?
When running an ad, the system will only deliver ads based on the behavior targeting criteria advertisers specify. However, user profiles are assigned various behavior category tags depending on the different types of content they consume. If the user makes any conversion actions, such as clicks or installs, the system will include it in your report. If you see one like that, add that behavior to your targeting. It can help you optimize your ads.
Final word
TikTok provides advertisers with a variety of methods for targeting their desired audience that go beyond behavior targeting. These possibilities include interest, audience, and geo-targeting, which can be tailored to the campaign's goals. While TikTok ads behavior targeting is a valuable tool for growing your customer base, it is critical to explore additional targeting choices to see which ones work best for your ads. We've collected a complete list of targeting options, as well as their associated benefits. Make sure to have a look!