In April 2020, Google made revisions to the Healthcare and Medicines policy specific to the United States and Canada. Legitscript certification now permits telemedicine providers to advertise online pharmacy services. Consequently, LegitScript-certified telemedicine providers are now eligible to apply for healthcare-related advertising without delay.
What is LegitScript certification?
LegitScript certification is a credential provided by LegitScript, a third-party organization that supports Google in evaluating and verifying the legitimacy and compliance of healthcare businesses worldwide.
Only businesses that LegitScript has certified as trustworthy are allowed to advertise on Google.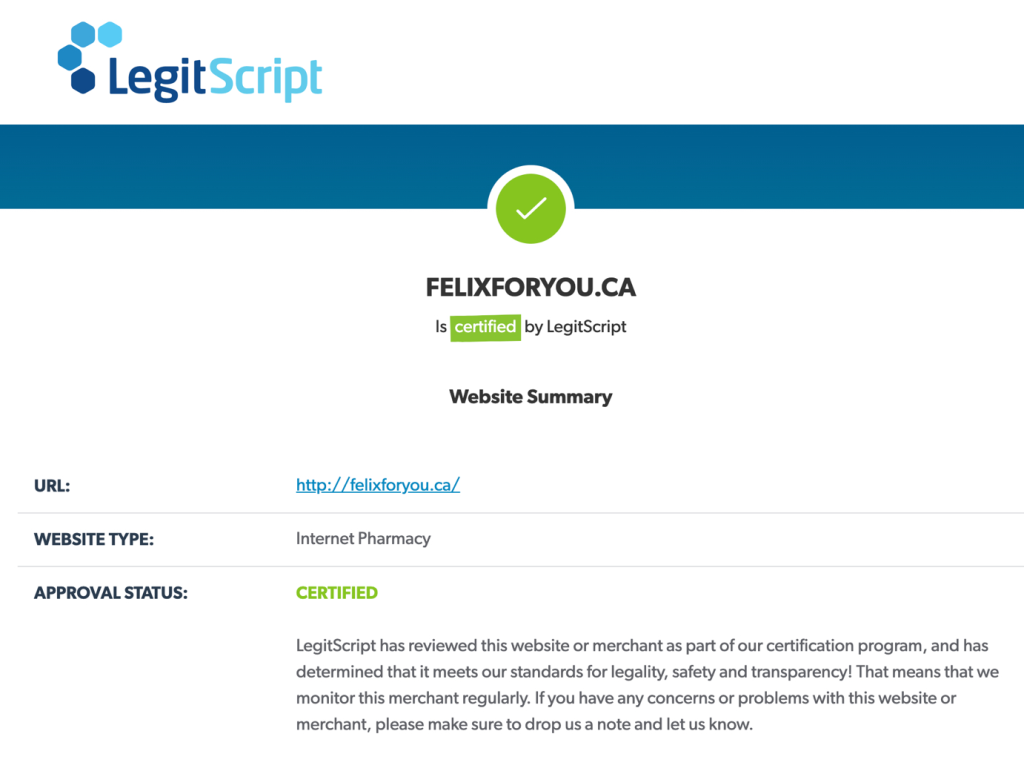 It has the world's biggest database of dietary supplements, medicines, and healthcare products. The certification is trusted and used by Visa, Mastercard, Google, Facebook, Amazon, and others!
What are the benefits of LegitScript-certified?
LegitScript Certification helps real pharmacies, telemedicine providers, addiction treatment centers, and sellers of CBD products prove they can be trusted a lot. These are the main benefits:
Visa and Mastercard say that all pharmacies and telemedicine providers doing online transactions must get certified and watched over by a trusted group like LegitScript.
Advertising it on the internet to grow your business. LegitScript Certification is accepted by big online platforms like Google, Microsoft Bing, Facebook, and TikTok.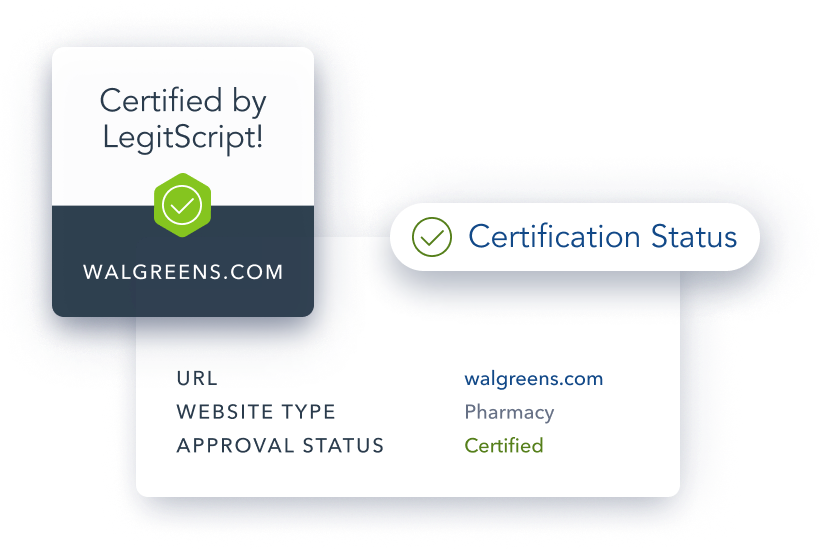 Tell patients that you run your business safely and legally. Once you're LegitScript Certified, you'll show up on our website as a trusted business. People all over the world use LegitScript to figure out who they can trust. You can also put the LegitScript seal on your website to prove that your business has been carefully checked.
Make sure that you follow the laws and rules. LegitScript can help you find and fix any mistakes you might make when it comes to pharmacy and telemedicine rules. Plus, you don't need to spend extra money on a new web address. Just pay a fee when you apply and another one each year to keep your LegitScript certification.
Who is qualified for LegitScript certification?
LegitScript Certification is for various healthcare-related businesses worldwide. This includes:
Various types of pharmacies, including those online, by mail, physical stores, local ones with remote services, veterinary pharmacies online, and pharmacies specializing in sterile compounds.
Telemedicine and telehealth providers who assist in prescribing.
Businesses involved in the healthcare supply chain, such as pharmaceutical manufacturers, wholesalers, and distributors.
Additional healthcare merchants like sellers of prescription eyeglasses and contact lenses, price comparison platforms, and discount pharmacy services online or via apps.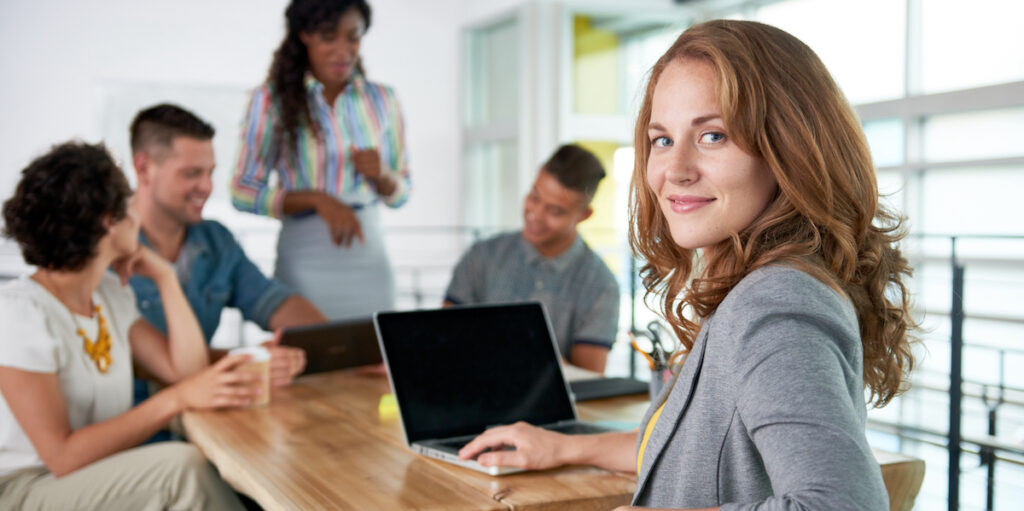 How much does LegitScript certification cost?
LegitScript Certification has three pricing levels, and they vary based on how complicated it is to review and watch over your healthcare business. The cost also depends on things like the number of places you send your products to, how many locations you have, and the licenses you hold.
Category A
| | |
| --- | --- |
| 1-time Application Fee/Website | Annual Fee/Website |
| $535 USD | $1070 USD |
This section is for websites that provide information and for pharmacies with a minimal online presence, where they only allow online refills (not new prescriptions). These businesses in this category include:
Pharmacies that either don't have a website or have a website that doesn't allow prescription requests (like telemedicine services) or pharmaceutical sales, and they have only one place where they dispense, one license, or one area where they ship.
Pharmacies that have a website that helps with refills or transfers (but not new prescriptions) and also have just one dispensing location, one license, or one place they ship to.
Category B
| | |
| --- | --- |
| 1-time Application Fee/Website | Annual Fee/Website |
| $800 USD | $1600 USD |
This part is for websites that offer information and for pharmacies that have a limited online presence, allowing only refills online (not new prescriptions). The types of businesses are:
Traditional online pharmacies that sell prescription or over-the-counter medicines.
Services that compare prices for prescription drugs.
Medical clinics.
Companies that wholesale or distribute pharmaceutical products.
Manufacturers of pharmaceuticals, even if they operate primarily online.
Any pharmacy or clinic that has more than one place where they dispense, more than one license, or serves more than one area.
Websites that offer discount cards or help people save on healthcare costs.
Hospitals.
Category C
| | |
| --- | --- |
| 1-time Application Fee/Website | Annual Fee/Website |
| $1050 USD | $2150 USD |
This category is set aside for intricate business models that require more time or expertise for evaluation. Examples include telemedicine services, sterile compounding, nuclear pharmacy, or online veterinary pharmacies. The types of businesses falling into this category encompass:
Telehealth providers & Telemedicine
Sellers of prescription eyeglasses and contact lenses
Businesses with complex pharmacy practices
Veterinary pharmacies
How to get LegitScript for Google Ads
Achieving certification is not a simple process of just providing basic details and paying a fee. It can be quite complex. Be ready to fill out a thorough application and submit various documents and paperwork.

When you apply for Healthcare Merchant Certification with LegitScript, you will need to answer questions and provide documents that prove you follow all the laws and rules. Here's how you can apply:
Step 1: Create an account
Go to my.legitscript.com and make an account by entering your contact details. Once you've done this, you're all set to move forward.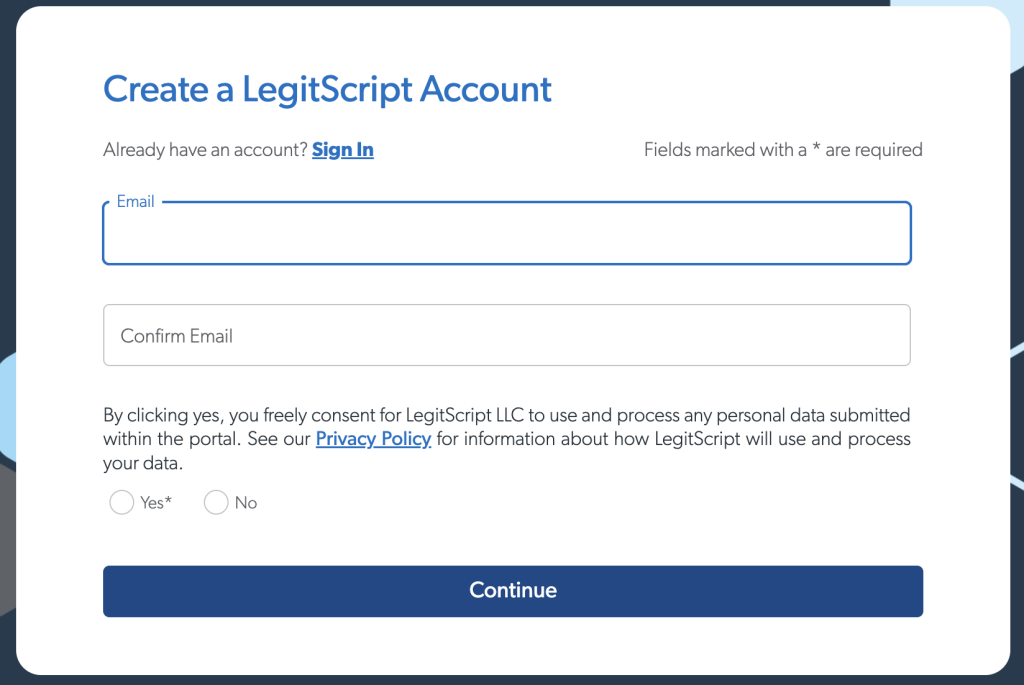 Step 2: Begin a new certification and pay for application review
Before you fill out the questions, you'll need to pay the fee for reviewing your application. You won't have to pay the yearly fee until after you're certified. You can find the prices in the previous section.
Step 3: Complete the questionnaire
You can save your progress and come back to the questionnaire whenever you want.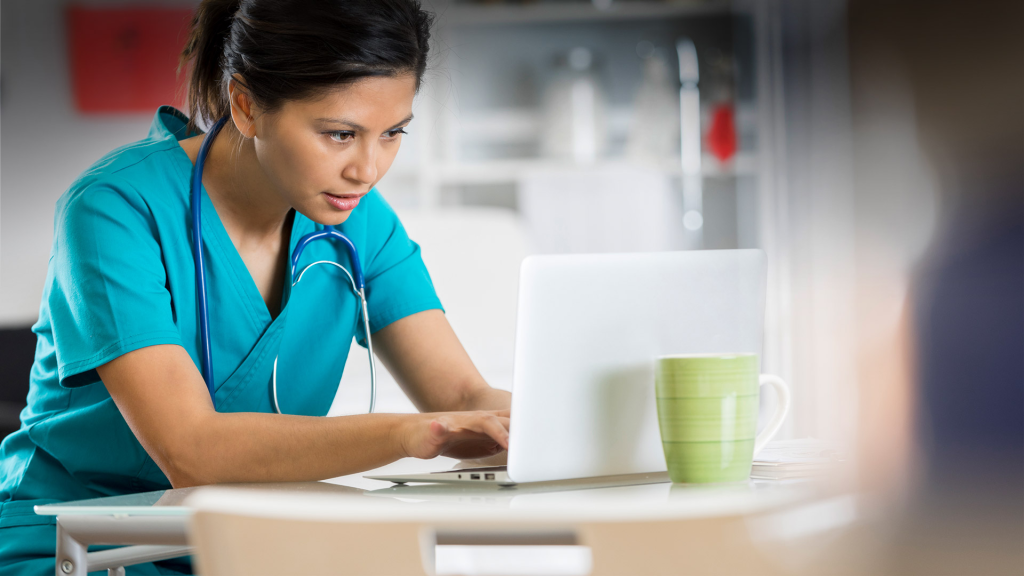 Step 4: Clarify and fix things
While our analysts look at your application, they might contact you with questions or ask for more information. They might also point out small things that don't quite meet the rules, and you'll need to fix those before you get certified. If you respond quickly to these requests, it can help speed up the review process.
Step 5: Pay the yearly fee
Once your application gets approved, you'll need to pay the yearly fee to finish the process and become fully certified.
Tips to speed up the process
Once you've decided to apply for LegitScript Certification, initiate the application as soon as possible. LegitScript processes the applications in the order they are received.
Prepare documents and information needed:
Having all the required information ready will help you breeze through the questionnaire swiftly. Your questionnaire must be fully filled out before the review begins. You can find the list of questions you need to answer and the documents you must provide in the application overview.
If LegitScript analysts request additional information or ask for corrections, respond promptly and comprehensively. Your application can't move forward until you've provided all requested information or made the necessary changes.
To finalize the certification process, make sure to promptly pay both the application and subscription fees.
Frequently asked questions
What is the purpose of certifying healthcare merchants?
Prominent credit card networks like Visa mandate certification for pharmacy vendors and telehealth service providers. Furthermore, numerous payment service providers stipulate that merchants in healthcare sectors must obtain certification to access a merchant account. The LegitScript Certification is widely acknowledged within the payment sector and enjoys recognition from both Visa and Mastercard.
Is it possible for international healthcare providers to request certification?
Absolutely, the LegitScript certification program is available for a wide range of countries globally. The company boasts a team of expert policy analysts fluent in over 15 languages.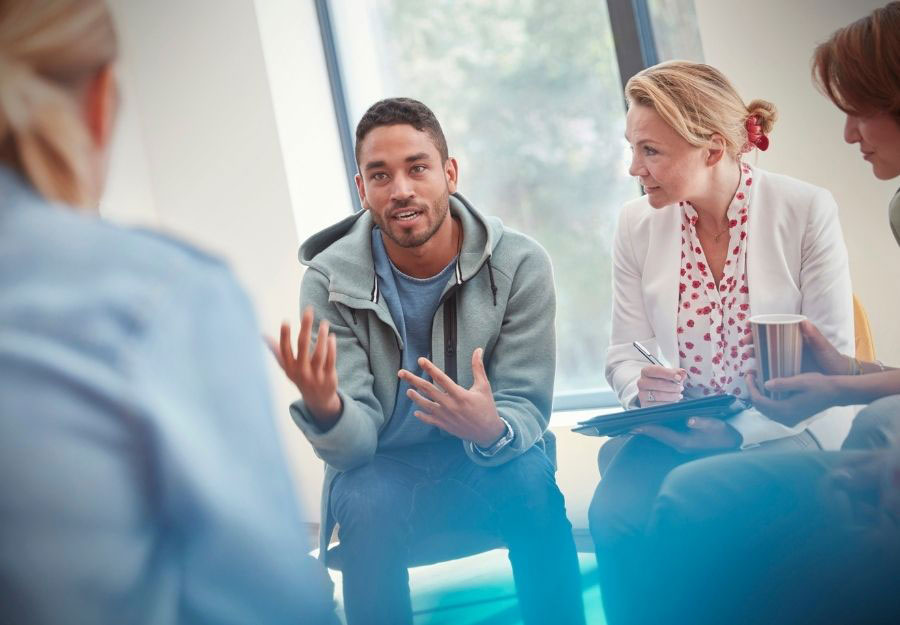 Is LegitScript certification worth it?
If you're a rehab center and want to advertise on Google, you need two certifications: one from LegitScript and one from Google. Is it worth it? We believe it is.
Here's why:
Getting certified with LegitScript enhances your trustworthiness by showing that you have licensed staff and follow all the rules and laws. It also proves that you only advertise services you actually offer.
Having LegitScript certification can make you stand out from competitors because not everyone goes through this process. It can also boost your reputation with healthcare professionals like doctors and therapists, who might be more willing to refer their patients to your facility if you're certified.
Whether you like it or not, this is how things are now. To stay ahead of the game, it's a good idea to get certified.
How long will the whole process take?
The duration needed to finish a review varies based on the sequence of application submission, the intricacy of the application, how quickly the applicant responds, and the adequacy and clarity of the responses given. Since each application review is distinct, we cannot provide specific time estimates.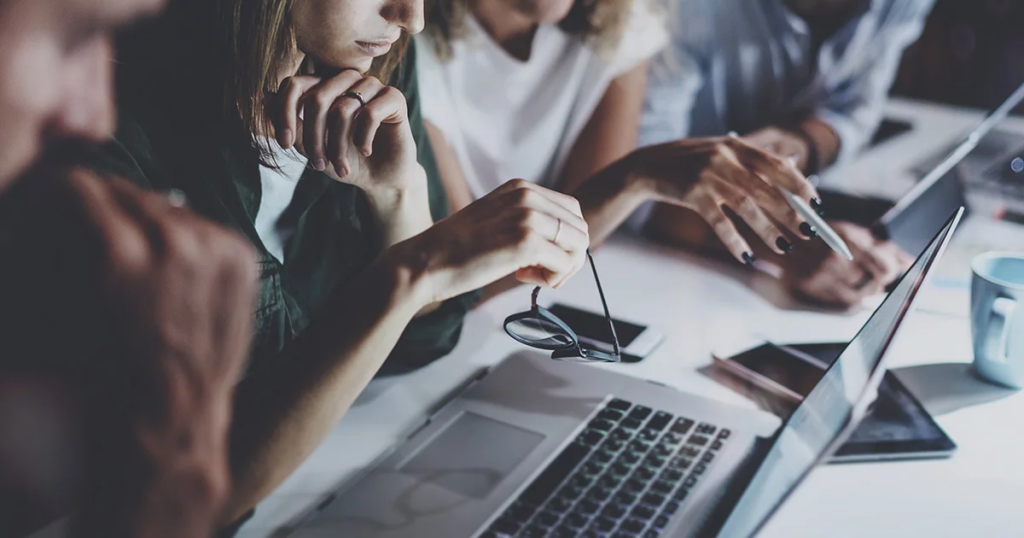 How can I check my Legitscript application status?
You can log on my.legitscript.com to access details about your application, update payment information, add new users, or initiate a new certification application.
Final words
In conclusion, LegitScript Certification offers a valuable opportunity for healthcare-related businesses to demonstrate their commitment to compliance, safety, and trustworthiness. While the process may require time and effort, the benefits of LegitScript Certification in promoting your business's legitimacy and integrity are well worth it.
So, take that important step towards earning trust, improving compliance, and advancing your business in the healthcare industry with LegitScript Certification.
Read More: Restricted Medical Content on Google Ads: How to Get Approved?