Nobody wants to have their medical ads disapproved or restricted by Google. Businesses therefore have to equip with the necessary knowledge about Google's medical and healthcare policy. In this blog, we will provide you with all information about restricted medical content on Google Ads and its related policies.
What is restricted medical content on Google Ads?
Google advertising policy regulates 4 wide categories; in which healthcare and medicine belong to the "restricted content and features" besides sexual content, gambling and games, alcohol,… and so on.

"Restricted content and features", according to Google, are sometimes legally or culturally sensitive. Therefore not all healthcare-related content is prohibited from advertising on Google. They do allow us to promote medical content, but with some restrictions; for example, the requirements to follow appropriate laws and industry standards.
We can draw the conclusion that restricted medical content on Google Ads are certain types of healthcare and medical-related content that are subject to specific guidelines and limitations imposed by Google's advertising policy.
To be more specific, restricted medical content on Google Ads has to be promoted by Google-certified advertisers and targeted only to approved countries.
Why is your medical content restricted?
If Google disapproves your medical ads, it will limit or completely stop the display of your ads. In either scenario, your ads lose their impact, and essential metrics like impressions, clicks, and other key measures will decrease.
The most common reason why Google disapproved of your ads is that you may have some restricted medical content on Google Ads violating its healthcare and medicines policy. You may have, intentionally or unintentionally, had your ad targeted to the unapproved countries or, included restricted medical content such as active ingredients or unapproved substances.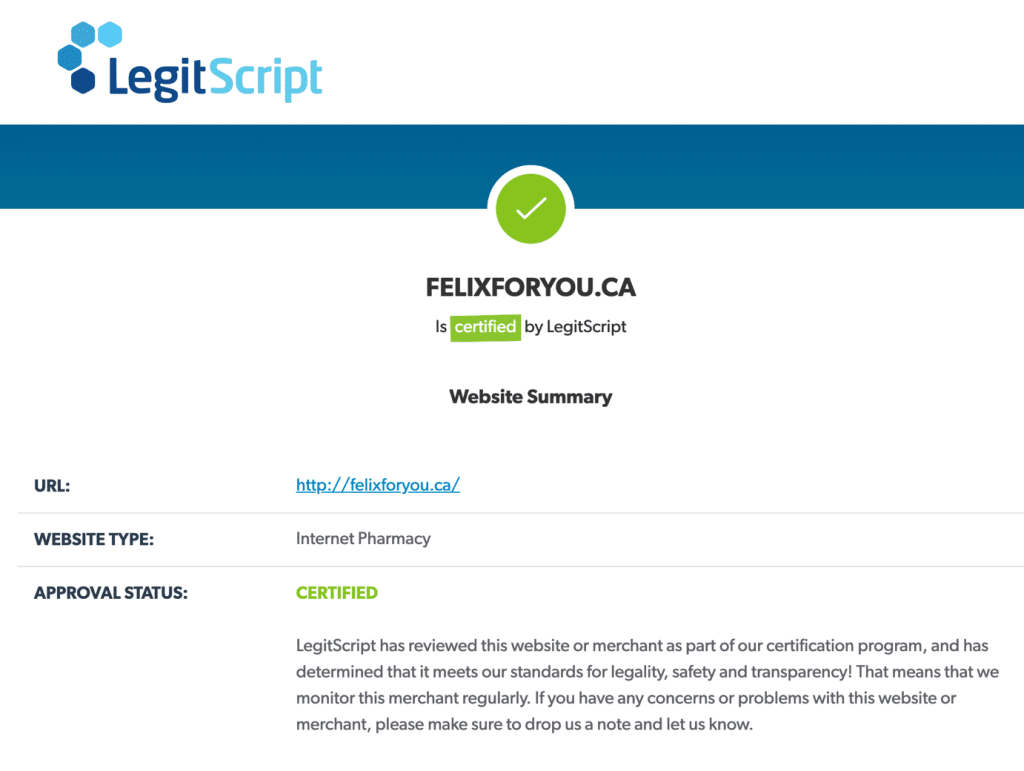 But before you can promote medical products, you need to get a special certification. You can apply for a certification from a company called LegitScript. They work with Google to make sure healthcare and medical businesses are real and trustworthy all around the world.
>>> Read more: What is LegitScript Certification and How to Use for Google Ads
Types of restricted medical content
In 2022, Google reportedly removed over 5.2 billion ads, restricted over 4.3 billion ads, and suspended over 6.7 million advertiser accounts.
Let's discover which types of restricted medical content are in their policy:
Online pharmacies and prescription drug sale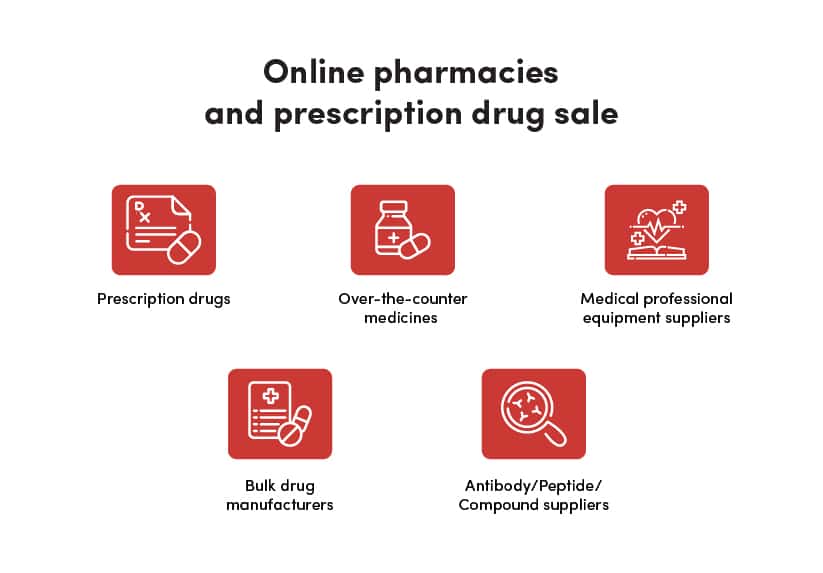 Google will control both sale and branding-related promotions of pharmaceutical manufacturers promoting the drugs they make and online pharmacies promoting their online sale of prescription drugs. Google requires these advertisers to go through a certification process to advertise this type of content.
Prescription drug brand names and active ingredients
One type of restricted medical content on Google Ads is related to prescription drug brand names and active ingredients.
(An active ingredient is a chemical or component responsible for the therapeutic effect of the product, treating directly a specific medical condition or a disease such as pain reliever or aspirin)
Regardless of whether you are advertising the sales of these drugs, Google monitors the ad text, landing pages, keywords and webpage source code.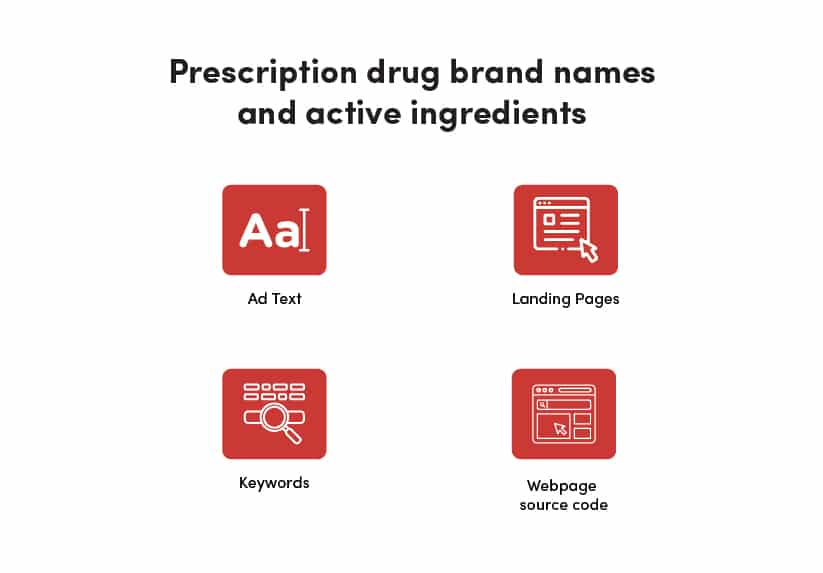 Except for Canada, New Zealand, and the United States, online pharmacies and pharmaceutical manufacturers in other regions cannot use prescription drug terms and active ingredients in ad text and landing pages.
Therefore, including these keywords will make Google restrict your medical content advertisements:
"Try Medication X for pain relief"
"Medication A"
"Aspirin from C"
Unapproved substances
Google doesn't permit any products containing unapproved pharmaceuticals and supplements, which have harmful ingredients or are associated with government warnings.
Google prohibits advertisers from advertising 162 items appearing on this prohibited pharmaceuticals and supplements list.
We can have a summary of those prohibited substances here: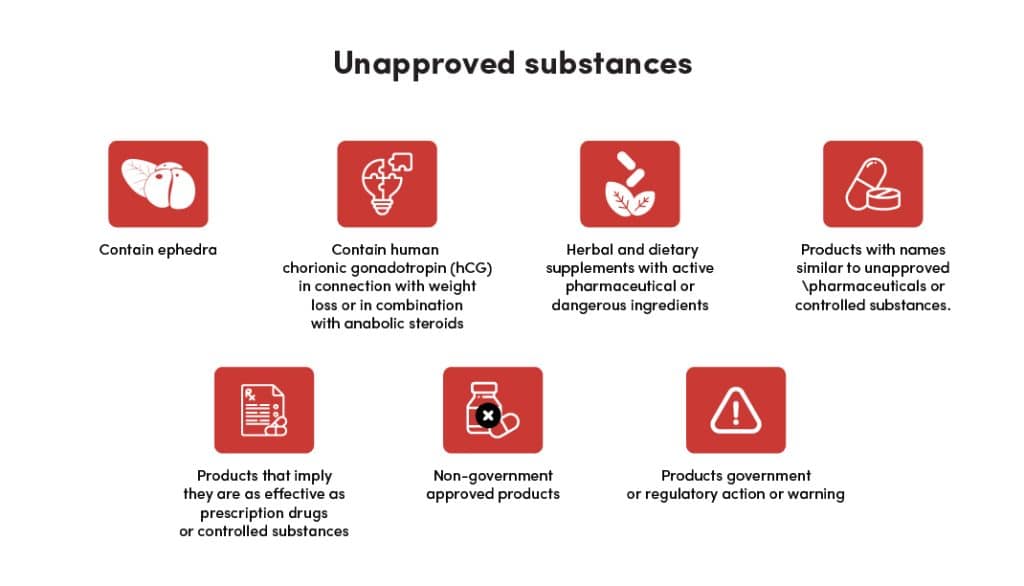 Healthcare-related service
Another restricted medical content on Google Ads is healthcare-related services. In order to protect customers from harm, any business running medical or healthcare-related services is subject to certain certifications.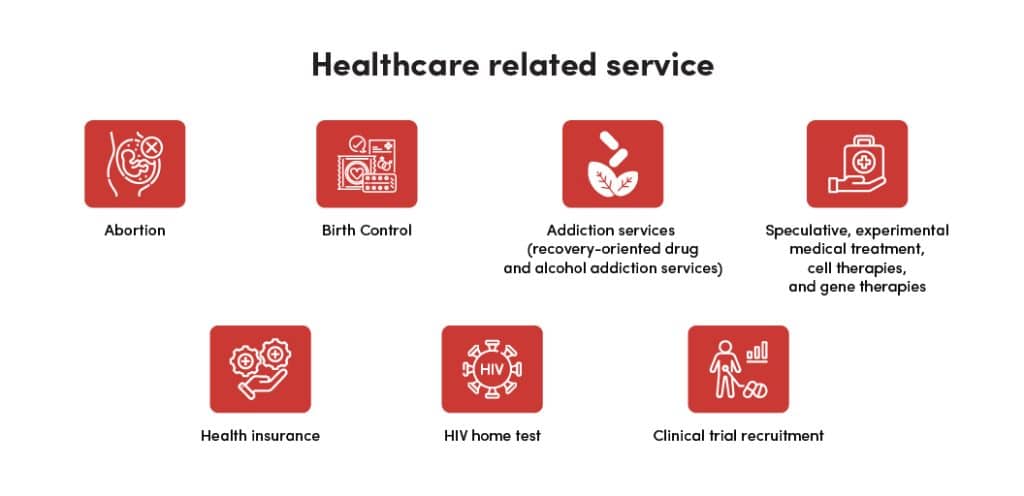 What to do if your medical content is suddenly restricted?
1. Examine your entire website
If you don't find any problems going on with your medical ad; or if it is doing fine but suddenly being restricted by Google, you should review your whole website. Regarding content, ensure that both text and images on the website do not give any implication, impression or suggestion that the products link or can aid in any form of any restricted medical products or services as mentioned above, for example, unapproved substances.
Also check whether your website includes any third-party content not under the advertiser's control, such as customer comments, letters, or any other website content. Because it is also likely to be the cause of restricted medical content on Google Ads.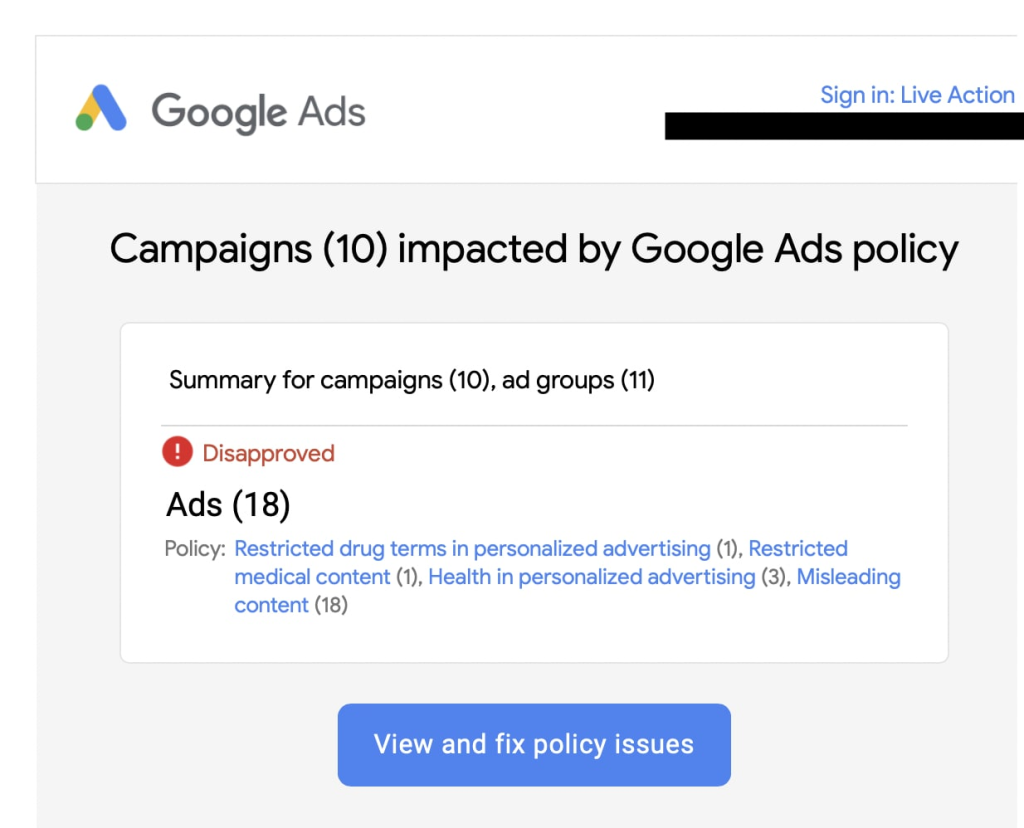 2. Check your ad targeting
A more likely reason is targeting, especially in terms of indirect interest-based targeting and campaigns utilizing automatic targeting. In the latter, auctions are initiated by users based on their search behavior linked to their location rather than their actual physical location, even if the campaign didn't directly target that user's country.
If the problem lies in location targeting, delete all references to promoting prescription drugs online from your ad and website or app. Then, change your target location setting for your campaigns to match the country where you're allowed to advertise your pharmacy.
3. Contact Google Support
If you have gone out of the way but still find your restricted medical content on Google Ads not violating its policy, we suggest you contact the Google Support team for further assistance as soon as possible.
Or if you believe Google disapproved your medical content by mistake, you can consider appealing their ad disapproval.
Steps to appeal to Google
Step 1: Troubleshoot your ad disapproval
You have to make sure you have fixed all your restricted medical content on Google Ads if they violate its healthcare and medicines policy. Click to review the policy and change your ads accordingly if your ads violate Google Ads' policy. To do so, click the icon "Pencil" on the disapproved ad to edit.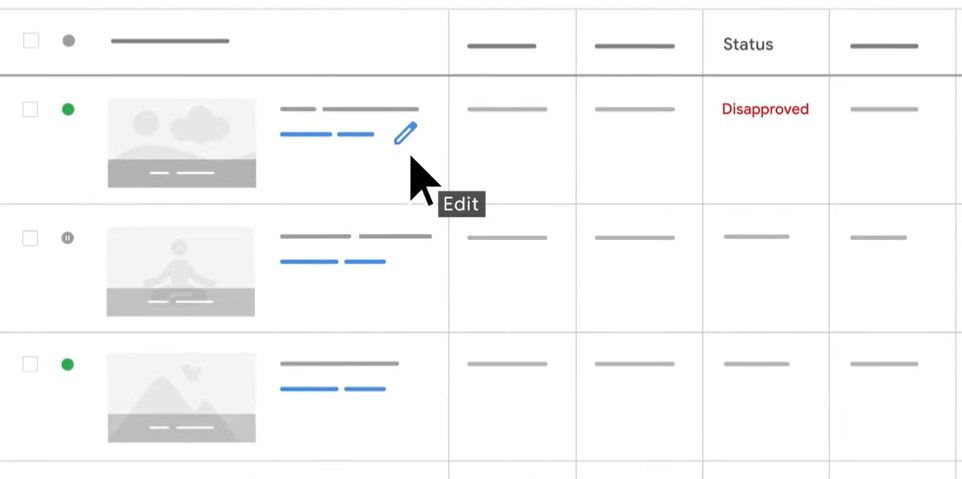 Once done, click "Save" and your ads will be automatically reviewed again by Google.
You can only appeal a disapproved ad to Google when you believe it is Google's mistake to restrict your medical content or you have to update to the latest changes in its policy.
If so, let's move on to the next step.
Step 2: Choose the disapproved ads
When you access to your Google Ads account, navigate the "Ads and assets" table and identify the specific ad that was disapproved due to restricted medical content.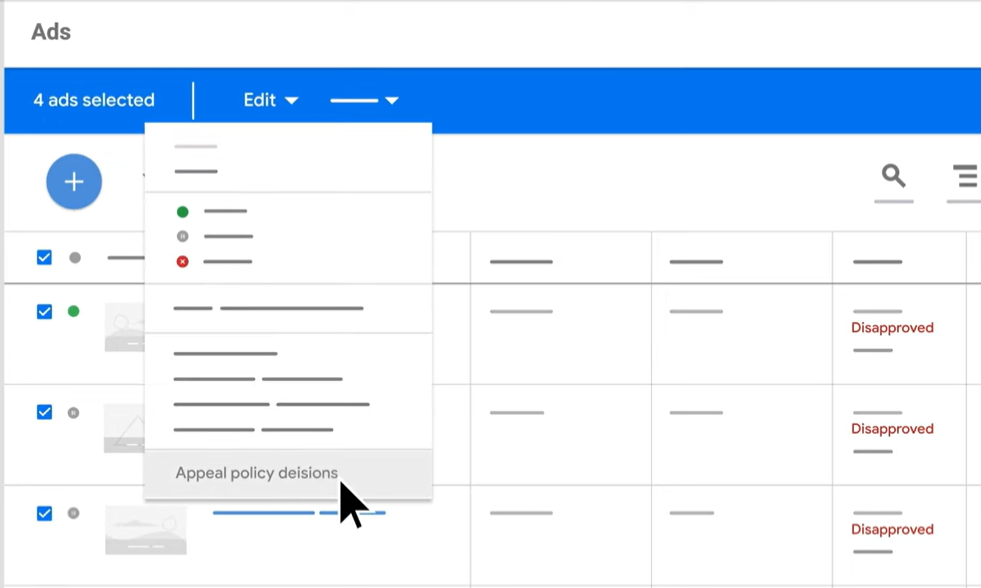 Tick all the ads you want to appeal and click on the "Edit" on the top bar and choose "Appeal policy".
Step 3: Choose to appeal
Select the reason for your ad appeal: "Made changes to comply with policy" or "Dispute decision".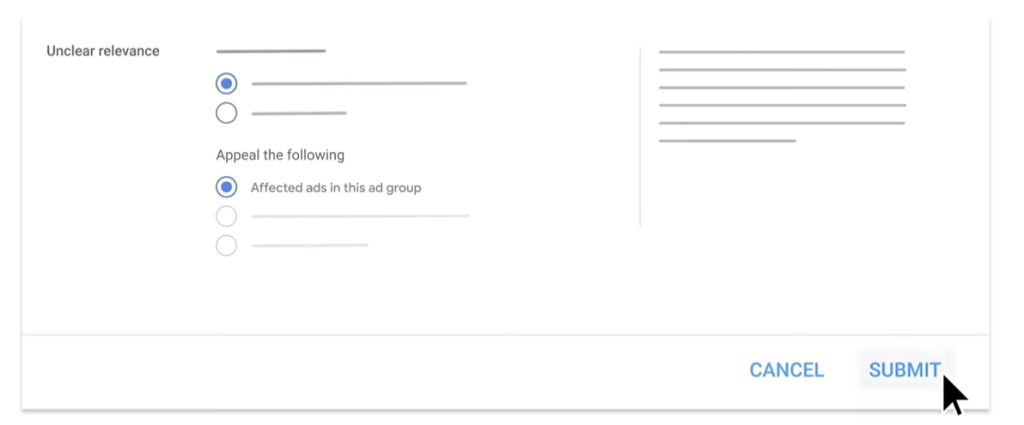 If your medical content is restricted because of the latest updated policy of Google Ads, choose the first one. If you believe that Google disapproved your ads by mistake, choose "Dispute decision".
Under the "Appeal the following," choose the ads you want to appeal.
Submit your form once done.
Step 4: Check your appeal status
Generally, Google will review your ads in one business day. Here is how to keep track of your appeal status.
Click the icon "Tools".
Select "Troubleshooting" and then "Policy manager".
On the "Appeal history" tab, see the details of all appealed ads.
The "Status" column indicates if the appeal is in progress or complete.

Review complete: Check the "Results" column for details.
In progress: Wait for a review; check back in 24 hours.
Not reviewed: Check the "Results" column for information.

The "Results" column displays the appeal outcomes, including updated policy review status. Avoid excessive appeal submissions to prevent 'Exceeded appeal retry-limit' status.
How to avoid Google Ads restrictions?
Understand Google Ads healthcare and medicines policy
When you promote a healthcare-related product or service on Google Ads, you are subject to its control. Have a good review of your product or service and the medical ad, from the input ingredients to the ad text, keywords, landing page, URL link,… This is to make sure that your medical content doesn't run any risk of violating any Google Ads policy mentioned above.
Apply for certifications
For pharmaceutical manufacturers, online pharmacies, and other advertisers in specific countries aiming to promote medical ads related to abortion, addiction services, and health insurance, having a Google certification is a must to deal with restricted medical content on Google Ads. Because without it, Google may consider you an unauthorized pharmacy – which is a serious violation. The Google certification is short and done online, so it won't take much time for you to do. However, the approval decision is all up to Google.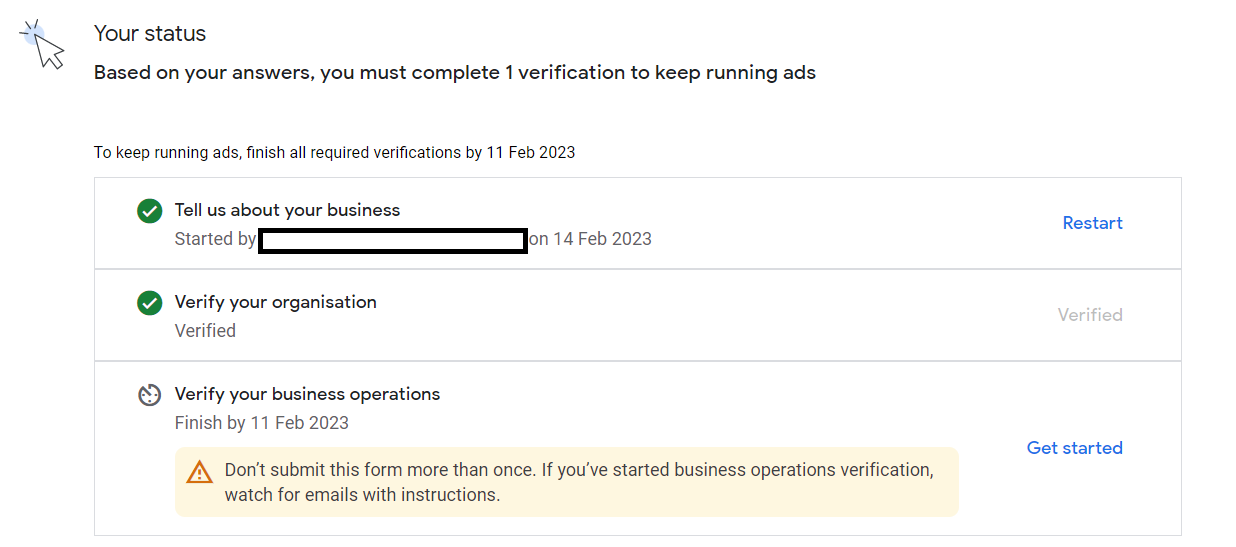 Target the right location
You cannot target countries where your product is prohibited from being promoted. For example, the United States, Canada and New Zealand are the only countries that allow advertising prescription drug. Even though you have a certification, you still cannot promote your medical content to other regions besides these 3 countries. Also, for the same product, different countries have different laws.
Some countries might treat a product as an over-the-counter medicine, while others require a prescription. At all times, the laws of that country are prioritized over Google Ads healthcare and medicines policy.
Case Study: Success with Restricted Medical Content on Google Ads
Client background
HealthX Pharma, a pharmaceutical company, sought Mega Digital's help in expanding their online presence through Google Ads. They were struggling with navigating the restrictions on advertising medical content.
Challenge
HealthX Pharma's products fell under Google Ads' restricted medical content, requiring special certifications and compliance. The challenge at the time was to reach their target audience through Google Ads while strictly conforming to its healthcare and medicines policy.
Strategies
Mega Digital understood the intricacies of advertising restricted medical content and developed a comprehensive strategy to help HealthX Pharma overcome these hurdles:
Compliance review: Ensured HealthX Pharma met Google's standards.
LegitScript certification: Assisted in obtaining certification for pharmaceutical advertising.
Campaign optimization: Created compliant ad copy and adapted campaigns to Google's guidelines.
Monitoring and adjustments: Continuously ensured compliance.
Result
Mega Digital's strategic approach and dedication led to remarkable results for HealthX Pharma:
Certification: HealthX Pharma obtained LegitScript certification.
Increased visibility: Expanded online reach and market share.
Compliance maintenance: Maintained adherence to Google's policies.
Improved ROI: Increased sales and website traffic.
Final words
In order to protect a safe environment for users, Google is becoming stricter in controlling online ads. It is therefore important that medical, healthcare-related manufacturers and pharmacies be well aware of its healthcare and medicines policy so as not to violate it.
We hope that this blog has provided you with valuable insights and knowledge about restricted medical content on Google Ads, as well as the way to handle when Google disapproves of your medical advertisements. Mega Digital is always here to support and assist advertisers if they have trouble on any digital platform.