TikTok has implemented multiple TikTok ads payment method, including prepay, autopay, and monthly invoicing, to accommodate global advertisers. Ad users can directly manage ad budgets and allocate them wherever and whenever they want using these three methods. However, as simple as it appears to be, Mega Digital still receives complaints from advertisers about the 'unable to add payment method' issue. So, let's go through some of the important steps you should take to avoid this type of scenario!
3 types of ad payment methods on TikTok

To set up an ad campaign on TikTok Ads Manager, every advertiser must first create an ad account and then select one of three payment options:
Prepay
Autopay
Monthly invoicing
Let's examine the differences between these three methods!
Prepay
With prepay, advertisers can add funds to their TikTok Ads account in advance, and then use those funds to pay for their advertising campaigns. Check out the following features of prepay method:
You must top up your money before running ads on TikTok.
You need to maintain a sufficient balance to fund your active advertising campaign.TikTok will only deliver ads in excess of your balance and reserve the right to stop ongoing or reject new advertising campaigns if your balance is insufficient.
The remaining balance made in your ads account after campaigns are carried forward and available for deduction for the number of fees for the next Campaign.
Autopay
TikTok Ads also provides advertisers with an autopay payment option. Advertisers can use autopay to attach their credit cards to their TikTok Ads account, and the site will charge the card for the cost of their advertising campaigns.
The bank account balance will be automatically deducted in accordance with the spending on active ad campaigns.
TikTok will notify you of the current payment date and payment threshold amount on the Current Transactions page. This can result in multiple charges for your payment method.
​If your payment attempt fails more than twice, TikTok reserves the right to stop any ongoing Advertising campaigns or reject any new Advertising campaigns until they receive payment.
Invoice Payments
TikTok Advertising provides invoice payments to certain advertisers that fulfill specific conditions. Using invoice payments, marketers may get an invoice from TikTok Ads for their ad spend and then pay the invoice by wire transfer or bank transfer.
​Monthly invoicing is a payment option available to eligible businesses. If your business is eligible for monthly invoicing, you'll receive an invoice for your Ad Purchase monthly or after the order closes, due 30 days from the invoice date minus when otherwise agreed between us.
​We may extend your line of credit or deposit funds into your Trading Account page, each subject to a payment threshold amount individually determined by us.
​You remain legally responsible and will be responsible for paying us all advertising spending made by the receiving business regardless of the bill recipient you have specified on your Commerce Account page.
To be able to top up and run advertising campaigns on TikTok, you only have to use an International Payment Card. 3 types of international payment cards allowed by TikTok are:
MasterCard
Visa card
Japan Credit Bureau (JCB)
What do you need to do to pay for TikTok ads?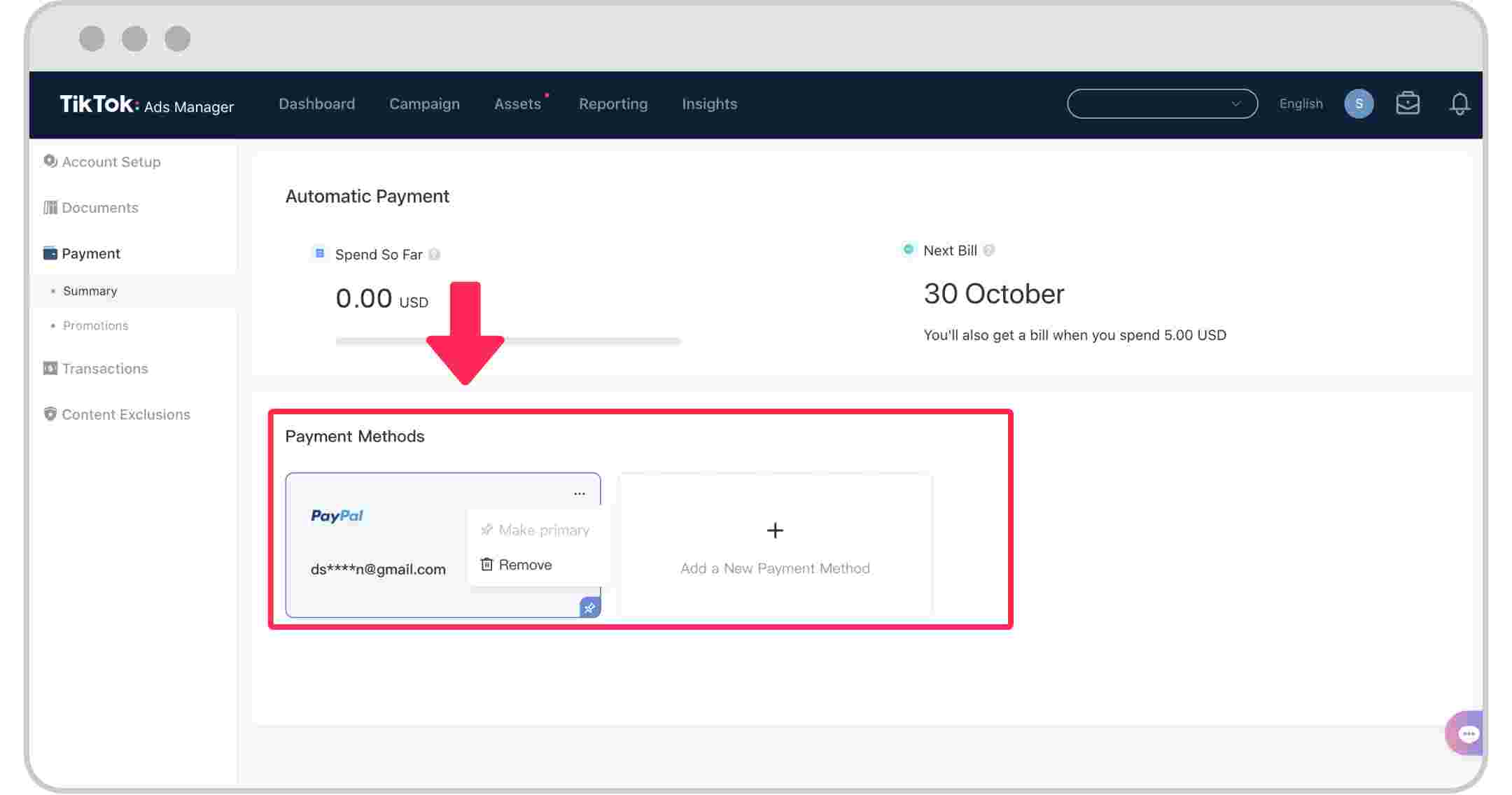 You need to fulfill 3 TikTok payment requirements below before being able to make a deposit on TikTok Ads Manager:
TikTok Ads Account (TikTok Ads Self-serve or TikTok Ads Agency): To run campaigns on TikTok, you must have a TikTok ads account. Currently, there are 2 types:

TikTok Agency account: TikTok Ads Agency is a kind of account only available for TikTok partners. If you have difficulty registering a business account, contact Mega Digital for support.
TikTok Ads Self-served
International payment cards: As mentioned above, you must create a MasterCard, Visa card, or JCB to pay advertising fees on TikTok.
Top up money into advertising account: To be able to start a campaign and get ads approved by TikTok, you must make a deposit first. TikTok requires a minimum of $50 for a deposit, so be prepared to have a balance of $60.
How to add payment method on TikTok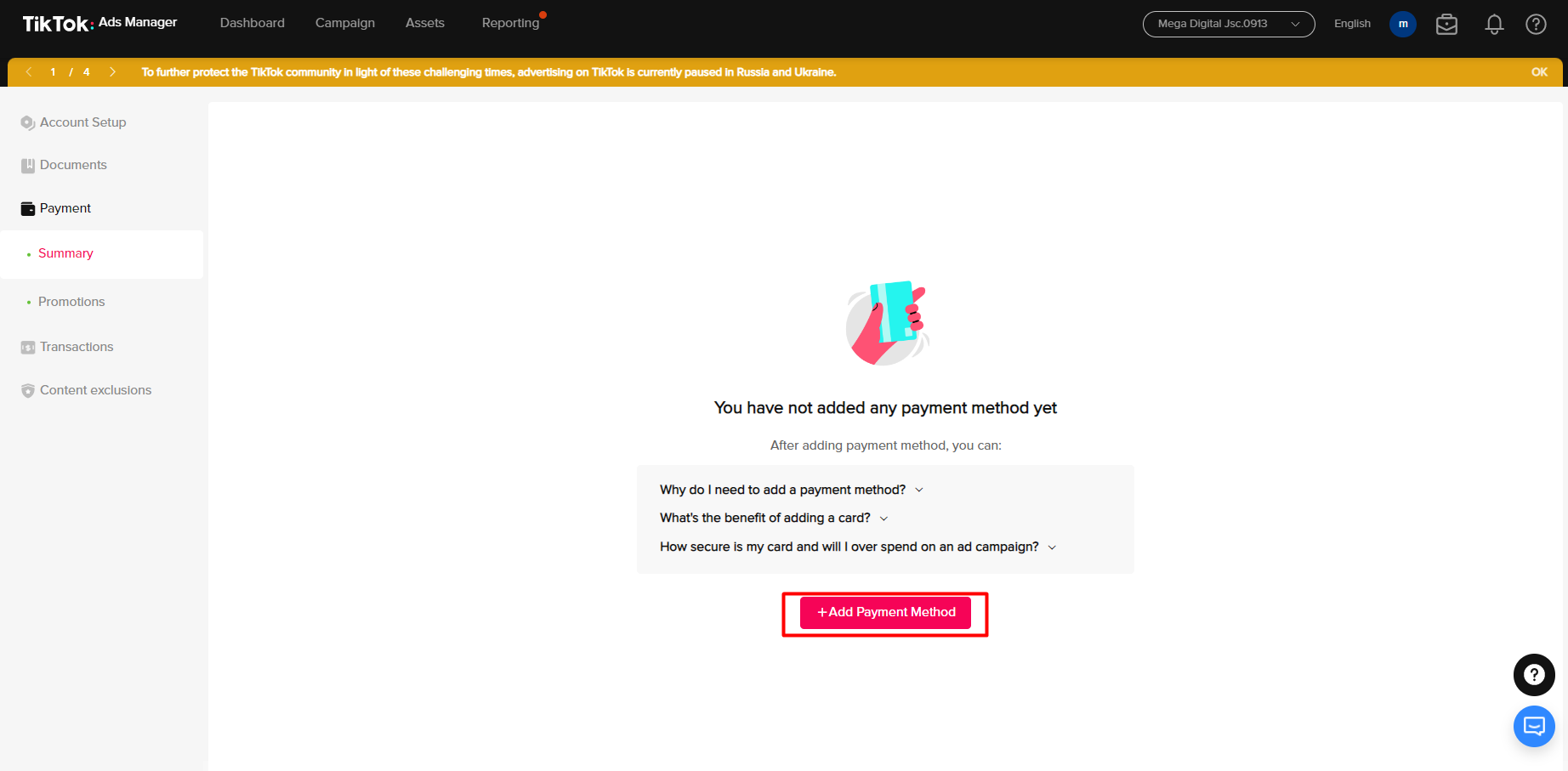 To add one of three TikTok payment methods, you can simply follow these steps:
Step 1: Log in to your TikTok Ads account and go to the Dashboard.
Step 2: Click on TikTok Payment Method section, then click on Add Payment Method.
Step 3: Choose the type of payment method you want to add. TikTok Ads currently accepts credit cards and PayPal for prepay payments, and credit cards for autopay payments.
Step 4: Enter your payment information, such as the credit card number, expiration date, and security code, or log in to your PayPal account to link it to your TikTok Ads account. If you're adding a credit card, you can also choose to save the card information for future use by checking the Save Payment Method box.
Step 5: Once you've entered your payment information, click Save to save the payment method to your account.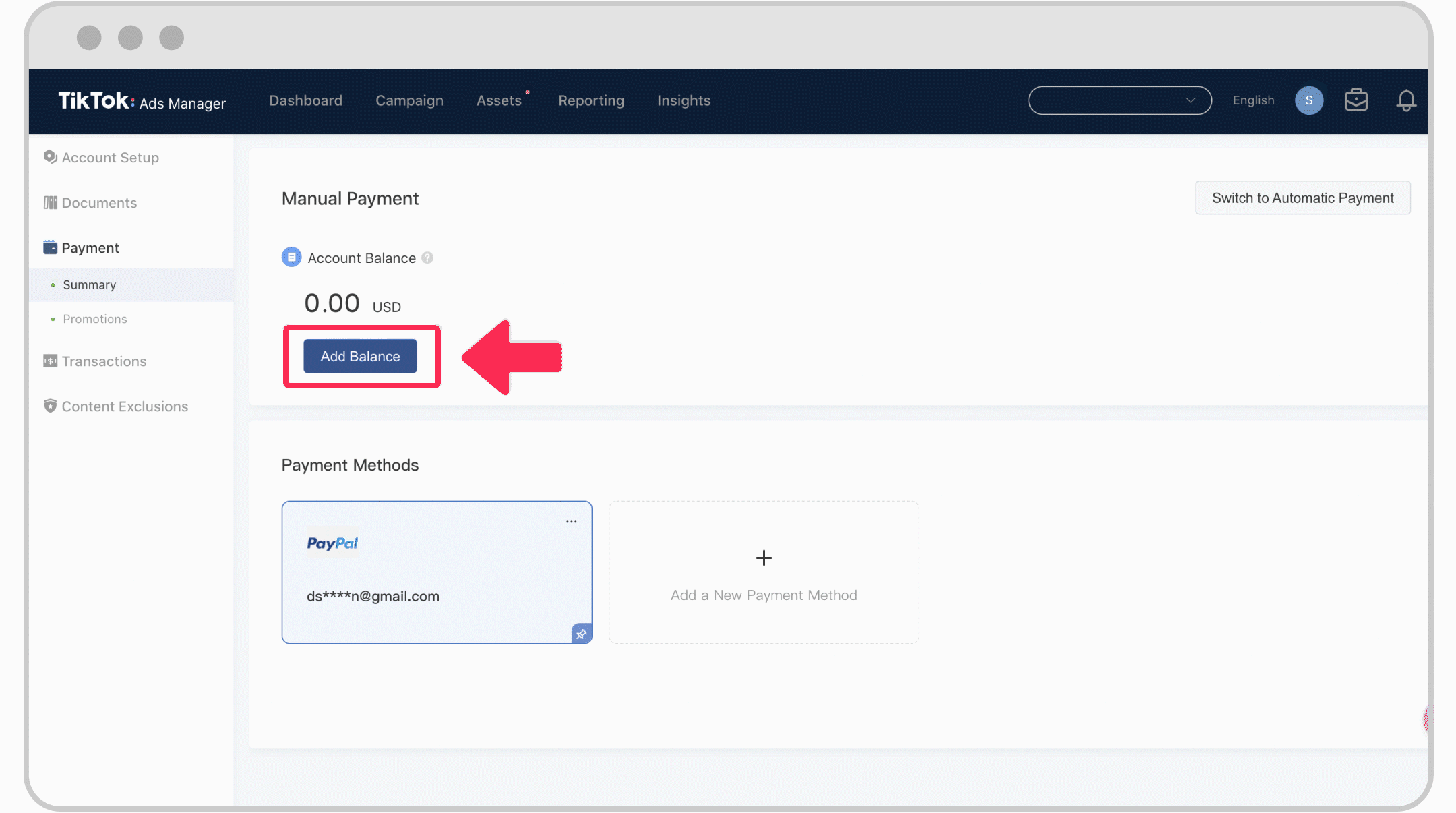 After this part, you can easily top up your TikTok Ads account and start running campaigns by clicking Add Balance at the top-up and payment page.
Notes:
It is advised to make a bank card at a reputable bank to avoid the case that TikTok refuses a payment card.
Do not use virtual cards.
Before starting the campaign, remember to deposit enough money in your payment account.
Payment information must be kept confidential.
Frequently-asked question when adding payments on TikTok Ads Manager
How do I set up autopay on TikTok Ads Manager?
To set up autopay, go to the "Payment Method" section and select "Autopay" as your payment method. Then, choose your preferred credit card and set a payment threshold to trigger the automatic payments.
Can you change my payment method on TikTok Ads Manager?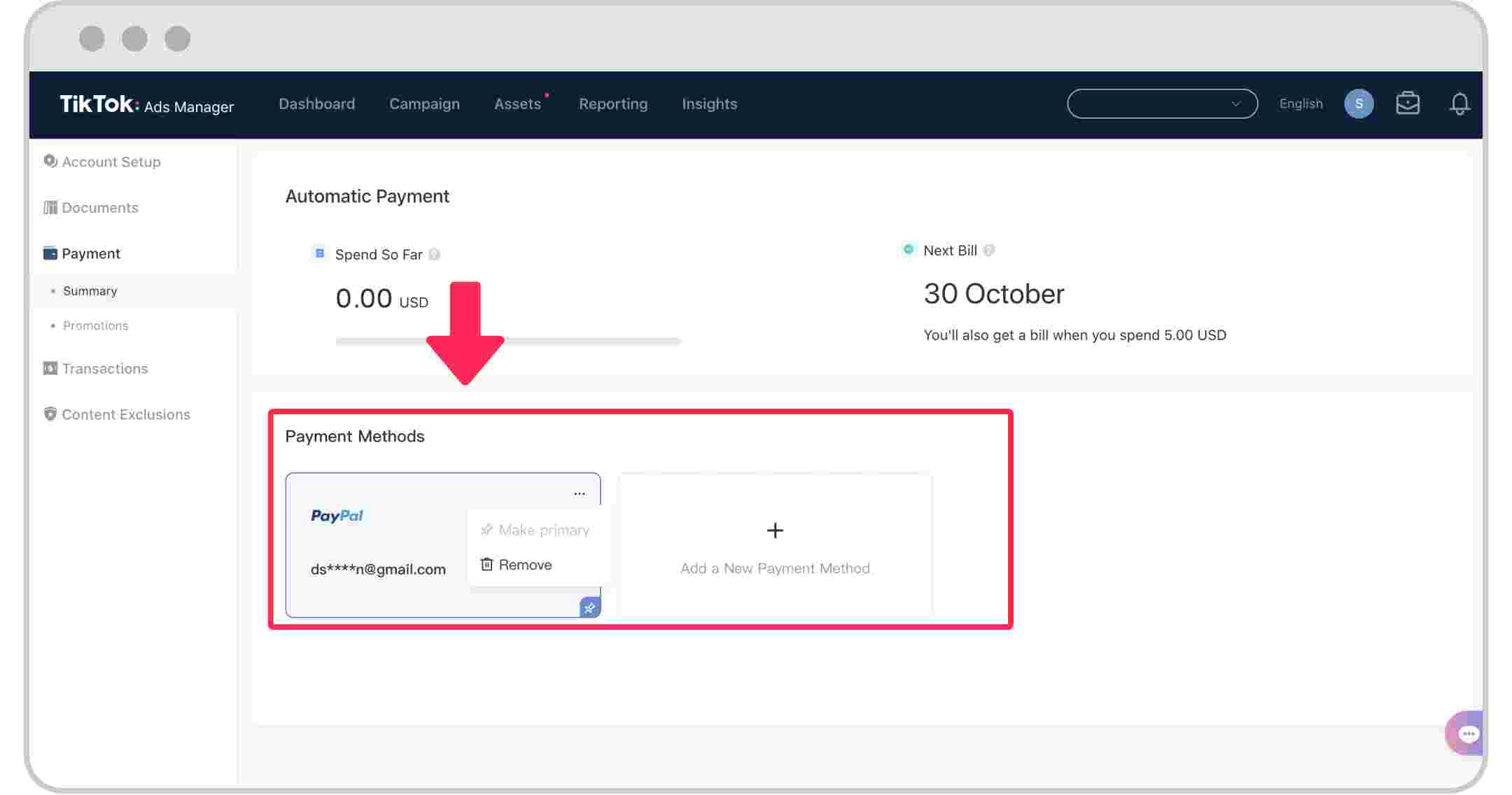 Yes, you can change your payment method at any time by going to the "Payment Method" section and selecting a different payment method.
There is a notification of 'TikTok ads payment unsuccessful' on TikTok Ads Manager. Why and what should I do?
There are many reasons why TikTok notifies you of your 'ads payment unsuccessful', including technical issues, insufficient balance, unaccepted methods, verification issues, and billing address mismatch. Based on each problem, you have different solutions to fix, check out our article on how to resolve this issue right here!
>>> Read more: Unlock TikTok Ads Payment Unsuccessful with TikTok Agency Guide
How do I update my payment method on TikTok Ads?
You can set it up like usual by clicking on Payment on the TikTok Ads Manager's Dashboard. However, it's important to note that if you're using autopay as your payment method, you'll need to set a payment threshold to trigger the automatic payments. If you're using prepay, you'll need to add funds to your account before creating campaigns.
Also, make sure that the new TikTok ads payment method you're adding is valid and has enough funds to cover your advertising spend. If the payment method fails, your campaigns may stop running, and your account could be suspended.
Can you allocate a budget from a suspended account to a fresh new one?
When there is an ad campaign that violates TikTok's policies, your TikTok ads account will be suspended temporarily or permanently. In case of temporary suspension, users can appeal TikTok's request to get their account back and continue running ads as before.
However, in the case of a permanent suspension, the user cannot appeal and the account cannot continue to run ads. And at this point, the entire credit balance in the ad account will not be withdrawn – which means you will lose all that money.
With Mega Digital's TikTok agency account rental service, we will assist you in transferring the balance from your old account to your new account when your old account has been suspended.
Final Word
Mega Digital hopes that this article has provided advertisers with enough information about TikTok ads payment method and a clear walkthrough of how you can add them.